Having limited choices in something can be frustrating.
But you know what can be worse? Having so many choices that you can't pick the best one. And this is exactly the case with many users who need a suitable password manager for their Windows PCs.
There are so many password management programs for Windows that it can literally take you hours of research and brainstorming to choose the right one for you.
But fret not.
I've done the heavy lifting for you and reviewed and scrutinized the top seven choices for an online password manager for you. I've looked at the features and benefits, and how each secure password manager can help you stay clear of using weak passwords, unwanted password sharing, or a data breach.
In the below section, I've talked about their qualities along with the price they come for so that you can decide the right one according to your requirements. And also which are compatible with mobile devices and web browsers.
So, without any further ado, let's review the contenders for the best password managers for Windows.
LogMeOnce
Bitwarden
RoboForm
$2.49/month (billed annually)
Industry-Standard Security Protocol
Military-Grade Encryption for Usernames and Passwords
LogMeOnce
Standard 256-bit AES with SHA 512
RoboForm
AES-256bit encryption
Compatibility
All devices and browsers
All devices
All desktops, mobile apps, and web browsers
Wide Variety of Browser Extensions
All Devices and Browsers, except for Linux
All devices
All devices and operating systems
1. LastPass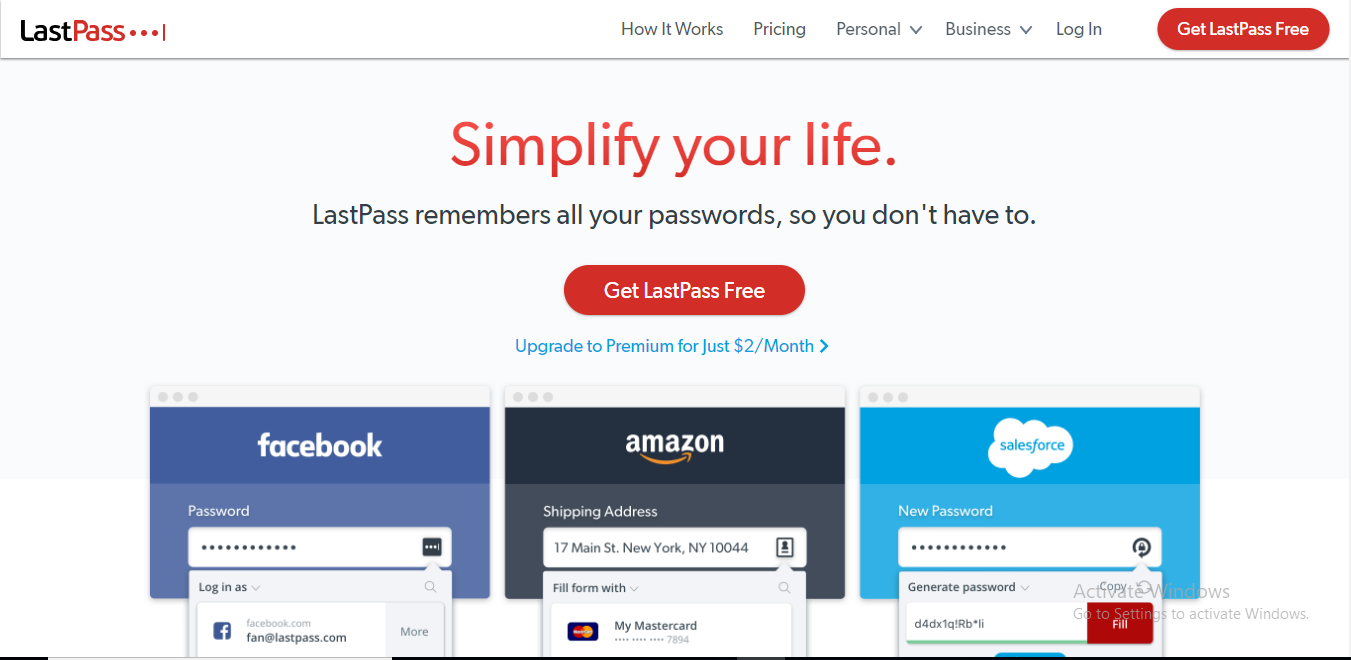 Simple and easy user interface
Form capture
Multifactor authentication
Strong password generator
Compatible with all devices and browsers
Audit report
Easy sharing with other users
Slow customer service
Outdated user interface
LastPass is, hands down, the best password manager for Windows users out there.
The software boasts almost every function you can expect from a password management tool.
From auto-fill to audit report to secure sharing… the software doesn't leave any stone unturned. And all these packaged in a user-friendly interface that even a novice would love.
The UI of LastPass contains a navigation bar on the left and large white space in the middle that displays all the items you've stored in your vault.
There's a large, red '+' button on the bottom right corner of the screen that helps you save passwords, cards, notes, online identities, insurance cards, passports, and more such details.
All these sensitive details are encrypted using the latest AES 256-bit and PBKDF2 SHA-256 to make sure no one can decode them.
In addition to this, you're also allowed to set two-factor authentication and multi-factor authentication to protect your account from intruders.
LastPass also features a responsive and accurate auto-fill function that helps you auto-login to all your online accounts on all devices.
And I'm also quite impressed by the audit report of the software that not only evaluates your vault but also scans the master password.
The password checker is quite meticulous and flags only the most robust passwords as 'Safe/Good'.
Similarly, you can share your passwords and notes with fellow LastPass users by creating a shared folder and adding the recipients to it.
For a better and safe connection you can use your best vpn, which will help you to have a secure connection with all of your passwords being in a protected place.
What's more?
LastPass allows you to grant full access to one of your family members or friends to your vault in case of emergency.
So, in short, you can tag this software as a complete package for any user. Not even the free account deprives you of any of the features mentioned above.
It can't get any better, ha?
Finally, when it comes to device compatibility, LastPass has dedicated apps for all the operating systems. And it automatically syncs your data across all the devices you own.
Though the software has separate plans for families and businesses, the cheapest is their premium account for individuals that costs just $36/year.
You can read more about LastPass in my detailed review here.
2. Dashlane

Dashlane
Best Premium Security
Simple, Intuitive Interface
Industry-Standard Security Protocol
Strong Password Generator
Multiple Forms of Secure Data
Compatible with All Devices
Extensive Password Audits
Increased Privacy with a Dedicated VPN
A Little Expensive
A Little Expensive
Inconsistent Browser Form Autofill
If there's any tool that can come closer to LastPass in terms of features, that is Dashlane.
Dashlane is like a one-stop-shop for a user with a beautiful looking interface.
In fact, Dashlane's UI is one of the cleanest among all the password managers on this list.
It features only a minimal navigation bar on the left, and the rest of the screen is just plain white space with a green 'Add New' button.
However, unlike LastPass, Dashlane can only store passwords, notes, cards, and online identities.
And everything is encrypted using military-grade AES 256-bit encryption with the option to enable two-step authentication.
Dashlane is also excellent in auto-filling web forms and payment details. But what makes it stand out is its comprehensive audit report and VPN.
Unlike other tools, Dashlane doesn't just point out the weak and duplicate password credentials, but it also scans the dark web to see if your online accounts or email address has ever been compromised.
Similarly, the private VPN helps you hide your identity and unlock restricted sites while surfing the web. This is something only Dashlane offers to its users.
What's more?
Dashlane users can exchange passwords directly via email to each other.
The software is available on Windows, Mac, Android, iOS, and even on Linux. And just like LastPass, it auto-syncs your data across all the devices you own.
Finally, when it comes to pricing, Dashlane is a bit expensive at $39.99/year that comes down to $3.33/month. Just a $0.33 more than the cost of LastPass.
And if you need a simple to use software that also gets you dedicated VPN, Dashlane is worth the price.
You can read more in my detailed review of Dashlane here.
3. Keeper Security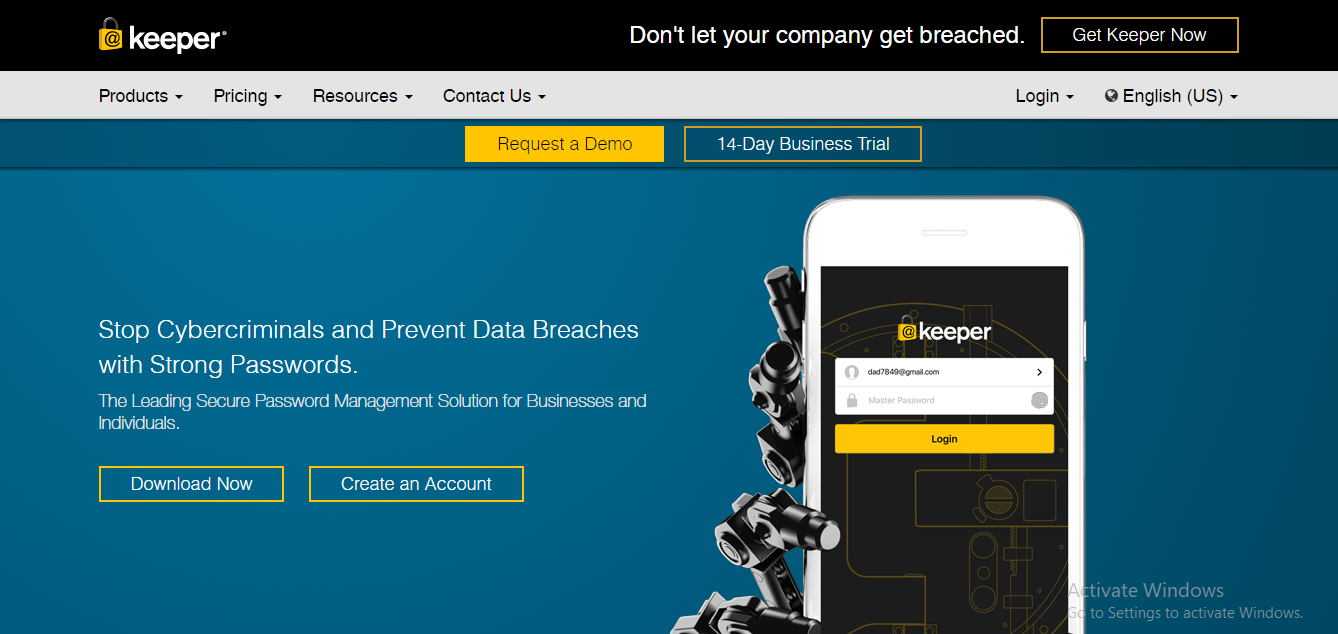 Military-Grade Encryption for Usernames and Passwords
Easy-to-Navigate UI with Password Generator and Security Audit
Easy Password Sharing with Keeper Chat
Export Your Login Credentials in Seconds
Available Across Desktops, Mobile Apps, and Web Browsers
No Free Plans
Slow Customer Support
Account Access Issues
Keeper is a cloud-based password management tool that often gets considered as an alternative to LastPass and Dashlane.
The software uses multiple layers of encryption system, including AES 256-bit and PBKDF2 SHA-256 to protect your data.
On top of that, you also get the option to enable two-factor and multi-factor to prevent intruders from your account.
However, the software doesn't have templates for odd details like passport, driving licenses, insurance cards, etc.
It can store only passwords, notes, addresses, and cards.
But what really impressed me on Keeper Security is their dead-simple user interface that anyone from your grandma to a third-grader can navigate.
I tested the auto-fill feature on different web forms, and it always hit the bullseye. Fast, accurate, and responsive.
However, the form capture feature doesn't work that smoothly, and many times it failed to capture a new log in during the test.
Similarly, I found that the desktop app sometimes behaves weirdly and returns 'wrong password' message even though you enter the correct master password.
But having said that, the most significant benefit of using Keeper is the 'My Chat' feature that makes the entire password sharing function more effective.
It's a built-in chat facility that helps you talk to your friends and family members in real-time.
Similarly, the password audit of Keeper is always up to the mark and never fails to spot any weak or duplicate passwords.
Now, the only catch is, 'My Chat' is a separate product by Keeper that would cost you an extra $1.6 every month.
The premium account of Keeper, on the other hand, costs $30/year ($2.5/month).
The software is available on mobile devices and operating platforms and has auto-sync enabled by default.
You can read more in my detailed review of Keeper Security here.
4. 1Password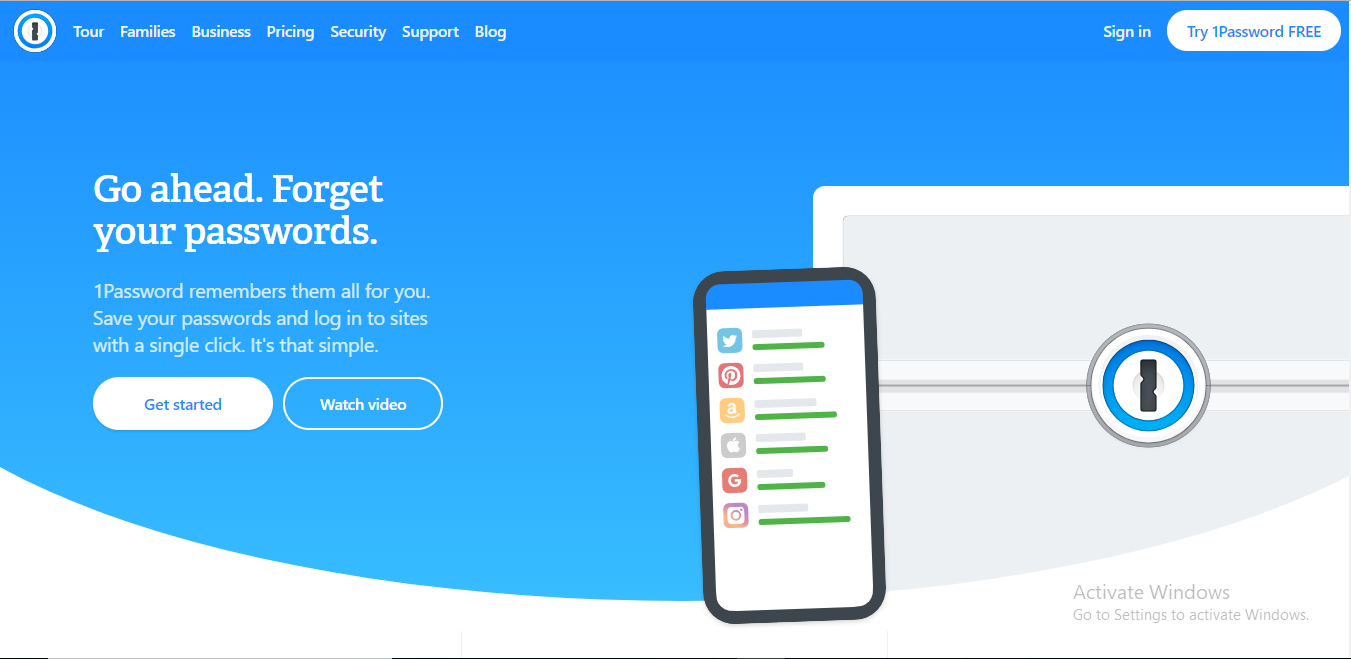 Secure Login Mechanism
Wide Variety of Browser Extensions
Seamless Form Capture Feature
Comprehensive Password Audit
Multiple Templates for Secure Information
Helpful Customer Support
Poor User Experience
Login Issues with Your 'Secret Key'
1Password is one of the most popular password managers on the web.
Though features-wise this tool is not as powerful as LastPass or Dashlane but is known for its compact security.
The software can store a wide range of details, including passwords, cards, notes, online identities, driving licenses, and more.
And it is one of those rare tools that use end-to-end AES 256-bit encryption to protect your data from hackers.
However, what makes 1Password one of the most secure online vaults out there is not end-to-end encryption, but the 'Secret Key' it generates for every new sign-up.
A secret key is 32+ digit alphanumeric key that you needs to enter along with the master password whenever you sign-in to your account.
You can top it off with two-factor authentication, and your vault will become nearly impossible for anyone to break into.
Similarly, it features a 'Watchtower' function that sends your alerts regarding any security breach on the internet.
The 'Watchtower' function is also responsible for auditing your password database and highlighting weak and duplicate passwords.
However, I didn't find the password checking system as rigorous as LastPass' because, during my test, it failed to recognize some lose passwords and marked them 'Safe/Good'.
That also makes it less reliable compared to LastPass or Dashlane.
Similarly, the software can help you share passwords via shared folders, but for that, you have to sign-up for their family or business plans.
Unlike other programs, individuals cannot share passwords with each other.
However, the silver lining is the device compatibility that makes the software available on every operating system.
You can try the software for 30 days for free, but once the trial ends, you will have to upgrade to their premium account that costs $2.49/month when billed annually.
Otherwise, your account will be suspended because there's no free account available. And that's another major drawback of 1Password.
You can read more in my detailed review of 1Password here.
5. LogmeOnce

Minimalistic Approach
Standard 256-bit AES with SHA 512
Auto-fill feature
Solid audit system
Secure sharing of passwords
Except for Linux, it is compatible with every operating system
Inability to access the vault offline
If you're someone who doesn't want to spend anything on password managers yet want a decent tool, then LogmeOnce is perfect for you.
LogmeOnce is primarily a free password manager software that avails almost everything you can get on high-end tools like Dashlane or LastPass.
The software is a hub of some revolutionary features like Mugshot, PhotoLogin, and Anti-Theft function. Plus, working on it is extremely easy as you only need to add its browser extension and create an account.
No need to install any desktop or mobile app.
The browser extension takes you straight inside the vault where you can see a bunch of different functions on the right side of the screen.
During the test, I just breezed through every function. Just select one, and it takes you inside that tool.
Apart from login details, LogmeOnce can store cards, shipping addresses, notes, and online identities. And it combines SHA-512 with AES 256-bit to ensure no one can decode your data.
The tool also boasts two-factor and multi-factor authentication, but the multi-factor option is included in its premium suite.
LogmeOnce is excellent when it comes to some essential functions like auto-fill and password auditing.
But what I found most interesting in this software is the PhotoLogin and Mugshot feature.
Using PhotoLogin, you can log in to your LogmeOnce vault just by showing your photo or face in front of the camera.
Similarly, Mugshot helps you catch intruders who try to access your devices by guessing the master password.
Every time someone enters a wrong password, your phone or computer's camera will snap a photo of that person. So you can know who's the culprit.
Cool, isn't it.
Now, the only catch here is all these unique features come as pay to play basis. So, you have to pay for them separately, or you can buy the bundle pack that cost anywhere between $4-$7/month.
This bundle pack contains all the add-on products LogmeOnce has developed to tighten up your security.
LogmeOnce is also an ideal option for secure password sharing and other information because it allows you to share directly via email.
And you can decide whether the recipient can see the login credentials or not.
LogmeOnce has extensions for almost every popular browser like Chrome, Firefox, Opera, Safari, Microsoft Edge, and more.
Smartphone users can download the Android or iOS password manager apps on their phones.
And even though the tool is primarily free for everyone, if you can invest some money, their Premium Suite is a steal of a deal for just $12/year.
That's just $1/month making it one of the cheapest tools out there.
You can read more about LogmeOnce in my detailed review here.
6. Bitwarden
Remarkably easy to use
Browser extension automatically signals the number of accounts associated with a site
Two-factor authentication
Password sharing is easy
Password audit
Compatible across all devices
Password generator not that responsive
Bitwarden is the most versatile and least costly tool on this list.
The software is available as web-based and also as a desktop app. And no matter what you prefer, the user-interface is spanking clean on both the places.
In fact, after Dashlane, Bitwarden has the most beautiful and well-defined interface among all the tools.
I never had any problem executing a function during my test. Everything is on the main screen and hardly needs a click or two to perform.
For example, to store a login credential, just click on the 'Add Item' button, fill in the details on the next screen, and hit 'Save'. From there on, Bitwarden will autofill secure passwords for you.
Following the same procedure, you can store cards, notes, and online identities, too.
Bitwarden encrypts all these sensitive data using the industry-standard 256-bit AES and PBKDF2 SHA-256.
You also get the option to add two-factor authentication to protect your account from brute force attacks.
Though it also features multi-factor authentication, that is available only for their 'Enterprise' users.
I used auto-fill to login to different social media account and fill the payment details on Amazon, and it never missed a single detail.
Similarly, you would love the secure sharing function where you just need to create an organization and add members to it via email invitations.
The process is exactly like what you do in LastPass or 1password.
What's more?
You can use the in-house password audit tool to find out the weak and duplicate passwords and replace them right within the software using the password generator.
However, the only catch is both – secure sharing and audit report is reserved for the paid users.
And to become one, you need to shell just $10/year. That comes down to less than a dollar a month.
And for a tool like Bitwarden that ticks all the boxes off, it's golden for any user.
You can use Bitwarden on all devices regardless of the operating system, and the software comes with auto-sync enabled by default.
You can read more in my detailed review of Bitwarden here.
7. RoboForm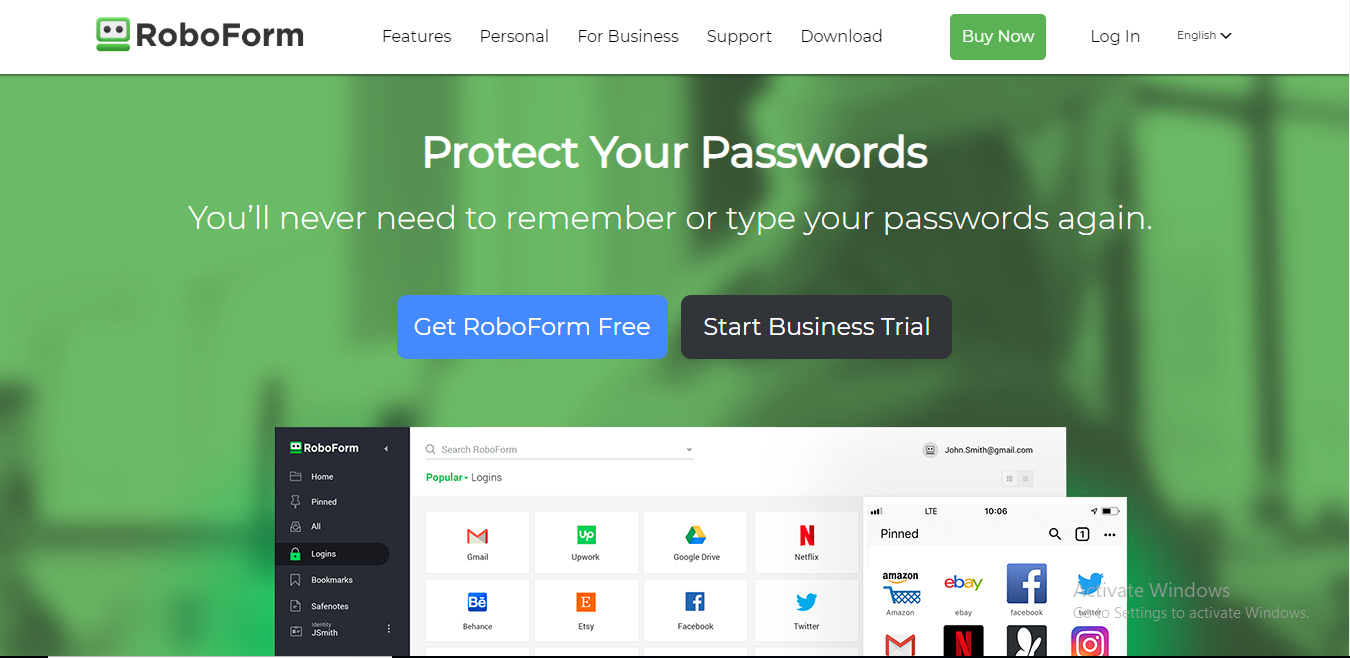 Simple and easy to use
AES-256bit encryption
Auto filling web forms
Auto-fill and password storage
Password sharing
No restrictions on the type of device or operating system
No multi-factor authentication
Last but certainly not least, you have RoboForm – a low cost, user-friendly password manager.
The software is known for its dead-simple interface and working on it is a cakewalk even for the most non-technical users.
All the basic functions like adding credentials, autofill, audit report, password sharing, etc. can be done within a click or two. And apart from the typical secure login details, the tool can store notes, online identities, and cards.
It uses a double layer of protection of AES 256-bit and PBKDF2 SHA-256 to tackle brute force attacks and online hacking.
Besides this, you can set two-factor authentication to prevent any unwanted break authorization to your account.
Though there isn't anything unique or extraordinary about the tool but RoboForm's automatic form capture and auto-fill function is just amazing.
Unlike other programs, RoboForm automatically saves your login details and payment options as soon as you sign-in to a new account or pay for a product online.
Now, the next time you visit that site, RoboForm automatically fills the login details within seconds.
Similarly, you can use the software to share passwords with fellow RoboForm users directly via email.
The software also boasts an in-house password checker to spot the weak and duplicate passwords for you. But I found the one on its official website is more rigorous than the one which is inside the tool.
I've tested so many of my robust passwords on the password checker and noticed that only the best passwords get the green signal from it.
And finally, the pricing is quite budget-friendly and sets you back just $1.99/month when you commit for the entire year.
You can read more in my detailed review of RoboForm here.
Conclusion
Phew… finally, we came to the end of this post.
After going through all the seven tools, some tools stood out among others.
My top two picks are LastPass and Dashlane based on the number of features they offer and their reasonable price.
Keeper Security would be my third choice because barring a few minor drawbacks, the tool is as good as the top two picks. Plus the cost is also low.
However, if you're looking for a free option or wants a premium tool at the lowest cost, then LogmeOnce and Bitwarden, respectively are most suitable for you.
The rest of the tools are also decent and boast most of the essential functions, but they're not as good as the top picks.