At first glance, LogmeOnce looks like an old school late 2000 open-source software. But as you go deeper, it literally blows your mind.
The modest-looking password manager tool, in reality, is a beast. It's loaded with modern-day features to manage your password collection, and houses some unique tools to fight hackers.
These password manager features include Mugshot, Photo Login, a private browser, and more that you don't usually find in other programs. Though all these functions come on a pay to play basis, the free version of LogmeOnce is not menial either.
In fact, the free version of LogmeOnce can give many paid alternatives a run for their money. If you need a free password manager, it is definitely worth considering as an option.
And the best part about LogmeOnce?
The software is remarkably easy to use. Even a novice can make full use of the program, and setup secure passwords without looking at the training materials once.
This, and more such benefits make LogmeOnce an ideal password manager tool for many users.
But is it perfect in every sense? Can we call it a complete package? Or suitable for everyone?
In this LogmeOnce review, we will go through its pros and cons.
Our Verdict
LogmeOnce goes a step ahead and includes some unique security features that you won't find on any other paid password manager.
Minimalistic Approach
Standard 256-bit AES with SHA 512
Auto-fill feature
Solid audit system
Secure sharing of passwords
Except for Linux, it is compatible with every operating system
Inability to access the vault offline
LogmeOnce Pros
#1. LogmeOnce takes a very minimalistic approach to secure passwords and tries to keep things as easy as possible.
First of all, unlike most of the online password manager tools, there are no desktop apps to be installed.
You just need to add their browser extension (available for all major browsers), create an account, and you're good to go.
Quite easy, huh!
Similarly, this minimalistic approach reflects in their user interface, too.
Overall, compared to other password manager tools, the user interface of LogmeOnce is not that attractive. It's just an off-white page with a bunch of icons (for different functions) on the right-hand side.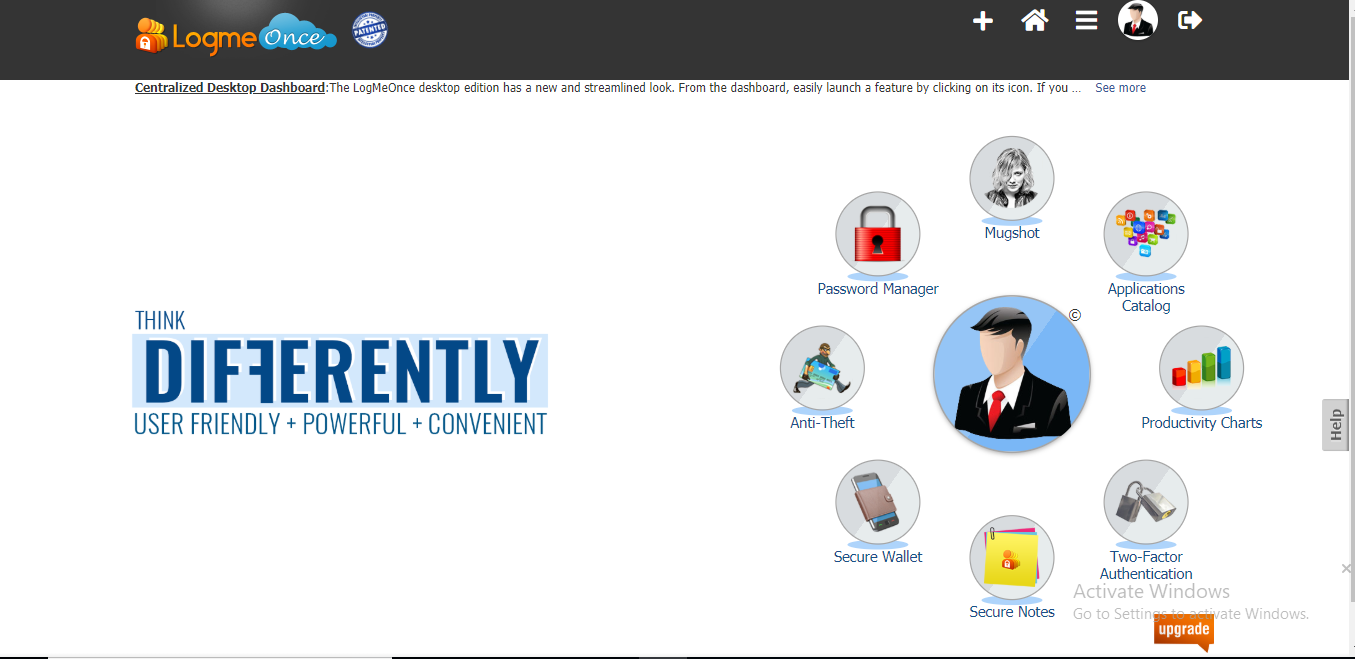 But the bright side is, it makes working on LogmeOnce a walk in the park. And you just breeze through most of the functions because it hardly takes a couple of clicks to perform anything on the software.
For example, to save a secure password, all you need to do is:
Click the '+' button on the toolbar at the top and select the 'An App' option from the drop-down menu.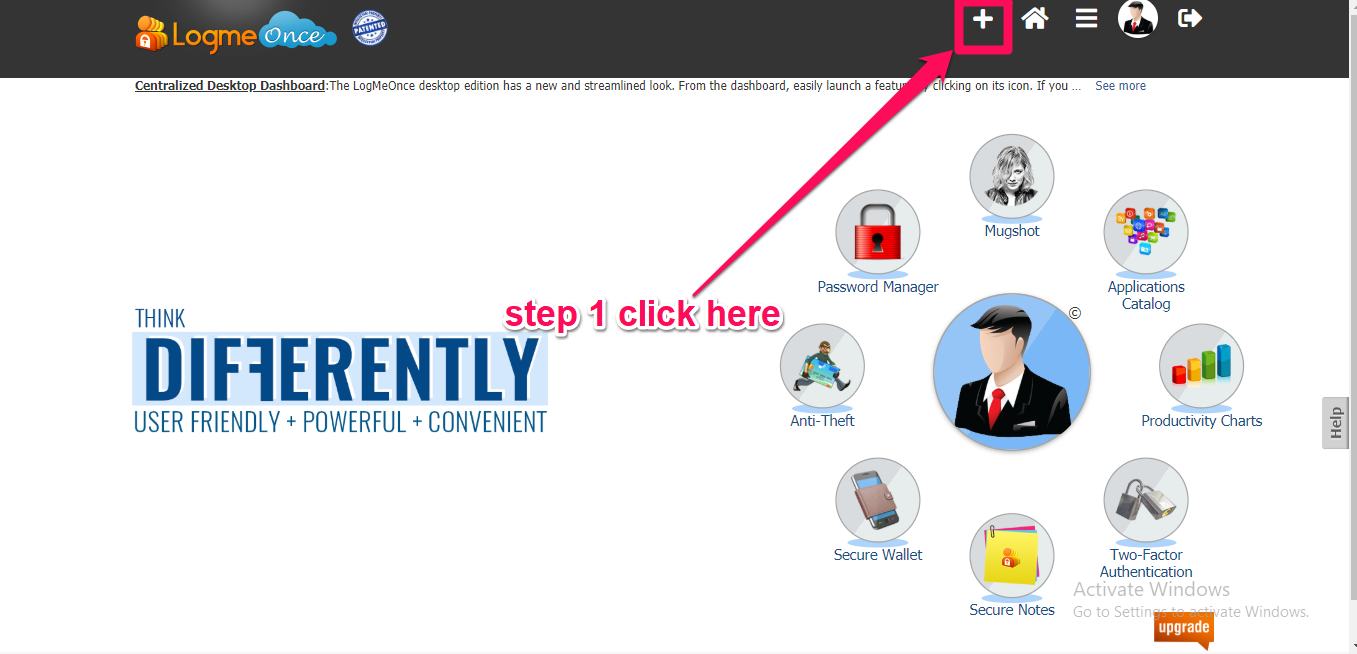 After that, fill the necessary info like the app name, url, your password, etc. in the next wizard and click 'Save'.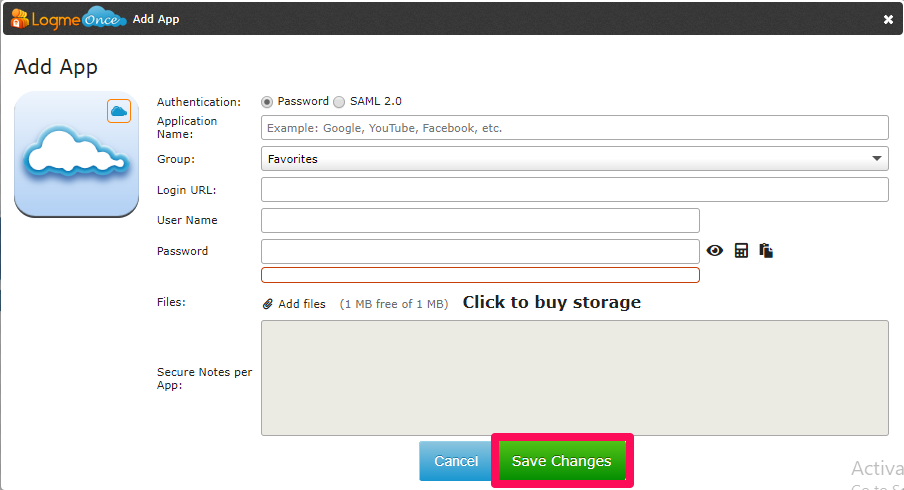 Once you've done that, a pop up appears that asks you to enter your master password. Plug that in and you're done.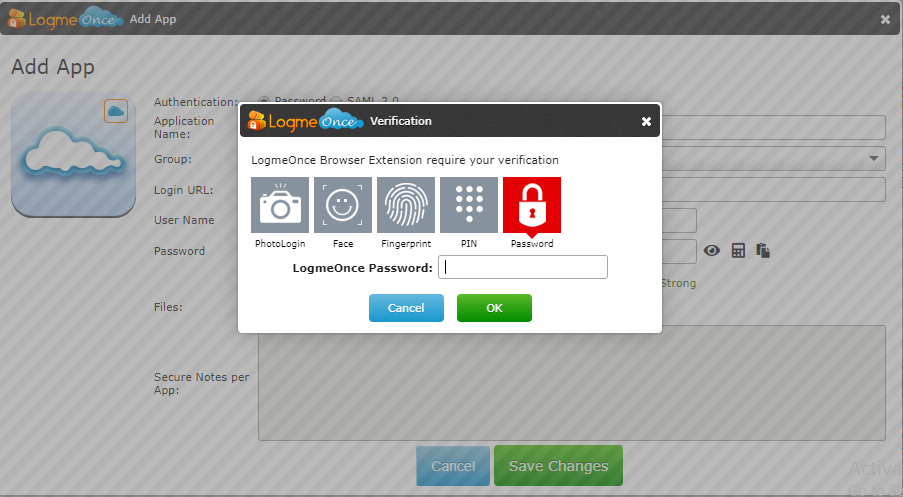 It's that simple!
Similarly, all the other functions like saving your card details or doing a security audit are also just a few steps away.
#2. When it comes to encrypting data, LogmeOnce uses the standard 256-bit AES with SHA 512.
That is decent but what separates this online password manager tool from other programs is their unique approach towards security.
They've introduced PasswordLess login that enables you to log in to your vault without using your master password. Instead, you can use your face, fingerprints, or pin code.
Additionally, they offer two-factor authentication and multi-factor authentication to make sure no one could access your sensitive data even if they crack the passcode.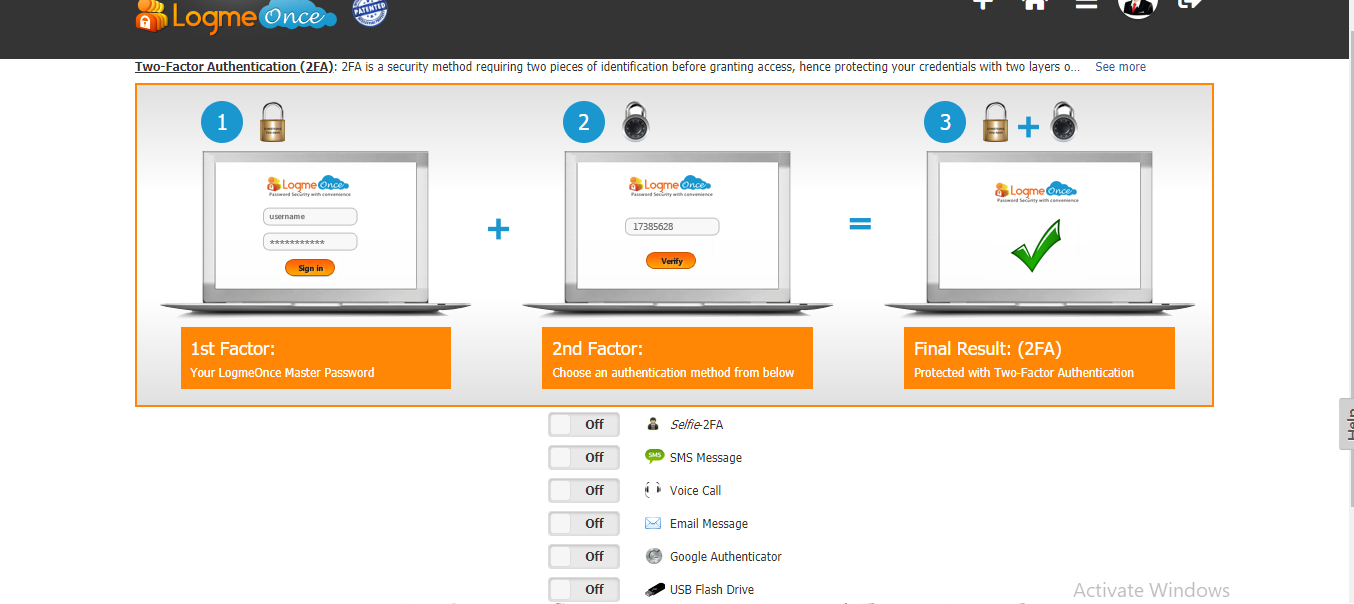 And you know what's more interesting?
You can actually catch the intruder by implying the Mugshot feature that takes a photo of anyone who enters the wrong password.
Now, the only catch is, most of these functions like two-factor authentication and multi-factor authentication and mugshot are available with the paid version of the LogmeOnce password manager.
#3. The auto-fill feature of LogmeOnce is quick and responsive. I used it several times and it never disappointed even once.
As soon as you visit a website, LogmeOnce displays the option to automatic login if you've saved that site name and your credentials in the vault.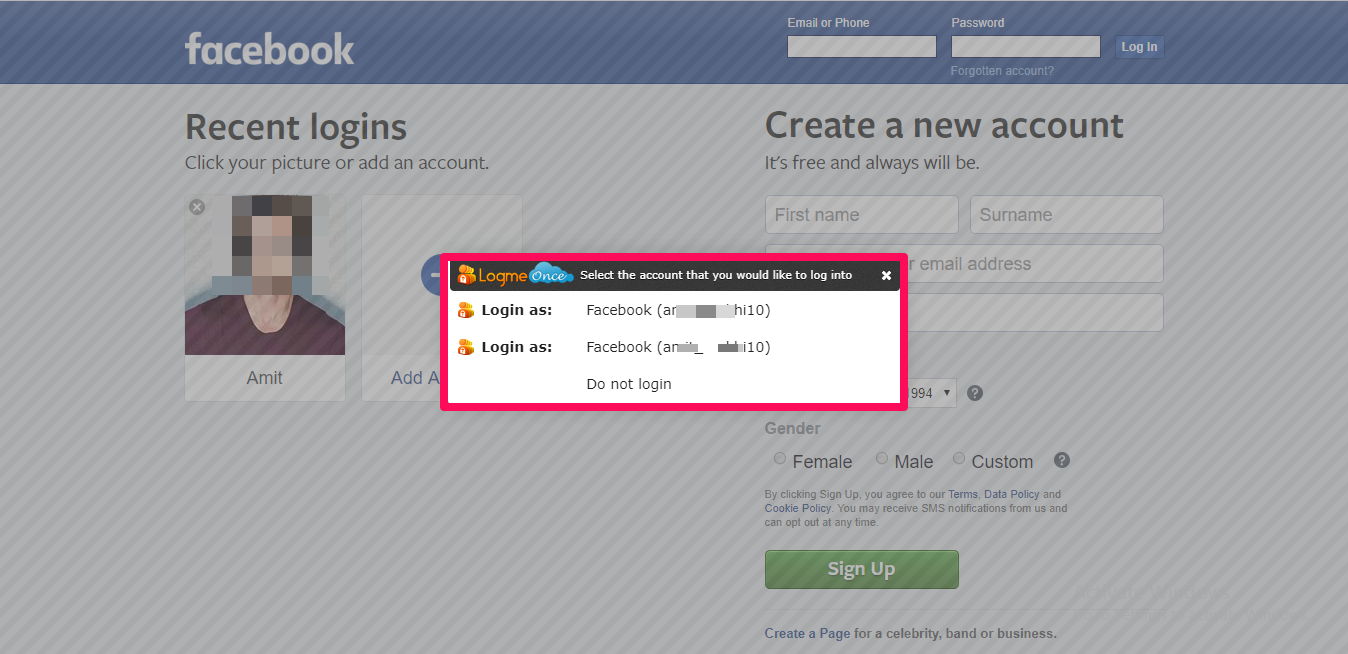 Similarly, you can fill your payment details in seconds after feeding the card details in the software.
#4. LogmeOnce has a solid audit system where you can check whether your unique passwords are easy or hard to crack.
And the best thing is you can get a report in a single click.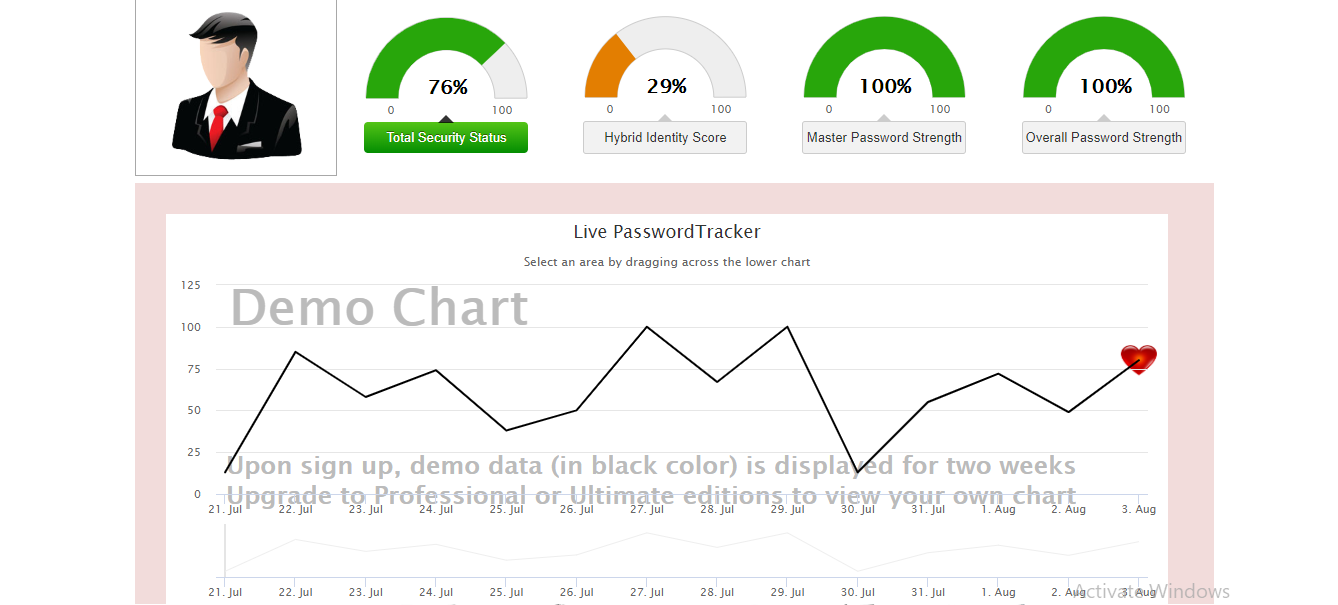 The report presents an overall score on the strength of your secure password and if there's any loose string, you can fix it using the automatic password generator.
In fact, the password generator lets you decide the length of your password, digits you want to use, special characters, etc.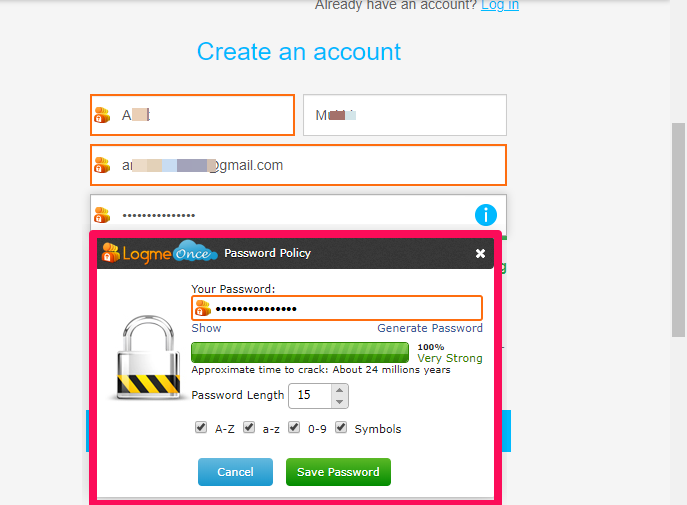 In short, you get full control over how your password would look.
#5. For those who are considering LogmeOnce for their family or group would enjoy the quick and secure sharing of passwords.
Unlike other paid apps, you are not required to create a shared folder. Just select the password and share it via email with other members of your group or family.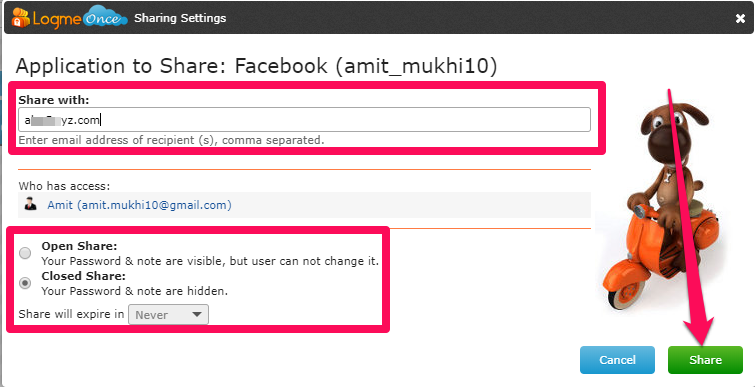 And the best part is, you can determine whether the recipient would see the credentials or it would remain in encrypted form. Giving you the freedom to keep your credentials secret even if you share them with others.
#6. Finally, when it comes to device compatibility, LogmeOnce almost hits the bullseye. Why 'almost'?
Because except for Linux, it is compatible with every operating system, be it Windows, macOS, Android, or iOS. It also has app versions for Android and iOS for mobile devices.
Also, there's no cap on the maximum number of devices you can run the software on, which is like an icing on the cake.
LogmeOnce Cons
#1. The only glitch I found in LogmeOnce password manager is the inability to access the vault offline. You will have to be connected to the internet to make use of the tool.
This makes not as effective as other offline password manager options like Lastpass, Dashlane, or even iCloud Keychain.
And the other thing which nagged me a bit is the initial setup process of the software. Sure, you can call it nitpicking, but going through more than a dozen slides to finally reach the UI was quite annoying.
But overall, there aren't any major flaws in this software.
LogmeOnce pricing plans and payment options
LogmeOnce is primarily a free password manager software, and I would suggest going for this free version for any average user.
But if you would like to check out some cool features like Mugshot or Photo Login that add an extra layer of protection, then opt for their bundle packs or premium edition. These tools do help LogmeOnce
While the premium edition can be afforded even by a bankrupt person (costing $1/month billed annually), the two bundle packs would cost you anywhere between $4-$7 per month.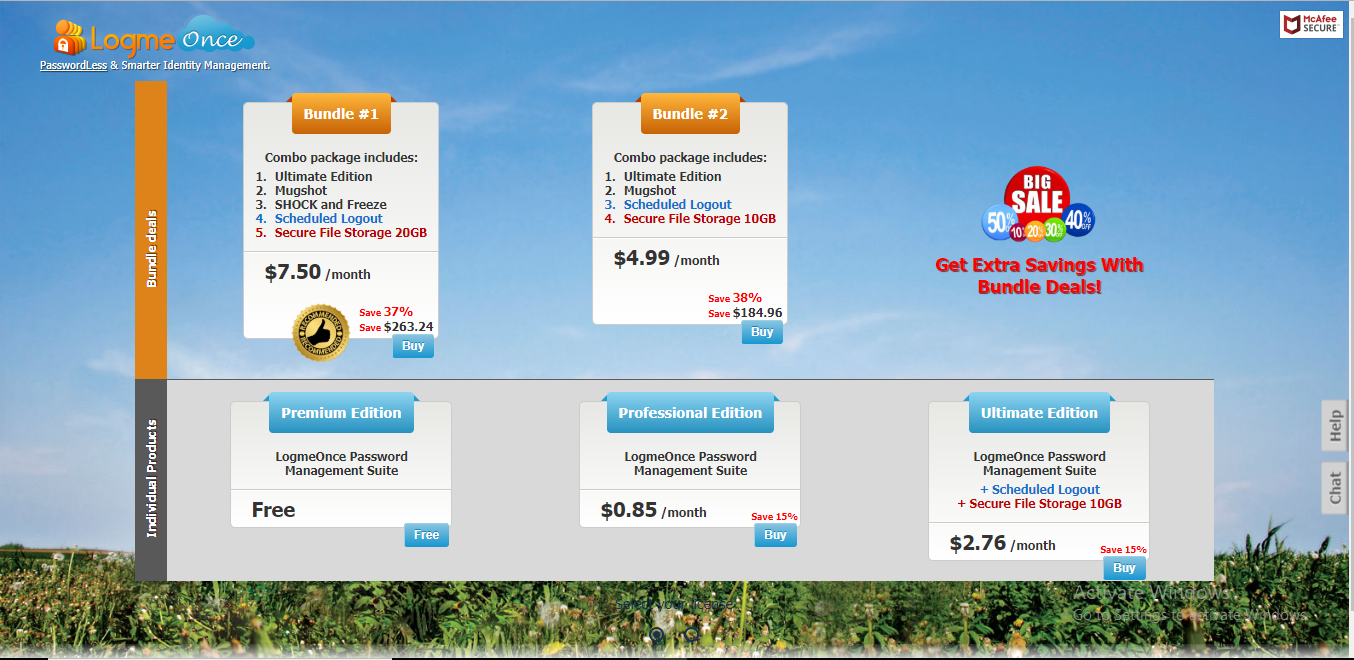 On the other hand, LogmeOnce also issues license for families that comes for just $4/month and allows you to onboard up to 6 members.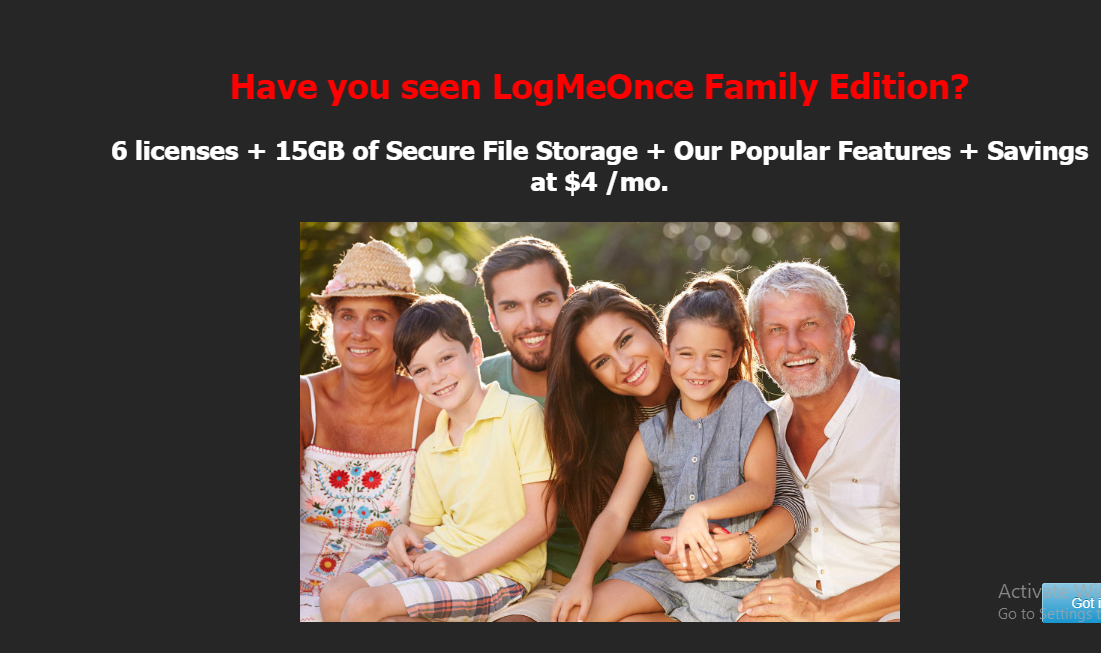 And at last, as for payment methods, you can use PayPal or your credit cards to pay for the monthly or yearly subscription plans.

Do I recommend LogmeOnce?
Yes, I definitely recommend LogmeOnce.
The direct competition of this software is with LastPass, Keepass, and Dashlane.
And even though the UI of LogmeOnce is not as attractive as LastPass' or Dashlane's, it offers everything that the other two password managers do.
In fact, LogmeOnce goes a step ahead and includes some unique security features that you won't find on any other paid password manager.
And the best part?
The price is ridiculously cheap, almost half of what LastPass costs. However, I would still suggest an average user (who just wants to protect secure passwords and other data) to stick with the free version because that is enough to do the job.