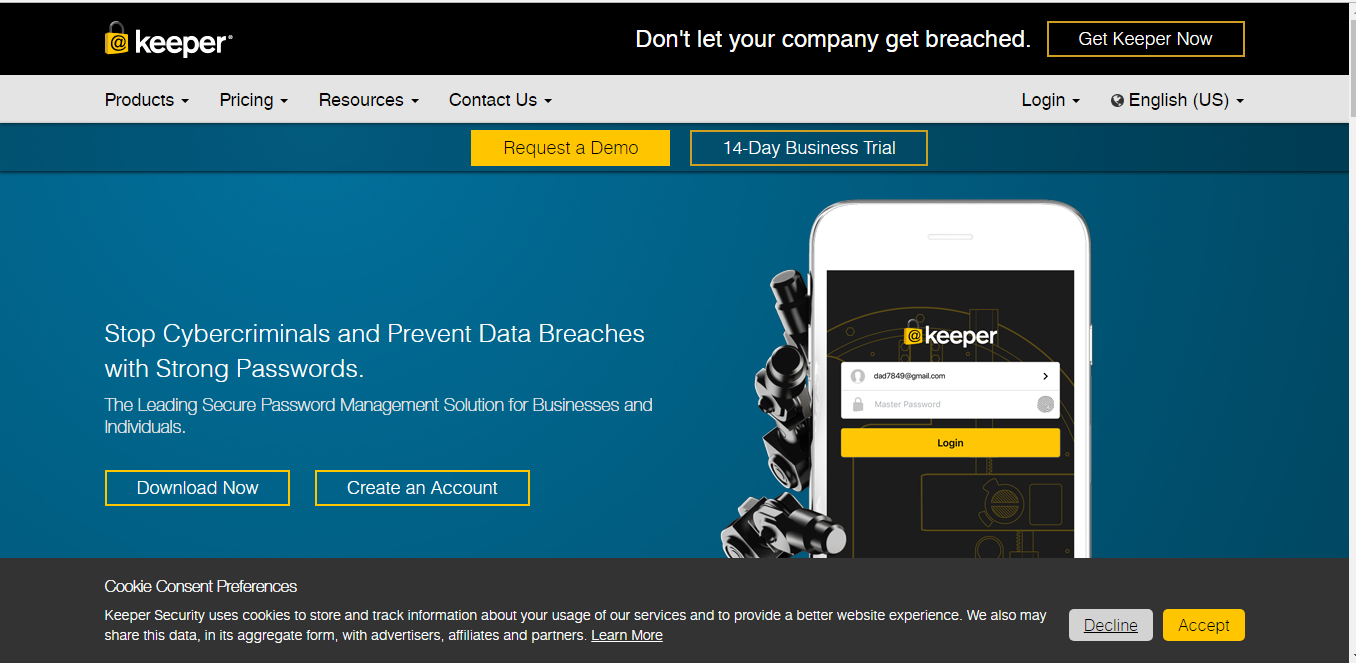 Keeper Password Manager (aka Keeper Security) is a secure password app that keeps all your data safe by using multiple layers of encryption.
The security features are good across the board. Keeper is the one of the only tools in we've tested (along with Dashlane) that comes with PBKDF2 encryption along with the standard 256-bit AES. We're talking brute-force proof, military-grade encryption here for your credit cards, driver's license, and more.
Besides the strong encryption, Keeper comes with many other plus points along with a few downsides that may upset some of the users.
In this Keeper Password Manager Review, we'll break down all of the pros and cons to see if it's worth your time and money, or if you should use a different app to safeguard your data instead.
Our Verdict
If you're planning to invest in a good password manager, then Keeper definitely should be among the top of your list.
Military-Grade Encryption for Usernames and Passwords
Easy-to-Navigate UI with Password Generator and Security Audit
Easy Password Sharing with Keeper Chat
Export Your Login Credentials in Seconds
Available Across Desktops, Mobile Apps, and Web Browsers
No Free Plans
Slow Customer Support
Account Access Issues
Keeper Pros
#1 Military-Grade Encryption for Usernames and Passwords

According to Keeper, they are 'fanatical' about protecting their user data. And they walk their talk by pairing up the standard 256-bit AES encryption with PBKDF2 encryption to make it impossible for anyone to break into your account (unless you tell them your master password).
It protects your data with multiple layers of security keys. And even though, Keeper is a cloud-based vault, it's a 'zero-knowledge' tool. That means it only saves the encrypted data of users. All the decryption happens in the user's device.
#2 Easy-to-Navigate UI with Password Generator and Security Audit

Keeper has a very simple dashboard where you can use the password generator to create random passwords, and then save these secure passwords just by clicking the yellow colored 'Create New' button, click 'Record'…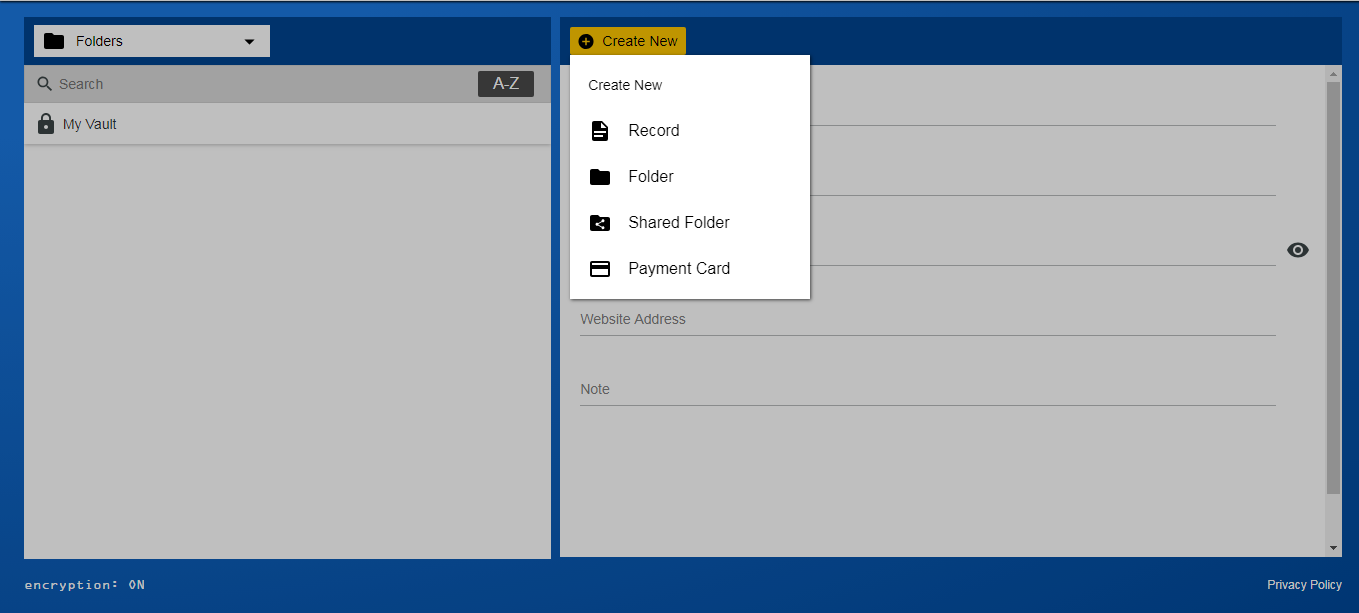 …fill in all the details and click 'Save'. As simple as that.
#3 Easy Password Sharing with Keeper Chat

Sure, like all the other tools of this test, Keeper also has a sharing feature where you can share sensitive folders or strong passwords with other people.
But what makes Keeper special is its 'Keeper Chat' feature that lets you chat with all the users in your group (those who are sharing the folder or password) talk in real time. It's like their own built-in WhatsApp or Slack group.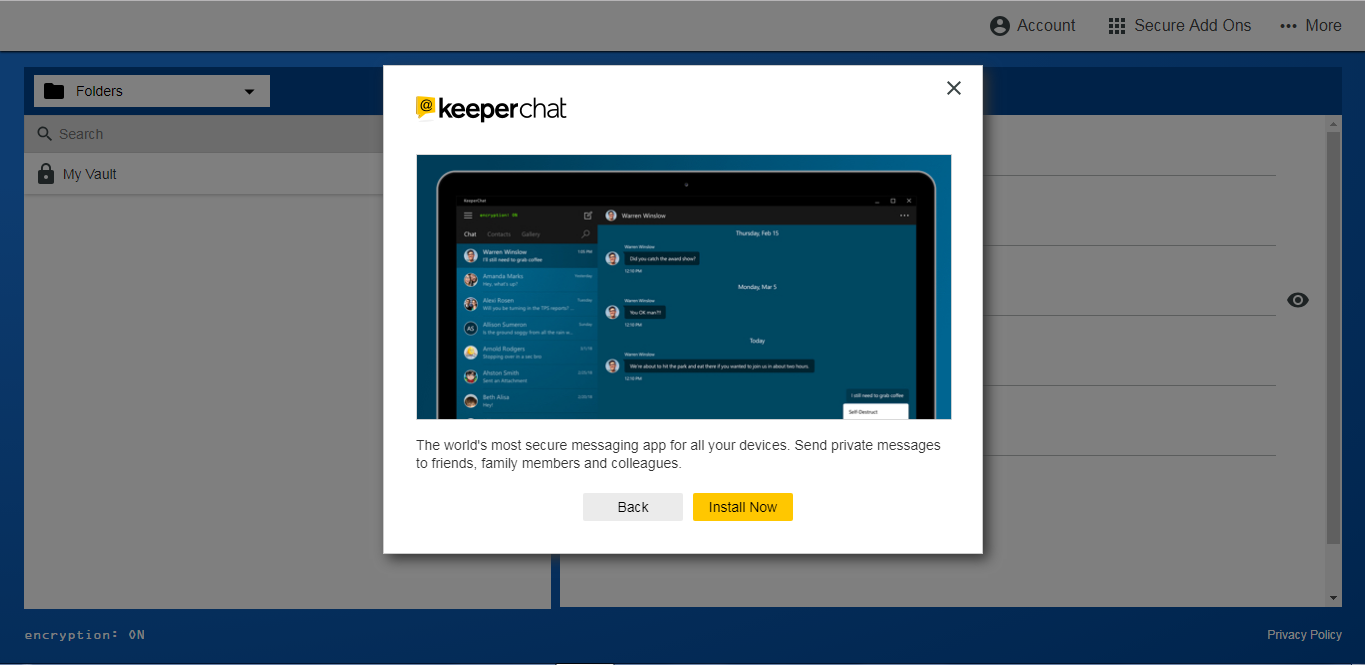 This feature is essentially handy for a team or business that uses Keeper to share secure passwords.
#4 Export Your Login Credentials in Seconds

Though Keeper doesn't have an offline feature yet, it does let you export all your data in a PDF or CSV file.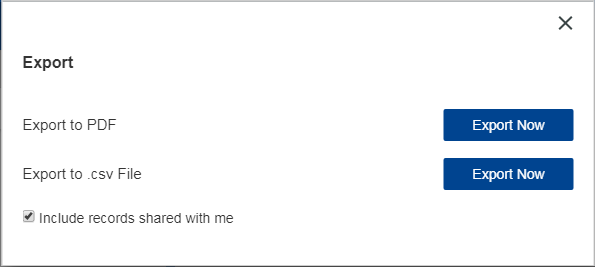 Similarly, it also lets you import all your sensitive data and passwords (of different accounts) with just a few clicks.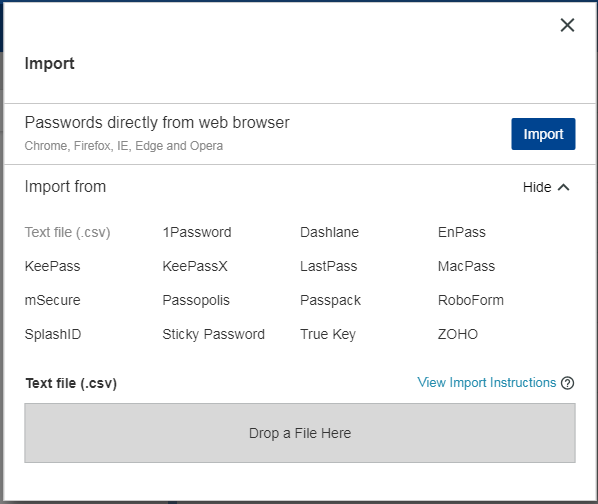 #5 Available Across Desktops, Mobile Apps, and Web Browsers

You can use Keeper security in all the devices. It has mobile apps for Android and iOS. There are desktop apps for Mac, Windows, and Linux.
Plus, you can add it to most major web browsers, too. Keeper provides a browser extension for Chrome, Safari, Microsoft Edge (the new, revamped version of Internet Explorer), and Firefox.
#6 Two-Factor Authentication Using Fingerprints and Face ID
Keeper provides two-factor authentication with a variety of technologies, like TOTP, SMS, and U2F security keys (e.g. YubiKey).
More importantly, they support both Touch ID (fingerprint) and Face ID — taking the usual pain out of this additional secure step to safeguard your most sensitive data.
Keeper Cons
#1 No Free Plans

I agree that Keeper Security has one of the safest encryption technology and offers a large set of features to its users but it lacks a free plan for those who can't afford to pay for their product.
They sell three plans – Individual, Team, and Business. The cheapest of them all starts from $2.5/mo when billed annually (yes, it offers a free trial of their premium products but only for 14 days).
#2 Slow Customer Support
The customer service of this tool is not as responsive compared to the other competitors like 1Password or Dashlane.
When I reached out to ask a general question about my account, it took Keeper almost 30 hours to get back with me with more details.
#3 We Experienced Account Access Issues

Another issue I faced while using this tool is with its sign in process.
Strangely, it kept showing me password error even though I was entering the right one and after five attempts, it locked my account and compelled me to generate a new one (password, not account).
Keeper Password Plans and Pricing

Keeper does have a free plan, but it's limited to only one device, and is really only suited towards mobile devices with the mobile-only autofill and fingerprint / Face ID login.
Otherwise, the cheapest premium package comes with $2.5/month when billed annually. That comes out to around $30 for the year, which places it right around the best password managers we've reviewed for value-per-dollar.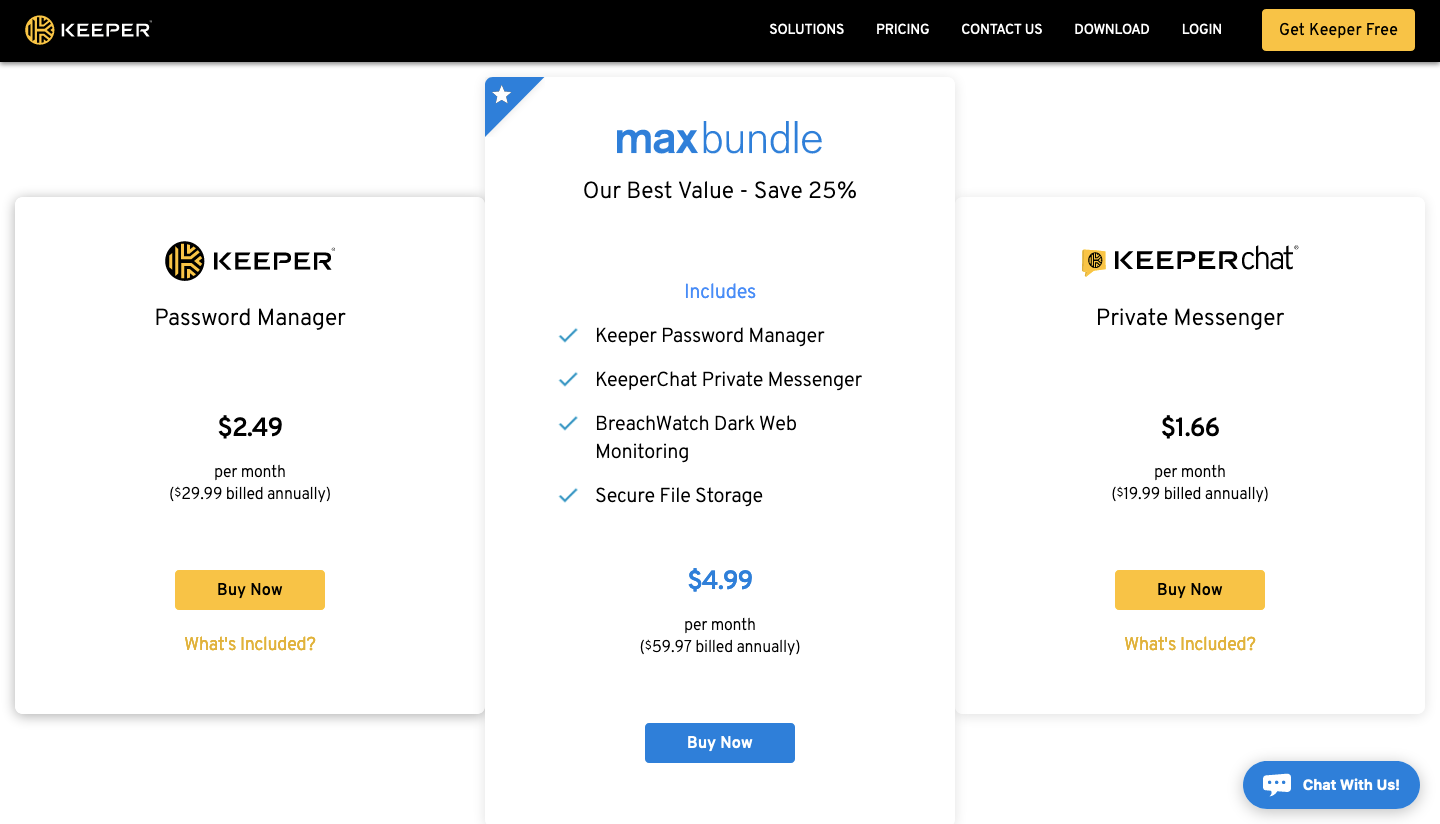 Keep in mind that this pricing is for a personal (single) license.
They also have a family option that provides everyone with a secure password manager to make sure your logins and passwords are safe across bank accounts, secure file storage, children's information, and more.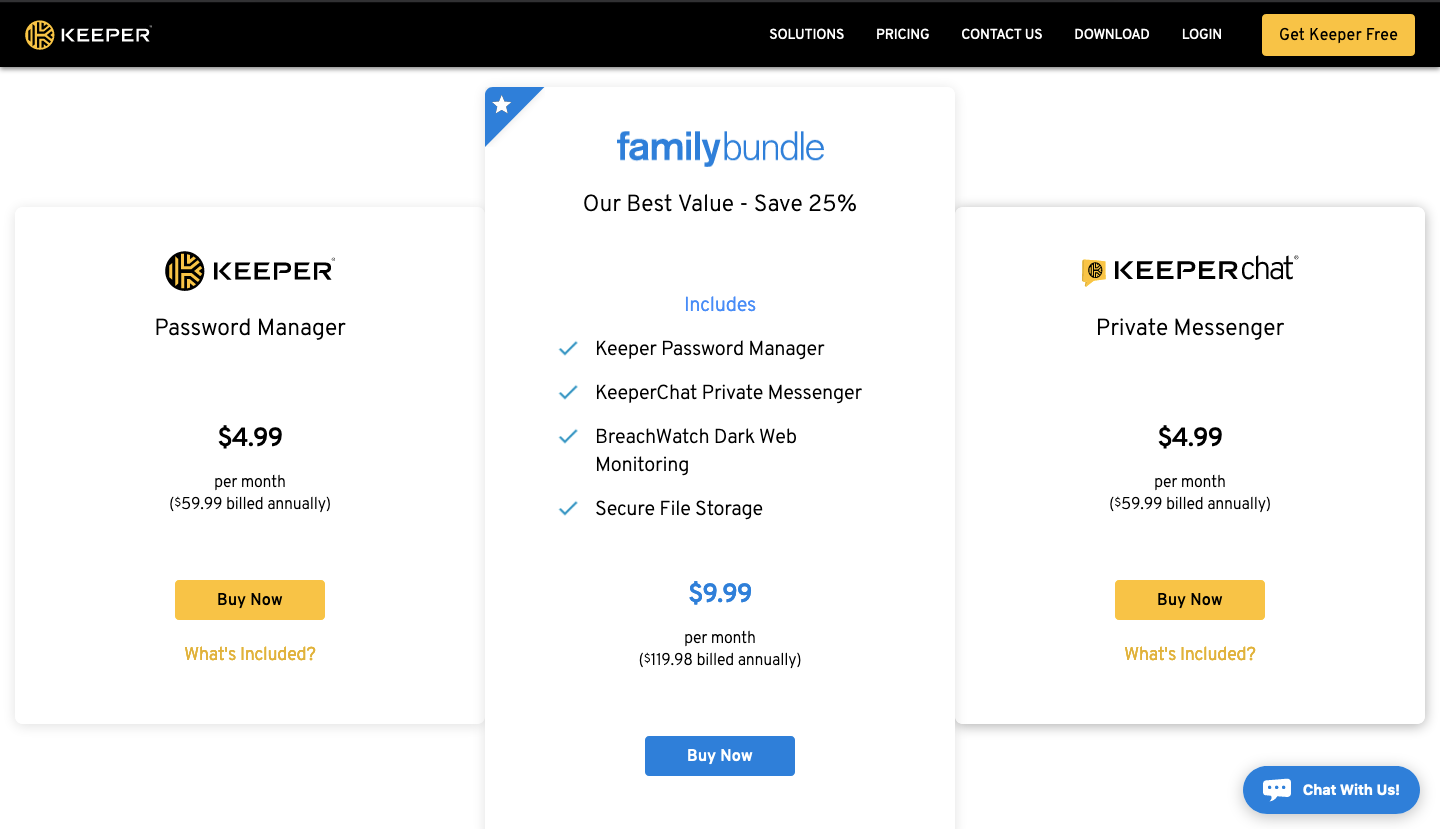 Syncing across your family is effortless.
And if that's still not enough, they also have business and enterprise options for password sharing, too.
Do I Recommend Keeper Security?
Yes, I do.
Their security features are solid. The password generator works well. Autofill is fast and easy to use. There are apps for mobile devices, desktop, and web browsers. And they also support multi-factor authentication with both Touch and Face ID.
Password sharing is also a breeze with the additional chat features, so your entire family should be able to use a single sign-on for key accounts. That's important, because you can make sure even non-technical people in your household are using unique passwords.
If you're planning to invest in a good password manager, then Keeper definitely should be among the top of your list.
Keeper compares well with the top of the top (compare against our LastPass review), as well as providing a better bang for your buck than alternatives like Roboform or Keepass (open-source software alternative).