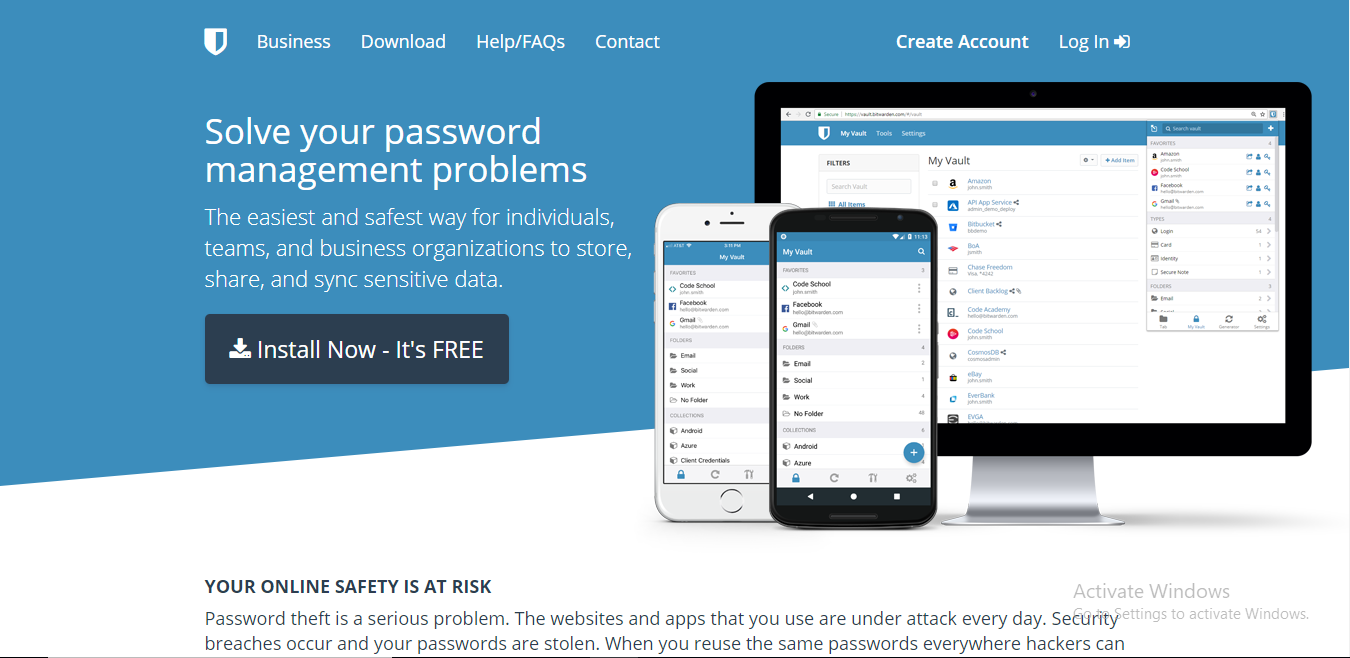 Bitwarden is a complete password manager tool that not only can store your secure passwords and sensitive data but can also help you share them with others.
Feature-wise, the software ticks all the boxes and leaves no stone unturned to become a one-stop-shop for password manager users.
You can use the encrypted vault for personal use, buy it for your company, or share membership with your family members – it fulfills every need.
And the best part is?
Unlike any password manager, Bitwarden is available as a desktop app, mobile app, and web-based software. That means you're free to access your secure vault from both your desktop web browser and mobile devices.
If you're working on your home desktop, you might want to use the desktop app. But when working in a cafe or using a public computer, logging in via the web account for encryption is wiser.
Now, all these qualities, combined with a dirt-cheap price, makes Bitwarden a steal of a deal. But is it good enough to replace a state of the art product like LastPass or Dashlane? How does it compare to open-source software like Keepass, or a cheaper password manager like Zoho Vault?
In this Bitwarden review, we'll find out by weighing the pros and cons of this tool.
Our Verdict
I definitely recommend Bitwarden because along with being user-friendly, the software is packed with features and hardly has any flaws.
Remarkably easy to use
Browser extension automatically signals the number of accounts associated with a site
Two-factor authentication
Password sharing is easy
Password audit
Compatible across all devices
Password generator not that responsive
Bitwarden Pros
#1. Bitwarden, doesn't matter whether you use the web-based vault or the desktop app, is remarkably easy to use.
I breezed through all the functions during the test and found the interface to be newbie-friendly.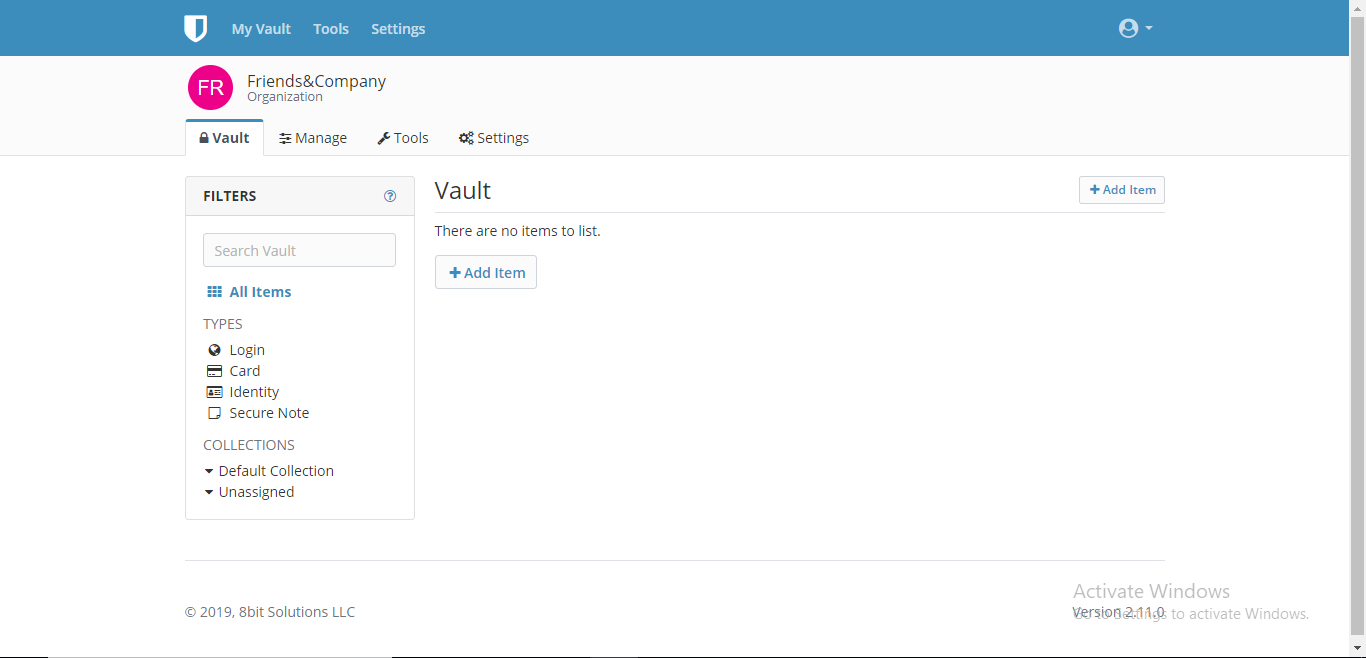 In fact, the password manager interface is so clean and well-defined that you hardly need any help to find your way. And most of the functions require only a click or two to execute.
For example, to save a password, you just need to click the 'Add Item' button, fill all the details, and hit 'Save'.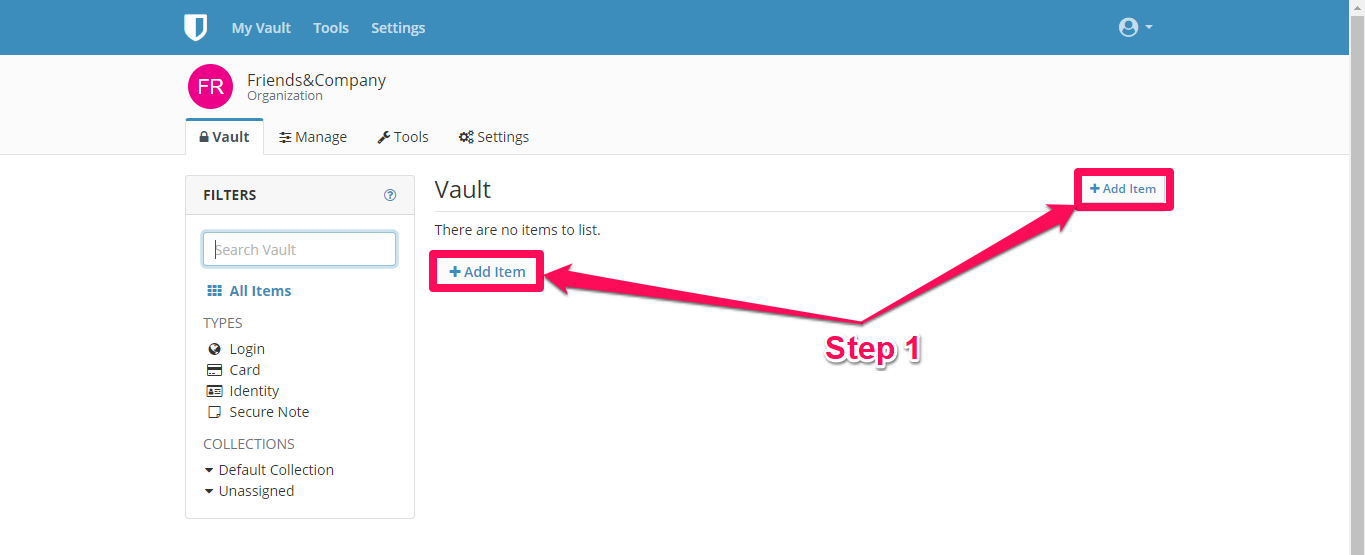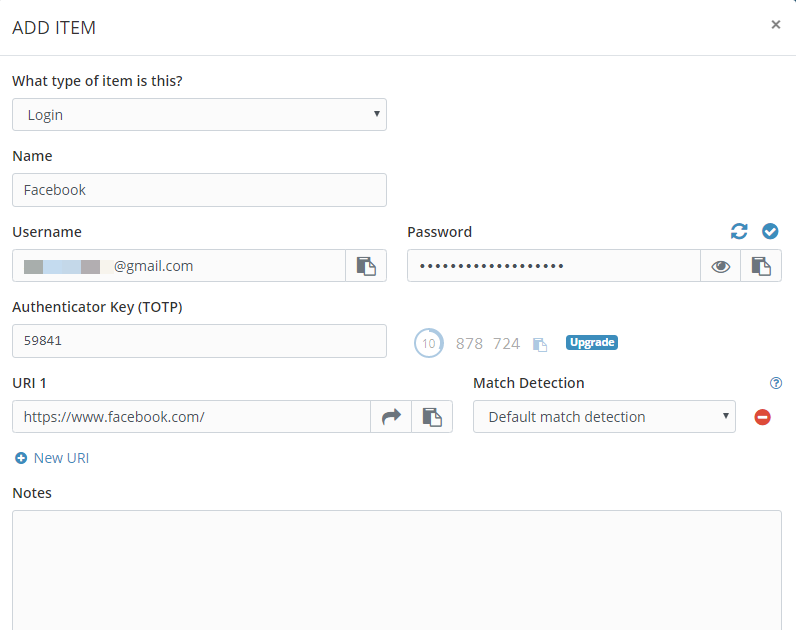 Similarly, you can add your card details, identities, and secure notes following the same procedure.
#2. Once you've stored your login credentials, you expect the password manager to do all the login work from now on. And Bitwarden doesn't disappoint you either.
It works just like LastPass, and as you open a site whose credentials are already stored, the browser extension automatically signals the number of accounts associated with that site.

From here, all you need to do is click the browser extension and select the account you want to login from the drop-down menu.
And Bitwarden automatically fills the login credentials details for you. Next, click the 'Login' button and you're done.
Similarly, when you're signing up for an account or signing in for the first time, Bitwarden never fails to ask you whether you want to save the login details for that site.
Overall, my experience with the automatic login and form capture feature of Bitwarden was smooth as silk. It was spot on every single time.
#3. Safety is the biggest reason why people trust password managers with their most sensitive data. And Bitwarden works hard to maintain this trustworthiness.
That's why they use 256-bit AES to encrypt your secure passwords and other data. And derive the encrypted key from your master password using PBKDF2 SHA-256.
To top it all off, free users get the option to set two-factor authentication to prevent unwanted break-ins. They also have the option of multi-factor authentication, but that is limited only to their 'Enterprise' users.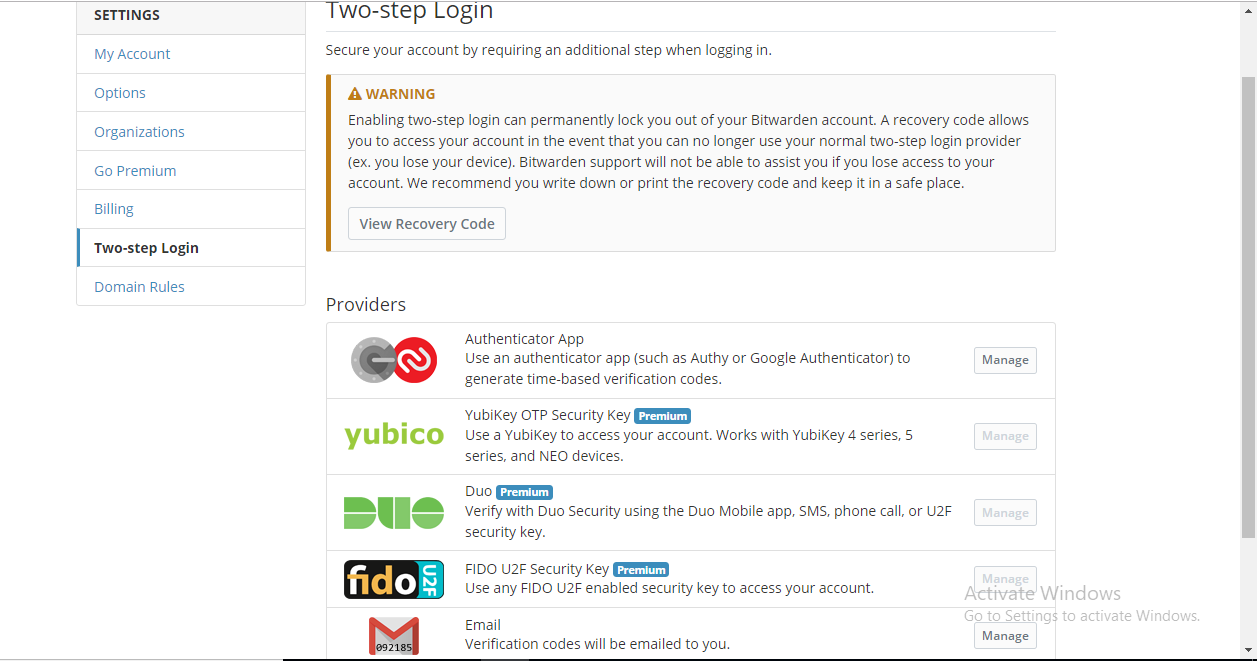 In short, the Bitwarden encrypted vault is unbreakable unless someone has access to all your devices and two-step authentication codes, which is kinda impossible.
#4. Sharing your password data with other users is super-easy on the software.
I found the whole process to be quite similar to what you do on LastPass.
First of all, you have to create an organization account and then go to the 'Manage' section.

Next, hit the 'Invite User' button and enter the email address of the user you want to share passwords with.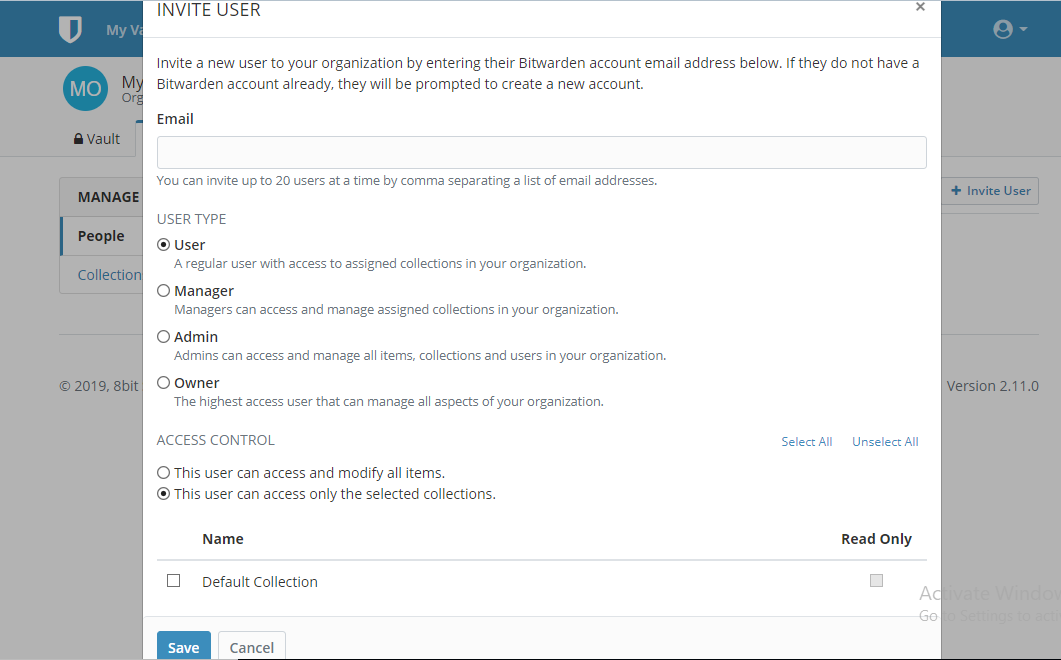 If they already have a Bitwarden account, they can accept your request and join right off the bat. Otherwise, they'll have to create an account first.
And once they've joined your organization, just confirm their membership, and they could see the credentials that you want to share with them on their vault. This makes it a fairly straightforward system for secure password sharing.
#5. As I mentioned in the beginning, Bitwarden leaves no stone unturned. That's why, to keep you updated on your overall password health, it audits all your passwords and points out the weak, outdated, and duplicate ones. The report will prompt you to make strong passwords that are less susceptible to hacking.
However, the only catch is?
Security reports are available only to the paid users.
#6. Bitwarden has no limitations when it comes to device compatibility.
You can either use the web version on any mobile devices that have web access or download the dedicated mobile apps for Windows, Mac, Android, iOS, and even Linux.
And thanks to the automatic sync, your logins and passwords are always with you wherever you go.
What's more?
Bitwarden has extensions for almost every web browser including Chrome, Safari, Microsoft Edge, Opera, Firefox, and more. It doesn't quite have the integration of other software like Zoho Vault, but it's still a great feature.
Bitwarden Cons
#1. You might call it nitpicking (since Bitwarden hardly has any flaws), but the password generator was not that responsive.
I expected it to pop up while filling sign-up forms but unfortunately, it didn't because it's not automatic. You have to click on the browser extension and select 'Password Generator' to produce a random password.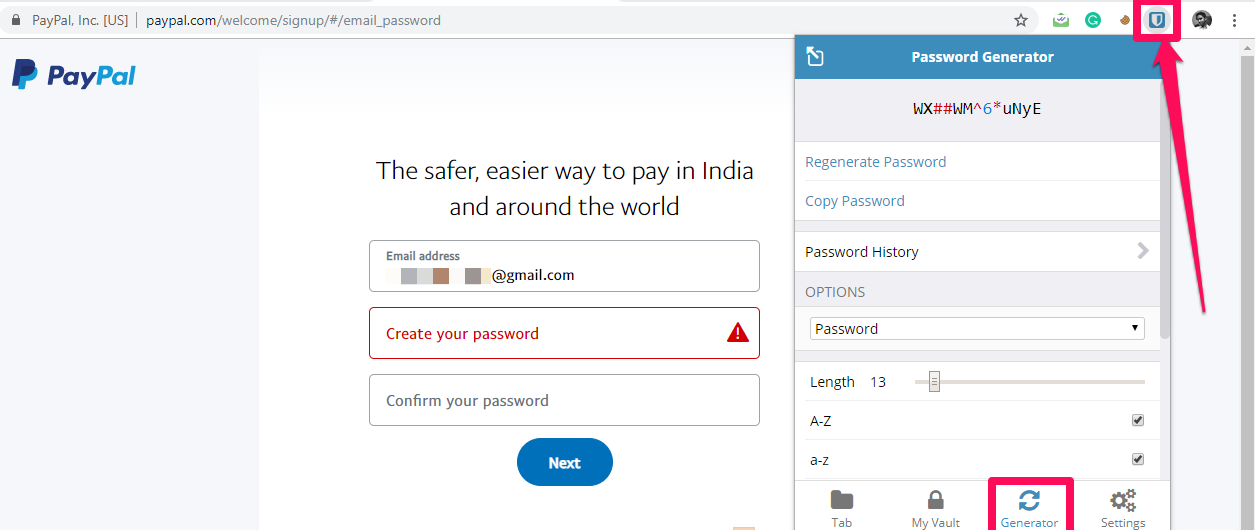 Also, make sure you've checked all four components – uppercase, lowercase, numbers, and symbols.
Plus, the password generator software doesn't work offline. So that's another minor glitch you want to keep in mind while investing in the tool.
Bitwarden pricing plans and payment methods
Bitwarden has a variety of plans for its vast user base. You can either opt for their 'Personal' plans or go with the 'Organizational' plans.
If you're an individual user, I would suggest the 'Free' membership, or you can also upgrade to 'Premium' for just $10/year. Being a 'Premium' user, you reap various benefits like 1GB of encrypted file storage, security audit, and more.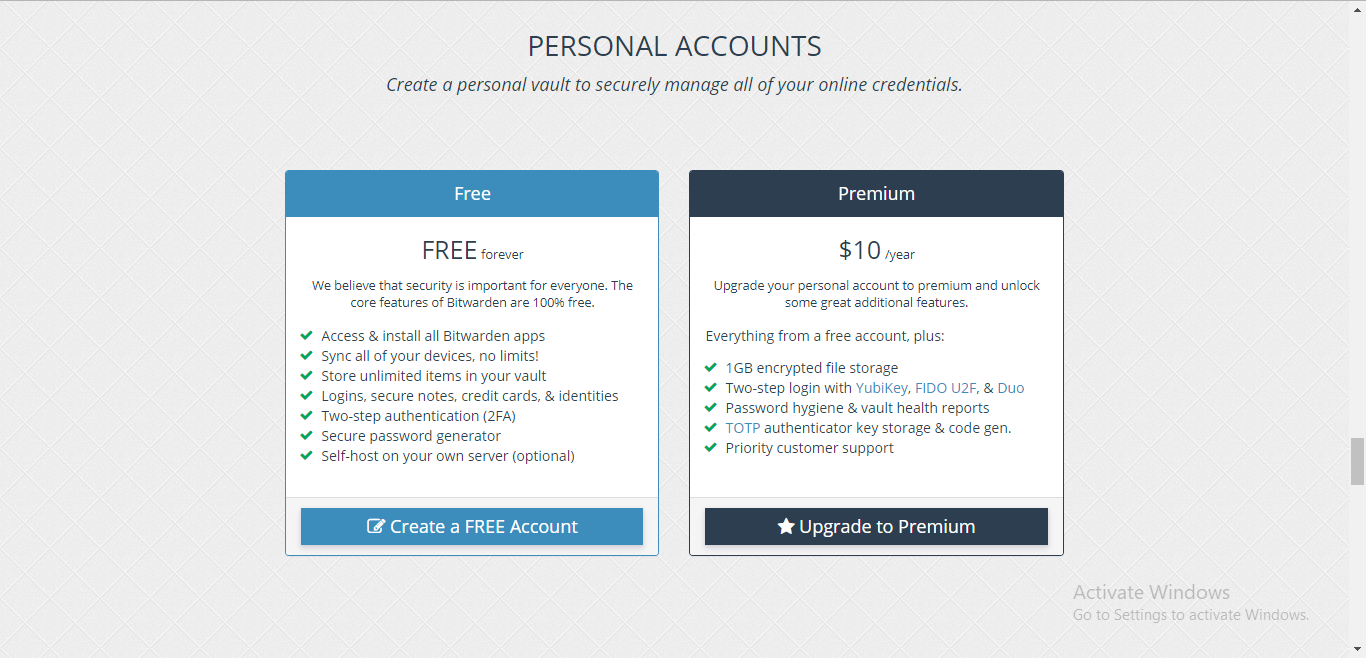 On the other hand, if you want to buy Bitwarden for your family, then they have the 'Families' plan that covers up to five members and costs just $1/month when billed annually.
Business owners can choose between the 'Teams' and 'Enterprise' plans.
'Teams' plan will mostly suit small groups and companies considering their benefits. It covers five users for just $5/month, and you can add more users for $2/user/month.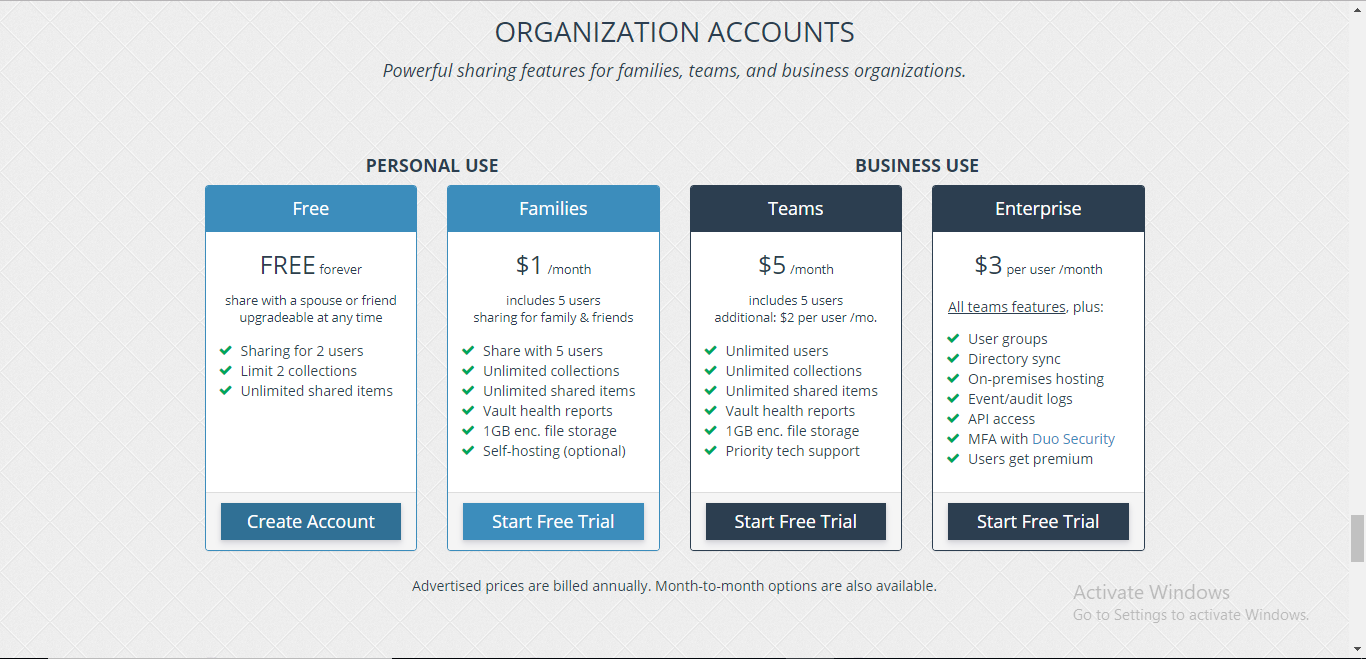 And finally, the 'Enterprise' plan that avails multi-factor authentication costs $3/user per month and is perfect for large enterprises.
Bitwarden doesn't share any information regarding their refund policy. But for payments, it accepts both – PayPal and credit cards.

Do I recommend Bitwarden?
Yes, I definitely recommend Bitwarden because along with being user-friendly, the software is packed with features and hardly has any flaws. It makes storing your password for apps and websites simple, secure, and hard to hack.
Moreover, the aggressive pricing strategy works in their favor and makes them one of the cheapest password managers out there with all the cutting-edge facilities.
So, if your goal is to buy an advanced software at an economical rate, then the Bitwarden password manager is definitely one of the options you should consider.