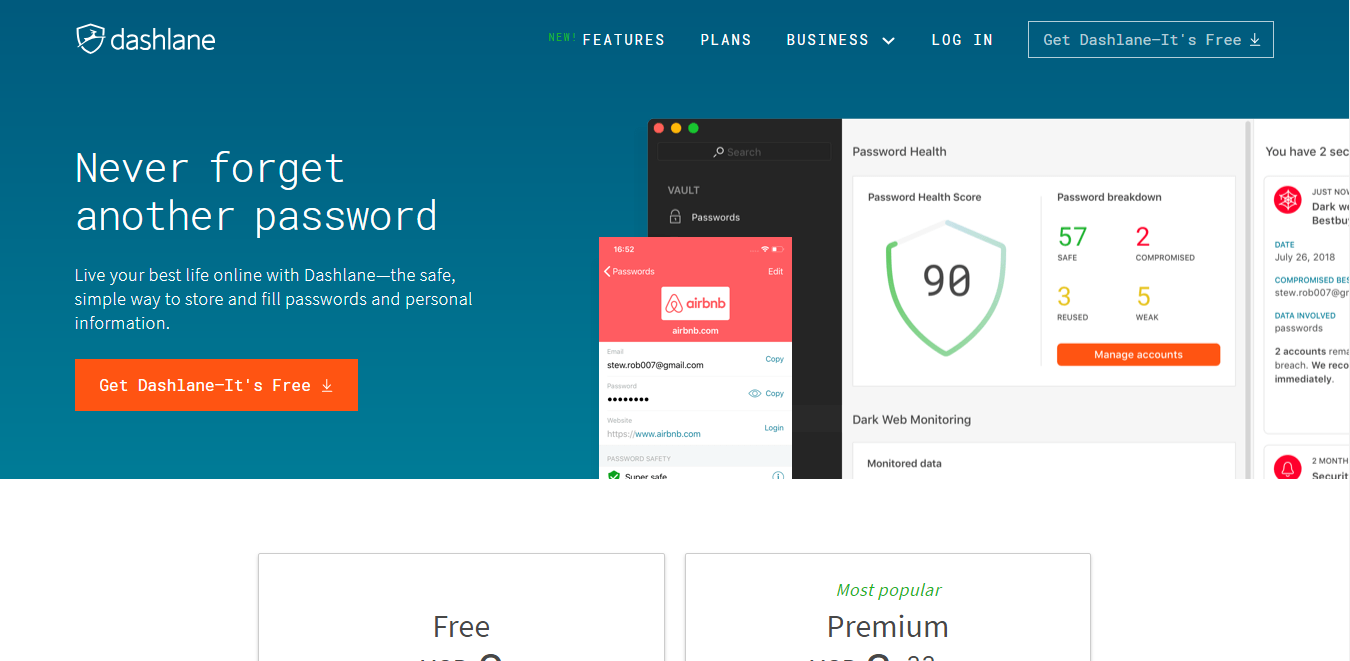 Some people are an open book online.
You can find nearly everything: their job, address, significant other, musical interests, and more. Some information, however, needs to be kept private.
Passwords, credit card numbers, and other personal information need to be protected or encrypted, so hackers can't get into consumers' accounts.
But how can you prevent that?
The answer lies in your passwords and the overall health of your digital security.
Hackers prey on users with a weak password that is easy to crack. In fact, over 80% of hackings are able to take place due to a weak password.
Consumers need to improve the measures they are taking to bolster their online security.
Currently, only 1 in 2 consumers create unique, complex passwords or leverage passphrases for their personal accounts.
Even worse, 50% of consumers are using the same passwords across multiple sites.
To aid in the fight against hackers, consumers are turning to password managers to improve their online security.
More than 60 million consumers store multiple passwords in password managers and that number is growing by the day.
There are many password managers on the market. Consumers should evaluate each to understand their features, security measures, and unique functionality.
Today, we're going to examine Dashlane, a leading password manager app used by more than 10 million people around the world.
Before we dive into this Dashlane review, let's learn about the company and team behind the product.
Our Verdict
I'd recommend giving Dashlane a try on the free plan and consider upgrading if you enjoy the service.
Dashlane
Best Premium Security
Simple, Intuitive Interface
Industry-Standard Security Protocol
Strong Password Generator
Multiple Forms of Secure Data
Compatible with All Devices
Extensive Password Audits
Increased Privacy with a Dedicated VPN
A Little Expensive
A Little Expensive
Inconsistent Browser Form Autofill
Is Dashlane the Right Password Manager for You?
Dashlane was founded in 2009 and is currently based in New York City. The company has raised $210.9 million and currently employs more than 250 workers.
When you visit the Dashlane website in your browser, you're greeted with Dashlane's promise to "put passwords in their place."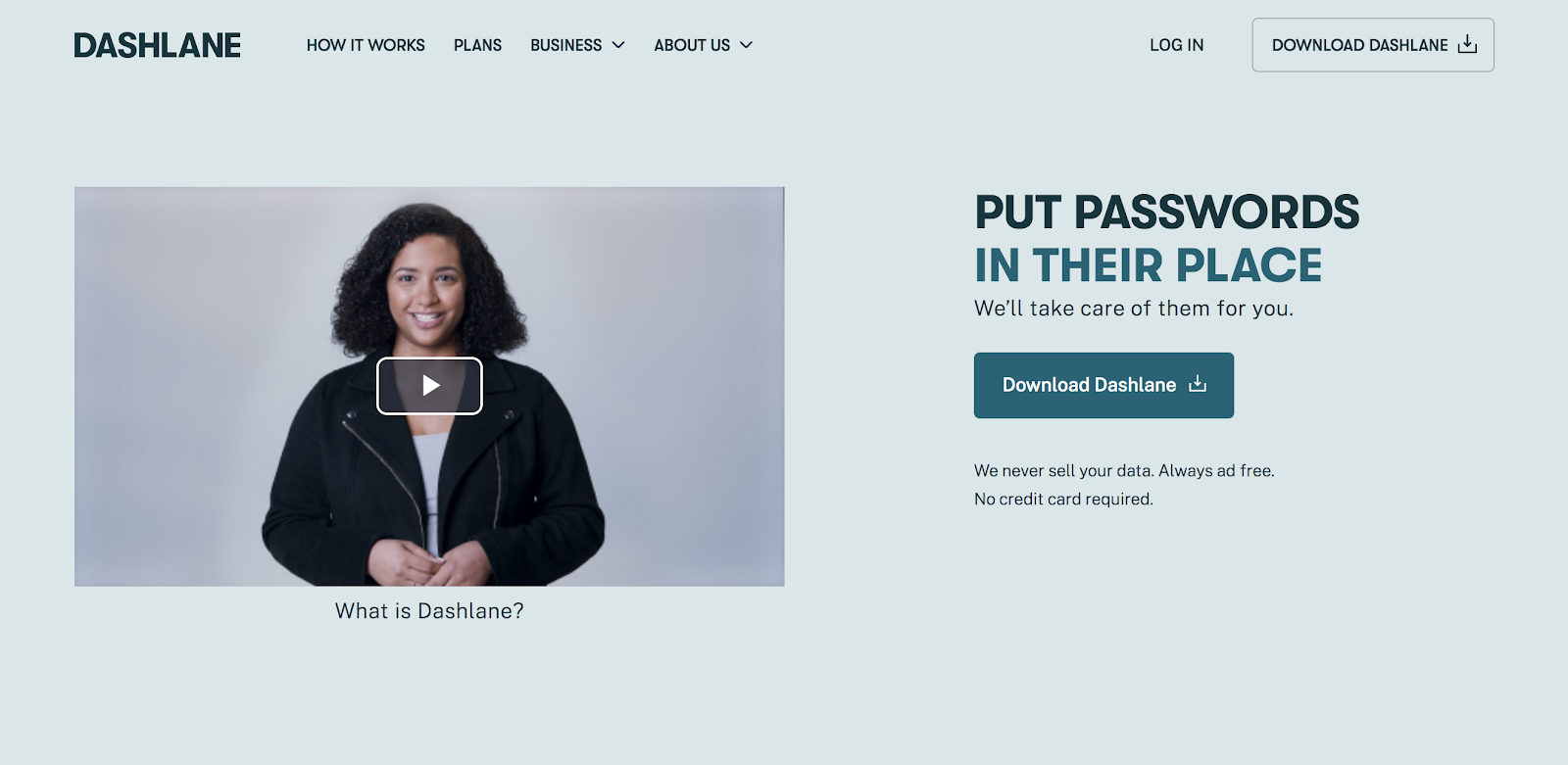 Dashlane positions itself as a password manager that can "radically simplify your whole life."
On its features page, Dashlane focuses on privacy, security, ease-of-use, and the convenience of having multiple passwords all in one secure password vault.
It often gets compared with other notable password managers including 1Password and LastPass for the number of extensive features it offers.
Let's take a deeper look at the pros and cons of Dashlane, so you will have a comprehensive understanding of the breadth of features this password manager provides.
Dashlane Pros
Dashlane has many pros including a simple interface, security protocols, a strong password generator, secure data forms, device compatibility, password audits, and a secure VPN offering.
1. Simple, Intuitive Interface
The first time you log in to your Dashlane password manager app is refreshing.
Upon your first login in the password app, you'll see a clean interface with the instructions to begin adding your passwords to your password vault. It's inviting and simple.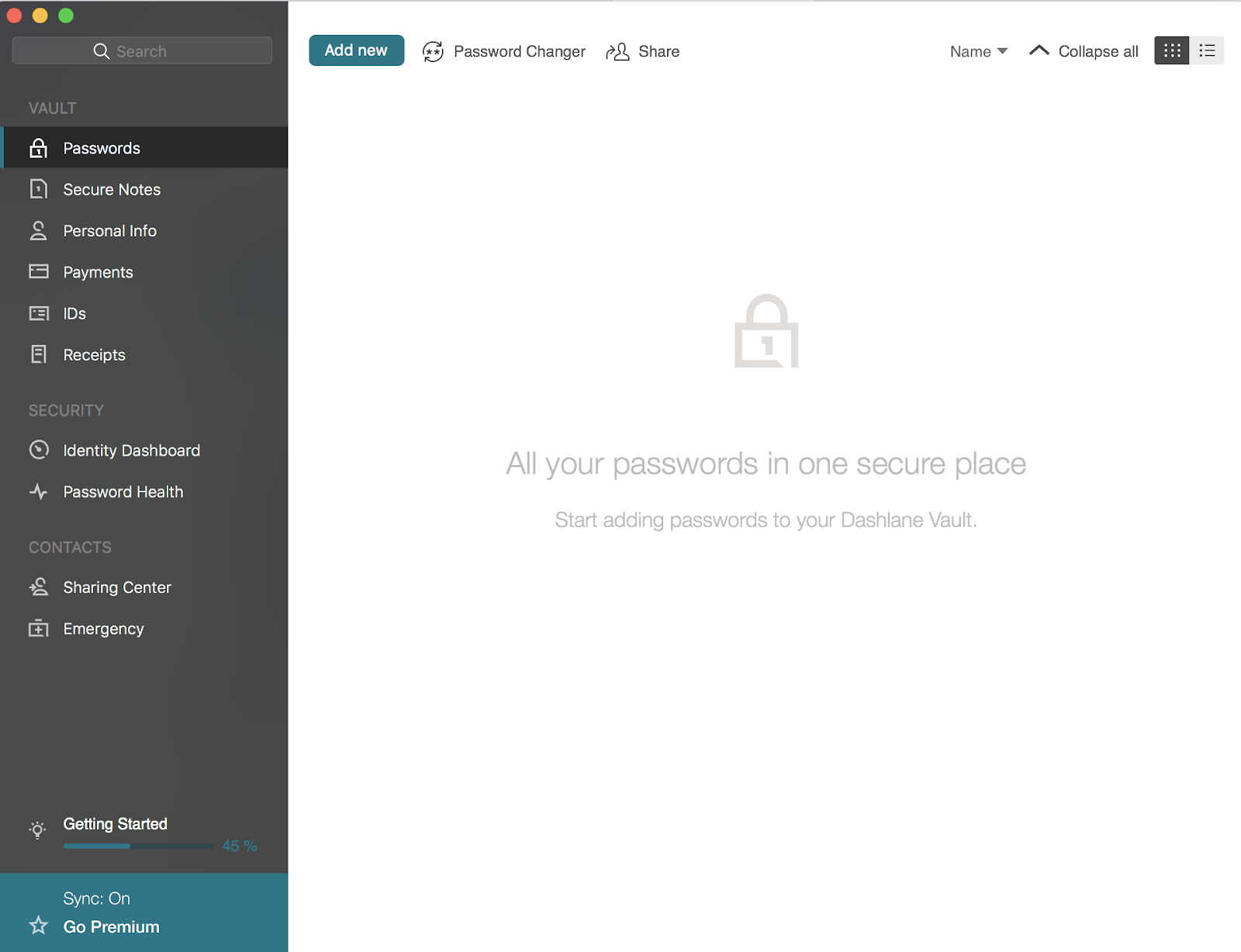 On the left, there are three sections offered in the navigation panel: password vault, security, and contacts.
Under vault, the user can choose from six filtering options including passwords, secure notes, personal info, payments, IDs, and receipts.
These are all the different types of secure information that the user can import and store in their secure vault.
In the security section of the menu, you'll find "Identity Dashboard" and "Password Health" followed by "Sharing Center" and "Emergency" in the contacts section.
The user's eyes are directed towards the "Add New" button that stands out from everything else on the app with a teal box around it at the top of the app.
After clicking "Add New," a pop-up box appears with four fields: website, login, password, and category.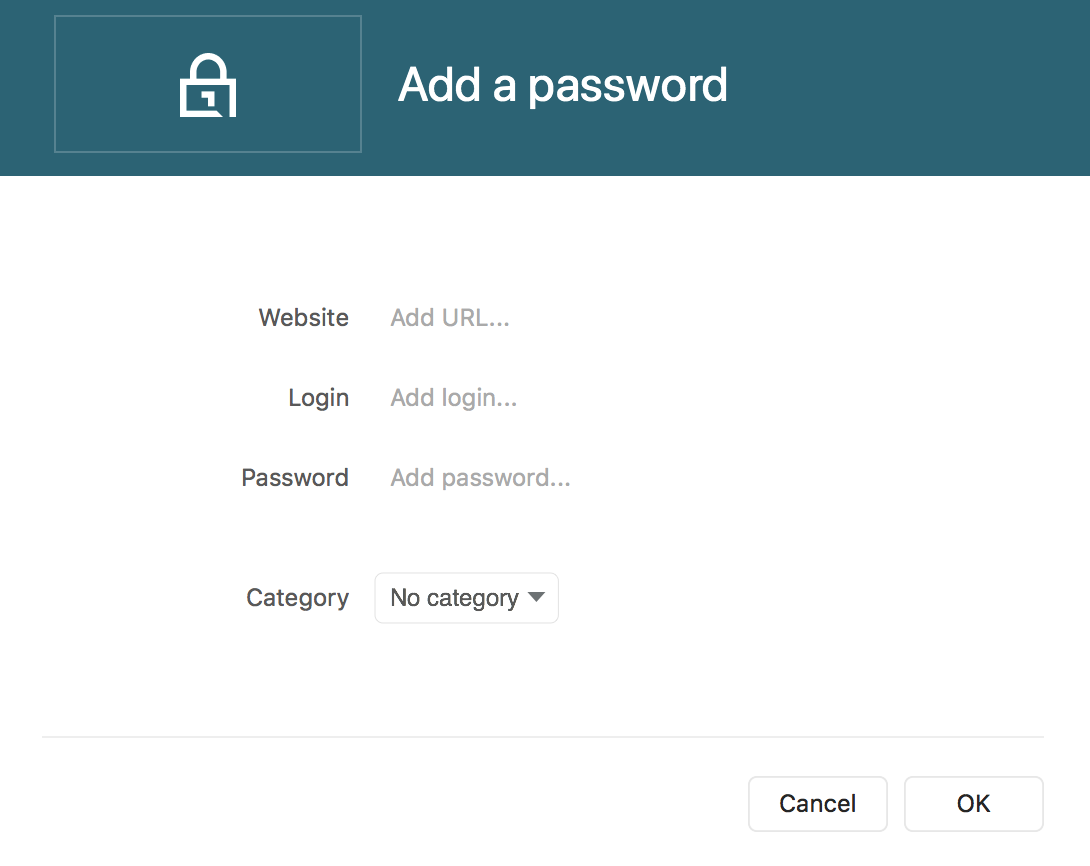 The category function allows users to select various pre-loaded classification options including business, entertainment, shopping, social media, and more.
Once everything is inputted, click "OK" and your unique password is stored in your password vault. It's that simple!
Overall, the interface is easy-to-use and refined, but it isn't the simplest on the market. Dashlane has a few more buttons available than some of its competitors such as NordPass.
However, it isn't overwhelming and users can quickly begin adding their passwords into their secure vault without needing extensive training or tutorials.
2. Industry-Standard Security Protocol
Dashlane uses 256-bit AES encryption, which is the same encryption language that many of its competitors including 1Password, LastPass, and NordPass also use.
It is simply the industry-standard for password managers.
According to Dashlane, this encryption method is "the strongest encryption there is—and used by governments, militaries, banks, and other organizations to protect sensitive data."
Additionally, much like its competitors, Dashlane encrypts all of your data locally on your device, so it does not review or have access to any of your secure data.
This adds another layer of protection for the user since Dashlane does not collect or store any of your information on their servers.
3. Strong Password Generator
Dashlane's password generator is a cool feature that will create a strong password you can use to enhance your account's security.
By clicking the generate button and selecting your password length, Dashlane will create and store a master password for that account.
In addition, you'll be able to select specific criteria including whether or not it uses letters, mixed case letters, digits, symbols, or ambiguous characters.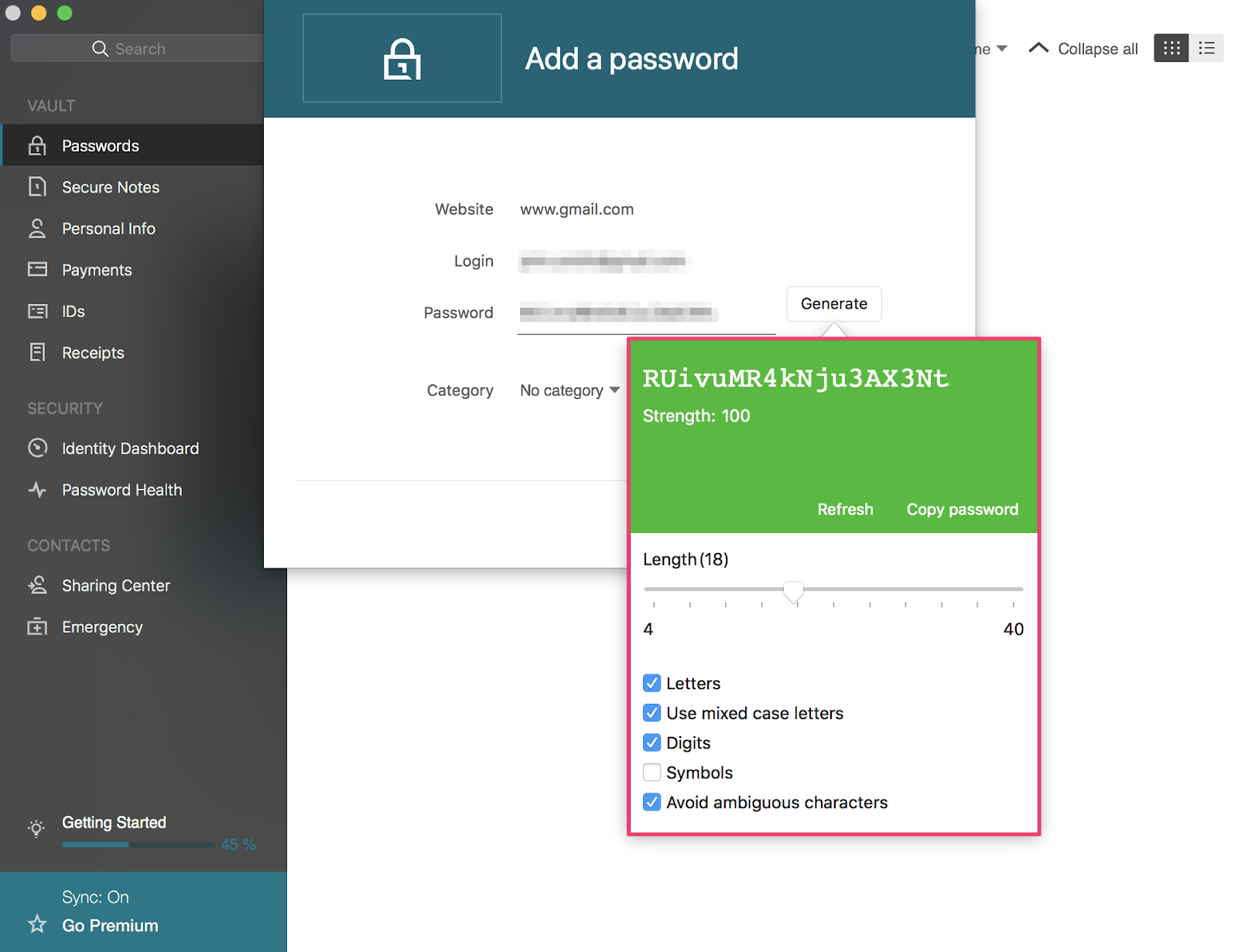 This feature is useful and isn't always offered by all password managers. With Dashlane, it's simple to deploy and will bolster your account security around the web.
4. Multiple Forms of Secure Data
Password managers don't just store passwords.
Dashlane offers six different types of forms to collect various types of data including passwords, secure notes, personal info, payments, IDs, and receipts.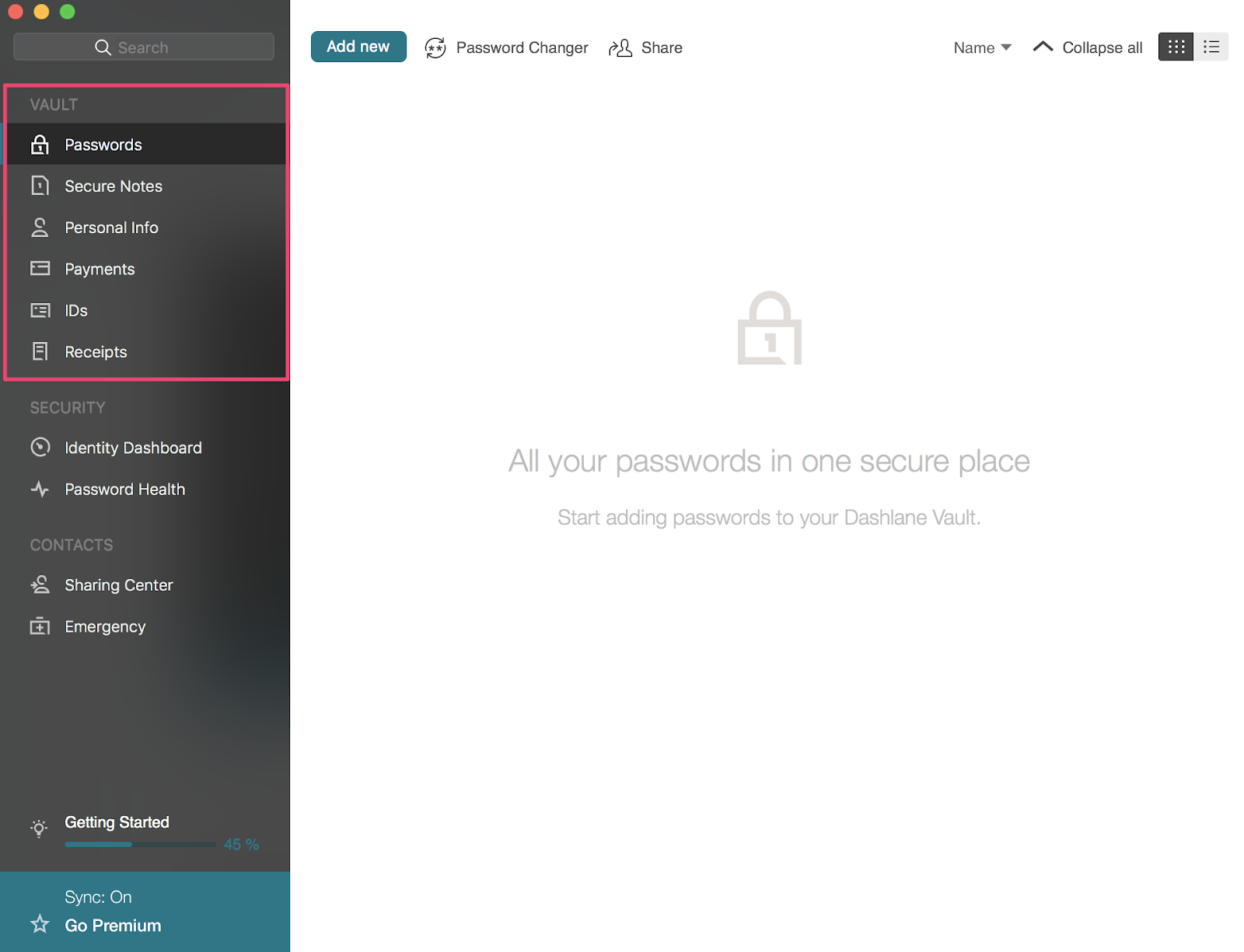 Each of these options has a unique form that asks the user for specific data. The personalized forms are helpful for sorting your saved items and to ensure no data is forgotten.
Within a secure note, you can select different options including membership, database, software license, and more.
Each form is personalized to only collect the secure data that is needed.
For example, a software license asks for the license key, who it is licensed to, the registered email, company, and download page.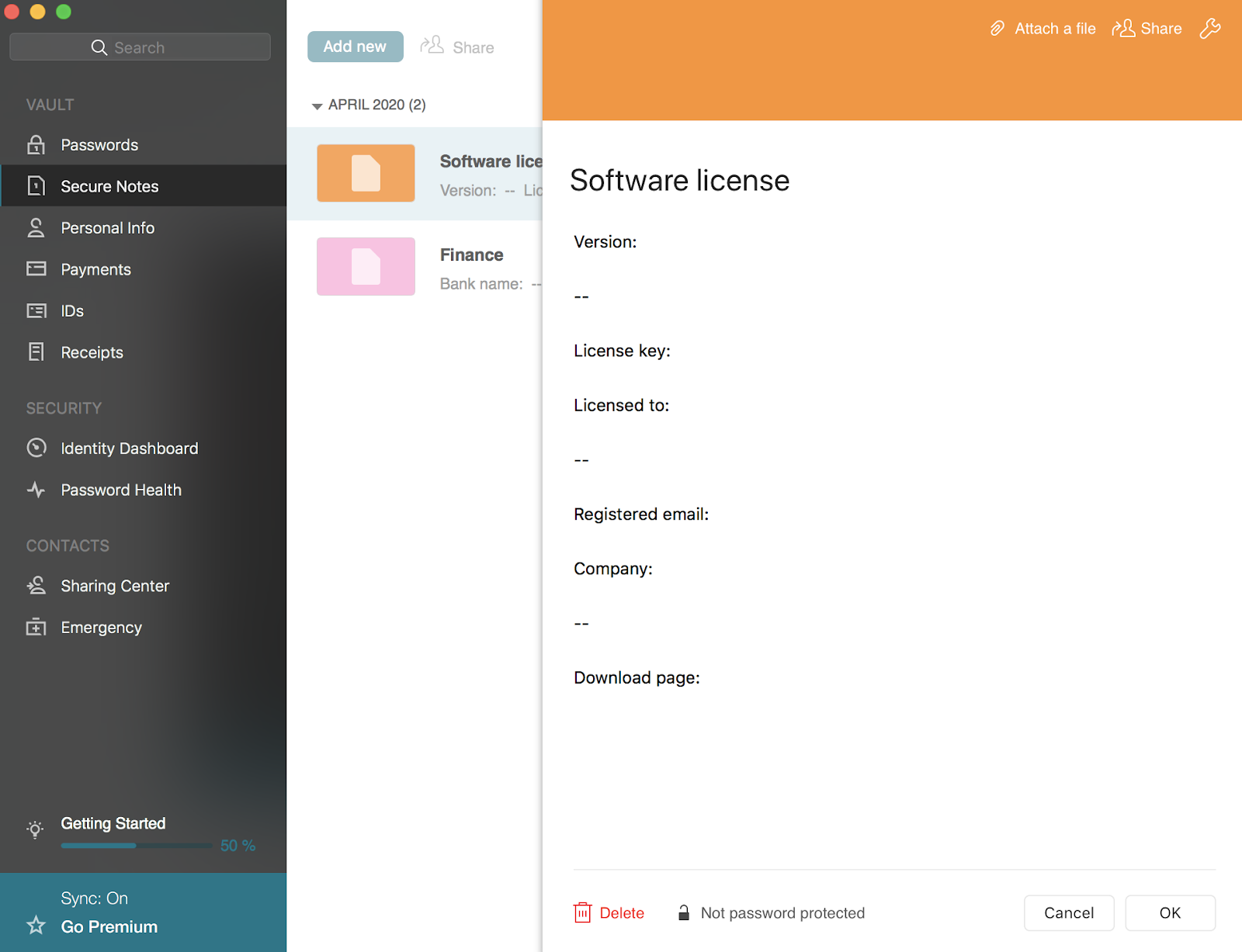 Not all password managers offer these personalized forms, so it is a major benefit of Dashlane.
In addition, Dashlane does a fantastic job of grouping the different forms under the six information types it outlines in the navigation panel.
If it spelled out all the options available on the navigation panel, it would be overwhelming for the user and lessen the user experience.
5. Compatible with All Devices
No matter what device you're on, Dashlane has an app or browser extension that can likely help.
Dashlane works on mobile devices (iOS and Android) as well as desktops and tablets running on Windows and macOS.
In addition, it offers numerous browser extensions for quick, easy autofill capabilities on a wide variety of browsers. These include Chrome, Safari, Edge, and FireFox.
Dashlane's compatibility is consistent with its competitors' compatibility, although some password managers such as NordPass don't offer Safari extensions.
6. Extensive Password Audits
One of the most unique features of Dashlane is how the app conducts password audits, and the lengths the app goes to ensure your online security.
Dashlane's audit report also known as 'Identity Dashboard' is one of the best and most comprehensive among all the other password managers.
Think of this as a high-level security dashboard that works on the desktop app and mobile app to continuously monitor your login credentials and ensure your security.
Along with telling you the overall 'Password Health Score' focusing on how secure and strong your passwords are, it also points out the weak passwords and suggests replacements.
In addition, there's another section called 'Dark Web Monitoring' that monitors all the passwords and logins, emails, credit cards, and phone numbers.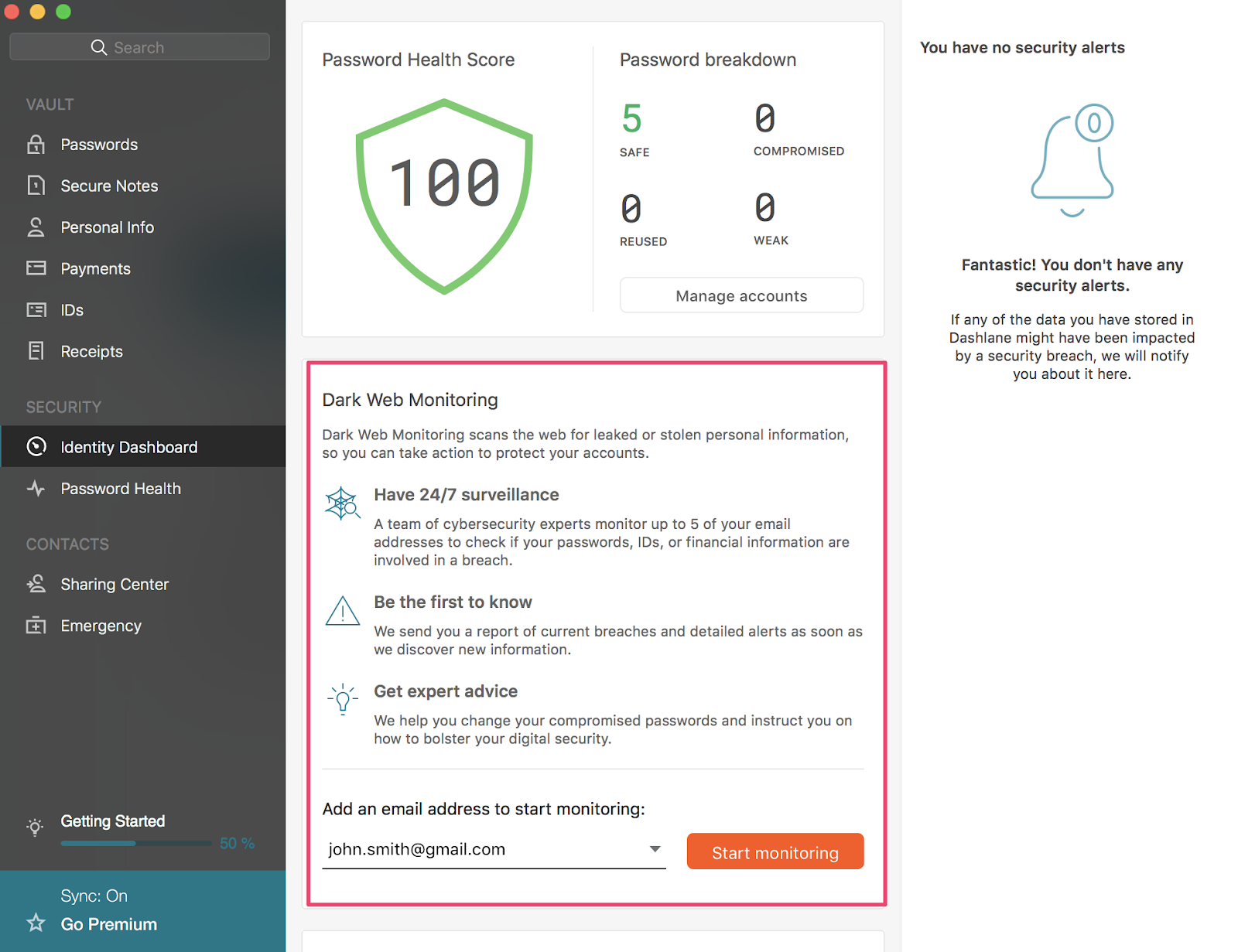 This feature offers 24/7 surveillance by deploying experts to monitor a maximum of five email addresses and check to see if your passwords, IDs, and financial information are compromised.
In addition, you'll be the first to know of any breaches that might be on your accounts.
This level of security is not commonly offered by many password managers, and it is a key differentiator of the Dashlane app.
7. Increased Privacy with a Dedicated VPN
With a premium account, you'll have the chance to increase your privacy by using a dedicated VPN. This is another feature that is unique to Dashlane.
A VPN hides your current IP address by overriding it with a temporary IP address that "makes your internet connection more secure and helps you stay anonymous."
Using public WiFi to access your most sensitive data is like inviting hackers to play with your information. A VPN can help protect you against network vulnerabilities.
Dashlane provides a dedicated VPN to its users which they can use while working in a public space or on a public server.
Currently, Dashlane is the password manager that offers this service. However, it's only available for the premium users but is still well worth the price to upgrade.
Dashlane Cons
Although Dashlane has plenty of pros, there also are a few cons associated with the password manager.
It is the most expensive password manager, does not offer family plans, and sometimes has inconsistent autofill form functionality.
#1 The Most Expensive Password Manager
Dashlane is the most expensive password manager compared to all the other apps I tested.
It does offer a free version with limited features, but its premium services start from $4.99 per user per month.
Most password managers with the breadth of functionality that Dashlane provides average around $2.99 per user per month.
However, there are unique features including the dark web monitoring and private VPN that you unlock with the premium version, so the price increase is justified.
2. No Family Plans Available
Kids need password managers, too!
Family plans are a nice way to structure a password manager offering for those of us with kids and spouses who are just as concerned with their online security.
Currently, there are no Dashlane family plans currently available.
Premium plans cost $4.99 per month per user, so a family of five would have to pay a total of $24.95/mo to ensure each member has a safe password vault to secure their data.
3. Inconsistent Form Autofill Browser Functionality
There's no doubt that Dashlane has many expansive features that the user can play around with, but one of the more basic functions had a few hiccups.
Dashlane's browser extensions can sometimes be finicky when they autofill your password. This might be an isolated incident for me, but it was annoying and cumbersome.
Often, my Dashlane Chrome browser extension doesn't detect the online form on the page even though there is saved login info available in my password vault.
In such a case, I have to manually open the password vault via the browser extension and copy and paste the login details into the form.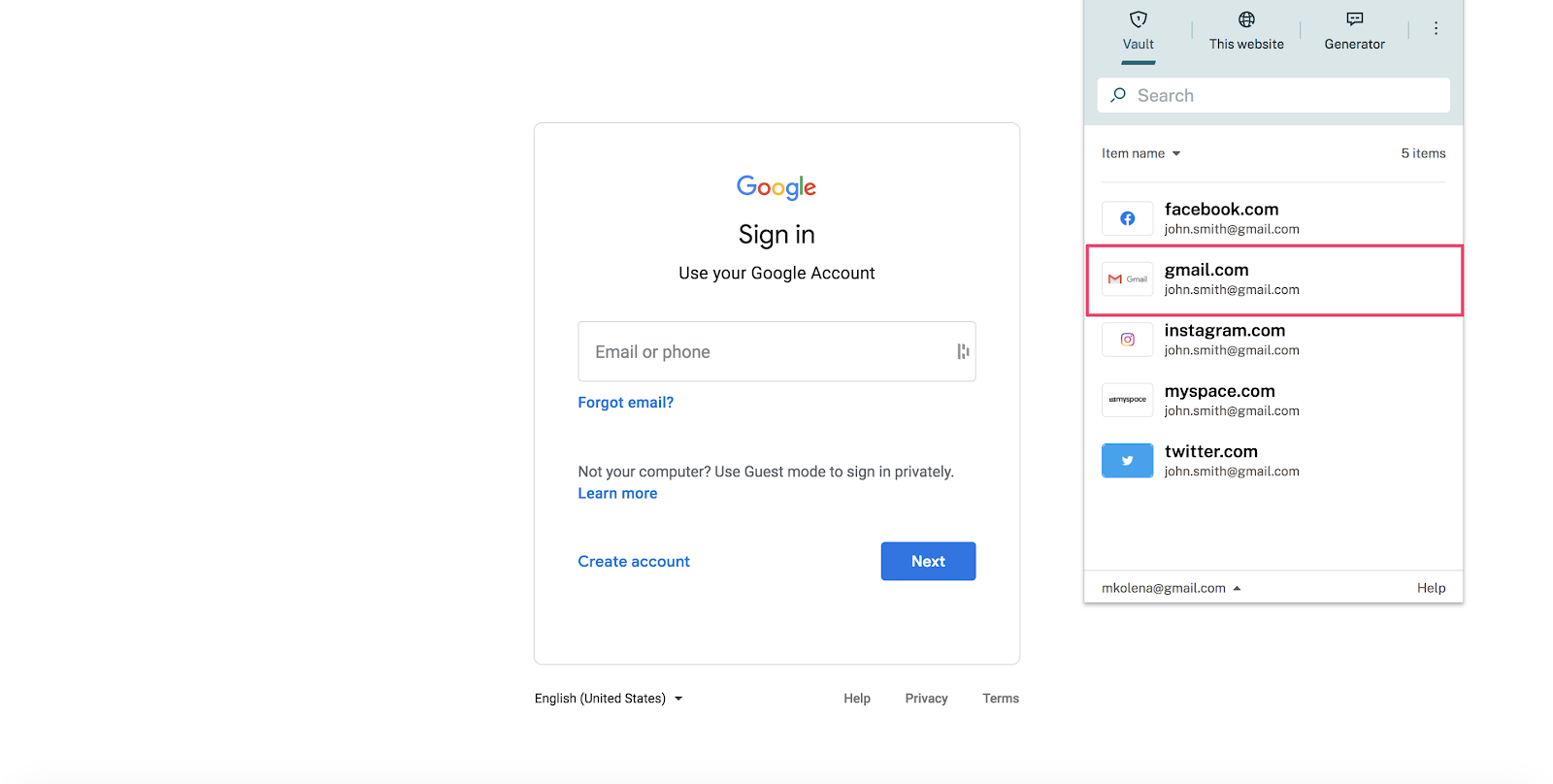 This is not a huge issue, but the autofill feature is a very standard function of most password managers.
Without it working properly, the experience isn't as seamless as it should be.
How much does Dashlane cost?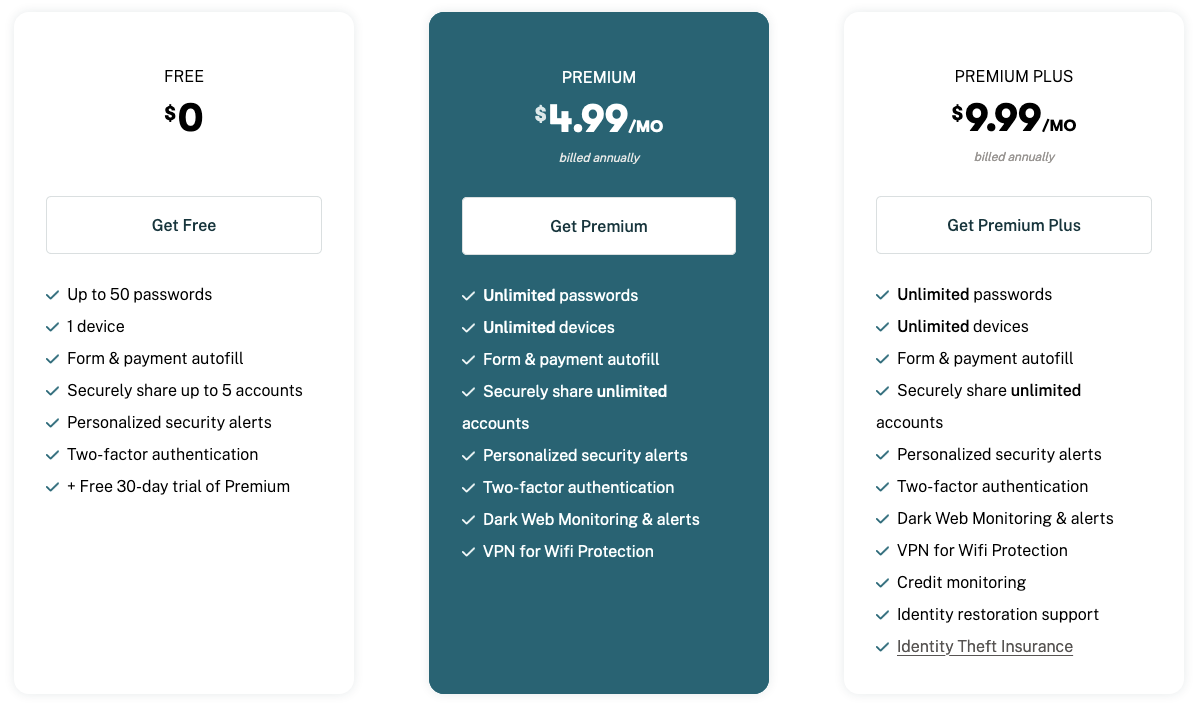 There are four different Dashlane plans to choose from: free, premium, premium plus, and business plans for teams.
Dashlane Free Plan
The free plan provides users with basic functionality.
It is important to note that a free plan isn't something that's always offered by Dashlane's competitors including 1Password.
The free plan limits users to store 50 passwords that they are able to access from only one device at a time.
Basic features including form autofills, secure sharing for five accounts, security alerts, and two-factor authentication are included as well.
Dashlane Premium Plans
The premium plans unlock additional features including the dark web monitoring and the VPN for protected internet browsing.
In addition, users also now are able to have unlimited password storage and secure shares.
In my opinion, these three offerings justify the price of the premium plans at $4.99 per user per month.
Although it is one of the more expensive password managers on the market, the features included are worth it.
Dashlane Premium Plus Plans
For those that want top-shelf service, premium plus plans are available.
In addition to all the features previously outlined in the premium plans, a premium plus plan unlocks credit monitoring, identity restoration support, and identity theft protection.
Premium plus plans cost $9.99 per user per month.
Dashlane Business Plans
For companies and enterprises, Dashlane offers business plans for teams.
Business plans offer the same features as premium plans with the exception of Dashlane's VPN. However, they also unlock an admin console, group password sharing, and 2FA integration.
For companies with over 50 employees using the password manager, Dashlane will provide a dedicated account manager.
Business plans cost $4.00 per user per month.
Should you buy Dashlane?
Absolutely!
Dashlane has many incredible features that will help improve your online security.
I'd recommend giving Dashlane a try on the free plan and consider upgrading if you enjoy the service.
The dedicated VPN and the dark web monitoring are two premium features that are worth the costs associated with upgrading. Additionally, those are not offered by competitors.
Dashlane had many great features and a great user experience. I don't think you'll be dissatisfied if you select this password manager to store your secure data.