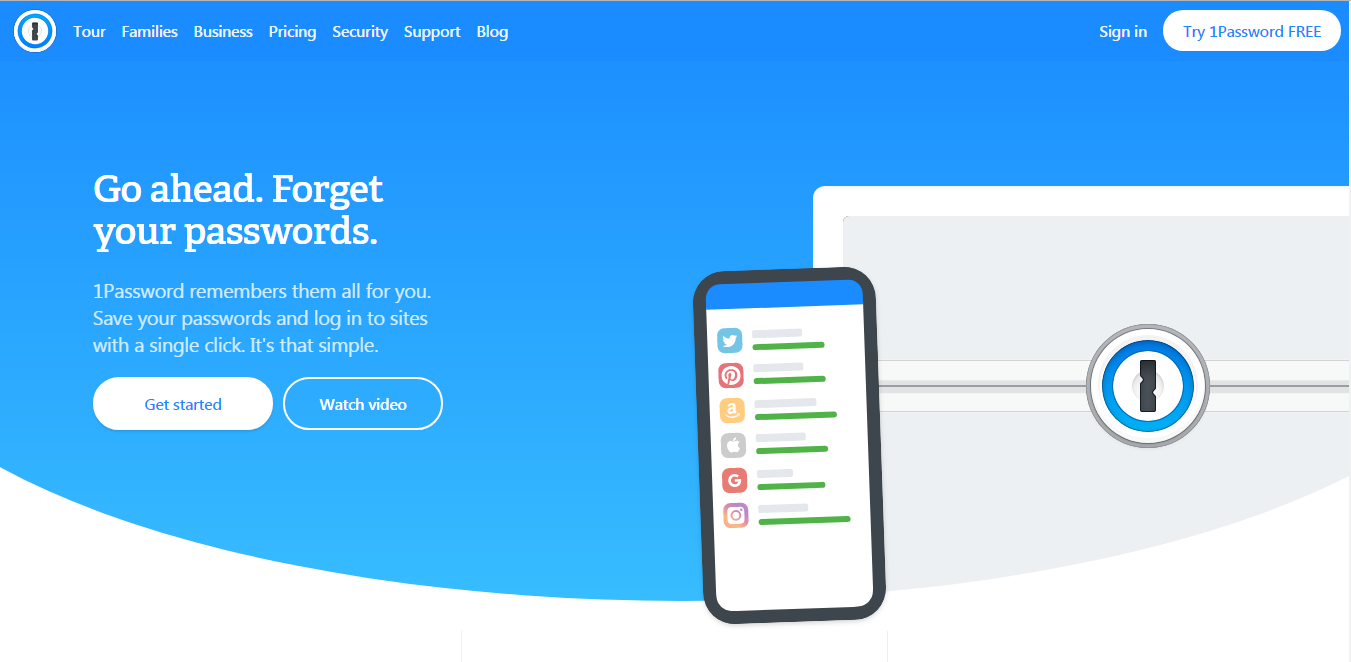 Forget something? It's probably your password.
Forgetting your password is an aggravating experience for everyone.
It's like you've gotten to your airport terminal and realized you left your luggage at home. Now, you have to go through all the hoops to get to where you need to be.
It doesn't help, either, that consumers have an average of 23 passwords for online accounts in their personal lives alone.
On top of this, 86% of people memorize their passwords. That's 23 balls they're juggling in their mind at one time.
With so much going on in today's world, consumers need to offboard them and worry about other things that matter.
Many are turning to password managers, but there are so many on the market. LastPass, Dashlane, Nordpass, 1Password—the list goes on and on. Which one is best?
Today, we're evaluating 1Password, a password manager with the mission to "make the internet a safer place for everyone."
Our Verdict
Yes, you should consider buying 1Password, but do so after you test the free trial.
Secure Login Mechanism
Wide Variety of Browser Extensions
Seamless Form Capture Feature
Comprehensive Password Audit
Multiple Templates for Secure Information
Helpful Customer Support
Poor User Experience
Login Issues with Your 'Secret Key'
Is 1Password the Right Password Manager for You?
Before we dive into this 1Password review, let's take a look at the company. 1Password was founded in 2005 and is currently based in Ontario, Canada.
The company employs a large workforce of 100+ people and has raised $200 million in funding since its inception.
More than 15 million people use the platform, which was built upon the promise that users only need to recall one password—rather than a handful of unique passwords—from now on.
1Password's homepage offers a compelling request to, "Go ahead and forget your passwords."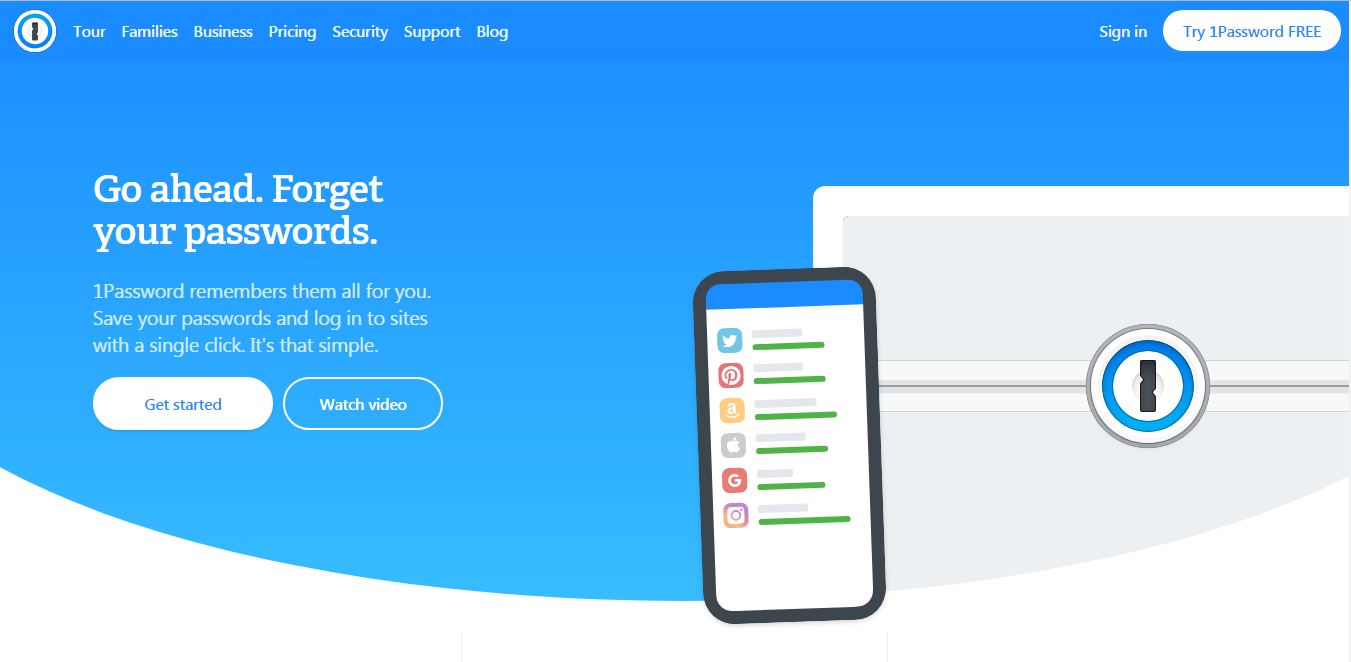 The pillars the company highlights on its website are storage, convenience, security, and better password hygiene.
Let's take a look at everything 1Password offers and outline both the pros and the cons of using this password manager.
1Password Pros
1Password has numerous pros including secure login, browser extensions, seamless form capture, comprehensive password audits, multiple templates, and helpful customer support.
1. Secure Login Mechanism
1Password has 256-bit AES encryption, which is as secure as 128-bit keys (another common encryption method).
The main difference is that 256-bit AES encryption does "multiple rounds of transforming each chunk of data, and it uses different portions of the key in these different rounds." This is the industry-leading encryption standard that most password managers use.
1Password leverages a local encryption methodology, which means the encryption happens on your device. No data is ever passed over for 1Password to store or have access to it.
The security for 1Password doesn't stop with its encryption mechanism, though.
1Password offers a variety of other security features including two-factor authentication, a 'Secret Key' (a unique code generated upon your first login), and a password generator.
Two-factor authentication is a type of multi-factor authentication that is commonly found on a password manager app.
It requires the user to verify their authenticity by confirming on a second device. Mobile devices are often used to complete the two-factor authentication process.
A password generator helps users create strong passwords that improve their online security.
The 'Secret Key' isn't something all password managers deploy and is an important differentiator compared to 1Password's competitors such as NordPass.
2. Wide Variety of Browser Extensions
1Password has an app for a wide assortment of the most popular desktop and mobile devices.
That includes iOS, Android, Mac, Windows, and Linux.
For easy secure password retrieval, they also offer a browser extension for Chrome, Safari, Edge, Brave, and Firefox.
A browser extension allows for seamless experiences based on their users' preferences. With a browser extension installed, users can save and autofill your passwords in one click.
A password app like F-Secure KEY or RememBear do not offer browser extensions for all the browsers that 1Password does.
3. Seamless Form Capture Feature
1Password's seamless form capture feature enables users to quickly save and retrieve their login credentials.
When you're logging in to a new site for the first time, 1Password will show logins that you have in your password vault for the site you're visiting.
If it's a new site that isn't currently in your password vault, you can save the new information.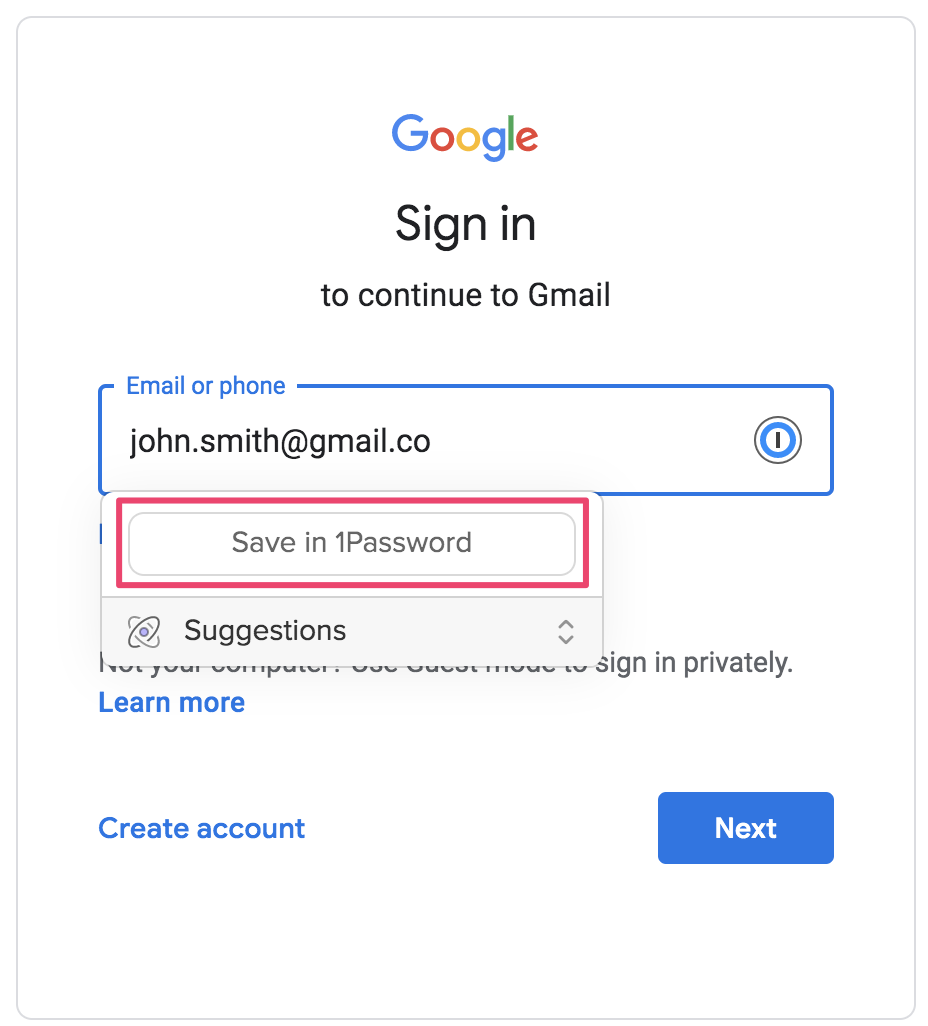 Then, you can personalize the site listing and also include it in any shared folders you have currently set up.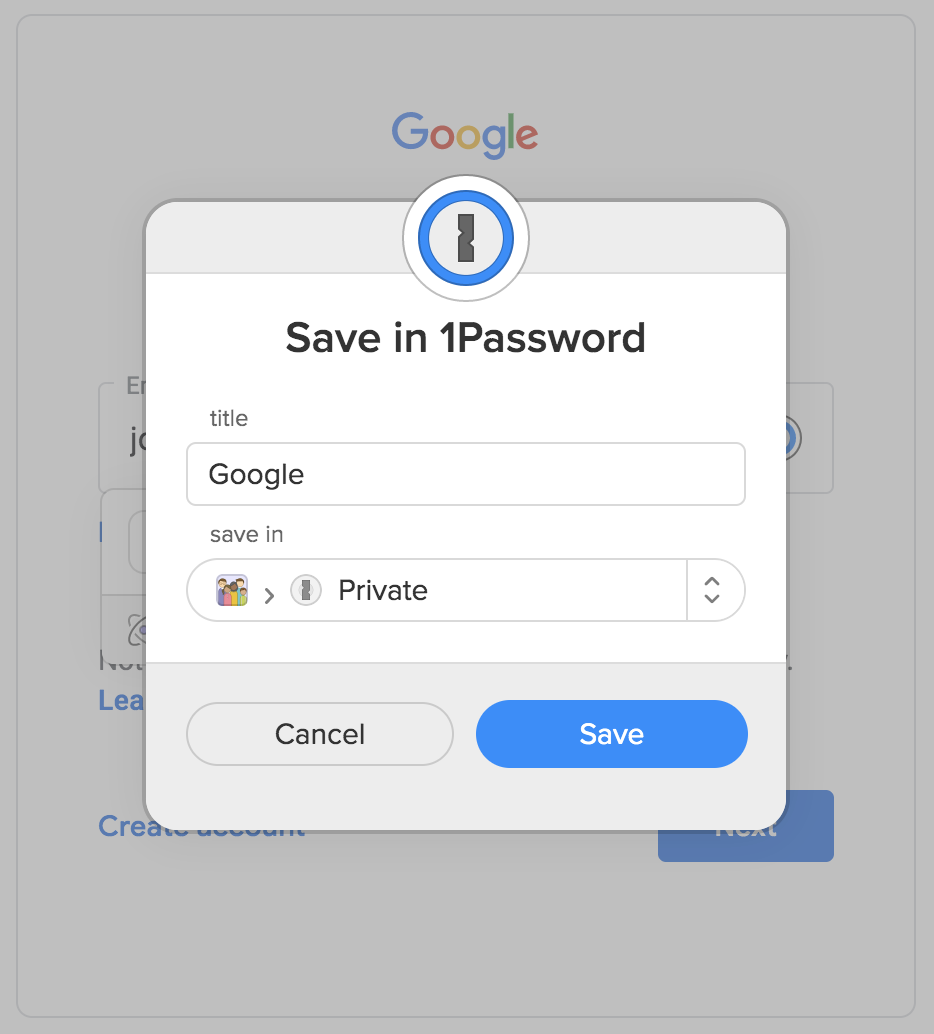 This feature is common on most password managers, but 1Password's was simple, easy to deploy, and had a minimalistic design that made it worthwhile.
4. Comprehensive Password Audit
Are your passwords strong? What exactly is a strong password? Consumers with savvy cyber literacy think about this before creating a new one.
Your password manager should be more than a place to simply store your secure information; it should work to improve your web safety and keep your accounts protected and safeguarded.
Password audits, the act of assessing your current passwords' health, are critical to ensure that you are not creating weak, ineffective passwords that can easily be hacked.
1Password's Watchtower comprehensively accomplishes this. Watchtower analyzes your secure data to detect compromised and unsecured websites you may be using.
In addition, it will evaluate vulnerable, reused, and weak passwords that you are currently deploying by scanning your account information locally on your device.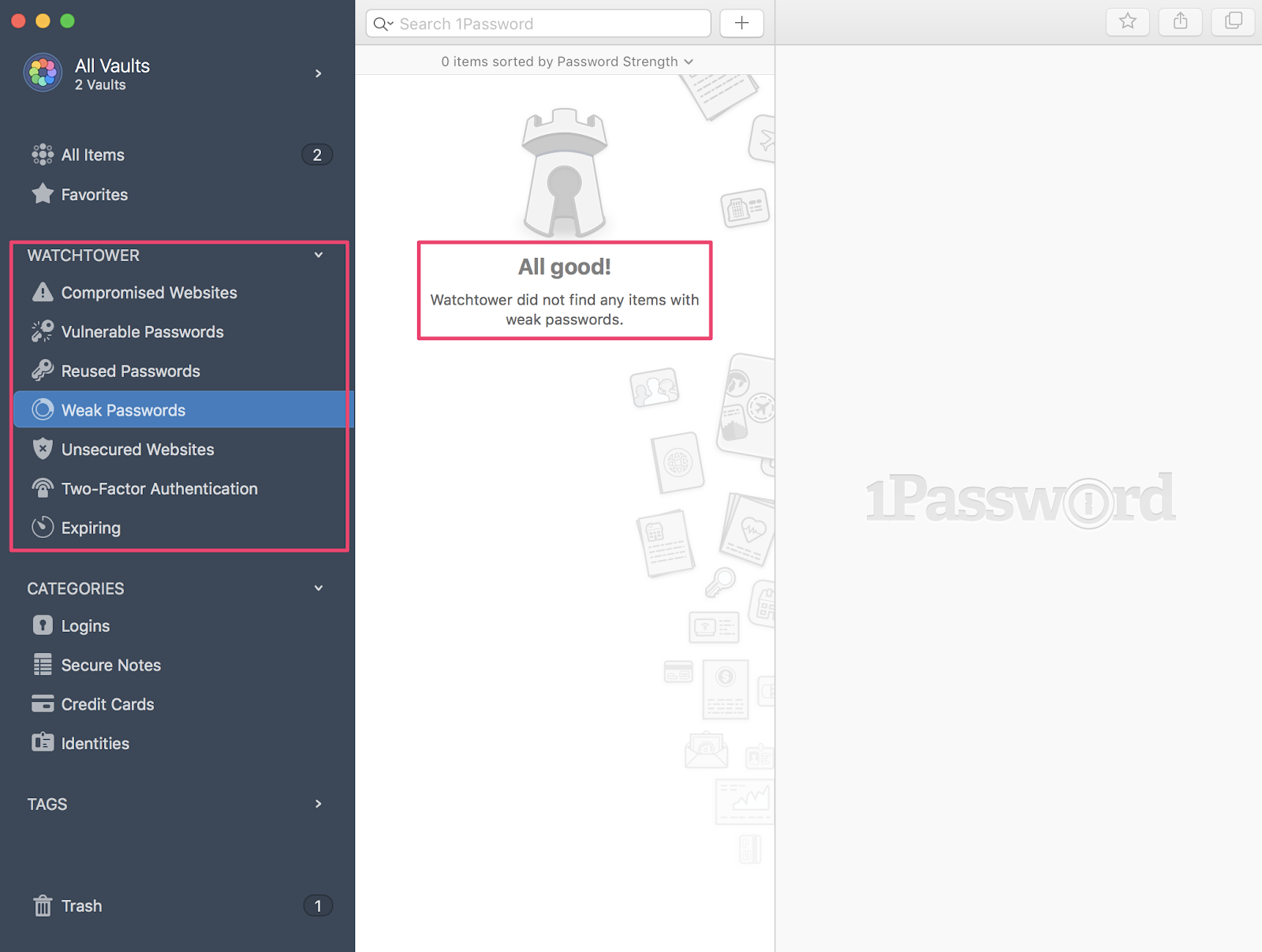 Watchtower is constantly updated as security breaches around the world happen, and the system will subsequently cross-reference those sites with any you have accounts on.
With Watchtower in place, you'll continuously be updated on any weak spots in your cybersecurity efforts to ensure your digital profiles are safe from harm.
5. Multiple Templates for Secure Information
Want to store more than a secure password? 1Password is the product for you.
I was really impressed with how many different types of form templates they offered.
While passwords, credit cards, and secure notes are typically the standard formats most password managers offer, 1Password has 13 other options available. These included:
Documents
Bank Accounts
Databases
Driver Licenses
Passports
Servers
Social Security Numbers
Software Licenses
Wireless Routers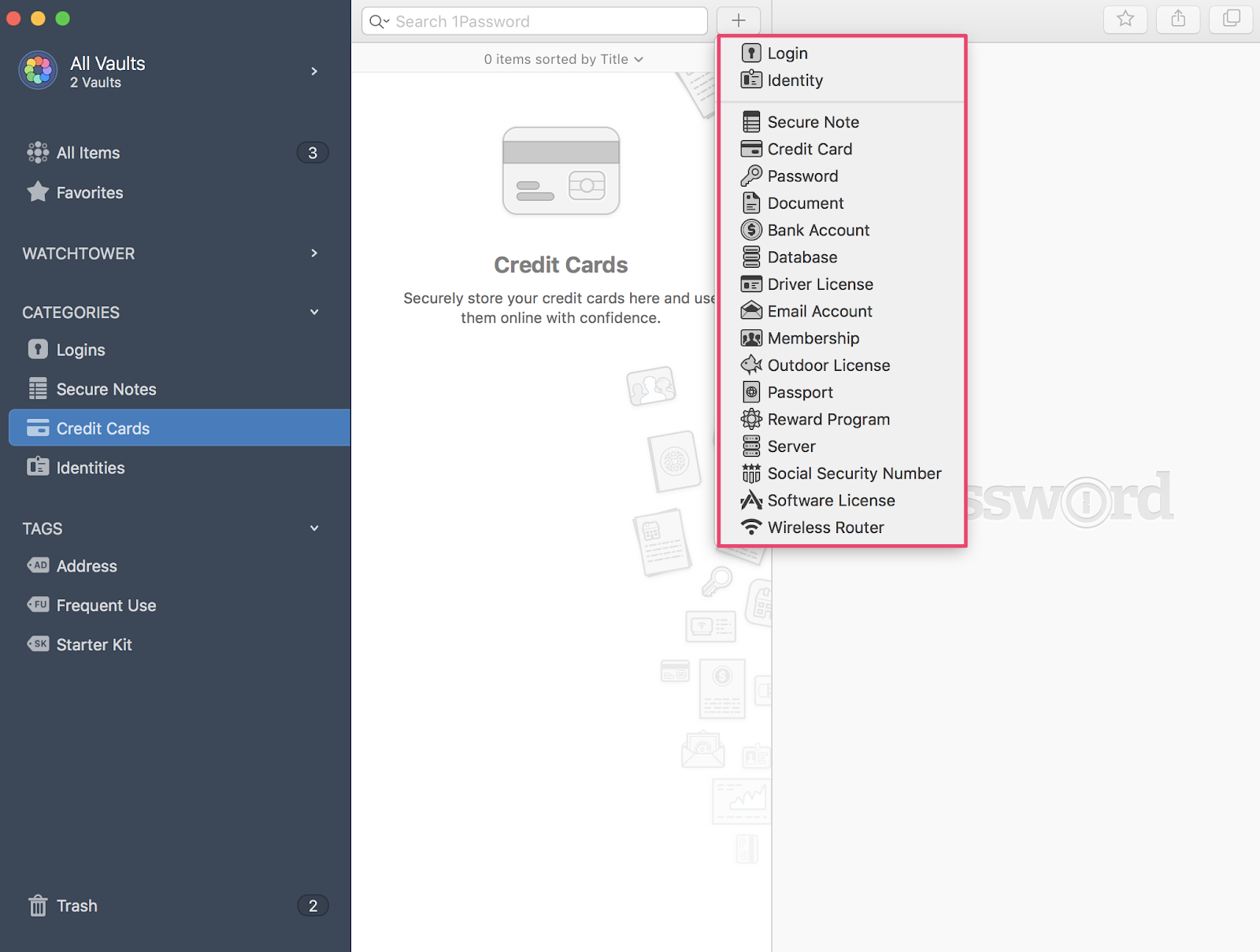 Each option provides a fully-customizable form that you can fill in and personalize based on the criteria you select. This is helpful to ensure you don't omit anything that you needed to include.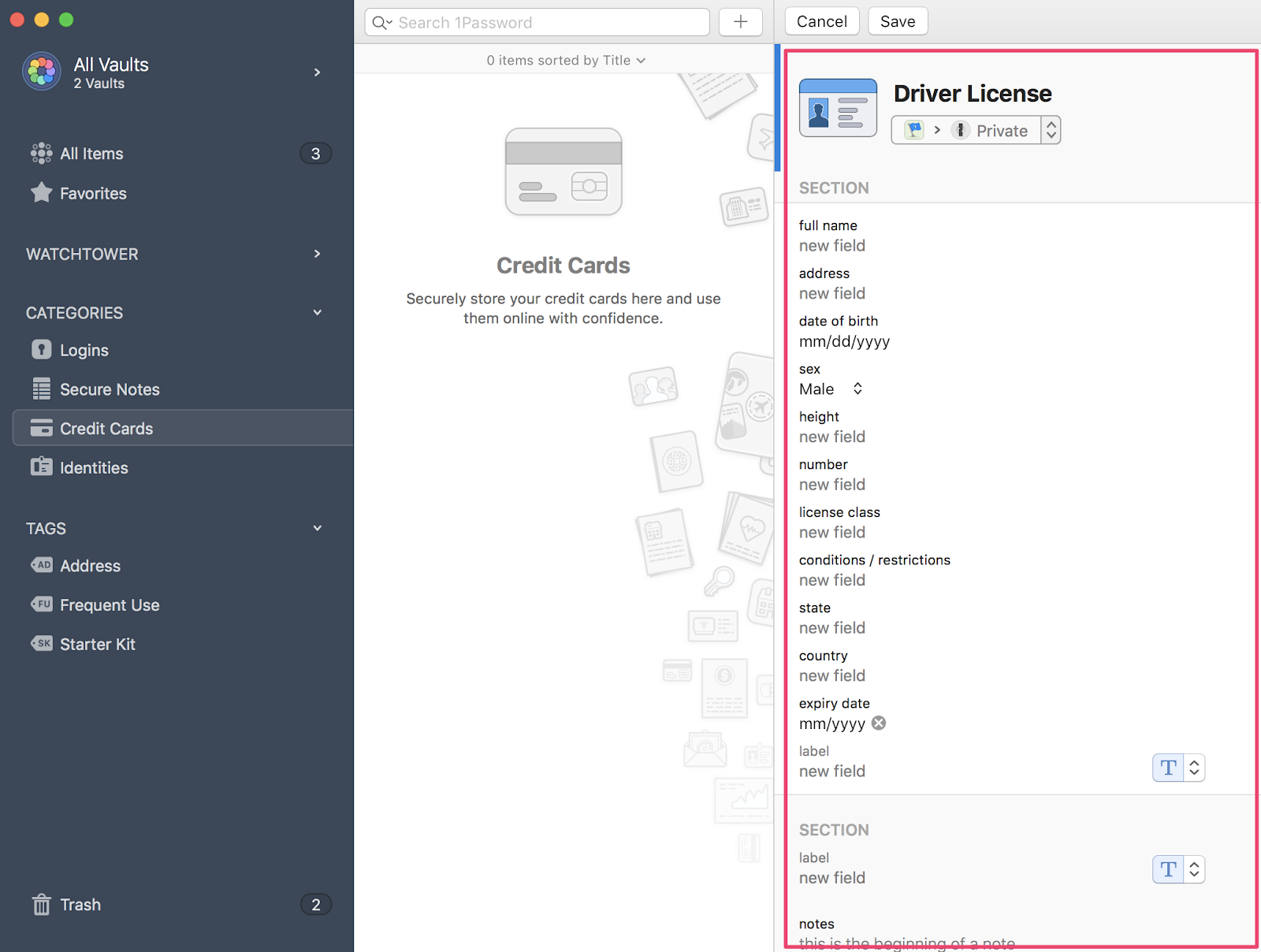 The templates are in-depth and cover the information you'd want to include for each type. This feature alone stands out from the limited formats competitors like Nordpass and Lastpass offer.
It makes 1Password more ubiquitous in the consumer's life by encouraging the user to save non-traditional information in their password vault.
6. Helpful Customer Support
When it comes to serving the users, 1Password is the undisputed champion.
1Password offers plenty of places to seek help. First, there are entries in their support forum on their website that cover everything from browser extension issues to how to correct syncing issues with your sensitive data.
If those don't help, you can contact customer support directly. Some sites try to hide their contact us button, but 1Password prominently displays theirs at the top of their page.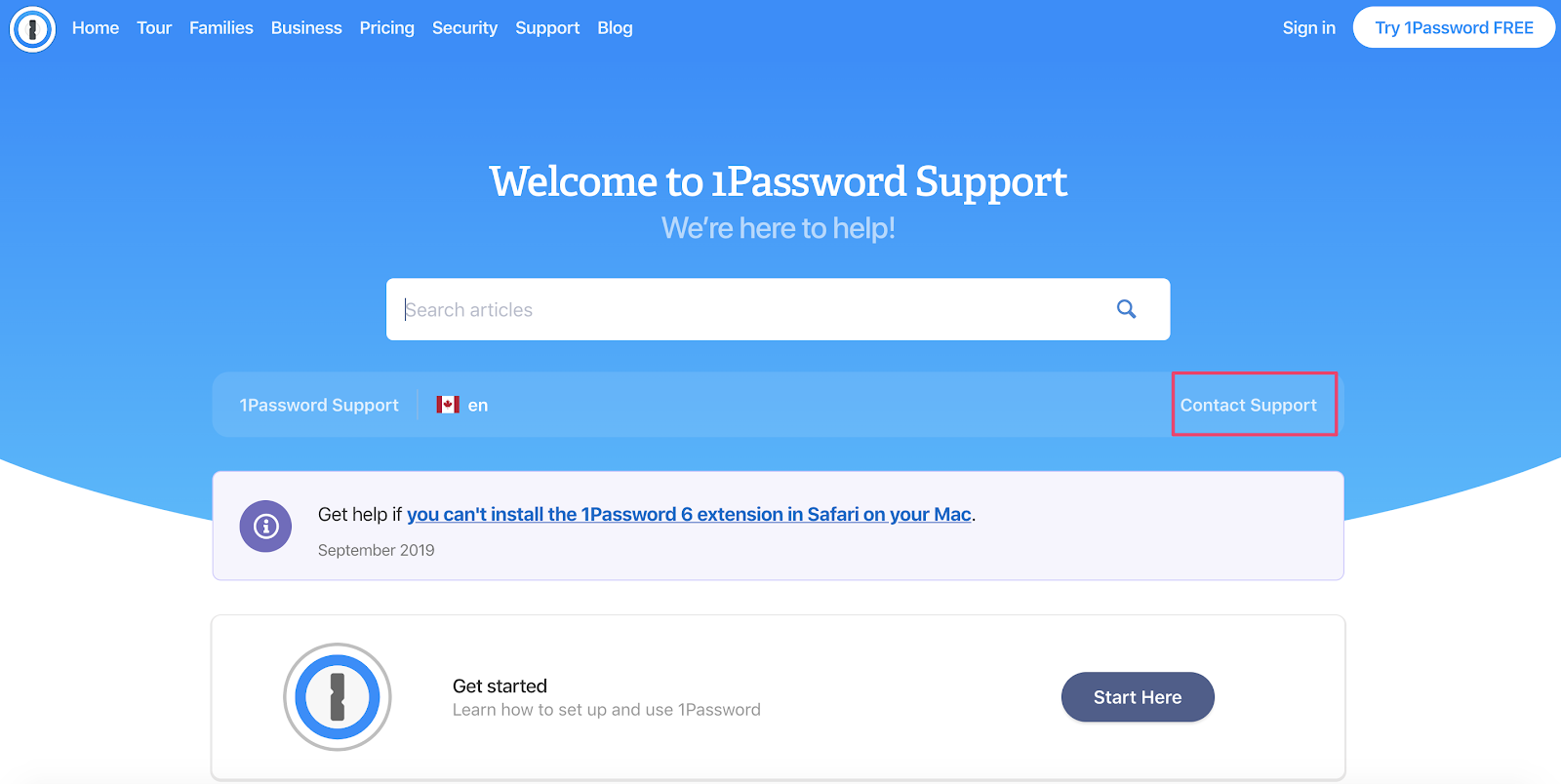 When I contacted, one of their agents answered my query within 2 hours!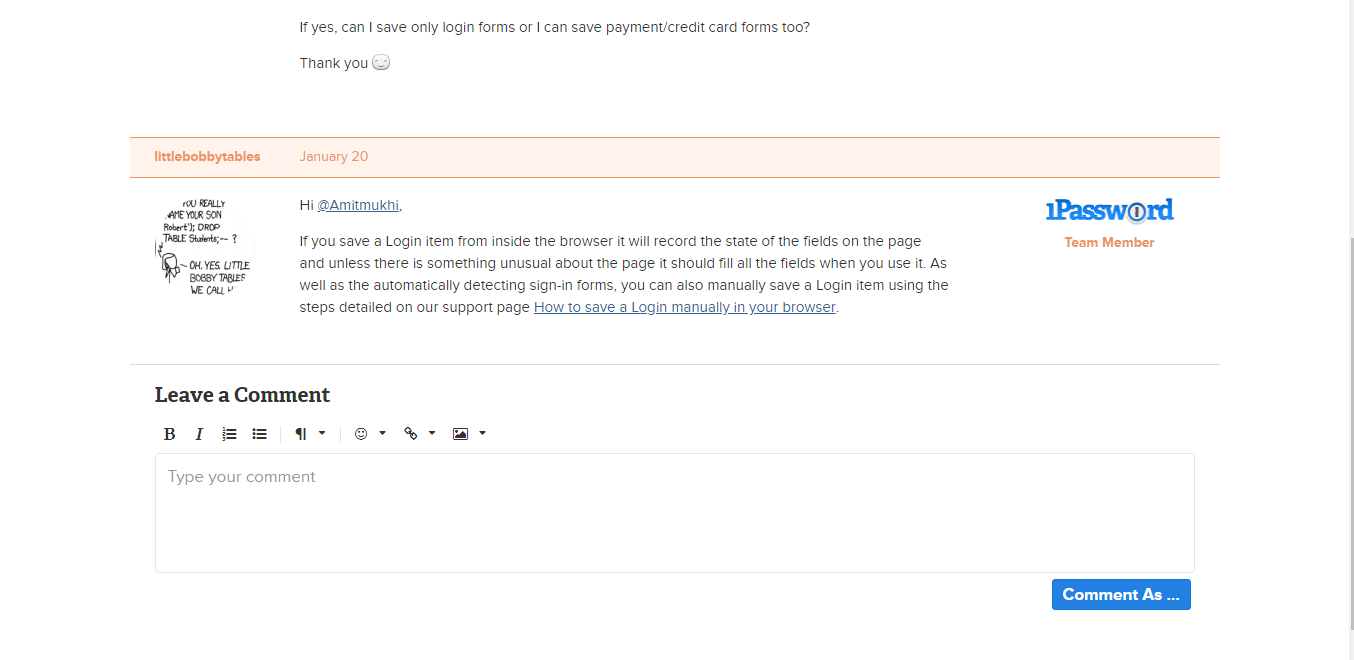 I was impressed with their response time and the thoroughness of their answer.
It is always good to have a great customer support team on your side, and I think you'll find that with 1Password.
1Password Cons
Although 1Password had plenty of benefits, there were a handful of negatives, too. The cons include a poor user experience and login issues with your 'Secret Key.'
1. Poor User Experience
1Password wasn't the easiest password manager to use from the start. Immediately when you log into the web browser, you're greeted with a variety of tiles with instructions and messaging.
It's a little overwhelming. On the welcome page alone, there are three calls-to-actions!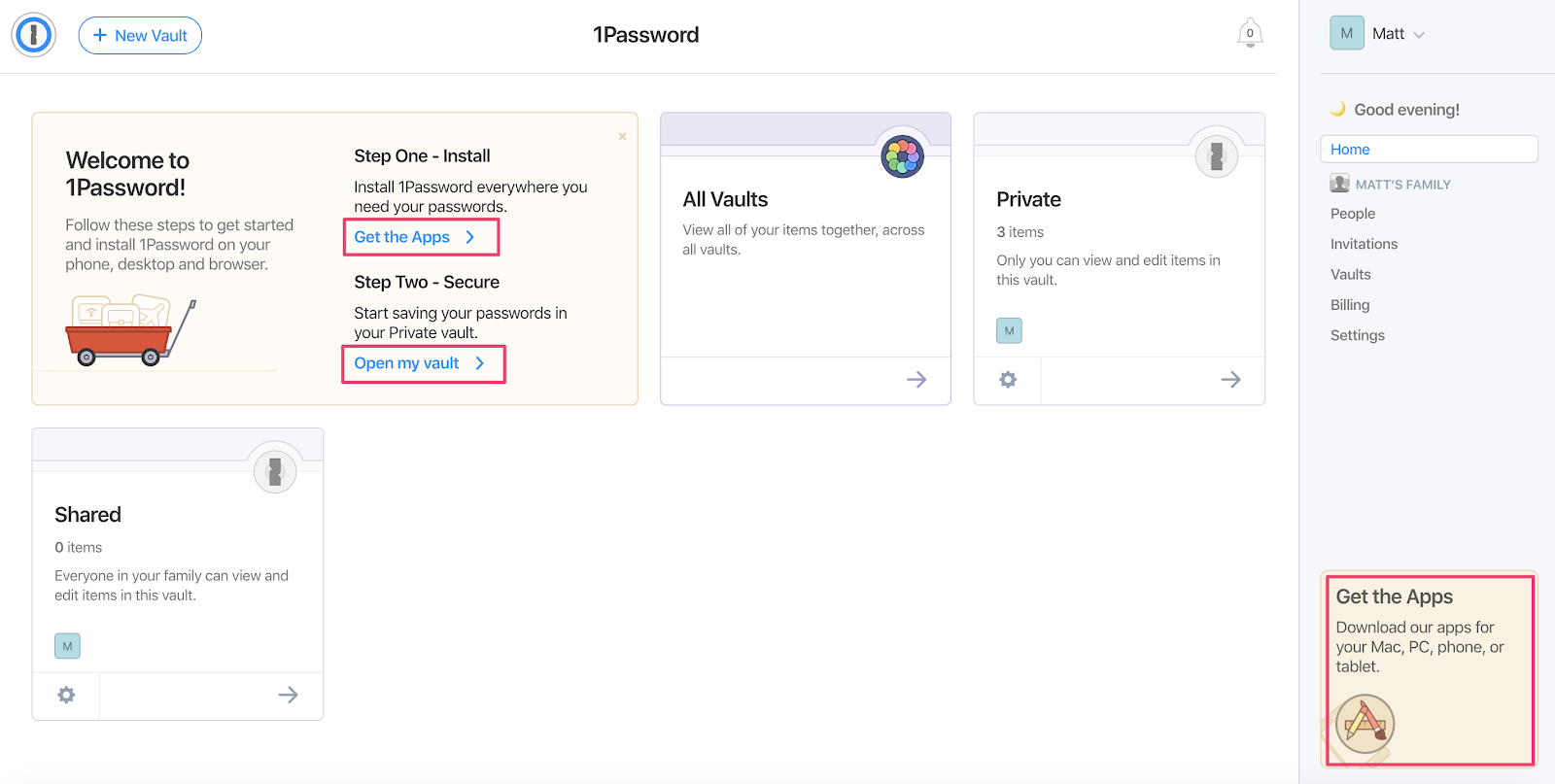 I thought the Mac version would be better, so I downloaded it.
It wasn't the most seamless setup process. 1Password leverages a "Secret Key" as an additional access criteria that is downloaded to your computer upon your initial login.
I had to dig for this on my hard drive since the download wasn't automatically initiated. I thought it was cumbersome to require on your initial login after setting up your account.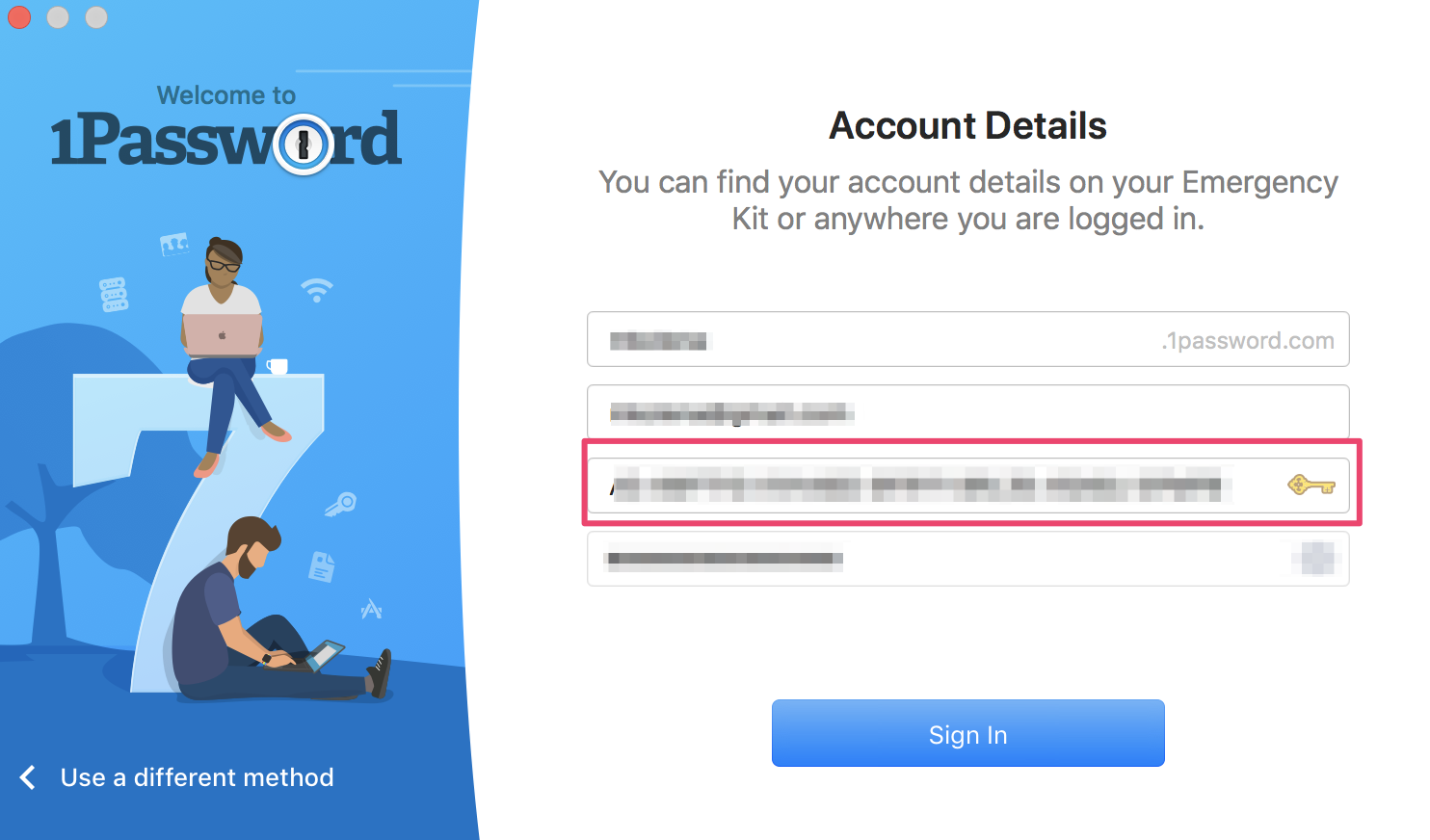 Also, your session is automatically set to end after 10 minutes of inactivity. As I was learning to use the product and reading help articles, I would return to find my session was locked.
This, again, is nice when considering the security aspect of the product, however, perhaps the standard should be closer to 15 minutes as a default.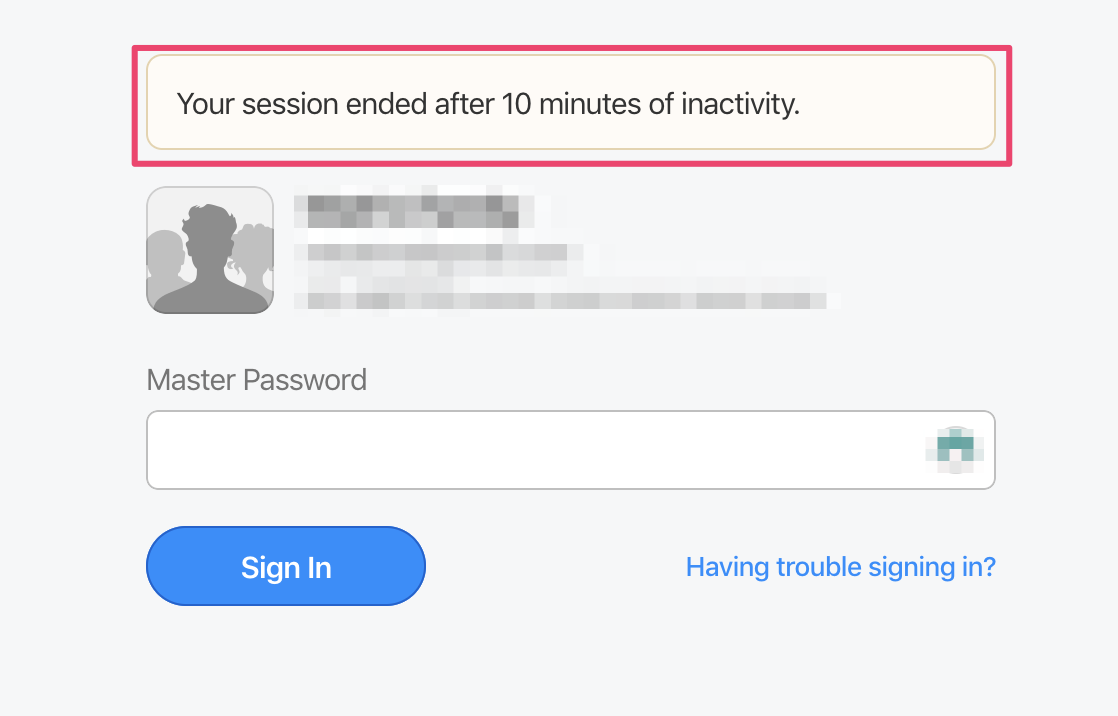 Overall, the setup process can be difficult for non-tech savvy users.
Once you're set-up, 1Password still over-explains their offering. The product would have an improved user experience if the messaging and navigation panels were simplified.
In its current form, there are too many steps and too much information for the user to consume at one time.
2. Login Issues with Your 'Secret Key'
Access control is a pivotal reason why many choose to use password managers. But what if you can't find the access key to get into your account?
As mentioned above, 1Password's 'Secret Key' is an access credential that is needed to log in. This added step enhances 1Password's security, but it does come at a price.
You need to have your 34-digit secret key saved in a safe, but easy-to-access space. You get your secret key in the "Password Kit" that is generated and downloaded at your first login.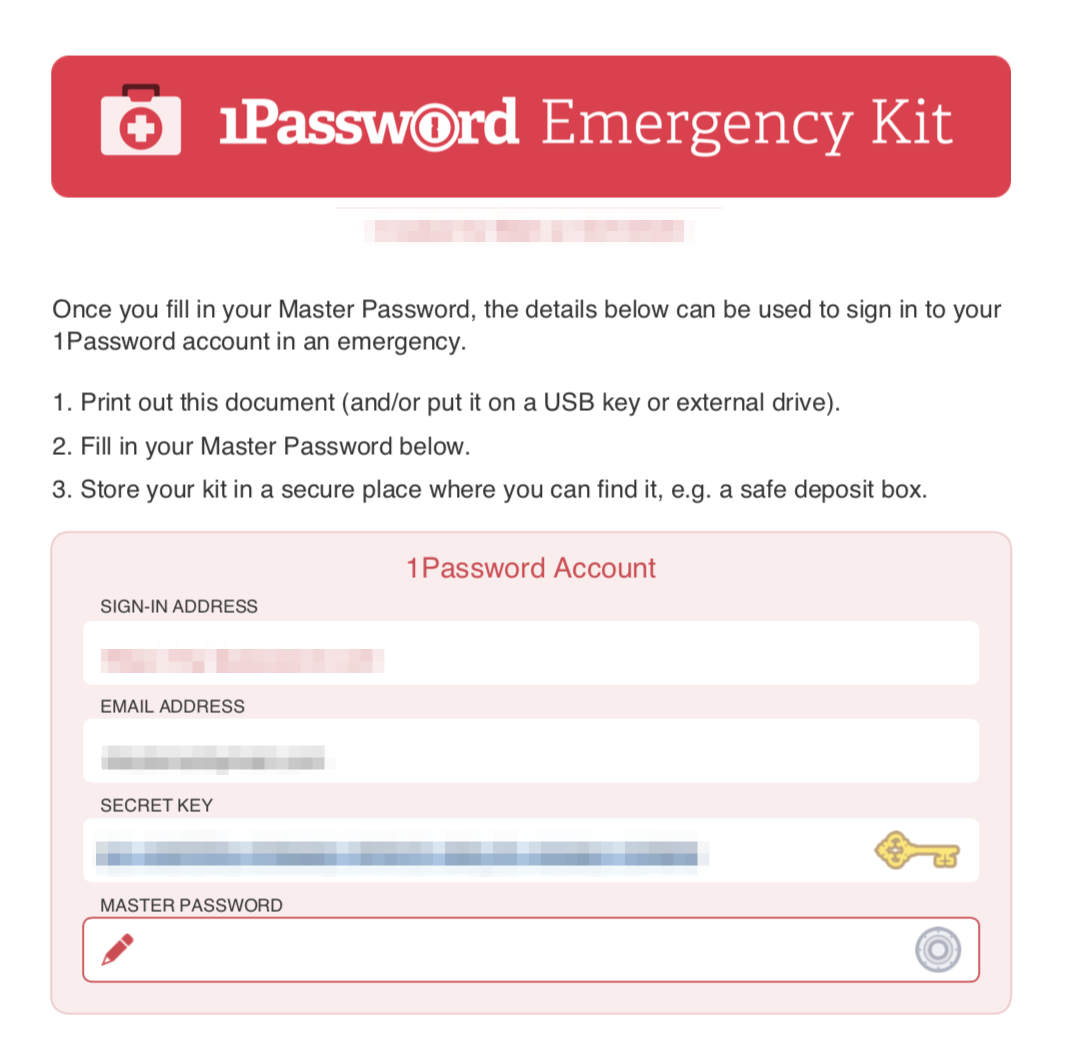 But what if you don't save the download in the right place? What if the wrong person finds it? What if you eventually can't find it?
The process to reset and restore is time-consuming, and the 'Secret Key' causes more headaches than it's worth.
This extra security measure is appreciated, but the users need to be sure they are saving their key in a secure place that they still can access.
This is cumbersome and adds another hoop for users to have to jump through to log in.
How Much Does 1Password cost?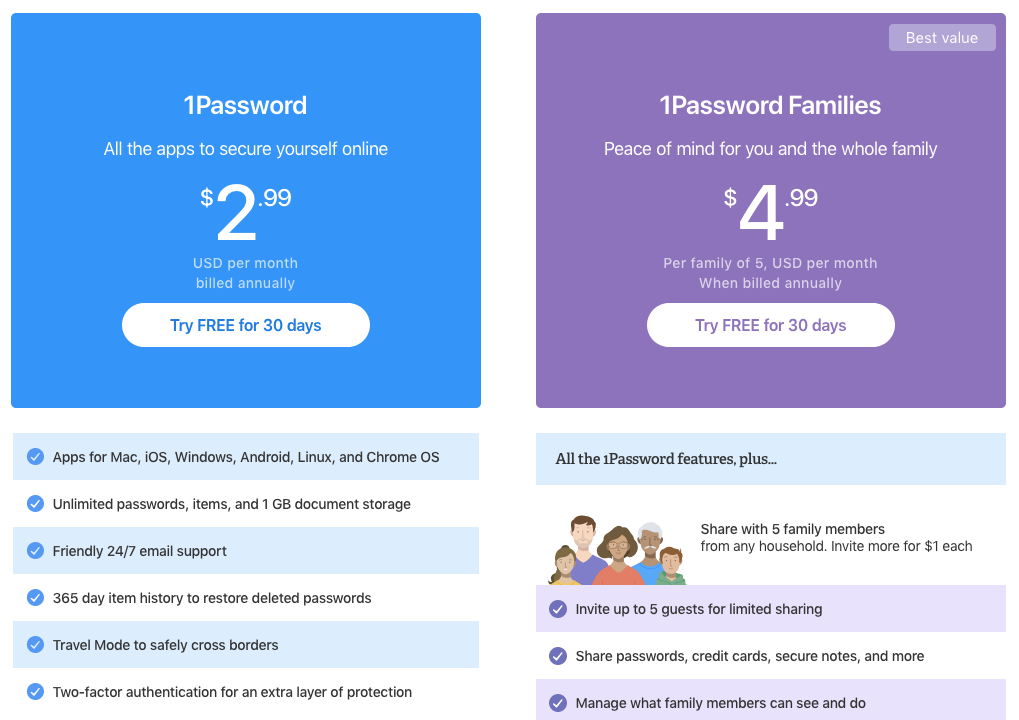 1Password has numerous plans available that vary by the number of features unlocked and how many users can have accounts.
It is important to note that there is no free plan currently offered like some of 1Password's competitors including Dashlane, LastPass, and StickyPassword.
Additionally, a credit card is required on file even for the free trial, which is understandable but not necessarily ideal.
However, gift cards are offered and can be used as your monthly payment. This is unique and an uncommon bonus for 1Password; I have not seen gift cards offered for competitors.
Let's dive into the differences between plans.
Personal Vs. Family Plans
With a personal plan, you get all the necessities.
You'll enjoy apps that are compatible with a wide variety of browsers and platforms, unlimited passwords, support, password restore, and two-factor authentication for $2.99 per month.
If you need more individual users, perhaps consider the family plan, which enables you to share passwords, credit cards, and secure notes with up to five people.
With a family plan, you'll get access control options to manage what those who receive your share request can view and edit. Family plans cost $4.99 per month for a family of five.
Team Vs. Business Plans
If you're planning on using 1Password in a professional setting, there are three options to choose from: team, business, and enterprise.
Team plans unlock the ability to add organization-wide multi-factor authentication, 24/7 support, 1 GB of storage for each user, and unlimited shared vaults.
There can be five people on team plans, and they start at $3.99 per user per month.
Larger teams should leverage the business plans to upgrade to 5GB of storage for 20 individual accounts for sharing access.
Business plans unlock the ability for admins to receive an activity log to track changes, create custom roles, set more specific access which can be helpful for client-facing roles. They start at $7.99 per user per month.
For large companies, enterprise plans are available. You'll be assigned an account manager and receive personalized onboarding that will assist in getting your employees set up.
Should You Buy 1Password?
Yes, you should consider buying 1Password, but do so after you test the free trial.
The free trial will give you a chance to explore the platform and ensure that its layout feels right and natural to you. In addition, you'll have the chance to weigh the pros and cons mentioned in this 1Password review.
Overall, 1Password is a great tool with awesome customer support. The security, support, and depth of the forms they offered impressed me.
However, the user interface can be convoluted, which leads me to recommend LastPass or Dashlane over 1Password at this time.