We've all been there.
You've tried 20 different variations of passwords and still can't get into your account.
No matter how organized you are, keeping track of all your passwords can be difficult.
Not surprisingly, more than 78% of people had to reset a password in the last 90 days.
People are ready to streamline the process of getting into their accounts and eliminating the unnecessary obstacle of remembering their password for hundreds of different sites.
Many are turning to a password manager to keep track of their logins.
The password manager market is exploding with a growth of 19% over the next five years and will eventually reach a value of nearly $3 billion by 2025.
But there are so many password managers on the market. Which should you pick?
There are pros and cons to all the password managers available. You must evaluate each individually and choose the one that works best for your personal and business needs.
Today, we're going to look at NordPass. This password manager was introduced in late 2019 with a mission to "develop affordable digital security tools with a focus on quality."
Here's an in-depth NordPass review to weigh the pros, cons, and ultimate recommendations.
Our Verdict
Yes, NordPass is a good password manager that I would recommend.
Simple, Straightforward Usability
Multiple Secure Data Forms Allowed
Local Encryption
Two-Factor Authentication
Offline Accessibility
Fast Customer Service
Limited Sharing Features
No Easy-to-Access Form Capture
No Family Plans
Is NordPass the Right Password Manager for You?
NordPass was launched in November 2019 by NordVPN, a notable VPN provider used by more than 12 million people around the world.
The company was founded in Panama in 2008 and currently has 500+ employees. In addition to NordPass, the company offers other products including NordVPN Teams and NordLocker.
Upon visiting the NordPass site to sign up, you're greeted with their promise to "Get rid of password stress. Forever."
NordPass highlights their simple design, app speed, encryption technology, user experience as some of their main selling points.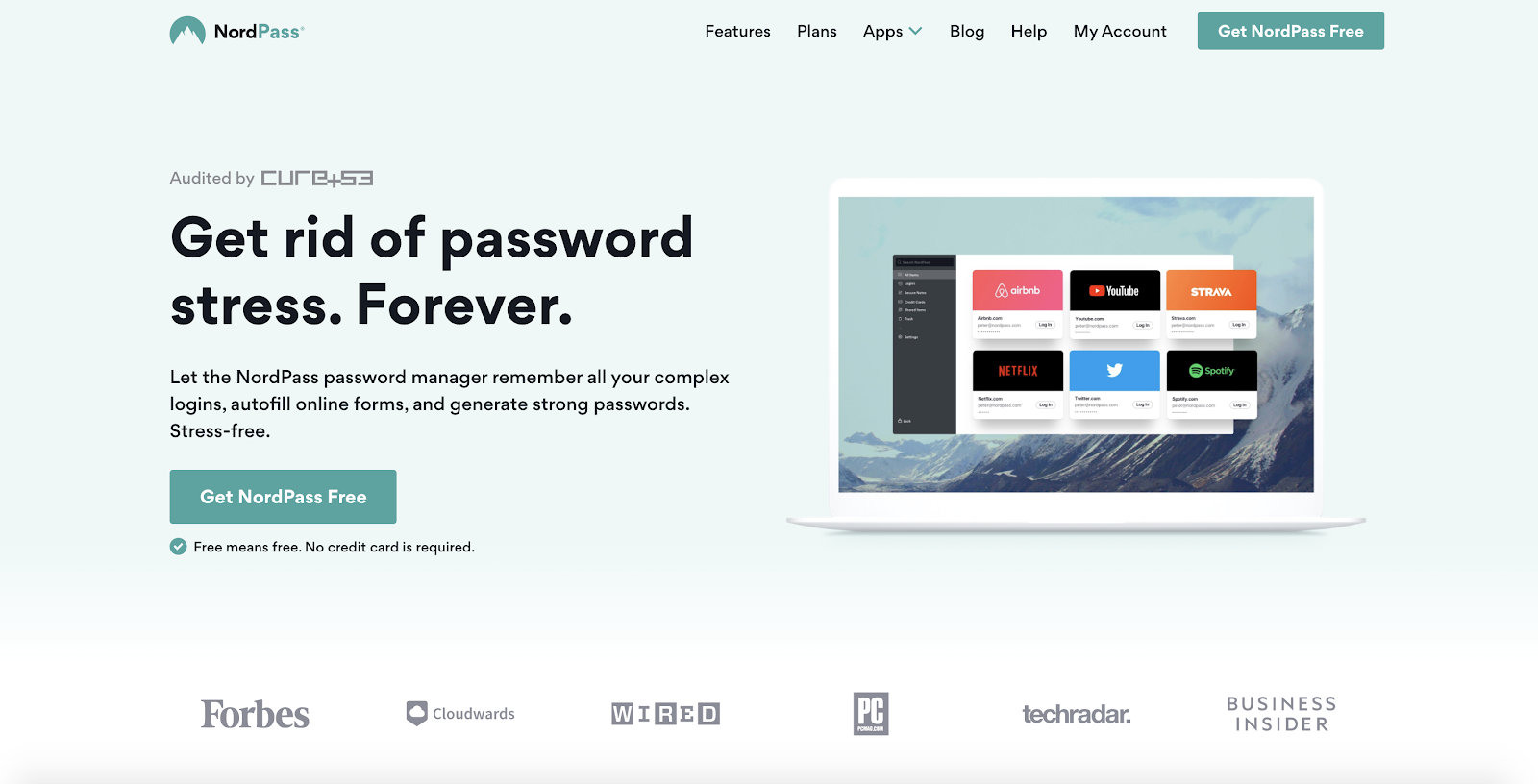 I've tested NordPass and explored each feature — including the master password, browser extension, secure note, and more — to uncover the good and the bad about using this password manager.
Let's dive in.
NordPass Pros
NordPass has numerous benefits, including simple, straightforward usability, local encryption, two-factor authentication, multiple secure data forms, offline accessibility, and fast service.
1. Simple, Straightforward Usability
On the first impression, NordPass delivers an experience that is straightforward and pleasing. When you log into the NordPass app, you're greeted by a clean, simple interface.
The user isn't overwhelmed with a lot of ancillary buttons or calls-to-action.
Instead, the app puts a focus on a minimalistic style that only showcases the most important buttons and menu items in the initial view.
As you get set up, the welcome screen has a primary CTA that asks you to "Import Items." This is how you'll begin building your NordPass vault.
There is a sidebar on the left side with less than ten buttons. The primary navigation functions as filters, enabling you to toggle between all items, logins, secure notes, credit cards, and trash.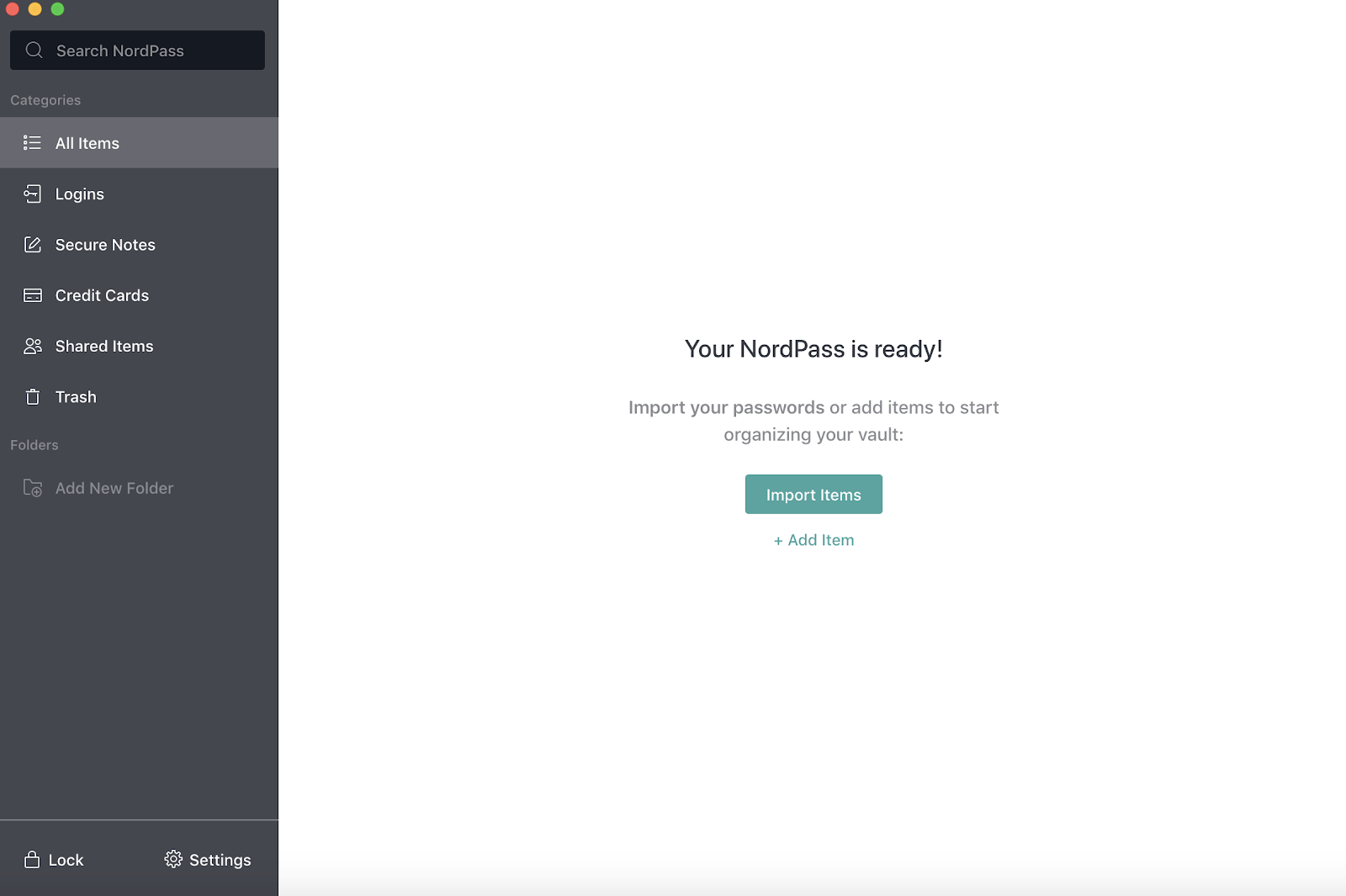 Overall, the user interface is clean and inviting. The app is very intuitive and everything is laid out right before you.
2. Multiple Secure Data Forms Allowed
NordPass goes beyond passwords, allowing users to input secure notes and credit card data into their secure vault as well.
Credit card data including title, card number, expiration date, CVC, and zip code can all be added. There is also a dropdown menu to select a folder if you want to share with others.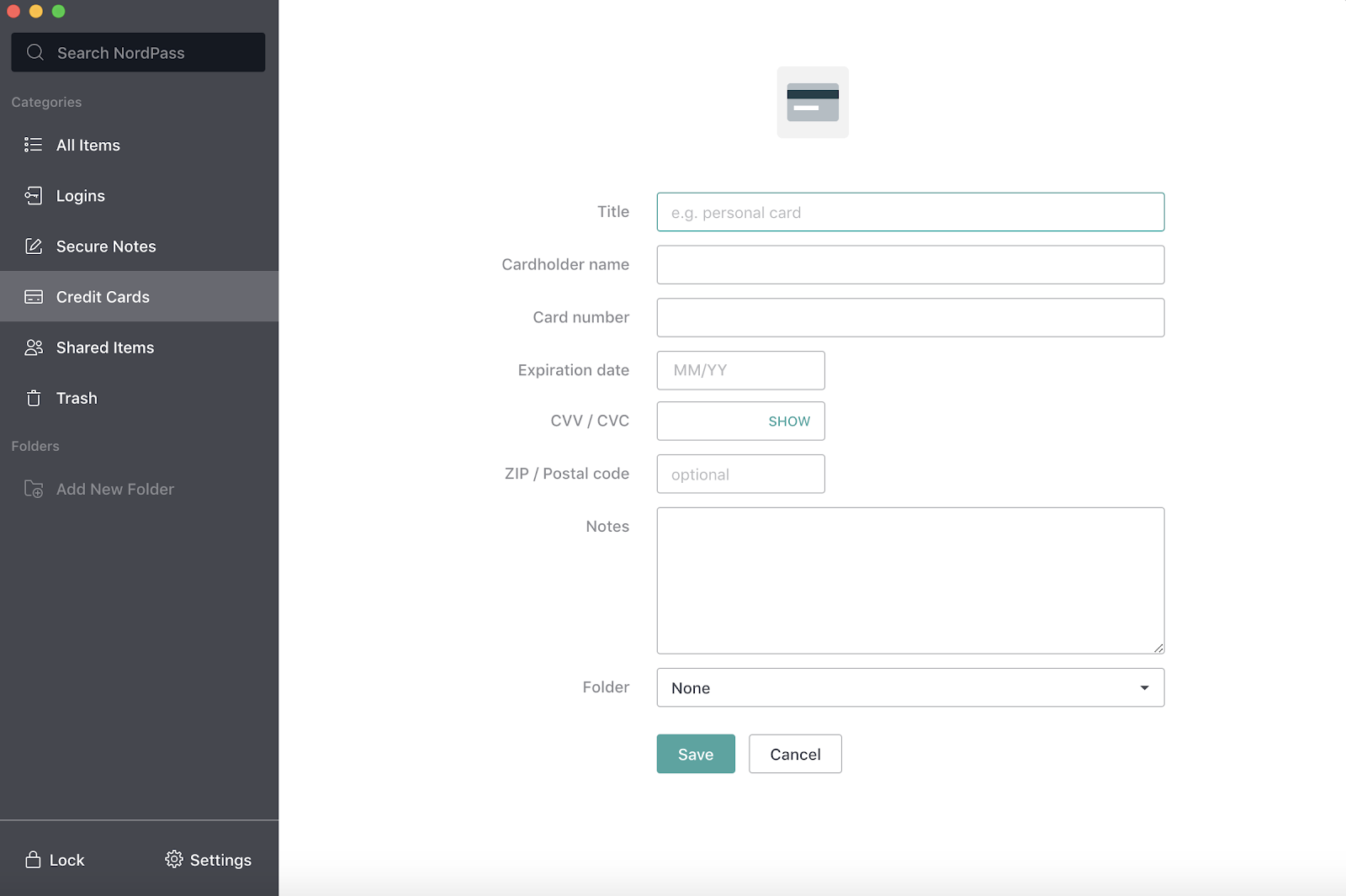 NordPass also offers optical character recognition (OCR) technology that is available on mobile devices for quick scanning and uploading of a credit card.
Simply scan a picture of your credit card, and the form will autofill with the sensitive card data.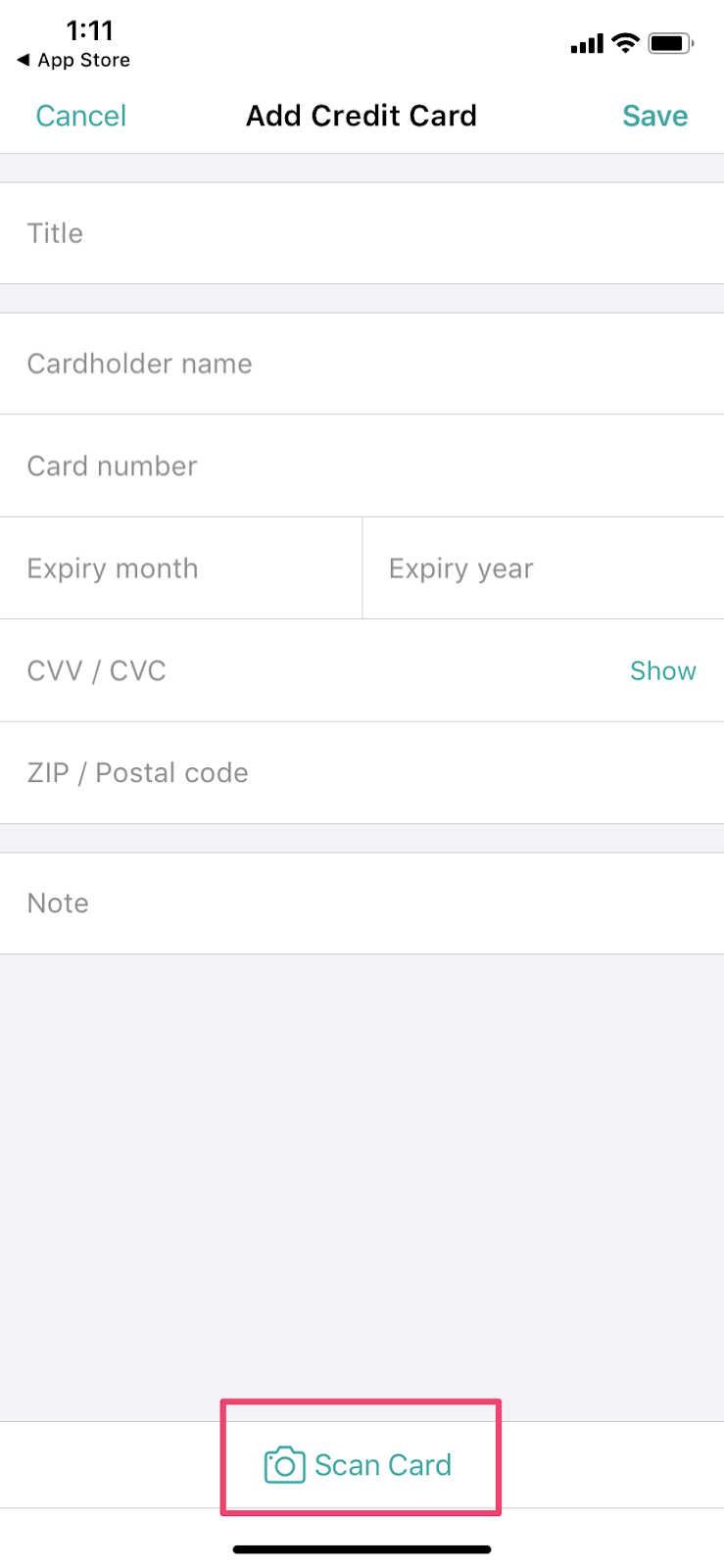 The form for secure notes is much simpler but still valuable for a variety of use cases including addresses, memos, passport numbers, bank account information, and more.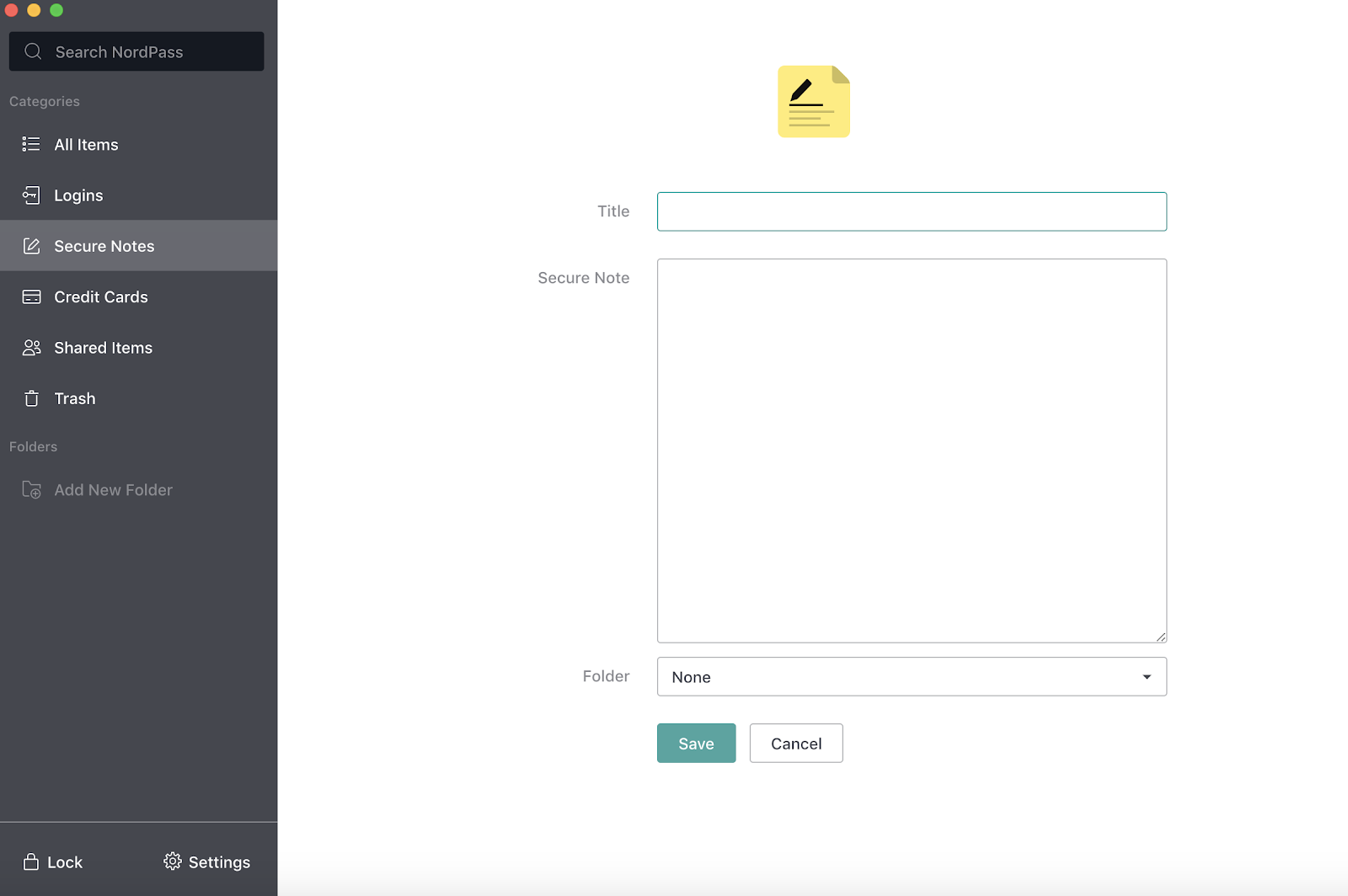 These features aren't uncommon on most secure password managers, but they don't always have separate options for each type of secure information (e.g., credit card data vs. secure notes).
F-Secure, Google Password Manager, MyPadlock, and KeyWallet are some of the password managers that don't currently offer ways to store secure notes.
3. Local Encryption
NordPass uses 256-bit AES encryption which is the standard for most password managers. AES encryption is "a symmetric key encryption cipher, and it is generally regarded as the gold standard for encrypting data."
The encryption takes place locally, and NordPass operates with a "zero-knowledge architecture." This means that all the encryption takes place on your device before the data lands in your NordPass vault. Thus, even NordPass doesn't have access to any of your data like master password or credit card details.
To counteract loss of data due to broken devices or getting locked out, NordPass offers the ability to backup your secure information to store it in a second location like a personal server.
To do so, NordPass recommends you sync to their cloud storage, so you can continuously update your information as needed. This will ensure your complex passwords are consistently up-to-date.
4. Two-Factor Authentication
Multifactor authentication methods are available for users who wish to add another layer of protection on their account.
Enabling two-factor authentication is very easy and only takes one minute. To activate, all you need to do is click "Settings" and click "Enable" under the two-factor authentication heading.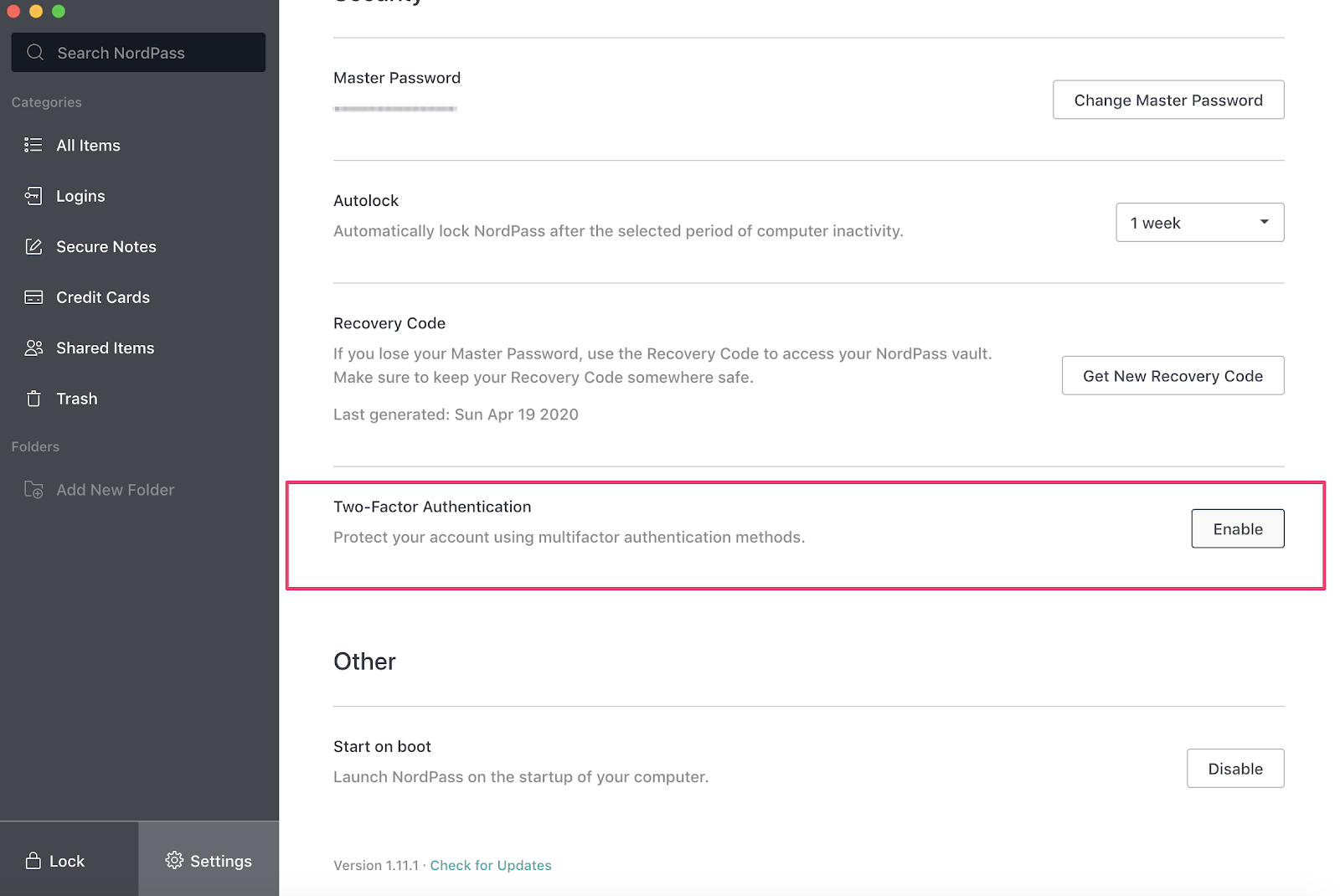 After enabling it, you're provided with a QR code that you'll need to scan into a 2FA app on your mobile device such as Google Authenticator, Duo Mobile, or Authy.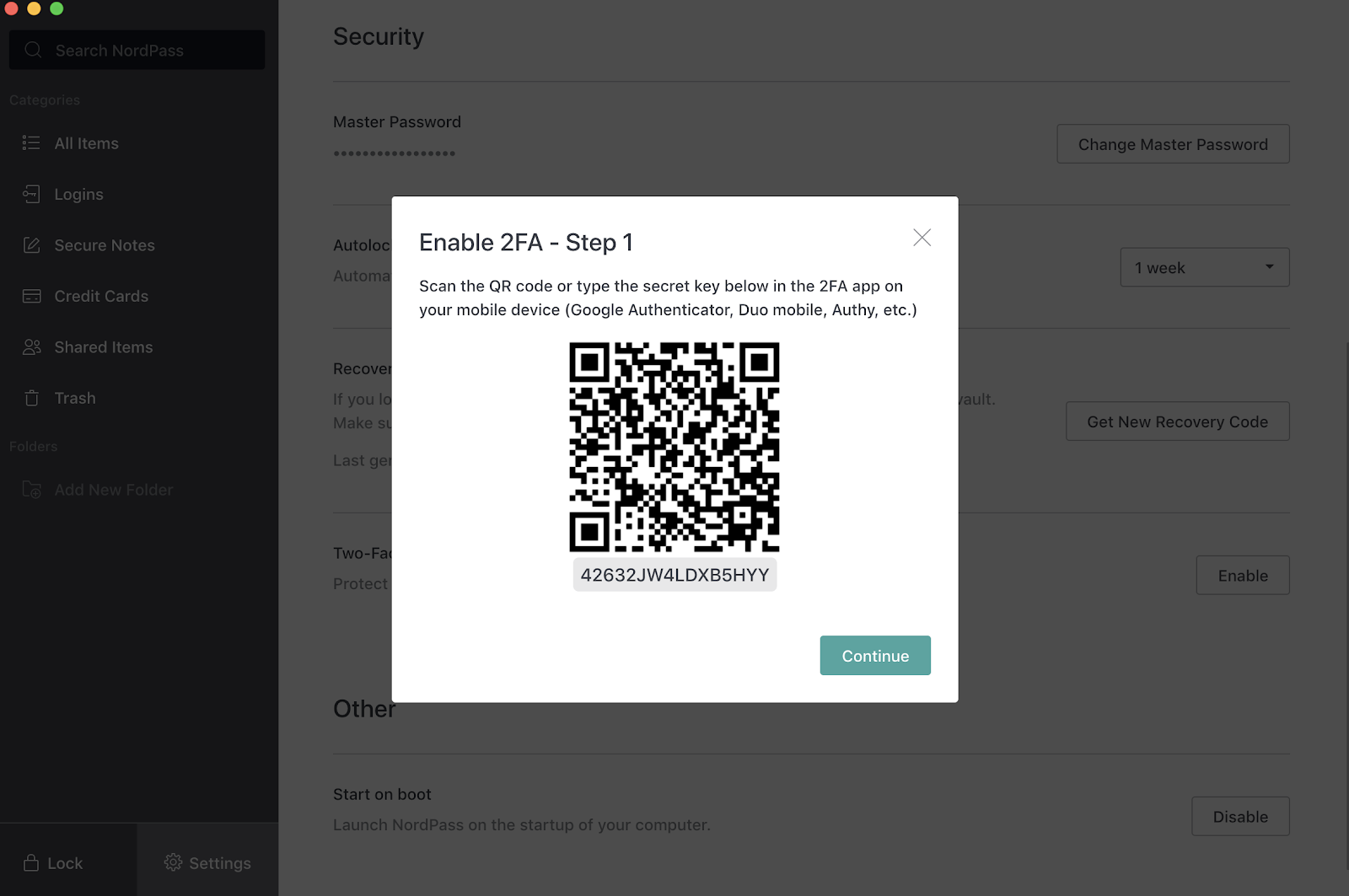 That's it! You're all set up for two-factor authentication. This is a fairly common feature for most password managers, so there is no surprise that it is included as an offering in NordPass.
However, if two-factor authentication isn't enough for you, NordPass also deploys biometric scanning. This is a simple way to protect your passwords with added security.
By setting up biometric scanning, you can switch unlock all your passwords with a simple scan of your fingertip or FaceID.
5. Offline Accessibility
If you've ever been to a sporting event or festival, you know that right when you need to access If you've ever been to a sporting event or festival, or if you've worked with an events photography company you know that right when you need to access something in the cloud, the WiFi goes down.
That's not a problem for NordPass due to the iOS and Android apps that are available for offline usage.
Your entire password vault will be available to you in a sleek interface that is reminiscent of how your contacts are set up on your phone.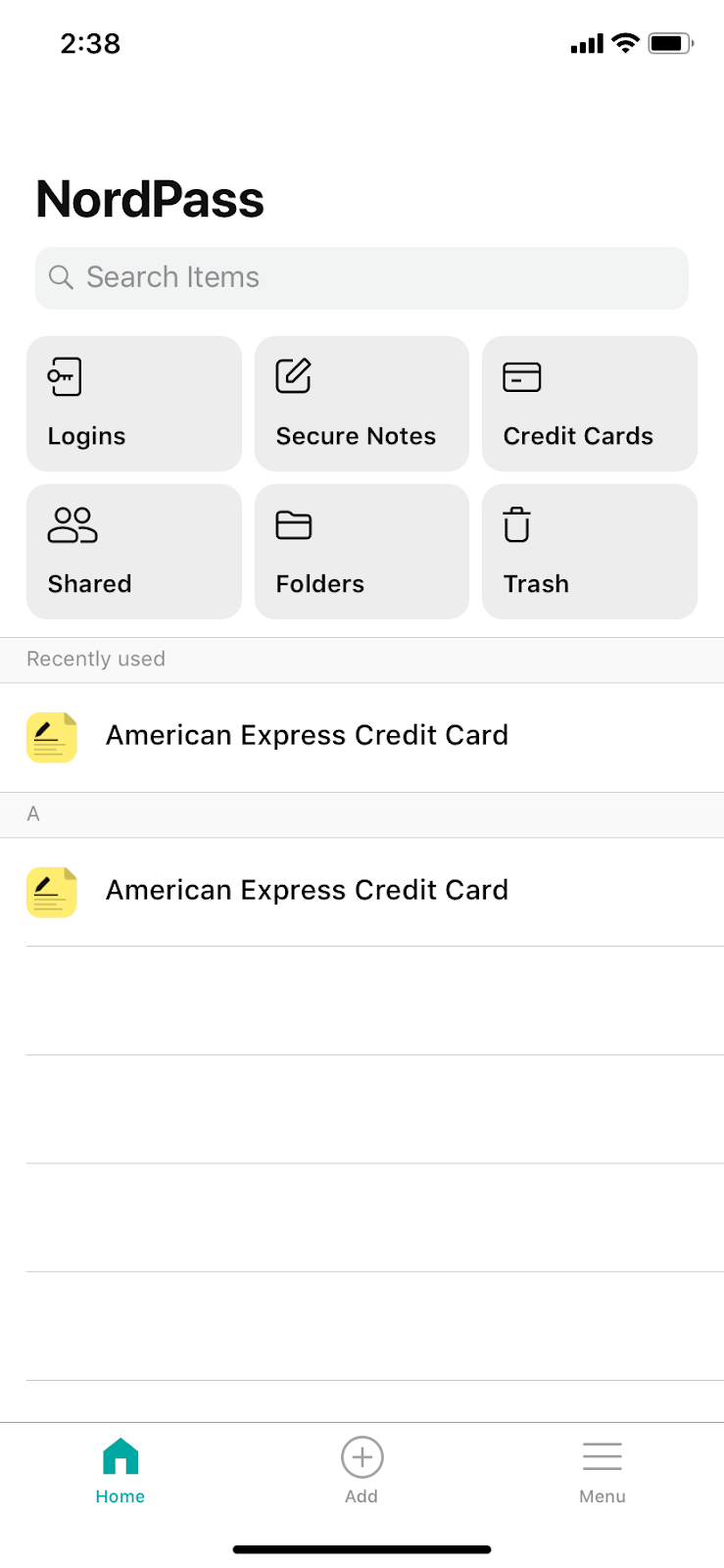 The drawback is that free users only have access to their passwords on one device at a time.
This means that in order to access your passwords on your mobile device, you will need to be logged out of your account on your computer.
6. Fast Customer Service
NordPass offers a variety of ways to get help that are succinct and beneficial.
For starters, there is a fully-searchable NordPass Help Center available on their site. This covers topics such as getting started, troubleshooting, general information, and billing.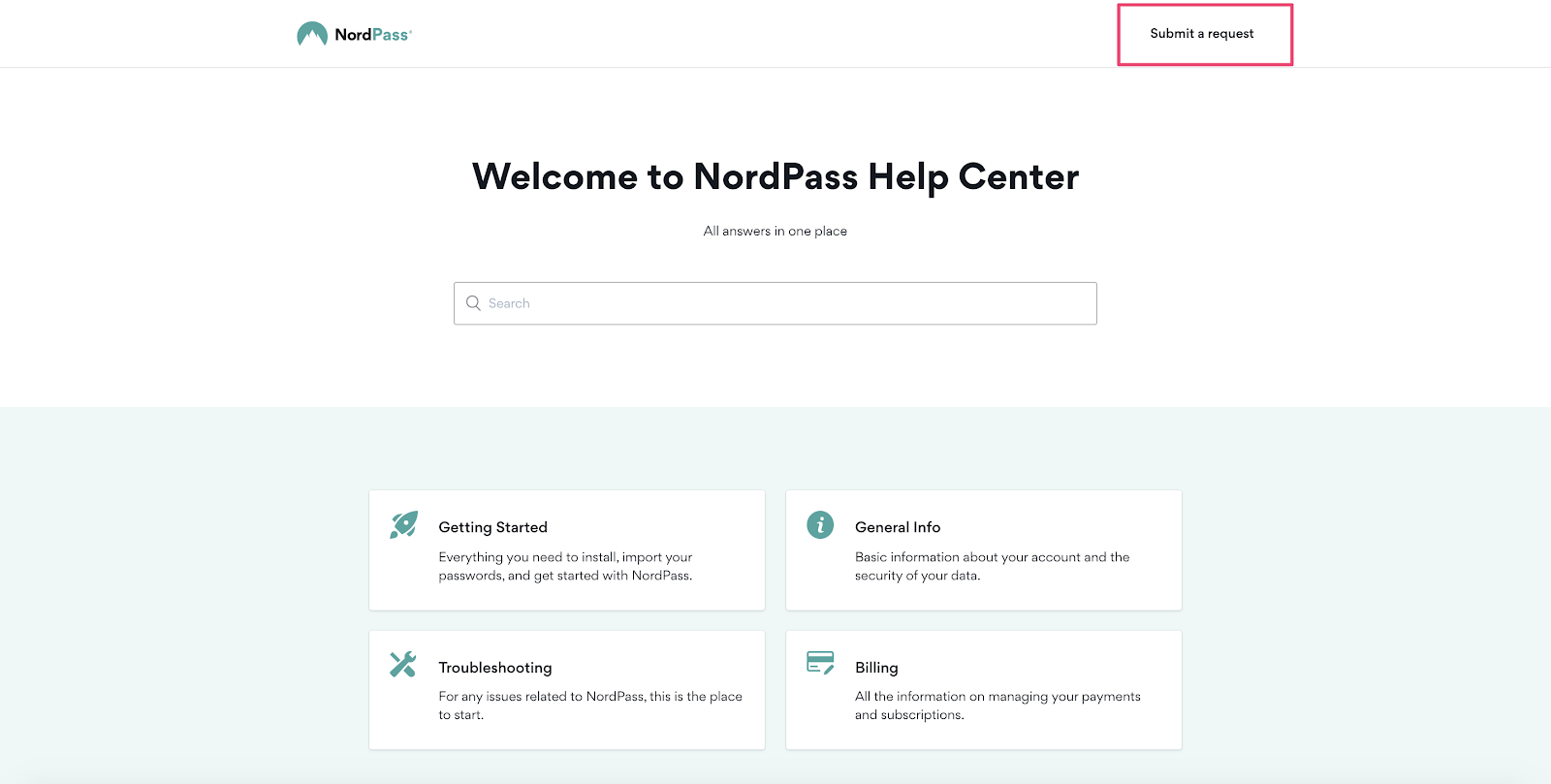 If your question isn't listed, you can submit a request directly to their user support team. NordPass advertises 24/7 customer support even for free users.
I was curious, so I tested the response time of the NordPass team late Saturday night—a time when likely their full customer service staff wasn't on the frontlines.
However, much to my surprise, they responded quickly on Sunday morning at 7:00 AM, only one night after the request was submitted.
I was impressed with their speed and the thoroughness of their response. I know that you'll be in good hands with their customer support team.
NordPass Cons
While NordPass has plenty of benefits, there are some negatives, including limited secure sharing features, no easy-to-access form capture, lack of family plans, no routine password audits, and no Safari form autofill integration.
1. Limited Secure Sharing Features
NordPass offers password sharing between other NordPass users and create shared folders that multiple users can access.

However, currently, premium users are only allowed to create shared folders. Free users can access shared files, but will not be able to create new files and actively share across multiple devices.
Despite offering sharing functionality, there are no "View-Only" or "Edit" access control features on NordPass's shared folders.
These are common on some other password managers like LastPass and 1Password, but are absent in NordPass's current form.
This limits the flexibility of which users can edit certain shared folders they might not own—which can be a good or bad thing depending on your preferences.
2. No Easy-to-Access Form Capture
Unlike Dashlane and 1Password, there is no form capture available. Form captures allow you to create and send a form to a partner and client to input their sensitive information.
This will then be encrypted and stored in your vault and available for your use without having to collect the information in an unsecured environment like over the phone or email.
Instead, their data goes straight to your encrypted vault.
Currently, NordPass does not offer this feature.
3. Lack of Family Plans
NordPass Premium does have a sharing feature that lets you share items between separate accounts, but unfortunately currently, there is no family or team plan.
This can be a deterrent for a large family that would have to pay $2.95 per month per person to unlock the premium features.
This is something that the company is currently building into its product offering, and it should be available in the future.
4. No Routine Password Audits
Password audits are helpful for users to understand their overall online security "health."
There is a password generator that will create passwords for you based on set criteria including uppercase letters, lowercase letters, digits, symbols, and avoiding ambiguous characters.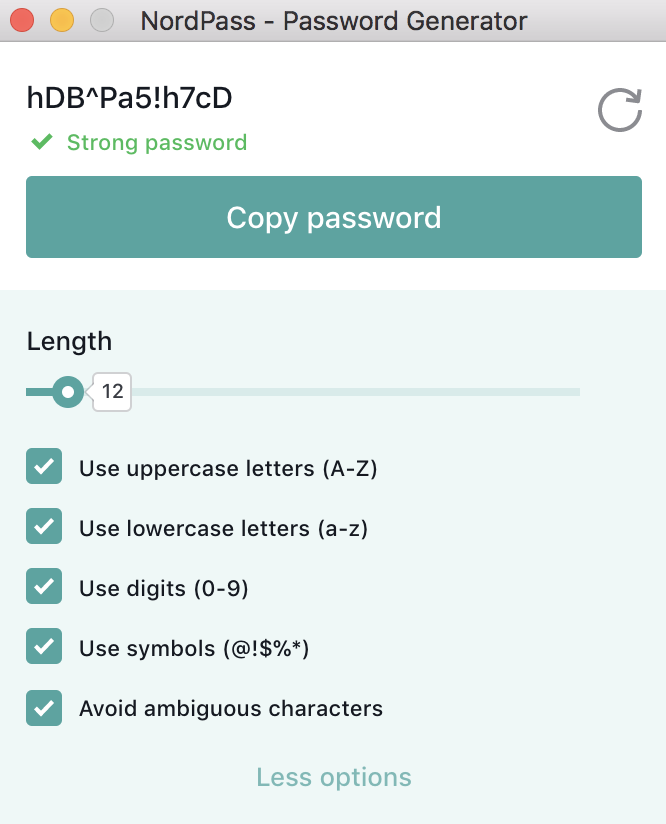 However, while useful, there isn't a password audit that will identify weak passwords, flag duplicates and remind you to update passwords that are old.
This is essential for your prolonged security. As the passwords you hold increase, it would be beneficial to know if you are adding duplicates or if your passwords aren't strong enough.
5. No Safari Form Autofill Integration
Form autofills are very helpful for users. When enabled in your browser, a NordPass logo will appear in the corner of the form for the account you're trying to access.
Simply, select your saved login information from a dropdown menu, and you're in!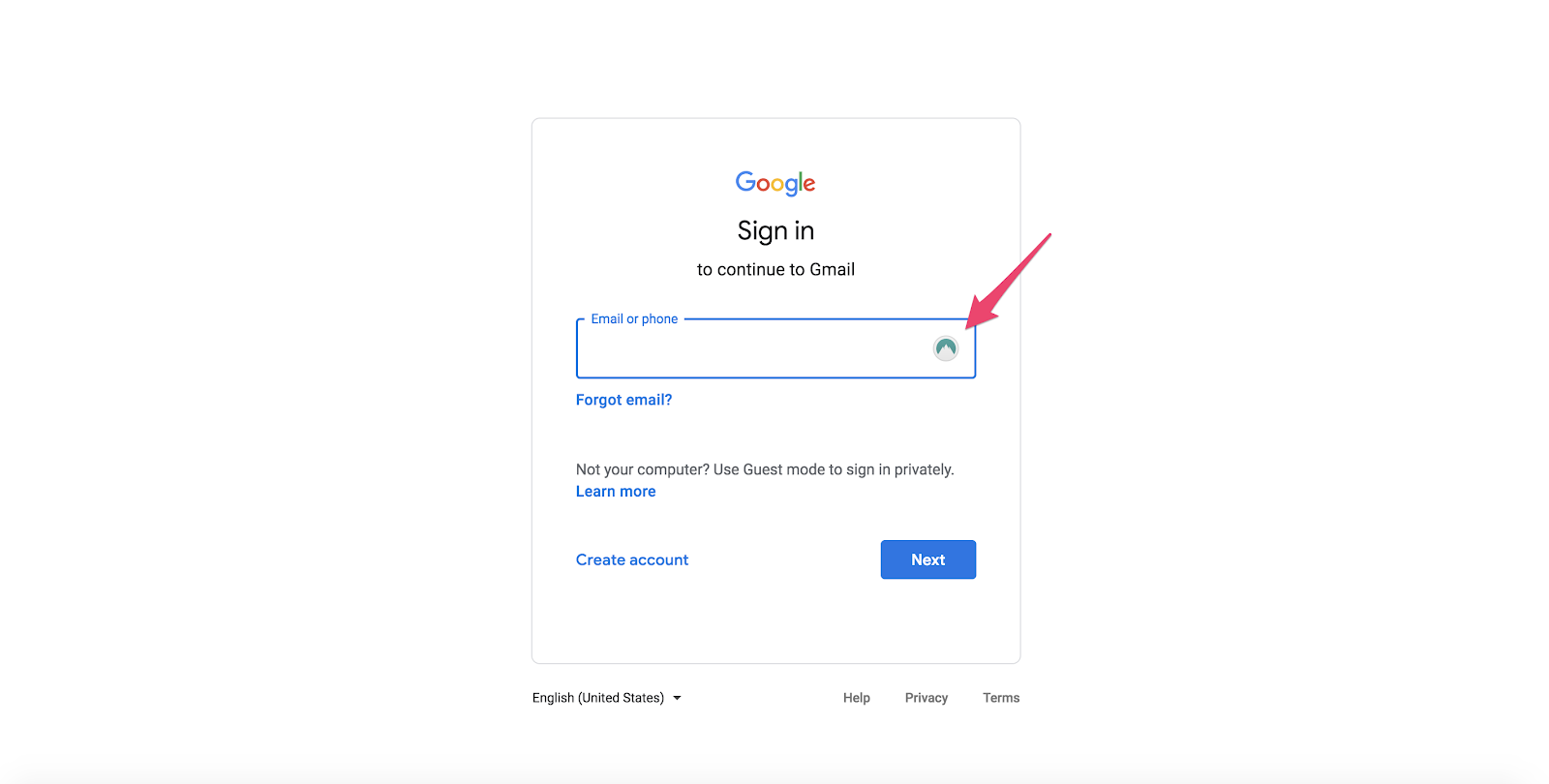 Currently, NordPass offers browser integrations for Chrome, Firefox, Opera, and Edge.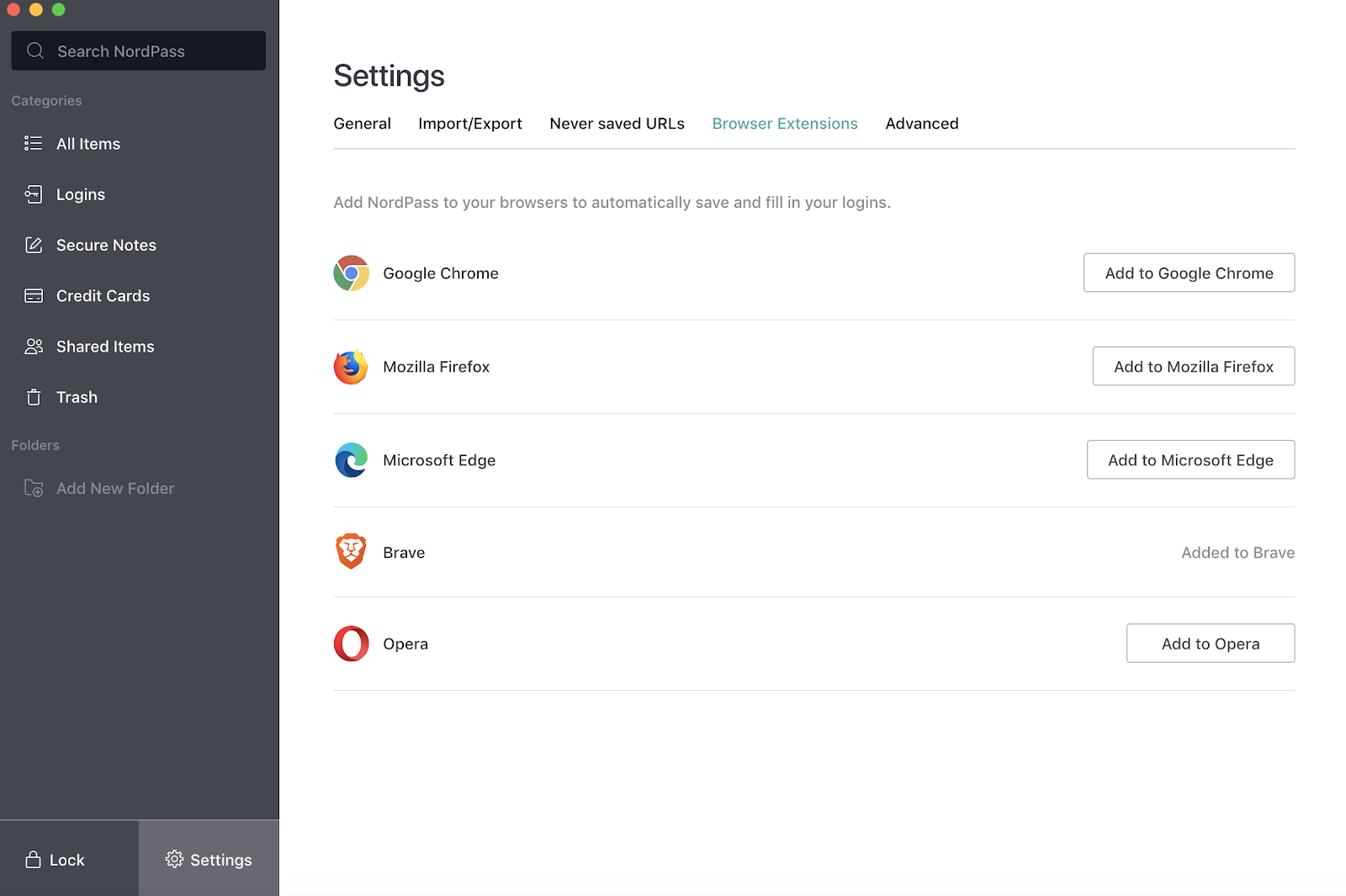 This is a standard feature of most password managers. NordPass's was extremely easy to install and works efficiently with no hiccups on different browsers.
However, NordPass does not currently have a Safari extension, which is used by 25% of internet users. The company promises it will arrive later this year.
How Much Does NordPass Cost?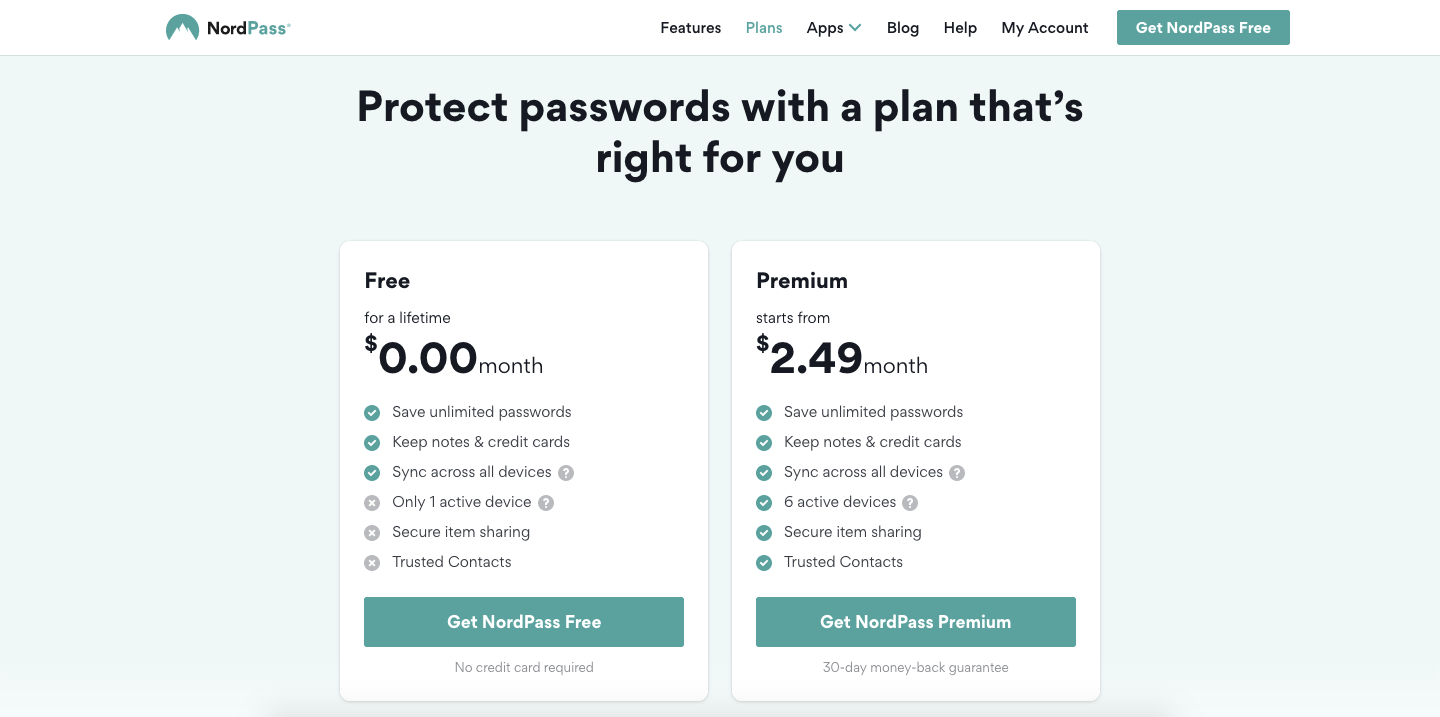 There are two NordPlass plans available for users to choose: free and premium.
Free is available to everyone for an unlimited amount of time, while premium unlocks a new tier of features that aren't available in the free plan.
Free Plan
With the free plan, you'll have access for a lifetime.
However, there are some features that aren't available for your use. You're limited to using one device at a time and won't be able to create shared folders.
It is nice, though, that you can set up a free plan with no credit card required.
Premium Plan
The premium plan costs $2.95 per month and unlocks the ability to create and edit shared entries and use up to six devices at one time.
This is a little bit cheaper compared to other leading brands (LastPass, 1Password) which average close to $36 annually.
Both plans are great values, but I was underwhelmed with the additional features you get with the premium plan.
The free plan should suffice for most users unless they anticipate setting up a handful of shared folders.
Should You Buy NordPass?
Yes, NordPass is a good password manager that I would recommend.
This is not the best offering on the market, but it is a solid pick for users that are seeking a quick and simple solution.
It does not have an abundance of features compared to its competitors, but it is a cheaper, effective, secure solution for your basic password manager needs.
The lack of ancillary features does make NordPass incredibly straightforward and easy-to-use with a streamlined, simple interface.
If you're looking for a password manager that is simple, and you don't need a handful of additional features to be satisfied with your purchase, this is for you.