LastPass is one of the leading password managers used by 17.8 million people around the world.
It began in 2008 and is currently headquartered in Washington DC. Seven years after its founding, the company was acquired by LogMeIn for $110 million.
Before we get into this LastPass review, let's take a look at the company and the team behind the popular password manager app.
Disclosure: Login Lockdown is reader-supported. We might earn a small commission if you purchase something through our site. Learn more
Our Verdict
Their user interface and features make them an attractive option for passive and proactive consumers looking to improve their online security.
Simple and easy user interface
Form capture
Multifactor authentication
Strong password generator
Compatible with all devices and browsers
Audit report
Easy sharing with other users
Slow customer service
Outdated user interface
Is LastPass the Right Password Manager for You?
Weak passwords are becoming an issue.
Consumers are failing to create complex, strong passwords and subsequently putting their online security in jeopardy.
The recently published list of the most common passwords offers a dim light on the weak passwords and security measures that are in place.
Many consumers are using variations of 123456, 123456789, qwerty, password, 111111, 12345678, abc123, and password1.
Over 17% of consumers use 123456 as their password—the most popular password today.
To counteract this, consumers need password managers that store and generate strong passwords.
A recent study examined 170 participants' passwords and concluded that password managers "indeed influence password strength and reuse."
But there are so many different password managers on the market that it can be sometimes overwhelming for consumers to find the app that best fits their security needs.
LastPass's homepage encourages uses to "simplify their online life." It also includes the tagline "auto-pilot for all your passwords," highlighting its convenience and ease-of-use.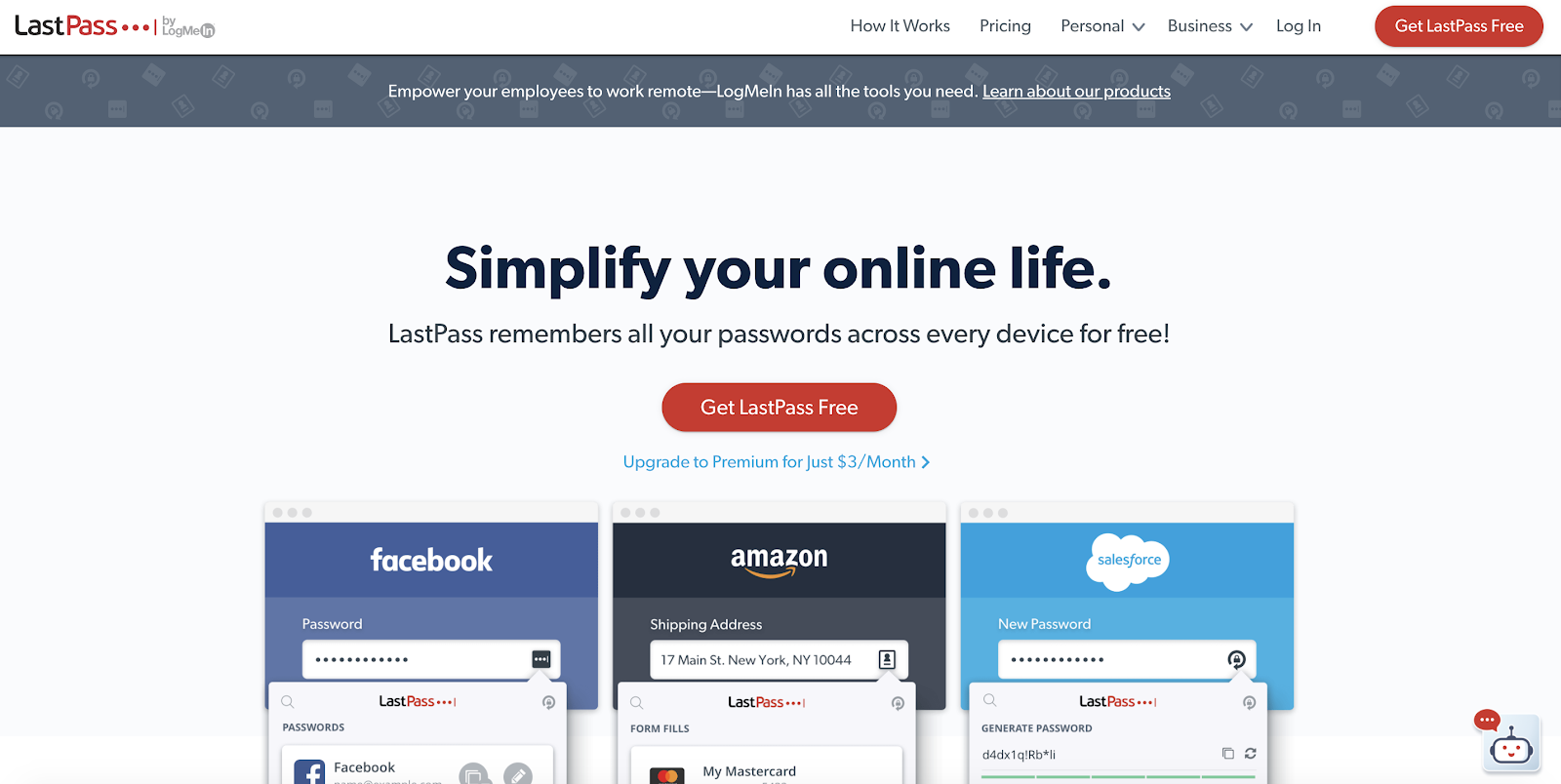 Some of the features the app highlights on its homepage is its convenience, security, digital storage, sharing functionality, and access control.
More than 61,000 businesses use LastPass password manager to improve their employees' online security.
Let's look at some of the pros and cons of using LastPass, and see how the password manager compares to its competitors such as Dashlane and 1Password.
LastPass Pros
Some of LastPass's pros include its easy-add password functionality, streamlined sharing, password audits, and the two-click password generator.
1. Easy to Add Passwords, Secure Notes, and Credit Cards
New software can be foreign and confusing when you first log in.
LastPass, however, keeps things simple when it comes to adding passwords and secure data.
If you don't have anything currently stored in your password vault, you'll see a space with a navigation panel to the left and a giant plus symbol in the bottom right corner.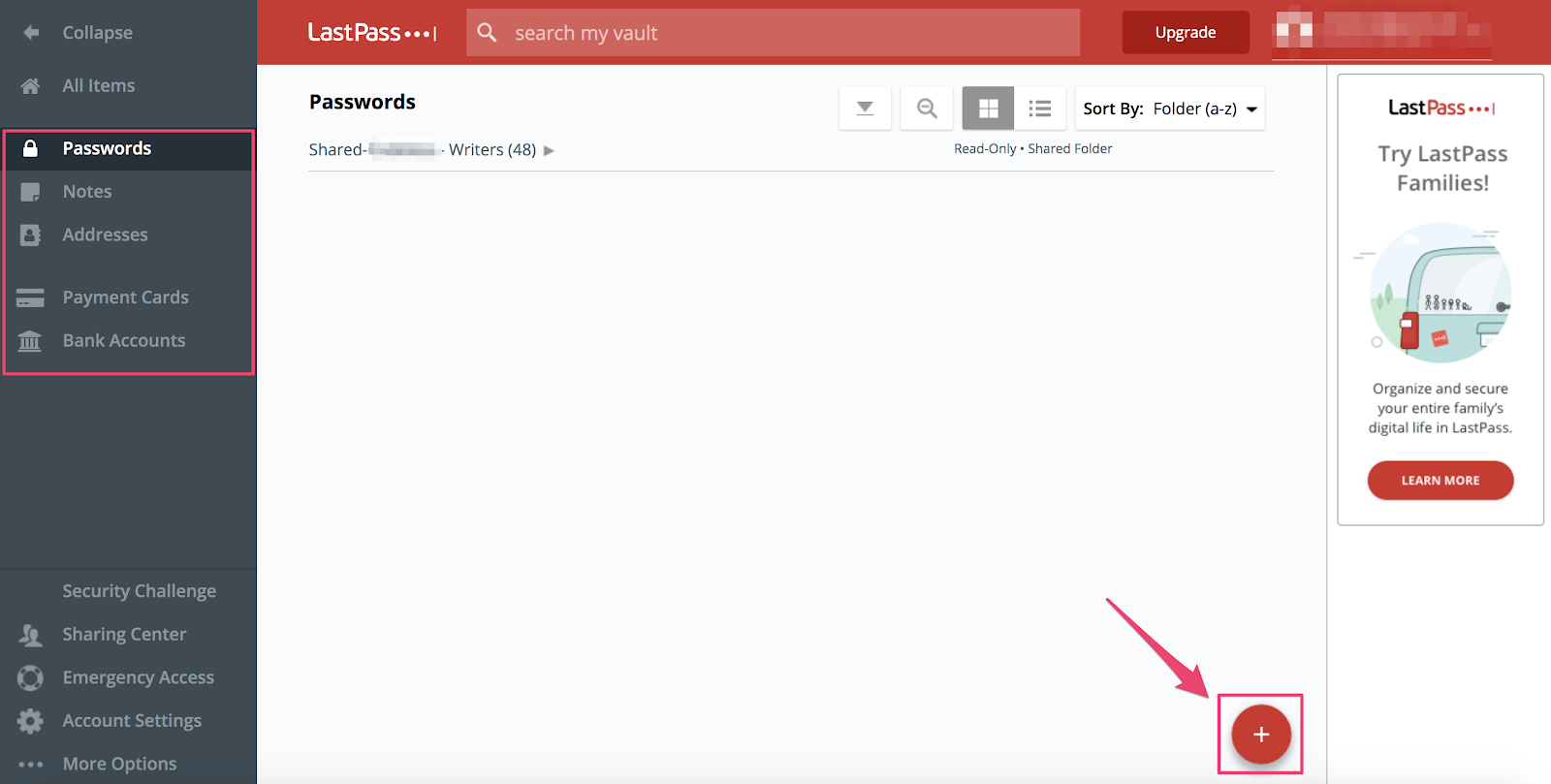 On the left navigation panel, you can explore all the different types of secure data you can store. This includes passwords, notes, addresses, credit cards, and bank account information.
Once you click on the type of secure information you want to add, click the plus sign in the corner of the screen.
A box will pop up with a form that is designed specifically for that information.
In addition to the basics, you can mark three advanced options including a master password prompt, initiating autologin, or disabling autofill.
I haven't seen these options so prominently available on competitors.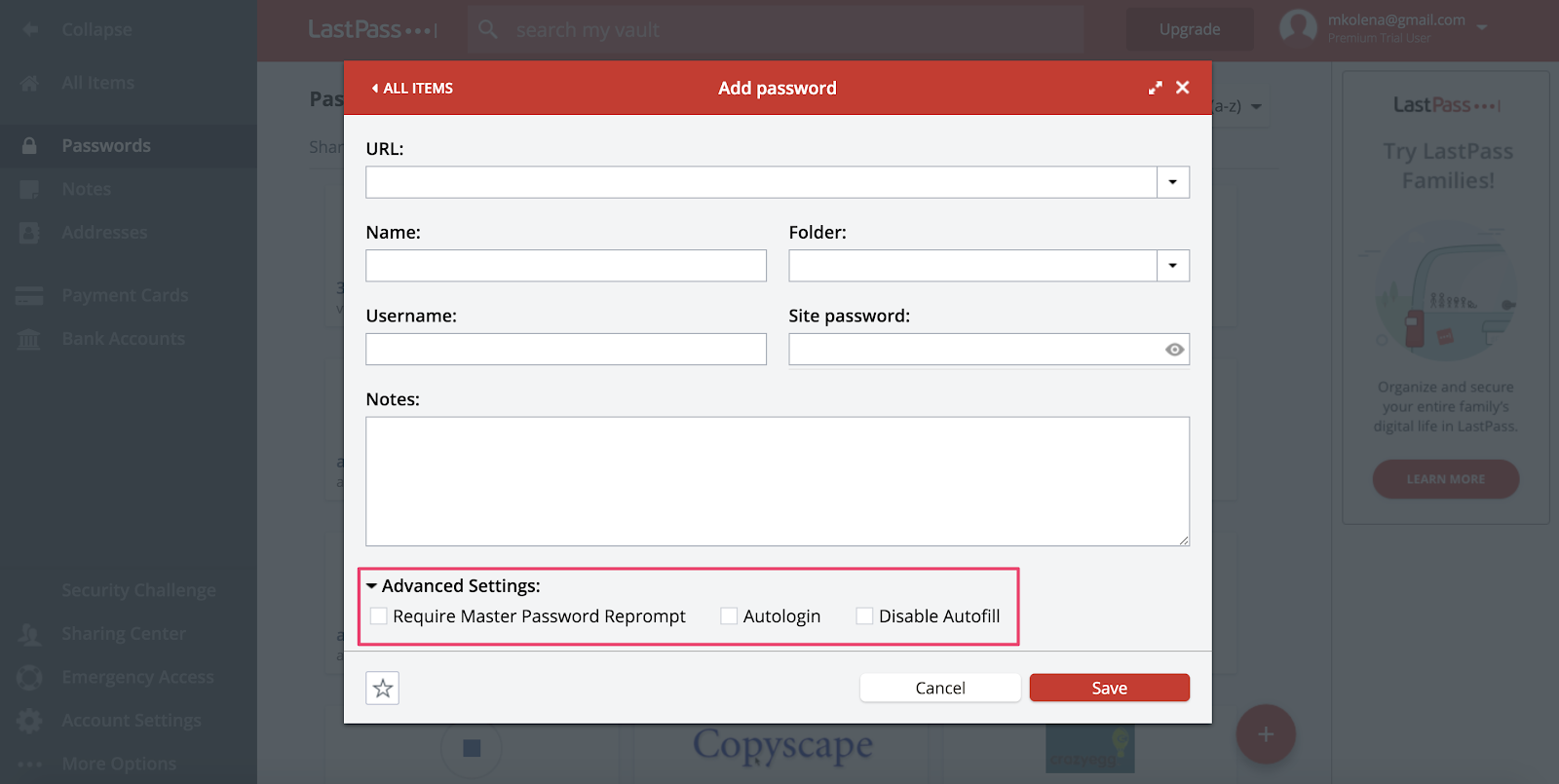 And that's it!
It's a fairly simple process to add new secure data, and there isn't a steep learning curve involved.
2. Streamlined Sharing Functionality
LastPass's sharing feature is intuitive and easy-to-use, which isn't always said about other password managers sharing capabilities.
Free users can accept and view shared folders, while premium users can create folders and edit access.
After clicking "Sharing Center" in the left navigation, you'll see all the folders you can access. You can click the plus in the bottom right corner to add a new shared folder.
At the top, you can toggle between "Shared with Others" and "Shared with Me." This interface is similar to Google Drive's filtering criteria, so it should be recognizable for users.
Shared folders can be useful when working on teams or with clients that need to provide sensitive account data.
The sharing function is straightforward and provides users with the chance to access that data securely and efficiently.
#3. LastPass Security Challenge
Password audits help guide users in creating more effective, secure passwords.
The LastPass Security Challenge is a password audit that checks the strength of your existing passwords.
This is a useful feature to help ensure your accounts aren't held together upon a rocky foundation.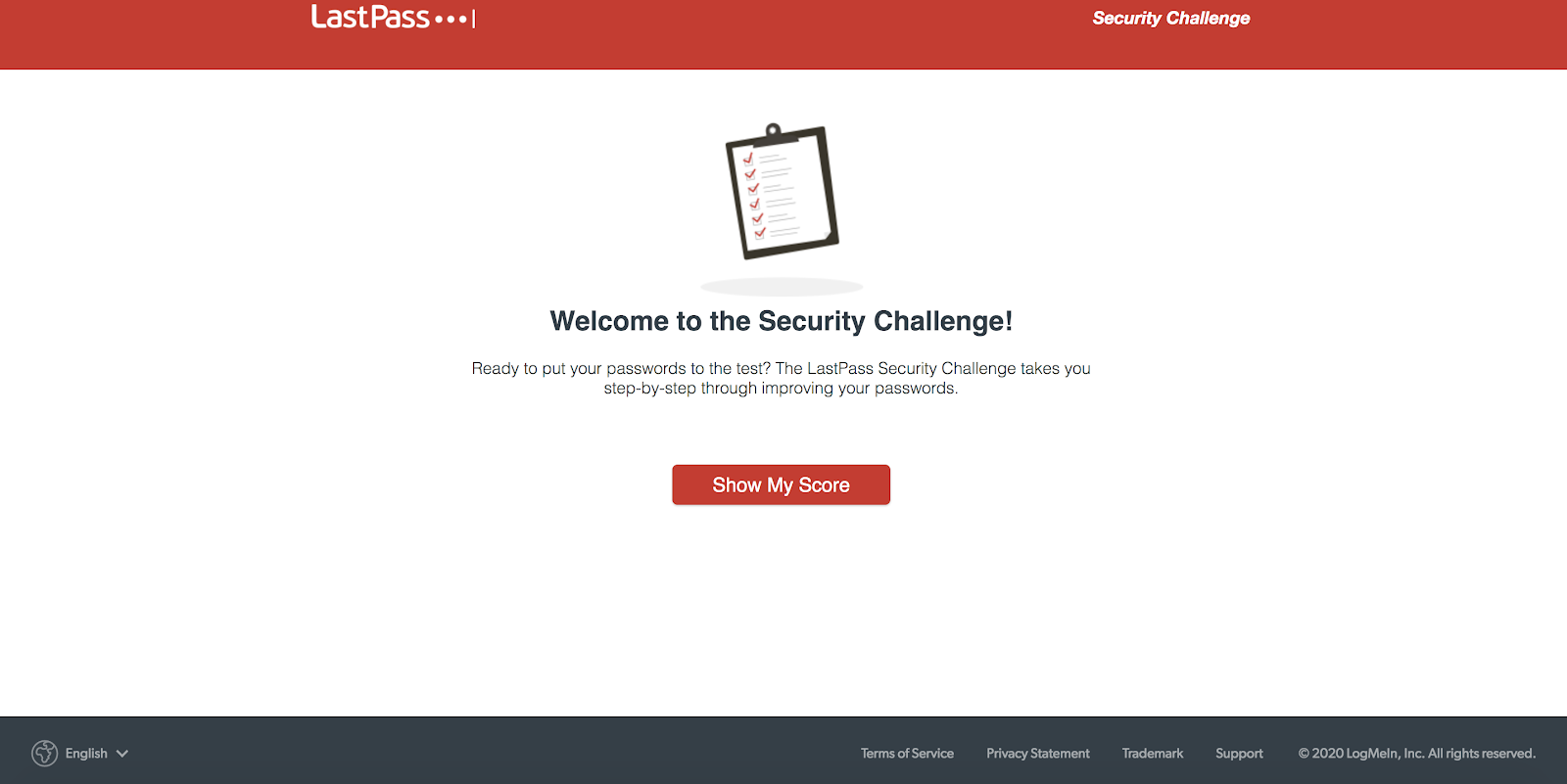 By clicking "Show My Score," LastPass will review all the passwords saved in your LastPass account.
The app will provide a cumulative score and highlight passwords that need to be changed.
It not only shows your security score and master password score (how strong your passwords are), but it also points out the weak and compromised passwords.
This is useful for the prolonged security of your login credentials and can be completed in just one click.
LastPass doesn't just focus on storing your secure information, but rather, it ensures that consumers have the education they need to make weak password adjustments.
4. Strong Password Generator
LastPass offers browser extensions for Chrome, Safari, FireFox, Edge, and Opera. These browsers extensions are offered in addition to the Mac app and Windows app.
With a browser extension installed, you can access a saved password and add new online account information into your encrypted vault.
You're also able to generate a secure password in just two clicks.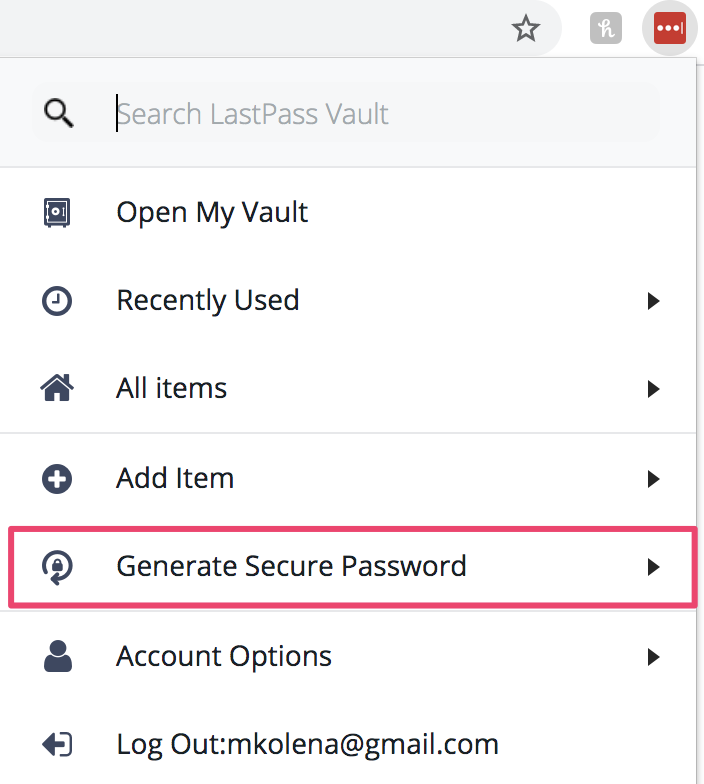 Once you click "Generate Secure Password," a secondary box will open that shows the password generator and various criteria you can set for it.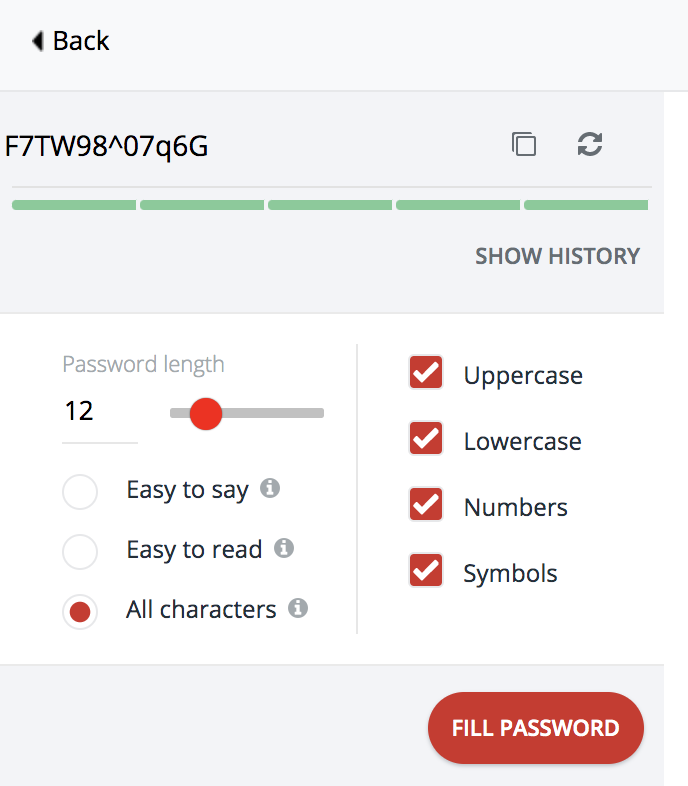 Then, you need to click "Fill Password," and the process is complete!
The ease of having this right in your browser extension is a major benefit of LastPass.
A complex password makes it harder for hackers to get into your account. With LastPass, you can generate one and forget it since the password will be stored in your password vault.
All you need to know is your master password!
LastPass Cons
Despite plenty of pros, LastPass has a few major cons such as slow customer service, an outdated design, and no VPN offering.
#1. Slow Customer Service
When it comes to customer service, businesses can't afford to mess around.
Like most password managers, LastPass has plenty of online resources available on their website.
There is an extensive online knowledgebase where users can ask their questions and browse a variety of topics ranging from password generator issues to browser extension problems.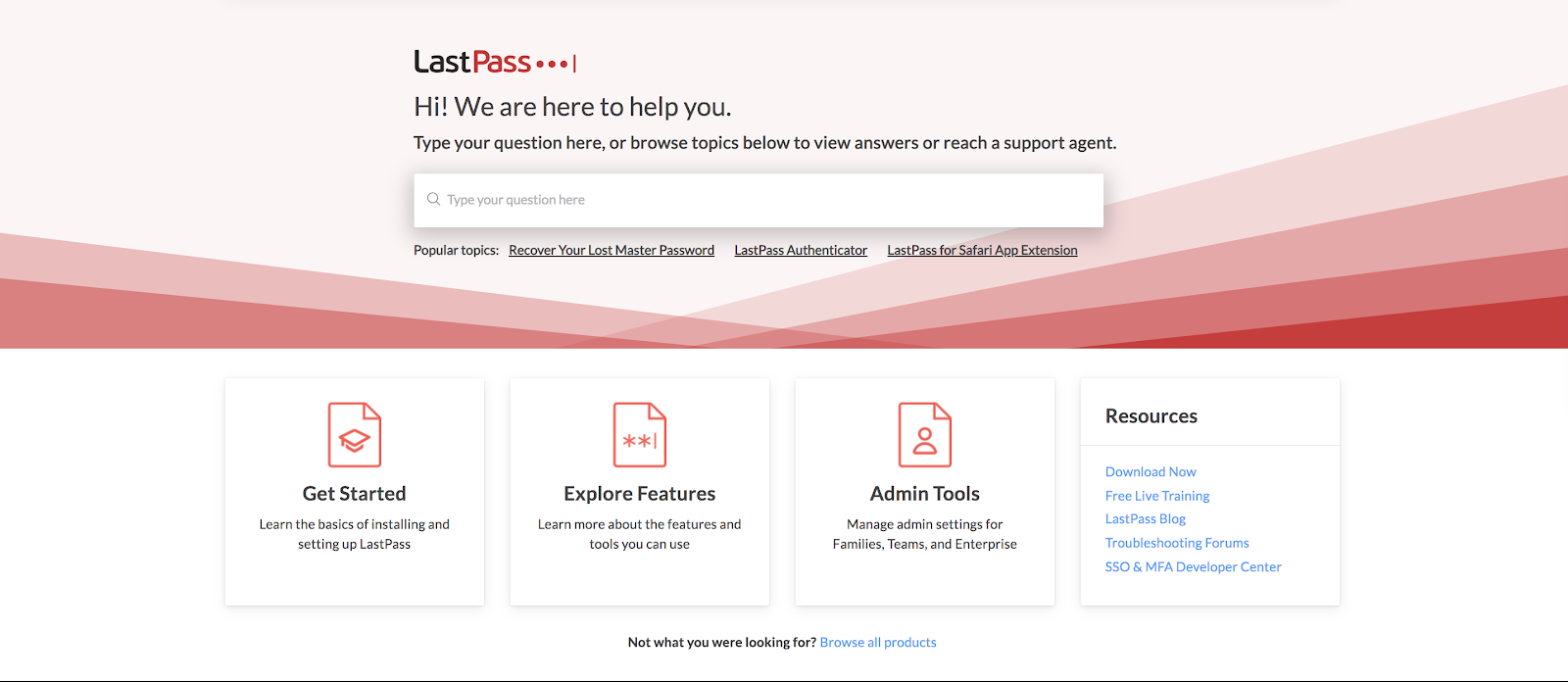 However, it is unique that they don't have a "Contact Us" tab visibly featured on that page.
It was a bit of a struggle to locate a "Contact Us" button on the page if my issue wasn't resolved. LastPass competitors 1Password and NordPass prominently display this button.
Finally, I located the button, sent a message, and instantly got a ticket. Unfortunately, it has been more than 36 hours, and I still haven't heard from them.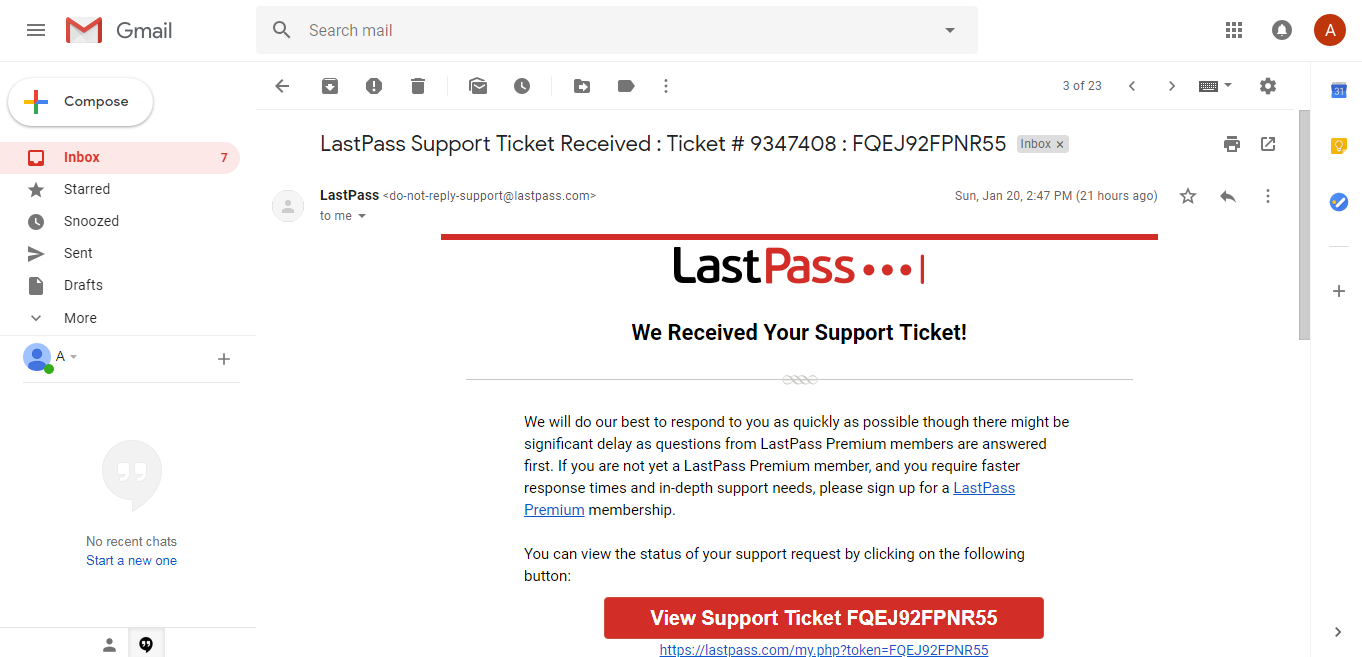 For a company that checks all the boxes when it comes to its product, unresponsive customer service can be a major negative.
Even worse, I am using the premium version which promises "priority tech support" as one of the features included in the package.
While this definitely could be an isolated incident, it did leave me with a sour taste for the product and was a major strike against this password manager.
#2. Stale, Outdated Design
The functionality of LastPass is great. The design… not so much.
When selecting a password manager, consumers need to consider the look and feel of the app since they'll be using it every day.
Overall, the LastPass password manager design could use an upgrade. The brand feels like it is stale and stuck in the mid-2000s.
The banner on the right side of the app looks like a display advertisement from another company.
The colors aren't enticing, and there's too many buttons, words, and varying messaging that makes it a bit confusing when you first log in.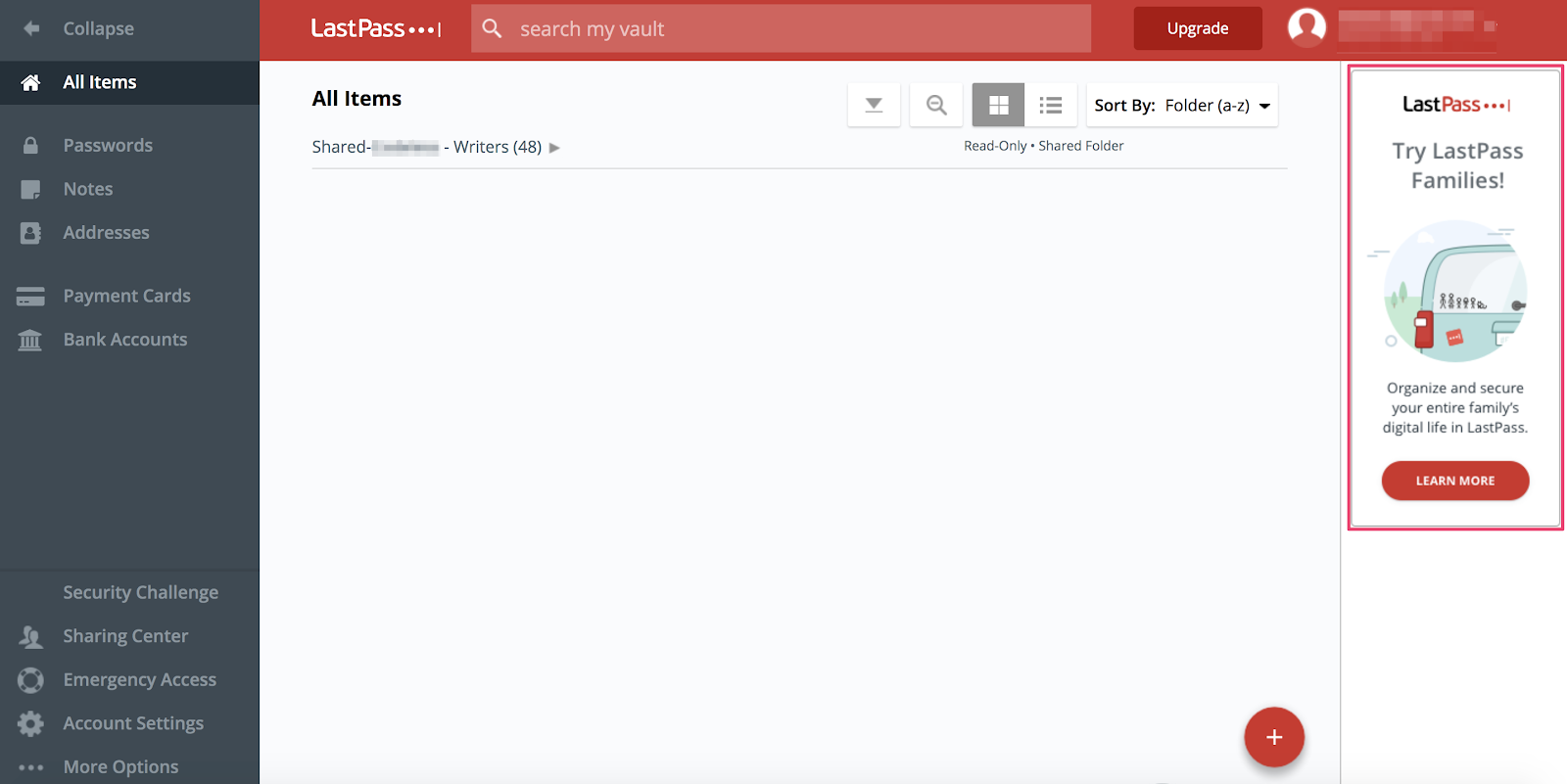 A streamlined, modern design would improve the password vault tremendously and match the enhanced functionality that the password manager currently offers.
#3. No VPN Offering
Consumers don't just need strong passwords. They need to browse sites securely, too.
Some password managers like Dashlane offer a private VPN for consumers to protect their internet activity when they are using public WiFi or servers.
This isn't a common offering, but with the depth of features that LastPass provides, I am a bit surprised they don't offer it, too.
It seems that the password app has programmed and shipped every feature offered by most competing password managers except this one.
It's a shame too because a private VPN is a great selling point and would increase the value of the premium offer.
How much does LastPass cost?
LastPass offers three types of personal plans depending on your password manager needs—free, premium, and family.
For businesses that want to provide their employees with a password manager, LastPass offers four unique plans: teams, enterprise, MFA, and identity.
The password manager currently offers free trials for the premium and family options.
Let's dive in and discuss the differences between each plan.
LastPass Free Plan
If you just want a simple plan without all the bonus features, the free version should suffice.
The LastPass free plan offers users basic functions including sharing, multi-factor authentication, secure notes, form fills, and more.
Only one user is granted a license under this plan, but they will be able to use the password manager on all their devices.
The free plan is always free, but it does currently include a complimentary 30 day trial of the premium plan.
LastPass Premium Plan
Want a little more functionality for a nominal price? Consider the premium plan.
The premium plan includes all free plan features and also enhanced sharing and multi-factor authentication capabilities. In addition, users will get 1 GB of encrypted storage.
Premium plans cost $3 per month per user.
LastPass Family Plan
For those with families, there is a family plan option to purchase to save money and improve your family's online security.
The family plan includes all premium plan features with the addition of a family dashboard and group sharing functionality.
A total of six licenses are included in the family plan, and the plan costs $4 per month.
LastPass Teams Plan
The team plan offering is great for businesses with less than 50 employees.
Every user will get a LastPass vault with shared folders and limited reporting capabilities.
LastPass operates on a zero-knowledge security model, meaning both the company and LastPass wouldn't be able to access personal employee data.
If you're looking to improve your employees' security and need a basic plan, this is a great option. The plan only costs $4 per user per month.
LastPass Enterprise Plan
An enterprise plan is great for larger businesses that use SSO (single sign-on) programs and apps. The plan offers 1,200+ pre-integrated SSO apps and numerous integrations.
In addition, there is an admin dashboard that allows business owners to add customizable policies and review reporting metrics.
Enterprise plans cost $6 per user per month.
LastPass MFA Plan
LastPass's MFA (multi-factor authentication) supports businesses looking to add an extra layer of security to their accounts.
LastPass markets this plan as "intelligent authentication, without the complexity."
It provides adaptive and biometric authentication to accounts to improve user security.
The admin will be able to have limited control in one localized area and review enhanced reporting metrics.
This plan costs $3 per user per month.
LastPass Identity Plan
For the most secure plan available, consider the identity plan option.
This plan combines everything in the enterprise plan with the MFA plan to create one complex system of password security and user safety.
This plan costs $8 per user per month and acts as an all-in-one solution.
Should you buy LastPass?
Yes, LastPass is one of the most well-known password managers for a reason. They have an extensive array of features and a unique business offering with their multiple plans.
In addition, they aren't the most expensive password manager on the market for a single user.
Their user interface and features make them an attractive option for passive and proactive consumers looking to improve their online security.
I do not think you will be dissatisfied if you pick LastPass as your password manager.