I understand, nowadays when we are surrounded by apps and virtual services, a password manager is imperative to remember so many passwords and usernames.
In fact, I have already reviewed the best ones and broken down their pros and cons so that you can make the right choice.
Now, unfortunately, most of the top-notch programs require you to pay a monthly subscription, and not everyone can afford that.
And even though most of them have free versions, these free variants usually miss some of the key features.
Enters free password managers.
And in this post, I'm gonna go over the top programs which are as good as their premium counterparts (if not better) but cost absolutely nothing.
So without any time, let's get straight into it.
1. LogmeOnce

LogmeOnce is, 'hands down', the king of free password managers, and it is so for a valid reason.
It's the only software out there that offers almost the same set of features as a paid one.
In fact, as a LogmeOnce user, you come across some unique solutions to tackle different threats to your phone or online vault.
For example, the Mugshot feature captures the photo of anyone who makes an unsuccessful attempt to unlock your LogmeOnce account.
Similarly, the 'Anti-theft' feature helps you locate your lost phone or tablet.
For those who set a strong master password but don't like typing it again and again can use the 'PhotoLogin' function to sign in to their account.
Now, the only catch is, some of these functions like 'Mugshot' comes as add-on products or are included in their premium suite.
But that doesn't make the free version menial or small in any sense. It still offers more than any other free program.
The software is super-duper easy to use and can store unlimited login credentials, secure notes, card details, online identities, and more.
And whatever you save is encrypted by the industry-standard 256-bit AES with SHA-512. Additionally, you're given the option to set two-factor authentication to prevent unwanted authorization.
For further safety, I recommend going for their private browser that helps you surf the web privately, protecting your online privacy.
And as I mentioned earlier, if you find typing your master password tedious, you can try the PhotoLogin or enable biometric authentication, which is pretty safe.
I also liked the auto-fill and form capture feature, which is pretty quick to response and 100% accurate. Whether you're filling a login form or e-commerce checkout page, it never misses any detail.
The software also boasts an in-built password checker that scans your entire database and points out the weak and duplicate credentials.
You can replace these weak passwords with strong ones right within the software using the in-house password generator.
And that is not it.
For those who often exchange their credentials with friends and families would find secure sharing very handy.
Unlike many programs, you're not required to create any shared folder. Just punch in the email of your fellow user, and you're ready to share.
And the best part?
Since LogmeOnce can be operated solely through its browser extension, you can use any desktop – Windows or Mac – to access your LogmeOnce account.
You can also have standalone apps for Android and iOS and offer extensions for Chrome, Safari, Internet Explorer, Firefox, and more.
You can read more in my detailed review of LogmeOnce here.
2. LastPass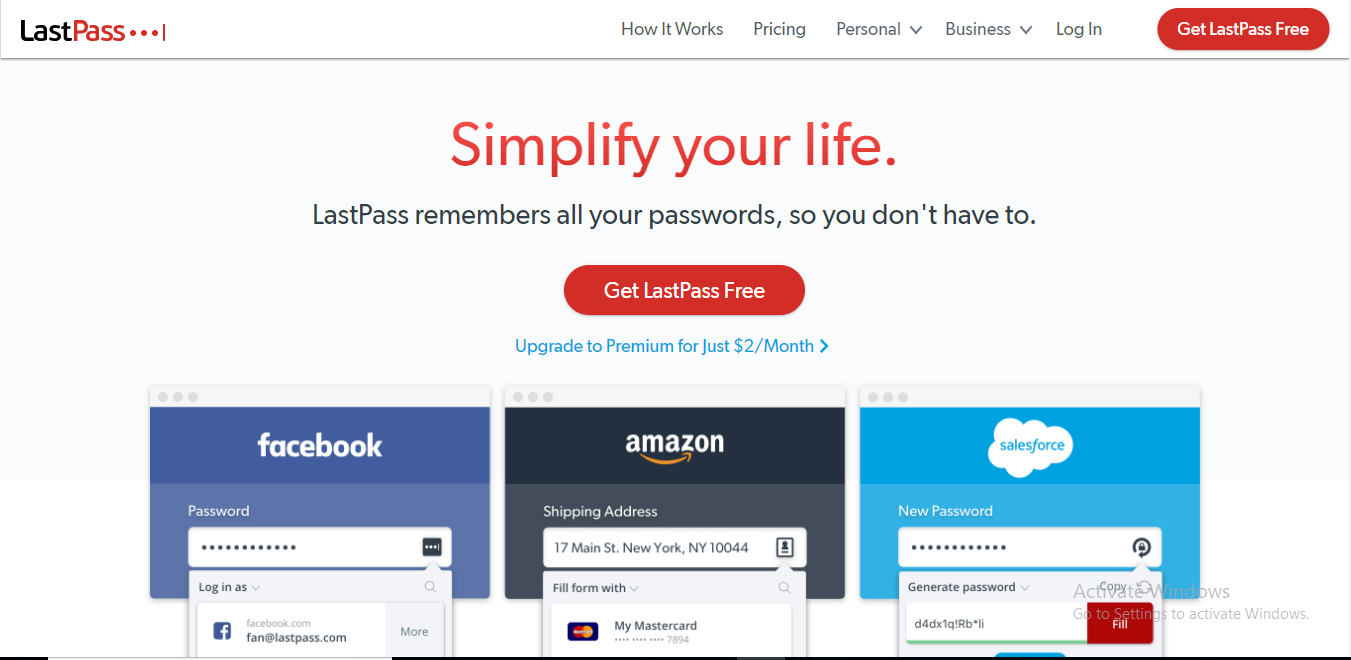 Don't get too surprised.
Even though LastPass is a paid password manager, the free version of this tool is still an excellent option for anyone looking for a free tool.
The free license can handle most of the jobs of an average user.
For example, the software can store unlimited passwords, card details, insurance cards, notes, online identities, and more.
And all these sensitive details are encrypted using AES 256-bit and PBKDF2 SHA-256 encryption systems.
You also get the option to set two-factor authentication for your account and LastPass goes a step beyond and also lets you try multi-factor authentication for the first 30 days.
In fact, you get the full set of premium features for the first month absolutely for free.
And even after the trial period, you don't lose much.
The auto-fill and form capture function still works great on every device and on any webpage. Whether you're signing in to your social media account, paying online for a product, or filling up an odd web form, it's absolutely precise everywhere.
The free version also boasts security audit to spot weak and duplicate passwords. And you can later replace them in a snap using the automatic password generator.
However, secure sharing does bring some restrictions because as a free user, you can share passwords with only one user.
But the good thing is that's the only major setback with the free license.
Unlike many premium programs, there are no limitations on the total number of devices you can run the software on.
You can use LastPass on any device running on Windows, Mac, Linux, Android, or iOS.
You can read more in my detailed review of LastPass here.
3. Dashlane

Just like LastPass, the free version of Dashlane, too, can be counted as an ideal free password manager.
But unlike the former, the list of restrictions is a bit longer in Dashlane.
For example, the software lets you store only 50 credentials with a free account, and the app can be used on only one device.
However, they don't trade-off security for money. You get the same 256-bit AES encryption for your data as any of their premium user get.
Similarly, the auto-fill and form capture function works smoothly on every platform.
And you know the best part?
Free users also get regular notifications from Dashlane about any security breach. So you would always stay a step ahead and update your credentials before they're compromised.
Moreover, when it comes to device compatibility, Dashlane supports all the popular operating system, including the good 'ol Linux.
Now, unfortunately, that's all I have to talk about the free version of Dashlane. A considerable number of features are still reserved for the paid members.
Thus, upgrading to the premium plan would be much better for anyone who has used the free version and had an awesome experience.
You can read more in my detailed review of Dashlane here.
4. Google Chrome Password Manager
Chrome Password Manager by Google is the most common password manager; most of us use daily.
It's the in-built, default password saving and auto-fill tool of Chrome and also the easiest to use in this list.
Unlike a conventional password manager, you're not required to install any app or add a browser extension.
Your Google account and Chrome browser is all you need to get going.
Whenever you sign in to a new site, Chrome Password Manager asks you whether you want to save the credentials or not.
Click 'Save' and your login credentials are stored.
Similarly, you can save your card details and shipping addresses following the same procedure or by going to the 'Settings' section.
However (and it's a big one), security is a significant concern with this tool. Instead of using a standard encryption system like AES 256-bit or PBKDF2, Chrome relies on the local encryption of your device. That makes your sensitive details a sitting duck for hackers.
Moreover, the absence of two-factor and multi-factor authentication makes the matter worse. Anyone who can access your computer can easily get their hands on your credentials.
But it seems like Chrome Password makes up for this setback from its lightning-fast auto-fill function.
The automatic login is just exceptional. It's responsive, fast, and accurate. I have tested this on various web forms ranging from login pages to e-commerce checkout pages, and it hit the bullseye every time.
In addition to this, Chrome password syncs all your data across every device where you run Chrome.
It could be your Windows PC, MacBook, Android smartphone, or iPhone/iPad because Chrome is available everywhere. And you can use it on as many devices as you want.
But keep in mind that the tool works only with Chrome browser. If you use Safari, Firefox, or Microsoft Edge, it won't work at all.
You can read more in my detailed review of Chrome Password Manager here.
5. iCloud Keychain
Keychain is the Apple counterpart of Chrome Password Manager but slightly better in some aspects.
Just like Chrome Password Manager, Keychain is also a password saver that comes default in all the latest Apple smartphones, tablets, and computers.
Just log in to your Apple ID, and you're ready to start.
However, I also recommend double-checking that the 'Keychain' box is checked under 'System Preferences' >> 'iCloud'. Otherwise, it won't work at all.
Just like a traditional password manager, Keychain can also store passwords, card details, shipping addresses, and even notes. And the procedure to save details is the same as Chrome Password Manager.
Sign in to a website or app, and it automatically pops-up the option to save that credential.
Besides this, the auto-fill feature of Keychain is pretty sharp and accurate whether you're using it on your phone or computer.
In my test, I tested it on almost every type of web page, and it was smooth every single time.
Similarly, the automatic password generator was also pretty quick in suggesting random passwords while filling sign-up forms.
On top of that, all iPhones running on iOS 12 and later are also able to scan your password database and point out the weak and duplicate ones.
However, I would still not suggest depending on it because the password checker is a bit lax and sometimes flags even weak passwords as 'Good'.
In addition to this, my biggest concern with this software is the limited device compatibility and use of outdated encryption system.
The software works only with Apple products and similar to Chrome Password Manager, the encryption system of Keychain is not entirely reliable. Instead of the industry-standard AES 256-bit, your data in Keychain is encrypted using 3DES system.
Moreover, there are no two-factor and multi-factor authentication available for users that makes your account prone to unwanted authorization.
Read can read more in my detailed review of iCloud Keychain here.
Conclusion
Free press the managers are quite rare to find, and these were the best five programs I could find.
But considering the pros and cons of each one, LogmeOnce and LastPass come out as clear winners.
Both the tools check most of the boxes and are ideal for an average user who is still not ready to spend money on password managers.
Dashlane too is decent, but the free version of the tool comes with plenty of restrictions and can be installed only on one device.
Moreover, the software can be replaced by 1Password, but again, that too comes with the same sort of restrictions and doesn't clearly mention the exact duration of their free license.
So both – Dashlane and 1Password – for me are a big NO.
Chrome Password and iCloud Keychain, on the other hand, can store details and are stupendous in auto-filling forms, but they're nowhere near the top two picks.
So, in short, if you want to go for a free password manager, LogmeOnce or LastPass should be your first preference.