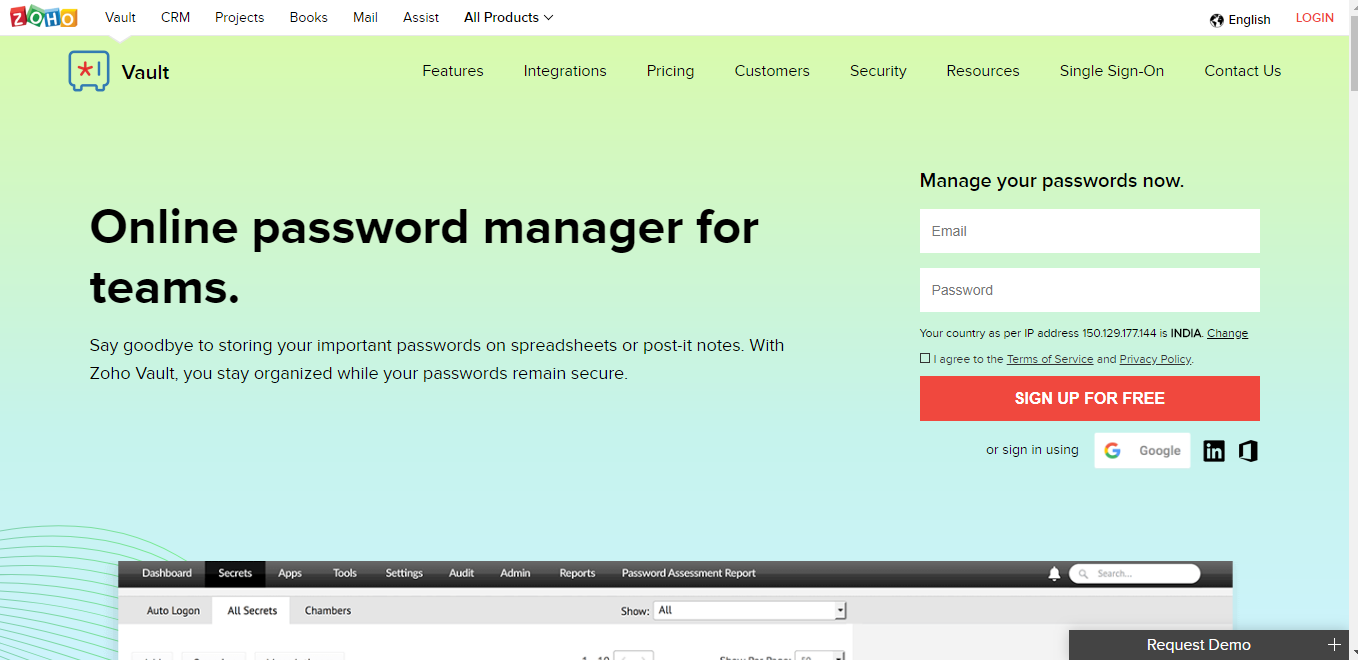 Zoho Vault is a subsidiary of an Indian company (Zoho Corporation) that also offers Zoho Desk, Zoho Docs, Zoho Mail, and Zoho Books. As you can imagine, the Zoho Vault helps you keep your secure passwords and other private data safe from piracy.
Zoho Vault is a very basic tool when we compare it with the other password manager software I analyzed in this test. However, there are still a few features that make this product worth at least giving a shot. It is also comparatively cheap compared to other options like Dashlane Premium, Lastpass Premium, Keepass, and Bitwarden.
In this is worth trying., we'll look at the pros and cons and whether the
Our Verdict
Overall Zoho is still a great option for those who are looking for a free password manager tool.
Integrates with many productivity apps
User-friendly dashboard
Offline availability
Mobile App
No multifactor authentication
Slow Customer Support
No form-fill
No built-in Password Generator
Zoho Vault Pros
#1 Integrates with many productivity apps: Zoho Vault can be easily integrated with many popular directories and productivity apps like Zendesk, Google Suites, Microsoft Office-365, Azure, Lucidcharts, Zoho Desk, Zoho Docs, etc. This makes it a great web-based solution for remembering every password and keeping them secure, as well as a great addition to your tool-set for making money online.
Plus it provides a 'single sign-on' for all these cloud-based and mobile apps. That means you can directly launch these apps from your Zoho vault with a single click, and you don't need to remember all your login credentials. It's especially useful for users who have unique passwords for each site.
The only catch is, you have to buy at least their 'standard' subscription package.
#2 User-friendly dashboard: When you log in to your Zoho Vault, a video demo under the 'Dashboard' tab shows you how to find and use the basic features of the tool.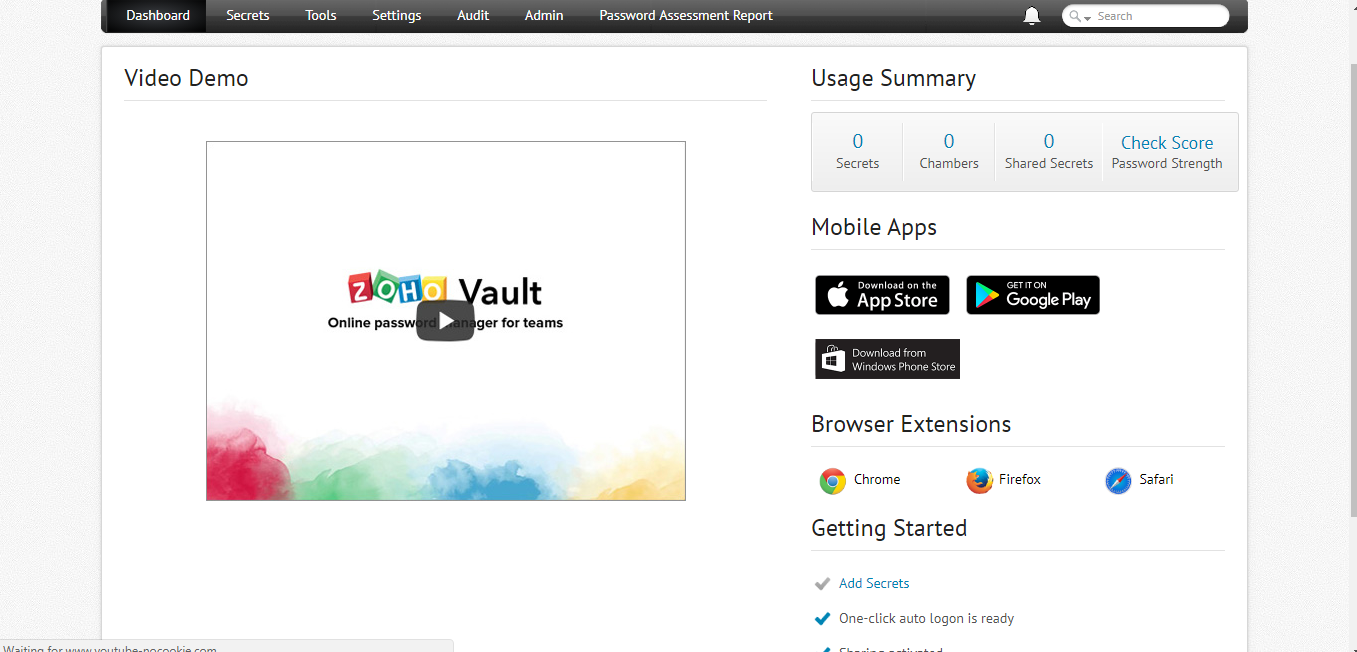 Just beside the 'Dashboard' tab, there's 'Secrets' tab and this is where you can save your passwords and all the other details. You can also create 'chambers' which is an encrypted vault for individual files you want to store securely online.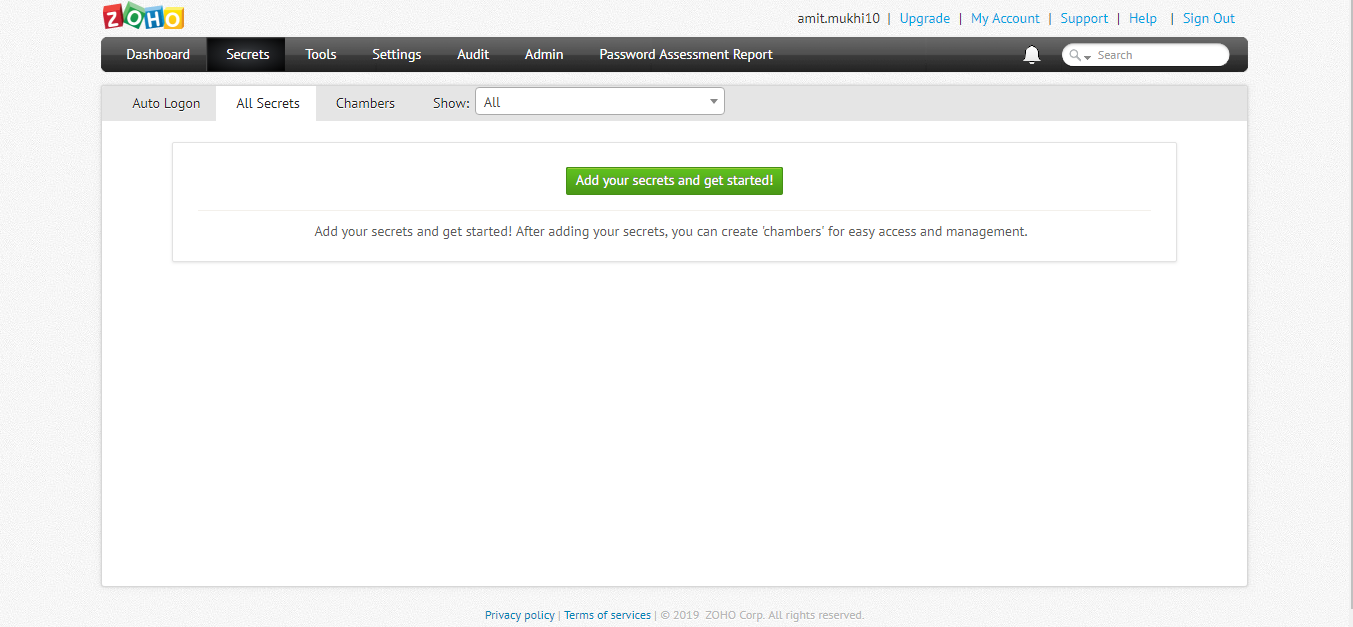 As you can see it's super-clean with plenty of white space, making it easy for the users to navigate the vault and explore other options.
#3 Offline availability: In my test, I found that Zoho Vault is the only tool that lets its users access their passwords offline. This is a big feature missing from password online manager tools like Keepass, BitWarden, and even Lastpass Premium.
Click on the 'Tools' tab and you'll land on the Offline Access page.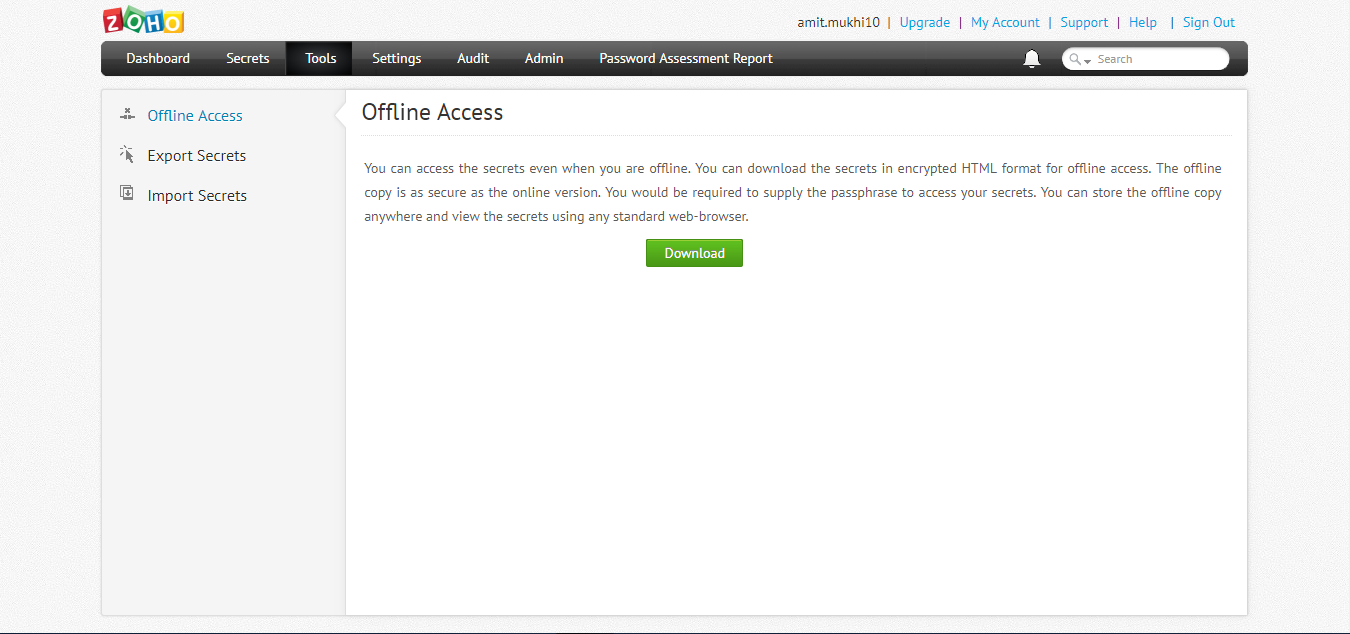 It lets you download all your saved data in encrypted HTML format which is as safe as the online data because you are still required to enter the passphrase to see the offline data. And it can be seen in any browser.
# 4 Mobile App: Zoho Vault offers both an Android and iOS version. Password managers that offer mobile apps are handy for secure logins from your phone or tablet. Zoho Vault mobile apps are just as secure as the web version as they use the same AES encryption to store information. If you choose to use Zoho Vault password manager with a web browser on your mobile device it is also available.
Zoho Vault Cons
#1 No multifactor authentication: Even though Zoho does offer two-step authentication to its users, unlike its competitors, it doesn't offer any multifactor authentication which is more secure than the former one.
#2 Slow Customer Support: The customer support is a little slow in answering the queries of its users even though I had selected the 'Emergency' option while sending my question.
It took them around 36 hours to get back to me however the answer was satisfactory.
#3 No form-fill: At present, you can save and autofill passwords only on websites. It doesn't work in other forms like payment details, address details, etc. Zoho is still working on this feature.
#4 No built-in Password Generator: The Zoho Vault tool doesn't offer any strong password generator tool inside the software. However, the Zoho Vault website does offer a random password generator tool for creating strong passwords.
Zoho Vault Plans
Zoho is the cheapest password manager that I analyzed in this test. It has four plans – Free Forever, Standard, Professional, and Enterprise.
The Zoho Vault Free Forever plan offers some pretty impressive features. These include offline access, single sign-on, password vault, two-factor authentication, access from computers, smartphones, and tablets. If you are looking for a simple, encrypted tool to manage your online password data, then it's hard to resist the Free Forever plan.
While a free account, of course, won't cost a penny, the Standard subscription starts from $0.9/mo billed annually which is still dirt cheap.
The paid plans begin to offer more useful tools, such as the ability to password sharing, integration with GSuite and Office365, and priority technical support. Zoho Vault offers a free 15 day trial of all premium plans so you can test the advanced online password manager tools.
Do I recommend Zoho Vault?
See, if you're looking for a basic password manager just to keep a few passwords safe then definitely go with the Free Forever plan of Zoho (no need to spend even $0.9 for the standard pack).
But if you're looking for a more sophisticated secure password manager and even ready to spend a few dollars every month then it'd be wise to spend your money on Zoho alternatives like LastPass or Dashlane.
The Zoho suite of tools is trusted by over 30 million users around the world. You can see that Zoho Vault is another excellent addition to the password manager tools available in the market today.
Overall Zoho is still a great option for those who are looking for a free password manager tool.