KeePass is an open-source password manager tool that saves all your passwords and private documents using a key file or master password.
Since the tool is open-source software, it's available for everyone for free. And you always have access to the source codes and see yourself if your data is appropriately encrypted.
Even though it's not as dense as Sticky Password in terms of features, those who want a plain Jane password manager without spending anything can still consider it.
But that being said, don't let the 'free' and 'open source tag' fool you. Keepass has its own perks (and snags, too) associated with it.
In this Keepass review, we will look at the pros and cons of this free password manager, and how it compares to tools like Lastpass or Dashlane.
Our Verdict
Do we recommend Keepas? Depending on what kind of user you are and what you want from a password manager, the answer could be yes as well as no.
AES-256 and Twofish encryption algorithms
Automatic password generator
Autofill Password Tool
Password Sharing
Portable
Android, iOS, and macOS compatible
Over 45 different languages
No audit report
Lacks two-factor authentication or multi-factor authentication
Outdated User Interface
No app or web browser integration
KeePass Pros
#1. Open-source software comes with many benefits, and the most notable one is the flexibility to mold the software according to your needs.
And KeePass is no different.
The software uses AES-256 and Twofish encryption algorithms and offers to add additional plugins to add an extra layer of encryption to your files.
This is where you can cash in the flexibility perk that comes with this open-source software.
With Keepass, you can get your hands on the source codes any time and create a customized version by adding more encryption plugins or doing necessary changes in other functions.
#2. KeePass has an automatic password generator, but it renders you more freedom than other password managers like Lastpass Premium, Bitwarden, Roboform, or Zoho Vault.
While other password managers generate a random password for you, with KeePass, you get the freedom to choose how your password will look. This is a nice spin on the automatic password generator tool, as you can create a more custom styled password.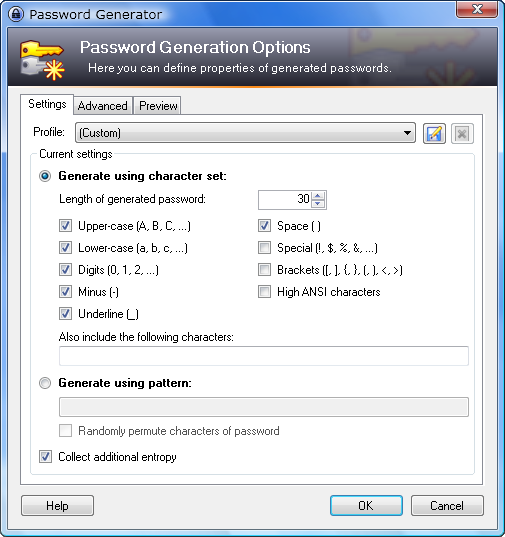 How many characters it will have, whether you want to include any numbers, or add special characters to it.
#3. Autofill Password Tool. Just like other password manager tools, the Keepass software has an autofill function. It allows you to fill your personal information into browser forms or log in to pages with your login and secure password in no time.
But for that, you will first have to store your passwords and other pre-existing credentials in the database. So that when you come across similar forms next time, KeePass could do the job for you.
Though the function was a bit clumsy a few times, especially while filling payment info, the overall performance was still decent in my test.
#4. Password Sharing. Using a shared network, KeePass can also be used by small groups or families. You can simply store the database in a shared network and grant access to everyone. It's that easy!
But unlike other password managers, I didn't find it too secure because everyone on that network can see and modify your passwords.
So, you better share your database with trustworthy people or your private information won't be secret anymore.
#5. Just like Sticky Password Premium, KeePass is also portable and can be carried out in a USB stick. The password manager software is also downloadable for Windows.
Because you can download Keepass, you can move your entire database along with the key file to a USB stick or burn it onto a CD. When needed, just plug-in the USB or CD and derive the passwords or documents without even installing the software.
Don't worry, KeePass doesn't create any directories in computers, neither it leaves any trace.
So when your work is done, take out the USB, sit back, and relax.
#6. Though KeePass works best on Windows computers, there are several variations available on the website for Android, iOS, and macOS devices.
#7. The Keepass software can be translated into other languages, and currently supports over 45 different languages are available.
KeePass Cons
#1. Keeping your passwords safe is the only function KeePass offers.
Unlike modern password managers like LastPass or Dashlane, it doesn't analyze the strength of your passwords or shows how prone they're to online attacks. Without strong passwords, your entire password manager tool could be at a higher risk of hacking.
Once again, unless you're cautious and do some manual scrutiny from time to time, the absence of an audit report could hurt you badly.
#2. Similar to an audit report, KeePass also lacks two-factor authentication or multi-factor authentication. That's a big disadvantage of KeePass considering how nasty hackers have become. Also, it doesn't have a biometric system like Sticky Password to cover up for this.
#3. Outdated User Interface. As soon as you visit the Keepass page you will notice it looks like a page from an early 2000s website. It is missing a lot of the modern user interface features, but that doesn't mean it doesn't work.
#4. No app or web browser integration. Unfortunately, there is no mobile app version of Keepass, which for some users is a big disadvantage, and makes it less attractive than other paid password manager tools that offer syncing across devices. The lack of web browser plugins is also something that makes Keepass less useful than other password manager software.
KeePass pricing plans and payment methods
KeePass is open-source software and absolutely free of cost. There's not even any hidden cost associated with the tool. This feature alone makes it worth trying and testing out against other password manager tools. If you only need a basic tool to help remember your password on a few sites, the Keepass software can be a great help.
Do I recommend KeePass?
Depending on what kind of user you are and what you want from a password manager, the answer could be yes as well as no.
If you just want to save a few passwords or documents, then it would be wise to go for a free option like the KeePass software.
Otherwise, I would suggest going for a paid option like LastPass Premium or Dashlane Premium if you want to store confidential info and make sure the security is compact.
Teams and families too should opt paid password managers because the sharing feature of KeePass is not as advanced as other cutting edge tools.