Finding a password manager for individual users is one thing but finding a suitable password manager for small business that works is a bit trickier.
Why? Because a person who uses a password manager for personal reasons is different to somebody who needs to have a secure password for business tools.
Teams need the ability for password sharing, protection from a data breach, and ways to store sensitive data. A personal user just wants something that can avoid weak passwords or sticking post-it notes on their computer screen.
Since this review is all about finding a password manager for small businesses, we're going to focus only on business needs.
Ideally, a password manager for a small company should be user-friendly, have secure password sharing, and also have a compact security to protect all the sensitive data of the business. It should have a random password generator tool to allow people to create strong passwords. It should give you tools to avoid hackers and phishing attacks or a data breach.
Most importantly, the tool should be well within the budget of bootstrapped entrepreneurs and business owners.
And based on these core parameters, we've picked the top five team password manager tools you can use in your business.
So, without any further delay, let's dig in.
$2.49/month (billed annually)
Industry-Standard Security Protocol
Military-Grade Encryption for Usernames and Passwords
All desktops, mobile apps, and web browsers
Wide Variety of Browser Extensions
1. Dashlane

Dashlane
Best Premium Security
Simple, Intuitive Interface
Industry-Standard Security Protocol
Strong Password Generator
Multiple Forms of Secure Data
Compatible with All Devices
Extensive Password Audits
Increased Privacy with a Dedicated VPN
A Little Expensive
A Little Expensive
Inconsistent Browser Form Autofill
Thanks to the user-friendly interface and dead-simple sharing facilities, Dashlane is the best password manager for any small business.
The software gets you an easy to operate Admin console from where you can manage all your employees
You can assign a master password to a specific person straight from this Admin console and regulate if they can have full access or partial access to the credential.
Whatever you save in the vault is protected by the latest 256-bit AES encryption. And Dashlane also allows users to set two-factor authentication for their accounts or specific entries.
Besides easy password sharing, what makes Dashlane stand out is the thorough audit report feature.
Unlike other programs, it not just spots the weak and duplicate passwords from your database, but Dashlane also scans the dark web to see if any of the online accounts have ever faced any online threat.
If yes, it shows you an alert and asks you to change the password using the in-house password generator.
Now, the best part about Dashlane?
The software is available on almost every operating system, whether it's Windows, Mac, Android, or iOS.
Also, the price is quite reasonable at $4/month per user when you commit for an entire year.
You can read more about Dashlane in our detailed review of the tool here.
2. Keeper Security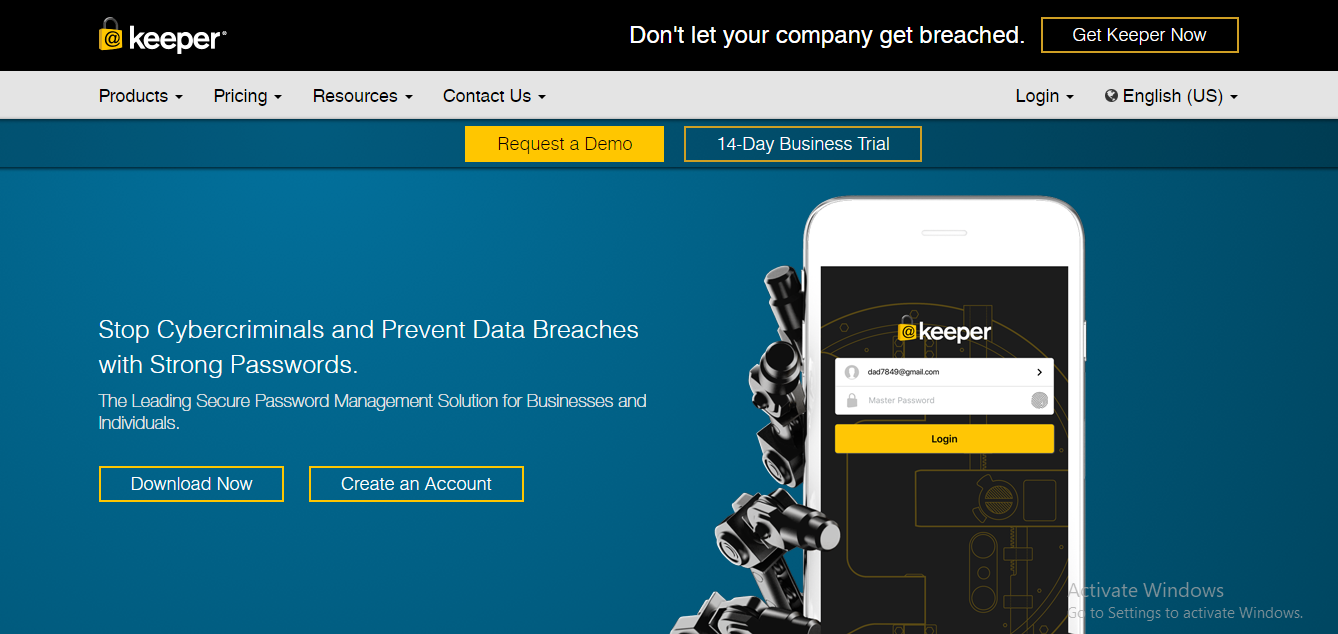 Military-Grade Encryption for Usernames and Passwords
Easy-to-Navigate UI with Password Generator and Security Audit
Easy Password Sharing with Keeper Chat
Export Your Login Credentials in Seconds
Available Across Desktops, Mobile Apps, and Web Browsers
No Free Plans
Slow Customer Support
Account Access Issues
Keeper Security is a popular tool among individual users, but its 'Enterprise' plan is perfect for any small company.
The Admin console of the tool is quite sleek and straightforward, just like its 'Personal' accounts.
You can use shared folders and add your employees to grant them access to different passwords.
And that can be done straight from the database that works as a control center.
You can save passwords, cards, and notes in the business vault and Keeper encrypts your data by 256-bit AES.
In addition to this, you can also set two-factor authentication for further security.
Also, what makes Keeper a better choice for companies than many other high-end tools is their in-house chat service 'My Chat'.
Though it comes as a separate tool and requires an extra $1.6/month, the investment worth every penny. Having an in-house chat service makes business communication faster and removes any possibility of turbulence.
Similarly, you can make use of the advanced audit report of the software to spot the weak links in your database and replace them before they arise any security trouble.
The software has separate password manager apps for every platform and has auto-sync enabled by default.
When it comes to the overall cost, the 'Enterprise' plan starts from $3.75/month per user. But if you want to have 'My Chat', too, then the overall cost will go up a little higher.
Having said that, Keeper also offers a cheaper plan that starts from $2.5/month per user, but that doesn't include Single Sign-on.
So, it's better to pay a little more and sign-up for the 'Enterprise' membership.
You can read more about Keeper Security in my detailed review of the software here.
3. LastPass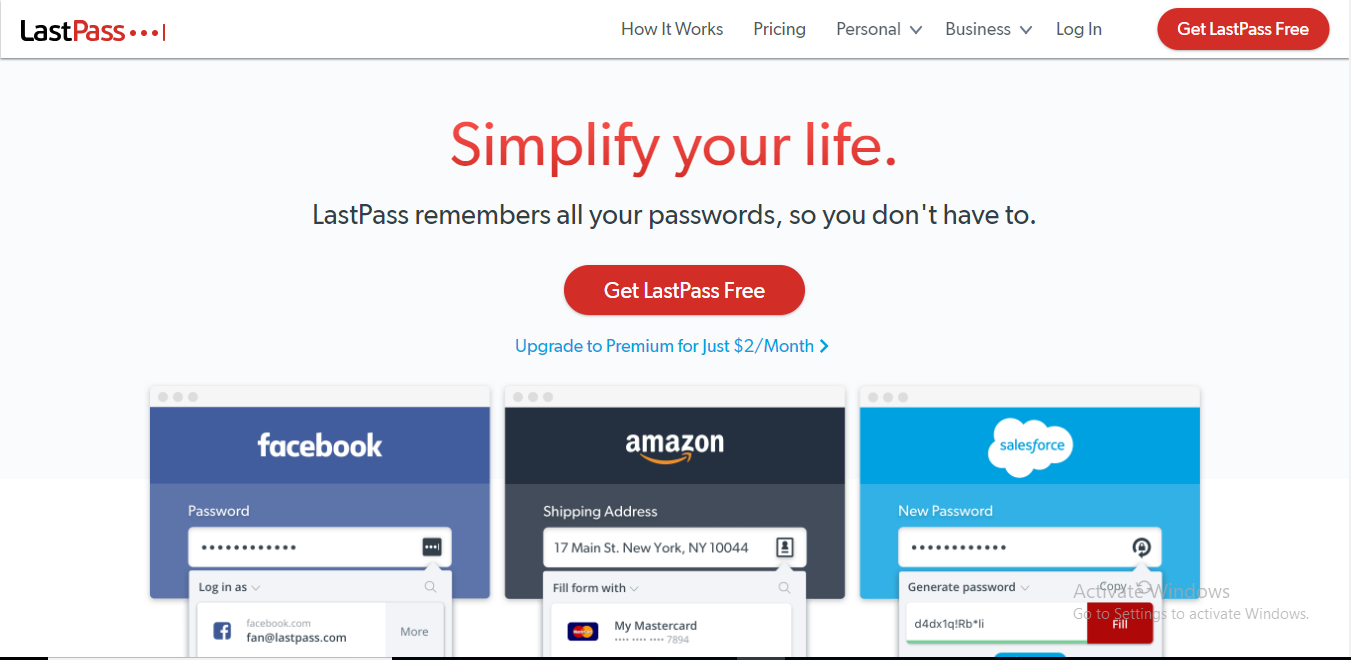 Simple and easy user interface
Form capture
Multifactor authentication
Strong password generator
Compatible with all devices and browsers
Audit report
Easy sharing with other users
Slow customer service
Outdated user interface
Password managers save and sync all your sensitive details like passwords, insurance cards, crypto credit cards, and even your word documents and anything online.
LastPass is the best password manager for individuals and families regardless of which web browser or mobile devices they use.
But when it comes to serving small business owners, the tool lags behind Dashlane and Keeper. Also, it's a bit expensive, too.
The structure of the user interface is exactly like its individual vault, and you might not need to spend too much time getting familiar with the tool.
Like Dashlane, you get a centralized admin dashboard from where you can control all your employees and shared folders.
If you want to add or remove any user from any shared folder, you can do that straight from the dashboard.
In short, the Dashboard works as a control room for your company.
Similarly, the tool takes special care of the security of each user.
Every piece of data or credential is encrypted using military-grade AES 256-bit encryption and PBKDF2 SHA-256.
And you can enable two-factor authentication to solidify your security. The too also features multi-factor authentication, but that's reserved for 'Enterprise' users.
Though small businesses can make use of the cutting-edge audit report of LastPass that highlights all the weak and duplicate passwords of your database.
And just like the individual users, you can also notice the overall score of the master password and how many of the entries have two-factor authentication enabled.
LastPass has standalone password manager apps for every platform, whether it's Windows, Mac, Android, or iOS. And your data is synchronized across every device you own.
Finally, when it comes to the overall cost, a LastPass account is more expensive than Dashlane at $6/month per user.
They also have a cheaper plan that starts from $4/month per user, but that doesn't include single sign-on, which is essential for any small company.
You can read more about LastPass premium in our detailed Lastpass review here.
4. Bitwarden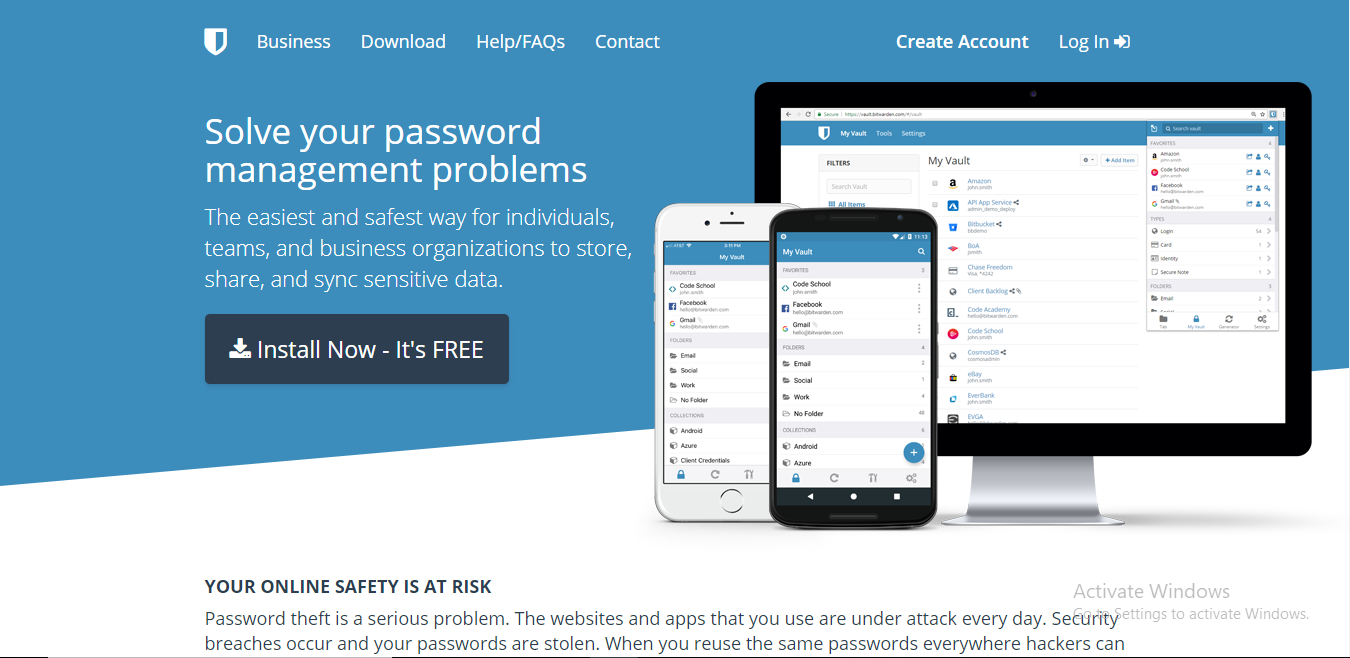 Remarkably easy to use
Browser extension automatically signals the number of accounts associated with a site
Two-factor authentication
Password sharing is easy
Password audit
Compatible across all devices
Password generator not that responsive
Bitwarden is the cheapest option on this list if you are looking for a good password manager tool.
The software is quite versatile too and is available as both – a web-based tool and also as a desktop app.
The user can run his personal as well as admin vault from the same account. And it doesn't matter whether you use a personal account or admin vault, the UI is spanking clean on both the places.
For example, when you log in to your Admin account, all you see is a blank white screen on your computer with a menu bar on the top.
From here, you can go to the 'Users >> Application' to add your credentials.
What I like the most about Bitwarden is, it gives you the flexibility to either set the username and password yourself or let your employees enter their details separately.
And just like other programs on this list, Bitwarden also has an admin console from where you can manage all the employees and passwords.
You can also see which employee has access to which passwords.
And if you want, you can also create different groups according to various departments of your company or the role of different employees.
And then grant them access to only those passwords that are relevant to their field of work.
This will help you keep your database always organized, which is rare to find in other tools.
Bitwarden also features a password analyzer that you can use in regular intervals to scrutinize weak and duplicate passwords.
There is a dedicated app available for every operating system, and Bitwarden synchronizes all your data across all the devices you own.
Now, finally, when it comes to pricing, I would recommend going for their 'Enterprise' plan that costs just $3/month per user.
For that price, you get multi-factor authentication, on-premise hosting, and premium support.
You can read more in my detailed review of Bitwarden here.
5. 1Password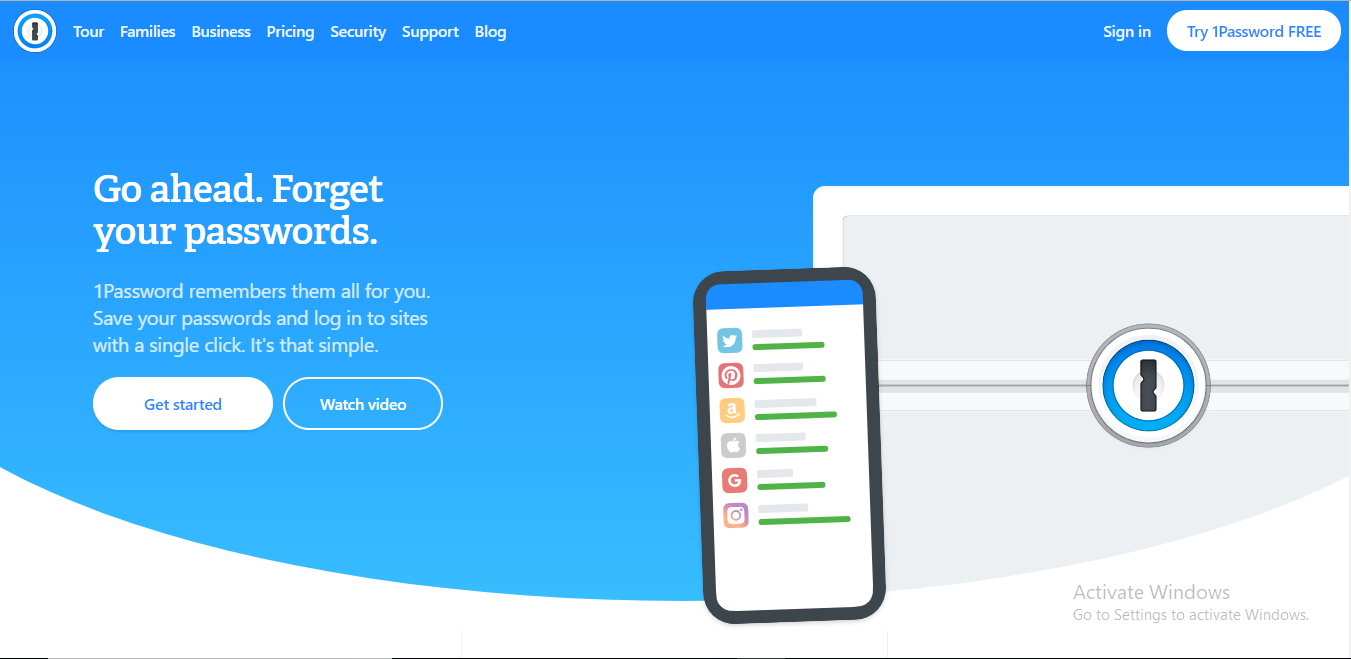 Secure Login Mechanism
Wide Variety of Browser Extensions
Seamless Form Capture Feature
Comprehensive Password Audit
Multiple Templates for Secure Information
Helpful Customer Support
Poor User Experience
Login Issues with Your 'Secret Key'
Finally, last but certainly not least, we have 1Password. It might be an excellent tool for personal usage, but some drawbacks push it to the fifth spot on this list.
Let's start with some positive qualities of the software.
1Password is user-friendly and renders a centralized dashboard to admins from where they can manage all the data and users of the company.
You can view and manage permissions straight from this admin dashboard. So, no need to look anywhere else.
And just like LastPass, you're allowed to create unlimited shared folders and add unlimited users to these shared folders.
Whatever you save in your vault is encrypted by the industry-standard AES 256-bit encryption. And you can set two-factor or multi-factor authentication to add an additional layer of security.
Moreover, each user gets 1 GB of storage for documents.
The software also boasts the audit report function, but it is included in their 'Business' plan, which is priced at $7.99/month per user. Way more expensive than any tool on this list.
On the other hand, the 'Team' plan sets you back just $3.99/month per user. But if you go with a budget plan, you'll have to sacrifice audit report and multi-factor authentication.
What's worse?
1Password doesn't mention anything about Single Sign-on that is one of the core functions of an ideal password manager for businesses.
However, you can download the 1Password app on Windows, Mac, Android, iOS, Chrome OS, and even in Linux.
You can read more in my detailed review of 1Password here.
Conclusion
Selecting an effective password manager for small business is difficult. Lensa shares how vital cybersecurity is across industries. Selecting an effective password manager is a solid first step, but doing so for small business is difficult.
But after going through the above options, I'm sure you now know which one is the ideal option for you.
However, if you're still unsure, let me break it down for you.
Based on our reviews, the best password manager for small business is Dashlane because of its user-friendly interface, secure password sharing, and advanced audit reporting. And all these for a reasonable price.
But if you need a user-friendly tool with in-house chat service, then Keeper is the go-to option for you. The program is packed with essential features but costs less than Dashlane.
Bitwarden is the cheapest tool on this list and appropriate for those who want premium features at a low cost.
At last, 1Password and LastPass are also decent options, but both the tools charge a hefty fee for their services. And not everyone can afford them.