Finding the right password manager is hard.
But you know what's harder?
Finding a suitable password manager for iOS.
The same password management tool that works great on your computer might not work that well on your iPhone and iPad. Or miss many of the key functions that the desktop version contains.
That's why, in this post, I'm gonna talk about the five best password managers that every iOS user should consider.
If that sounds interesting, let's get straight into it.
Industry-Standard Security Protocol
RoboForm
AES-256bit encryption
Military-Grade Encryption for Usernames and Passwords
Wide Variety of Browser Extensions
RoboForm
All devices and operating systems
All desktops, mobile apps, and web browsers
1. LastPass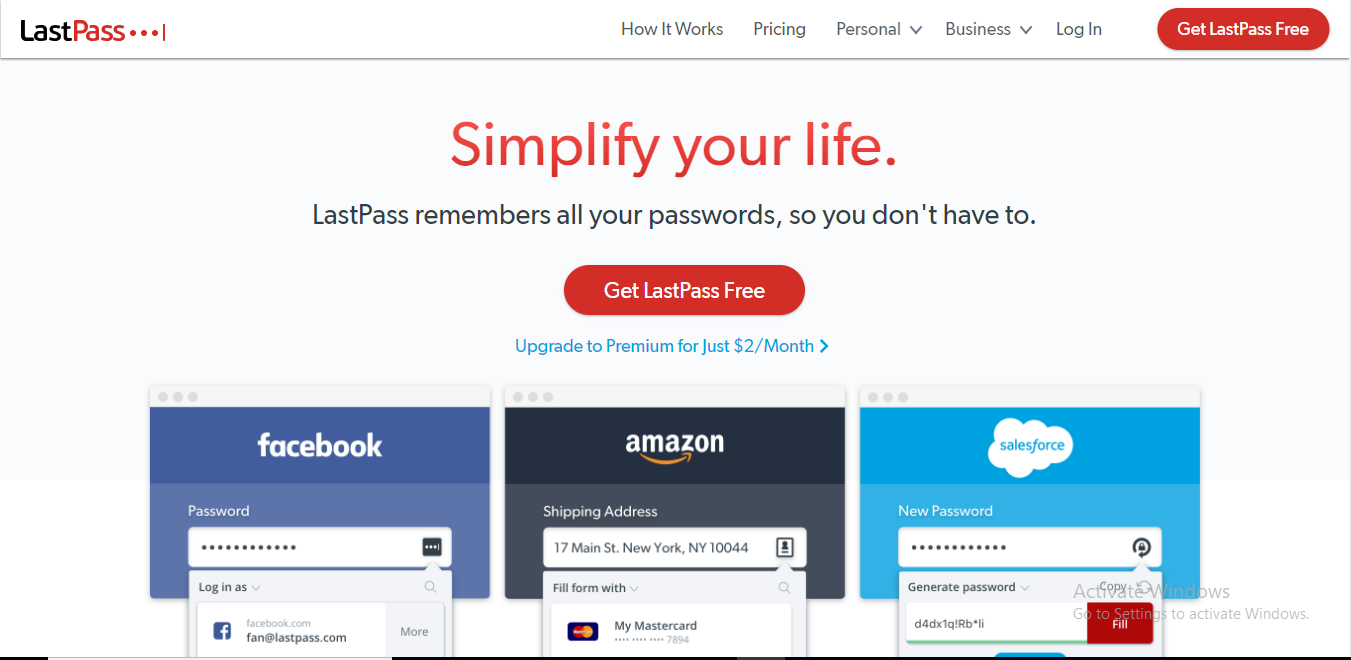 Simple and easy user interface
Form capture
Multifactor authentication
Strong password generator
Compatible with all devices and browsers
Audit report
Easy sharing with other users
Slow customer service
Outdated user interface
It was a tight race between LastPass and 1Password, but the long list of features gives the former a slight edge over the latter.
That's why LastPass is the most suitable password manager for iOS devices according to my test.
Just like its desktop version, the mobile app is also easy to navigate and boasts almost all the features of the desktop app.
The iOS app can store a range of details, including passwords, notes, credit/debit cards, insurance cards, online identities, and whatnot.
The LastPass vault is the most powerful and can save the most diverse range of information.
All your sensitive data is encrypted using AES 256-bit and PBKDF2 SHA-256 encryption system.
And besides this, you can also set two-factor and multi-factor authentication for each one of your credentials. Not every tool in this list offers this feature.
In addition to this, the auto-fill function was pretty fast and accurate on all the mobile apps.
However, during the test, I found that the most challenging task for any tool was to auto-fill credentials on the Safari and Chrome browser.
But LastPass got through this test, too. It was the only tool besides 1Password that was able to auto-login on the Safari and Chrome browser.
Similarly, I didn't face any issues while auto-filling the payment details.
What's more?
The security audit of LastPass was one of the best and most comprehensive.
Not only it points out the weak and duplicate passwords, but it also shows how many credentials have two-factor and multi-factor authentication enabled.
The password checker also evaluates your master password and scores it on a scale of 100. And mind you, the tool is quite meticulous about its rating.
In fact, my most robust password, that all the other tools flagged 'Strong/Very safe', could score only a little more than 40%.
The tool also cautions you time to time of security breaches. So that you can change your passwords before they're hacked.
For those who often share their credentials with others can create a shared folder and add as many users as they can. Though the number of shared users is restricted to one for free members.
In short, you can conclude that LastPass is just flawless.
You can buy the app for as little as $3/month (billed annually).
You can read more in my detailed review of LastPass here.
2. 1Password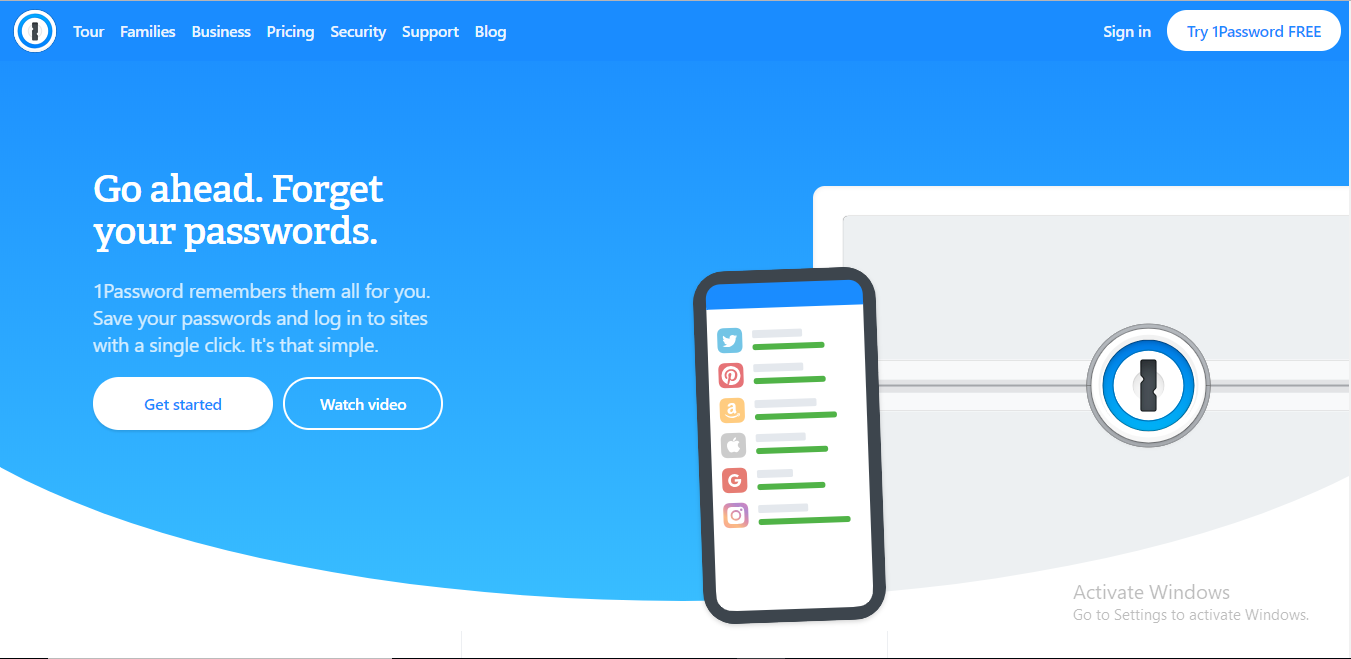 Secure Login Mechanism
Wide Variety of Browser Extensions
Seamless Form Capture Feature
Comprehensive Password Audit
Multiple Templates for Secure Information
Helpful Customer Support
Poor User Experience
Login Issues with Your 'Secret Key'
After LastPass, 1Password is the second-best password management app for iOS devices.
Unlike the desktop version, the user interface of the iOS app is quite sleek and straightforward. Even a novice can work on this app without any assistance.
And just like LastPass, the 1password mobile vault can save a range of information like passwords, notes, cards, and shipping addresses.
The same industry-standard 256-bit AES encryption system comes into play to secure your data.
Once I enabled the auto-fill function, it worked smoothly on all the mobile apps and browsers. And it was pretty quick to respond, too.
Similarly, using secure sharing, you can either share your passwords directly via email or create a shared folder (for families) and add users to it.
However, 1Password cannot be called perfect as its closest competitor, LastPass.
The security audit function was missing in the mobile app, and auto-sync, and backup is reserved only for paid members. Though I did find 'Watchtower' that sends you notifications regarding security alerts of the sites and apps you use.
Similarly, 1Password doesn't support multi-factor authentication in its mobile app. That's available only for their 'Team' or 'Business' users.
But the biggest blow is the absence of a free version of the tool.
While all the tools, in this list, serve free users, 1Password doesn't have any such plan.
In fact, the free trial lasts only for 30 days, and after that, you will have to take up their premium plans that start from $2.99/month (billed annually).
You can read more in my detailed review of 1Password here.
3. Dashlane
Dashlane
Best Premium Security
Simple, Intuitive Interface
Industry-Standard Security Protocol
Strong Password Generator
Multiple Forms of Secure Data
Compatible with All Devices
Extensive Password Audits
Increased Privacy with a Dedicated VPN
A Little Expensive
A Little Expensive
Inconsistent Browser Form Autofill
Dashlane is an excellent option for you if you're looking for a simple, easy-to-use password manager for your iPhone and iPad.
Just like its desktop version, the clean interface of the mobile app is one of its biggest USP.
You can just tap the big '+' button on the bottom right corner of the screen and store all your passwords, cards, notes, and online identities.
And like all the tools in this list, Dashlane also uses the industry-standard 256-bit AES to protect your data from hackers.
Furthermore, you're allowed to set two-factor authentication to add an extra layer of security to your account.
And once the credentials are saved, you can auto-login to all your apps without any issue.
However, it was not working on my Safari and Chrome browser.
Having said that, what separates Dashlane from its counterparts is the audit report, secure sharing, and most importantly, its dedicated VPN.
I used the VPN to open some restricted sites, and fortunately, it didn't disappoint me either. However, it does slow down your internet speed a bit on mobile.
The audit report of Dashlane is also quite impressive. The system not only checks for weak and duplicate passwords, but it also scans the dark web to see if your credentials have ever been compromised in any way.
Similarly, sharing your data with others is remarkably easy. Just choose the password or note you want to share and plug in the email address of the fellow user. That's it.
And the best part?
There's no cap on the maximum number of users you can exchange your credentials with.
Now, to avail all these facilities, you'll have to upgrade to their premium plan that costs $3.33/month for a year commitment.
Otherwise, most of the key features like dark web monitoring and auto-sync, will be locked if you go with their free license.
You can read more in my detailed review of Dashlane here.
4. RoboForm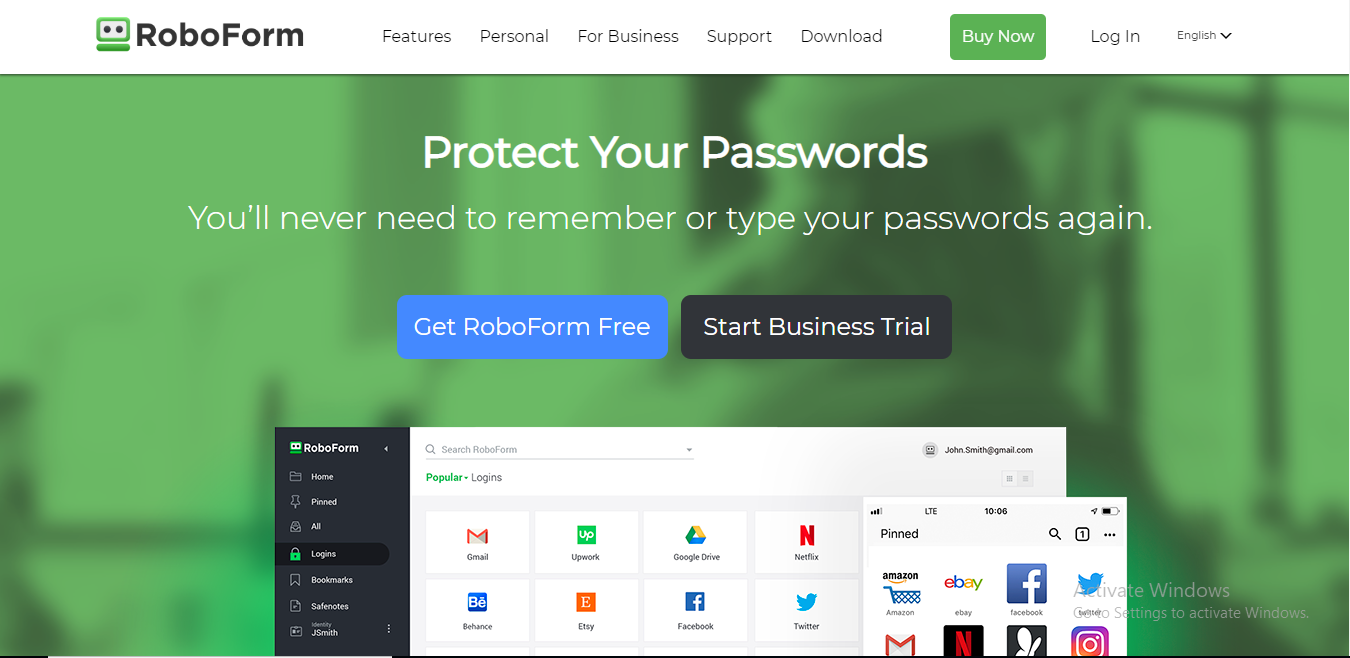 Simple and easy to use
AES-256bit encryption
Auto filling web forms
Auto-fill and password storage
Password sharing
No restrictions on the type of device or operating system
No multi-factor authentication
RoboForm might not be as power-packed as LastPass, but the software is still an excellent choice for those with a tight budget.
The interface, as usual, is pretty simple and clean. And the vault can save passwords, notes, cards, and shipping addresses with AES 256-bit and PBKDF2 SHA-256 encryption support.
You can top it up with two-factor authentication to protect your vault from intruders.
The iOS app also features the auto-fill function that is excellent on apps and horrible with browsers. However, when you use the in-house browser of the app, you never come across any hiccups.
Similarly, RoboForm features a password checker to help you recognize the weak links of your password database, but the password evaluating system seems lax.
During the test, I set a random ten-digit number as the password of my Twitter account, and it flagged it strong!
That's surprising because the desktop version of the password checker is quite meticulous and gives green signal only to the robust set of alphanumeric characters.
So, I won't recommend relying on the mobile password checker.
Having said that, I really liked how easy it was to share passwords with others. Just insert the email address of the recipient and send your credentials within seconds.
Similarly, you can sync and backup your data across all the devices you own.
And the best part?
The premium account of RoboForm costs way cheaper than many of the other paid tools.
You can get all these for just $1.99/month (when you commit for a year).
You can read more in my detailed review of RoboForm here.
5. Keeper Security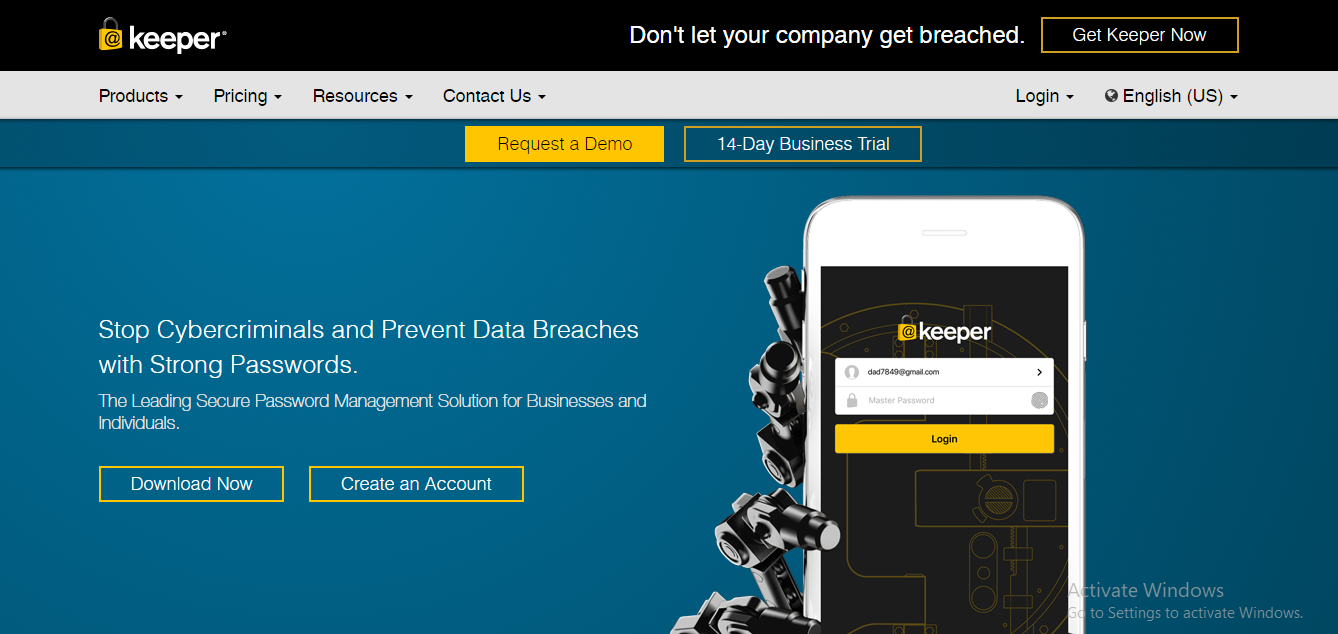 Military-Grade Encryption for Usernames and Passwords
Easy-to-Navigate UI with Password Generator and Security Audit
Easy Password Sharing with Keeper Chat
Export Your Login Credentials in Seconds
Available Across Desktops, Mobile Apps, and Web Browsers
No Free Plans
Slow Customer Support
Account Access Issues
Keeper Security is another low cost, user-friendly option iOS users can consider.
The user interface of the iOS app is quite similar to its desktop version and very easy to navigate, too.
Just tap on the '+' button, and you get the option to add records (passwords), cards, and notes. And all the data in the vault is encrypted by AES 256-bit combined with PBKDF2.
As soon as you log in to the app, it asks you to enable Keeper Security as your default app to auto-fill details.
Once you do that, you can use Keeper to automatically login to most of your mobile apps. However, when I tried it on browsers, it didn't work at all.
On top of that, the app often hangs up, which is quite frustrating.
However, barring these flaws and a couple more small glitches like the absence of multi-factor authentication, the iOS app is decent overall.
You're not gonna face any issues sharing passwords with your friends or using the security audit to maintain the health of your password database.
In fact, Keeper has a very rigorous evaluation process and marks only the strongest passwords as safe.
All the other entries that don't match their standard of security are flagged as weak.
Similarly, the 'My Chat' feature in the app allows you to talk to your colleagues or friends in real-time, making the whole password sharing feature more fun.
And let me tell you, Keeper is the password manager out there that offers an in-built chat service.
The only catch is, you have to pay $1.6/month (billed annually) exclusively for this service.
The password manager, on the other hand, costs $2.49/month when you pay for the entire year upfront.
And surprisingly, the iOS app does come with a free plan. Earlier they didn't have this facility.
You can read more in my detailed review of Keeper Security here.
Conclusion
Finding a perfect password management app for iOS was not easy. But taking into account the features of different programs and my first-hand experience, LastPass would be my first preference any day.
The iOS app of the program is user-friendly and packed with features.
I would place 1Password in the second position just because its auto-fill worked well with Safari and Chrome browser. Also, it's a bit cheaper than Dashlane that comes third.
But having said that, the Dashlane app is more beautiful and offers more features than 1password. However, it's a bit expensive and can't auto-fill details on the browser.
So, if you're okay with this minor drawback, you can choose Dashlane over 1Password.
And finally, the last two contenders – RoboForm and Keeper – are excellent for budget-conscious users but they are not as powerful as the top picks.