Password manager software is very biased towards computer users. Especially towards Windows users.
But at the same time, the same password manager software that works great on your Windows PC, might not perform well on Android smartphones.
Sometimes, the interface can be challenging, the autofill features might not work, or even worse, the app starts crashing your web browser.
Some Android users might feel like they should ditch the idea of using password managers altogether. However, there is hope.
Finding a good password manager app that works on Android is possible. There are tools that can help autofill usernames and passwords, as well as generate strong passwords. There are Android apps that can offer two-factor authentication and encryption for storing secure passwords.
Many apps for Android require a secure password or even a username and password to log in. Remembering all your unique passwords is easier on a desktop because Chrome and other web browsers will autofill them. On your mobile device, this is not as easy.
It's also frustrating when you need to autofill your personal information or credit card details inside an app. Password manager apps can store all your credit card payment information inside an encrypted vault, so it's safe and accessible when you need it on your device.
In this article, we talk through the best password manager for Android mobile devices. We focus on software that can work Android devices without compromising much with features or usability.
Our aim to give you an overview of the best password manager for Android, and help you make the best choice.
$2.49/month (billed annually)
Dashlane
Industry-Standard Security Protocol
RoboForm
AES-256bit encryption
Military-Grade Encryption for Usernames and Passwords
Wide Variety of Browser Extensions
RoboForm
All devices and operating systems
All desktops, mobile apps, and web browsers
1. LastPass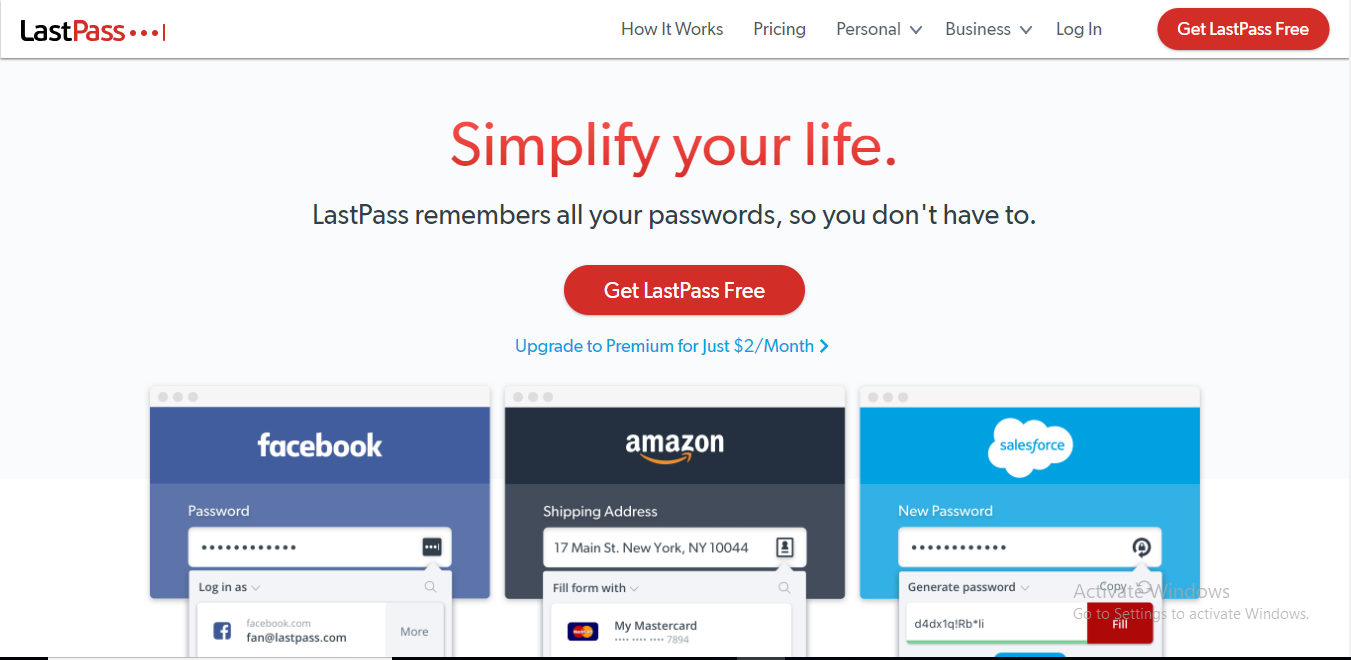 Simple and easy user interface
Form capture
Multifactor authentication
Strong password generator
Compatible with all devices and browsers
Audit report
Easy sharing with other users
Slow customer service
Outdated user interface
It doesn't matter whether you use a Mac, Windows, iOS, or Android device, LastPass is the best in business.
The Android version of the app is quite lightweight and user-friendly. The functions are clearly defined on the interface, so it's just a matter of a few taps, and your job is done.
The app can store a variety of information ranging from passwords to cards to passports, online identities, notes, and whatnot.
You name it, LastPass saves it! And everything in the vault is protected using AES 256-bit and PBKDF2 SHA-256 encryption.
The reason why I placed it on the top is it houses almost all the features of the desktop version.
You can set two-factor and multi-factor authentication, create shared folders to share your passwords with others, and also analyze the overall health of your vault.
In fact, the password checker is so meticulous that only the weirdest combination of characters and symbols can get the green signal from the tool.
Most of my passwords, even though they were strong enough, were flagged weak by the system. And my master password score was also less than 50% even though it's the most robust password in my entire database.
Similarly, the auto-fill function of LastPass was one of the best and most accurate. It worked well with all the mobile apps and also with Chrome browser while most of the other tools in this list failed to do so.
In addition to this, users are allowed to grant full access to their accounts to a friend or family member in case of an emergency.
In short, LastPass is the complete package for any Android user. There is hardly any flaw in this tool.
So, I would wholeheartedly recommend going for their free or premium version that costs $2.99/month when billed annually.
That's around $36 a year but the program totally worth this investment.
You can read more in my detailed review of LastPass here.
2. Dashlane

Dashlane
Best Premium Security
Simple, Intuitive Interface
Industry-Standard Security Protocol
Strong Password Generator
Multiple Forms of Secure Data
Compatible with All Devices
Extensive Password Audits
Increased Privacy with a Dedicated VPN
A Little Expensive
A Little Expensive
Inconsistent Browser Form Autofill
Dashlane is the most beautiful looking app on this list and feature-wise, gives a tough fight to LastPass.
The software can store unlimited passwords, notes, cards, and identities. And everything in the vault is guarded by the AES 256-bit encryption.
In addition to this, you're allowed to set two-factor authentication to protect your account from unwanted authorization.
However, the stand out feature of Dashlane is its audit report function and VPN.
The audit report is quite comprehensive and spots all your weak and duplicate passwords. And that's not it, Dashlane also scans the dark web to see if your email or accounts have been attacked ever.
If your account was the victim of phishing email marketing campaigns, Dashlane will be able to quickly identify it and help you resolve it.
Similarly, the VPN is decent and can penetrate restricted websites with ease. However, the internet speed was a concern while using the VPN. But overall, it was good.
That being said, the app is hot and cold when it comes to auto-filling details. You can auto-login to all your apps, but when you try the same on Chrome browser, it fails miserably.
But it seems like Dashlane makes up for setback in a whole different section, which is secure sharing.
The sharing feature in the app is simple and straightforward. You can share all your details directly via email to any fellow Dashlane users.
Now, as good as all these features sound, the price of Dashlane is a bit higher than other programs.
You can upgrade to their premium account for just $3.33/month for a full year of commitment.
You can read more in my detailed review of Dashlane here.
3. 1Password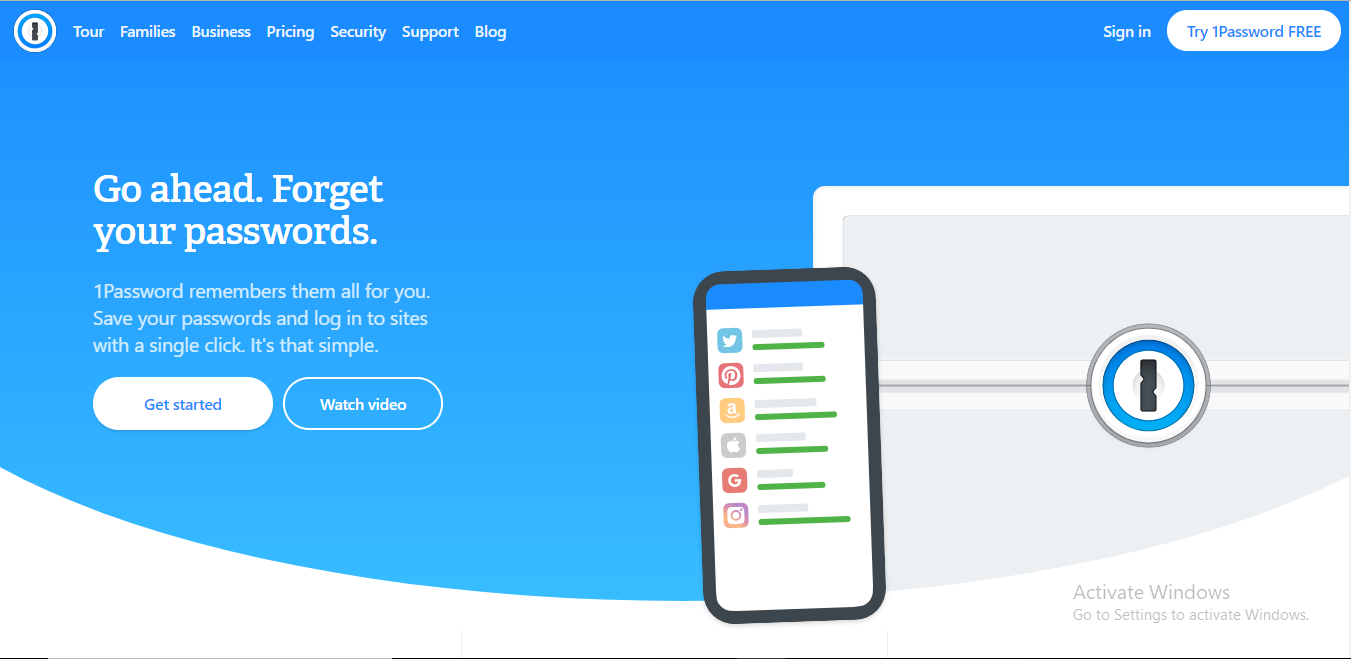 Secure Login Mechanism
Wide Variety of Browser Extensions
Seamless Form Capture Feature
Comprehensive Password Audit
Multiple Templates for Secure Information
Helpful Customer Support
Poor User Experience
Login Issues with Your 'Secret Key'
1Password looks pretty solid on paper, and just like the desktop version, the Android app is rich in features barring a few drawbacks.
The vault can store a wide range of entries from Passwords to notes to cards and online identities.
And surprisingly, the user interface is quite easy-to-navigate. So, unlike the desktop version, it won't take you long to get started with the Android app.
When it comes to security, 1Password uses AES 256-bit encryption to encrypt your data and renders you the option to set two-factor authentication for your account.
The auto-fill function of this tool is quite impressive, too. Once you're stored the data, you can auto-login to almost all the mobile apps or add payment details in a click on online shopping apps.
In fact, after LastPass, 1Password was the only tool that could auto-fill login credentials on the Chrome browser during the test.
In addition to this, families and business users are allowed to create shared folders to share unique passwords and other details with fellow users. It works exactly like LastPass in this section.
However, I couldn't find the security audit facility within the Android app even though 1Password claims to have this feature on Google Play. The desktop version though already has it.
So instead of the security audit function, it features 'Watchtower' that sends you alerts regarding security breaches on the site or services you use.
That can't fill the gap of a secure password checker, but something is better than nothing, right?
At last, when it comes to pricing, 1Password is a bit cheaper than Dashlane and LastPass, at $2.49/month when billed annually.
But unlike all the options on this list, there are no free plans for users. The free trial lasts for 30 days, and after that, you have to upgrade to one of their premium accounts. And that is again a massive setback for the software.
You can read more in my detailed review of 1Passwors here.
4. RoboForm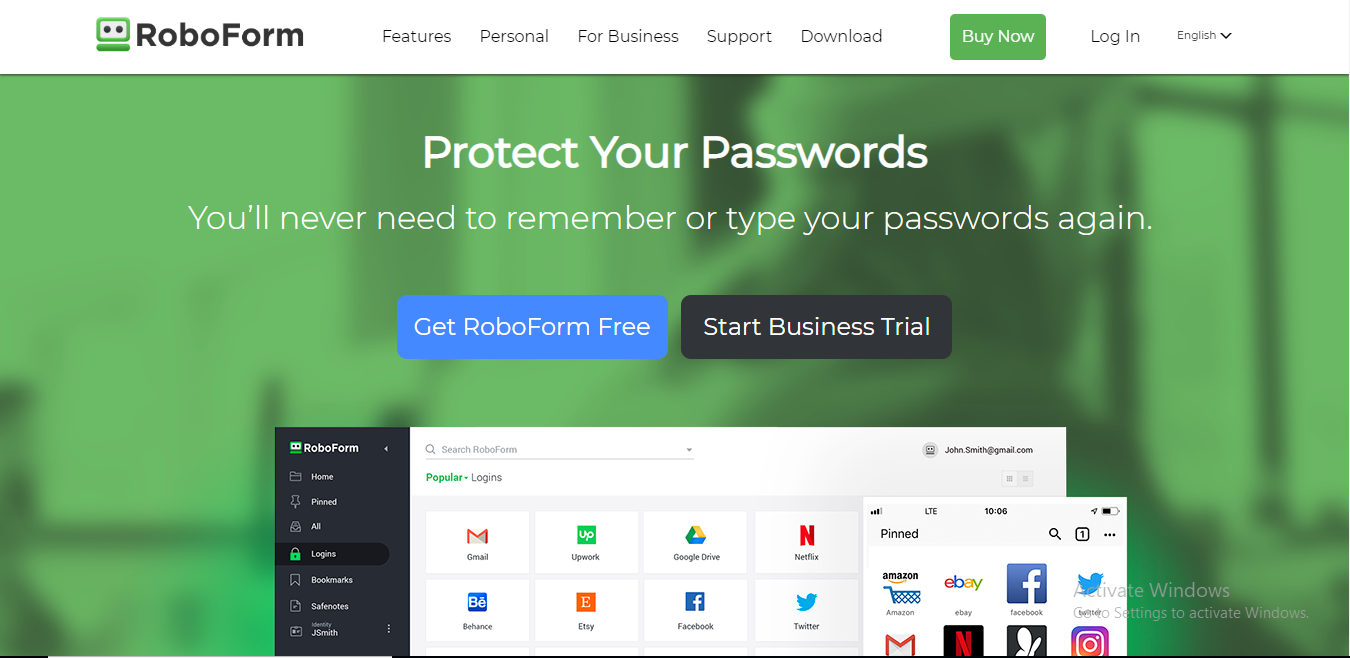 Simple and easy to use
AES-256bit encryption
Auto filling web forms
Auto-fill and password storage
Password sharing
No restrictions on the type of device or operating system
No multi-factor authentication
RoboForm is like a budget-friendly version of LastPass and Dashlane.
The desktop version of the software is power-packed, and so is the Android app. However, there are still some issues with the app that the developers need to address.
The user interface of the mobile app, just like its desktop version, is spanking clean and beautiful. That makes it extremely easy to use, too.
The software can store passwords, notes, identities, and card details, and all these sensitive details are encrypted using AES 256-bit and PBKDF2 SHA-256. It's almost impossible for hackers to break that shield.
On top of that, you can set two-factor authentication to keep intruders away from your vault.
Apart from this, what impressed me the most is how easy it is to share passwords with others. Just select the credential you want to share, plug in the email address of the fellow RoboForm user, and you're good to go.
The Android app also features a password checking tool that points out the weak passwords and duplicate passwords from your database. But during the test, I didn't find it that reliable.
Even some of the ordinary passwords were also flagged 'strong/good' on the audit report. So, I would recommend cross-checking the results on the desktop password checker, which is quite rigorous.
Auto-fill is another concern with the Android app as it failed to fill login details on the Chrome browser. However, it worked great with most of the mobile apps.
If the developers work on this glitch and make auto-fill work on browsers, RoboForm will undoubtedly rank higher than 1Password.
Now, let's talk about the best part of this tool i.e., pricing.
RoboForm is the cheapest tool on this list that costs $1.99/month when you decide to commit for an entire year. They also have dedicated plans for families and business owners.
You can read more in my detailed review of RoboForm here.
5. Keeper Password Manager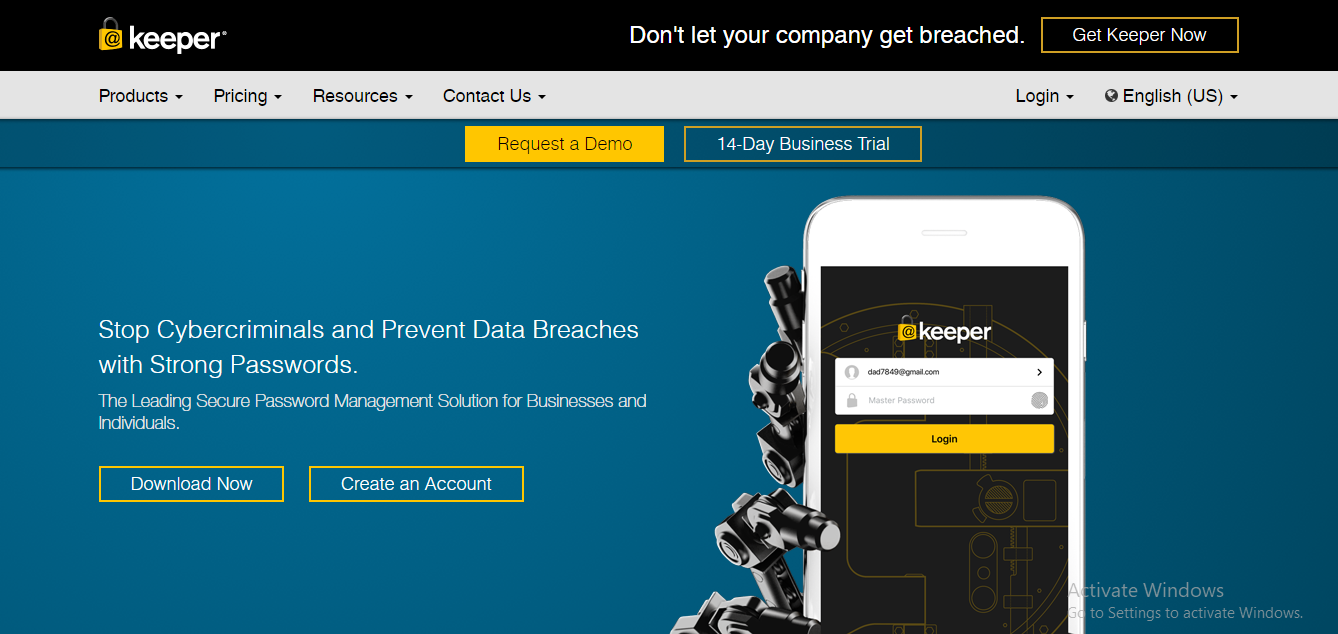 Military-Grade Encryption for Usernames and Passwords
Easy-to-Navigate UI with Password Generator and Security Audit
Easy Password Sharing with Keeper Chat
Export Your Login Credentials in Seconds
Available Across Desktops, Mobile Apps, and Web Browsers
No Free Plans
Slow Customer Support
Account Access Issues
With more than 10 million downloads, Keeper is the most downloaded password manager on Google Play.
Feature-wise, the software is no less than LastPass, but there are many aspects where it disappointed me.
Let's start with the good things first.
The app is super-duper easy to operate and has a clean and minimal interface.
Just tap on the big '+' icon on the bottom right corner, and you get the option to save your passwords, notes, and cards.
Keeper protects these sensitive details using AES 256-bit and PBKDF2 encryption system. And for further security, lets you add two-factor authentication to your account.
However, they're yet to roll in multi-factor authentication for their users.
Similarly, you can share passwords and notes with your family and friends and use 'My Chat' – the in-built instant messaging tool to talk to them in real-time.
That's a unique feature only Keeper offers and that makes the entire password sharing process more fun.
Apart from that, the app boasts a highly rigorous secure password checker to spot the weak, duplicate, and old credentials of your database.
After all these good things, what spoiled my mood is the regular crashes and limited autofill function.
The Android app hangs up a lot, and when you try to use the auto-login function on Chrome, it doesn't work at all. Though I had a great experience using it on different mobile apps.
And finally, when it comes to pricing, Keeper is the second most economical tool after RoboForm.
The premium plans start from as low as $2.49/month (billed annually). But the catch is that amount is only for the password manager app.
You have to pay an extra $1.6/month (billed annually) for the in-house chatting tool.
You can read more in my detailed review of Keeper Password Manager here.
Conclusion
Choosing a perfect password manager for Android is not easy. Password management for mobile devices is always trickier than with computers.
Most of the tools that work great on Windows fall flat when you open them on mobile devices or worse, they don't support smartphones at all.
But after some rigorous testing, it seems like top companies have done their due homework and know what users exactly want.
In our test for password manager apps on Mac, Windows, and iOS users, LastPass came out at the top.
The Lastpass software is packed with features, works great on the platform, and also auto-fills details on browser.
Dashlane and 1Password are my second and third choice, respectively.
Feature-wise, Dashlane is as good as LastPass and also offers a dedicated VPN. So, if you need a VPN and can afford to pay a little more than $3 every month, then Dashlane could be the perfect bet for you.
1Password, on the other hand, lacks a few key features but still a decent option with a reliable auto-fill function that works even on Chrome browser.
And finally, the last two contenders – RoboForm and Keeper are suitable for users with a low budget. However, I would always recommend going with RoboForm instead of Keeper because the latter crashes quite often.
Whether you choose a premium password manager for Android, or you opt for a basic open-source software, you have a lot of options to choose from.