Nowadays, when we have online apps and services for literally everything, remembering all the usernames and passwords is a real pain. What makes it worse is that some sites have rules for creating a strong password, but the instructions are almost impossible to follow.
It's little wonder why so many people use a universal username and password for all their online accounts.
Sure, it's convenient. But is it safe?
Abso-freakin-lutely not! And yet, we all do it.
So what's the solution?
Well, this is what the article talks about: how to set up a strong password for each account and to ensure you avoided weak passwords and commonly used passwords. Following some of these tips can help keep you safe from a data breach, identity theft,  and even password cracking attempts.
You will get to know how to set a unique password for every online account without even worrying about remembering them.
So, without wasting any time, let's get straight into it.
Best Way to Set Up a Strong Password in the Cloud
When I say Cloud, I don't mean the famous cloud repositories like Google Drive, OneDrive, or Dropbox.
Organizing your passwords on a spreadsheet and then saving it in these Cloud repositories would be like inviting hackers for an identity theft feast.
On the contrary, I'm talking about a solution that is more advanced and sophisticated.
In other words, I'm talking about using a password manager. Something that offers extra tools to help you create a strong password, use a mix of lower-case letters, numbers, special characters, and upper-case letters, avoid common passwords, and a lot more.
Password managers help you store your login details in a more convenient and secure way. And not only you can save passwords, but a lot of password manager tools now offer a strong password generator, designed to create unique passwords on demand.
This is how it works.
First of all, you sign up to a password manager, set a master password, and then add all your passwords into the encrypted vault. That's it!
From now on, all you need to remember is that one master password to unlock the vault. But make sure it's a strong password and at the same time easy to remember because everything depends on that one password.
If you forget it, you might lose access to all your important details, too.
Now, if you're worried about security, then let me tell you these tools use different layers of protection to keep your data safe.
For example, your sensitive details are encrypted using the most advanced encryption system, and most of the password managers also add two-factor authentication for further security.
And you know what's more exciting?
Saving and generating passwords is just a small piece of the big picture. These online apps are designed to do much more.
They can spot the weak passwords, help you share details securely with your friends, and even auto-fill your login details so that you don't have to flip back and forth between your vault and browser.
The best part?
Most of the top password managers follow the 'zero-knowledge' protocol. That means, they don't save your data or even your master password on their servers.
So even if their servers are hacked for any reason, your details and data will always be protected. And most of the password managers are available for every platform like Windows, Mac, Android, and iOS.
In the following section, I've mentioned the top three picks you can go with. Here we go:
LastPass (The best)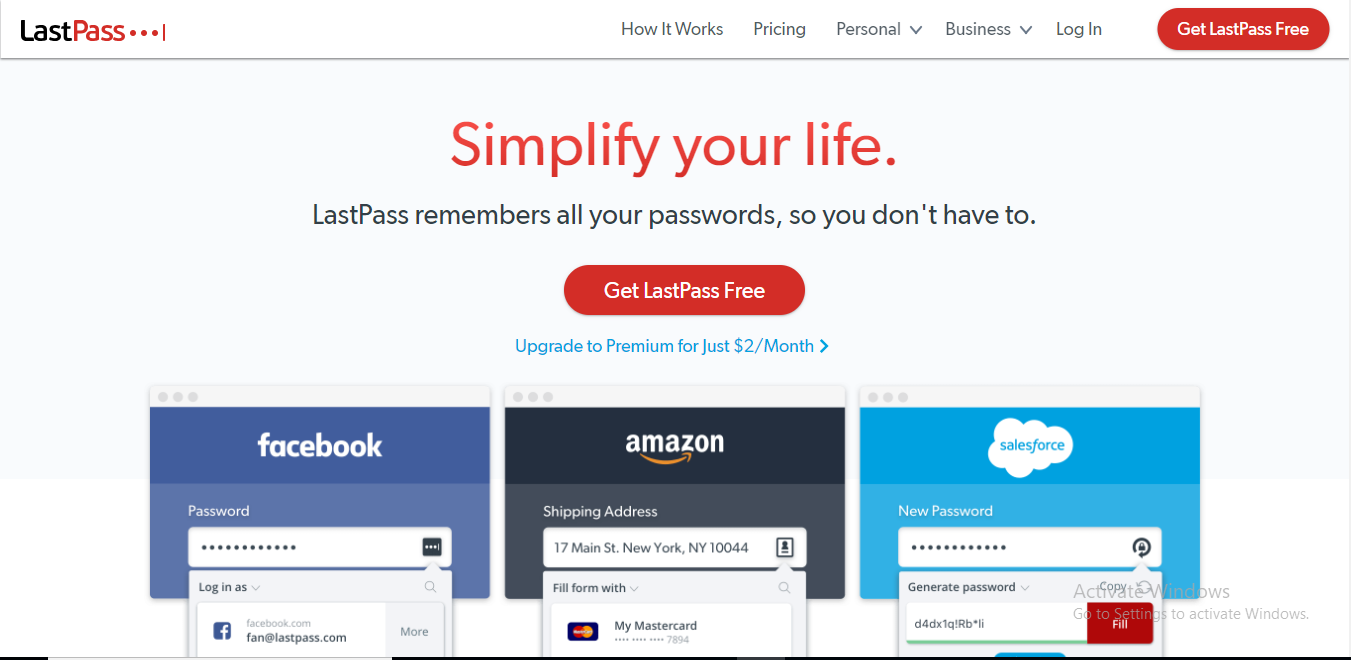 LastPass is the most advanced password manager out there with a long list of features.
Along with being a place to store your passwords, the software can store a variety of information like card details, notes, addresses, insurance cards, passports, and more.
And once you've stored everything, it's just a matter of a single click to auto-fill login or card details the next time you need them.
LastPass is quite right about security. That's why they use AES 256-bit along with PBKDF2 SHA-256 to encrypt your data. Furthermore, there are options to add two-factor authentication and multi-factor authentication.
And this is not it, the tool also scans your entire database and spot the weak and duplicate passwords.
In addition to this, you can also share your passwords by adding users to a shared folder.
And if you own multiple devices, then LastPass will automatically sync your data across all the devices you own.
In short, this password manager program is a beast, and my number one choice out of all the different password managers I've ever tested.
You can read my detailed review of LastPass here.
Dashlane (Most user-friendly)

If you're looking for an easy-to-operate password manager, look no further than Dashlane.
In terms of features, Dashlane is as dense as LastPass and often considered as an alternative to the latter.
But what makes it special is the clean and beautiful interface that even a novice can navigate.
Just like all the cutting-edge password manager tool, Dashlane can manage your passwords, online identities, cards, and notes. And encrypt all these details using AES 256-bit encryption.
The software can help you auto-login to all your online accounts, or you can make use of the auto-fill function to add payment details in seconds.
Similarly, the tool allows users to set two-factor authentication and share passwords to fellow Dashlane users directly via email.
No need to create a shared folder. Just insert the email of your friend and share. It's that easy!
Now, what separates Dashlane from other programs is its audit report and VPN.
Unlike other tools, Dashlane not only scans your password database but also goes deep into the dark web to see if your emails or online accounts are still immune to online attacks.
The VPN, on the other side, is decent in opening restricted websites or while using Torrents. Though it does slow down the internet speed a bit.
The software comes with a free version, but it has lots of restrictions.
So, if you want to make full use of the app, I would recommend investing in one of their premium accounts.
You can read my detailed review of Dashlane here.
1Password (The safest)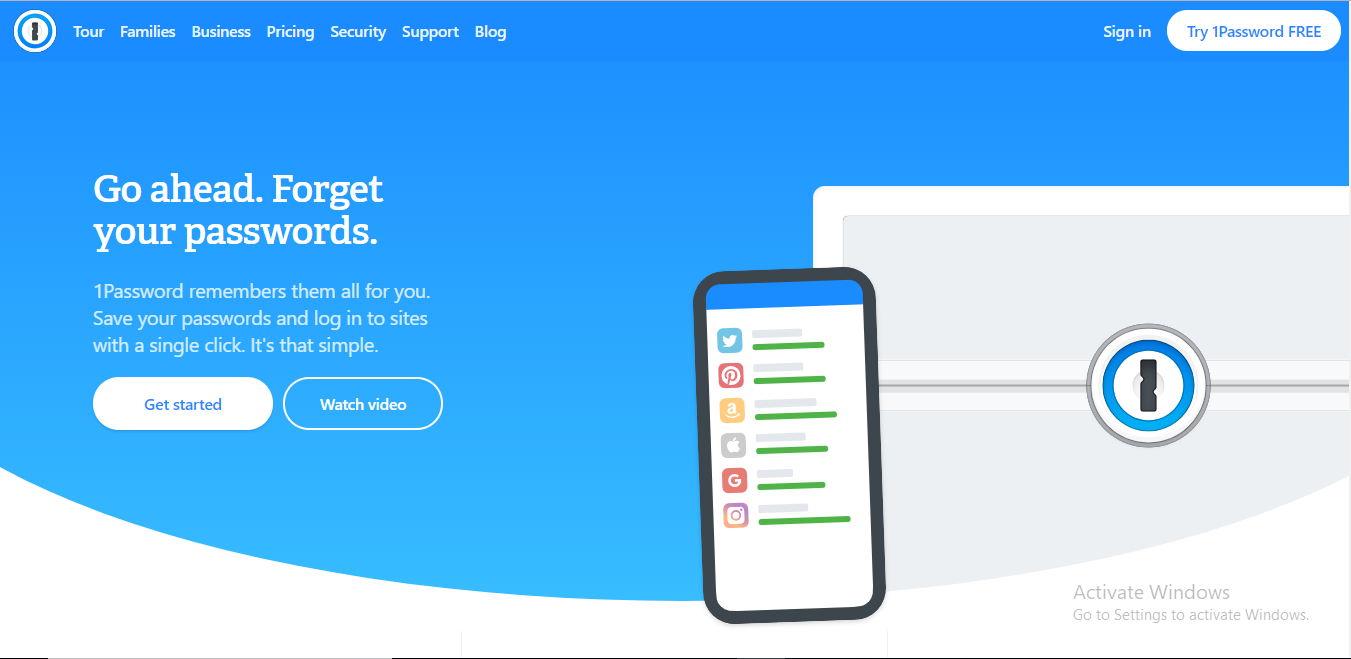 1Password might not have a long list of features, but when it comes to security, it's the most impregnable virtual vault out there.
The software, like the other two programs, allows you to save passwords, notes, cards, and shipping addresses. And not only it encrypts your data using AES 256-bit system, but it also generates a unique 'Secret Key' for every sign-up.
Then, this 'Secret Key' along with the master password is required every time you log in to your account.
On top of that, you can set two-factor authentication to make your account almost impossible to hack.
The tool is also decent in auto-filling details on all the popular browsers, and it can also help you share passwords by creating a shared folder.
Though this feature is available only to the family and business users.
The software features a password checker that points out weak passwords and its 'Watchtower' function alerts users of any security breach.
Overall, the 1Password is suitable for those with a low budget because the plans are cheaper than LastPass and Dashlane.
You can read more in my detailed review of 1Password here.
Conclusion
As the number of online services growing every day, creating strong passwords with a password manager is the need of the hour.
These password saving programs are user-friendly, secure, and low-cost.
Just pay a couple of bucks every month, and they'll make your life a hell lot easier.
Don't have money to buy LastPass or Dashlane? No problem.
You can sign up for their free versions or choose a completely free program like LogmeOnce. These free options can also do the job for you.
In short, there's no reason NOT to use password managers.
So, now it's all up to you whether you upgrade to the new way of saving and organizing passwords or stick with your old school methods.
The choice is yours.