Two of the most popular password managers on the web.
While one is packed with features, the other one is known for its compact security.
And ever since both the tools came into existence, I'm tired of hearing the pesky online debates over which one is better.
But not anymore. Today, I'm gonna end this dispute once and for all.
In this post, I'm gonna compare both the tools based on five key attributes:
User Interface
Security and multi-factor authentication
Password sharing and audit report
Device compatibility and limitations
Pricing
And in the end, I'll reveal which one came out victorious.
So, without wasting any time, let the showdown begin.
Disclosure: Login Lockdown is reader-supported. We might earn a small commission if you purchase something through our site. Learn more
1. User Interface
The first thing everyone notices in a password management app is the user-friendliness.
Can anyone, regardless of technical knowledge, use the password generator to create strong passwords in seconds? Is it easy to add a browser extension and autofill your login credentials?
The good news is that both password managers excel in this category.
Let's start with our first manager, LastPass.
The initial setup of the software is super-duper easy.
Just install the app based on your devices, create your account, set master password, and you're ready to rock.
The user-interface of the software is pretty straightforward and sleek.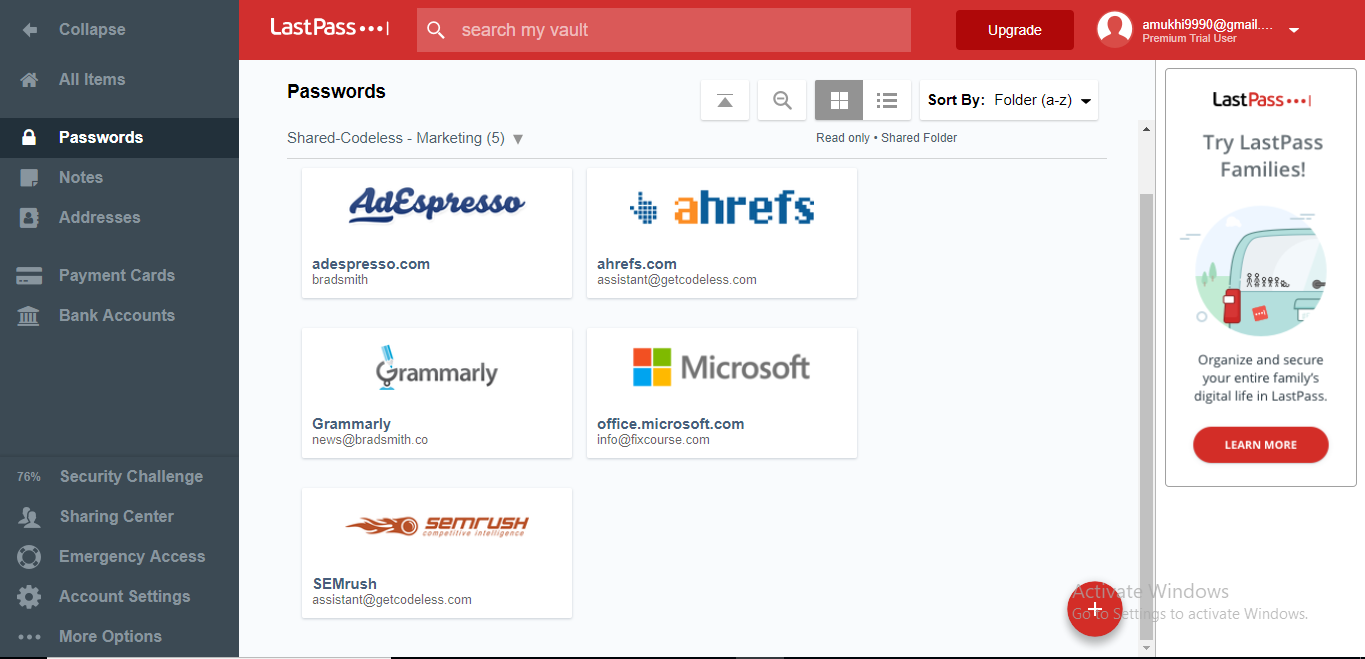 There isn't anything unusual on the interface. On the left-hand side, you have a navigation bar that helps you navigate to different functions.
And the rest of the screen is just white space with a large, red '+' button on the bottom right corner of the screen.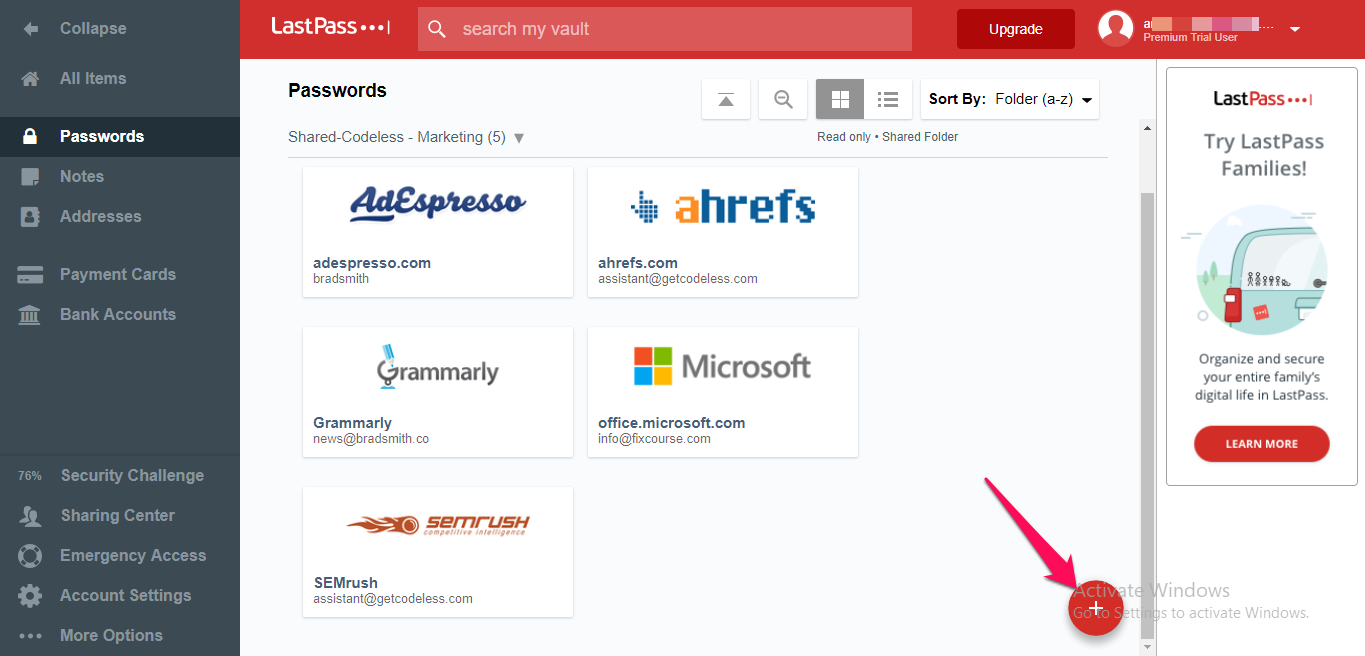 And since LastPass is jam-packed with features, the navigation bar might look a bit dense to you compared to other tools.
But don't hassle because everything on LastPass is just a couple of clicks away from you.
For example, to store a password, click on the red '+' button and fill in the details on the next wizard before hitting 'Save'.
That's all! You can store unique passwords in seconds across any site.
Similarly, following the same procedure, you can store card details, notes, online identities, driving licenses, passports, insurance cards, and many different things in the vault.
On the other side, we have 1Password, which is partially web-based for desktops. So, getting started with the software becomes even easier.
No need to install any app. Just open 1Password on the web, enter the login credentials, and you're done.
However, unlike other password managers, the first page you come across on 1Password after sign-in is not the actual interface of the tool.
In fact, this is where 1Password asks you to create a vault and name it.
Once you've done that you come across the actual user-interface that looks exactly like LastPass'.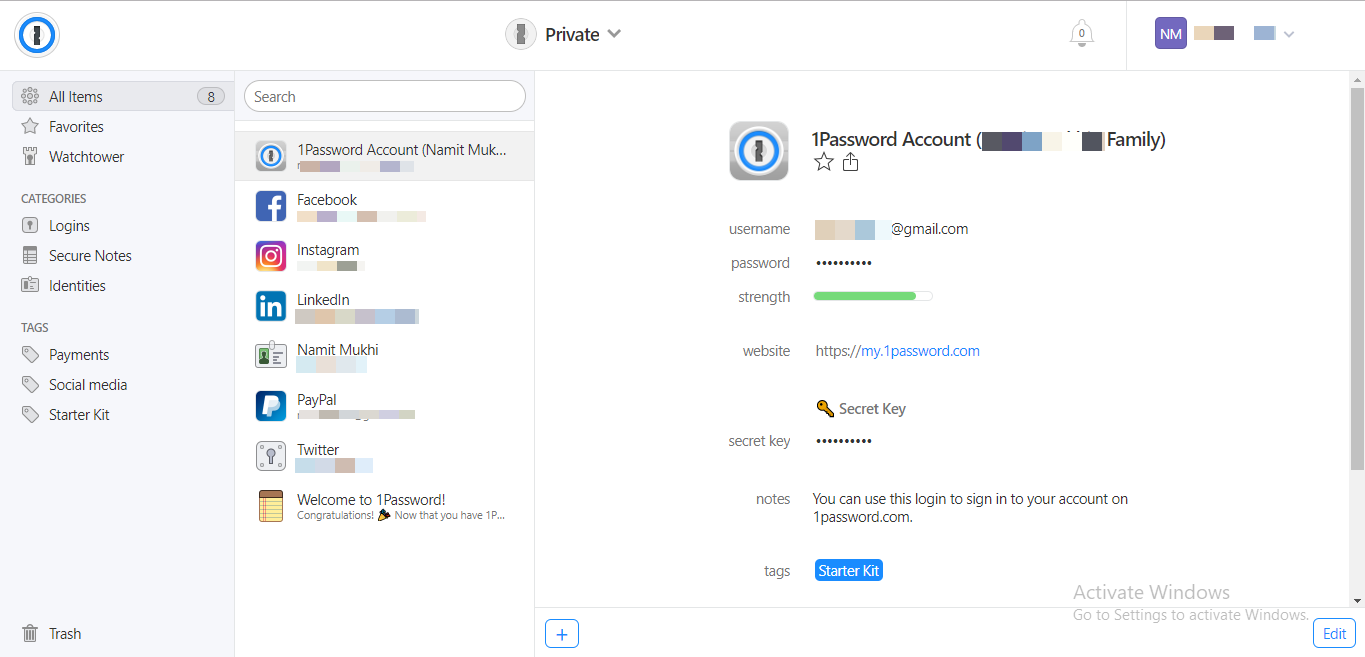 A navigation bar on the left, just right beside it is another section that shows all the items stored in your vault, and the rest of the screen is just white space with '+' button on the bottom side of the screen.
In addition to this, the process to store items in the vault is also the same. Hit the '+' button, add the details, and hit 'Save'.
Plus, just like LastPass, 1Password also allows users to store a variety of information like passwords, cards, online identities, notes, driving licenses, insurance cards, and more.
In short, you can conclude that both the tools are at the same level when it comes to usability.
Winner: Draw
Both LastPass and 1Password have a similar user interface and can save a variety of information. Both are cloud-based services at their heart, offering real-time syncing of your secure data like a credit card or driver's license. And both offer the ability to autofill this unique data in seconds.
Can't go wrong with either.
2. Security Encryption & Multi-factor Authentication
Security is the number one parameter for a password manager.
Because you can't rely on a tool that could be susceptible to security breaches. After all, you save your most sensitive details are fully encrypted in your password vault.
Fortunately, both LastPass and 1Password shield your data using the most advanced security protocol 256-bit AES.
In fact, LastPass combines it with PBKDF2 SHA-256 to make your data almost impossible to decrypt.
Even the most elite hackers of this world would take thousands of years to decrypt these state-of-the-art encryption technologies.
On top of that, you can also enable two-factor and multi-factor authentication on LastPass to prevent any unwanted authorization.

Now, on the other hand, we have 1Password that rely solely on AES 256-bit but has its own way to provide extra security to your account.
For every sign-up, 1Password generates a unique 32+ digit alphanumeric 'Secret Key' that you need to enter (along with the master password) while signing in to your account.
So, unless someone gets access to both – your master password and 'Secret Key' – no one can unlock your 1Password vault.
Plus, you can also enable two-factor authentication to reinforce your online fort further.
Winner: Draw
To be honest, both the tools are highly protected and almost impossible to hack. You might argue that LastPass implements double encryption and also avail multi-factor authentication.
But 1Password's secret key along with the master password and two-factor authentication, can also do the job.
So for me, it's a tie.
3. Password sharing and audit report
Password sharing and auditing is the section where 1Password gets exposed, and you see the real difference between the two.
LastPass just blows 1Password out of the water in this section.
As a LastPass user, you can share all your passwords and notes to unlimited users through a shared folder.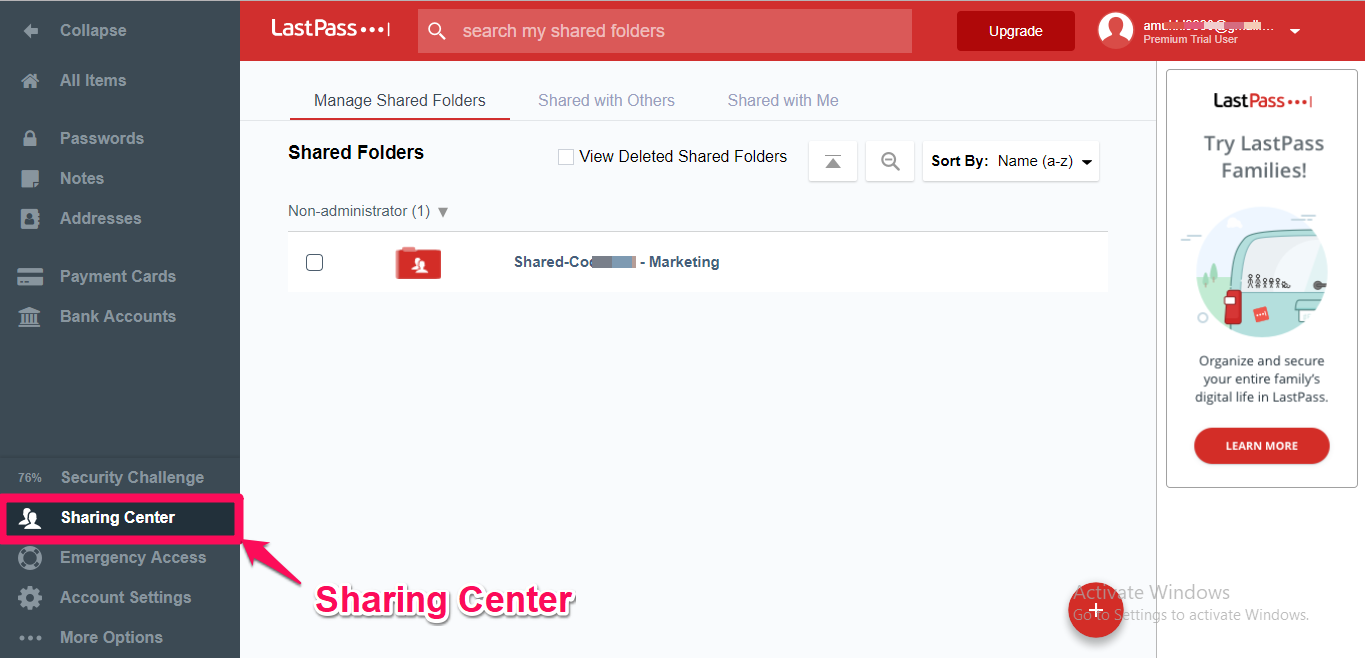 And the best part is?
LastPass has this feature included even for its individual accounts.
In contrast, 1Password also uses the shared folder method to share details but unlike LastPass, allows only the 'Family' and 'Business' users to share passwords with others.
So, a freelancer or solopreneur would always choose LastPass over 1Password.
Similarly, the difference in quality is evident while evaluating your sticky password.
The password checking system of LastPass is quite meticulous and only flags the most robust entries as 'Safe/Good'.
The audit report is very detailed that not only points out the weak and duplicate passwords but also let you know how many credentials have two-factor or multi-factor authentication enabled.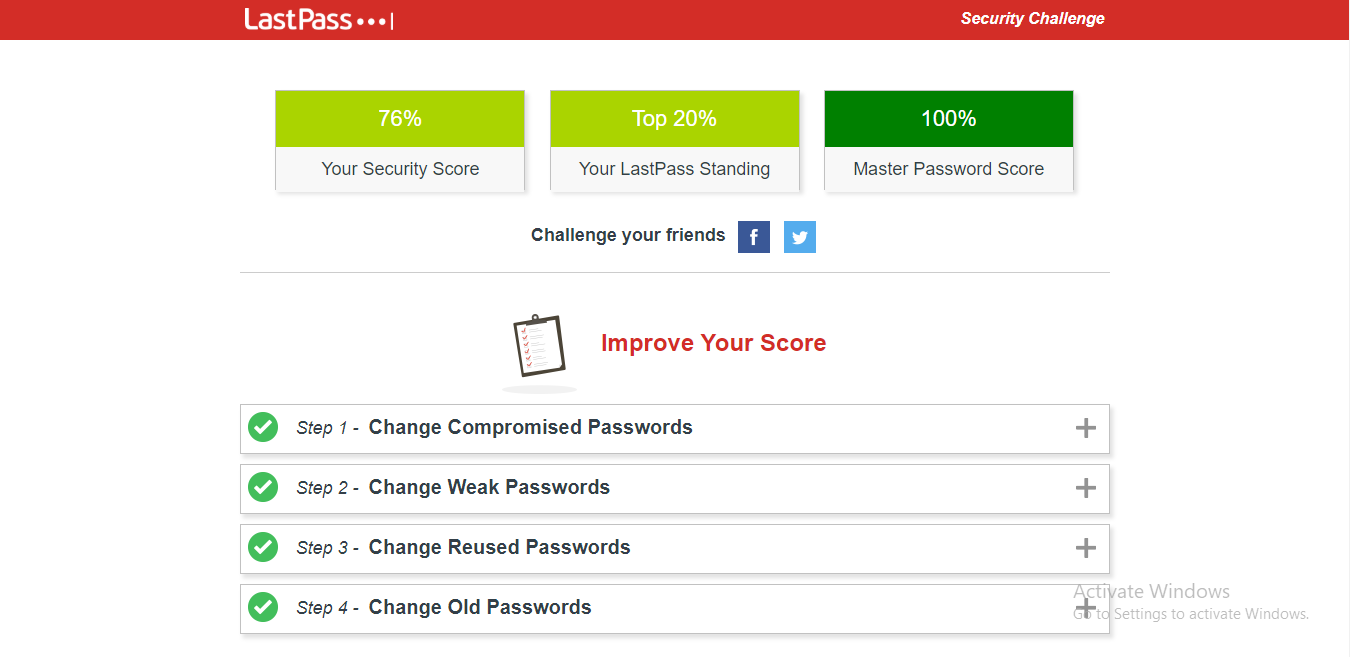 If you haven't enabled two-factor or multi-factor authentication a few passwords, you can do so straight from the audit report.
The password checking system also evaluates your master password and give it a score out of 100 to let you know if you need to make any changes to it.
In short, the audit system of LastPass is highly rigorous and reliable.
But you can't say the same for 1Password.
The audit report is not very thorough and only points out weak, duplicate, and old passwords.
And the worst thing is?
The password checking system of 1Password is quite slack, and it flags any password 'Safe/Good' that contains a combination of uppercase, lowercase, numbers, and symbols.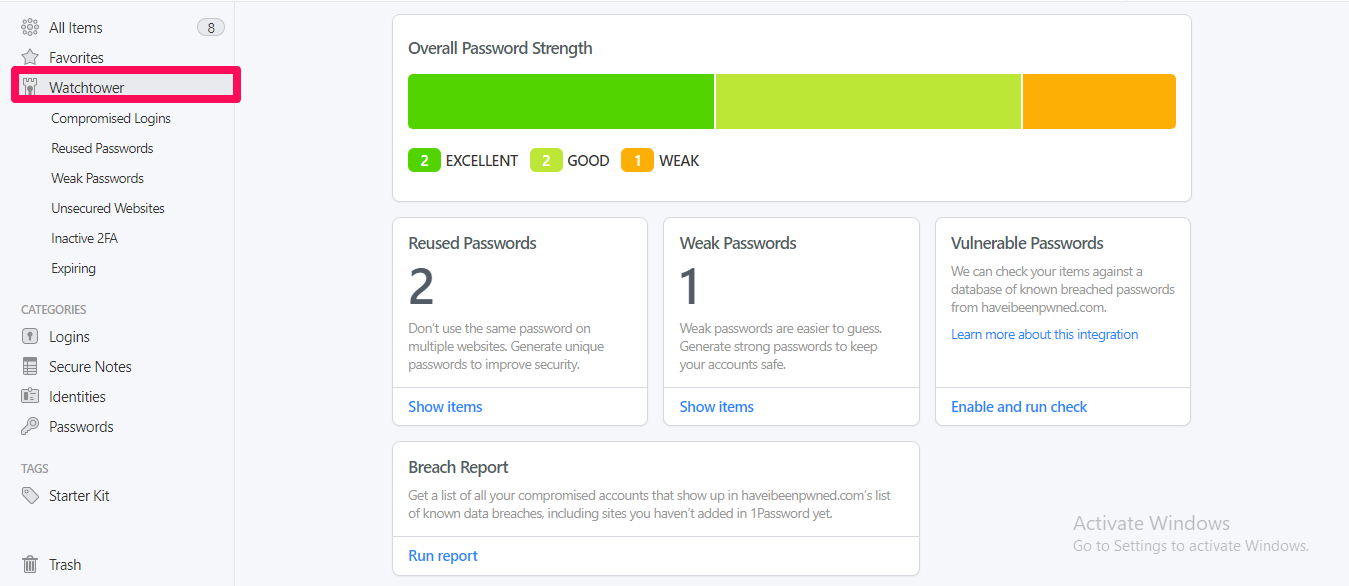 Winner: LastPass
LastPass is the clear winner of this section. The authentication is better, and it's easier to validate a secure password.
4. Device compatibility and limitations
Device compatibility was never an issue with either of the programs.
While LastPass has dedicated apps for all four operating systems — Windows, Mac, Android, and iOS. LastPass browser extension are also available.
But not to be outdone, 1Password is also available on your web browser of choice, and offers standalone mobile apps for iOS and Android.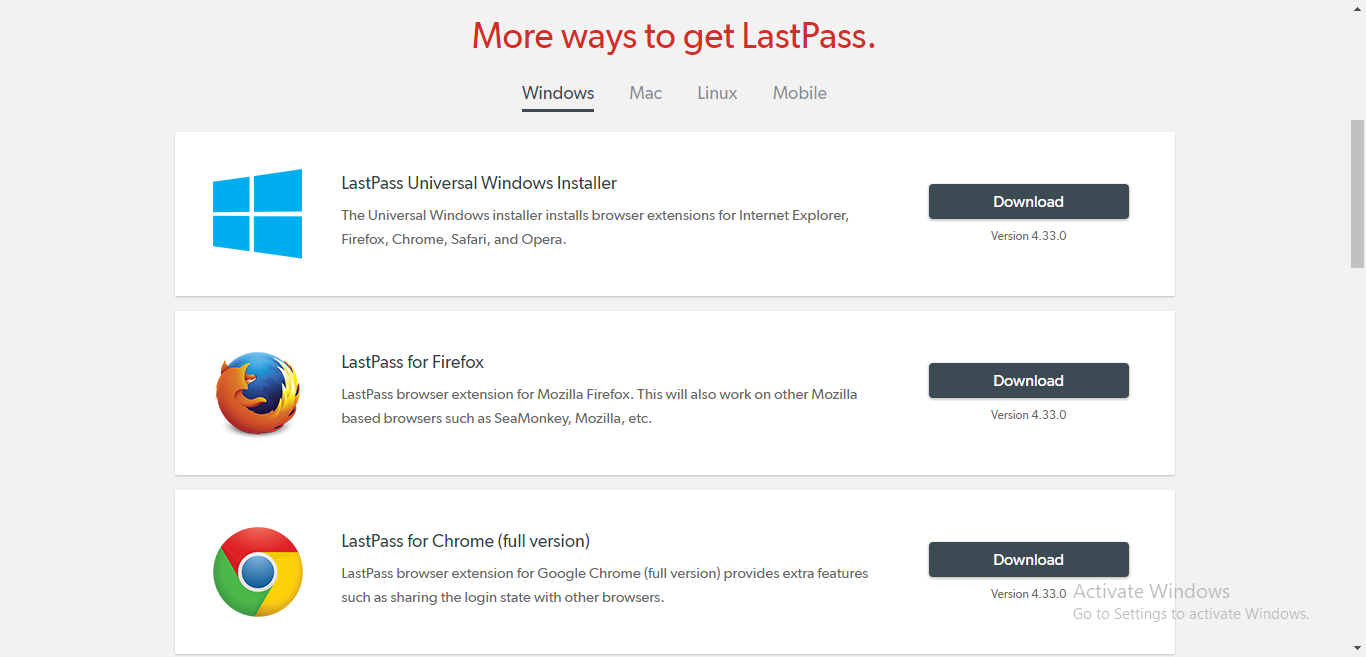 Moreover, both the programs encourage users to add their browser extensions for Chrome, Safari, Firefox, Microsoft Edge (previously Internet Explorer), and Opera with full autofill and form capture to enable single sign-on wherever you browse.
But having said that, if you're looking for a free tool to manage your credentials, you should go with LastPass.
I'm fact, an average user would never need to pay a single penny because the free account avails all the perks of its premium plan.
Except for the limitation on secure sharing that blocks you to share your password with more than one fellow LastPass user. Barring this minor glitch, the free account of the software is as good as the premium account.
On the contrary, 1Password takes a different route. Anyone can try the software for 30 days for free without any limitations.
And once the trial period is over, you'll have to upgrade to the paid membership because there aren't any free membership for now.
Winner: LastPass
In device compatibility, both the tools are equal. But LastPass is the first choice for anyone looking for a free password manager.
In fact, the free license of LastPass is way better than many paid options out there.
5. Pricing
The overall cost of LastPass or 1Password is more or less the same.
Both tools have separate plans for individuals, families, and business owners.
Let's first compare the price for the individual plans.
The premium plan for a single user costs only $3/month when you commit for an entire year. On the other hand, the 1Password premium account is 0.50 cents cheaper at $2.49/month when billed annually.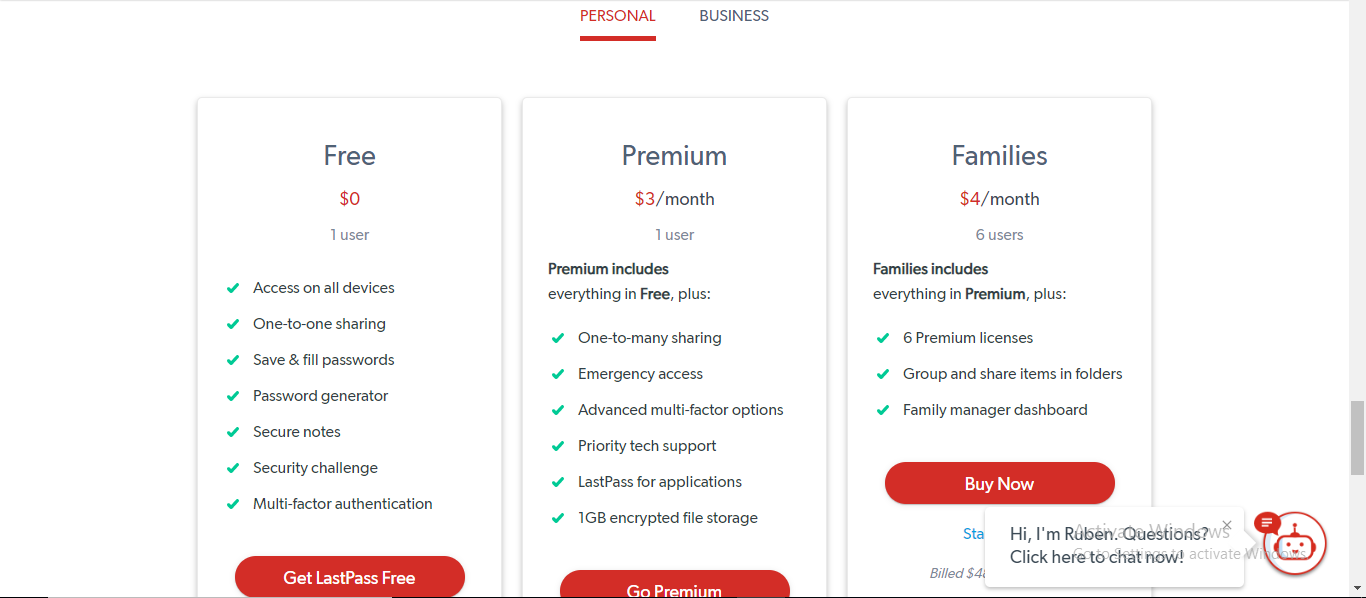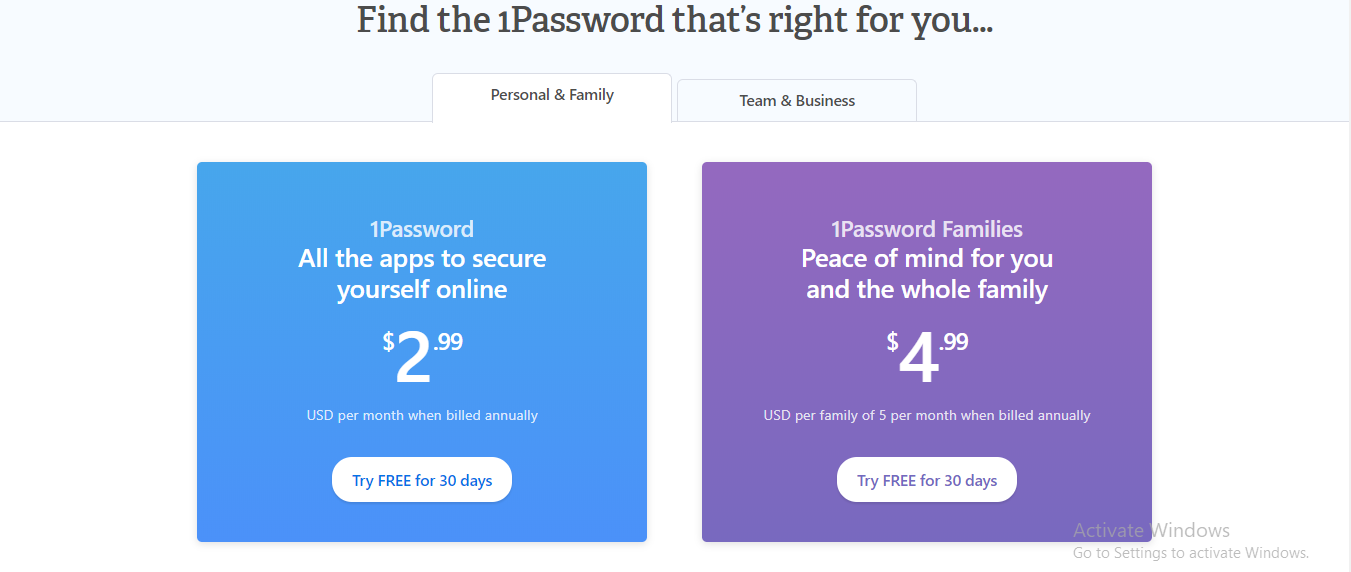 Similarly, the 'Family' plan of 1Password sets you back $4.99/month (billed annually) and covers up to five members.
But here, LastPass is a bit cheaper, and for the same five-member family plan charges only $4/month (billed annually).
At last, both the tool charge the same amount to companies to manage their passwords. It starts from $4/month/user for a one-year commitment.
Winner: Draw
While 1Password offers cheaper individual plans, LastPass charges less for 'Family' accounts. But both the tool cost the same for business owners.
Simple and easy user interface
Form capture
Multifactor authentication
Strong password generator
Compatible with all devices and browsers
Audit report
Easy sharing with other users
Slow customer service
Outdated user interface
Secure Login Mechanism
Wide Variety of Browser Extensions
Seamless Form Capture Feature
Comprehensive Password Audit
Multiple Templates for Secure Information
Helpful Customer Support
Poor User Experience
Login Issues with Your 'Secret Key'
LastPass vs 1Password: Who Wins?
Both options are good. I'd say they're both well ahead of alternatives like Zoho Vault, Roboform, Keepass, Keeper, and others.
But I'm giving the edge to LastPass here.
If you're an individual and okay with not having secure sharing and a sluggish audit report, then 1Password could be an ideal choice for you as it'll cost less.
Otherwise, I would recommend everyone to pick LastPass over 1Password simply because the software checks all the same boxes, while offering a few extra details like password sharing, for about the same price at the end of the day.
Cybercrime is increasing and it's high time you protect yourself and your assets from cybercrime.