Read any piece on the "best password managers" topic, and two of the top three slots will always be occupied by these two — Dashlane and 1Password.
Both the tools have their own fan following. But those who don't belong to either side or are new to password managers always have this question in their mind:
Which one is better? Is it Dashlane or 1Password?
Well, I've decided to end this debate once and for all. And in this post, I'm gonna compare both the tools based on five key attributes:
Usability
Security arrangements
Password sharing and audit report
Device compatibility and limitations
Pricing
So, without wasting any time, let's see who comes out as the ultimate champion.
1. Usability
Usability is a crucial factor when choosing a password manager.
Some of the password managers I've tested previously take up to 10-15 minutes just to navigate to the basic functions.
But fortunately, both – 1Password and Dashlane are easy to work on.
Let's start with 1Password.
1Password is super-easy easy to get started with.
Unlike Dashlane, it's a web-based tool and once you've created your account, you can sign-in straight to your 1Password vault.
No need to install any app.
However, the first screen of the software can baffle you for a moment. Instead of taking straight to the place where all the action happens, 1Password asks you to choose if you want to create a private or shared vault.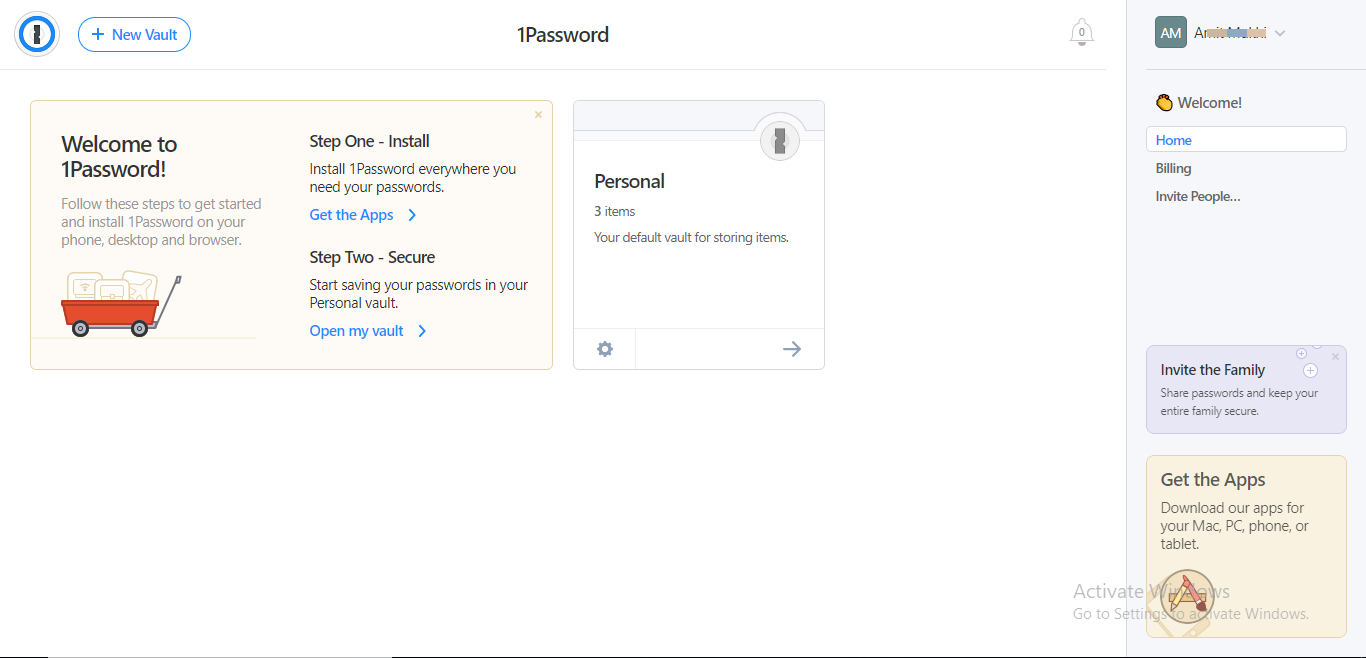 And once you've done that, you land on the actual interface that looks spanking clean.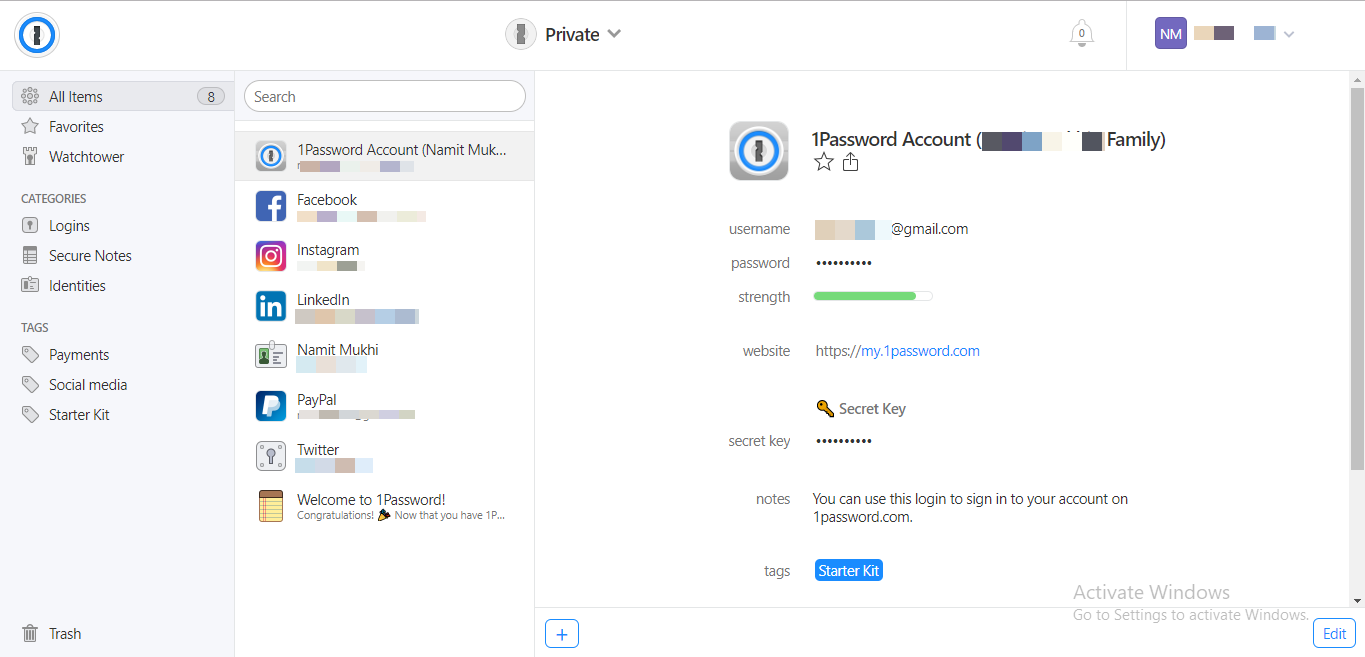 As usual, you have a sidebar on the left that helps you navigate to different functions. Just right next to it is another section that displays all the stored items of your vault. And the rest of the screen is blank space.
During my test, I just breezed through all the functions. For example, to save an item, just click the '+' button on the bottom of the screen and fill the details in the following wizard. That's it.
And after LastPass, 1Password is the only program that offers to store a variety of credentials like passwords, notes, card details, online identities, insurance cards, driving licenses, passports, and more.
Now, on the other hand, we have Dashlane, which is much more minimalistic than 1Password. Though it requires you to install the Dashlane app on your device.
As I've mentioned in my reviews, Dashlane has one of the most beautiful user-interfaces among all the password managers.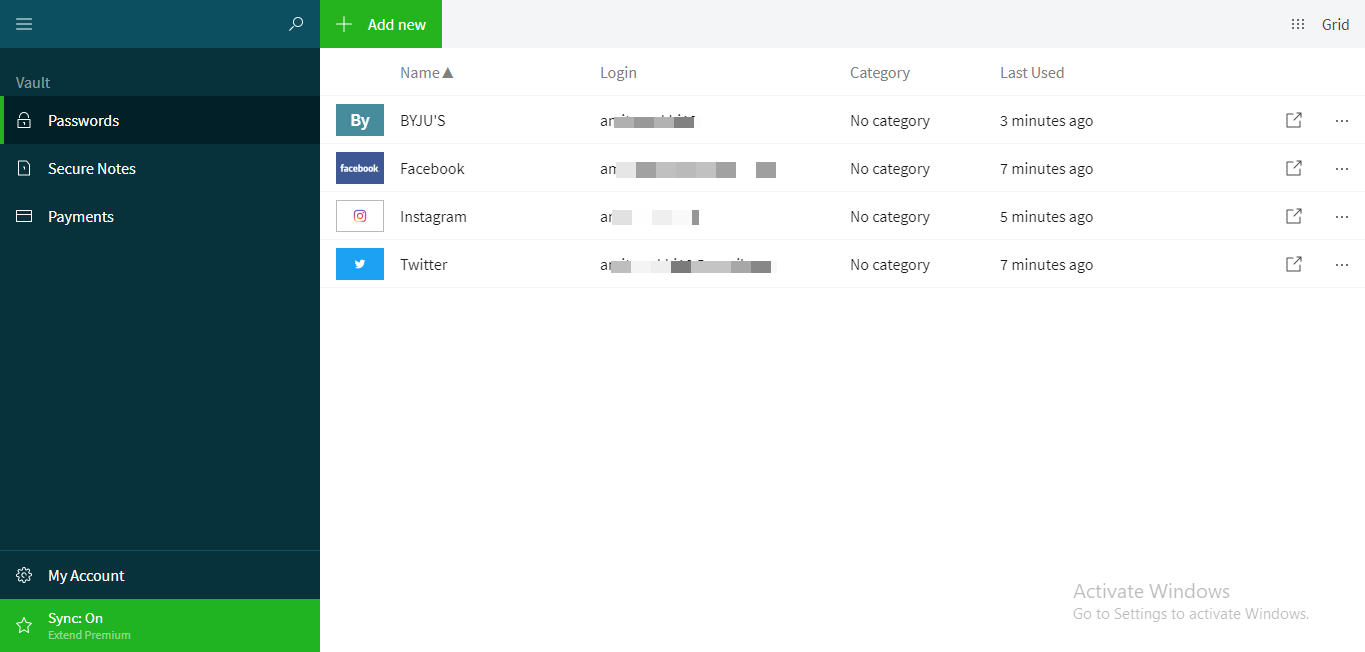 It features a typical navigation bar on the left with only 3-4 options listed on it. The rest of the screen is just white space with a light green 'Add New' button.
That makes the UI so well-defined that there's literally no room for confusion. And everything can be done with a click or two.
In a nutshell, you can't find a tool that is simpler than Dashlane.
However, you can't store a variety of details like you can on 1Password. Apart from login details, Dashlane can store only cards, notes, and addresses.
Winner: Dashlane
Dashlane is, hands down, one of the most novice-friendly tools out there. You might argue that 1Password can store a variety of details, but when it comes to user-friendly interface or ease of work, nothing can beat Dashlane.
2. Security arrangements
1Password and Dashlane are neck-to-neck in this section.
Both the tools use the latest 256-bit AES system to encrypt your data and allow you to enable two-factor authentication to protect your vault against intruders.
However, Dashlane goes a step further and also combine PBKDF2 encryption to derive the master password.
In contrast, 1Password has its own unique way to protect your account from unwanted authorization.
It generates a unique 'Secret Key' for every user who sign-up to the software. And every time you sign-in, you need to enter this long, weird string of letters and digits (along with the master password) to unlock your vault.
Top it up with two-factor authentication and your 1Password account is nearly impossible to hack.
Winner: 1Password
1Password has a slight edge over Dashlane in terms of security arrangements.
Though both the tools use the same encryption system and only have two-factor authentication, the 'Secret Key' method makes 1Password more compact.
But again, both the tools are secure and hacking-proof.
3. Password sharing and audit report
The ability to share passwords and audit the password database is the real difference between 1Password and Dashlane.
While one is just excellent in this section, the other one still needs some serious development.
To be precise, Dashlane is wayyyyy better than 1Password in terms of sharing passwords and auditing them.
The software allows you to share login credentials and notes directly via email, and the whole process is as easy as ABC.
Just select the item you want to share, punch in the email address of your fellow Dashlane user, and hit 'Share'. It's that simple!
Moreover, you get the power to decide whether the recipient can see the login credentials or not.
Similarly, Dashlane's audit report is one of the most reliable and comprehensive reports among all the tools.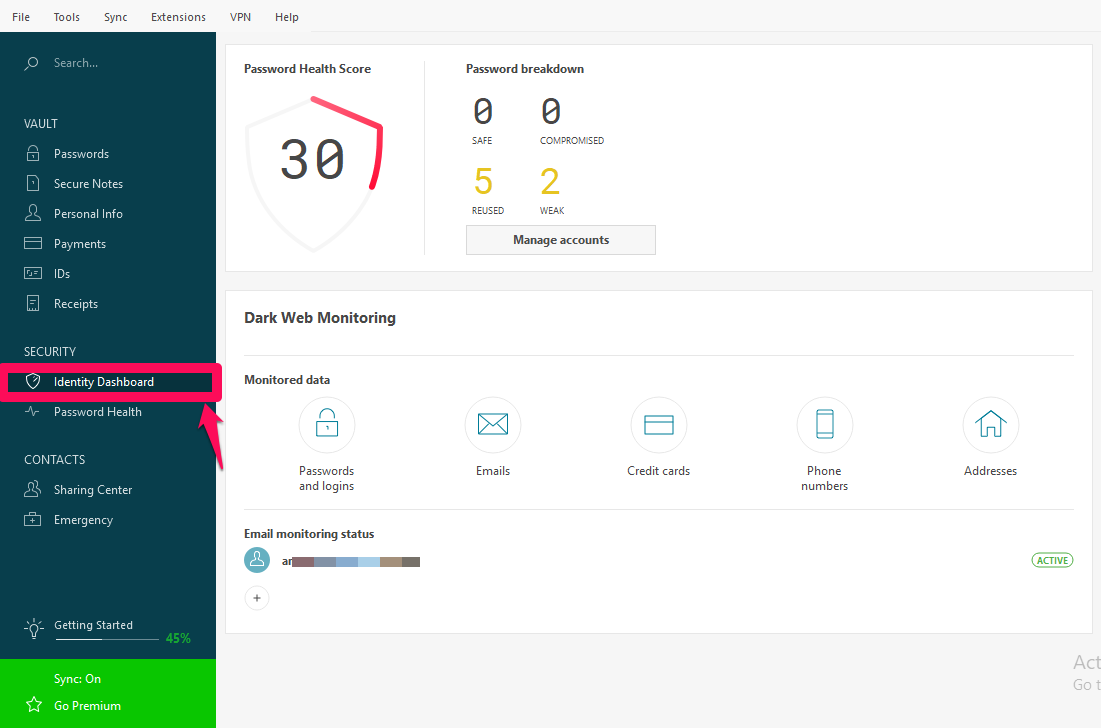 The rigorous evaluating system can not only spot the weak and duplicate passwords, but it also scans the dark web to see if your email address or other online accounts have ever been exposed.
In addition to this, you also get regular security alerts from the Dashlane team regarding any security breach.
What's more?
Premium membership of the software features a VPN that protects your identity from hackers and helps you surf the internet securely.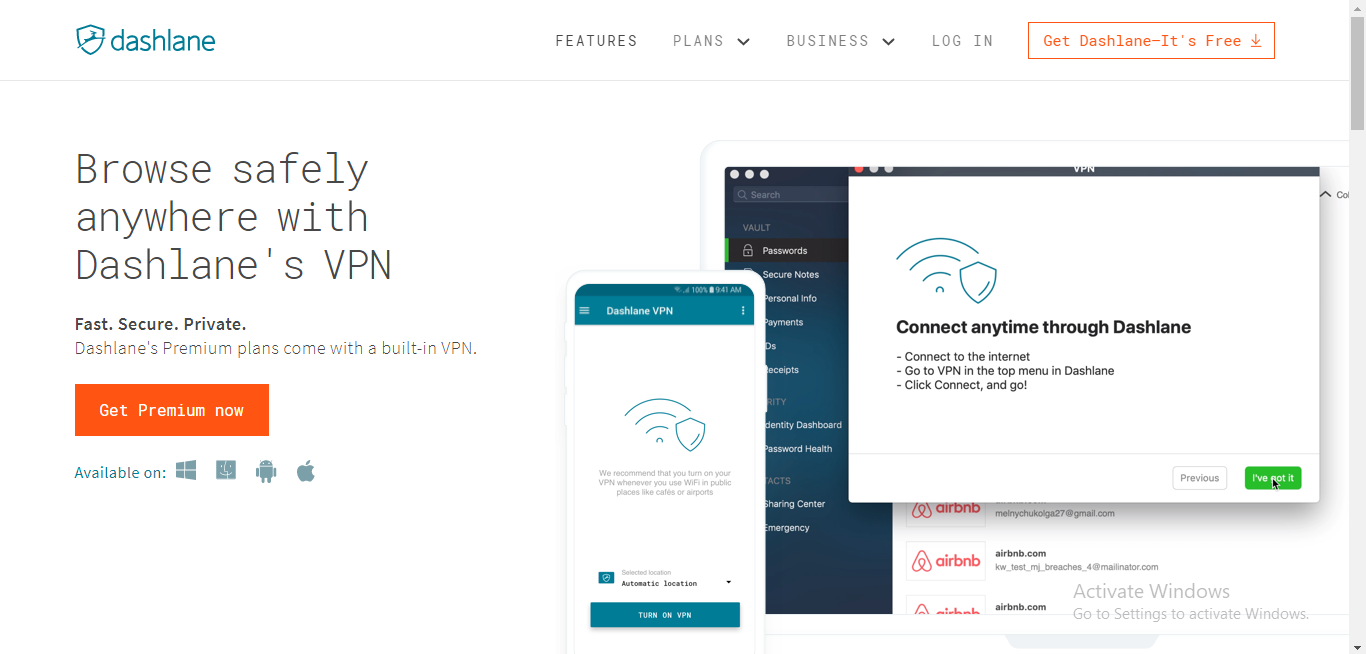 In short, Dashlane leaves no stone unturned to always keep you a step ahead of any sort of online threat.
But can we say the same thing for 1Password?
I don't think so.
First of all, the software doesn't have any secure sharing facility for its individual users. Only 'Family' or 'Business' members are allowed to create shared folders and add users to it.
As a result, 1Password is completely irrelevant for you if you're a freelancer or solopreneur who often exchange data with others.
Similarly, I am also not quite impressed with the 'Watchtower' aka password checking feature of the tool.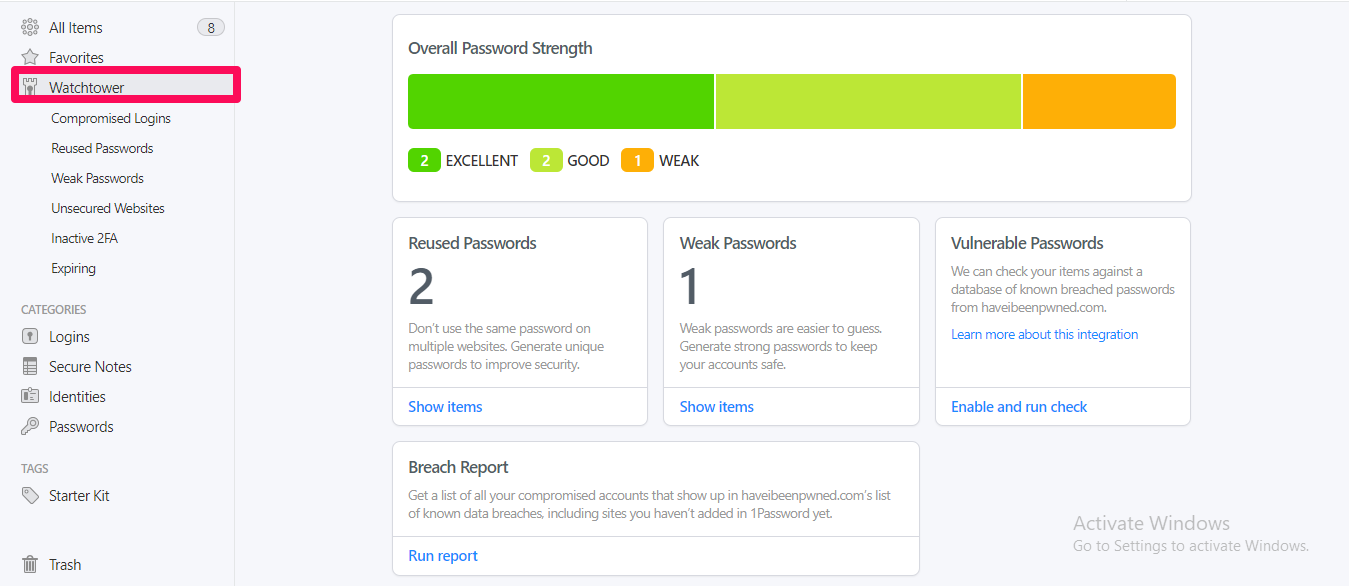 The lackluster password checking system is not at all reliable. During my test, it found that even the most ridiculous passwords like "!P@$$w0Rd##" was rated 'good' by the password checker.
Also, the audit report can highlight only the weak and duplicate passwords. It can't do more than that, and also the report is not as thorough as you see in Dashlane.
Winner: Dashlane
Dashlane is the clear winner here, and it blows 1Password out of the water. The software does a much better job sharing credentials and also returns a much thorough and reliable audit report.
4. Device compatibility and limitations
Device compatibility is not a problem at all with either of the programs.
Whether you're planning to use 1Password or Dashlane, they run smoothly on every device.

And thanks to auto-sync, which is enabled in both the tools, whatever you save in your vault is available on all your devices automatically.
However, both of them have several limitations on their free accounts.
As a free user of Dashlane, you can store no more than 50 passwords and use the software only on one device.
In fact, almost all the vital features like VPN, dark web monitoring, auto-sync, and password sharing is reserved for paid users.
But 1Password is worse than Dashlane.
Though you can try the software for 30 days for free, there are no free accounts available. And that is a complete disaster considering almost all the popular tools offer a free account.
Winner: Dashlane
Dashlane is the winner here simply because there's no comparison. 1Password doesn't have any free account for now.
5. Pricing
The monthly cost of both tools is more or less the same.
While Dashlane is a bit expensive at $39.99/year ($3.33/month), investing in 1Password can save you around $10 as it costs just $29.99/year ($2.49/month).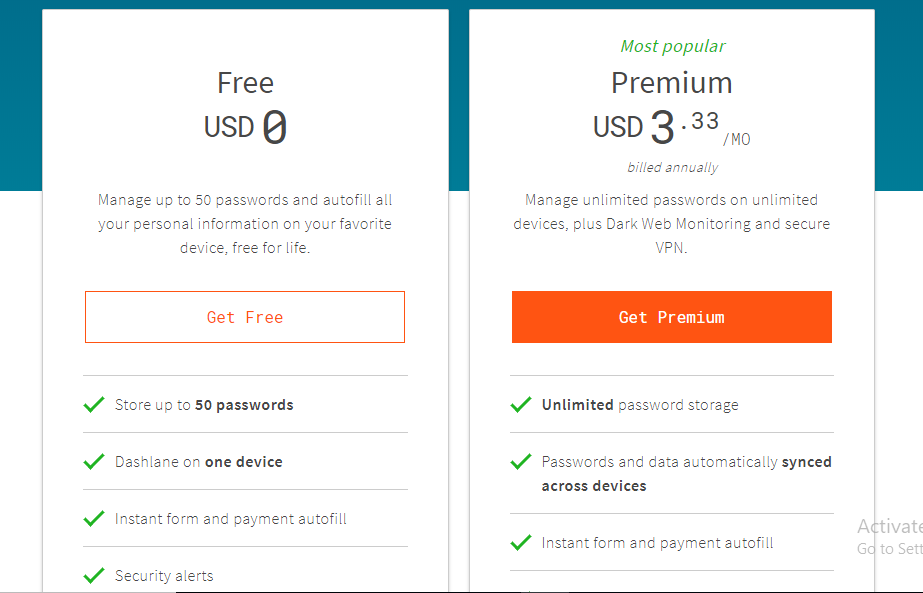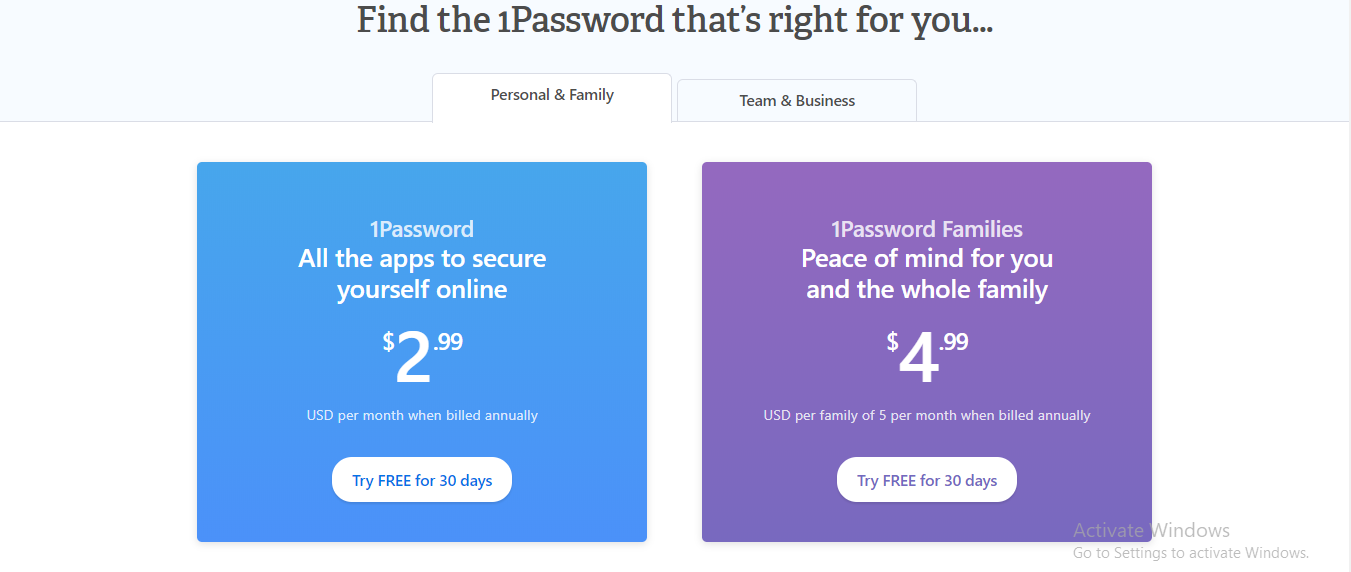 1Password also has separate plans for families and businesses.
The 'Families' plan sets you back $4.99 every month and covers five members of a family.
Similarly, their 'Team' plan starts from $3.99/month/user and cost up to $7.99/month for some advanced functions.

On the other hand, Dashlane serves only businesses and costs as much as the 'Team' plan of 1Password i.e., $4/month/user.

So, in short, there isn't much difference between the payment plans of both the programs.
Winner: 1Password
Just because the cost of the individual license is $10 cheaper than Dashlane's.
Final thoughts
After measuring both the tools head-to-head, it would be unfair to call one better than others.
Of course, there are particular areas where one gets the best out of the other. But it still depends on the user and his/her specific requirements which tool he/she wants.
So, depending on what you prefer…
If you're looking for a user-friendly software that features almost all the essential functions, then Dashlane should be your choice.
But if you need watertight security at a lower price and are okay with not having the facility to share passwords, then 1Password is perfect for you.