The total number of app downloads in 2021 was 230 billion according to Statista. That's projected to reach 258.2 billion by 2023.
Smartphone users alone use at least nine apps per day according to another report by App Annie.
However, while all these applications are supposed to make our lives easier, remembering the login details for each one is nearly impossible.
You could use one catch-all password for each site, but that makes your most sensitive data a sitting duck for hackers.
Enter password managers.
Password managers save and sync all your sensitive details like passwords, insurance cards, credit cards, etc. So, instead of remembering dozens of different passwords, all you need to remember is only one (for the password manager).
Now, there are several password managing tools out there in the market. Both open source and paid. Luckily, almost all of them come with free versions.
But which one should you go with at the end of the day?
Here, I've reviewed 5 different password managers to find out the best one for you. Let's get started.
Disclosure: Login Lockdown is reader-supported. We might earn a small commission if you purchase something through our site. Learn more
How to Find the Best Password Manager in 2022
Scroll to the right to view the detailed features to pick out the best password manager in 2022:
| PASSWORD MANAGER | ENCRYPTION STRENGTH | FORM CAPTURE | FORM AUTOFILL | SAVE SECURE DATA | SECURE SHARING FEATURE | TEAM PLANS | CLOUD OR LOCAL OR BOTH | OFFLINE ACCESSIBILITY | SYSTEM+INTERNET | SECURITY AUDIT | TWO-FACTOR AUTHENTICATION | MULTIFACTOR AUTHENTICATION | DEVICE COMPATIBILITY | PASSWORD GENERATOR | PRICE | USABILITY | RESPONSE TIME | OVERALL RATING |
| --- | --- | --- | --- | --- | --- | --- | --- | --- | --- | --- | --- | --- | --- | --- | --- | --- | --- | --- |
| LastPass | 256-bit AES | Yes | Yes | Yes | Yes | Yes | Local (not even LastPass has access to it | No | WiFi+Mobile Data+All prominent browsers | Yes | Yes | Yes (only with premium plans) | All Devices | Yes | Starts from $2/mo | Very smooth and easy to use | More than 24 hours | ★★★★★ |
| Dashlane | 256-bit AES | Yes | Yes | Yes | Yes | Yes | Local(if the user grant permission) | No | WiFi+Mobile Data+VPN+All prominent browsers | Yes | Yes | No | Almost all Devices | Yes | Starts from $3.33/mo | Easy to use | Within ten hours | ★★★★ |
| 1Password | 256-bit AES | Yes | Yes | Yes | Yes | Yes | Local | No | WiFi+Mobile Data+Chrome and FireFox browser only | Yes | Yes | Yes | Almost all the devices | Yes | Starts from $2.99/mo | Smooth and easy to use | within two hours | ★★★★ |
| Keeper | 256-bit AES | No | Yes | Yes | Yes | Yes | Both | No | WiFi+Mobile Data+Almost all the prominent browsers | Yes | Yes | Yes | Almost all the Devices | No | Starts from $2.5/mo | Easy to use | more than 24 hours | ★★★★ |
| Zoho Vault | 256-bit AES | No | Yes | Yes | Yes | Yes | Local | Yes | WiFi+Mobile Data+Almost all the prominent browsers | Yes | Yes | No | Almost all the Devices | Yes | Starts from $0.9/mo | Very simple interface and easy to use | more than 24 hours | ★★★ |
For me, a great password manager should be super-easy to use while protecting your data using the highest security technology. These platforms should also provide advanced features like multi-factor authentication, auto-fill, identity theft protection and easy sharing.
1. LastPass (Best Overall)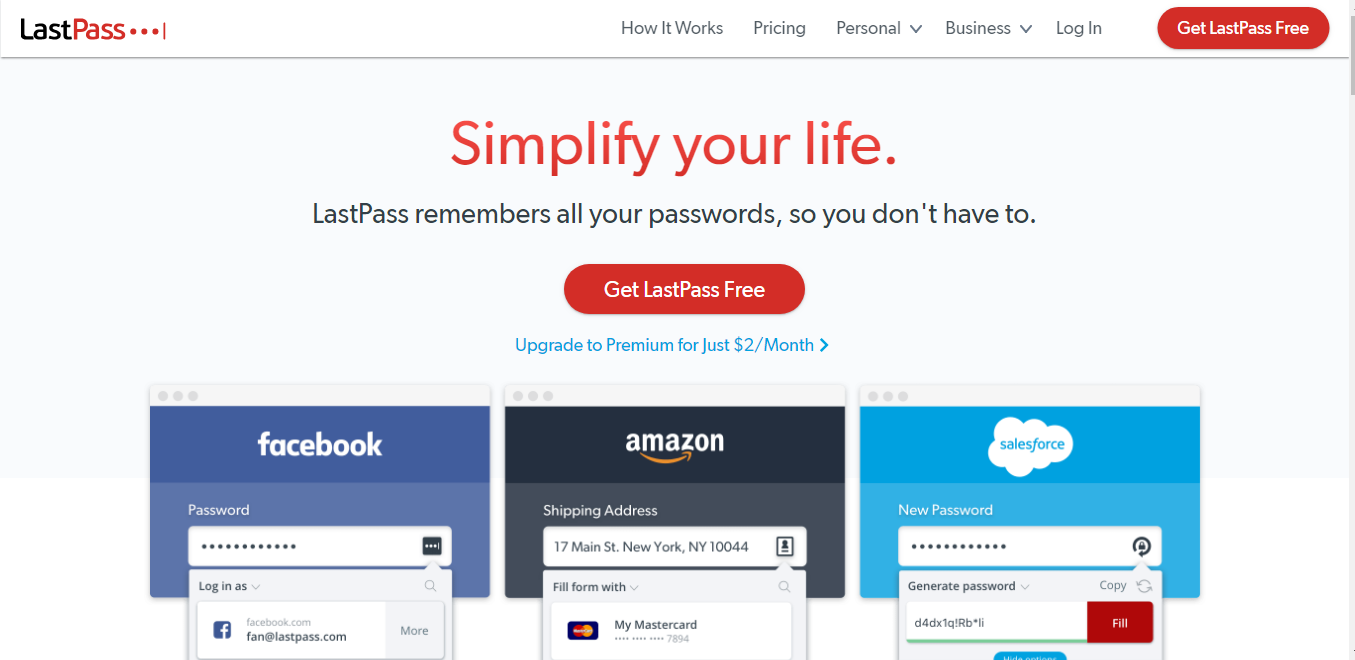 Simple and easy user interface
Form capture
Multifactor authentication
Strong password generator
Compatible with all devices and browsers
Audit report
Easy sharing with other users
Slow customer service
Outdated user interface
LastPass is trusted by more than 16 million users to remember all passwords and sensitive details such as credit cards, internet banking passwords, insurance cards, website memberships etc.). You can use it as secure storage for almost any digital information.
A simple user interface and robust set of features gives it a distinct edge over the other password saving platforms.
LastPass Pros
#1 Simple and easy user interface:
The LastPass dashboard is clean and easy to navigate. All the features are in the left pane and to store a password you simply click the "+" button in bottom right-hand corner.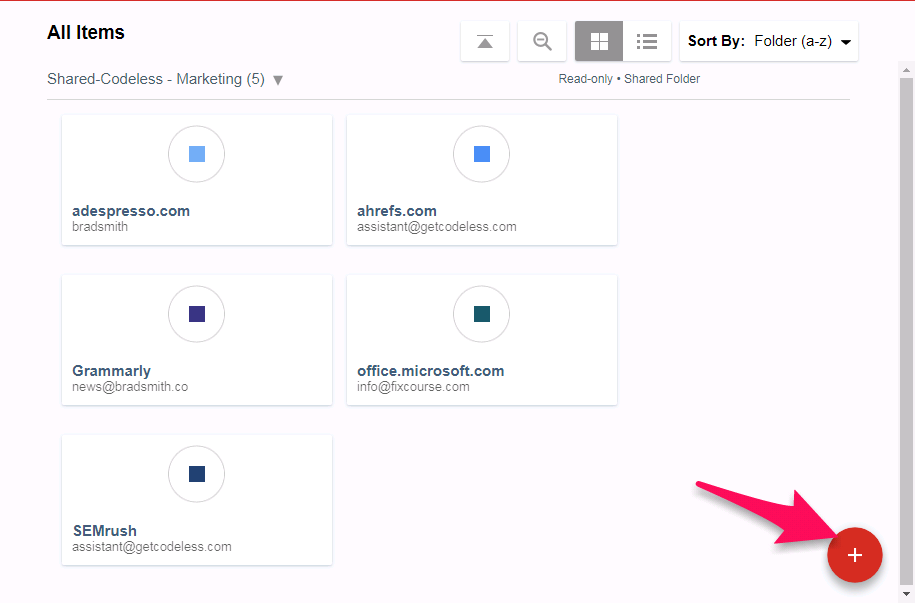 #2 Form Capture:
One of the few tools that offers this feature. LastPass will automatically fill out your details in forms and login pages. It also works for credit card details if you choose to add them. So you can securely load payment information at checkout time with one click.
#3 Multifactor authentication:
Two-step authentication is a standard for every password manager. However, multi-factor authentication adds an extra layer of security. Please keep in mind that only the LastPass Premium version offers this feature.

#4 Strong password generator:
The password generator automatically generates and suggests strong, random passwords that make it incredibly difficult for hackers to crack. You can select the number and type of characters so you can set a unique username and password for every single site you use online.
#5 Compatible with all devices and browsers:
LastPass works with all devices, with an app available for Mac, Windows, Android, iOS, and even Linux.
On mobile, you can enable an extra security feature, so that every login on a new device sends a verification email to your registered email ID and asks you to verify your new location. You can also use Face ID or fingerprint scanner to access secure passwords.
#6 Audit report:
LastPass can provide an audit report, showing your security score and master password score (for how strong your passwords are). You can also run this report across family members or colleagues on the business plan to make sure they're also doing everything possible to avoid identify theft.
#7 Easy sharing with other users:
LastPass's Premium Version lets you share folders and passwords with other users with just a few simple clicks. This is a huge time saver for businesses and those who need to collaborate on projects using the same login.
LastPass Cons
#Slow Customer Service:
LastPass does suffer from rather slow customer support, even if you have the premium version. Most requests took around ~24+ hours to get a response.
#2 Doesn't offer VPN:
Some competitors offer a VPN for working on a public network, however, LastPass does not offer this service.
LastPass Plans
LastPass offers a free version with limited features, while premium plans start from as low as $2/month (billed annually.)
Do I recommend LastPass?
LastPass provides a perfect combination of multiple features, the ability to securely store all types of information like a username and password, or even credit card data. It lacks some extra identity theft features that Dashlane does (see below), but it's also a lot cheaper at the end of the day, too. And better for families or teams sharing access to different online sites.
Read the full LastPass review.
2. Dashlane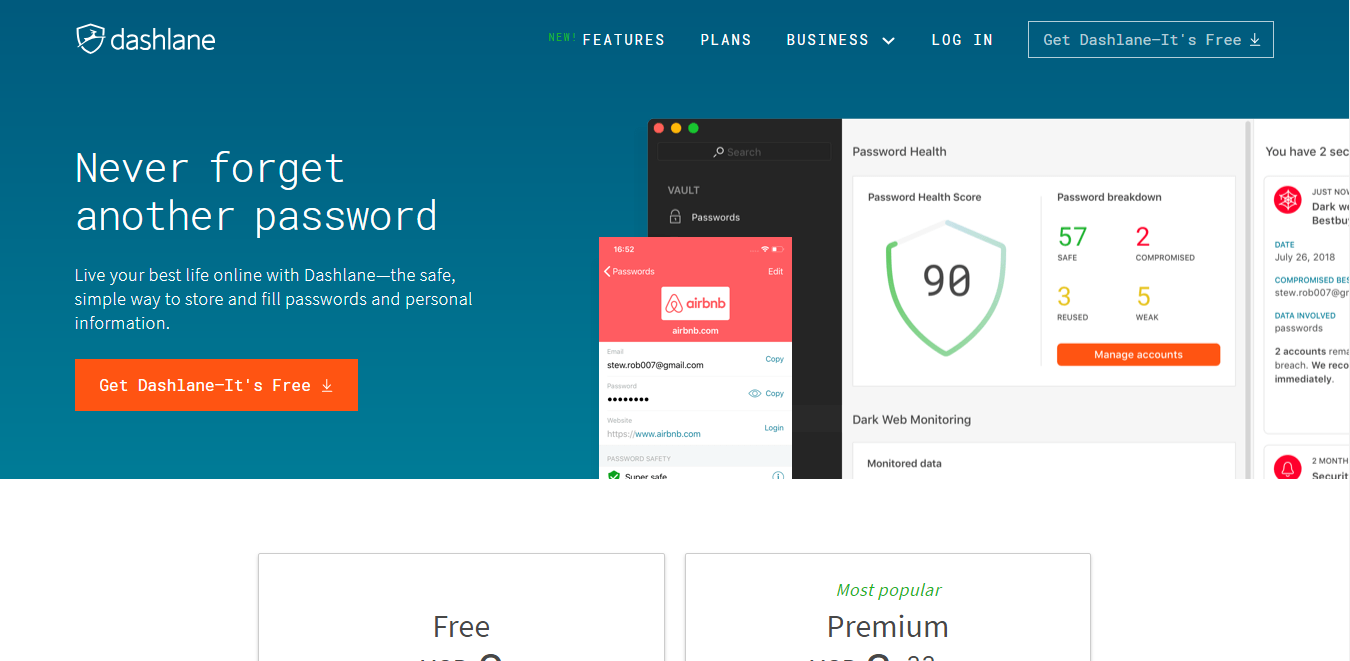 Dashlane
Best Premium Security
Simple, Intuitive Interface
Industry-Standard Security Protocol
Strong Password Generator
Multiple Forms of Secure Data
Compatible with All Devices
Extensive Password Audits
Increased Privacy with a Dedicated VPN
A Little Expensive
A Little Expensive
Inconsistent Browser Form Autofill
Dashlane is one of the most popular password managers because it offers almost the same number of bells and whistles as LastPass. They even throw in an few 'extras' that LastPass doesn't provide, like a VPN and identity theft protection.

Dashlane Pros
#1 Easy user interface:
Dashlane offers a clean, simple and easy-to-navigate dashboard that's quite similar to LastPass.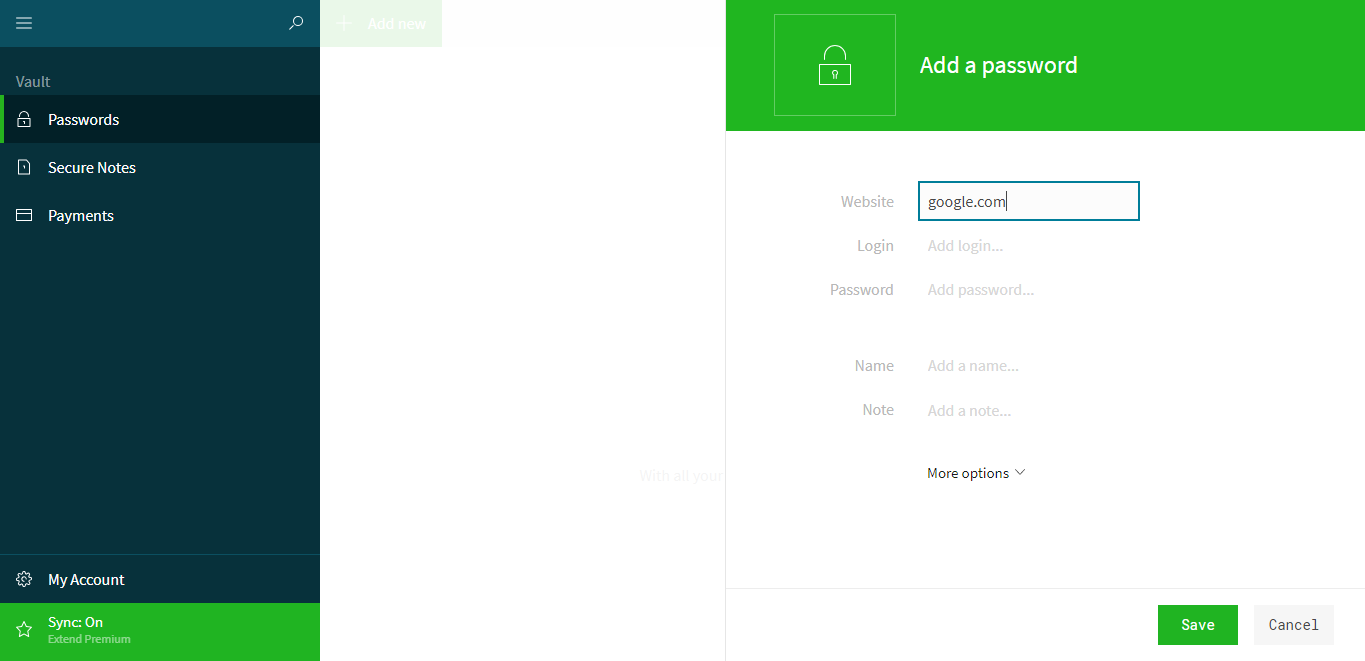 #2 Password generator tool:
Dashlane offers a password generator tool that produces hack-proof passwords for securely storing all of your accounts.
#3 Compatible with all the devices:
Dashlane syncs across Chrome, Safari, Edge, FireFox and works on PC, Mac and Linux platforms. So there's a Dashlane app available for almost every device you need.
#4 Audit reports:
Dashlane's offers a comprehensive 'Identity Dashboard,' giving you an overall 'Password Health Score'. While it's not an actual dark web scanner, it does offer 'Dark Web Monitoring' to check if any passwords, logins, emails, credit cards and phone numbers are found.
#5 Great customer support:
Dashlane customer support offers excellent and reasonably quick support for general questions about their product.
#6 A dedicated VPN for public WiFi:
When using a Wi-Fi network, Dashlane provides a dedicated VPN to its users which they can use to protect their data from potential hackers while browsing on a public Wi-Fi connection or Internet Explorer (that isn't all that secure at the end of the day).
Dashlane is the ONLY tool that login and secure password tool that offers this VPN service. Keep in mind, that it's only available to premium users.
#7 Bonus — Identity Theft Protection:

What is the whole point of protecting usernames and passwords in the first place? It's to keep your private information, like credit card numbers and emergency contacts secure. Dashlane adds a bonus tool to help protect you from identify theft, scanning online sources to make sure your sensitive data or emergency contacts fall into the wrong hands.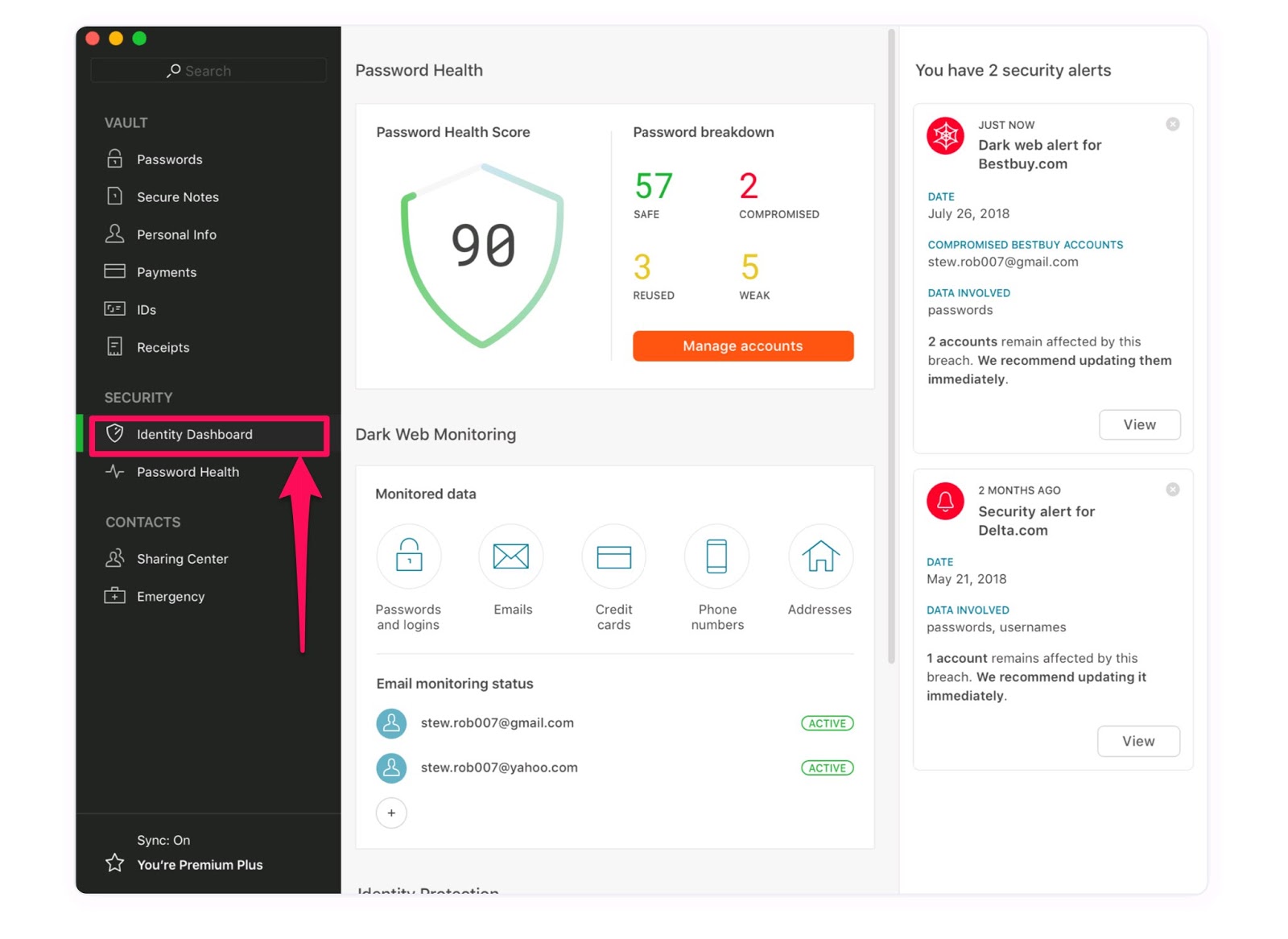 Dashlane Cons
#1 Most expensive:
Dashlane has a free version with limited features, and the premium services starts from $3.99/mo on the low end (when paid annually).
#2 No multifactor authentication:
There is no 'multifactor authentication' feature as part of the software. Dashlane only offers the 2 step verification to the users.
#3 The autofill feature stops working sometimes:
Often the autofill feature doesn't fill the login forms despite the information being stored in your vault. So some bug fixes are required here.
Dashlane Plans
Dashlane is one of the most expensive password manager tools available. The free plan offers multiple features, while the premium plans start from $3.99/month when billed annually.
Do I recommend using Dashlane?
The number of features it offers to the users, its clean dashboard, plus the inclusion of a dedicated VPN make Dashlane worth the amount it charges. (If you want and need those extra bells and whistles.) Unfortunately, the sharing across family members and teams isn't as good, however. So Dashlane is better for individual, not group, use.
Read the full Dashlane review.
3. 1Password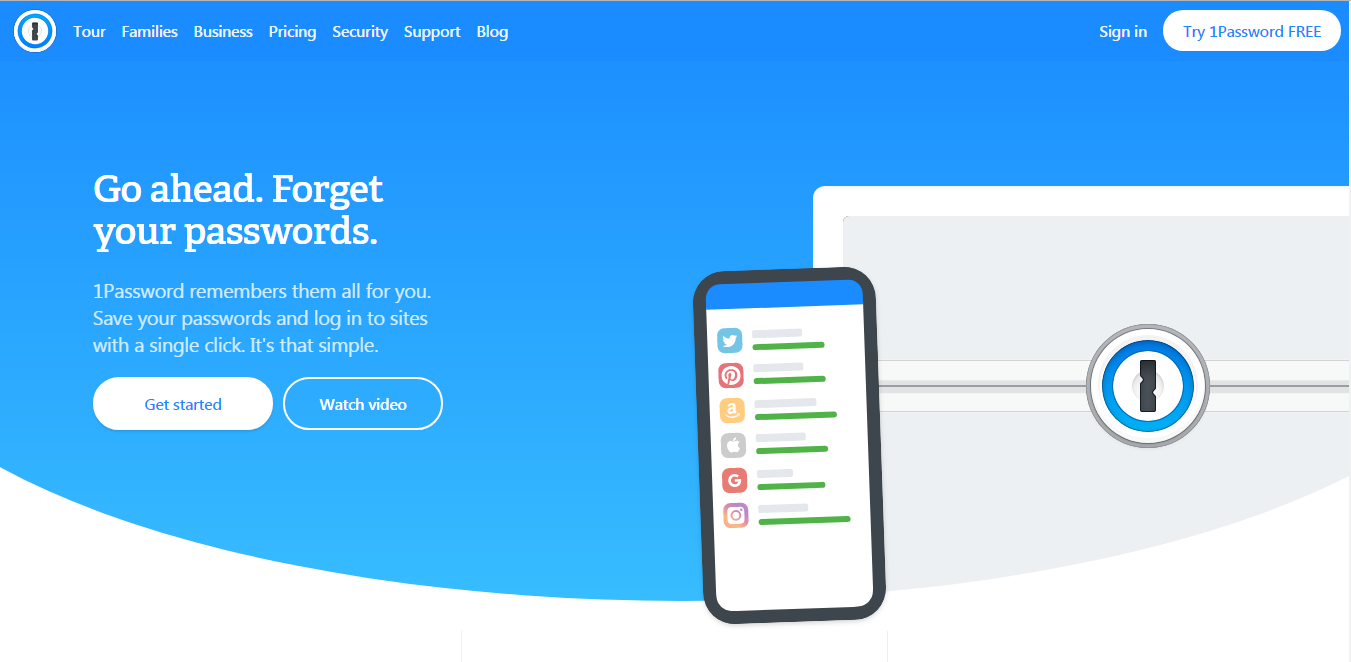 Secure Login Mechanism
Wide Variety of Browser Extensions
Seamless Form Capture Feature
Comprehensive Password Audit
Multiple Templates for Secure Information
Helpful Customer Support
Poor User Experience
Login Issues with Your 'Secret Key'
1Password has more than 15 million users as bills itself the second most popular password security tool.
1Password Pros
#1 Form capture feature:
1Password's form capture feature is exceptional. During your first login to any site, 1Password shows this pop-up window where you can save all the details and then save for future use.
#2 The safest login:
When you login to your 1Password account, along with your email and password, it asks for a 'secret key.' This is a unique key that you generate when you first sign up for 1Password, making it the most difficult tool to crack.
#3 Brilliant customer support:
When it comes to customer support, 1Password is the best in the business. The support forum works 24/7 and is the fastest way to get the solution to your problem.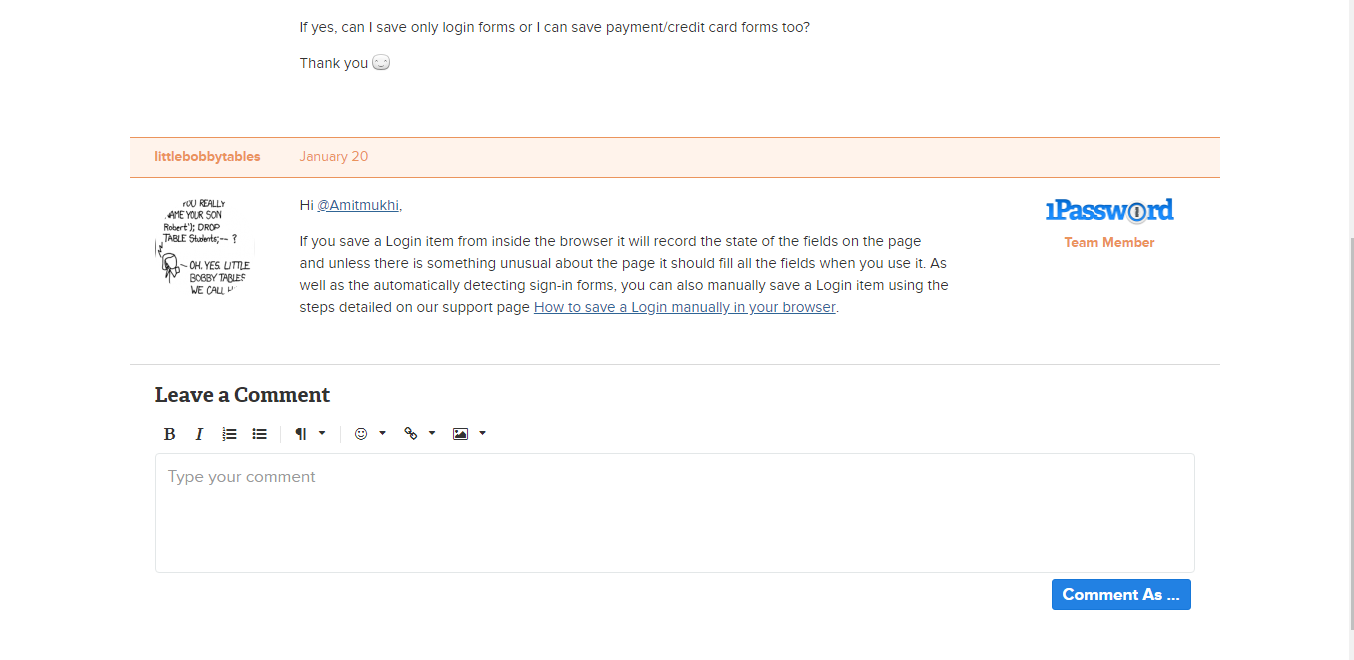 #4 Compatible with all devices:
1Password has apps for both iOS and Android and works smoothly with Mac, Windows, Linux. It supports the Chrome, Safari, FireFox and Opera browsers.
1Password Cons
#1 Complicated user interface:
1Password's user interface is quite complicated and a new user may struggle to get their head around all the basic features.
#2 Issues signing in to the vault:
The 'secret key' feature of 1Password makes it safer, but also makes it more complicated to access accounts. 1Password supposedly generates a secret key when you first sign up but that doesn't always seem to work effectively. It seems like there needs to be a few bug fixes before we can recommend 1Password above LastPass or Dashlane.
1Password Plans
1Password offers multiple plans for individuals, families, and businesses and is one of the best value password managers.
There is no free version offered, and the lowest cost plan starts from $2.99/mo (billed annually). Premium plans have a 30 days free trial with no credit card required.
Do I recommend 1Password?
Overall, 1Password is a good password storage tool with excellent customer support, however the interface is overly complex.
Read the full 1Password review.
4. Keeper Password Manager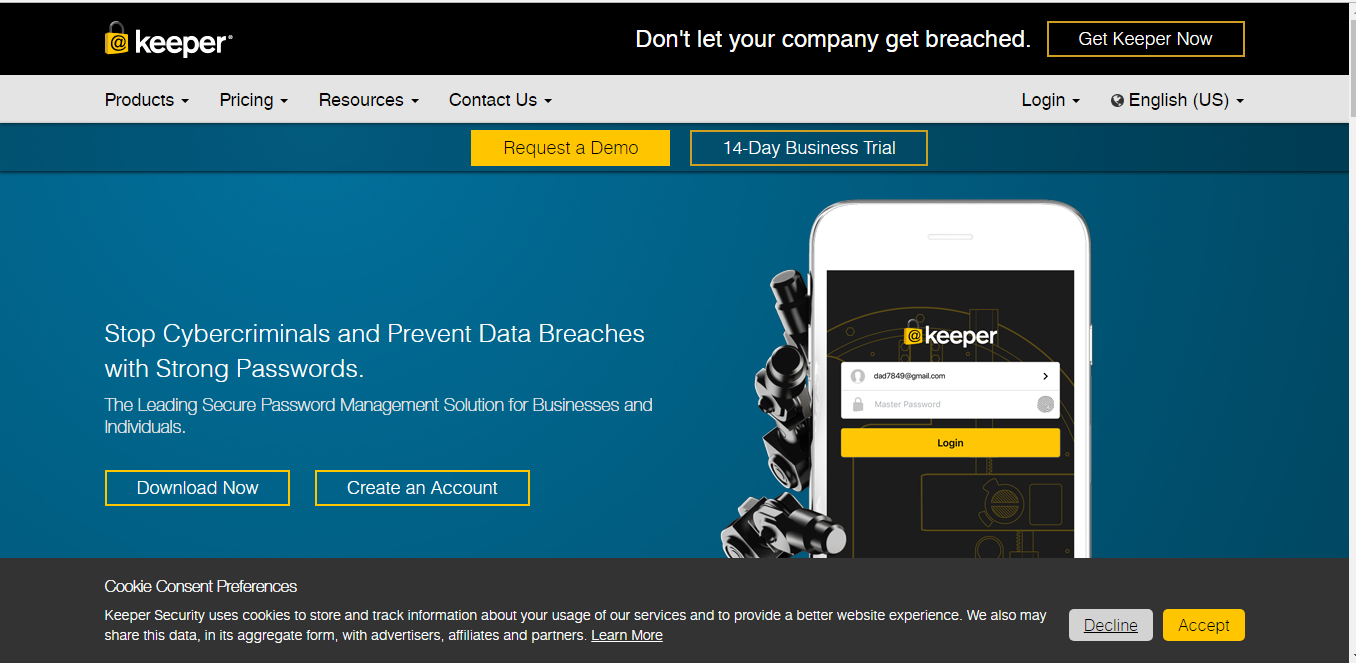 Military-Grade Encryption for Usernames and Passwords
Easy-to-Navigate UI with Password Generator and Security Audit
Easy Password Sharing with Keeper Chat
Export Your Login Credentials in Seconds
Available Across Desktops, Mobile Apps, and Web Browsers
No Free Plans
Slow Customer Support
Account Access Issues
Keeper Password Manager (aka Keeper Security) is a cloud-based vault that syncs all your data safe by using multiple layers of encryption. Like the other platforms listed here, it will also automatically save your username and password for every site across Mac or Windows products.
Keeper Pros
#1 Has one of the strongest encryption technology:
Keeper offers 256-bit AES encryption with PBKDF2 encryption to make it impossible for anyone to break into your account (unless they can access your master password).
It is a cloud-based vault only storing the encrypted data of users, and the decryption happens in the user's device.
#2 Easy-to-navigate UI:
Keeper has a very simple dashboard making it easy to save your passwords.
#3 Keeper Chat:
Keeper also has a sharing feature where you can share a folder or password with other people on your team.
Similar to a built-in WhatsApp or Messenger, 'Keeper Chat' feature that lets you chat with all the users in your group in real time.
#4 Export all your data:
Keeper doesn't 0ffer an offline feature mode, but it does let you export all your data in a PDF or .CSV file.
#5 Available in all devices:
Keeper security is compatible with all devices and the latest browsers like Chrome, Safari, Edge and FireFox.
Keeper Cons
#1 No free plans:
Keeper Security lacks a free plan, and offers three paid options: Individual, Team and Business. Starting from $2.50/mo when billed annually (yes, it offers a free trial of their premium products but only for 14 days).
#2 Slow Customer Support:
The customer service is not as responsive as other competitors like 1Password or Dashlane. Keeper took almost 30 hours to to offer answers to questions.
#3 Issues signing in:
The tool has shown some errors when signing in, and also locks accounts forcing the user to generate a new password.
Keeper Plans
Since Keeper doesn't offer any free plans to its users, the lowest cost premium package starts at $2.50/month (billed annually.)
Do I recommend Keeper Password Manager?
When it comes to cloud-based, encrypted password managers, Keeper definitely could be a good bet for the price point.
Read the full Keeper Password Manager review.
5. Zoho Vault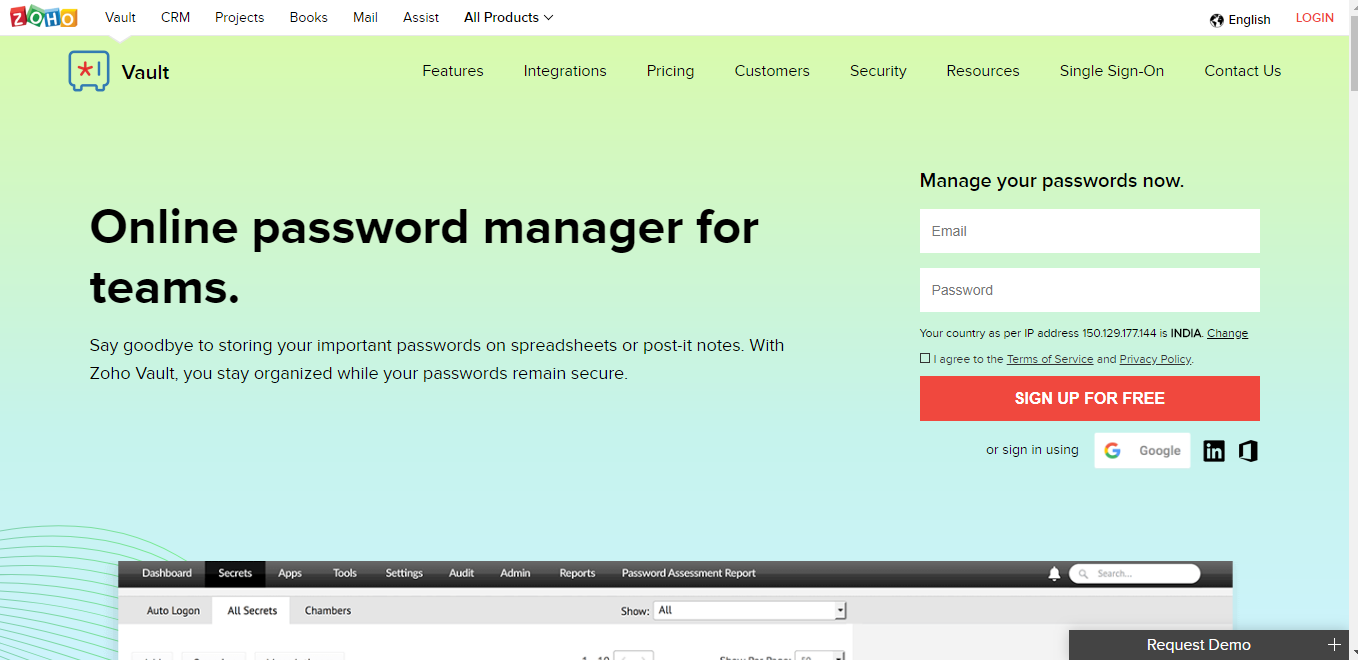 Integrates with many productivity apps
User-friendly dashboard
Offline availability
Mobile App
No multifactor authentication
Slow Customer Support
No form-fill
No built-in Password Generator
Zoho Vault is a subsidiary Zoho Corporation that keeps your passwords and other private data safe from piracy.
Zoho Vault Pros
#1 Integrates with many productivity apps:
Zoho Vault can be easily integrated with many popular apps like Zendesk, Google Suites, Microsoft office-365, Azure, Lucidcharts, etc.
For paid subscribers, it provides 'single sign-on' for all these cloud apps, allowing you to directly launch these apps from your Zoho vault with a single click.
#2 User-friendly dashboard:
Zoho Vault provides a video demo under the 'Dashboard' to show you how to find and use the basic features of the tool.
The layout is clean with plenty of white space, making it easy to navigate.
#3 Offline availability:
Zoho Vault is the only tool that lets it users access their passwords offline, download all saved data in encrypted HTML format and be seen in any browser.
Zoho Vault Cons
#1 No multifactor authentication:
Zoho does offer a two-factor authentication to its users, unlike its competitors, it doesn't offer any multifactor authentication which is more secure than the former one.
#2 Slow Customer Support:
The customer support is little slow in answering even when the 'Emergency' option is selected.
#3 No form-fill:
You can save and autofill passwords only on websites, but not payment details, address details, etc.
Zoho Vault Plans
Zoho four plans – Free Forever, Standard, Professional and Enterprise. The Standard subscription starts from $0.90/mo (billed annually) which is very good value for money.
Do I recommend Zoho Vault?
If you're looking for a basic password manager the Free Forever plan of Zoho is a great option.
For a more sophisticated password manager or to collaborate with a team, it might be wiser to spend your money on something like LastPass or Dashlane.
Read the full Zoho Vault review.
Frequently Asked Questions About the Best Password Manager
Are Password Managers Safe?
Answer: The short answer is "Yes." The best password managers all have one thing in common: 256-bit AES encryption.
What does that mean in plain English? It means that the technology is virtually hack-proof. No known super computers have been able to crack this level of encryption.
Now, why would your password manager NOT be safe? If you use the same, weak password for every site!
Thankfully, the best password managers also feature password generators so you can securely store your sensitive data.
Which Password Manager is Easiest to Use?
LastPass and Dashlane tend to be the easiest password managers to use. 1Password is pretty good, Keeper and Zoho are close behind. Most of the other ~35 password managers were pretty good to be honest. But LastPass and Dashlane seemed like the most intuitive.
What is the Best Password Manager for iPhone?
The best iPhone password managers are the best ones we've reviewed: LastPass, Dashlane, and 1Password. Each app is intuitive, using the latest iPhone technology like Face ID and fingerprint scanner. And these apps are included on all pricing plans. You can read our detailed guide to the best password manager for iOS for an in-depth review.
Is 1Password better than LastPass?
Not really, but it depends. LastPass actually outperforms 1Password when you compare feature to feature. It's also better for sharing across teams and families. LastPass premium versions are also a little cheaper, too. Read our in-depth guide on LastPass vs. 1Password for more information.
Conclusion: Which Password Manager is Best?

After analyzing all the five tools, you'll notice that more than many of the same features keep popping up.
Most of them are equipped with best-in-class 256-bit AES encryption. All of them claim to be zero-technical-knowledge-required tools, all of them have autofill, the ability to generate strong passwords, mobile fingerprint, audit report features, and loads more.
But the quality is what makes tools like LastPass and Dashlane a better option than their counterparts.
So if you've tons of confidential data to save and you're quite serious about it then I'd recommend spending a couple of bucks every month on tools like LastPass and Dashlane.
Otherwise, if you're just an average user who wants to save a few passwords while working from your home office, feel free to use a cheap/free option like Zoho or Keeper. And, if you're looking for a password manager and a VPN all in one, it's worth taking a look at a VPN with a password manager included, such as UltraVPN.