Trend Micro is a beautiful looking password manager, which is designed only for individual users.
This program falls under the category of standard password managers (like Sticky Password) that can do all the essential work but still far from perfect.
Even though there isn't anything unique about this tool, I was pretty happy with its performance. You won't face any lag or crash while working on the software, and it points out all the weak passwords right on the main interface. That makes them easy to rectify.
Similarly, the auto-fill and form capture feature is quick and responsive, and it never fails to miss anything while filling forms or other details.
But having said that, there are a few areas where it still needs development to take tools like LastPass, and Dashlane heads on.
Take a look at the following sections to know more about what these areas are and where Trend Micro hits the bullseye.
Our Verdict
Do I recommend Trend Micro Password Manager? Though I had a great experience with this software while testing it, I would still say no.
Trend Micro Password Manager
Simple and easy to use
Responsive auto-fill feature
Built-in password strength checker
Works smoothly on all four operating systems
No password sharing
Doesn't mention what type of encryption they use
Not available offline
Trend Micro Password Manager Pros
#1. You need to follow the same traditional route to get started with Trend Micro.
Download the app, create your account, set a master password, add the browser extension, and boom! Ready to play.
Now, before you start storing your data, there's a small twist in this story.
Trend Micro is one of those rare tools that work straight on the web. I still don't know why they ask you to install the desktop app.
Because as you open the desktop app and enter your master password, it redirects you to your web account.
There, you see a beautiful, spanking clean interface with a small video tutorial in the middle.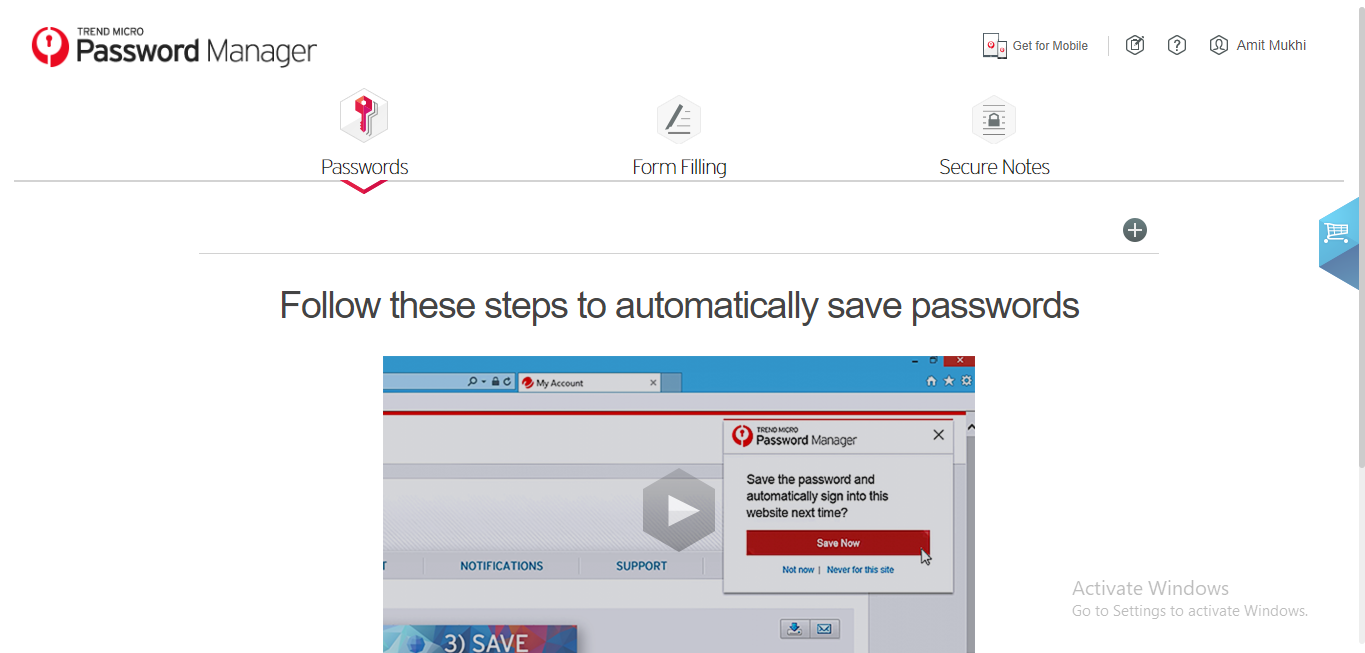 Though you will never need the help of this tutorial, one can still watch it to get familiar with the program.
Apart from that, there are three different sections – Passwords, Forms, and Secure Notes – to store various information.
Now, a couple of clicks here and there, and your job is done. For example, to save a password, click on the '+' button.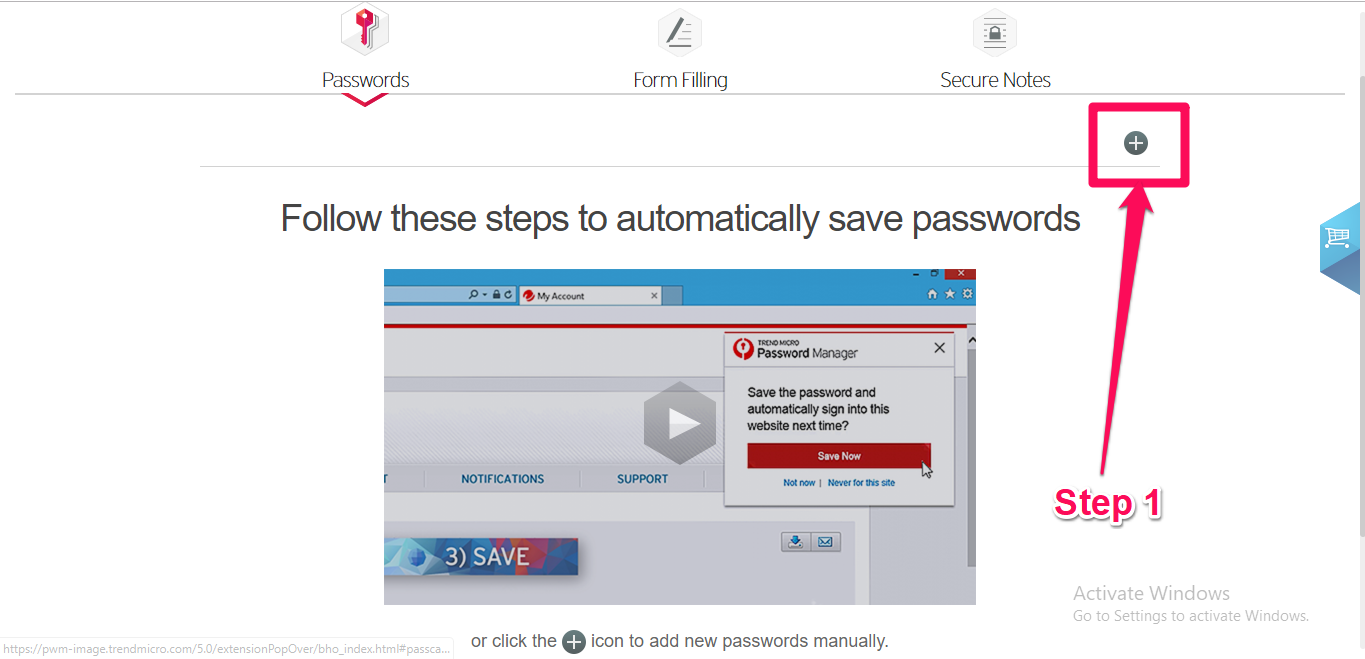 Fill in the details in the next wizard and click 'Save'. That's it!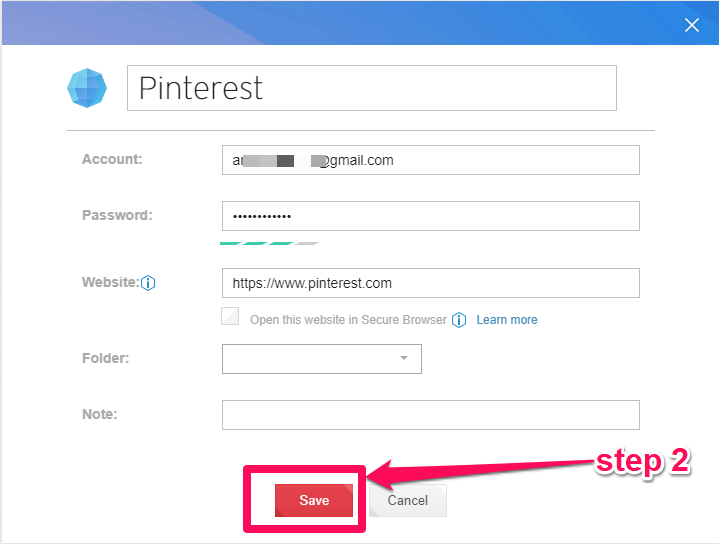 Similarly, you can store your personal details, jump to the 'Forms' section, choose the right option, and fill your info.
#2. As I mentioned in the beginning, I was quite impressed with the responsiveness of the auto-fill feature of the tool.
Once you've saved your credentials, visit the site, and it pops-up the login assistant in no time.

Similarly, it filled all the fields accurately when I used it on Amazon.
However, the developers could have done a better job with the password generator because it's not automatic.
You'll have to click on the browser extension and select the password generator to create a password while signing up for a website.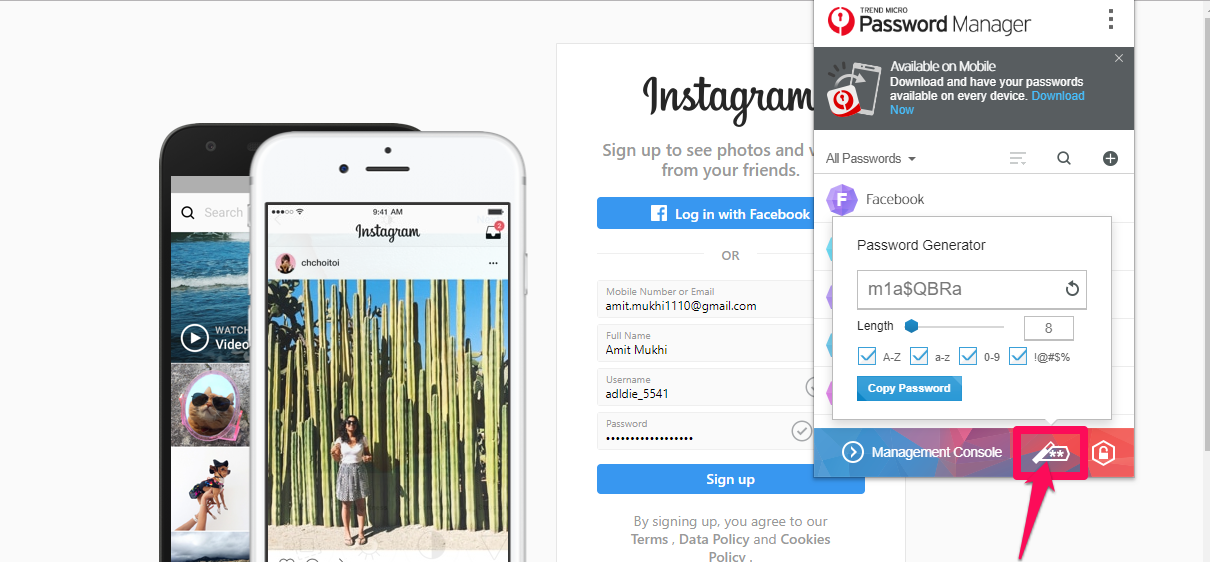 #3. Trend Micro has a built-in system that automatically evaluates the strength of your passwords.
And it spots out all the weak and moderate passwords right on the interface so that you can see them every time you log in to your account.
However, it can't catch repeated entries, and the password strength checker is also lax. You can't fully rely on it because it marked even a moderate ten-digit password 'good'.
#4. I tested Trend Micro on all four operating systems, and it worked smoothly on every device.
So, it doesn't matter whether you use a computer running on Windows or Mac, or an Android/iOS smartphone, Trend Micro will not disappoint you.
Also, you can use the cloud sync to store your data across all the devices you own.
Trend Micro Password Manager Cons
#1. Now here are the areas where Trend Micro needs to work pretty hard, and hopefully, we could see some positive changes in its upcoming versions.
At this moment, Trend Micro doesn't allow you to share your data with other users. And because of this, they're missing a large chunk of users.
Right now, it's completely irrelevant for families and companies.
#2. Unlike most of the programs, Trend Micro doesn't mention what type of encryption they use to encrypt your data. Whether it's AES 256-bit or PBKDF2 or something else?
Moreover, I'm also not sure whether this tool has two factor and multi-factor authentication available. Because neither it mentions on its website, nor I saw it inside the tool.
#3. You can't use the software while offline.
Trend Micro Password Manager pricing plans and payment methods
Trend Micro has a straightforward pricing policy.
If you buy the paid license for a single year, the total cost will be $14.95.

On the other hand, a two-year membership saves you some bucks and set you back for just $24.95. And you can use your credit card or PayPal to complete the order

Now, you might ask: what about the free trial?
Well, yes, there's a free version available. But eventually, you'll have to upgrade as it doesn't allow you to store more than five entries.
Do I recommend Trend Micro Password Manager?
Though I had a great experience with this software while testing it, I would still say no.
Why?
Because (1) it has some significant flaws with the software that I mentioned in the 'Cons' section. And (2) there are better options available in the form of Zoho Vault and LastPass that offer more than Trend Micro.