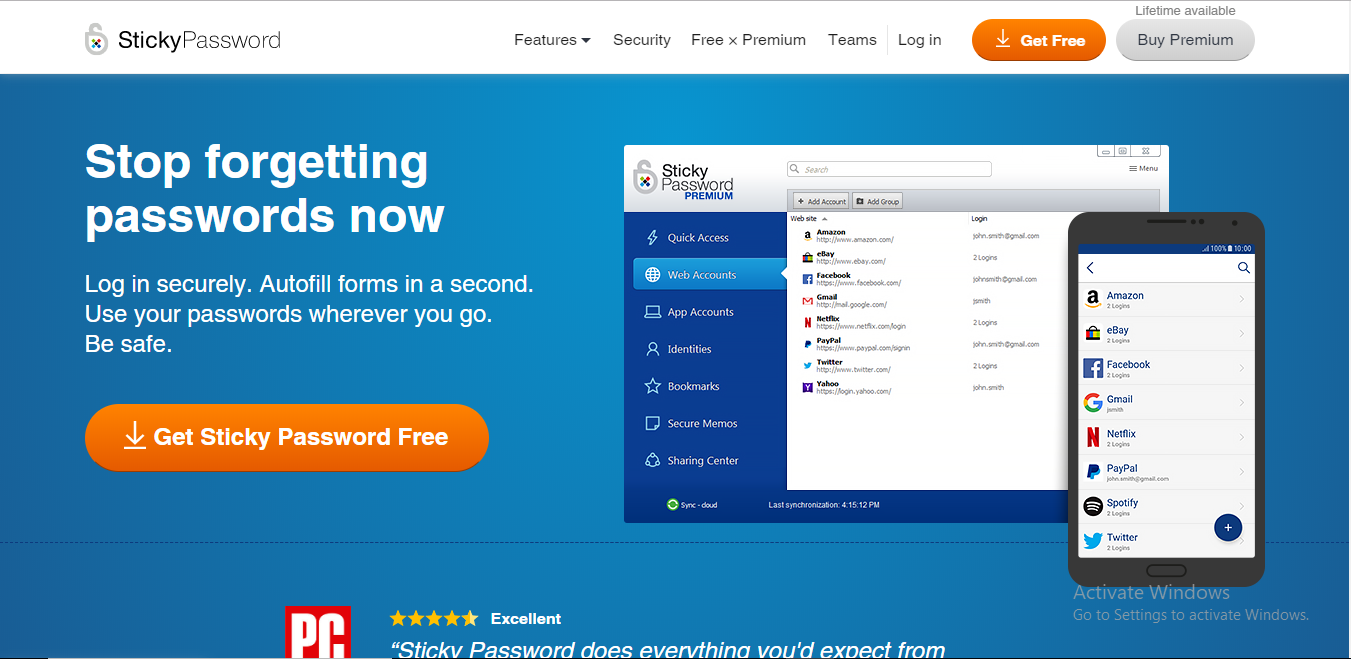 In essence, Sticky Password Premium is like a crossbreed of LastPass and Dashlane. It is a perfect combo of power, performance, and simplicity at a price even a third-grader can afford.
Talking about the features, Sticky Password Premium checks almost all the boxes for a password manager.
The Sticky Password manager software encrypts all your data using the industry-standard AES-256 encryption and uses two-factor authentication to solidify the security further.
But what places them ahead of their competitors is the biometric authentication that you usually don't find in other secure password managers. (more about it in the 'Pros' section)
This compact security, combined with a robust set of features makes the Sticky Password manager an ideal choice for any user or company.
However, there's still a big, fat dent on its hood that stops it from getting that 'perfect' badge. It fails to supply any audit report of your passwords, which might make your data vulnerable to cyber attacks at times.
And it's a big disappointment from a tool that goes above and beyond in all the other aspects.
Having said that, I'm still a big fan of Sticky Password, and I'm sure, after going through its benefits, you too will become one.
In this Sticky Password Premium review, we'll take a look at the pros and cons of this password manager tool.
Our Verdict
I definitely recommend Sticky Password Premium to everyone from individuals to company owners.
Straightforward nature
2 two factor authentication and industry-standard AES-256 encryption
Password checker and generator
Password sharing and cloud or WiFi synchronization
Supports around 11 browsers
Portability
Sticky Password Premium Pros
#1. The straightforward nature of Sticky Password is a big plus point for it because its simple interface explains it all. You can access the password manager through mobile devices on Android and iOS, as well as desktop apps for Windows and Mac.
You can simply click "Add Account" within the interface and select whether you want to store a web or app password or…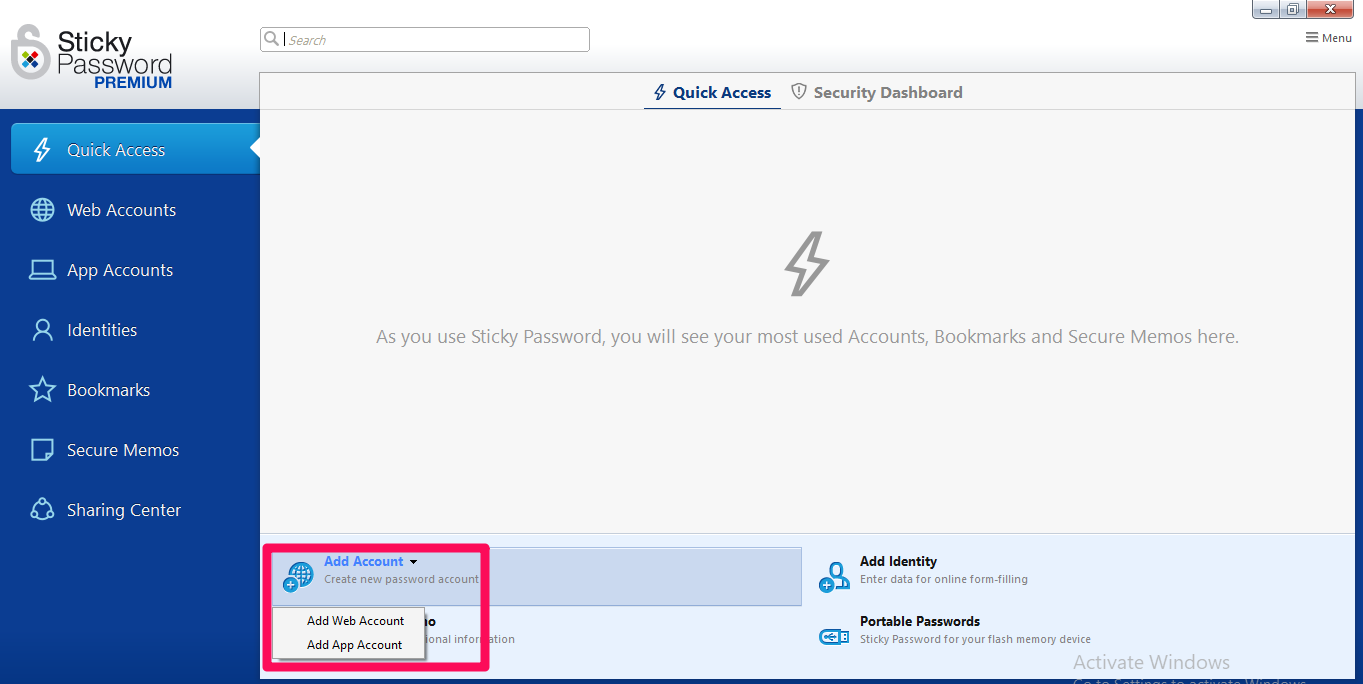 …take another route by going to the "Web Accounts" section (if you're saving web passwords) and then select "Add Account" from the top menu bar.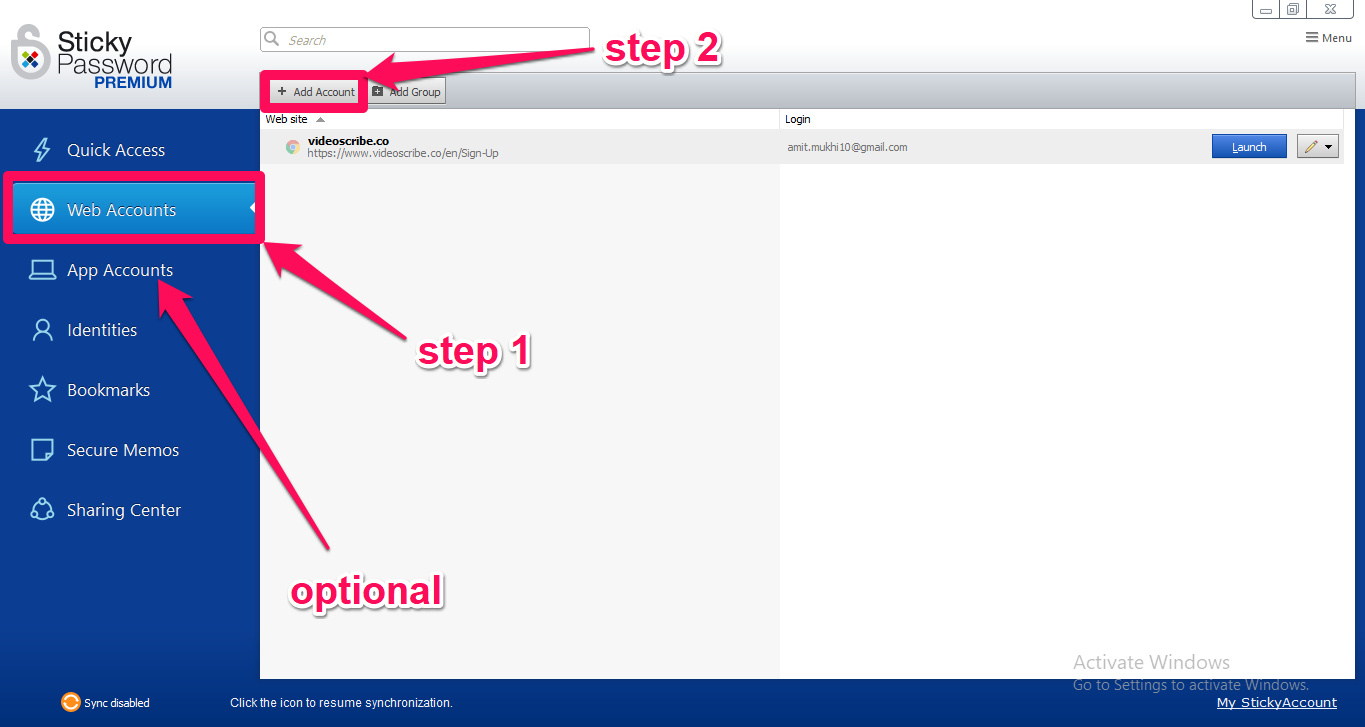 After that, just fill in the details and click "Add". That's it, and you're done.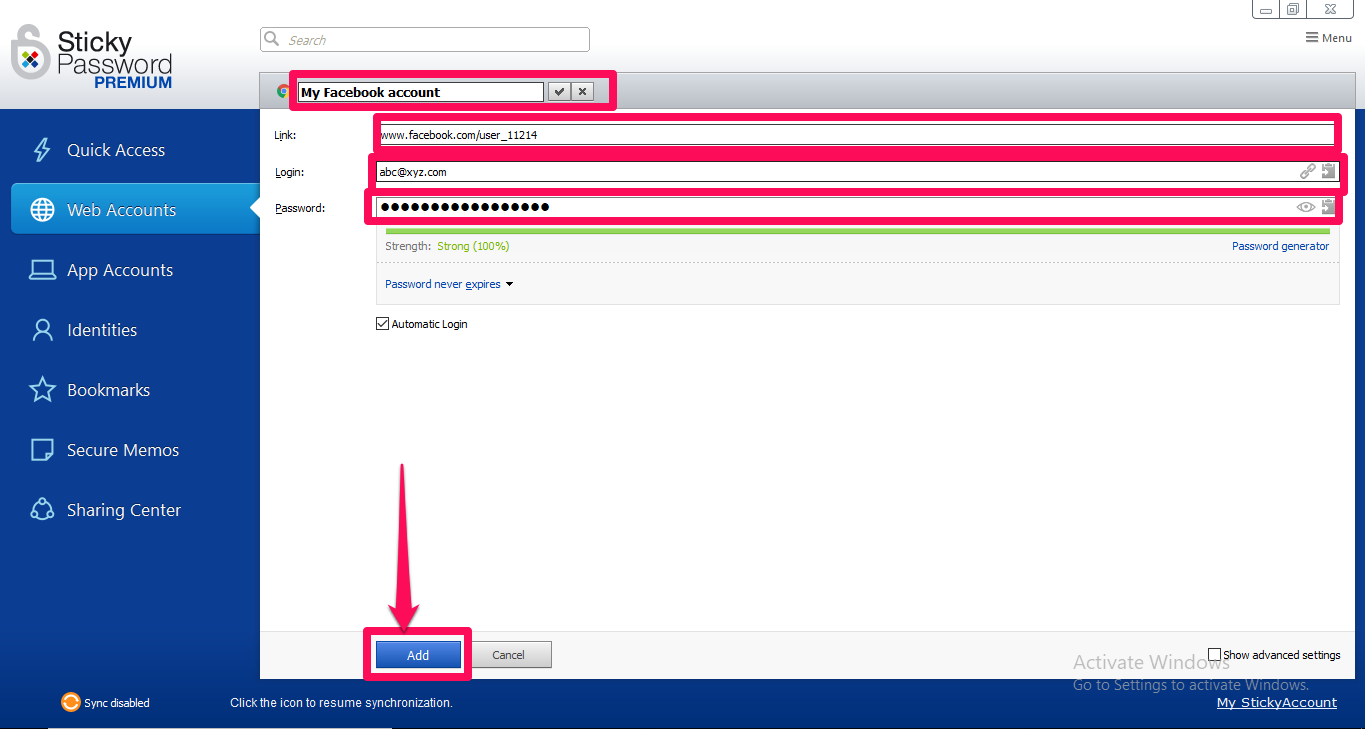 That makes it an apt tool even for your Grandma who's still learning the ABC's of technology.
#2. The core factor of any password manager is to protect your secure data like an unbreakable shield. And Sticky Password excels in this test with flying colors.
It combines two two factor authentication with the industry-standard AES-256 encryption, which is a nightmare for any hacker.
In fact, the company doesn't even store your data, and their developer team too can't access or decode your private information in online accounts.
And to top it all off, they have introduced a unique biometric authentication system that uses fingerprint scanning or face scanning to unlock the Sticky Password vault.
That makes it almost impossible for anyone to break through the security and to access your saved passwords.
However, the absence of multi-factor authentication raises some eyebrows, but again, the biometric system makes up for it.
#3. Not only can Sticky Password store your login credentials, but it also suggests complex passwords whenever you sign up for a new platform or service. This will help avoid the trap of using weak passwords on multiple sites.
Through the password generator, Sticky Password prompts you to create a strong password when it detects password fields on online registration forms.
Whenever you're signing up for a new service through a web browser, the password generator bubble appears automatically next to the password field on web forms. You simply click generate password and Sticky Password will create strong passwords for you.
And once you've accepted the suggested password or entered your own credentials, it captures that data and stores it in the vault forever.
Now, whenever you visit the page next time, you just sit back, and Sticky Password does the job for you.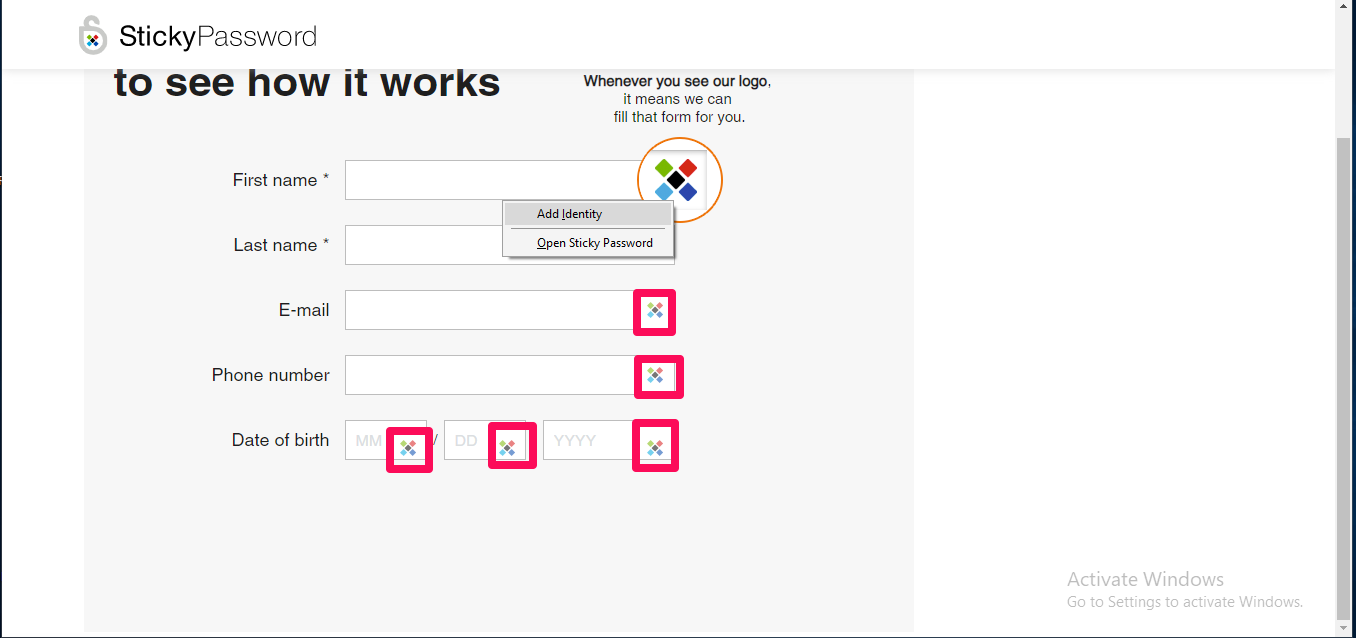 The software reacts the same way when you use your credit/debit cards for online shopping or enter your address and other personal info to autofill forms.
Once saved, you never have to fill the form again. Sticky Password autofills all the webforms and payment info so that you can shop or work on the go.
#4. Along with individual users, Sticky Password offers some tempting perks to companies or small groups. Most notable of them are password sharing and cloud or WiFi synchronization.
All your passwords can be synced across all the devices you own using the cloud or WiFi synchronization.
Moreover, there's this facility to share passwords with your team members in encrypted form directly via email.
Just enter the email address of the recipient, choose which password to share, and click "Continue" a couple of times in the sharing wizard.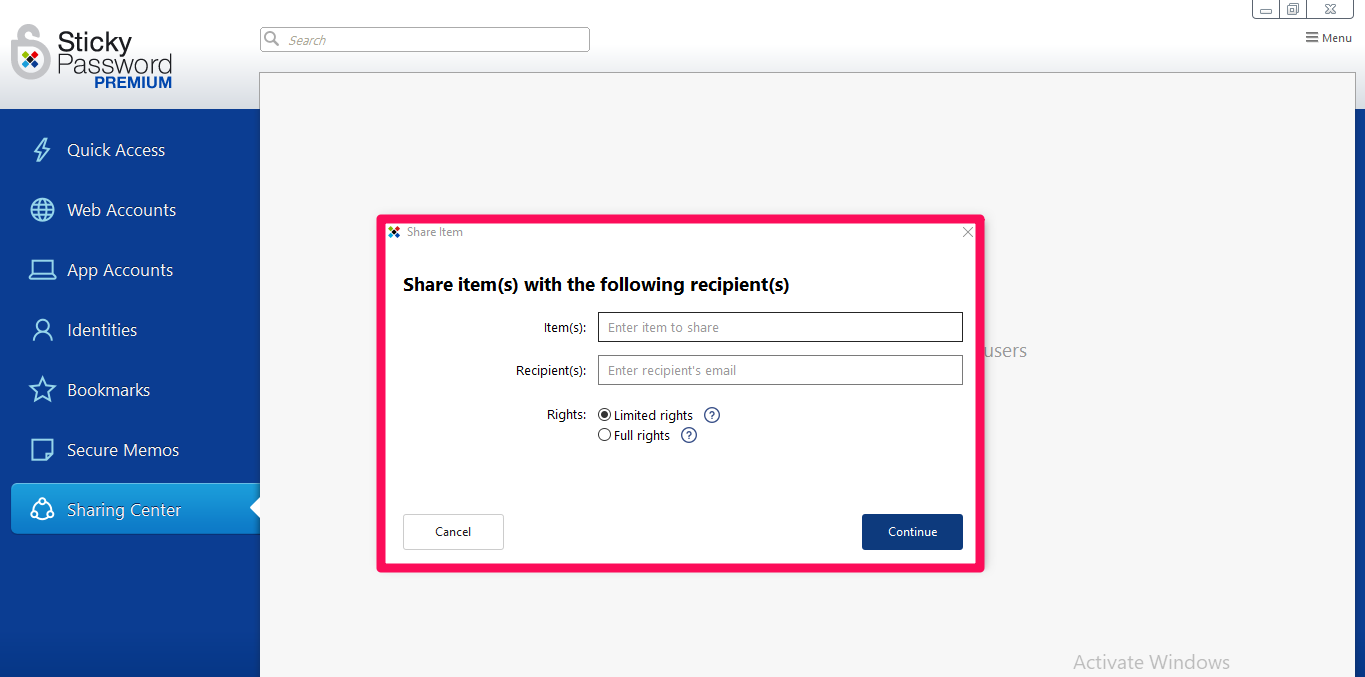 And since it's in encrypted form, there's no fear of any unwanted break-in by any member even if he/she leaves your group or company.
#5. While most of the other Password Managers I've used earlier are available on a handful of browsers, Sticky Password goes a step ahead and supports around 11 of them.
It includes most of the popular ones like Google Chrome, Firefox, Internet Explorer, Safari, Opera, and also some lesser-known browsers like Chromium, Seamonkey, and more.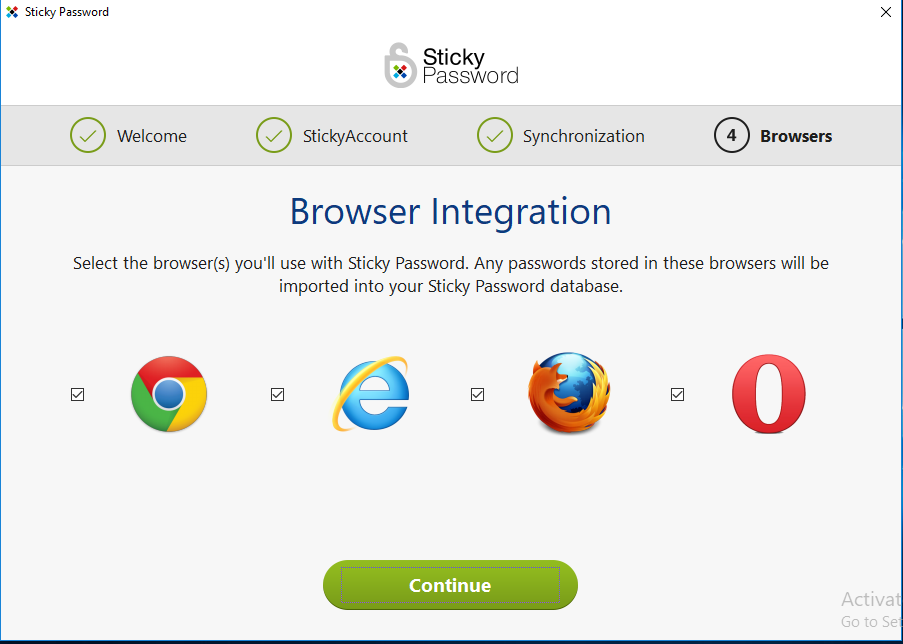 Additionally, you can run this software on all the devices you own regardless of their operating systems. It is compatible with Windows, macOS, iOS, and Android.
#6. Finally, last but certainly not least, one of the most exciting attributes of Sticky Password is its portability that only a handful of programs offer.
You can literally carry all your private data with you everywhere by moving your entire vault into a USB drive.
And whenever you need to login to a platform or service, doesn't matter which computer you're using, just insert the USB drive and run the program.
This is something (along with the biometric authentication) what separates Sticky Password from its counterparts.
Sticky Password Premium Cons
#1. The only flaw with Sticky Password is its inability to present audit reports from time to time.
Without an audit report, you would never know whether your old passwords are still capable of tackling online threats. And as a result, this will make your data vulnerable to cyber-attacks.
Had Sticky Password avoided this blunder, it would have scored full marks in this test.
Having said that, you can still protect your info from hacking if you do manual audits at regular intervals.
Sticky Password Premium pricing plans and payment methods
Even though Sticky Password comes with a free version, I won't recommend that version due to the absence of many vital features.
So let's focus only on the premium license of the software.
When you go premium, you can purchase either the individual or the team license. And just like its competitors, Sticky Password is also available at dirt cheap rates.
The individual license comes for just $29.99/year (comes down to $2.5/mo) or you can pay $199.99 and get lifetime access to your vault.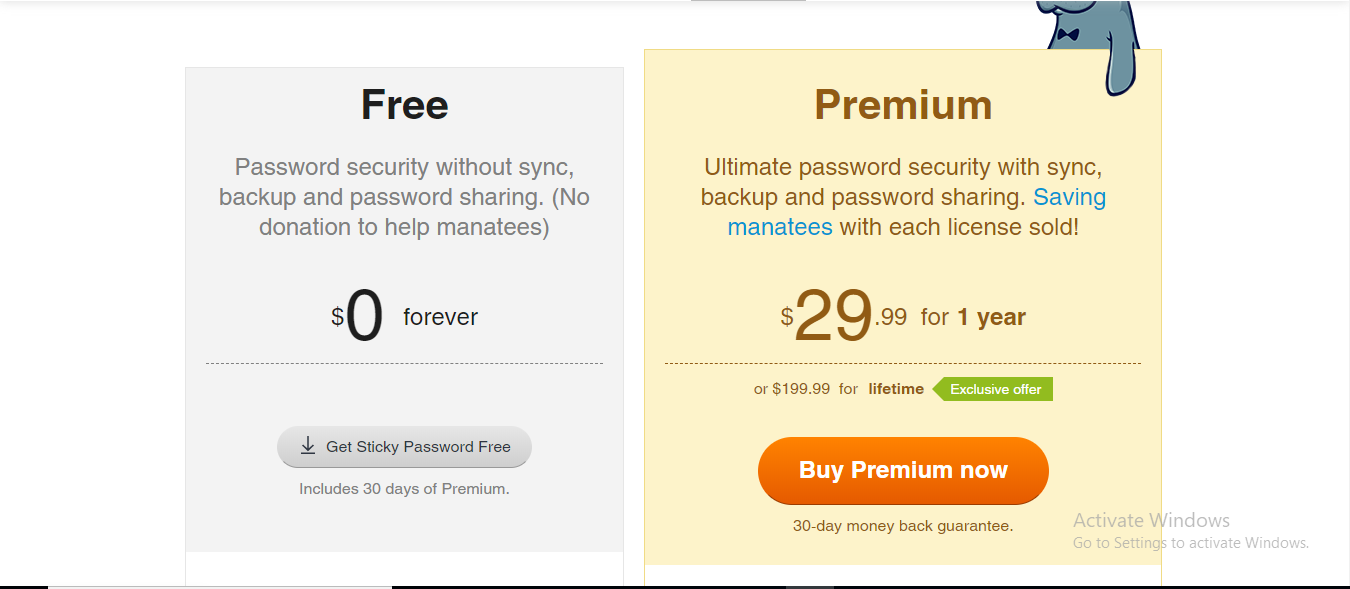 Similarly, the cost of acquiring the 'Team' license is more or less the same. It's $29.99/user per year.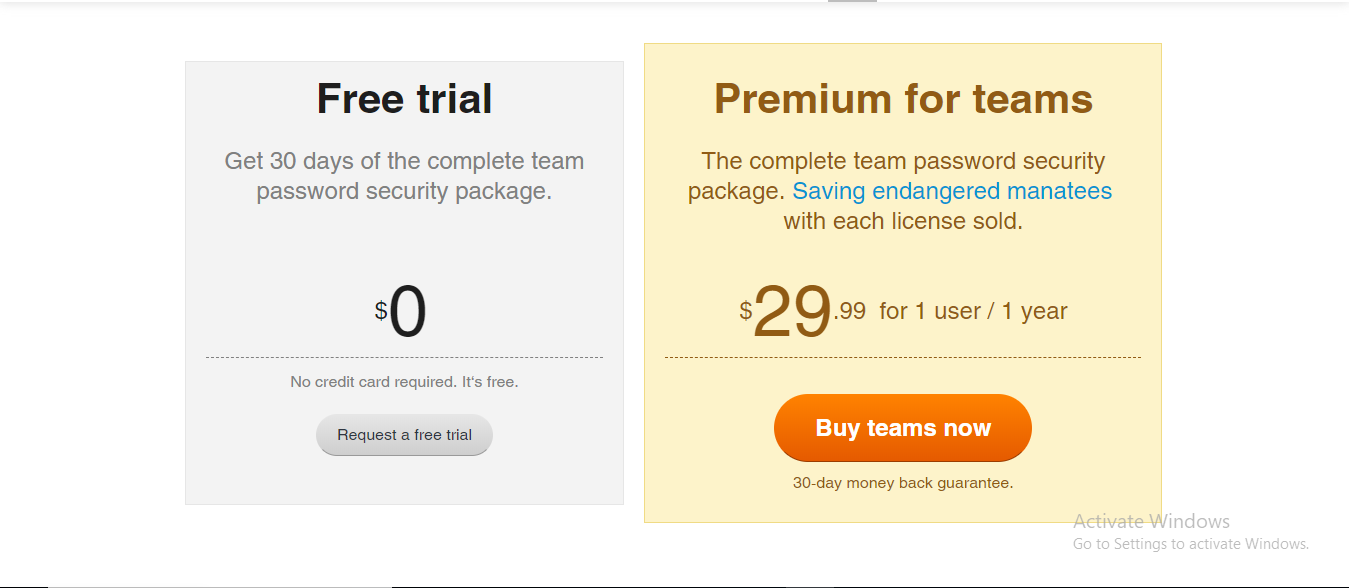 Unfortunately, credit cards and PayPal are the only two payment methods the company accepts. But at any point you feel this product is not for you or your team, you're free to return it within 30-days of purchase and claim a full refund.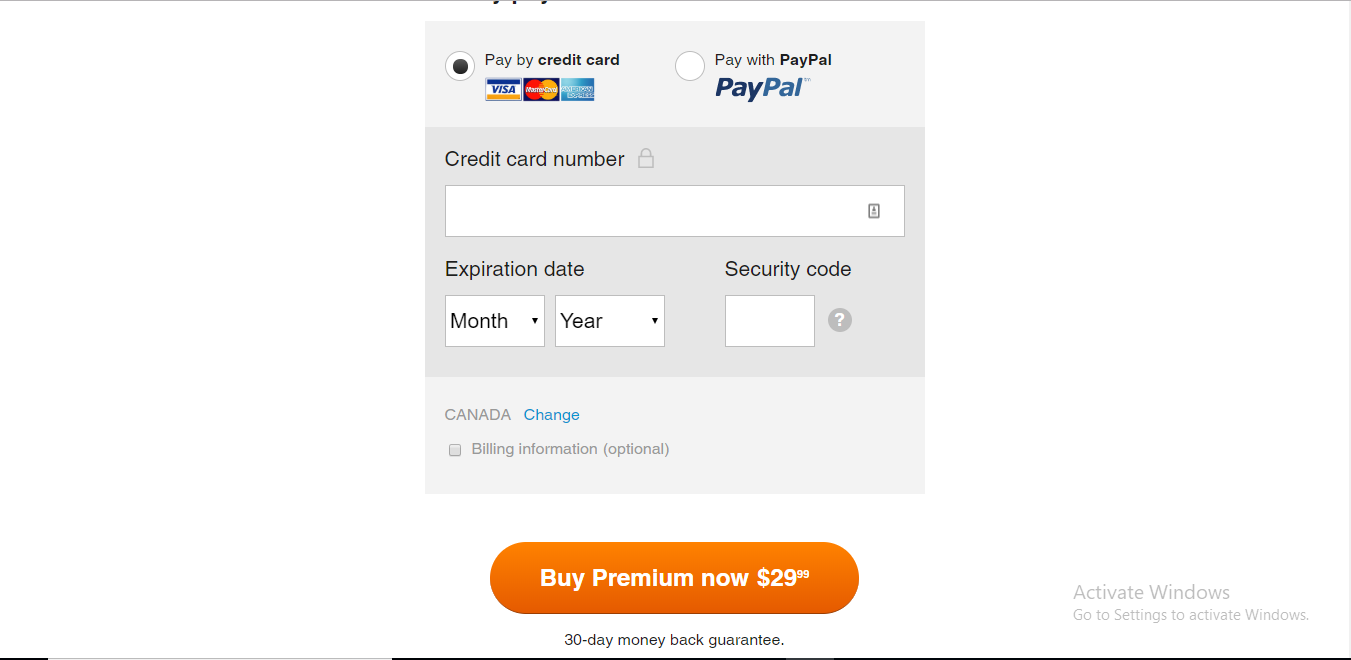 Do I recommend Sticky Password Premium?
Yes, I definitely recommend Sticky Password Premium to everyone from individuals to company owners. It's an easy-to-use password manager and password generator that will help store saved passwords, and protect your online accounts.
If you overlook the audit report flaw, the Sticky Password software really has everything you want in a password manager. It easily stands up to password manager tools like Zoho Vault, Roboform, and Keepass.
The interface is sleek, the security is tight, and you can always carry the entire vault with you regardless of your location using a small USB drive.
Above all, the overall cost is parallel to other similar services like Dashlane password manager, and Lastpass password manager. And with their 30-day refund policy, you hardly have anything to lose.