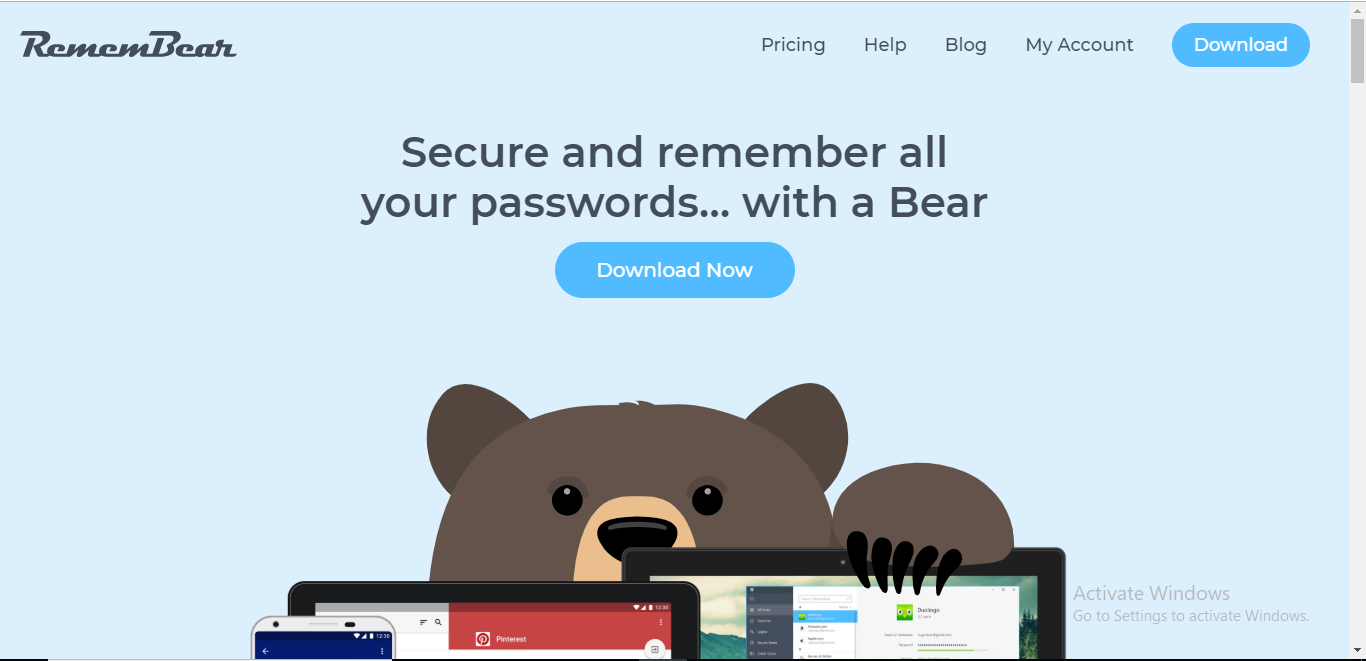 RememBear – a software, which is fun to use and comes with the power of a bear.
The software is low cost, remarkably easy to operate, and quick in capturing & filling credentials. Plus, it's available on all the popular platforms and syncs the data across all your devices.
In short, you can say, RememBear does exactly what it claims on its website.
However, the inexistence of secure password sharing and multi-factor authentication didn't go well with me, and it might irk many potential customers, too.
This and more such setbacks and benefits are listed in the following section. So, let's take a deep dive and know if it's really worth your money.
RememBear Pros
#1. Getting started with RememBear is super-easy, and even though the software is heavyweight, you just breeze through the entire process.
The initial setup includes installing the app, creating an account, adding the browser extensions, and boom! – you're ready.
In the beginning, you get the option to import your passwords from other software or Chrome browser. Though I skipped that, you can do so to save time and effort.
If not, jump straight to the main window, which looks pretty clean and beautiful.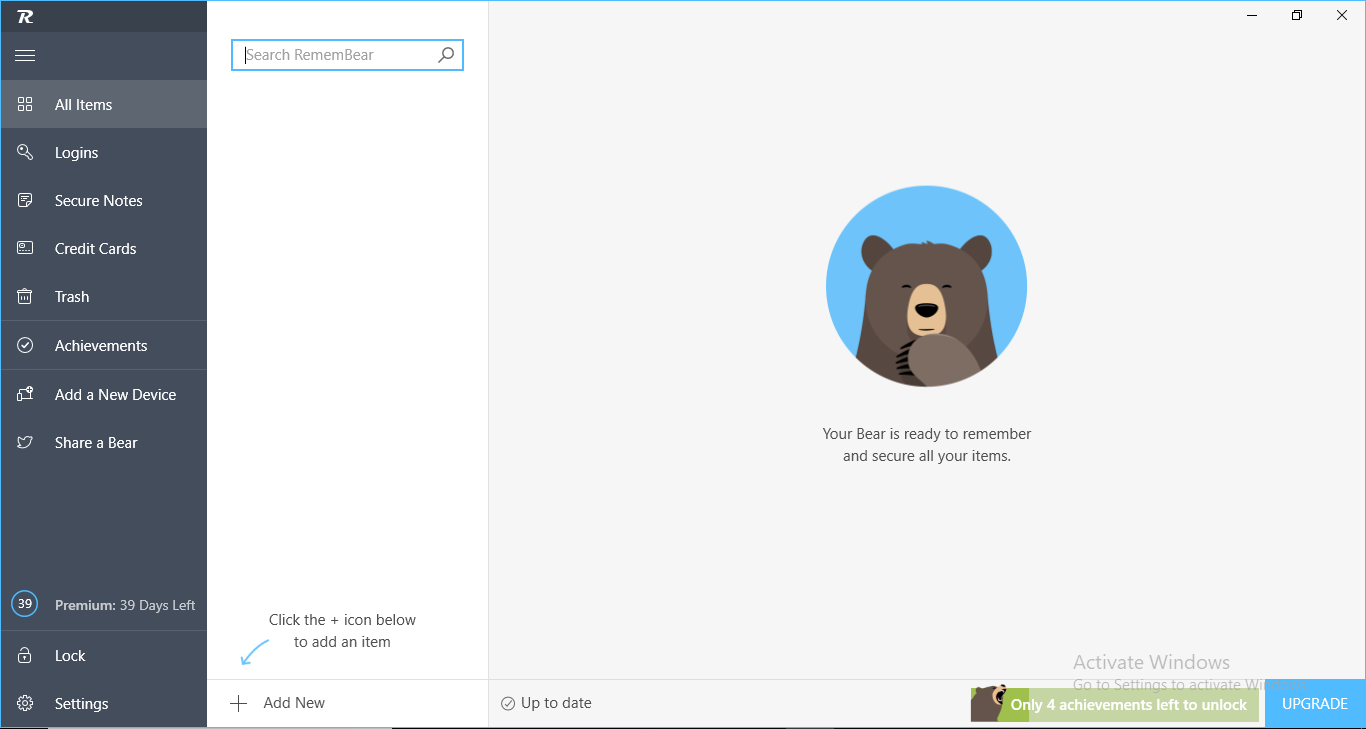 And when you look at the bottom of the screen, you see a '+ Add New' button and just above it is a message that says 'click the + icon to add an item'. Click that button and…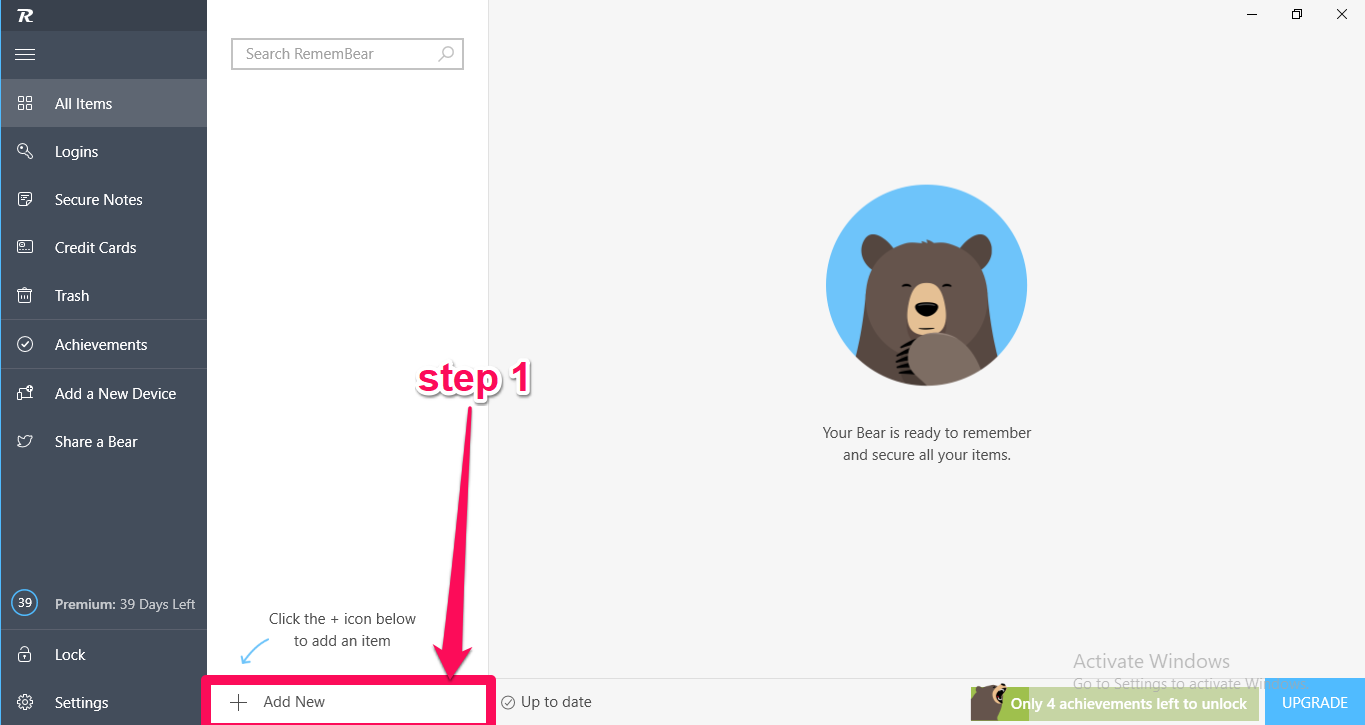 …a pop-up box asks whether you want to store login credentials, notes, or credit card details. Choose the right option and…

…fill the necessary details in the following wizard. And finally, click the 'Save' button.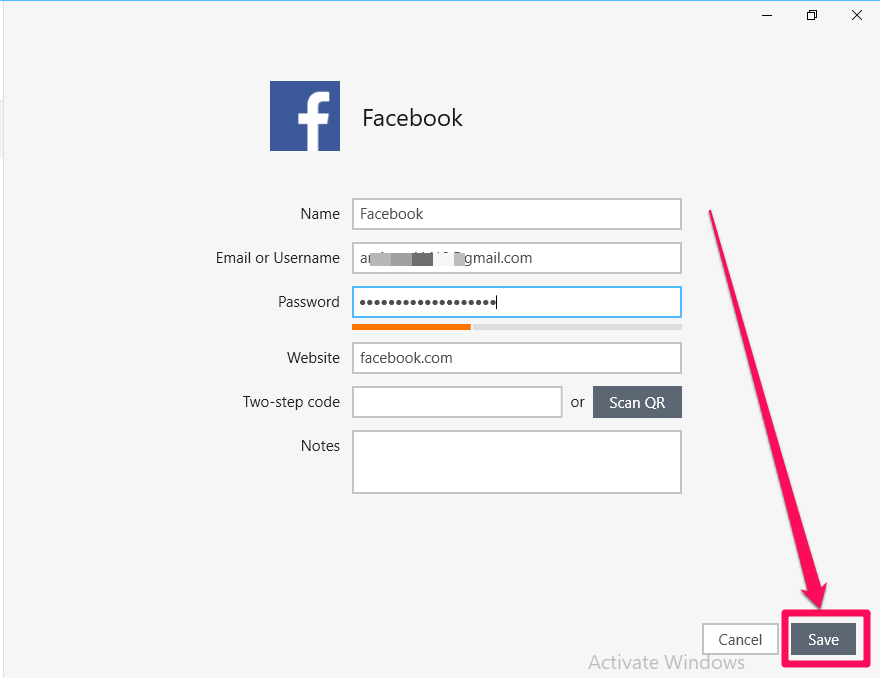 Congratulations! You just saved your first credential in RememBear. And yes, it was that easy!
Similarly, following the same procedure, you can store credit card details and notes, too.
#2. Just like saving your info, the automatic form capture and auto-fill feature are also a child's play.
But first, make sure you have added the browser extension for Chrome or Firefox (whatever you use) so that these functions work correctly.
Safari users, on the other hand, don't need to do that because the Mac desktop app comes with the built-in auto-fill system.
Now, coming back to the actual function; the auto-fill feature of RememBear is pretty sharp and quick.
When you open site whose credentials are stored in the software, you can automatically notice the small 'bear' icon on the login fields.

Click on the icon, and it presents you the credentials related to that side. From here, a single tap on your credentials and you're in.

Similarly, when you shop online, the same 'bear' icon appears on the payment gateways. Click on the icon, and the payment is made within seconds.
What's more?
It captures your details automatically and saves them in the vault when you sign up for a new platform. And not only that, but it also helps you generate strong, random passwords using the automated password generator.

The password generator is highly customizable and can come up with different combinations up to 32 characters.
I would suggest using all four sets (uppercase, lowercase, digits, and symbols) to ensure you have a robust password that no one can guess. Because eventually it's not you, but RememBear who will do all the heavy lifting of remembering these weird combinations.
#3. Unlike most of the cutting-edge password managers, RememBear doesn't have a dedicated audit report facility. But it still manages to do a decent job in letting you know about your security health.
How?
Well, it rates your password strength by different colors where red and orange indicate weak, and neon green and green indicate strong entries.
And let me tell you, the password indicator of RememBear is quite strict and only the toughest entries get the green light.
So you either come up on your own or use the automated password generator to create a strong password.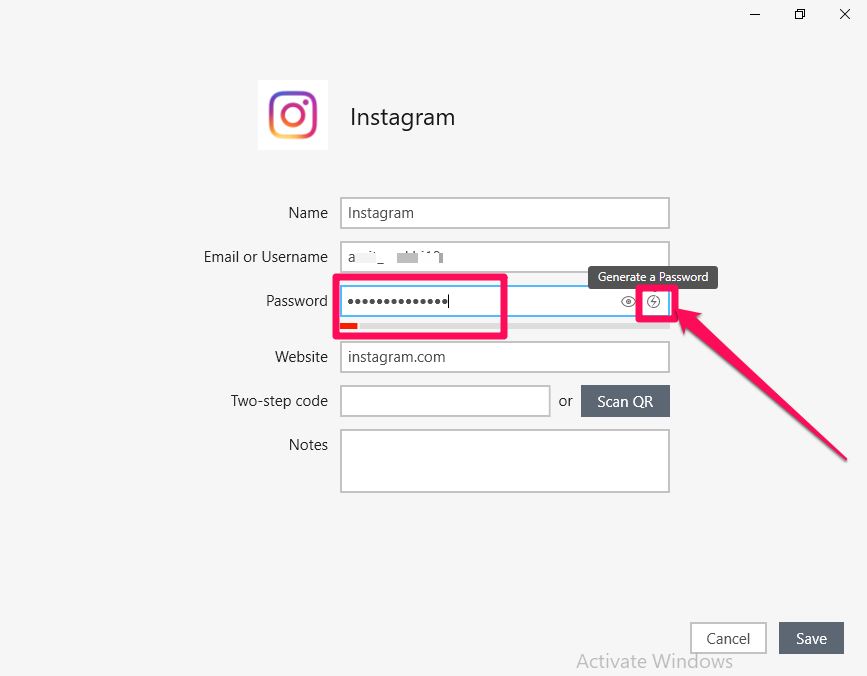 Moreover, you can opt for the two-factor authentication to ensure further security from Intruders.
#4. RememBear is available almost everywhere. You can install it on Windows or Mac computers or run it on your Android or iOS smartphones and tablets.
And thanks to the auto-sync function, everything can be stored across all your devices without any manual effort.
RememBear Cons
#1. As I mentioned at the beginning, RememBear lacks secure password sharing, which makes it useless for company owners or those who want to use it with their families.
Also, the software doesn't work at all when you're not connected to the internet.
#2. Though two-factor authentication can do a decent job in preventing unwanted break-ins, your account might still be prone to intruders because of the absence of multi-factor authentication.
RememBear pricing plans and payment methods
RememBear has a no-nonsense pricing strategy. You either go free or become a paid member.
But in a way, I think you would still go for the premium membership because the free account works only with one device.
On the other hand, as a premium member, you can install and sync the software on as many devices as you want.
And all this for just $3/month (billed annually).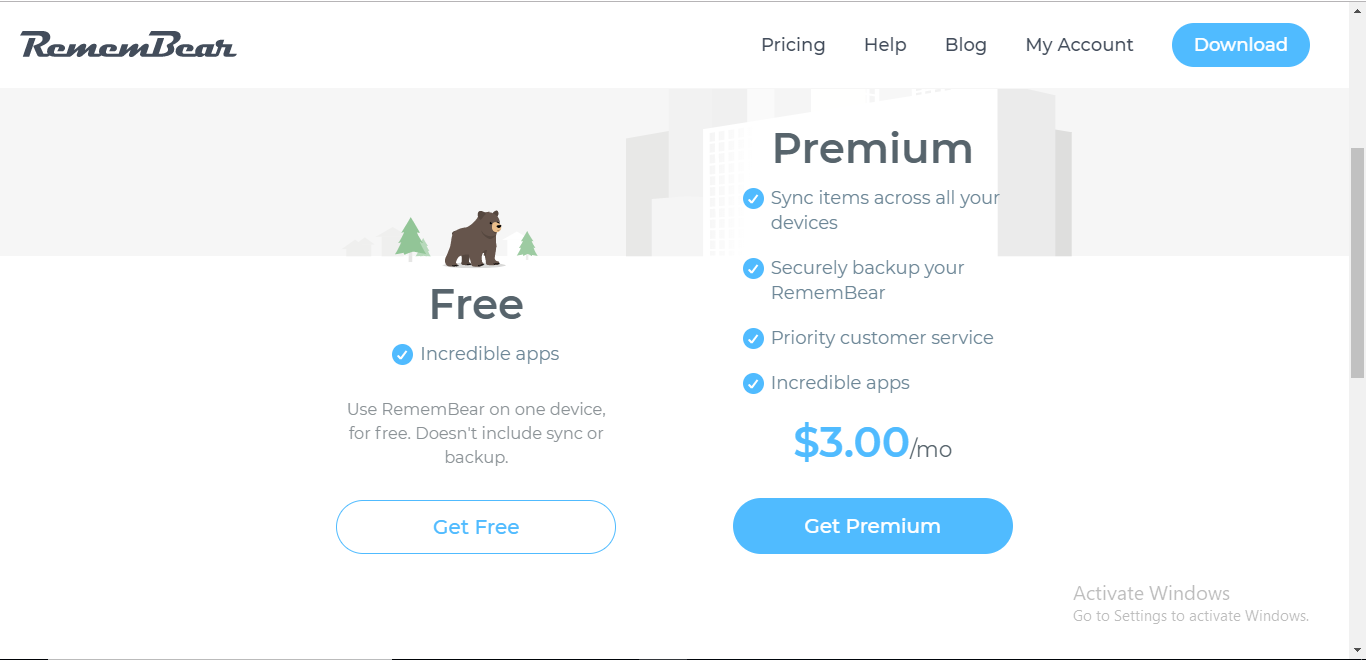 As for payment methods, you can use all the major credit cards to pay for the program.
Do I recommend RememBear?
Yes, I do recommend RememBear, only if you're an individual user and doesn't need multi-factor authentication.
In fact, I will also back the free version if you want to use it only in one device. But again, that is almost impossible nowadays considering all of us own at least two devices or more.
Enterprises and families should look for other options like LastPass, Dashlane, or Sticky Password Premium.