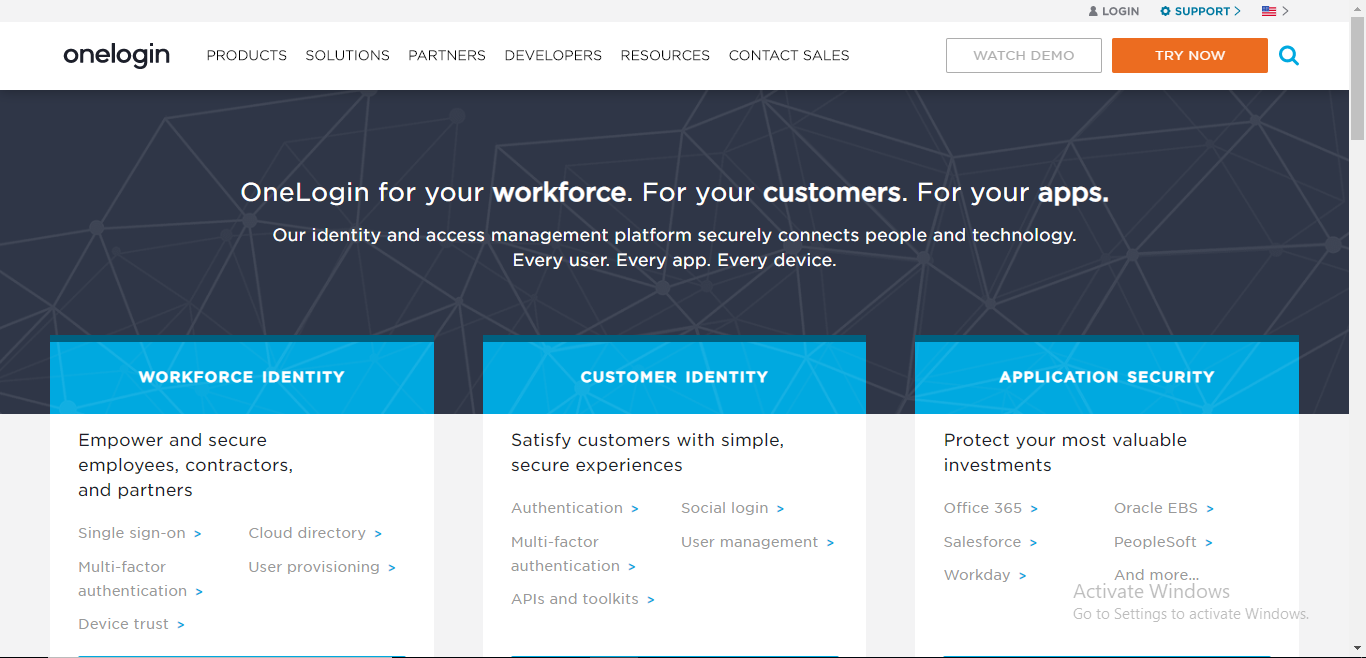 OneLogin is a cloud-based identity and access management software that helps enterprises organize their passwords.
Unlike most of the password managers, OneLogin is specially designed for enterprises.
Password managers and password vaults are a very similar kind of product. They are both applications that act as secure storage systems that encrypt and store user passwords for different websites or apps.
In fact, its overall functionality, too, is quite different from programs made for individuals and families.
The identity management software works as a control room for managers from where they can organize all the passwords, users, and even see how many users have access to a specific password. OneLogin allows an employee of a company logs into the password manager with one master password for authentication. This allows access to each username and password they've created for their work apps and websites. It also makes onboarding and offboarding an employee much easier for a company.
Besides this, you can also create different groups and grant access to passwords according to the roles of your employees.
For extra security, OneLogin has added multi-factor authentication and allows SSO (Single Sing-on) to any website without revealing the actual credentials.
In short, this tool is perfect for a large enterprise. But is it better than the big password manager players like LastPass or Dashlane?
In this OneLogin review, we'll find out by evaluating the pros and cons of this password management solution.
Our Verdict
Yes, I do recommend OneLogin but only to big enterprises who want a single sign-on solution.
Easy to use
SSO (Single Sing-on)
Multi-factor authentication
Available on almost every platform
No password checker
Can't store payment details, addresses, or government IDs
Cannot capture forms
OneLogin Pros
#1. If it's your first time working on an identity management software, it might take some time to get familiar with OneLogin.
That's because the software is a bit different from traditional password managers.
So, I would recommend taking a personalized demo or going through the video tutorials.
On the other hand, if you've even slight experience working with password managers, you would just breeze through this tool.
First, you must choose which device and platform you want to download Onelogin for. You can choose OneLogin desktop, or the mobile app for Android and iOS.
The interface is spanking clean and sleek. You have the menu bar on the upper side of the screen that helps you navigate to different functions.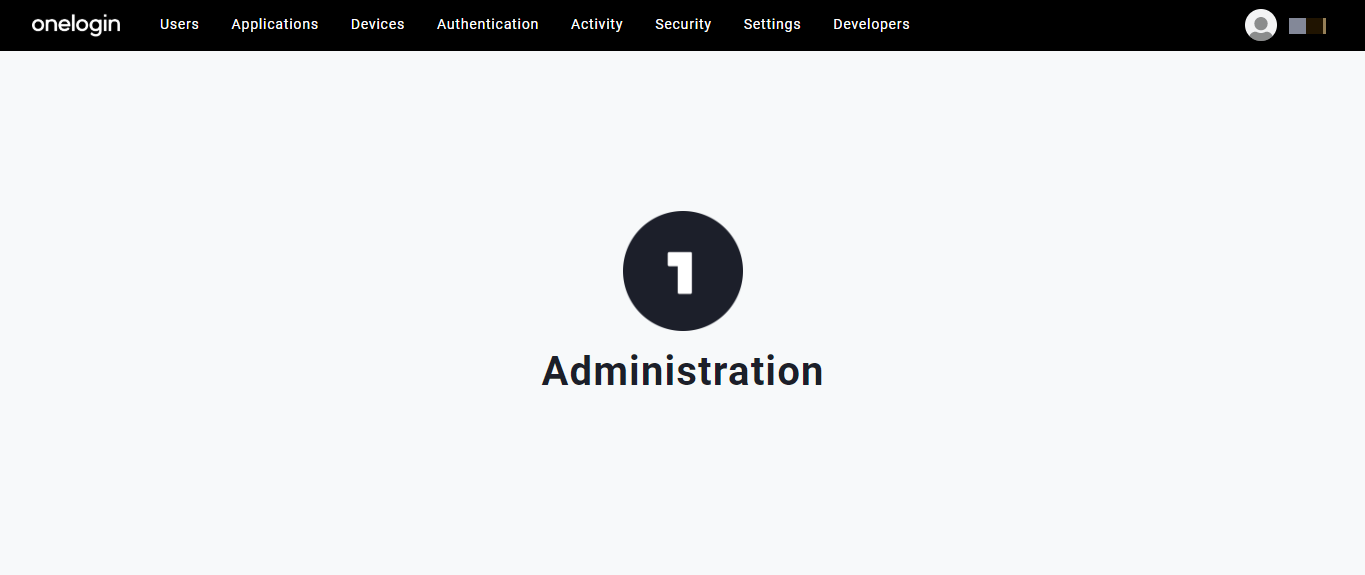 The most basic one among these functions is to add passwords and share them with users. You can do so by selecting the 'Applications' option from the "Users" menu and hitting the "Add App" button.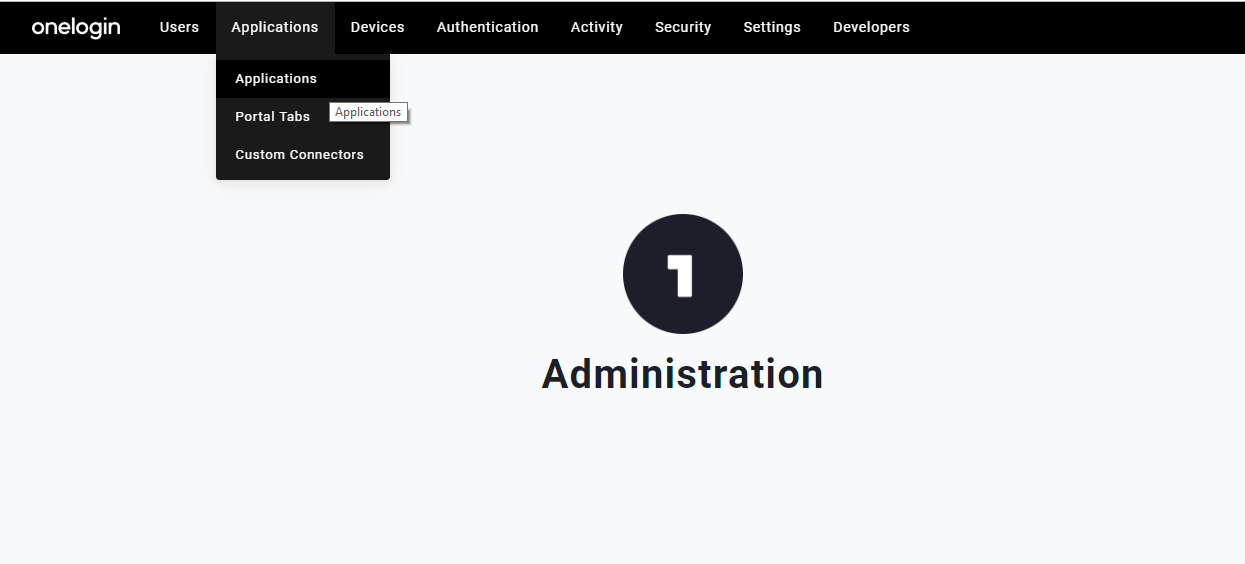 Once done, you can see dozens of different categories related to the various security aspects of a business. For example, CRMs, Hosting services, Inbound marketing, etc.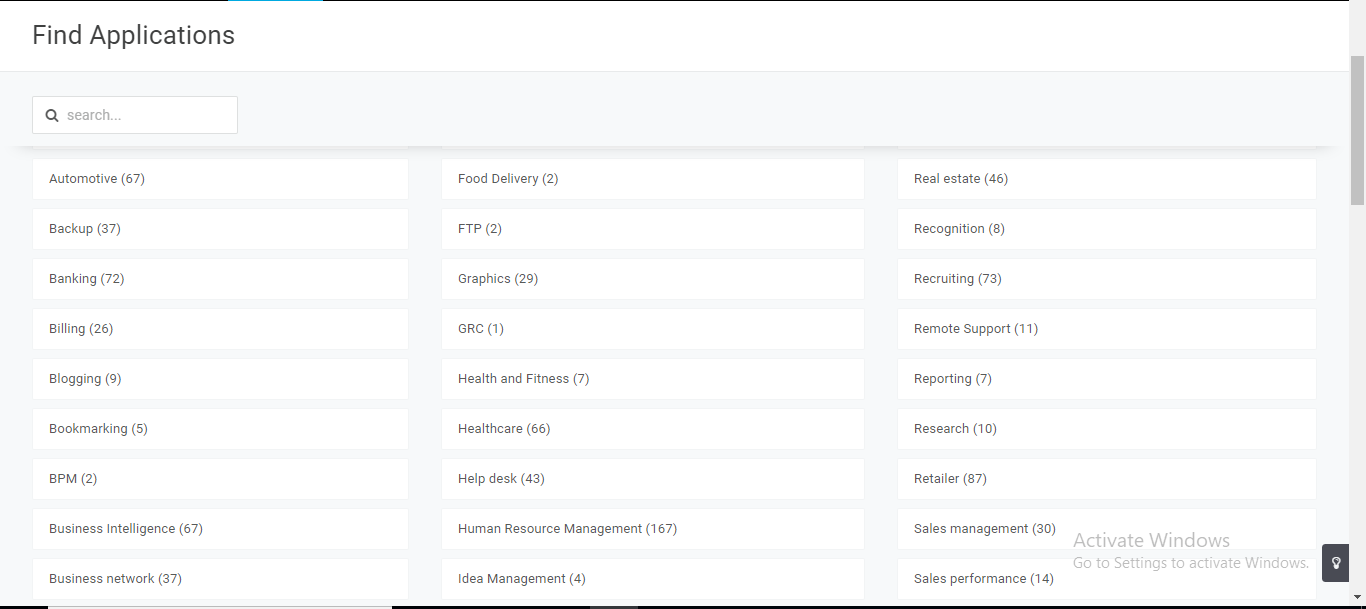 You need to select the right category according to the app you want to add to your security database.
For example, I wanted to add HubSpot. So, I clicked on the 'inbound marketing' category and selected HubSpot among the different options.

Next, you can either set a universal username and password and share it with all the users or leave it on the users to set their own credentials for the account.

I would recommend the former option if you already have a company HubSpot account and want every employee to use it. Otherwise, let them set their own credentials.
Moreover, OneLogin allows you to divide all the users into different groups or roles, and grant a specific group, access to specific passwords and notes.

In a nutshell, OneLogin is super easy to operate once you the basic functions.
#2. The SSO (Single Sing-on) aka auto-login feature of OneLogin is quite impressive. It's quick and responsive. Though it only works for login pages.
The security functionality is more or less the same as you see in other programs. Either you can launch the website directly from within the software or open the site in a browser and click on the browser extension icon to see all the accounts related to that site.

From there, just click on the suggested account and it directly unlocks your account.
But unfortunately, you can't capture form or generate passwords automatically while filling sign-up forms.
#3. Though OneLogin doesn't reveal how they encrypt your data, they've added multi-factor authentication to the system to ensure no one can access your data without your prior knowledge.
You can use Google authenticator, Yubico, Duo Security, RSA SecureID, and more third-party integrations to authenticate the login attempt.
And even though it's optional, I would highly recommend using multi-factor authentication for your account.
What's more?
OneLogin supports biometric authentication on mobile devices for faster and more secure entry to your account.
#4. The software is available on almost every platform. You can open it on your Windows or Mac computer or download the mobile app for iOS and Android.
And since it's cloud-based, all your data is synchronized across all the devices you own.
OneLogin Cons
#1. As an enterprise-only tool, the biggest flaw I found in OneLogin is the absence of a password checker.
An enterprise has typically dozens or even hundreds of passwords stored in its database. And it's quite evident that not all of them are unique and strong. Thus, making your data prone to hacking.
In such cases, a password strength checker is super handy. It evaluates the entire directory and points out the weak and duplicate passwords so that you can change them before they're compromised.
But unfortunately, OneLogin doesn't avail any such facility.
#2. Though I don't think it would be fair to compare this tool with its traditional counterparts, it's still worth mentioning that you can't store payment details, addresses, or government IDs in OneLogin.
#3. Unlike typical password managers, OneLogin cannot capture forms or spontaneously suggest random passwords while filling sign up forms.
OneLogin pricing plans and payment options
Along with a 30-day free trial, OneLogin offers there different membership plans to its users.
The first one is the 'Starter Plan' that comes only for $2/month/user but avails only SSO and standard support.

Also, you'll have to purchase this membership at least for 25 users, which makes it ultimately a costly option. But for enterprises, it's still dirt-cheap.
The second one is their 'Enterprise Plan' that offers policy-driven security, MFA, and advanced user management for $4/month/user.
This too has a minimum threshold of users, which is 10.
And at last, the 'Unlimited Plan' is for those companies that need of all the products OneLogin produces. It sets you back for $8/month/user and requires you to purchase it for a minimum of 5 users.
Unfortunately, when it comes to payment methods, OneLogin accepts only credit cards.
Do I recommend OneLogin?
Yes, I do recommend OneLogin but only to big enterprises who want a single sign-on solution.
The software has a decent set of features, including SSO, MFA, and policy-driven security that make it an excellent option for any large company needing to store usernames and passwords.
OneLogin's adaptive authentication and role-based user provisioning engine let users take complete control over access to Amazon Web Services, as well as your other cloud-based and web applications.
Additionally, it's extremely easy to operate and lets you create groups for identity management and share passwords only with the right users.
And on top of all this, the low prices will make any enterprise say yes to this tool. So, I definitely suggest large companies with more than 50 employees to go for OneLogin.
Small companies and online businesses, on the other hand, are better off with traditional options like LastPass or Dashlane.