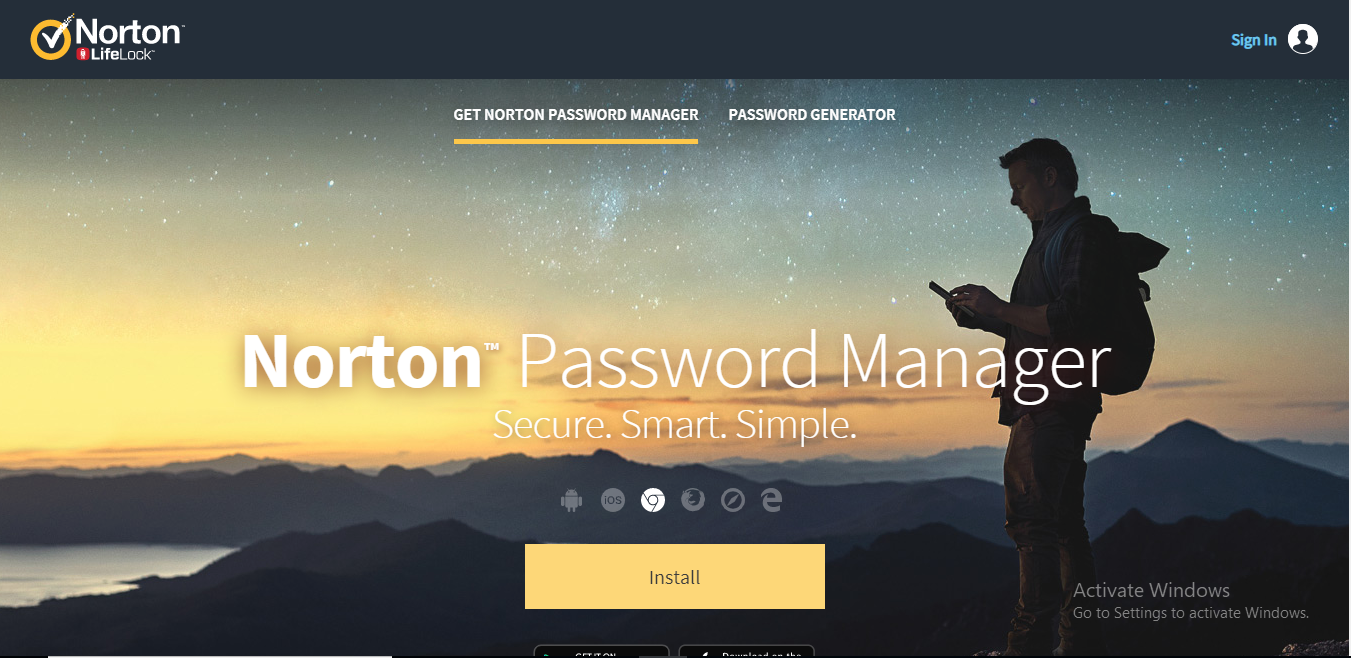 Norton Password Manager from Norton Security suite is a web-based tool that is perfect for basic password management.
The software is a user-friendly, free password manager. And though some of the functions like the security dashboard are still in their beta phase, it does the job nicely.
In fact, Norton outperforms even the most advanced programs in a couple of aspects. But a few glitches here and there restrict it from becoming the ultimate go-to option for an individual.
Let's weigh all of the pros and cons in this Norton Password Manager review.
Norton Password Manager Pros
#1. Access Usernames and Passwords Instantly
Norton is a web-based product and all it requires is to create an account and add the browser extension. That's it!
Once you've done that, you're good to go.
The interface of the software, like its initial setup, is also quite simple and straight. And all the functions can be performed with a single click or two.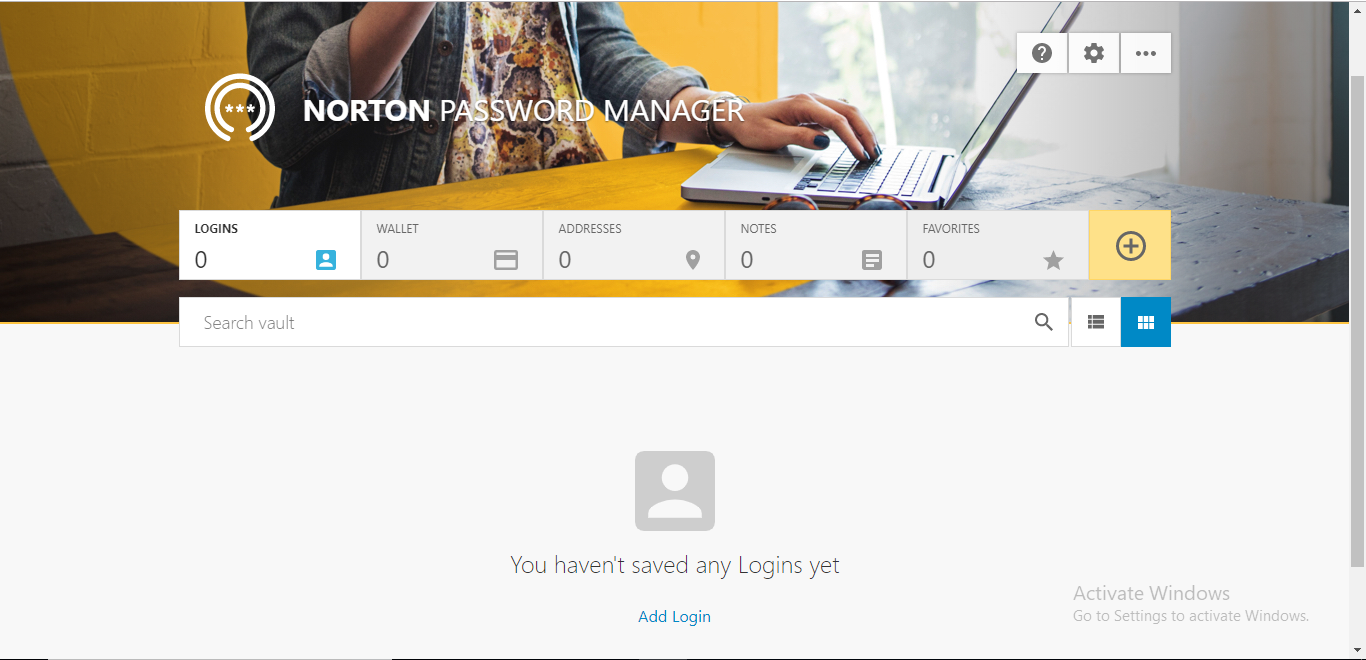 For example, to store login credentials, you can click either the 'Add login' option at the bottom of the screen or the big '+' button on the right-hand side.

In the next window, you're asked to fill in the details. And once you've done that, click 'Save' to store your login password.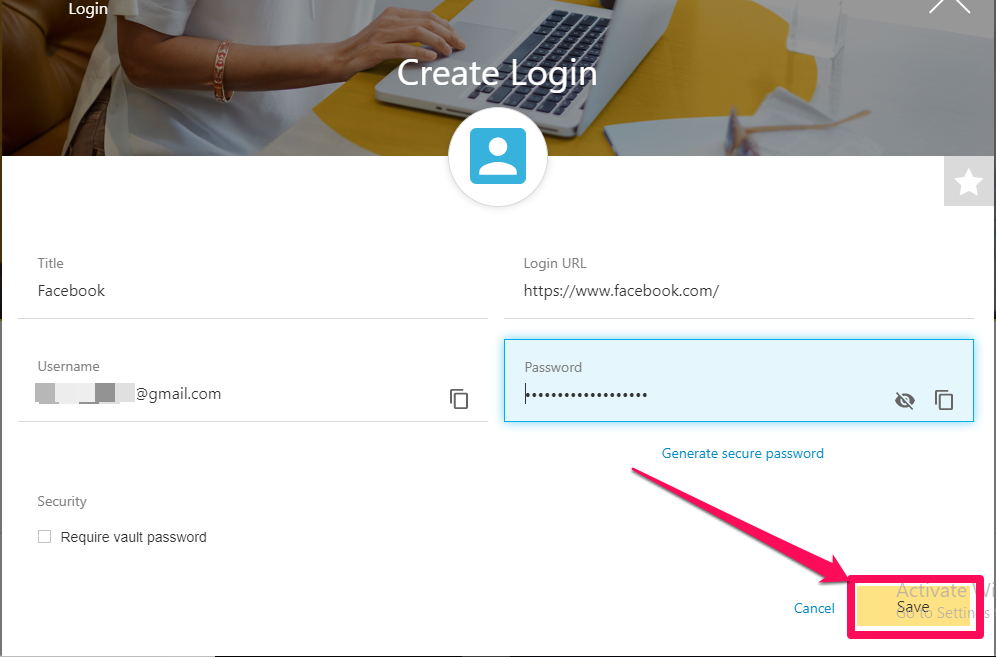 Similarly, you can save credit card details, notes, or addresses, into the vault.
#2. Autofill Works Well
Let's first talk about the auto-fill feature.
I tested it on all my social media accounts, and the performance was smooth as silk. As soon as I opened a website, a pop-up box appeared suggesting the accounts related to that site. Something like this:

Now, all you're required to do is, click on the login suggestions and hit 'Login'. Of course, it doesn't fill the details automatically like the iCloud Keychain or other such programs, but the precision is 100%.
#3.Password Strength Authentication
With the security dashboard of Norton, you can check whether your passwords are strong enough to fight online threats.
(It's similar to the LastPass authenticator that you can read more about in our in-depth LastPass review.)
The security system points out all your weak, duplicate, and outdated passwords. And also rates the health of your vault using an overall score.

But the best part is…
You can change the weak or compromised passwords with just one click; thanks to the 'Autochange' option.
Once you choose 'Autochange' for a specific account, Norton automatically opens that account and replace your old password with a new one. The entire process is pretty simple and easy and also saves lots of time.
But this is something even cutting edge passwords managers ignore and force their users to follow the old, tedious method.
Now, the only catch is, this feature is still in its beta phase. So, the password checker sometimes flags even weak passwords 'strong' or 'good'.
For example, in my test, it gave a score of 80 to a facile password like '!P@$$w0rd".

#4. Norton encrypts your data using the industry-standard 256-bit AES system.
But that is common in every password manager.
What I liked the most is the mobile unlock feature that enables you to open the vault on your desktop straight from your mobile.
How?
When enabled, every time you try to login to your account on desktop, Norton sends a permission request to your registered mobile number.
Once you accept the permission request, it opens the vault on your desktop automatically without even entering the master password.
Moreover, it adds an additional layer of security and protects your vault from unauthorized access.
#5. Norton is available on all devices…
… as long as you use a web browser extension on Chrome, Safari, Microsoft Edge (formerly Internet Explorer), or Firefox.
And thanks to the automatic sync, you can access all of your passwords on all the devices you own — no matter if you're on a Mac or Windows device.
There are no dedicated mobile apps at this time.
#6. Offline password manager
Once saved, all the passwords will sync and can be accessed even when you're offline.
#7. Works with Other Norton Security Products
Obviously, you can easily combine Norton Password Manager with other products, like the Norton Identity service that helps prevent identity theft.
Norton Password Manager Cons
#1. You can't share your passwords with others
Thus, families and businesses can't share a secure password with each other.
#2. Not the most secure password manager
The mobile unlock feature is exciting.
But the absence of two-factor and multi-factor authentication is a significant setback. That, combined with a weak password generator (see below) means your sensitive data will still be at risk, because you probably won't be using unique passwords on every site you use.
#3. Password generator is "meh"
Unfortunately, the password generator is not as responsive as I saw in other tools. And it is definitely not an automatic password generator.
Unlike other tools, while signing up for a website, you'll have to click on the browser extension and select the 'Password Generator' option.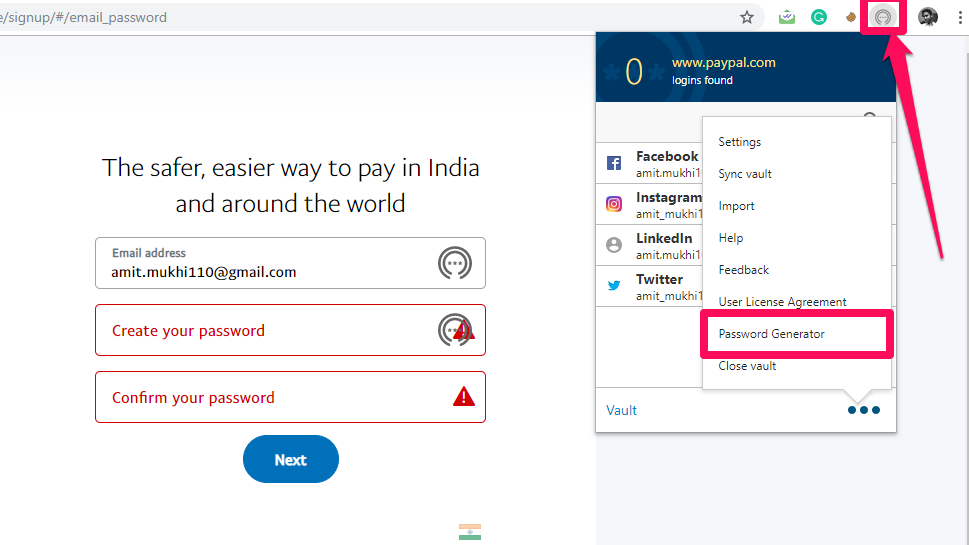 Only then, it suggests a random string of characters to you to create a strong password.
Norton Password Manager Pricing Plans
There is only a free version of Norton Password available at this time.
Do I recommend Norton Password Manager?
Not really.
Norton could be apt for those who want a basic-level password manager without spending anything.
But the service is totally irrelevant for families or small business owners. Or even for those individuals who are looking for a complete package with a rock-solid password generator and two-factor authentication to make sure you're only using strong passwords.
Unfortunately, right now, Norton is not that.
There are other better manager apps out there right now, like LastPass or Dashlane. Both offer a free password option. And both are well ahead of other options like Keeper, Roboform, Enpass password manager, or even the open source Keepass password safe app.