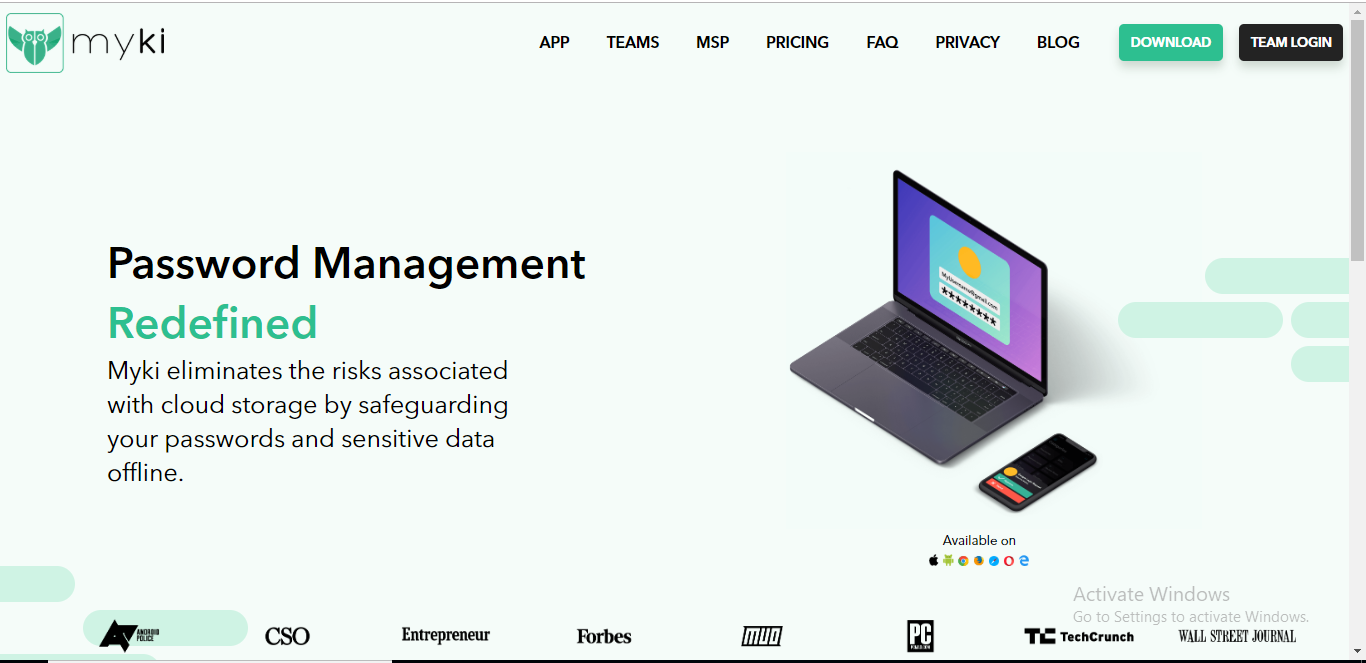 Myki is a free password manager software that looks promising on paper, but the ground reality is somewhat opposite in a few aspects. I'll explain that in detail later but let's first talk about what it avails to the users in terms of password security.
With a user-friendly interface, you're never gonna face any issues finding your way to most of the password manager functions. And it's one of those rare password manager tools that ask you to enter a PIN instead of a master password to get into your account.
Moreover, the software favors iOS and Android devices over desktop apps or a browser, which is another aspect that separates it from traditional programs.
However, you might face some serious issues while using the software on different devices because pairing devices is a real pain on this software.
Adding to the misery is the security dashboard, which misleads users and flag even shallow passwords as 'strong'.
And this is not it, there are a few more critical issues with this software that spoils the whole experience. And the following sections talk about all of them in detail along with some good points of Myki.
Let's take a look at all the pros and cons in this Myki password manager review.
(NOTE: While using the smartphone app of MyKi, the system used in the software blocks you from taking screenshots. Thus, I couldn't add any screenshot of the smartphone app to this article.)
Our Verdict
The free version of Myki is pretty solid on paper and honestly speaking, could be a game-changing app, especially for individual users. It can be the first line of security defense against hacks, breaches of data. However, poor execution on the product makes it hard to justify paying for the tool.
Extremely easy to use
Auto-fill feature
Industry-standard 256-bit AES encryption system
Available everywhere
Issues pairing another device
Sloppy security dashboard
Buggy mobile app
Sloppy password sharing
No multi-factor authentication
Myki Password Manager Pros
#1. I used the desktop app, browser extension, as well as the mobile app version, and all were extremely easy to use.
The initial setup was similar to a typical program, but instead of creating a master password, Myki asks you to create a PIN for your account. That makes login effortless and help you eliminate the pain of remembering weird master passwords.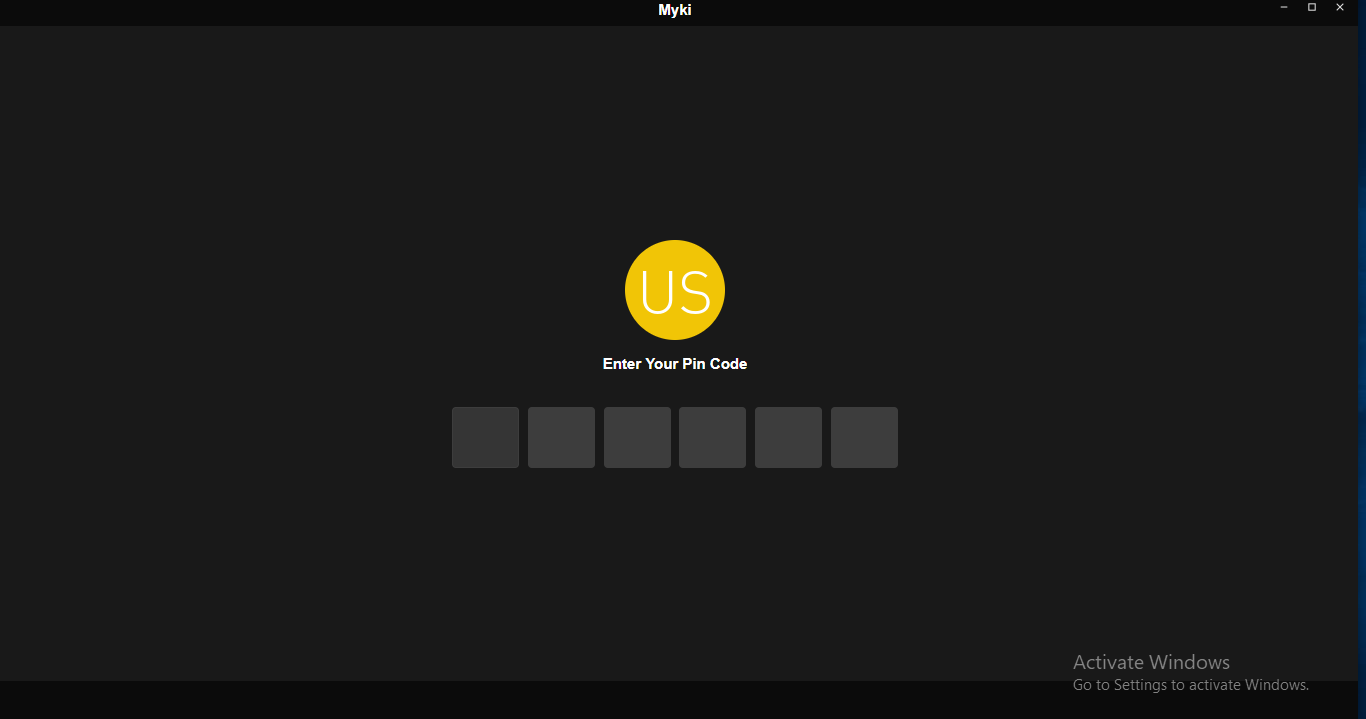 Similarly, the interface was also sleek and straightforward. And most of the functions require only a click or two to execute.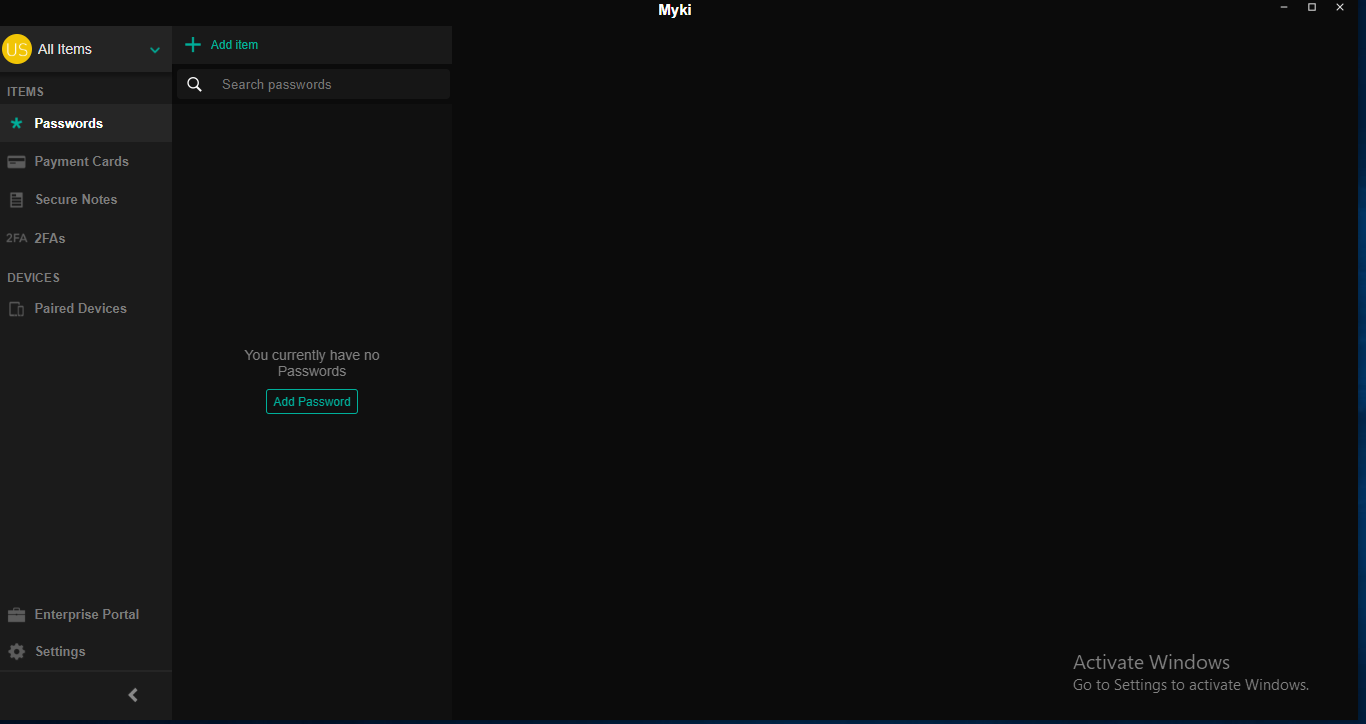 For example, to save a password, you just need to click the 'Add Password' button…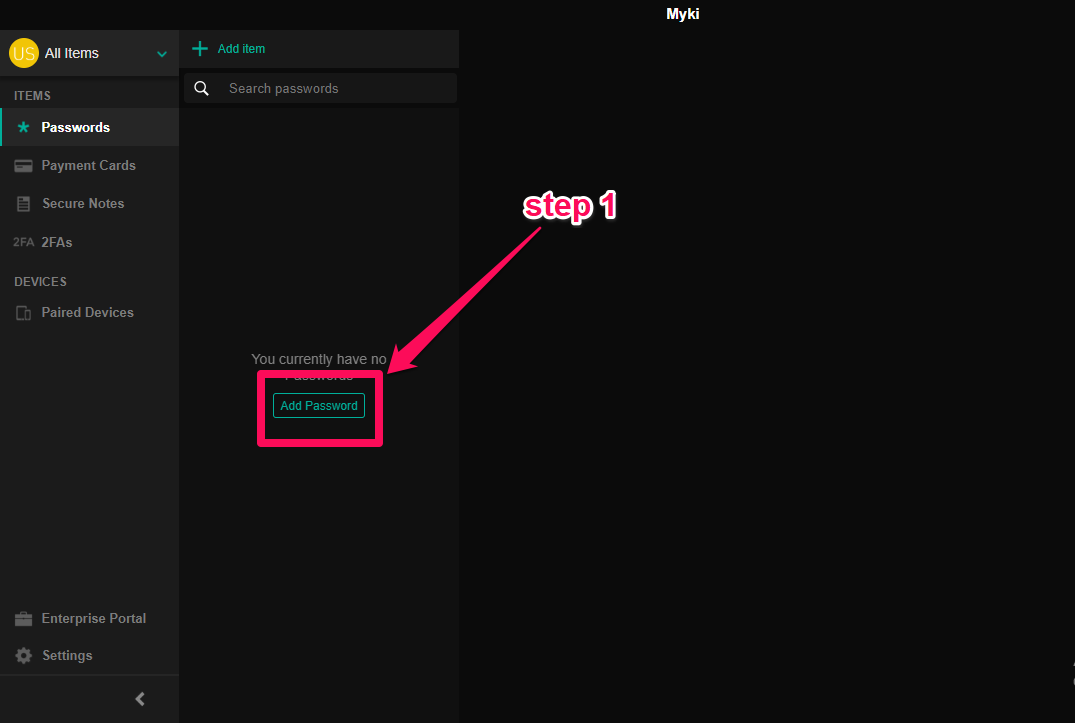 …fill in the details and click 'Save'. You're done.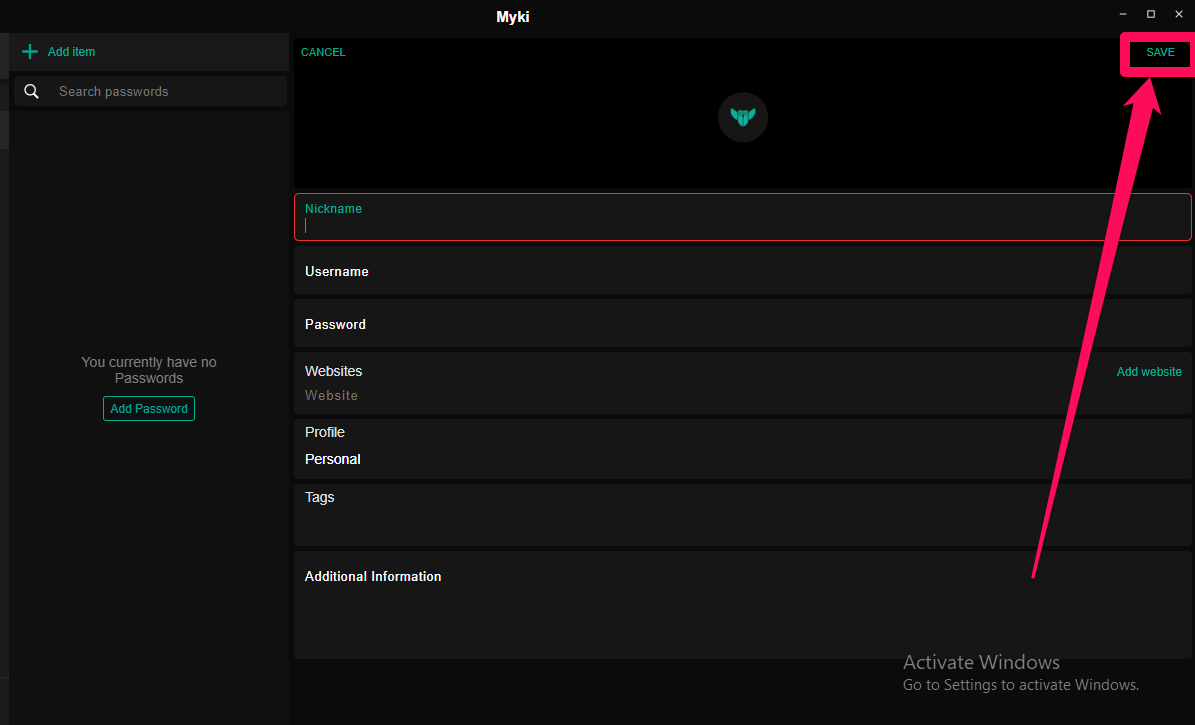 Following the same process, you can store credit card details, notes, data, and national IDs, too. Though the option to store national IDs is available only in the mobile app.
#2. The auto-fill feature of Myki desktop app was flawless. When you open a site whose credentials are already stored in the vault, it automatically shows you the login options like this:

Just click on the suggestion, and Myki takes care of the rest of the part.
Similarly, it suggests random, strong passwords to users while filling a sign-up form. And to my surprise, you're allowed to generate passwords as long as 200 characters. Yes, 200 hundred! That is an almost guaranteed level of security for your passwords.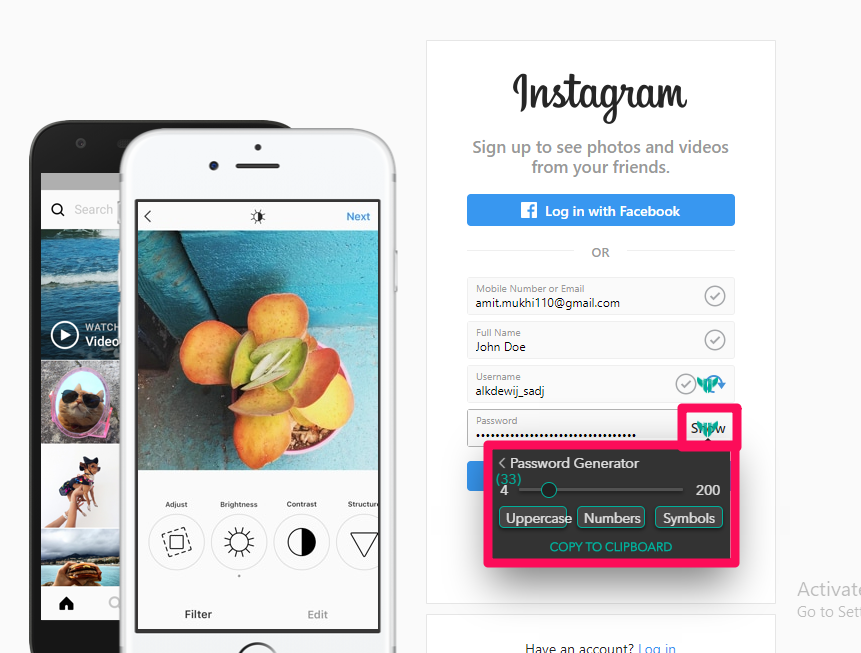 That's the maximum limit I've seen in any password manager.
Now, that being said, this same auto-fill feature in mobile is quite annoying. I've talked more about it in the 'Cons' section.
#3. Myki uses the industry-standard 256-bit AES encryption system to encrypt your data and never saves anything in the cloud.
Moreover, instead of a master password, it allows you to log in to your account using a 6-digit PIN or your fingerprints.
However, in my personal opinion, a master password is more difficult to guess than a 6-digit PIN. And that might risk your account of unauthorized access.
But again, they have two-factor authentication to solve this issue, too.
#4. Myki is available everywhere. It's one of those rare tools that also support Linux along with Windows, macOS, Android, and iOS.
And the best part?
You can use the software even while you're not connected to the internet. This is a big bonus that many free password manager software tools cannot offer.
Myki Password Manager Cons
#1. Even though Myki is available on all the platforms, pairing another device to your account is a real pain.
While other tools need you to sign in with your credentials, Myki asks you to scan a barcode or shows a verification code that you need to enter on the other device.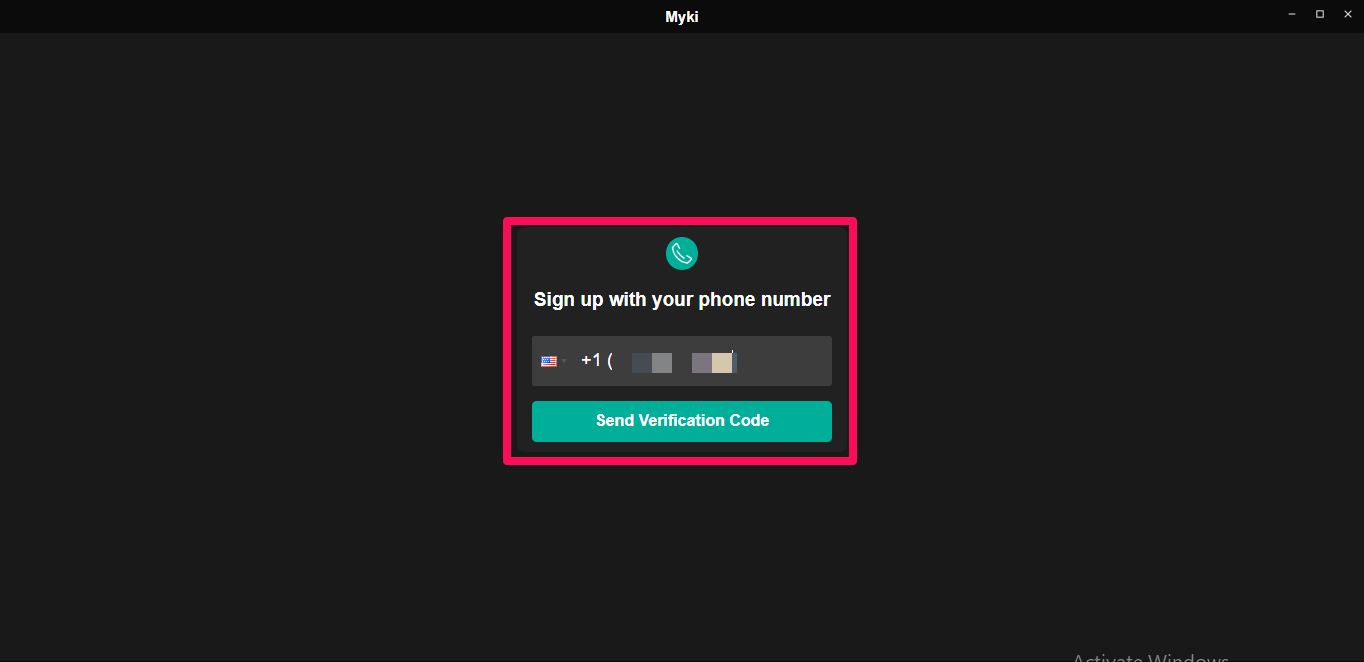 In my test, I was able to connect the Chrome browser extension with the desktop app within seconds. But the real problem occurred when I tried connecting my mobile app with the desktop app.
Every time I entered the verification code on my smartphone, it was showing an error message even though the code was correct.
Now, why I didn't go the other route, i.e., scanning the barcode?
Well, it requires your desktop to scan the barcode given on your phone. And that is almost impossible unless you have some unique facilities on your computer to read barcodes.
So, I would recommend starting with the smartphone app and then adding the desktop app or using a browser from there. That would be more convenient.
#2. Myki has a sloppy security dashboard that flags almost every password as strong. An ordinary password like '1Password$$' was also marked strong by the system.
So I would recommend going to the details section of each and every password you save instead of relying on the foul security dashboard. Because the detail section is the only place that authentically shows how strong your credentials are.
#3. Another major drawback of Myki is its buggy auto-fill feature in the mobile app.
While the desktop app and browser version were quick and sharp in recognizing my login details, the mobile app version always returned "wrong username or password" message. Even though the details were absolutely correct.
#4. I was also disappointed with the password sharing function of the software.
Firstly, the feature is available only in the mobile app version. And that too, your data can be shared only with fellow Myki users.
That is unlikely in other programs where you could just choose the password you want to share, enter the email address of the recipient, and click send/share.
#5. No multi-factor authentication is available on this software.
Myki Password Manager pricing plans and payment methods
Myki is free for individual users. But if you're planning to buy the software for your family or team, you need to pay $3.99/month per user (billed annually).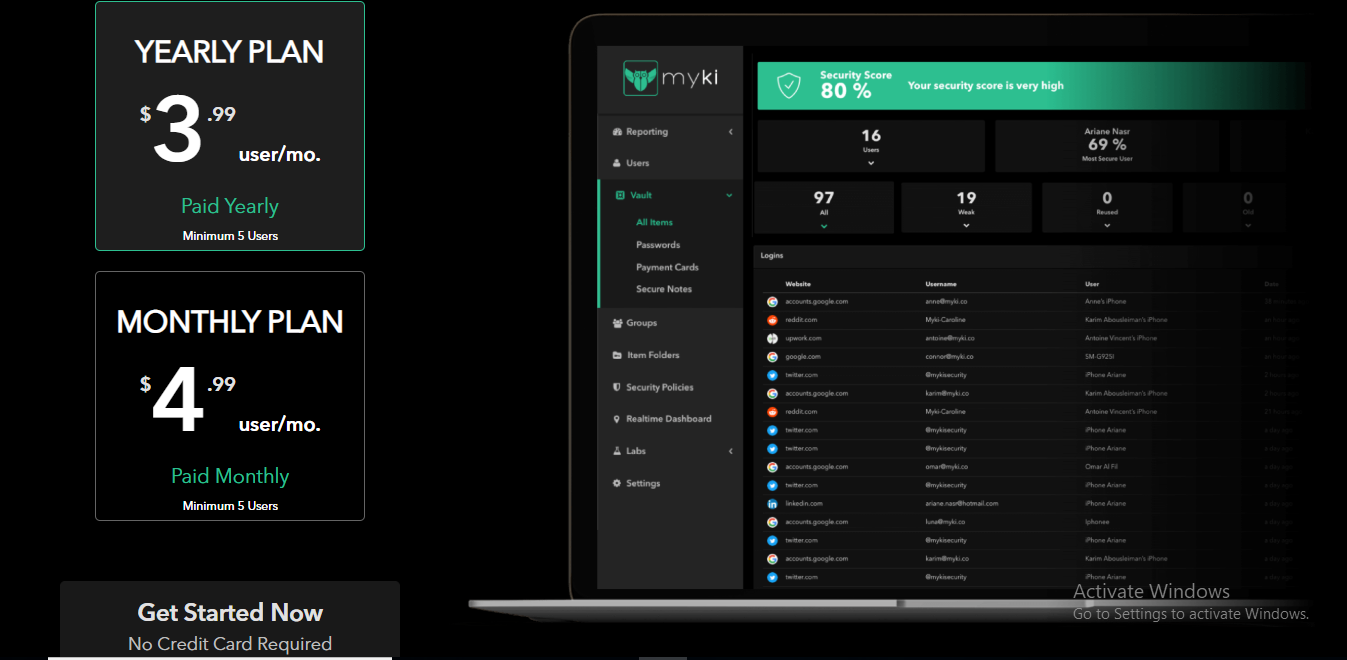 Now, if committing for an entire year is overwhelming, then I would recommend going for the monthly plan that costs $4.99/month per user. That's suitable for those who want to test the water before going all in.
PayPal and credit cards can be used as a way to pay for the subscription.
And now, the final question, which is…
Do I recommend Myki Password Manager?
The free version of Myki is pretty solid on paper and honestly speaking, could be a game-changing app, especially for individual users. It can be the first line of security defense against hacks, breaches of data. However, poor execution on the product makes it hard to justify paying for the tool. Especially when tools like 1Password, Keepass, Sticky Password, Bitwarden, and Zoho Vault a lot more for secure password managers.
The free password manager software is loaded with features, but most of these functions are mediocre or buggy leaving it with limited competency. In fact, you can easily find a free password manager and even open-source software that offer a lot of the same benefits.
So, it would be better if the developers rectify the nuisances and bring an improved version of the app in the next update.
But as for now, I don't recommend this product.