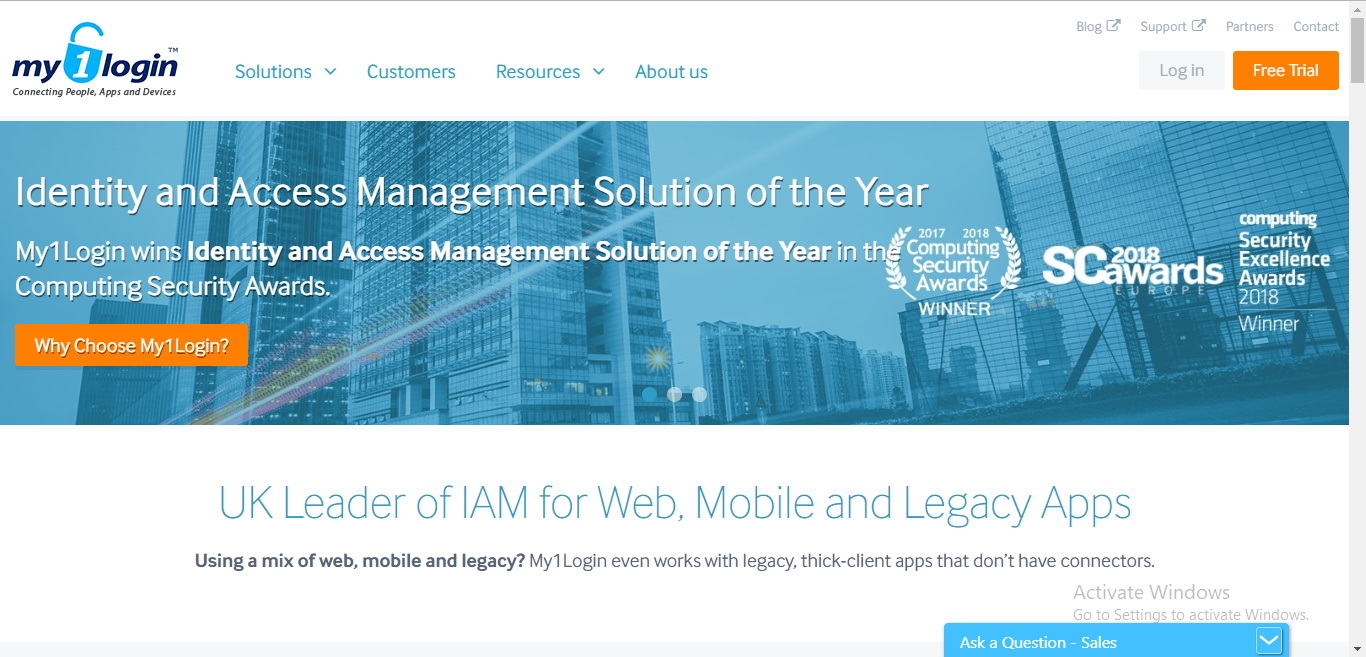 My1Login is basically an identity and access management solution for large and medium-sized enterprises. It's a group of different tools that takes care of various aspects of identity and access management of a firm.
So, unlike other programs, password management is just a small part of its job. And My1Login has a specific tool to oversee this section called Privileged Password Manager.
Privileged Password Manager is a decent product you can use in a company to store and share passwords. With permission-based sharing, you can share the login details to other employees without revealing the actual credentials.
And using the single sign-on (SSO) feature, they can autofill login credentials for the site with just a single click.
But having said that, I didn't find anything special in this tool. Other cutting-edge programs offer far more than My1Login's Privileged Password Manager.
In fact, it lacks many key features that might irk many users, and in the following section, I've explained everything in detail.
In this My1Login review, we'll take a look:
Our Verdict
No, I don't recommend My1Login to anyone. Not even to enterprises and small companies simply because other than saving passwords, the tool has no other security features.
Clean dashboard
Multi-factor authentication
Accessible on web browsers and mobile devices
In-house password strength checker
Single Sign-On (SSO) feature
No password sharing
SSO feature doesn't work outside the software
No audit report
Doesn't mention the encryption system
Irrelevant for individuals and even for families
My1Login Pros
#1. Since Privileged Password Manager is not built for individuals, an average user might take several minutes to get started with it.
Once you sign in, it takes you directly to the admin page aka the control room from where you'll manage all the users and secure passwords.
The interface of this admin page is though quite similar to other password managers. It has a navigation bar on the left and clean white space in the middle. And once you're familiar with this interface, you will just breeze through every function.
For example, the 'Dashboard' gives you a quick overview of your company. It contains information regarding the total number of users under you, total shares, and a few details about your personal account.

Similarly, the 'Users' section is where you find the complete list of groups you've created and all the users under these different groups.

You can manage everything from here. Like adding or removing users, share something to a specific member of your team, or create or delete groups.
Just like this, the 'Apps' section is for adding or removing login details, and other sections like 'Reports', 'Security', 'Notification', and 'Device' are for specific tasks, too.
In short, you can conclude that even though Privileged Password might seem new, it's quite user-friendly once you're familiar with the interface.
#2. My1Login has included multi-factor authentication to make sure no one accesses your secure account and sensitive credentials without your permission.
You can use Google authenticator, Yubico, public key tokens, and even local biometric system to protect your account further.

#3. My1Login is accessible on web browsers and mobile devices. Whether you use a Windows or Mac computer or an Android or iOS smartphone, it works well everywhere.
But I would recommend using it primarily on your computer because the mobile versions are just the ripped versions of the computer versions.
#4. My1Login doesn't offer any security audit report, but they do have an in-house password strength checker to analyze different passwords.
And the best part?
It's available on the main website so that anyone can use it to check their password strength.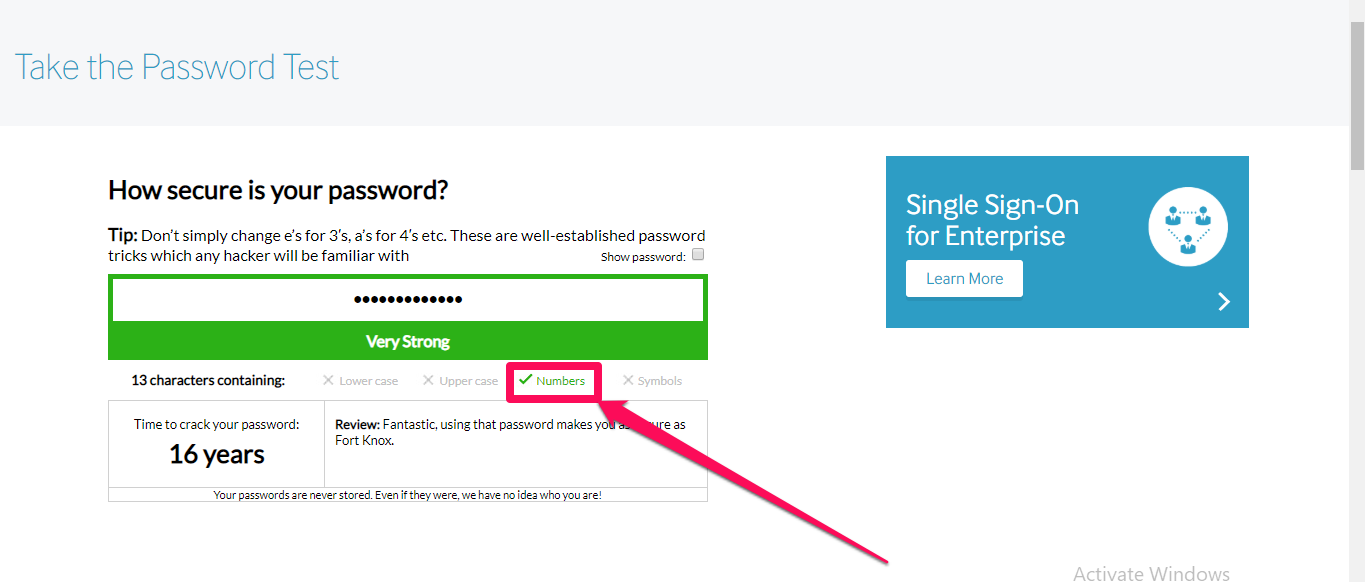 #5. Users can launch a site or app right from within the software in a single click using the Single Sign-On (SSO) feature.
My1Login Cons
#1. Even though My1Login is a prestigious name in the identity and access management industry, it lacks many key features that even a free tool can offer.
For example, you can't store or share any sensitive data like card details, addresses, or secure notes in the encrypted vault. And can't access it while you're offline.
#2. Even though the SSO feature is excellent for launching apps from within the software, it doesn't work outside the software.
In simple words, you'll have to open the software to auto-login to a specific app or platform.
Unlike other programs, you can't open a site and use the browser extension to auto-fill your password details without even opening the app.
Similarly, the password generator also works only inside the software. It can't help you generate strong passwords automatically while filling sign up forms.
#3. As I mentioned in the 'Pros' section, the password checker of My1Login can only check the strength of your password.
It can't spot weak or duplicate credentials or present an audit report, which is common in other tools.
#4. My1Login is not transparent about its security and doesn't mention anything about the encryption system they use.
Sure, they've multi-factor authentication to prevent unwanted break-ins, but a robust encryption system is imperative to tackle online hackers.
#5. And last but definitely not least, My1Login is completely irrelevant for individuals and even for families. And this single reason is enough to make many users ditch this tool.
My1Login pricing plans and payment methods
My1Login has a pay per user pricing strategy for all its products. And since we're talking about its password manager, it costs £2/user per month.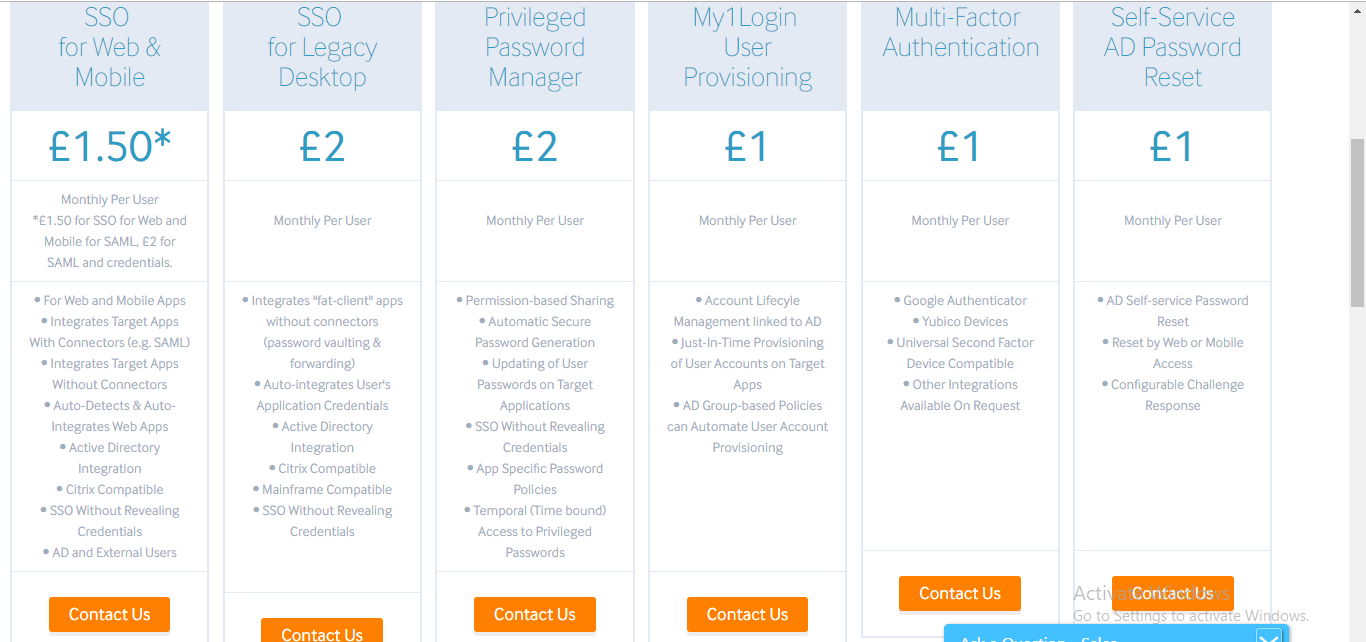 It's definitely a nominal fee but get ready to pay an extra £1 for each user every month if you want multi-factor authentication, too.
As for payment methods, they accept all major credit cards.
Do I recommend My1Login?
No, I don't recommend My1Login to anyone. Not even to enterprises and small companies simply because other than saving passwords, the tool has no other security features. There are a lot of other free password manager tools, and even open-source software that can help avoid security breaches, and password vulnerabilities.
On the other hand, you have modern-day programs like Keepass, Roboform, LastPass, Dashlane, and 1Password that offer much more than My1Login at a much cheaper rate and are also much more comfortable to operate.