McAfee is famous for its anti-virus programs, but the password manager is no second fiddle.
The software is designed for individual users, and barring a few aspects, does an excellent work managing your passwords and other details.
My overall experience with this password manager software was terrific.
Of course, most of the features are common as you see in other tools. But the two-factor authentication and multi-factor authentication makes it stand out because even some of the most sophisticated tools lack this very attribute.
Now, that brings me to the question: can this program replace the other cutting edge options like Lastpass, Dashlane, Keepass, Zoho Vault, or Roboform?
In this McAfee True Key review well go through the pros and cons.
Our Verdict
I would recommend this tool only to those individuals who don't really need a password checker. Read on for other recommendations.
Getting started is easy
Spot on auto-fill and automated password generation
256-bit AES encryption
Limited device restrictions
No password sharing
No password analyzer
Only 15 entries with free version
McAfee True Key Pros
#1. Getting started with McAfee is easier than all the other programs. You can download the app on mobile devices including Android and iOS. Or for Windows and Mac users, you can use the browser extension for Chrome, Internet Explorer, Firefox, or Safari.
The easiest way to get started is to add the browser extension and enter your name, email, and master password. That's it! You're ready to rock.
No need to install any desktop app or go through any verification process.
After the short initial process, the next slide presents a collection of different sites organized in panels.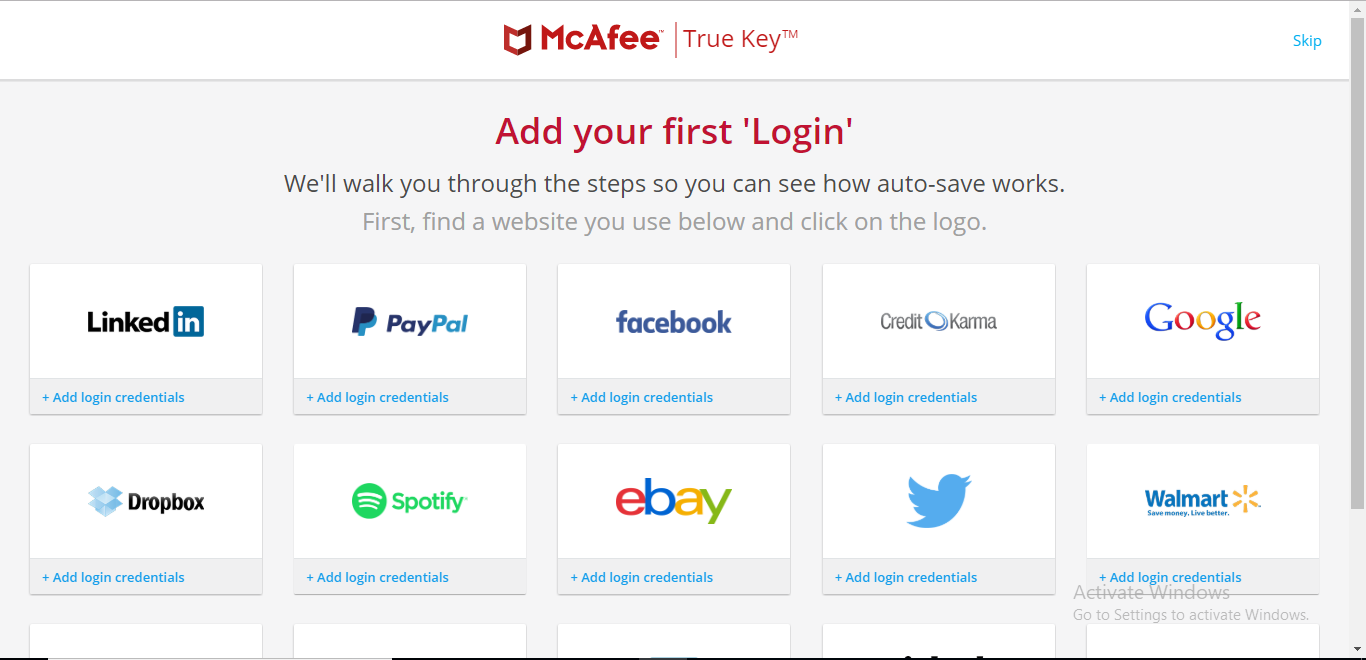 Now, you can either get straight to the business or skip it to land on the interface that looks something like this:
Simple and beautiful with lots of white space and only a single option on the screen.
The interface is further divided into three different sections – Logins, Safe Notes, and Wallet – categorizing the different information you can store in the vault.
So, for example, if you want to store login details, go to the 'login' section and click the 'Add Login' button.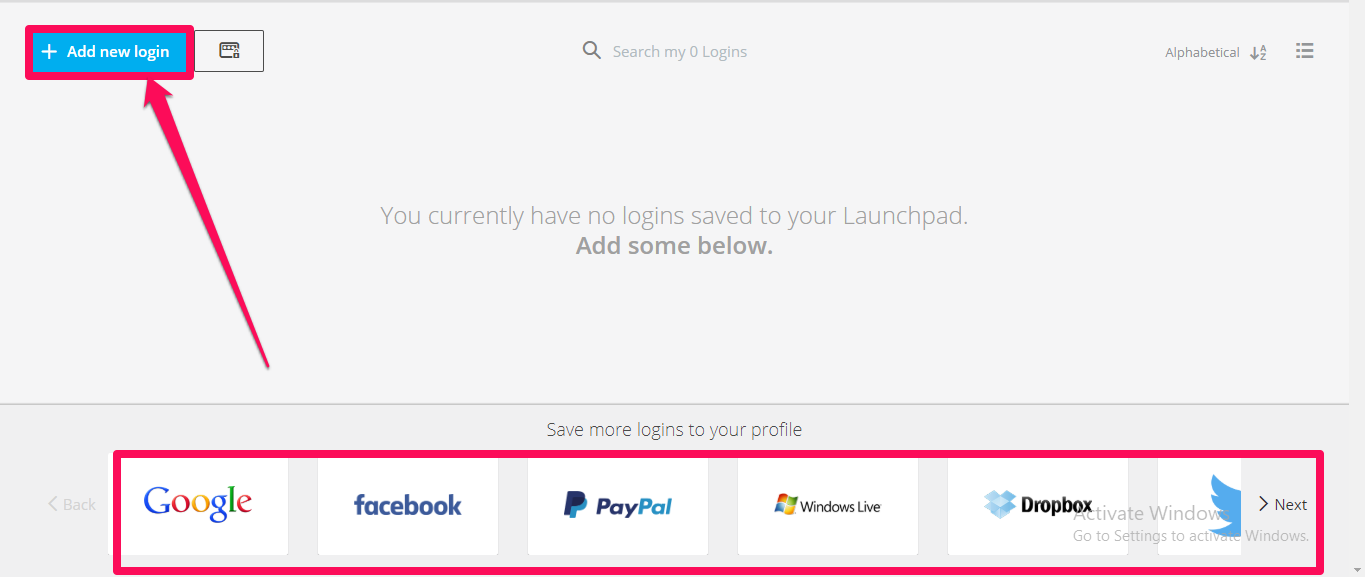 The next wizard asks whether you want to import your password or add it manually.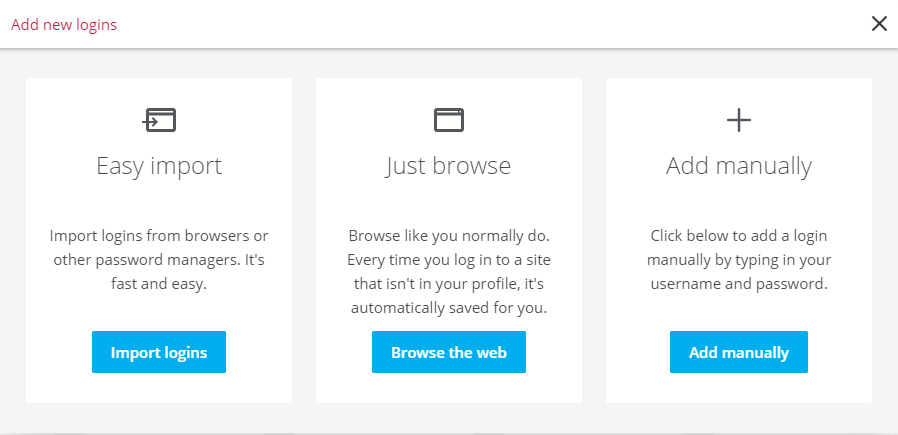 Now, if you already have your passwords stored in Chrome, Firefox, or Safari, click 'Import'. Otherwise, go with the 'Add Manually' option.
Next, fill in the details and click 'Save'. Your password is saved.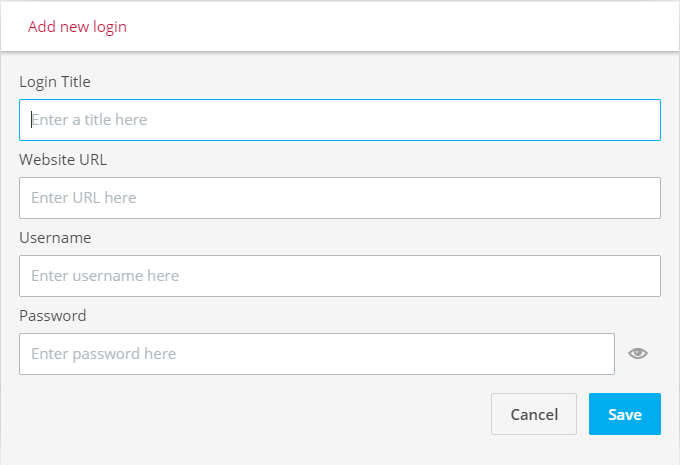 Similarly, you can add notes in the 'Notes' section and card details, addresses, online identities, government IDs, and more by switching to the 'Wallet' section.

#2. The auto-fill and automated password generation is spot on.
I tested the auto-fill on almost every type of webpages. From social media accounts to online shopping pages to odd web forms. It never missed a single detail because as I mentioned in the previous, you can save literally everything in the vault.
And the best part?
It automatically opens your online accounts after filling the login details. In short, it takes care of everything without requiring you to raise even your fingers.

Similarly, while signing up for a new PayPal account, the password generator option popped up the moment I clicked on the password field.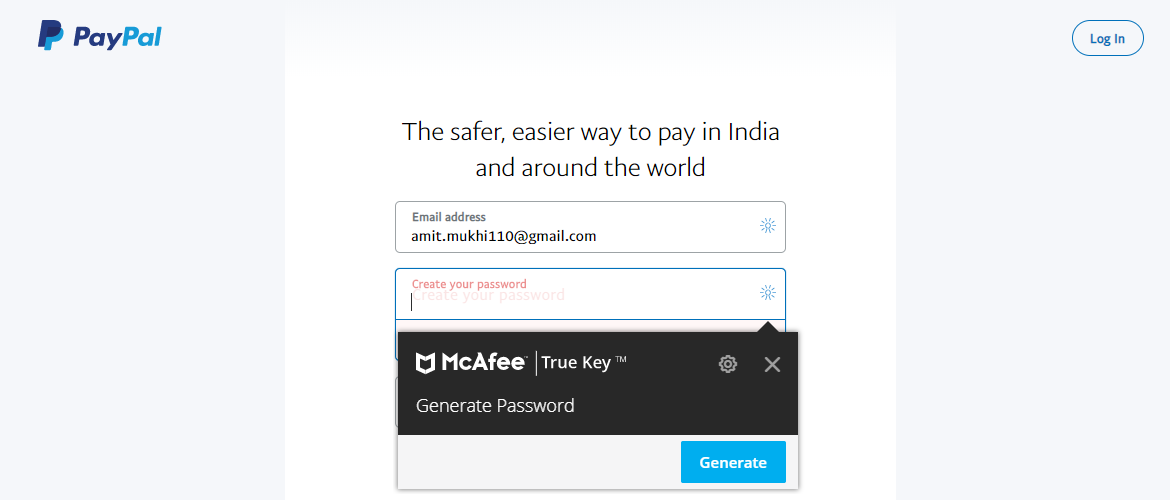 And unlike other programs, as soon as you ask it to create a password for you, it punches that password in the required field without even asking.
Didn't like the current password?
Click 'Generate' again, and it shows a new string of characters and also enters the new password in the 'Password' field automatically.
#3. To make sure no one can decode or access your passwords, McAfee encrypts your data using the 256-bit AES encryption. An encryption system military and U.S. government use.
And the company top it up with two-factor and multi-factor authentication to add an extra layer of security.
Moreover, you're also allowed to permit only trusted devices to access your vault.
If anyone tries to log in to your account on a different device, you get a notification for that.
That way, you can make sure no one, except for you, can get their hands on your sensitive data.
#4. Another major plus point of True Key is its limited device restrictions.
Since it's only a browser extension, you can use it on your Windows or Mac PC as a Chrome, Firefox, or Safari extension. On the other hand, mobile users can install the iOS or Android app on their smartphones.
And using the auto-sync, you can make your data available on all the devices you own.
McAfee True Key Cons
#1. True Key is designed while keeping an individual user in mind. That's why the developers rendered no facility to share your passwords or data with other users.
Also, you can't use the software without an internet connection.
#2. The software does an excellent job in securing your data but slightly misses the mark by not offering any password analyzer.
So, your weak passwords are always prone to hacking unless you use a third-party app to identify and change them beforehand.
#3. The free version of the program allows you to save only 15 entries, which is bizarre compared to the other tools.
In other words, McAfee is literally pushing the users to pay for the software whether they want it or not.
And the worst part is, most of the key features are available only for the paid customers.
So in a way, McAfee is asking you to either pay or leave.
McAfee True Key pricing plans and payment methods
McAfee follows a no-nonsense pricing strategy for True Key.
You either stay with the free version with only 15 entries or remove the restrictions and unlock all the features for $19.99/year.

And you can use PayPal or credit card to pay for the program.
Do I recommend McAfee True Key?
True Key is an exciting tool that makes storing strong passwords and other details possible without installing any software, and using one simple master password.
I really loved how convenient working on this password manager software was and its accurate form filling ability. But the restrictions on the free license and absence of a password generator or password analyzer is also non-negotiable. Especially considering McAfee antivirus software is known to offer malware and ransomware protection, it seems that not offering a way to create strong passwords is a big oversight.
For those wanting to use the software on iOs devices or Android devices, True Key will remember your passwords for you, and automatically fill in your username and password on apps and websites
So, I would recommend this tool only to those individuals who don't really need a password checker.
Otherwise, you should go for LastPass, Dashlane, or 1Password, that cost almost the same or a little more, but offers everything.
Families and businesses should also ditch True Key and consider the programs I mentioned in the previous paragraph.