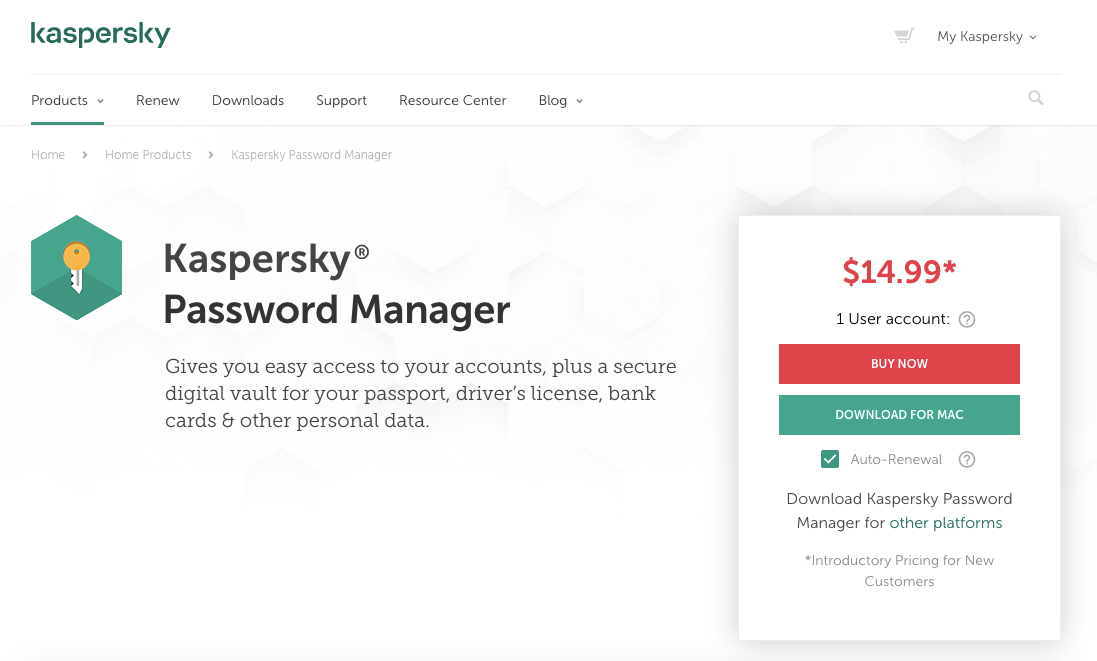 Kaspersky is a big name in the cyber security world. Their Kaspersky Total Security provides a suite of internet security products to help protect against malware, safeguard your Wi-Fi network, and lockdown your web browser.
On the plus side, the software is extremely user-friendly. The autofill lets you load usernames and passwords instantly.
Similarly, the security audit and password generator are also good. So can Kaspersky keep up with LastPass or Dashlane?
Barring these handful of basic security features, I don't see a lot to justify upgrading with this tool.
The free version is also limited to just 15 entries, which is the worst among all the password managers I've tested.
Apart from this, the software is not designed to cater to the needs of a company or family. So you can't share secure passwords, can't use two-factor or multi-factor authentication, and can't use it offline.
Let's see how the pros and cons compare in this Kaspersky password manager review.
Kaspersky Password Manager Pros
#1. Easy to Use
Kaspersky is known for developing simple and straightforward solutions for its consumers and this password manager is no different.
The app itself is very lightweight (8.8 MB) and takes only a few seconds to install and setup.
And as you login to your account for the first time, you come across a dead-simple interface where all the options are clearly defined.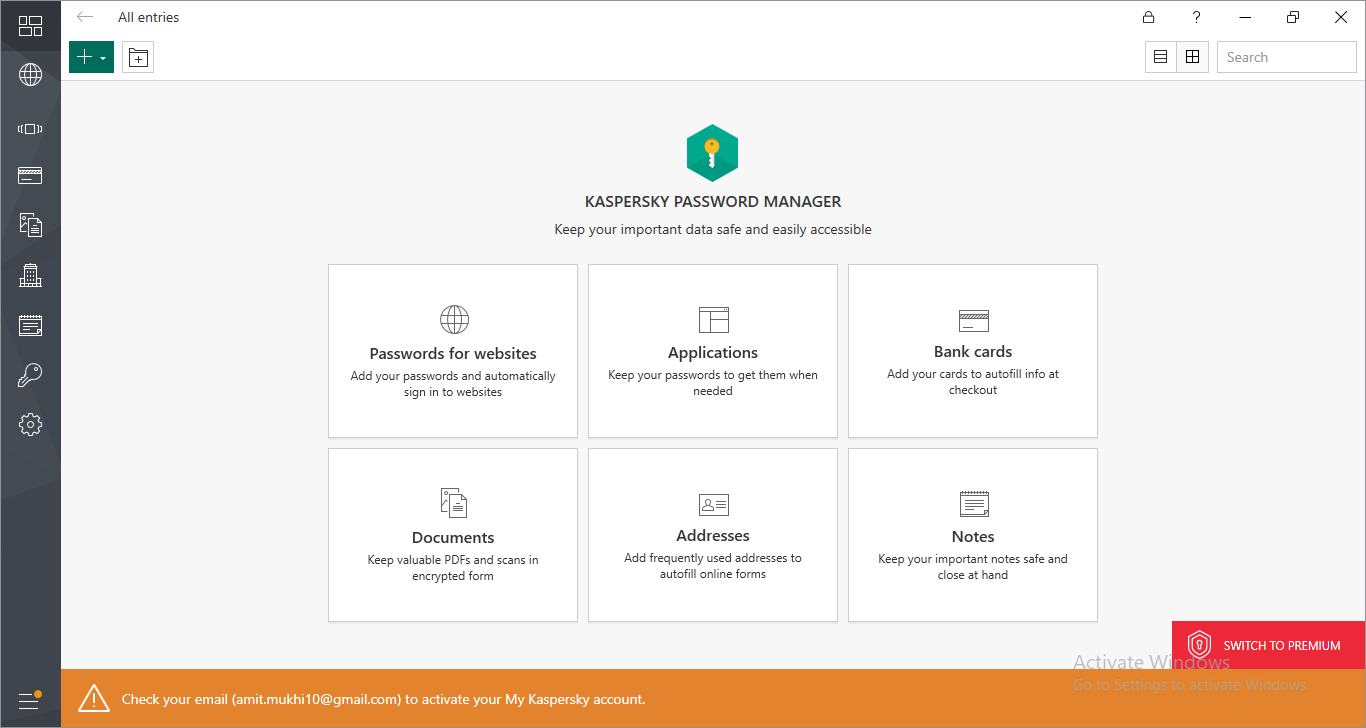 From here, everything is just a click away from you. For example, choose the data you want to store. Whether you want to save website credentials, credit card details, driver's license, home address, or more.
Once you've selected, click 'Add Website,' fill in the details, and click 'Save.' That's all you need to do to save a strong password.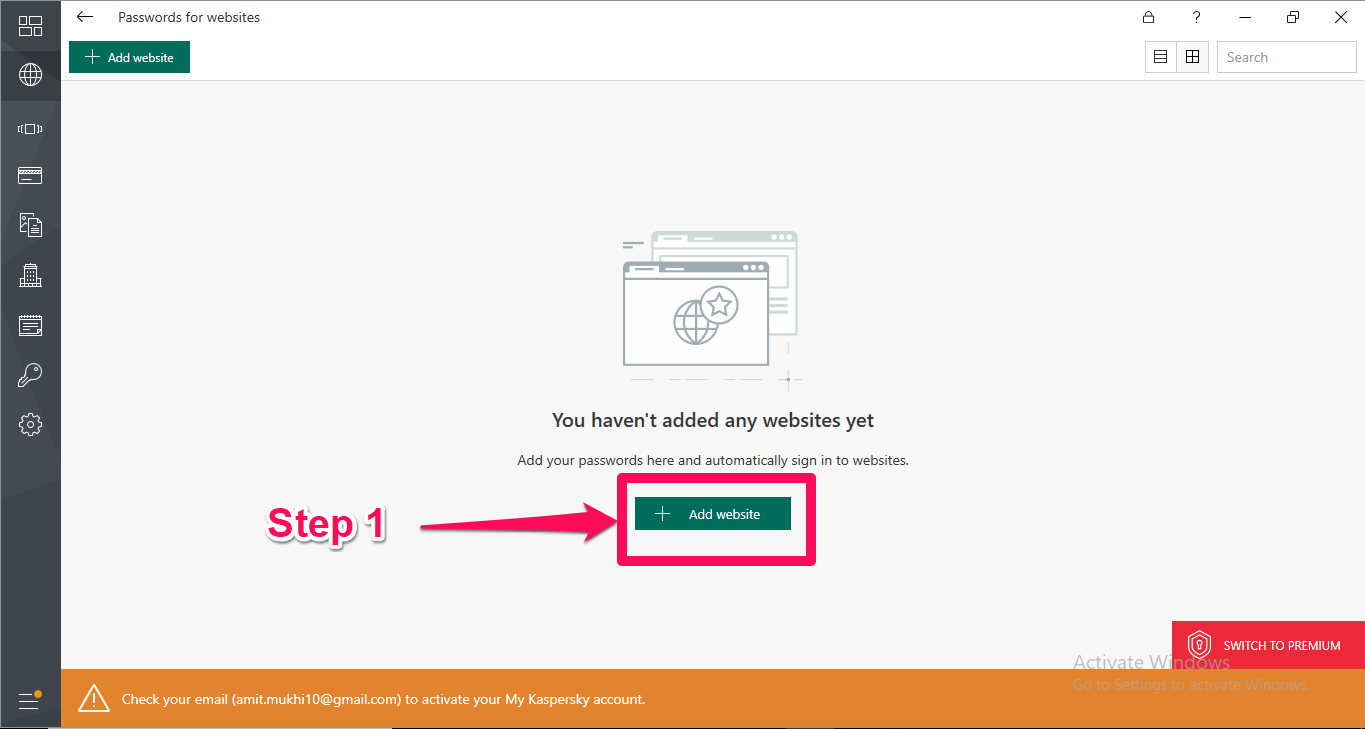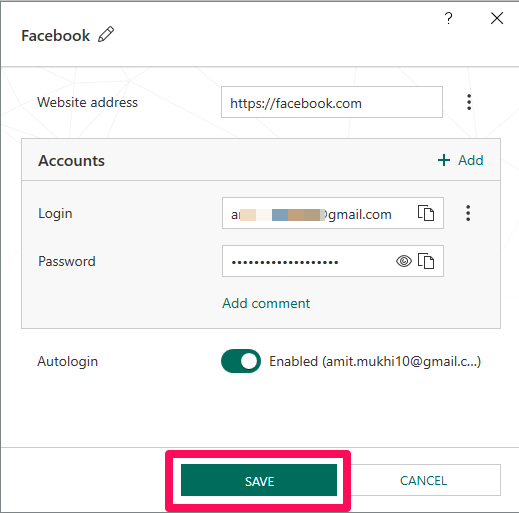 Similarly, everything else, from getting an audit report to generate a password is just a matter of a click.
#2. Secure App Encryption
Kaspersky makes sure all of your most sensitive data is encrypted inside its password vault.
They top it up with PBKDF2 to encrypt your master password that adds another layer of secure protection to your data.
#3. Fast, Excellent Autofill
The autofill feature of Kaspersky is the best and quickest among all the password managers I've tested so far.
Unlike most of the other password managers, Kaspersky automatically detects the website in your browser and punches the credentials into the required fields.

Then, you automatically gets logged into your account and all this happens in a jiffy. Without you requiring to click even once.
What's more?
While signing up for a new platform or service, it suggests you strong, random passwords inside the browser when you click the Kaspersky extension icon (the 'Key' icon).

If you didn't like a specific password, hit refresh and it generates a new password.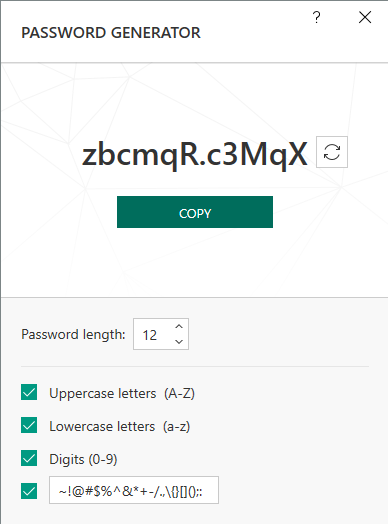 And once you've accepted one, Kaspersky saves that password along with your username and other details automatically to the vault.
#4. Good Password Audit Authentication Reporting
With Kaspersky Security Report, you can know the current status of your existing strong passwords.
Though the report doesn't contain any overall score, you can spot all the passwords which are prone to online attacks.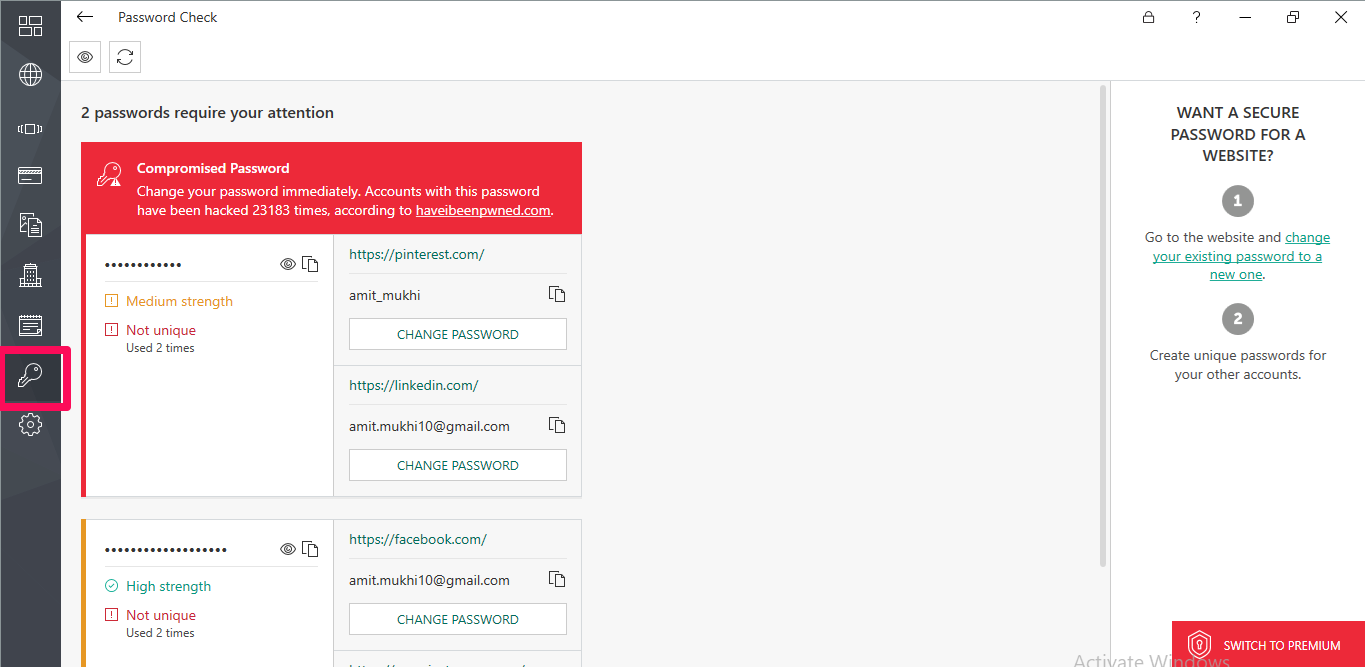 Also, it points out the credentials you've used repeatedly and asks you to replace them with stronger options so that you have unique passwords for each and every site.
It works pretty similar to the LastPass authenticator, so it's definitely a decent alternative.
#5. Apps Available on All Popular Operating Systems
You can use the Windows or Mac apps on your computer. And they also have Android or iOS apps for mobile devices, too.
The best part?
A single user license is enough to enable you to run the software on all your devices (running on the same operating system).
Moreover, you can use the sync option to store the entire password database across all your devices.
Kaspersky Password Manager Cons
#1. No Two-Factor Authentication
Kaspersky seems to lag behind other programs when it comes to preventing unauthorized access. The absence of two-factor authentication and multi-factor authentication are major flaws that other modern-day software includes in their feature list.
#2. No Secure Password Sharing
Just like two factor and multi-factor authentication, secure password sharing is also unavailable in the software. And that makes it totally irrelevant to families and enterprises.
#3. No Offline Access
You can't use Kaspersky Password Manager without an internet connection.
#4. Extremely Limited Free Access (15 Login Credentials Max)
And finally, as I mentioned earlier, the free version of the software restricts you to just 15 entries, which is bizarre.
You don't experience such restriction on any other tool while testing their free version. It's like, Kaspersky is forcing its users to convert into a paying customer. And it won't go well with many of the users.
#5. No Browser Extension Available
Last but not least, there are no browser extensions for popular web browsers like Chrome, Firefox, Safari, or Microsoft Edge (previously Internet Explorer).
Kaspersky Password Manager Plans & Pricing
Kaspersky is cheaper than many of the popular password managers.
The one year paid license of the software (for a single user) costs only $14.99 which comes down to a little more than a dollar a month.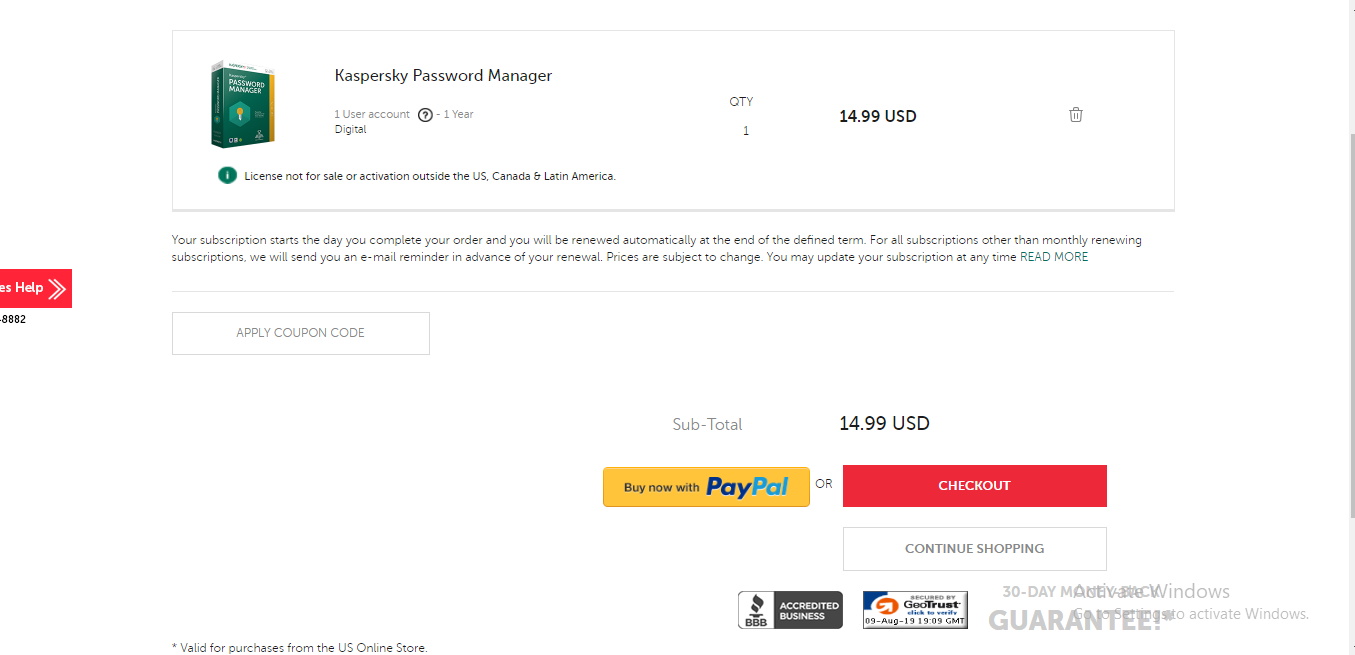 And as for payment methods, you're allowed to use your credit card or PayPal to pay the membership fee.
Do I recommend Kaspersky Password Manager?
No, I won't recommend Kaspersky Password Manager.
This app has some great features. But the problem is that the free version is too restriction, and the premium plan still lacks a lot of key features to manage your passwords or any other data like most other apps provide.
The free version max out at 15 entries and even if you upgrade to a premium license, you don't get anything extra except for unlimited storage. It's no better than a handful of other free or cheap options out there, including Roboform, iCloud Keychain, Datavault Password Manager, Zoho Vault, or even the completely free, open source Keepass.
So, in short it's not really worth it to invest in Kaspersky Password Manager.
I would suggest going with some better options like LastPass Premium or Dashlane Premium.