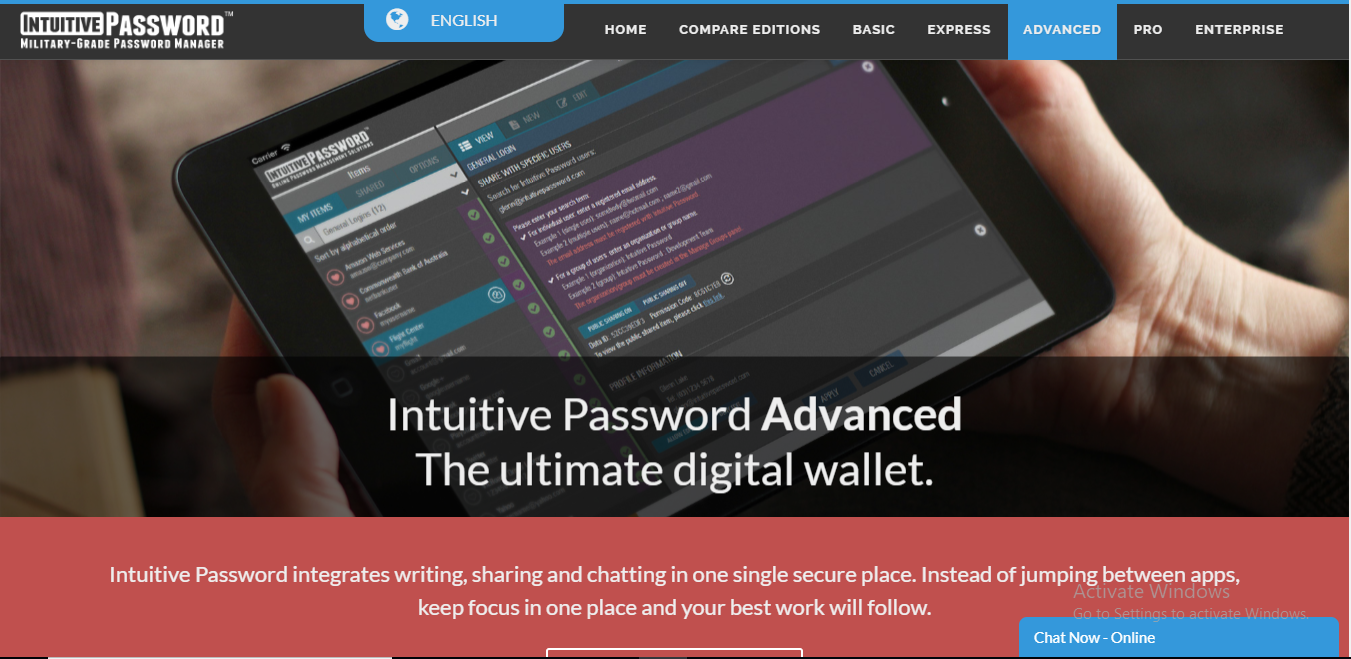 Intuitive Password is a two-in-one combo of a password manager and an online messenger.
Yes, you heard that right. An online messenger!
And this is what separates Intuitive Password from its competitors. Plus, this built-in chat facility also makes it a suitable option for companies or even families.
Besides this, Intuitive Password is one of those rare tools that use PBKDF2 system to encrypt data. And that's quite strange considering that most of the software use 256-bit AES encryption.
Anyways, the software does a decent job protecting your login credentials, card details, notes, and more. And the best part is, you can actually set up a reminder to change your passcodes at regular intervals.
That way you'll always be updated and can save your sensitive data from cyber attacks. Moreover, you can use the security dashboard to spot your weak or reused passwords and replace them with the help of the password generator.
Now, before we talk more about this tool, let me clarify that even though the software has a free version, we're gonna talk only about its advanced variant in this post.
Because the free version lacks many key features and doesn't stand a chance against cutting edge programs like LastPass or Dashlane. That's why the 'Advanced' variant.
Now, let's see how it stacks up against modern-day password managers.
Our Verdict
Yes, I do recommend the 'Advanced' license of Intuitive Password because there's simply no reason to turn it down.
Ease of use
PBKDF2 encryption
Auto-fill function
Complete audit report
Complete audit report
No multi-factor authentication
Intuitive Password (Advanced) Pros
#1. At first glance, the user interface looks quite busy and daunting, but in reality, working on Intuitive Password is no sweat.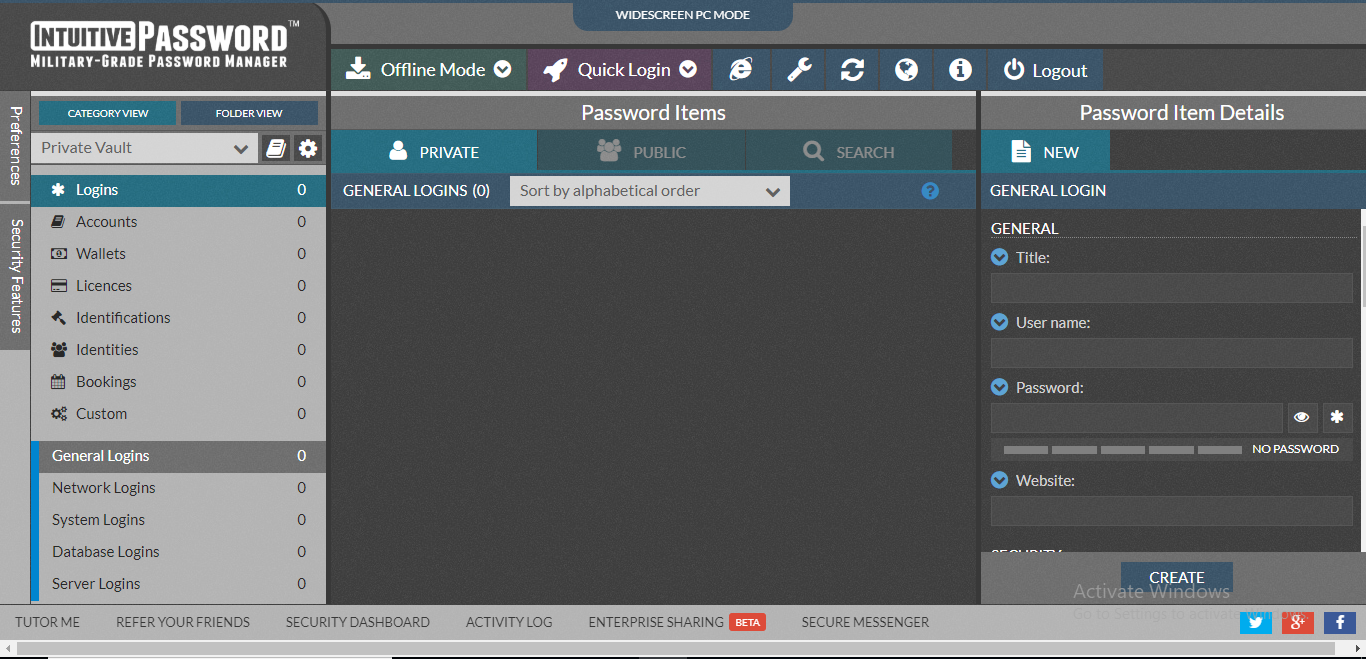 In fact, everything can be done from the same window.
For example, the left hand side of the screen has a list of options to choose from. You can choose whether you want to store a login password or credit card details, and then fill the information on the right hand side section.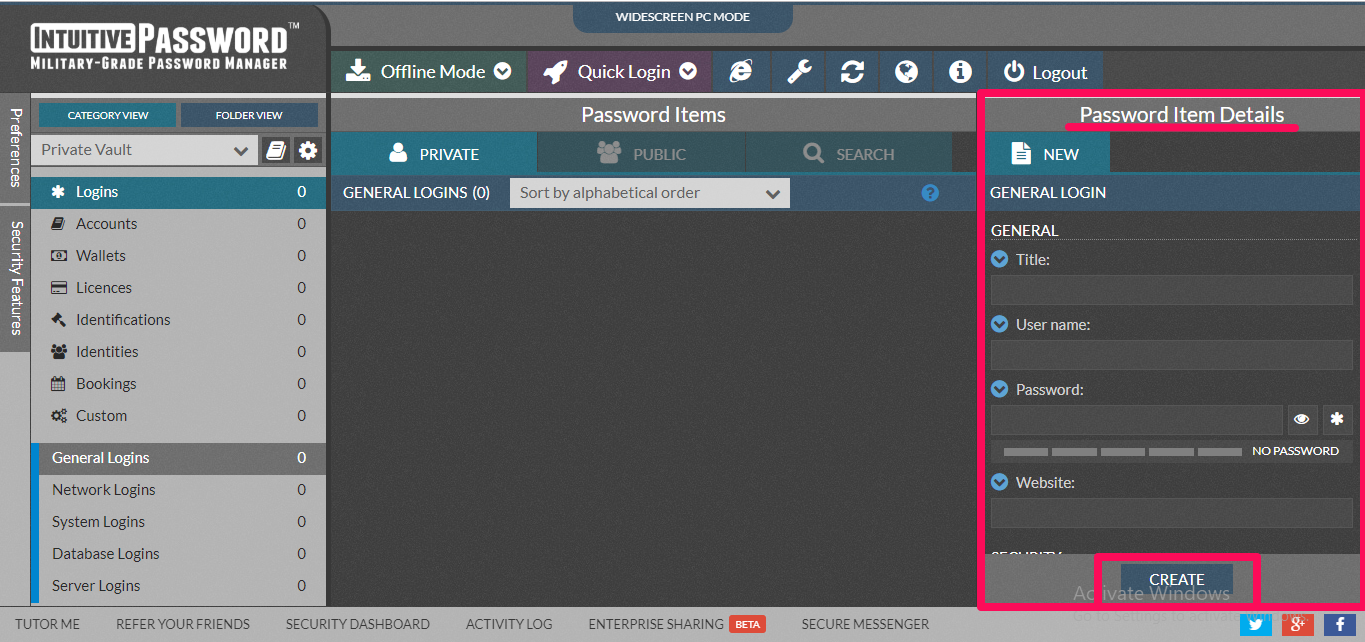 Similarly, the software allows you to save your password in an organized way by creating different folders and subfolders. That way, you'll never have any issues finding a specific credential.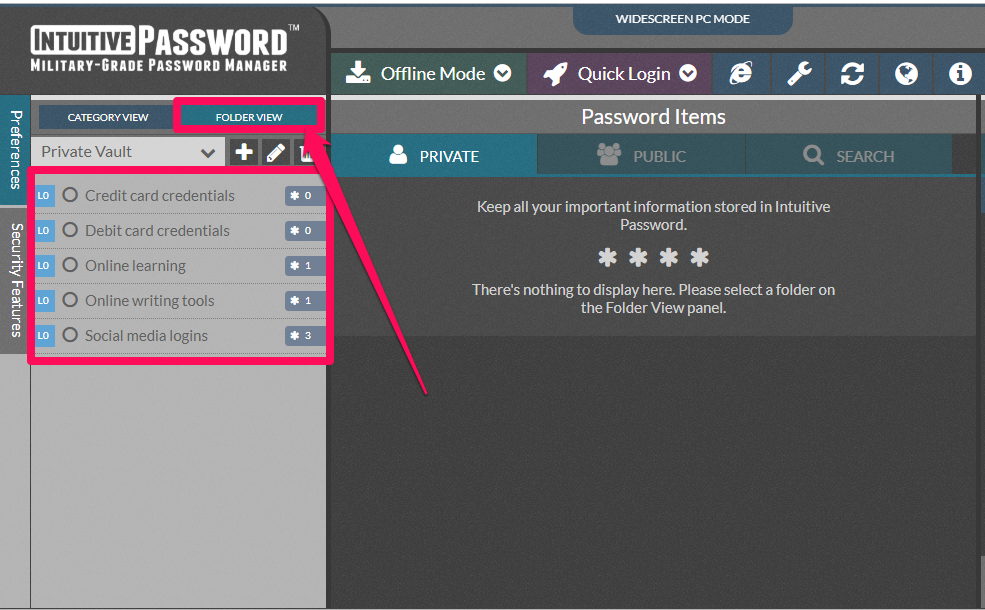 #2. As I mentioned earlier, Intuitive Password takes a different track by choosing PBKDF2 encryption over AES 256-bit. They use a unique salt for each credential you store and seems quite confident about their security arrangements.
Though it's still debatable which encryption system is better, for now, you can trust the company because there's provision to set reminders to change passwords at regular intervals.
And also, they have two factor authentication to deny any unauthorized access to your vault.
However, multi-factor authentication is yet to be added to the feature list.
#3. I have tested the auto-fill function of Intuitive Password rigorously and never came across any snag. And the procedure of the one-click login is the same as other password managers.
When you visit a website, click on the browser extensions icon…

…and it automatically shows the login credentials of that site if you've already saved it in the vault.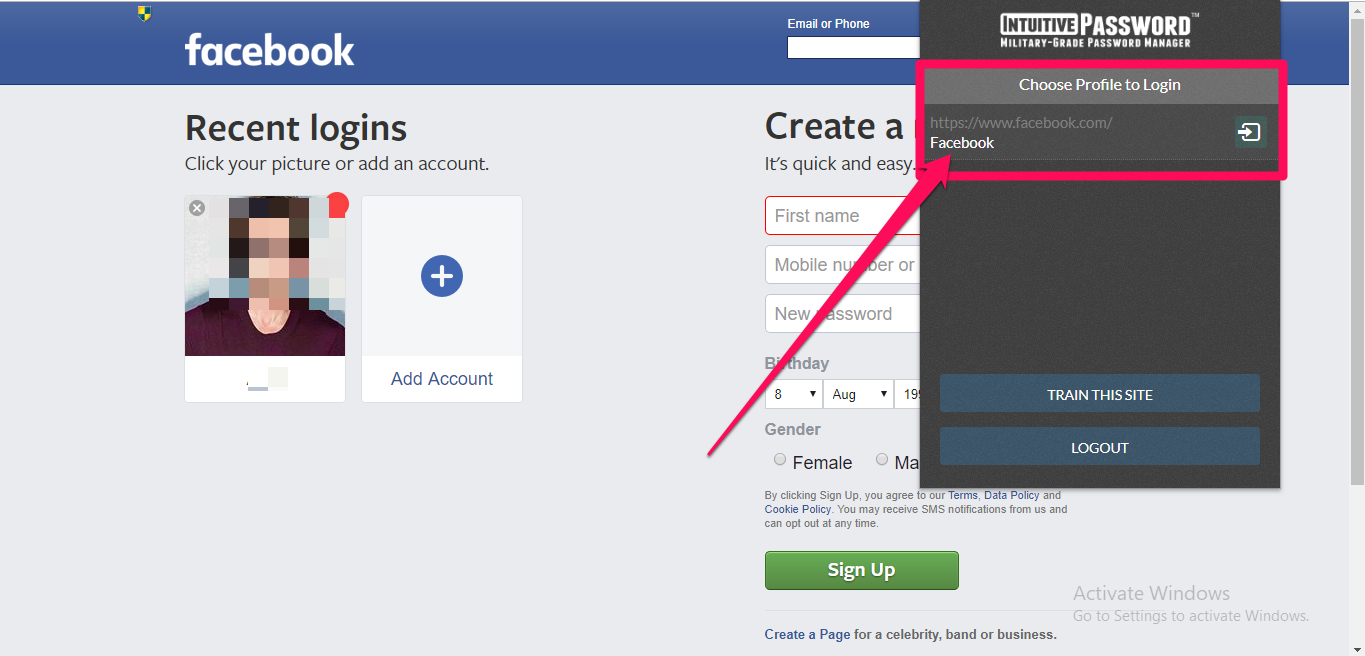 From there, it's just a matter of a click to login to your account or complete an online payment. Fast and reliable!
#4. While all the other password managers enables you to just share your credentials, Intuitive Password goes a step beyond.
Not only you can share your passwords with other users, but you can also talk to them or work with them in real-time using the online messenger function.
This built-in chat is super-handy if you're planning to buy a password manager for your company or family. Because not only you can share your credentials or notes, but also guide the recipient or take feedback from him/her spontaneously.
#5. Within the user interface, there's a section called 'Security Dashboard' that presents a complete audit report to you.
It basically analyze all the passwords stored in your vault and points out the weaker ones or those which you use repeatedly. For example, this is what I got after running a scan: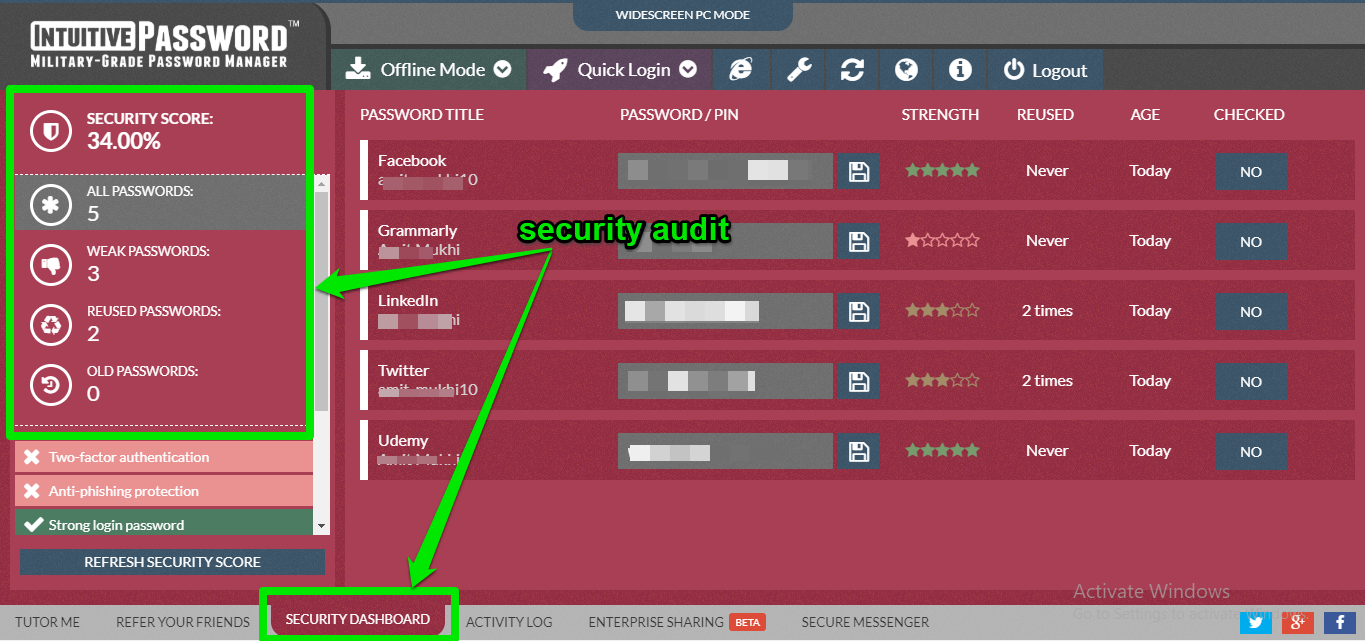 As you can see, it also gives an overall percentage score to let you know whether your security is compact or loose.
Similarly, the 'Activity log' keeps a record of all the little functions you do in the software. So even if someone breaks into your account, you can catch what exactly they did. Or which credentials they used.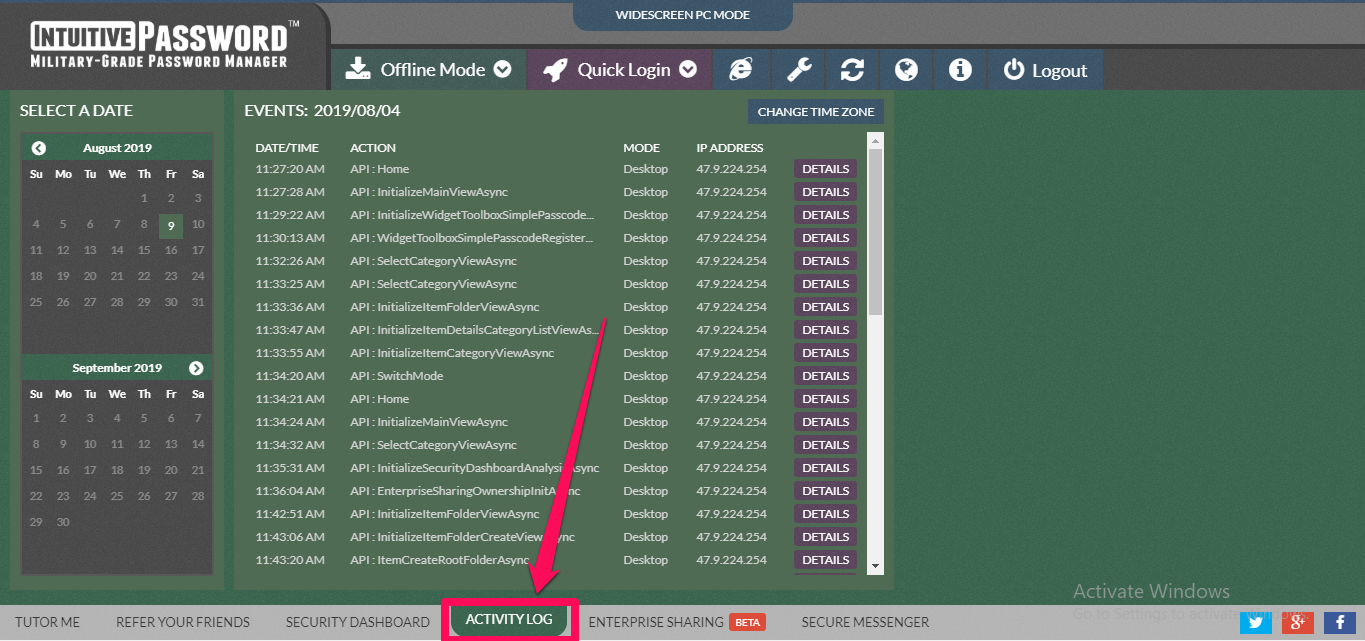 So you can then replace those credentials using the automatic password generator.
#6. Finally, there are no limitations when it comes to device compatibility.
Intuitive Password is available on Windows and Mac PCs as well as all the smartphones whether they're running on Android or iOS.
And what's more?
You can access your account from any device without any internet connection. Though you do need to be connected to the internet to perform a few functions like auto-fill or secure sharing.
Intuitive Password (Advanced) Cons
#1. The absence of multi-factor authentication is the only drawback of this software. Otherwise, it fulfills all the other criteria.
Intuitive Password (Advanced) pricing plans and payment methods
The 'Advanced' version of Intuitive Password is available for AUD $5/month. If you convert this amount to USD, that amount comes down to around $3.40/month, which is a bit more expensive than other advanced software.

But the payment options are plenty. You can use your credit card, PayPal, Alipay, and Amazon Pay to complete the order.
Now, Intuitive Password is so confident about its product that it offers a 30-day no questions asked money-back guarantee.
So, if you're not happy with the product, you can contact the support team for a full refund.
Do I recommend Intuitive Password (Advanced)?
Yes, I do recommend the 'Advanced' license of Intuitive Password because there's simply no reason to turn it down.
The software checks all the boxes and the built-in chat makes it almost perfect for any company.
Now, that being said, you might want to avoid this software if:
attractive interfaces are your thing.
You trust only in 256-bit AES encryption.
And need multi-factor authentication.
Because the actual interface of the software looks quite cluttered, it uses PBKDF2 encryption, and yet to roll in multi-factor authentication.