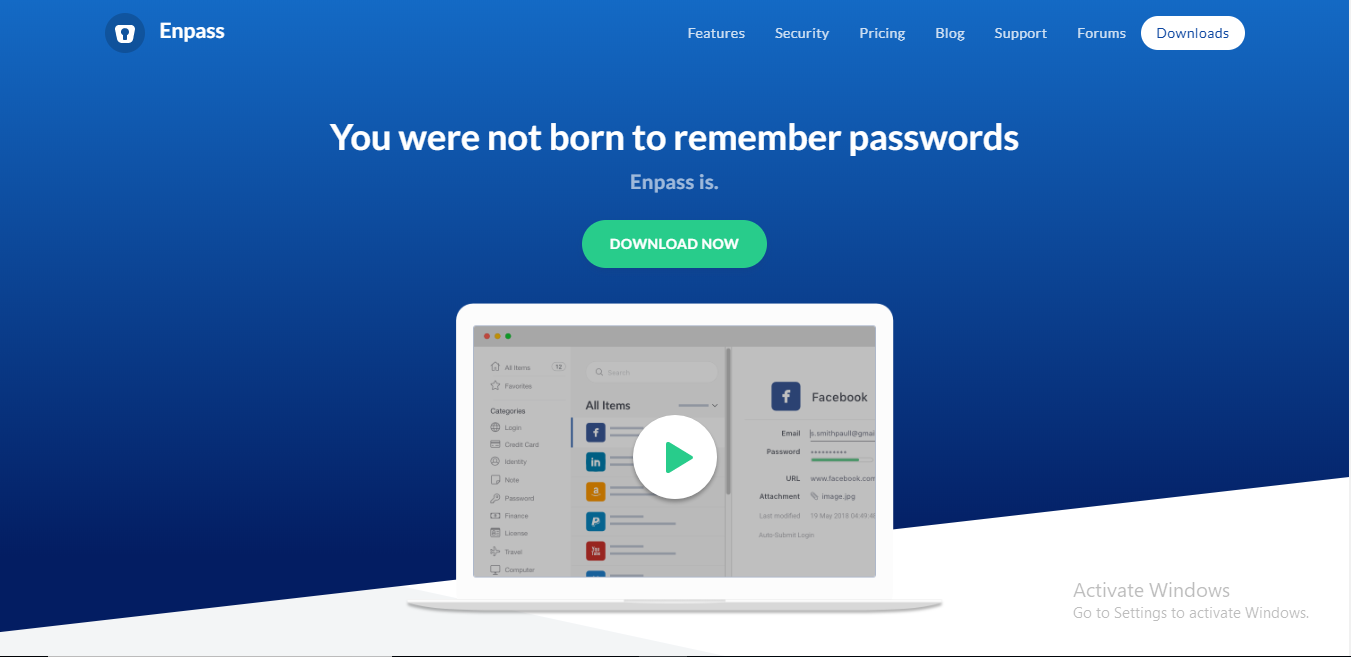 The EnPass password manager is like a fresh breeze on a blistering hot day.
There are a ton of online password manager tools on the internet today, and despite an overwhelming amount of choice, EnPass might be the perfect match for you.
The Enpass password manager not only takes care of your secure passwords but also your credit cards, identities, social security number and all the credentials you need handy in your daily life.
EnPass is a unique password saving tool that works entirely offline. And after Sticky Password, it is the only program that introduces biometric authentication in its security armor.
However, the most surprising thing is?
The EnPass password manager also supports smartwatches and allows you to access your password vault straight from your wrist.
How cool is that?
Now, apart from all these flashy functions, the software is a complete beast when it comes to securing your sensitive data. It easily compares with other password manager apps such as Zoho Vault, Keepass, Roboform, Lastpass, and Dashlane premium.
It uses the open-source cryptographic encryption engine SQLCipher to protect your files and offers a boatload of features that you expect from any premium password manager.
And all these at a ridiculously low price that could beat even the cheapest program in this category.
With this Enpass review, we'll take a look at the pros and cons of the software.
Our Verdict
Except for companies and families, I recommend the EnPass password manager to everyone who needs to store passwords.
Works across all devices
256-bit AES encryption system
Autofill feature
Password audit
Smartwatch access
Separate license for each and every platform
Suitable only for individuals
Lacks multi-factor authentication
EnPass Pros
#1. Not just for password managers but for any application out there, no matter what it caters to, usability is the key. And EnPass nails this section.
EnPass is available for Windows and Mac, as well as iOS and Android mobile devices. It also offers extensions for web browsers.
First of all, it works entirely offline. Except for downloading the application, you don't need an internet connection for any other function.
No login credentials or account creation required. Just install the app, and you're good to go.
The interface itself is quite sleek and straightforward, and saving your first password is only a few steps away.
First, click on the "+" icon on the top bar, and choose the correct category from the list on the right side.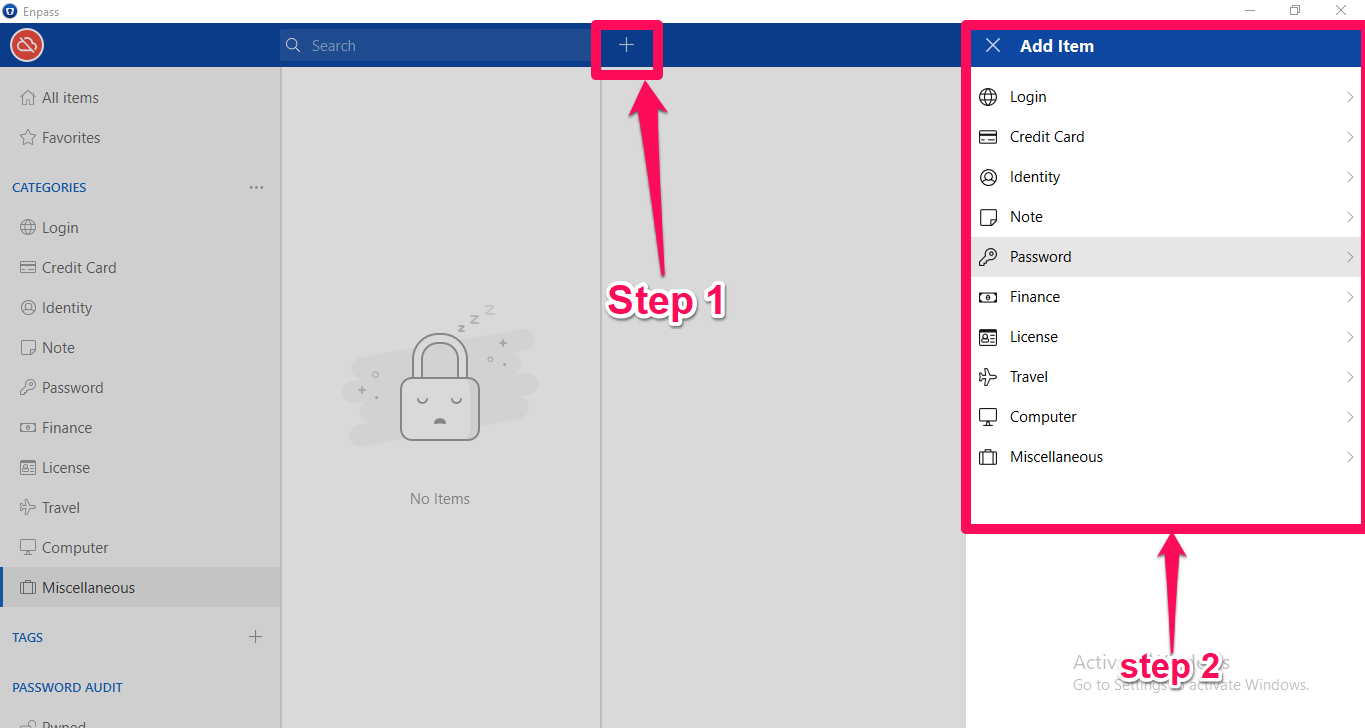 Once you've done that, you can see a long list of sites under the chosen category. From this list, select the website your password belongs to.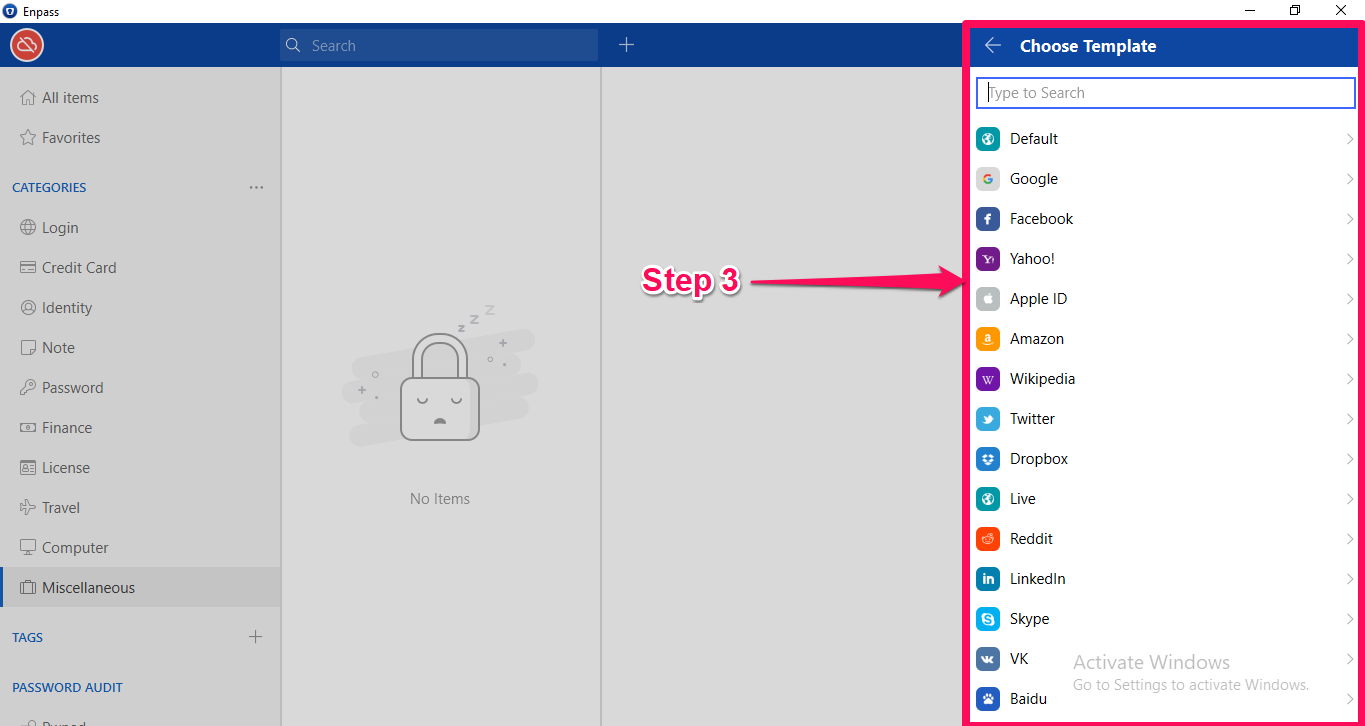 And finally, fill in the necessary details and click the "Save" button on the top right corner.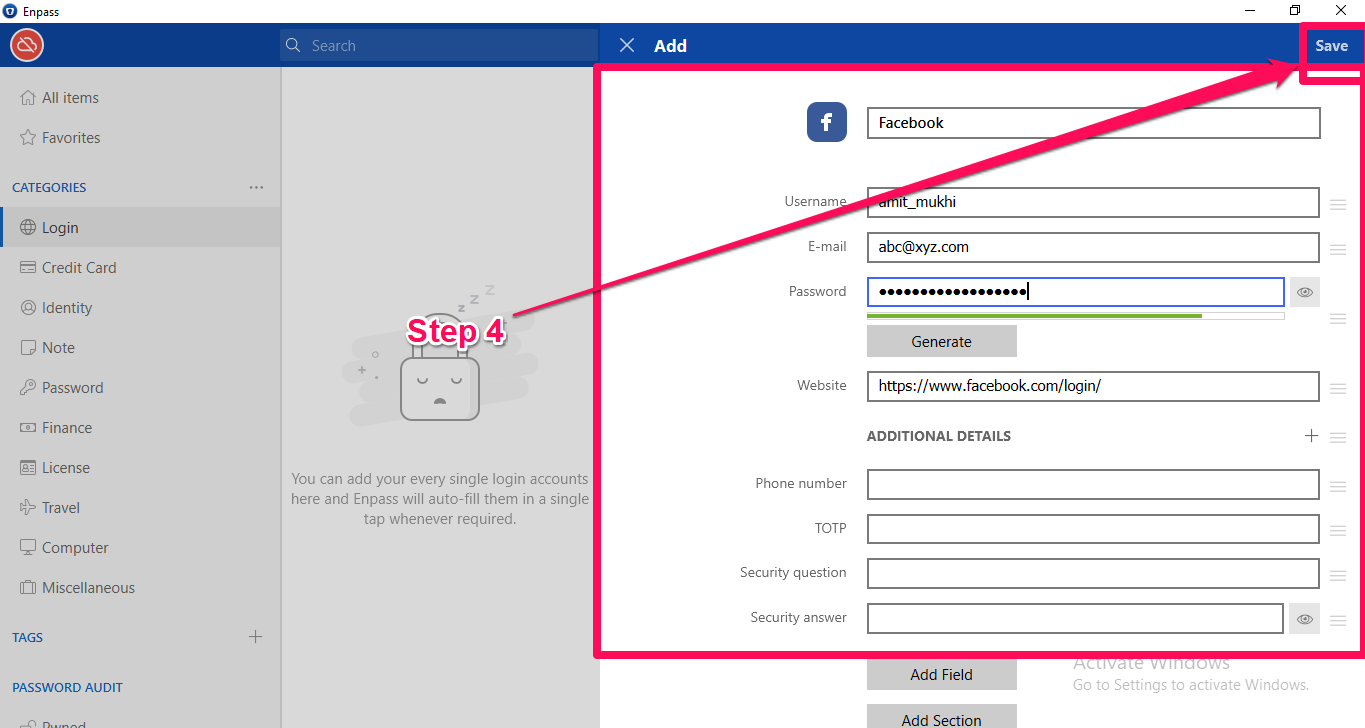 I know it seems a bit lengthy, but it hardly takes a minute to add a new password in the database. And I bet, you won't find an app which is easier to operate app than EnPass.
#2. As I mentioned earlier, EnPass uses SQLCipher, which is considered one of the best cryptographic encryption engines. And they top it up with the industry standard 256-bit AES encryption system.
These encryption systems are more than enough to protect your sensitive data from brute force and side-channel attacks.
What's more?
The two-factor authentication (in the form of 'key file' and master password) and biometric system add an extra layer of protection from unwanted Intruders.
Moreover, since the application is completely offline, your data remains only in your local drive. Not even EnPass has access to them.
That means your secrets are always secret.
#3. I've checked the autofill feature in several different web forms, and it works smoothly.
When you visit a site (whose credentials are already stored in the app) and clicks the tiny EnPass extension icon, a pop-box appears to help you log in automatically.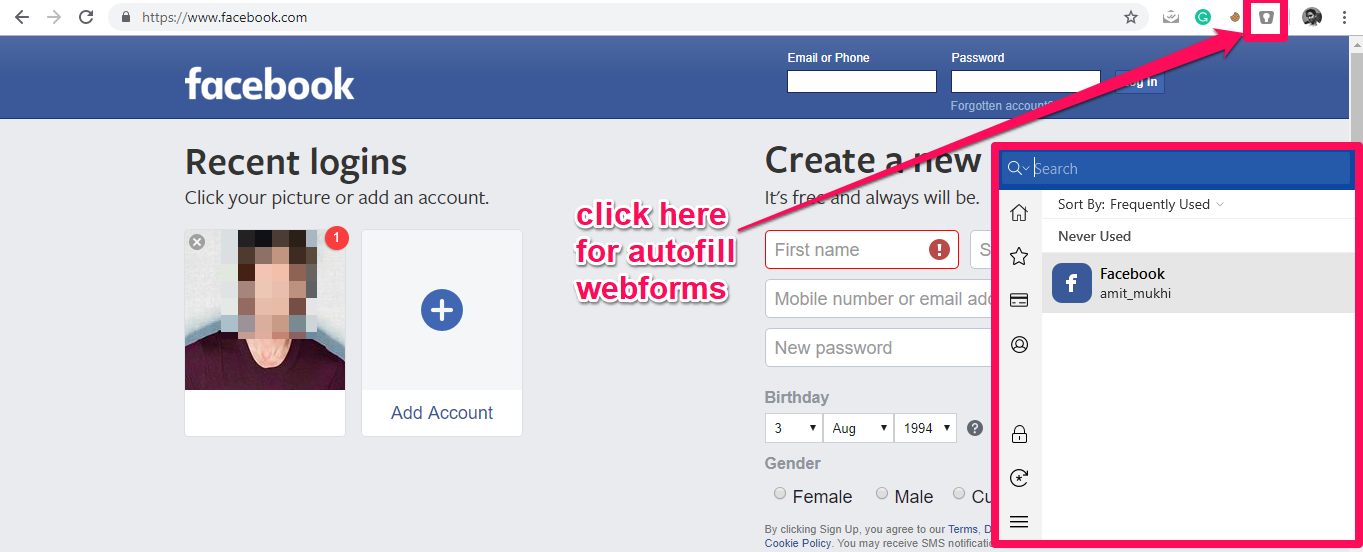 And above all, whenever you sign up for something, EnPass takes all your headache, and the built-in password generator proposes strong, random passwords to you.
Though you're free to deny these suggestions, I would recommend accepting them as EnPass is the one who would remember those unique passwords, not you.
#4. There are only a handful of tools that audits the passwords along with storing them, and EnPass is one of them.
The EnPass password audit scans your existing database at regular intervals and points out the weak, pawned, and duplicate passwords to you.
For example, as soon as I scanned my database, it identified three of my passwords as weak.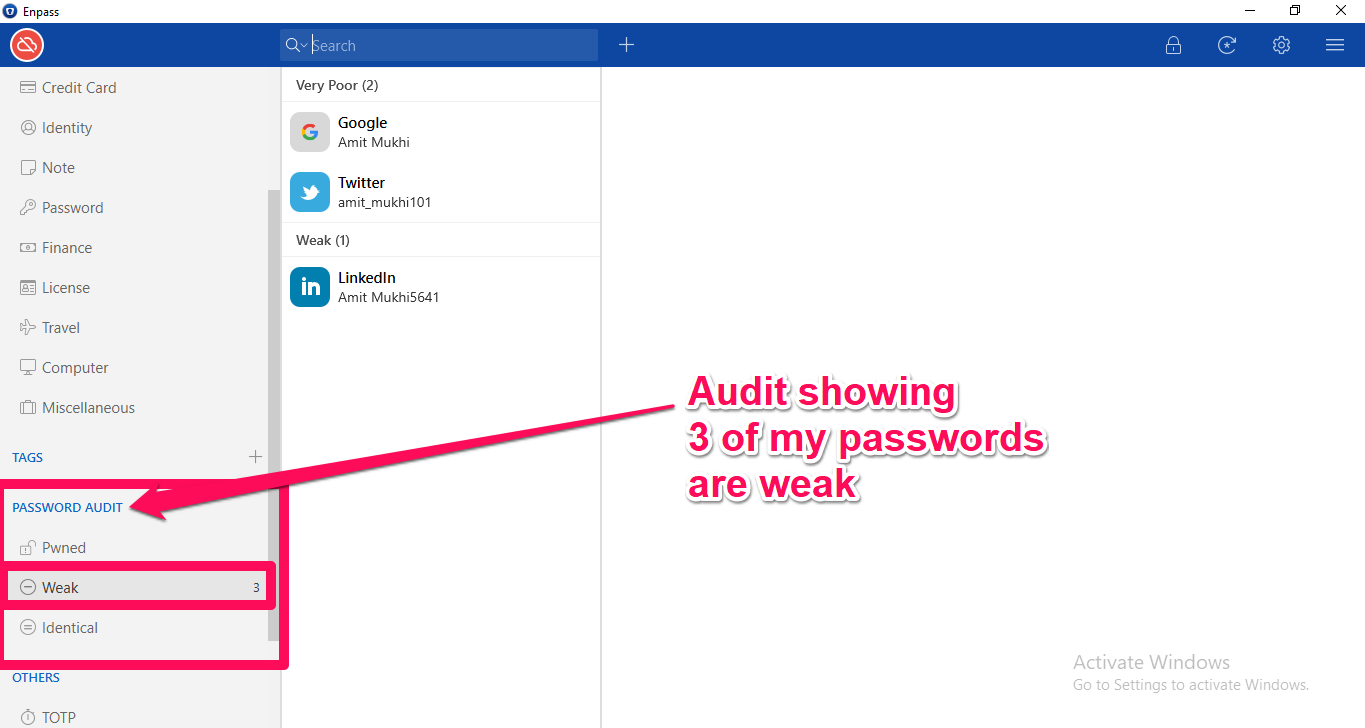 Now, the cure is also available within the software itself.
You can use the in-house password generator to automatically generate strong passwords and replace the weaker ones with them.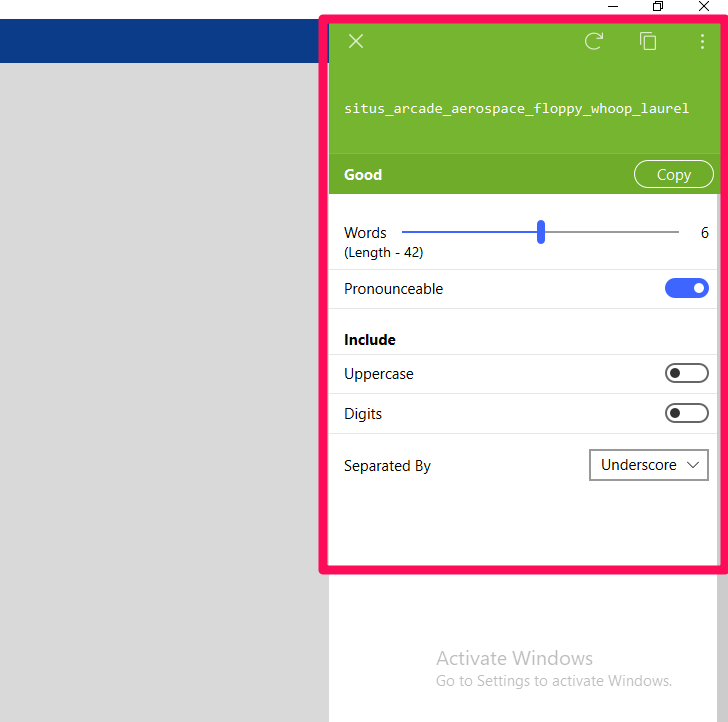 #5. Thanks to the developers, EnPass is a step ahead of its competitors in terms of portability.
Though you can't carry it out in a USB stick like Sticky Password or Keepass, you can use your smartwatch to access your EnPass vault.
Which is a much safer option as you don't need to use any third-party device to access your secure password vault.
#6. Nowadays, an average user owns more than one desktop or mobile device, and EnPass understands it very well.
That's why they have a separate license for each and every platform a user might work on.
While those who prefer to work on a desktop app can go for Linux, Windows, and Mac licenses, and smartphone users can opt for their Android or iOS mobile devices.
EnPass Cons
#1. As of now, EnPass is suitable only for individuals. The company is yet to release the business or family version of the software.
And this, I think, is the most significant setback for this tool because all of its competitors can cater to small groups and families or even large enterprises.
#2. The second flaw is not a very serious one, but I will have to mention that EnPass lacks multi-factor authentication.
Though that's not a big concern, the multi authentication is still an excellent addition to any password manager.
EnPass pricing plans and payment methods
EnPass has a very straightforward yet peculiar pricing strategy.
Since they don't store any of your info, you can't just purchase a single license and run it on all the computers.
You'll have to buy a separate license for each platform by paying a one-off fee, which is just $11.99.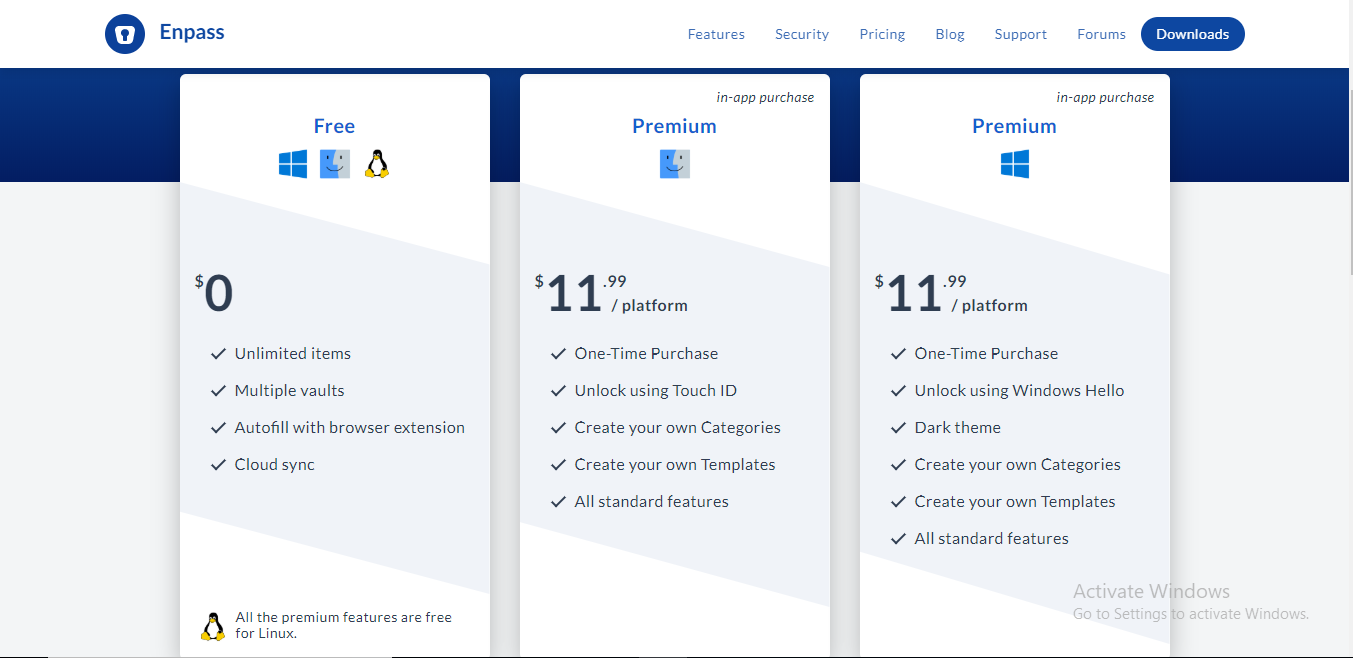 The price is equal for every platform, but you'll have to pay this one-time fee every time you buy a new license.
And that too, from their respective app stores, like Google Play for the Android version, Microsoft Store for the Windows version, Apple Store for the iOS version, and more.
Since the license is available on different app stores, the payment method varies according to different platforms too.
But you are safe using your PayPal or credit/debit card as all the platforms accept them to receive payments.
In the end, if you're unable to or for some reason, not interested in upgrading to the Pro license, you can stick to the basic version which is also decent for non-rigorous users.
Do I recommend EnPass?
Except for companies and families, I recommend the EnPass password manager to everyone who needs to store passwords.
Simply put, it caters all the needs of an individual user, and there's no reason you won't like the app.
The user-friendly interface, the negligible price, and a robust set of features are just unmatchable.
And the best part?
As an offline password manager, EnPass ensures that your secure data will never leave your local drives and reach any third party server.
So in short, if you're looking for a top-notch password manager that ensures utmost safety and loads of features at a nominal rate, the EnPass password manager is the real deal for you.