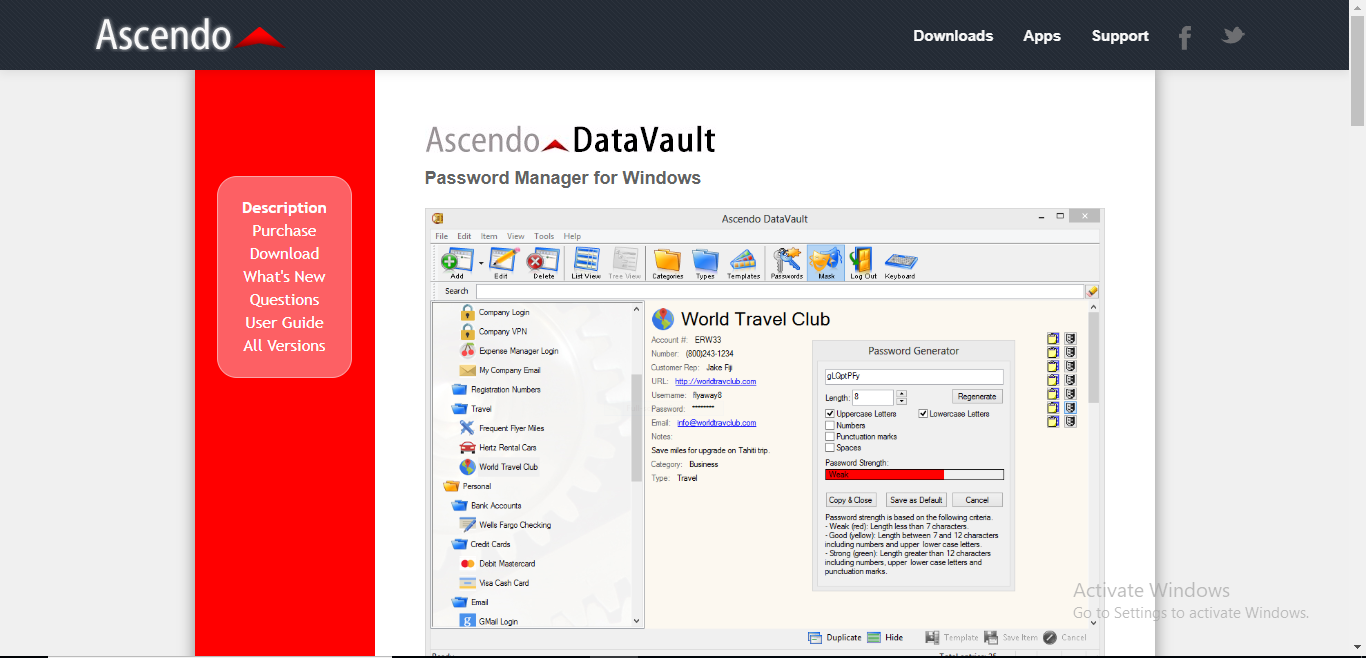 DataVault is a robust password manager on paper but is quite menial in reality.
The software claims to be packed with features on the website, but most of the functions either don't work properly or are absent.
However, a few things that work in favor of DataVault is usability and the ability to store and organize data like bank account details, notes, government IDs, and more.
Other than that, you don't see anything exciting in this tool. And it's definitely far from what it claims on its website.
Now, that's just a bird's eye view.
Let's take a deep dive and analyze the benefits and flaws of this program to know if it's worth investing in.
DataVault Pros
#1. DataVault, as I mentioned in the beginning, is extremely easy to use and can be operated even by a novice.
The initial setup is exactly the same as you see in other programs – install the software, create a master password, and you're ready to go.
So, you shouldn't have any problem doing that.
But what might surprise you a bit is the user interface, which looks like an old school MS Office program.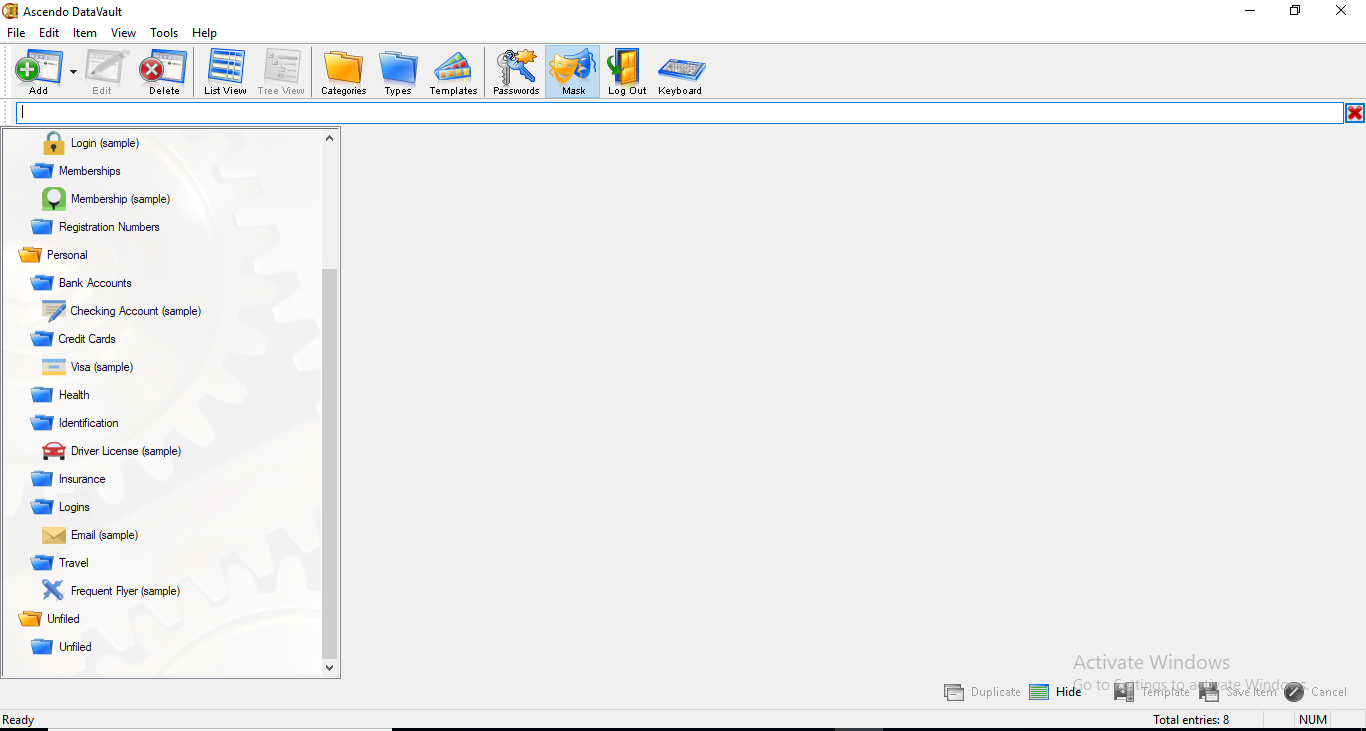 There is a menu bar at the top, the toolbar is just below it, and the navigation bar is on the left side of the screen.
The middle portion of the screen is nothing but vast white space.
At first, you might find the navigation bar a bit jumbled, but it's actually well organized. The yellow folders indicate different categories like 'Personal', 'Work', etc. And the blue folders are sub-categories containing the data under a specific category.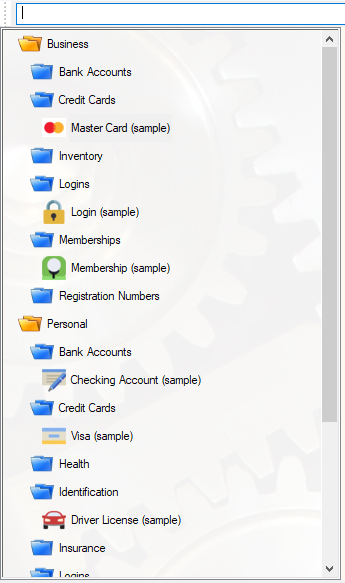 For example, you can save all your work-related credentials in the 'Login' folder under the 'Work' Category.
Similarly, if you have any personal notes to save, add them in the 'Notes' folder under the 'Personal' category.
That way, you'll never have any trouble finding a specific credential.
And how do you save any data?
Just click the 'Add' button on the toolbar and fill the details in the following screen before hitting 'Save Item'. That's all you need to do!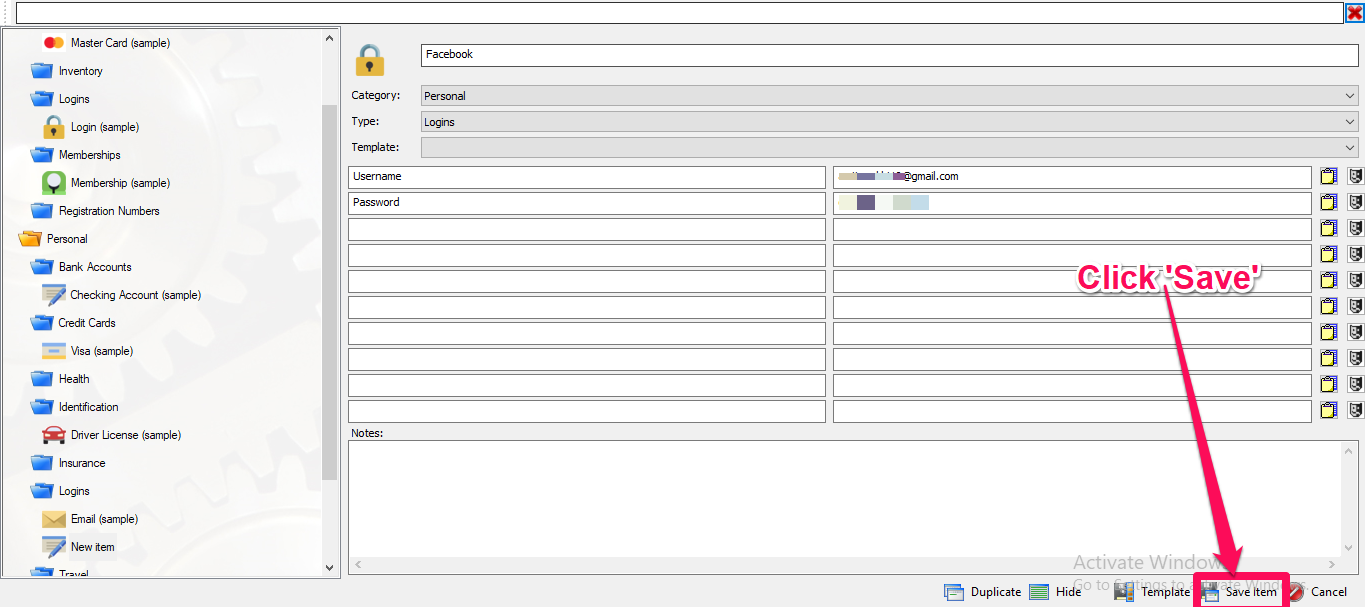 Though I didn't like the form where DataVault asks you to submit the details. It's basic and vague.
And while the field names are already defined in most of the programs, DataVault requires you to type them manually, like 'Username' and 'Password', and insert the values next to each field.
#2. DataVault can be used on every device, whether it's running on Windows, Mac, iOS, or Android.
Moreover, you can backup all the information saved in the vault to Dropbox or sync them across all the devices you own.
But the only catch is, you have to pay to avail this backup and sync feature while most of the other programs offer this for free.
DataVault Cons
#1. The auto-fill and automatic form capture of DataVault are pathetic compared to even some entry-level tools like Chrome Password and iCloud Keychain.
During the test, even though I had auto-fill enabled, I couldn't auto-login to my Facebook account even after trying several times.

Neither the browser extension nor the app indicates any sign or suggest accounts related to the specific site.
Similarly, it doesn't ask you to save the credentials when you sign in to an unknown site for the first time or capture forms as it claims on its website.
The password generator was also not that intuitive and worked only within the software.
#2. With DataVault, you can't share your passwords or other information to family and friends. And that makes it an utterly irrelevant tool for families and enterprises.
#3. DataVault claims to have an in-built password strength checker. But barring the initial setup where you set the master password, I couldn't find this strength checker anywhere else.
#4. Security is also a significant concern with DataVault.
Even though it uses AES encryption system to encrypt your data, it doesn't specify whether it's the 128-bit version or the latest 256-bit version.
Moreover, due to the absence of two-factor and multi-factor authentication, hackers can easily get access to your sensitive data just by guessing your master password.
DataVault pricing plans and payment methods
DataVault has a straightforward pricing plan. Either you subscribe for the free version or go 'Pro' by paying the one-off fee of $9.95.

DataVault accepts credit cards, PayPal, and even direct check payments. However, it doesn't mention anything about its return policy.

Do I recommend DataVault?
No, I don't recommend DataVault because my experience with this tool was not so great.
As I mentioned in the 'cons' section, most of the functions either don't work properly or are missing. Also, the vault is not 100% secure.
So, I would recommend skipping this tool and opt for other programs.
A better alternative at the same price that DataVault charges could be 1Password or Zoho Vault, or even LogmeOnce, which comes for free.