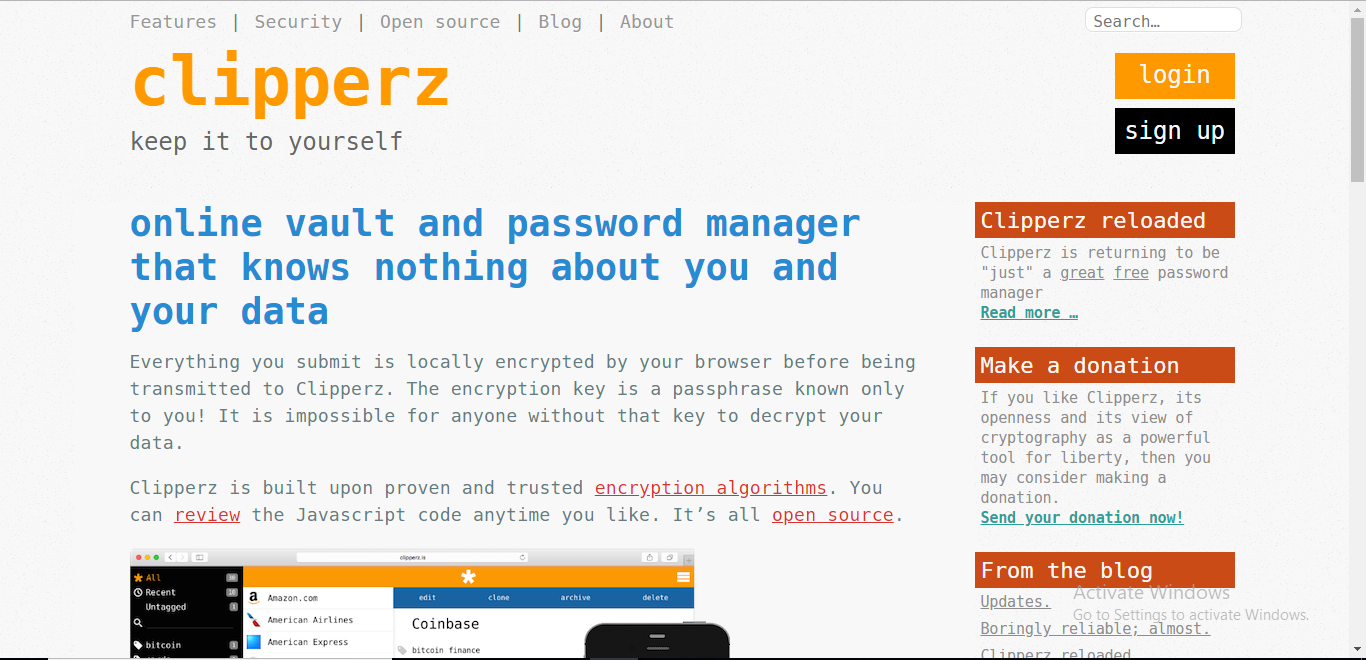 Clipperz is a web-based free password manager tool that helps you keep your passwords, online accounts, credit cards, data, notes, and other sensitive data secure.
It's a free tool that uses cryptographic encryption to protect your usernames and passwords and data from online attacks. But the free software has a boatload of flaws.
Clipperz is essentially a digital wallet, much like MyPadlock and KeyWallet. It has the ability to securely store secret data (secure passwords, login credentials, tokens, etc.) on a server, without the server being able to access the secure content.
According to the Clipperz website: "Everything you submit is locally encrypted by your browser before being transmitted to Clipperz. The encryption key is a passphrase known only to you! It is impossible for anyone without that key to decrypt your data."
However, that is where the features of Clipperz password manager ends. All it can do is, store data and manage your passwords. Other than that, there is nothing to talk about in this tool.
But that being said, you might find some small features included in the password manager software to protect your account from Intruders.
And what are these small positive facets?
In this Clipperz password manager review, we'll find out:
Our Verdict
Clipperz password manager is remarkably easy to use and decent for storing your confidential data. However, Clipperz is not a complete product.
Easy to get started with
One-time password
Works smoothly everywhere
No autofill and browser extension
No password sharing
128-bit version of AES
Security reports not available
Clipperz Pros
#1. Clipperz is an open source software tool and tries to make it as easy as possible to get started with it. And though it's not a big deal, ultimately, nobody is likely to install an app and follow several different steps to get started with a password manager software.
So, it's praiseworthy that Clipperz lets you get straight to the business as soon as you set your username and password and reaffirm that password on the next window. This essentially becomes your master password for access to your online vault.
After this brief setup, you come across a clean and sleek interface that even a novice can get along with quickly.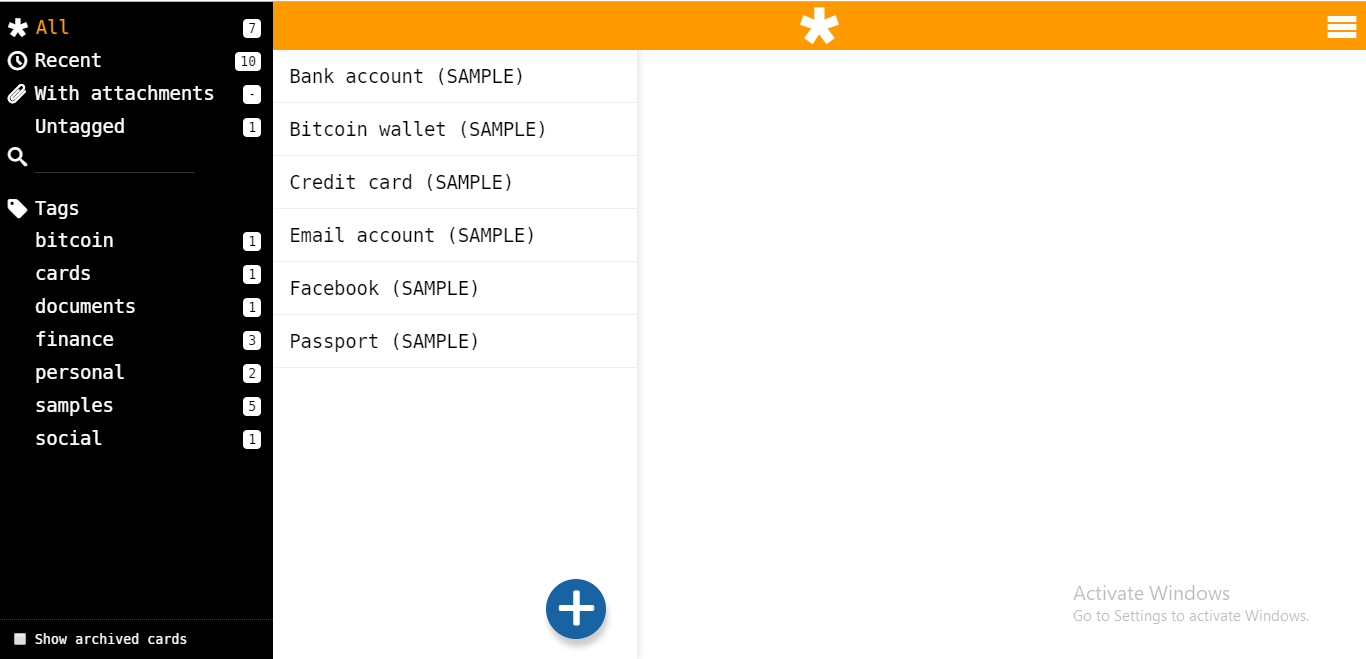 The overall look is quite typical with a navigation bar on the left and vast white space on the right.
Also, you would notice that the interface comes with some pre-existing credentials. However, those are just sample entries.
To save your passwords, you would need to hit that big '+' icon on the bottom of the screen and fill the details on the next wizard. And finally, click 'Save'.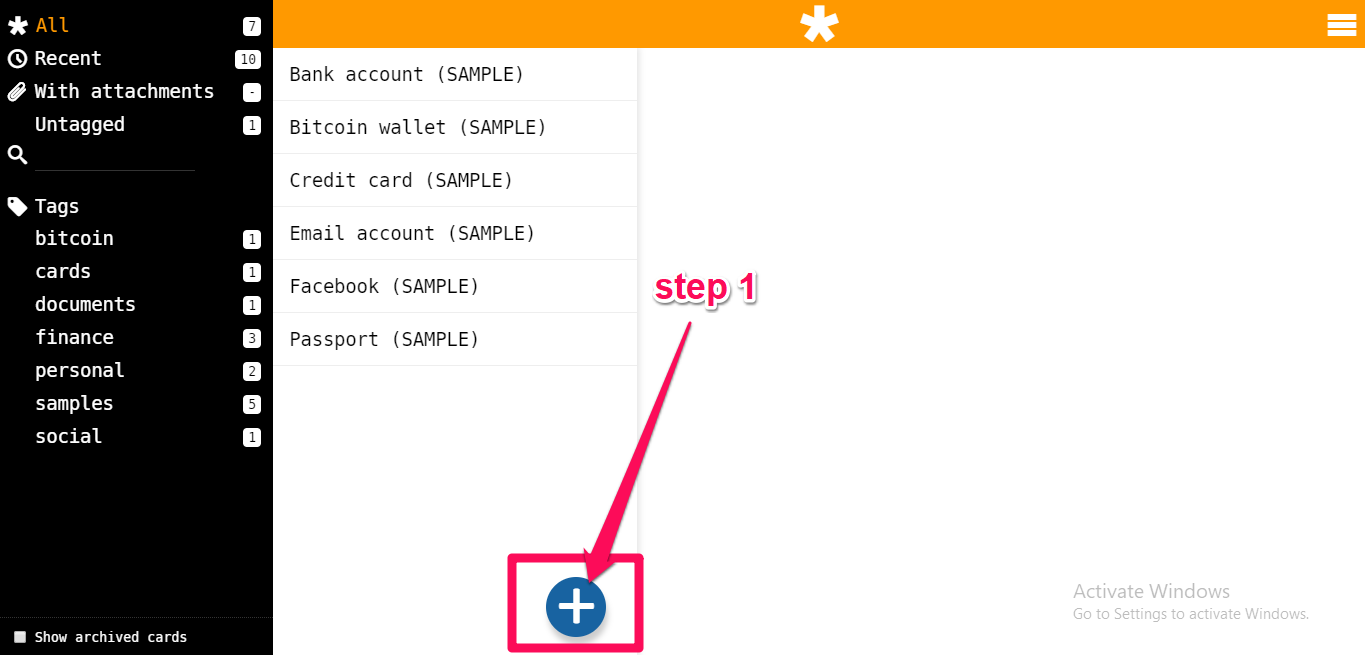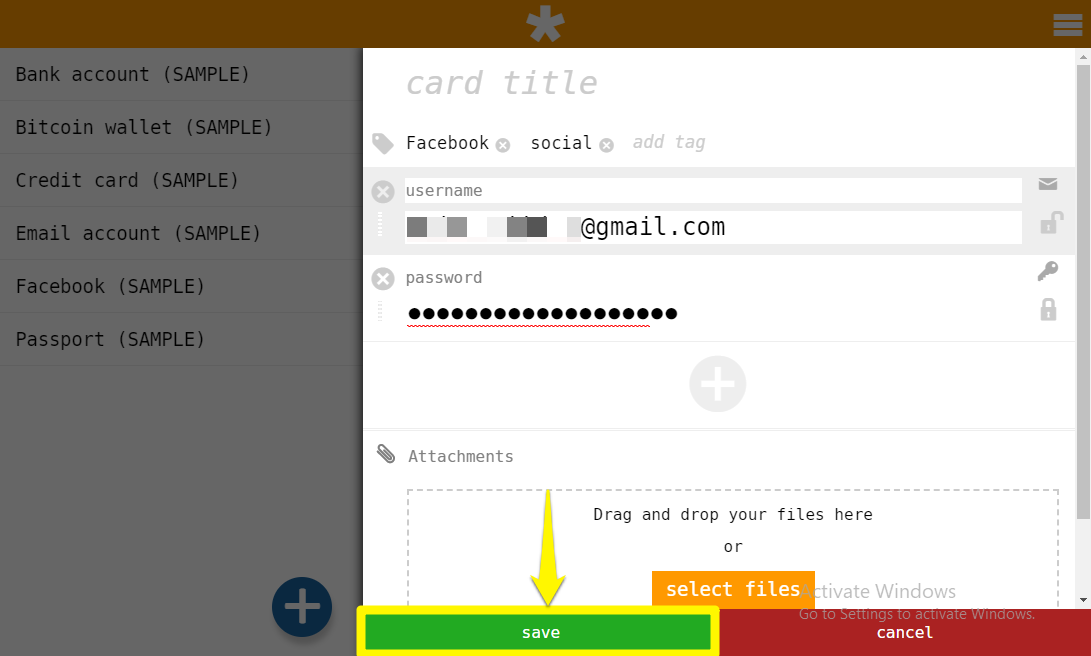 Similarly, you can store your card details, addresses, notes, and much more.
In addition to this, you're also allowed to classify your credentials using different tags like cards, social, Bitcoin, etc.
I would recommend making use of this facility as it prevents chaos and helps you locate your credentials in a jiffy.
#2. Now, it's time to reveal those two small facets that hike up the 'like' graph of Clipperz a bit.
The first one is "One-time password".
In the absence of two-factor authentication, the "One-time password" is a smart way to prevent unauthorized access, especially when you're using someone else's device to log in to your account.
Now, unlike the common belief, these one-time passwords are not sent to the device automatically. You'll have to generate them first within the software and then print those passwords for subsequent usage.

You can do so by going to "Account" and then, selecting "One-time passwords".
Similarly, the second quality that made using Clipperz more comfortable for me is "Device PIN".
Using the "Device PIN", you can set a 5-digit PIN for your device to log in to your account without typing the password.

And if you're someone like me who sets a complex passphrase but doesn't like typing it frequently, then this "Device PIN" feature will make your life easier.
However, this PIN works only on the device where it has been enabled. That means, if you've set a PIN on your computer, it won't work on your smartphone.
You'll have to set a separate PIN by opening your account on your smartphone.
#3. It doesn't matter what device you use, Clipperz works smoothly everywhere.
You can access your Clipperz account on your Mac or Windows desktop or use your smartphone/tablet running on Android or iOS.
And the best part?
There's an offline version of the program available that you can download separately to access your data without an internet connection.

Clipperz Cons
#1. As I mentioned earlier, the Clipperz password manager is much like MyPadlock and KeyWallet. Thus, its flaws are also quite identical to the other two programs.
For example, just like MyPadlock and KeyWallet, Clipperz also is not made to fill your login credentials automatically. And the absence of any browser extensions is one of the prime reasons for this.
Additionally, the password generator is also elementary and works only within the software. Unlike what you see in other cutting-edge programs, it doesn't suggest a strong password while filling web forms.
#2. With Clipperz, the only thing you can do is store usernames and passwords and other details. You can't share them or sync with your closed ones that make it utterly irrelevant for families or small business owners.
#3. Even though Clipperz claims to be safe, I still have issues with its security precautions.
While most of the password managers have shifted to the 256-bit AES encryption, Clipperz is still dependent on the 128-bit version of AES.
Moreover, there's no two-factor and multi-factor authentication to prevent unwanted break-ins.
#4. Security reports are quite handy to maintain the health of your secure credentials and make sure all your accounts are safe.
But unfortunately, Clipperz doesn't boast such a facility, rather it leaves on the user to examine and maintain their secure password health.
Clipperz pricing plans and payment methods
Clipperz is an absolutely free password manager for everyone. But if you're happy with the product and feel generous, you can donate funds using PayPal to the developer team.
Do I recommend Clipperz?
Clipperz password manager is remarkably easy to use and decent for storing your confidential data.
But I still won't recommend this tool to anyone as a good password manager.
Simply because Clipperz is not a complete product. It lacks many vital features that other password manager programs like Sticky Password, Keepass, Zoho Vault, Roboform, LastPass, Dashlane, or 1Password provide.