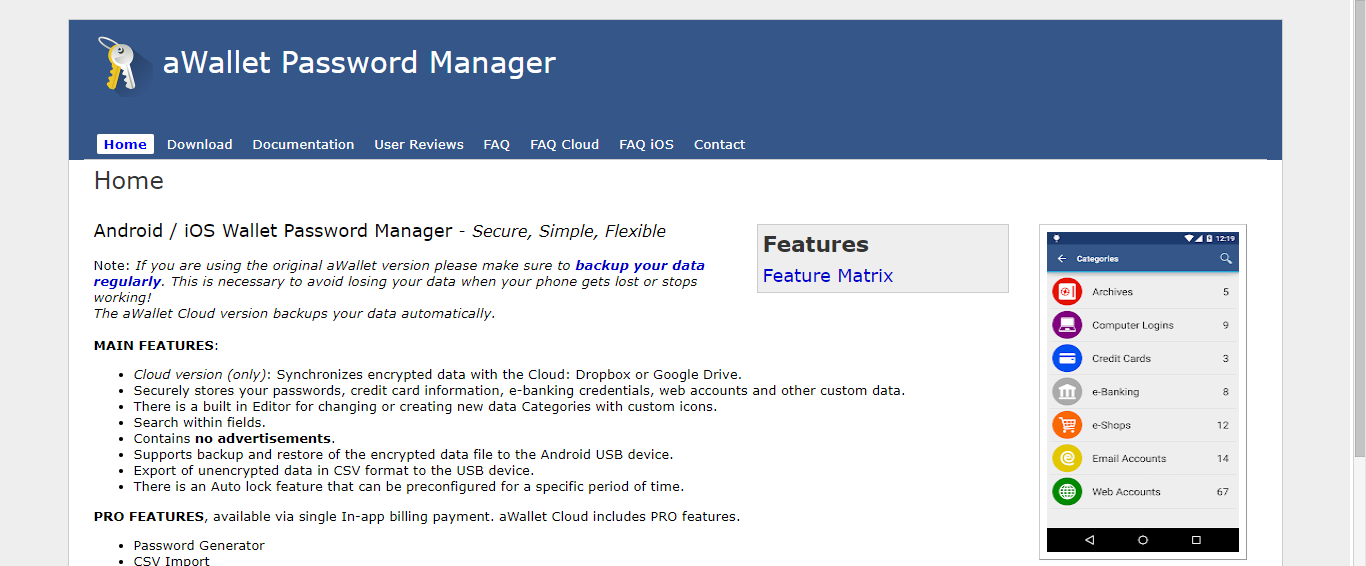 aWallet is an entry-level password manager app for Android and iOS. Despite the name sounding like it is a place to store bitcoin cash, it has nothing to do with cryptocurrency transactions.
The aWallet password manager software could be the right choice if you just want a tool to keep your password collection and credit card details safe. If you want more tools like two-factor authentication or password sharing, or a password generator, then other tools like Lastpass Premium or Dashlane Premium are a better choice.
But if you're looking for more than that, then aWallet will undoubtedly disappoint you. I've tested even the pro version of the software, but in addition to password generator and biometrics login, there's nothing special in it.
Overall, aWallet is fairly bland and basic. It has more flaws than benefits, which I have mentioned in detail in the following sections.
In this aWallet review, we'll take a look:
Our Verdict
Overall, aWallet is fairly bland and basic. It has more flaws than benefits.
Simple and user-friendly interface
Available on iOS and Android and works offline
No autofill
No two-factor authentication and multi-factor authentication
Cannot be installed on any desktop computer
aWallet Pros
#1. The only thing a user would like about aWallet is its simple and user-friendly interface. The software was the look and feel of open source software, even though there a paid version for a small fee.
Unfortunately, I couldn't show you a screenshot of the interface because aWallet blocks any such activity while working on the software citing safety reasons.
So, let me describe it to you how the interface looks and how easy it is to add your credentials and data.
The app is available for download from the iOS and Android app store, the links to which are all available on the aWallet website.
Once you've installed the password manager app and set up your master password, it takes you straight to the UI that contains four different panels – 'Favorite', 'Categories', 'Lock', and 'Edit Categories'.
To add your first entry, just go to the 'Categories' section and choose a category, which is relevant to your credentials.
If you want to store login details, I would recommend selecting 'Computer Login' or 'Web Accounts'. Otherwise, you can tap on 'Credit Card' or 'Net Banking details' or other options according to the information you want to save.
Next, click the '+' icon on the bottom right corner of the next screen and fill in all the details.
Finally, click 'Save' or hit '✓' to successfully add your credentials. It's that simple!
And you know the best part?
aWallet renders you the freedom to create your own categories to save different sorts of data in the encrypted data vault. You can add names and addresses, your credit card information, and any other data you need to autofill web browser forms. And you can do so by going to the 'Edit Category' section on the main interface.
Under that section, you again need to tap on the '+' icon, and then, you can name the category whatever you want and add as many fields under that category as you wish.
Also, there's no limit on the number of categories or secure passwords you can add on the password manager app. You can add passwords and information via CSV file to bulk add your password data.
Now, unfortunately, that's all you can do with aWallet. There's nothing much exciting.
#2. aWallet is available on iOS and Android smartphones and works smoothly even without any internet connection. You can also backup and restore from one device to another, which is a staple of almost every password manager tool today.
Moreover, it automatically syncs your data across all the devices if you use the cloud version of the software.
But the only catch with the cloud version is, it's listed as a paid app on Google Play and App Store.
aWallet Cons
#1. aWallet is an entry-level password manager app. But I was still expecting it to at least autofill the login details for the web browser.
But unfortunately, it can't.
Similarly, don't expect some advanced features like secure password sharing, auditing your passwords, form capture, or automatic password generation. It is hard to tell if you have a strong password as there is no password auditing software.
Though it does come with a password generator when you upgrade to the 'Pro' version, that password generator works only within the software.
#2. Though aWallet implements two encryption systems – AES 256 and Blowfish – to protect your data, the absence of two-factor authentication and multi-factor authentication still make your account prone to offline hacking.
So, I would suggest setting a super-strong master password for your account, as this is the only wall of security between hackers and your sensitive information.
So, make sure it's unbreakable.
Also, your master password is not stored anywhere in the app, so you must always provide it to access your stored passwords. Otherwise, you are completely locked out of the app and your data as well.
#3. aWallet cannot be installed on any desktop computer whether you're working on a Windows PC or MacBook. This means there are no web browser extensions which is a nice feature of many other password manager tools.
aWallet pricing plans and payment methods
Apart from the free version, aWallet offers a 'Pro' version that lets you try the password generator and use biometrics options – fingerprint and face ID – to log in to your account. This is a nice extra feature that is convenient for mobile devices.
Pay a one-off fee of $4 and the 'Pro' version is yours forever.
But should you really go and invest your hard-earned money on this device?
Let's see.
Do I recommend aWallet?
No, I don't recommend aWallet because except for storing secure passwords, it can't do anything. There are any number of other tools that can offer a free password manager. In my opinion, the software needs some severe developments just to stand a chance in front of leading apps like Dashlane Premium, LastPass Premium, Sticky Password, or 1Password.