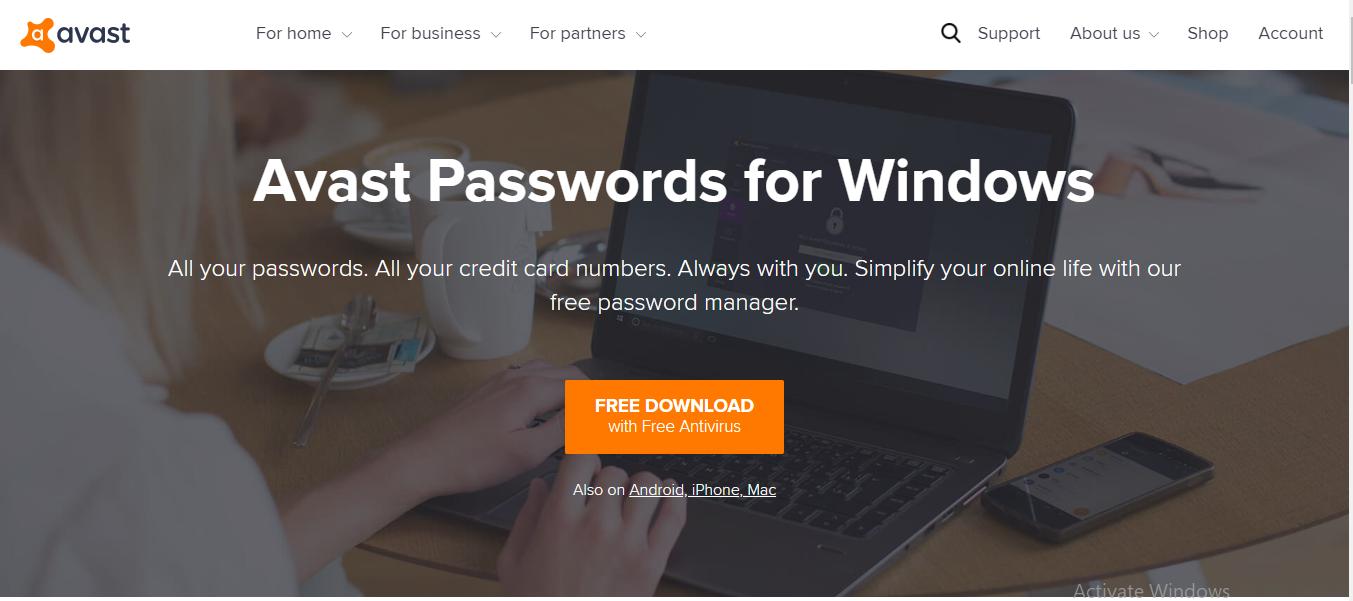 Avast is known for producing anti-virus and other cyber-security products, but not password managers.
In fact, the password manager actually seems like an attempt to provide some additional aid to their users.
Because when you install the software, the free Avast anti-virus also gets installed on your computer and the first screen you see is of the anti-virus itself.
Now, talking about its performance; the tool is a decent option to store passwords, credit card details, and notes. And it's quite easy to work on, too.
But does it offer anything else or is it all you get?
Let's find out.
Avast Password Manager Pros
#1. My overall experience with Avast was terrific, and I just breezed through all the functions.
However, getting started with the tool was not at all pleasing. The initial installation process is pretty tedious, and the app takes way longer to install than other similar programs.
In my case, it took me more than 20 minutes to finish the entire installation process. And part of this delay is because of the free anti-virus that comes along with the password manager.
But on the other hand, that's a blessing in disguise because you're getting two products in one package. And this anti-virus is the first thing you see when you launch the app.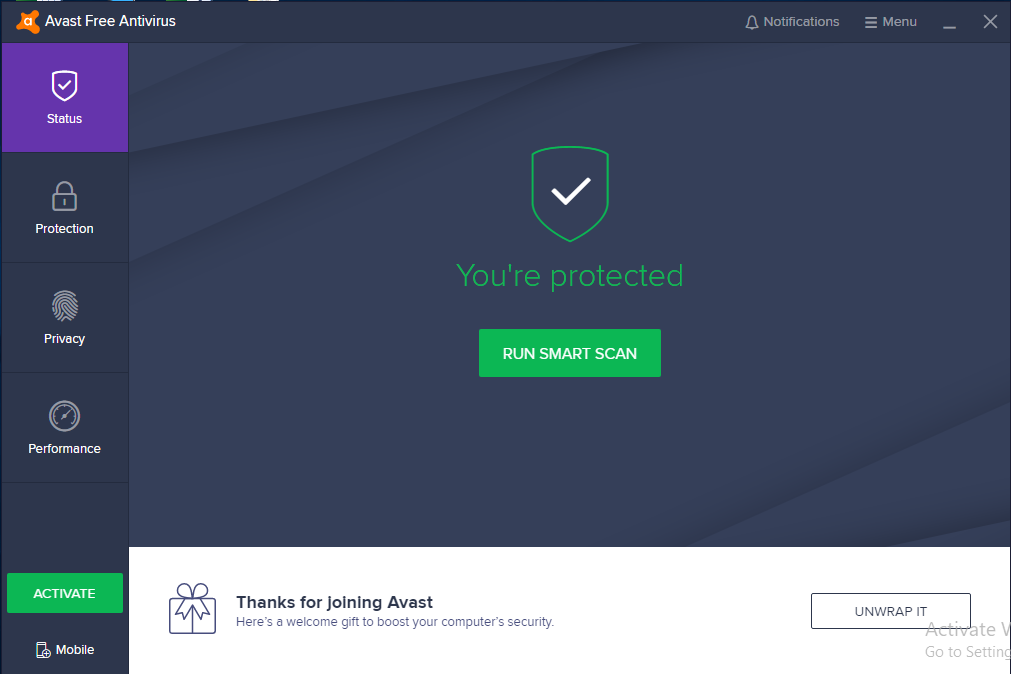 You can either run a test scan or go straight to the 'Privacy' section and select 'Passwords' among the different panels and click 'Get Started'.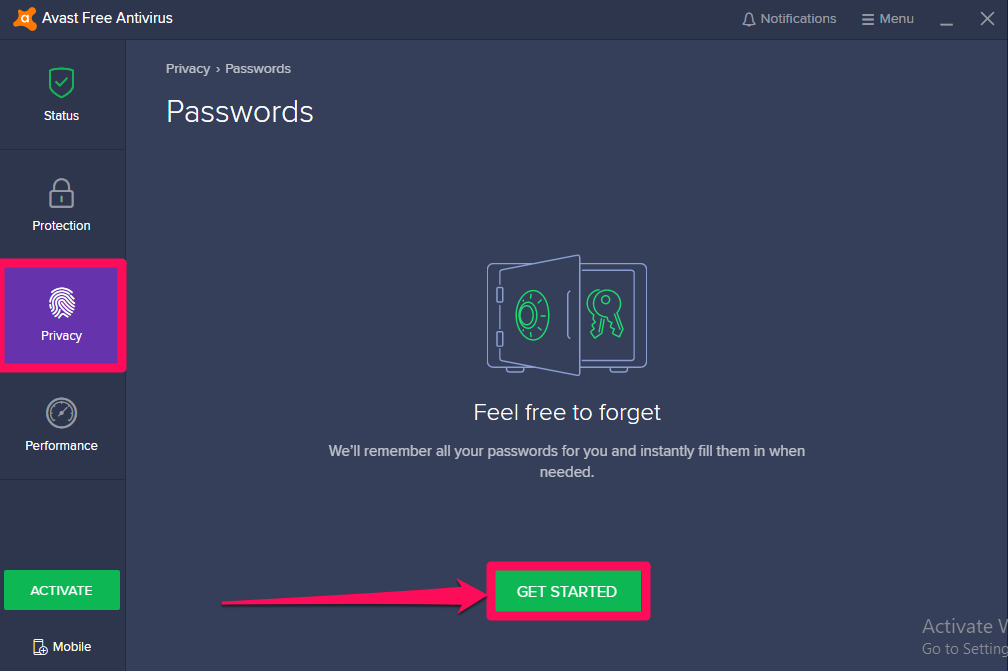 It'll then ask you to add the browser extensions. Go ahead and do that; otherwise, the auto-fill and password generator won't work.
And once you've done that, you are ready to start storing passwords and other details. Either import your passwords or click 'Add Manually'.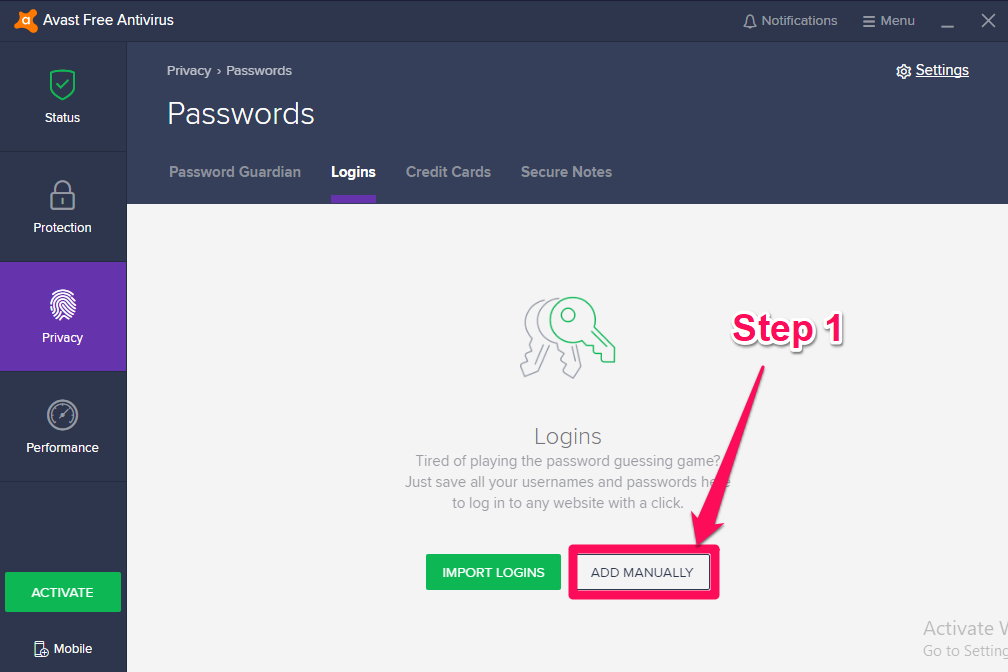 Next, fill all the details and finally, click 'Save'. It's that simple!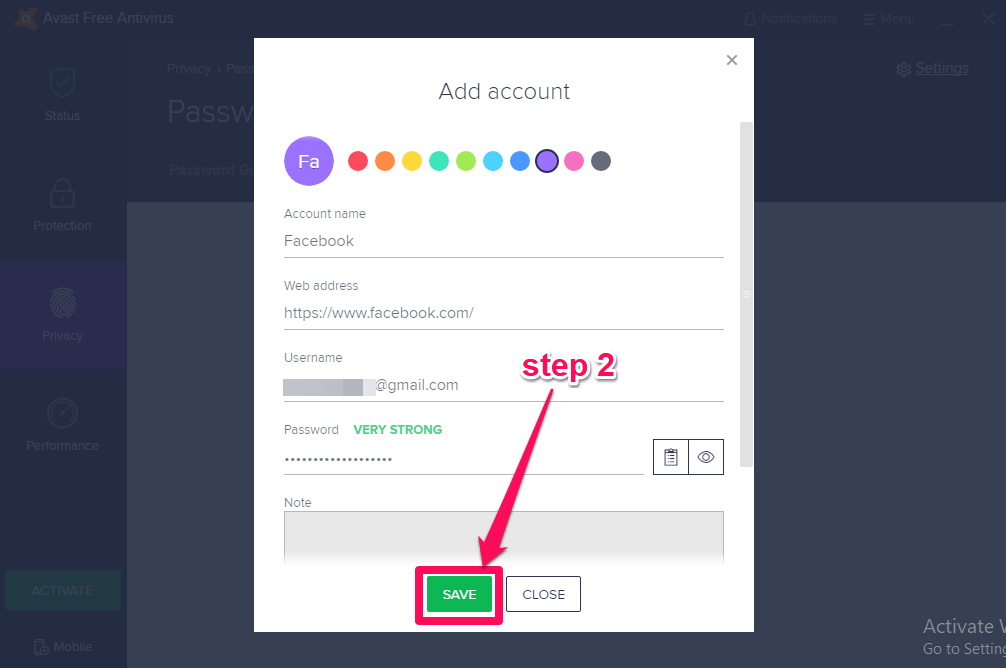 Now, following the same procedure, you can add credit card details and notes, too.
#2. The auto-fill function of Avast Password Manager is much quicker than many of the advanced programs.
Once you open a site whose credentials are stored in the vault, it automatically fills the details for you. So, all you need to do is hit that 'login' button.

Similarly, while creating a new account on any platform, you can notice the orange 'Key' icon on the password field. That is to help you come up with strong, random passwords automatically.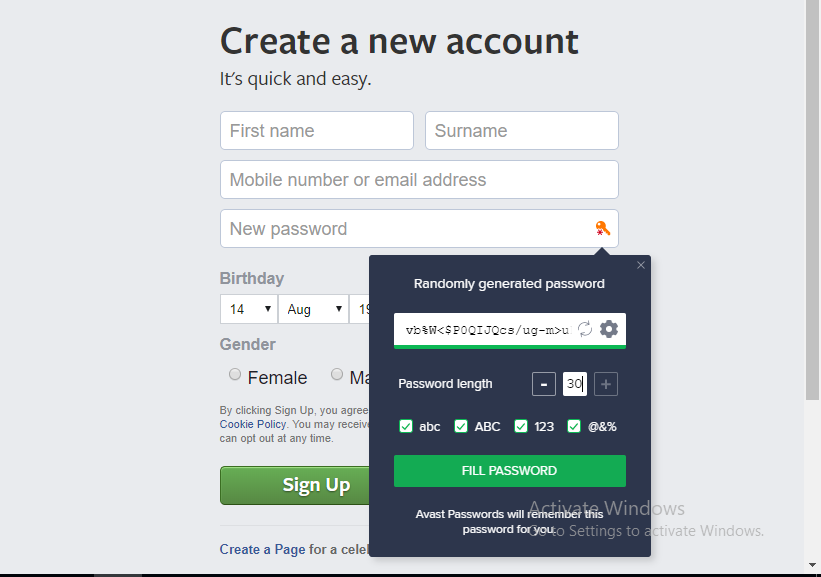 And the automatic password generator can suggest up to 30 characters long passwords, which are literally impossible for anyone to guess.
So, I would recommend going for the most complex combinations. Because, eventually, it's Avast who's going to do the hard work of remembering those passwords.
#3. Though Avast doesn't present a detailed audit report, it still tells you how strong your passwords using different colors.
These different colors indicate the level of strength. For example, if it shows red, your password is weak. If it's orange or green, your password is moderate or strong, respectively.
#4. With zero restrictions on device compatibility, Avast is a perfect tool for any platform.
Whether you work on Windows, Mac, iOS, or Android, it works well everywhere. And using the auto-sync, you can sync your data across all the devices you own.
Avast Password Manager Cons
#1. Avast Password Manager is excellent in doing basic jobs but fails drastically in terms of security.
Due to the lack of two factor and multi-factor authentication, your account is always prone to unauthorized access.
#2. The software is suitable only for individual users. You can't share your passwords with others, which makes it totally irrelevant to families and enterprises.
Also, the software doesn't work offline.
#3. Once again, as I mentioned in the 'Pros' section, there is no audit report available at all. It can show you only the strength of your password. And that's it!
It can't spot repeated passwords or alert you of any security breach that other programs usually do.
Avast Password Manager pricing plans and payment methods
Avast has a free and a paid version of its password manager.
The paid version costs $19.99/year and can be paid via credit cards or PayPal.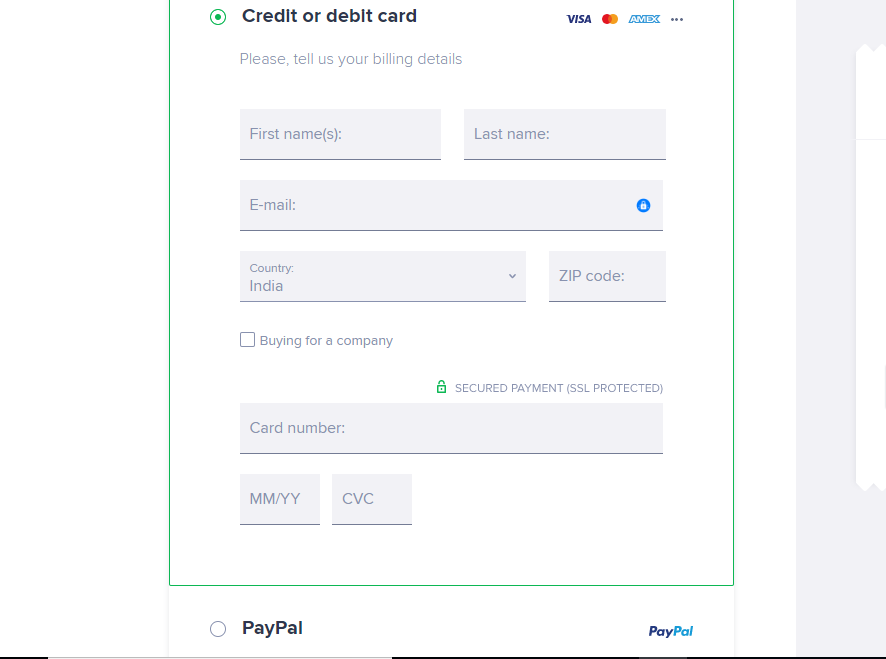 However, Avast didn't add any special features to this paid license, and also, there isn't any money-back guarantee offer.
Do I recommend Avast Password Manager?
No, I don't recommend Avast Password Manager. And I have obvious reasons for this.
It can do only entry-level jobs.
It lacks many vital features like two-factor and multi-factor authentication, security audit, and more.
The paid version has nothing special in it.
There are much better options available out there that offer way more than this tool.