The two titans of the password management industry. And also the top two of our test.
It's like Iron Man vs. Captain America.
Both of them are at the top of the game. But which one is better?
Well, to answer this question once and for all, I've decided to compare both the tools based on five key attributes:
Usability
Security and multi-factor authentication
Password sharing and audit report
Device compatibility and limitations
Pricing
So, let's weigh the pros and cons of each to see how these big guys stack up against each other.
Disclosure: Login Lockdown is reader-supported. We might earn a small commission if you purchase something through our site. Learn more
1. Usability
If a password manager isn't easy to use, it's worthless — no matter how many unique passwords are inside.
But fortunately, both LastPass and Dashlane are really user-friendly. And their initial setup process is the same.
Download the desktop app or mobile apps on any device, create your account, set a master password, and you're good to go. Your data will start syncing within seconds. (You can also add a browser extension to access your password vault with just a few clicks.)
Now, let's first talk about LastPass.
The user-interface of LastPass is clean and well-defined.
On the left-hand side of the screen, you have a sidebar that helps you navigate to all the different functions of the software. Though it looks a bit busy because LastPass is packed with various features.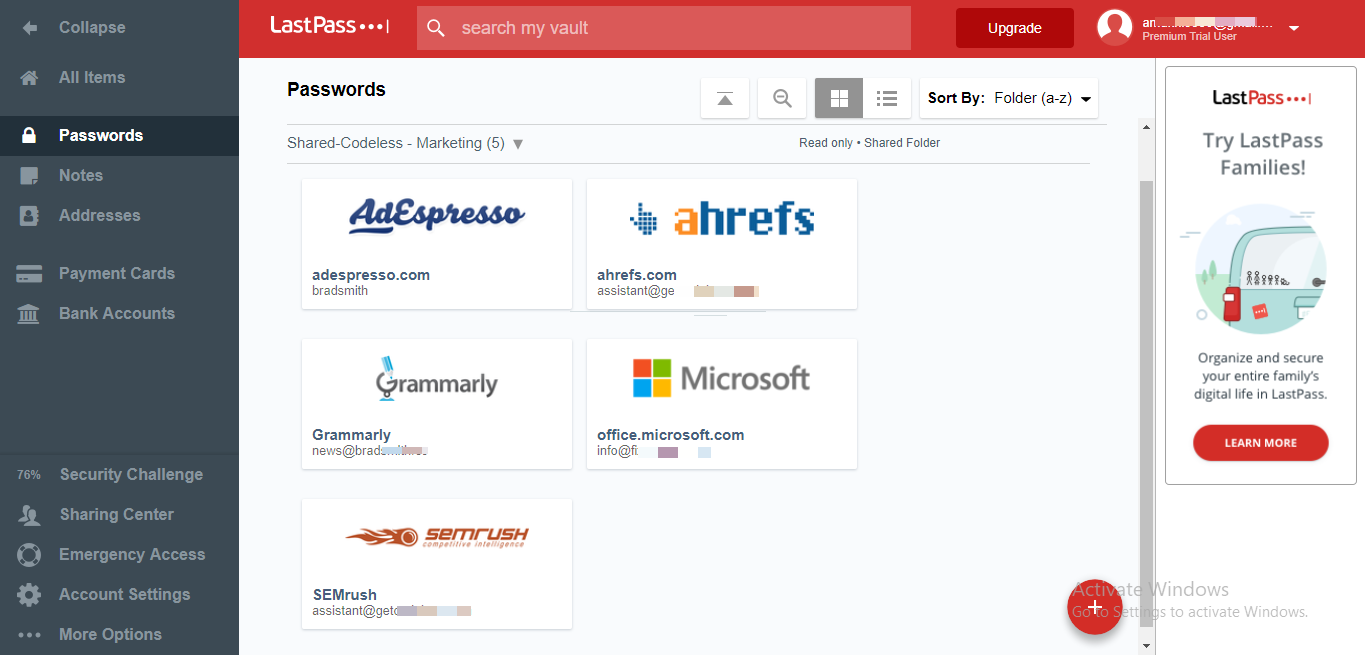 The rest of the screen is just white space with a red '+' button on the bottom right corner.
To save your password, just click on the '+' button, fill in the details, and hit 'Save'. That's it.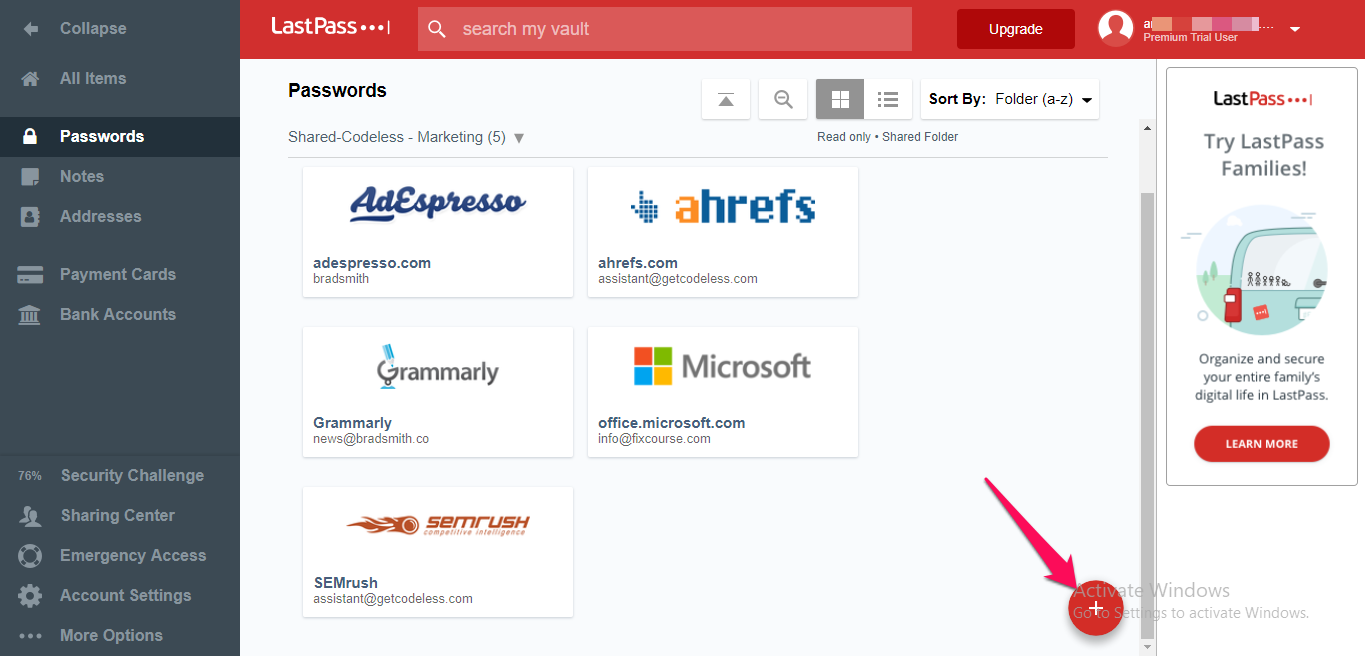 Apart from passwords, LastPass can act as your 'digital wallet' and store a variety of other details like a credit card, secure notes, addresses, online identities, insurance cards, passports, driving license, and more.
That's A LOT of variety for an average user, and no other tool comes close to LastPass in this regard.
In contrast, Dashlane has one of the most beautiful user-interfaces.
The overall look of the interface is similar to what you see in LastPass app. A navigation bar on the left and the rest of the screen is just plain white space.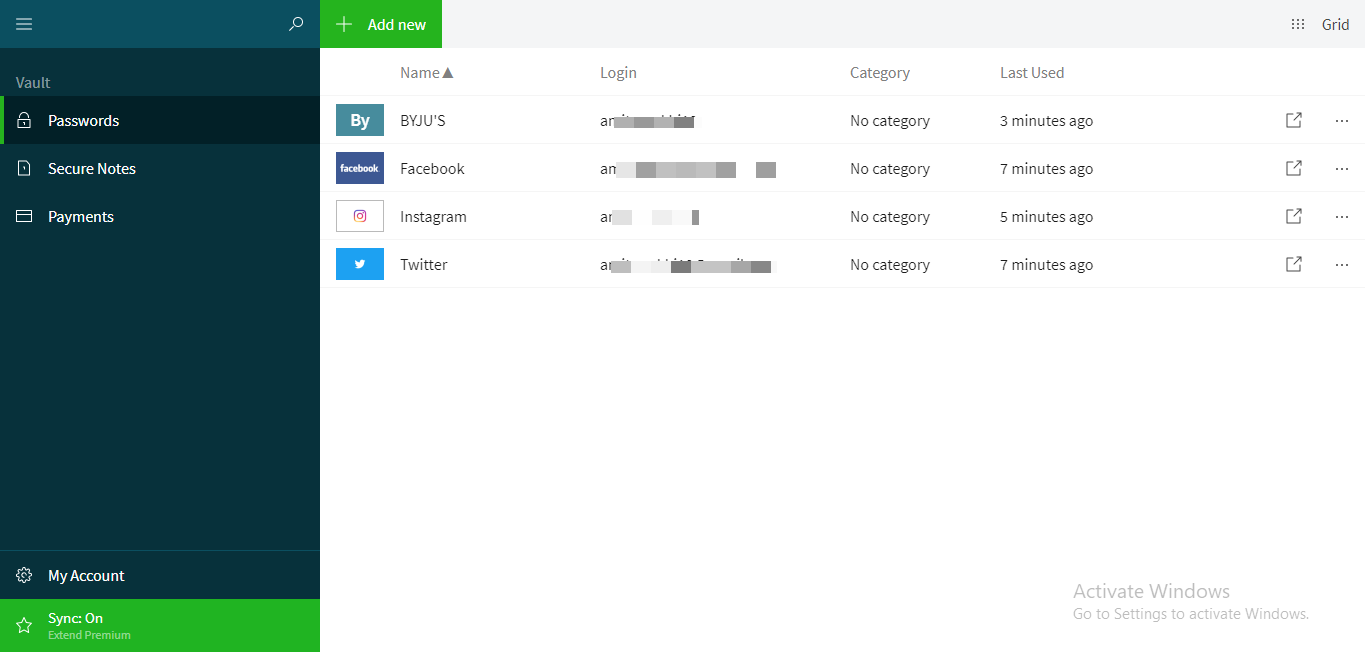 However, a novice will always prefer Dashlane because the navigation bar in Dashlane is less overwhelming than LastPass'.
And everything can be done with just a click or two.
For example, to save your credentials hit the green 'Add New' button, and add the details on the following window. That's all you need to do.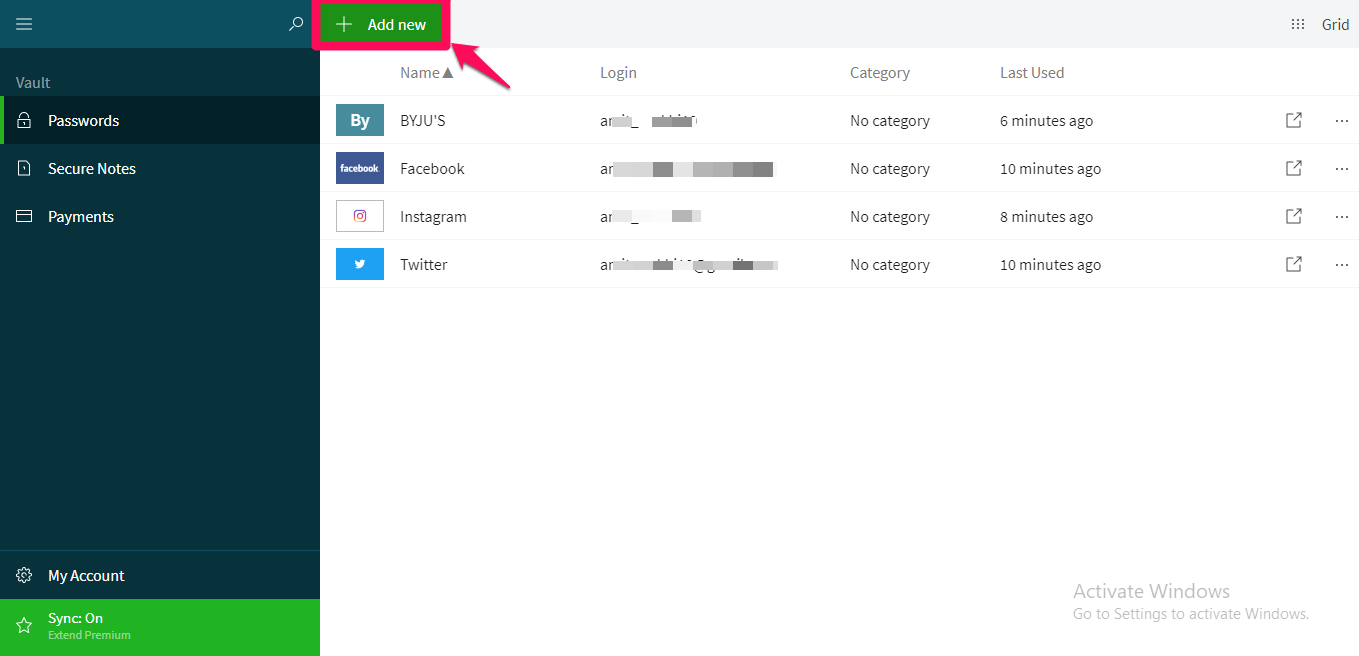 But unlike LastPass, Dashlane can't store a wide range of information. You can save only passwords, cards, notes, and addresses.
Winner: Draw
Well, it's a tie. While Dashlane has a more beautiful interface, LastPass can store a wide range of details. So, either side wins a point for their qualities, and eventually, it's a draw.
2. Security & Multi-Factor Authentication
Security is the core of any password management tool, and it can't be compromised in any situation.
After all, you're sharing your most sensitive details, like credit cards, with its virtual vault.
However, you would be happy to know that both — LastPass and Dashlane are 'zero-knowledge' app. They don't store any of your information on their servers, so you don't need to worry about any data breaches.
And both the tools are similar when it comes to encrypting the stored data. Both of them use the military-grade 256-bit AES to encrypt your data and derive the master password using PBKDF2 SHA-256.
In simple words, it would take more than a billion year for hackers to decode your encrypted data.
But what separates both these tools is what they offer beyond the encryption technique.
While LastPass allows you to set two-factor and multi-factor authentication, Dashlane only features two-factor authentication.

Though two-factor authentication is enough to protect your account from intruders, multi-factor authentication takes the overall security to another level.
Both also offer a password generator to make sure that you're creating strong passwords that are unique for each site.
However, Dashlane does feature a dedicated VPN to its paid users that no other program offers. And you can count it as a cover for not having multi-factor authentication, but LastPass still has the upper hand here.
That's because, although a VPN can help you surf the web privately, it can never protect your vault from unwanted authorization.
Winner: LastPass
In this section, LastPass has a slight edge over Dashlane because of multi-factor authentication.
Barring this small advantage, everything else is the same in both the tools. Both will protect you from security breaches that might result in your login credentials ending up in the wrong hands.
3. Password sharing and audit report
Storing and encrypting data is easy.
All the password managers do that. But not every password manager can dig deep in your password database and highlight the weak ones to you.
Similarly, there are many occasions where you need to share sensitive information like passwords and notes with your family members, friends, or colleagues.
And again, not every password manager allows you to share passwords with others.
Fortunately, LastPass and Dashlane can do both jobs pretty well.
In the LastPass app, you need to create a shared folder and select which credentials you want to include in this shared folder.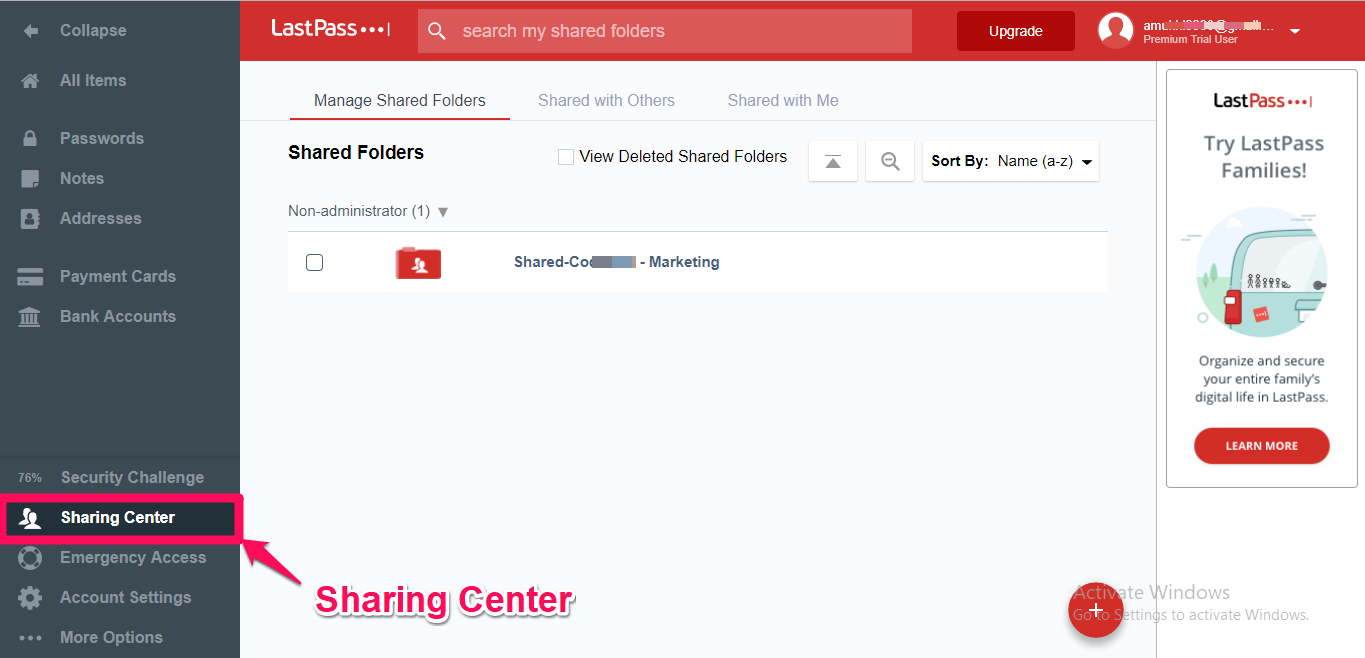 After that, you are free to add as many users as you can if you own a premium account. Free members, though, can add only one user to their shared folders.
Similarly, the audit report of the software is spot on and quite thorough, too.
Not only it points out the weak, duplicate, and old passwords, but it also lets you know the total number of credentials that have two-factor authentication enabled.
In addition to this, LastPass also evaluates your master password and scores it out of 100.
That way, you get a fair idea whether your master password is okay, or if you need to use their password changer to make it more secure.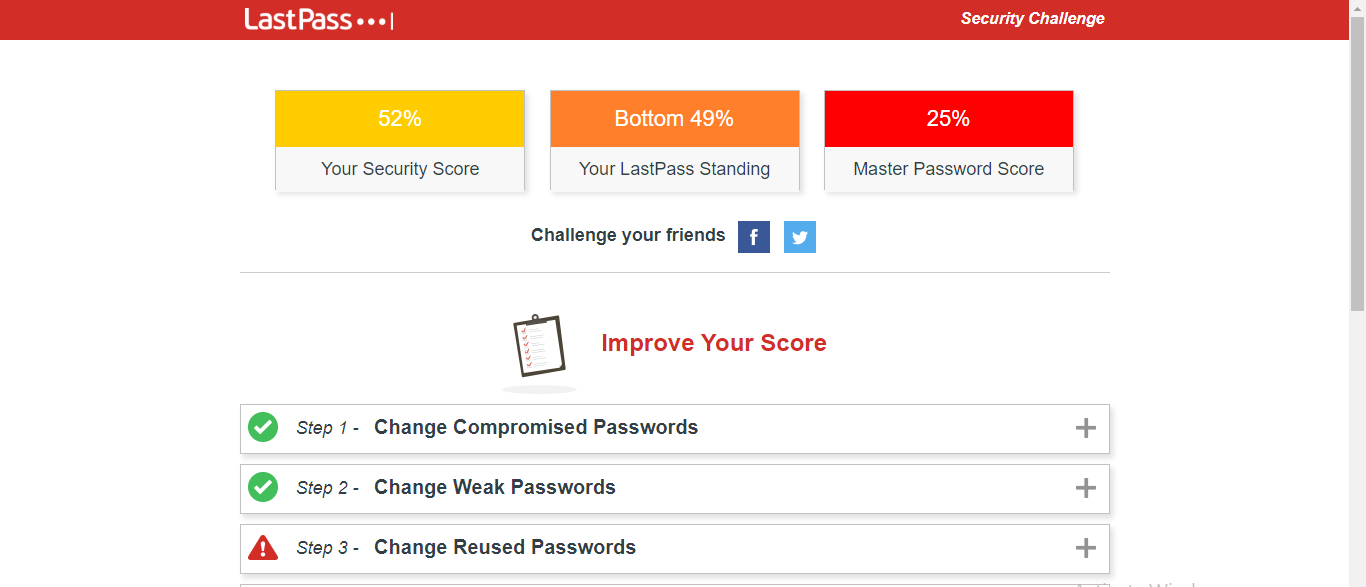 And let me tell you that the evaluation process is quite rigorous, and only the most robust passwords manage to score more than 50%.
In fact, my most reliable password, too, could manage to score just 25%.
So, you can fully trust on what the audit report returns.
On the other hand, Dashlane keeps things quite simple and easy.
Instead of a shared folder, you can exchange passwords with others directly via email.
Just select the password you want to share, insert the email address of the fellow Dashlane user, and you're good to go.
It's as simple as that!
Similarly, the audit report highlights the weak and duplicate passwords and gives an overall health score of your vault.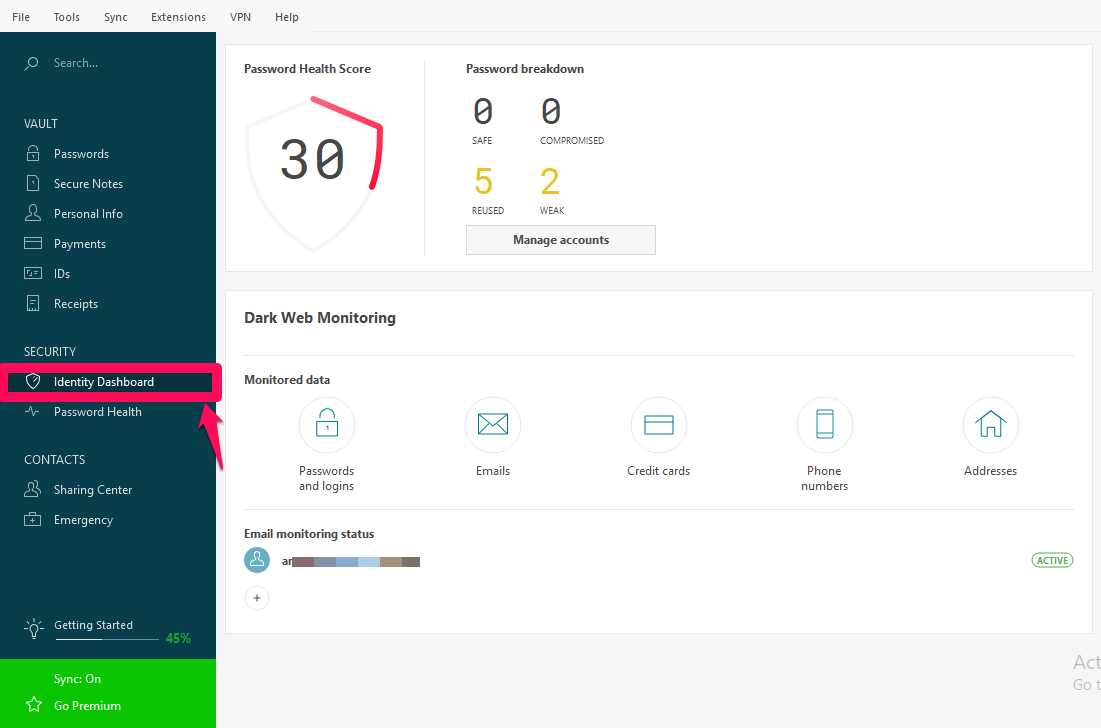 But Dashlane doesn't stop here. It goes a step ahead and also scans the dark web to see if your email address or social media accounts have ever been compromised.
That makes the audit report more thorough than what you get on LastPass. Also, the evaluation process has the same level of intensity as LastPass.
Winner: Dashlane
Even though both the tools are excellent in sharing passwords and evaluating database, Dashlane is the winner for me.
The reason is simple – 1) it returns a more comprehensive audit report and 2) sharing a secure password is pretty easy and involves fewer steps than LastPass.
4. Device compatibility and limitations
Device compatibility is not a concern at all with either tool. They have n app for pretty much every tool in your arsenal, including Windows, macOS, Android, and iOS devices.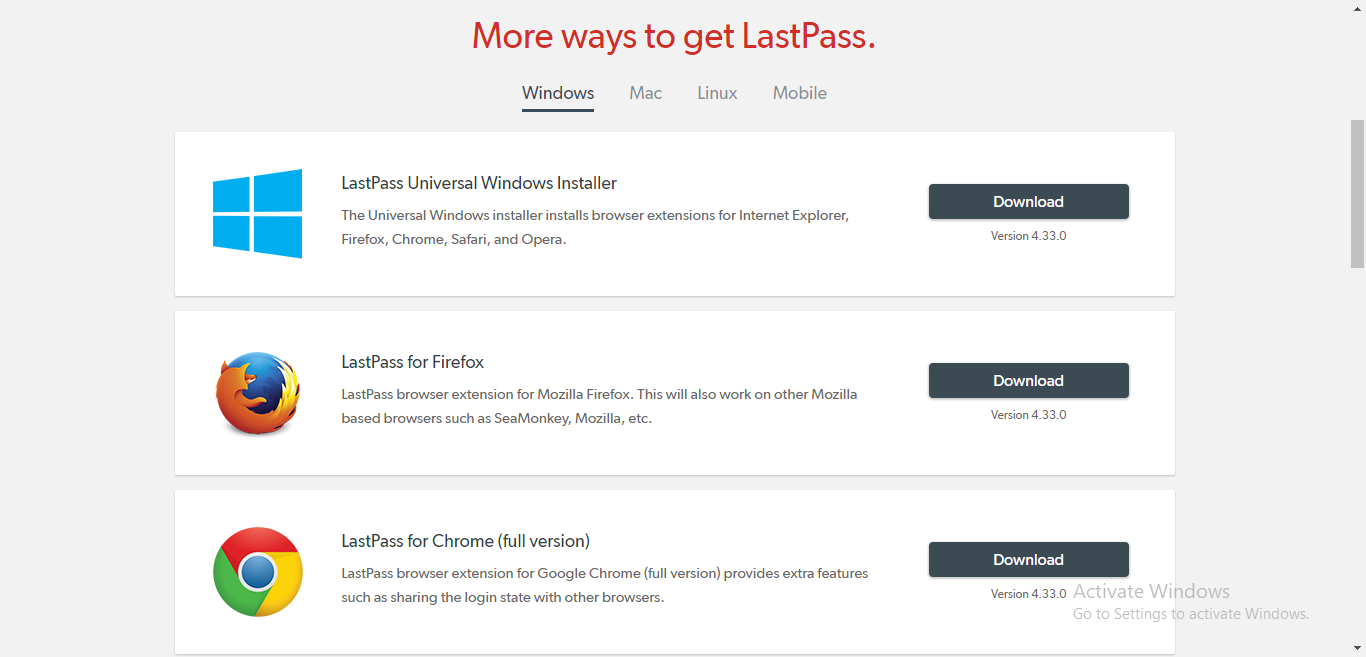 Moreover, you can also add them as an extension for any web browser you prefer, including Chrome, Firefox, Safari, Microsoft Edge (previously Internet Explorer), and Opera.
However, what makes the difference here is the limitations that come with the free accounts of both these giants.
And it seems like LastPass gets the best out of Dashlane in this aspect.
There's literally any limitations on the free users.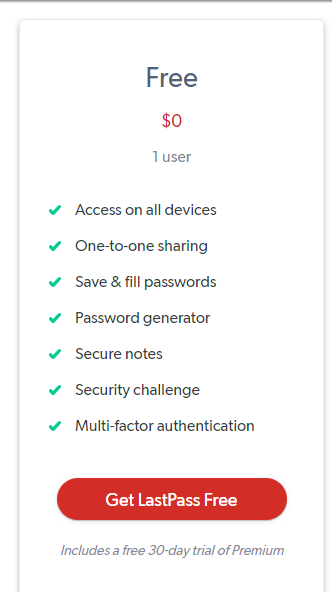 For example, you're allowed to store unlimited data, set multi-factor authentication, use the software, and sync your data on multiple devices, generate audit reports, and more.
The only limitation is, as a free member on the app, you can add only one user to your shared folder. Other than this, the free account is as good as the paid ones.
In contrast, Dashlane has many conditions for its free users.
For example, free users can't store more than 50 passwords, use the software only on one device, can't share passwords or scan the dark web, etc.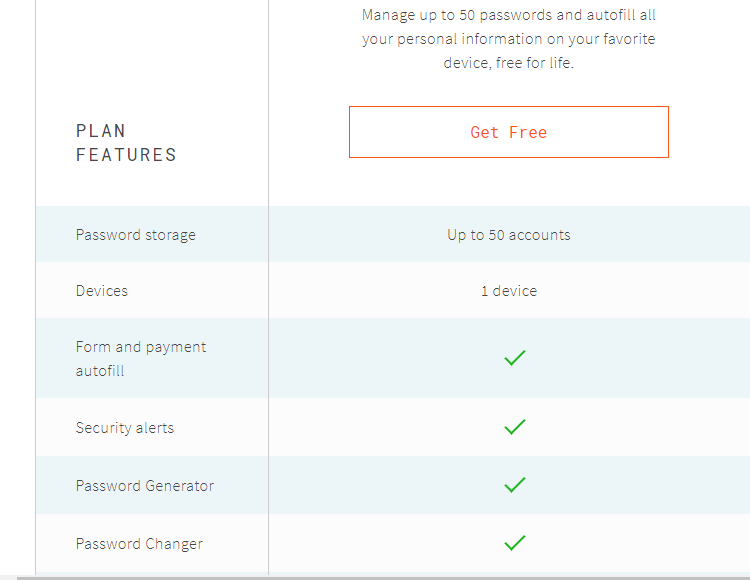 Most of the key features, like dark web monitoring to prevent identify theft, auto-sync, and VPN, are reserved only for the paid members.
So, if you're planning to go with Dashlane, I would suggest ditching the free account and sign up straight as a premium member.
Winner: LastPass
LastPass is a clear winner here. While Dashlane has imposed several restrictions on its free users, the free account of LastPass is as good as its premium account.
In fact, an average user might never need to pay a penny unless he/she wants to share passwords with more than one person.
5. Pricing
There's hardly any difference between the price of LastPass and Dashlane.
And the good news is, both the tools are pocket-friendly. However, LastPass is a bit cheaper at $36 for a year ($3/month). There's also separate plan for families that starts from $4/month for six members.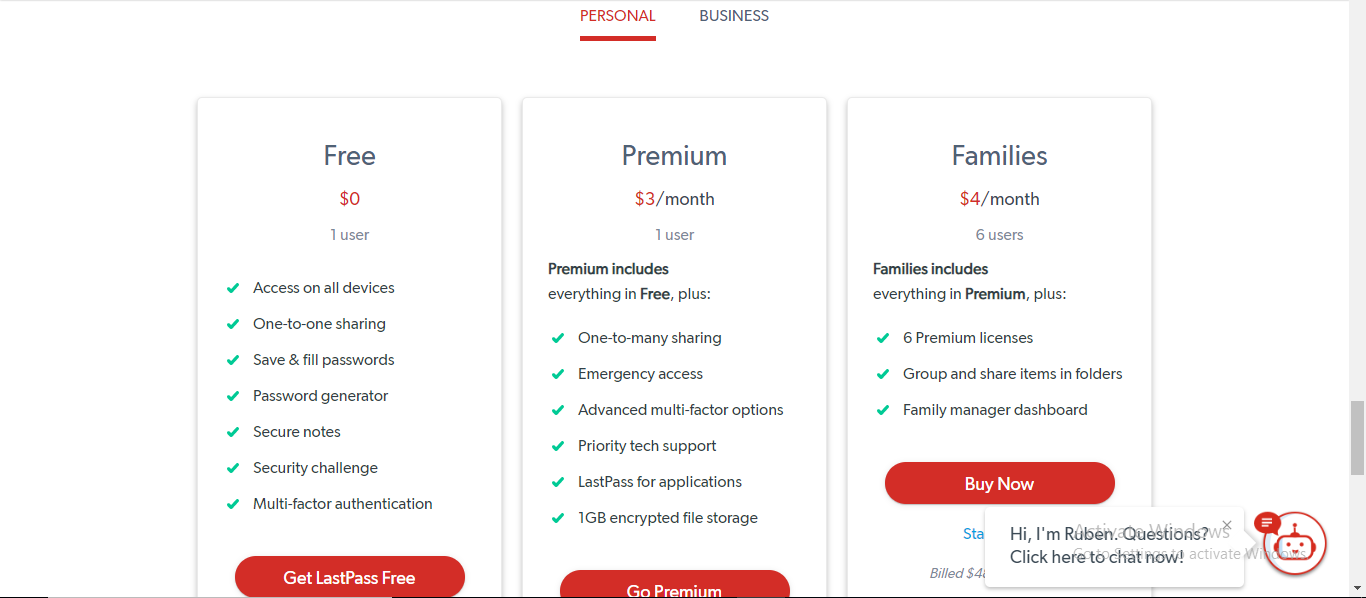 On the other hand, Dashlane sets you back $39.99/year for individual accounts and like LastPass, their business plans starts from $4/user/month when billed annually.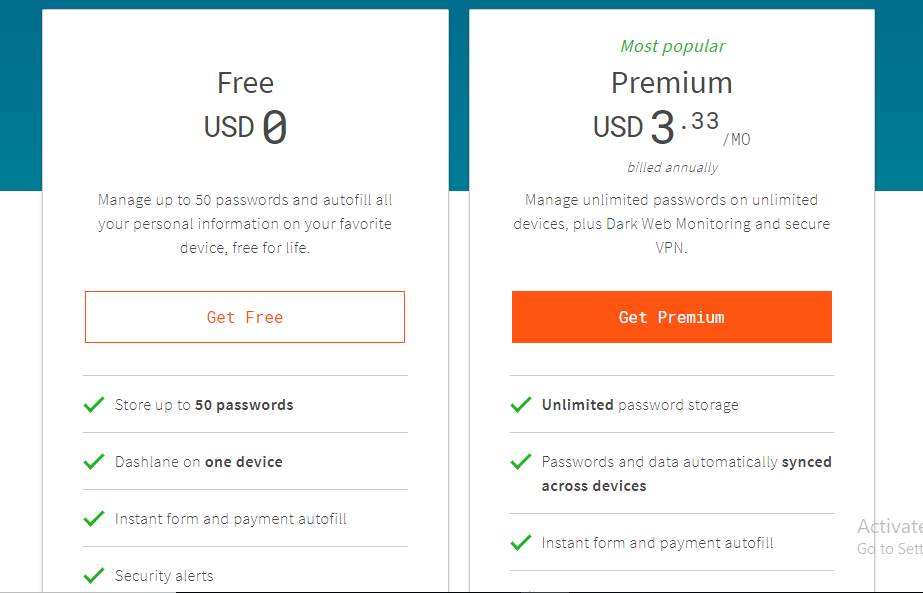 So, $4 (for individual accounts) doesn't make a big difference.
Winner: Draw
You might call LastPass the winner of this category, but usually, $4 is not a significant difference for an average user. That's why it's a tie for me.
Simple and easy user interface
Form capture
Multifactor authentication
Strong password generator
Compatible with all devices and browsers
Audit report
Easy sharing with other users
Slow customer service
Outdated user interface
Dashlane
Best Premium Security
Simple, Intuitive Interface
Industry-Standard Security Protocol
Strong Password Generator
Multiple Forms of Secure Data
Compatible with All Devices
Extensive Password Audits
Increased Privacy with a Dedicated VPN
A Little Expensive
No Family Plans Available
Inconsistent Browser Form Autofill
LastPass vs Dashlane: Who Wins?
The final score reads two points for LastPass and one for Dashlane.
But to be honest, we don't have a clear winner here. Both are really good and include a lot of the same features, like a password generator, sticky password, two-step authentication, autofill, and a browser plug-in. Both are also miles ahead of other alternatives like Zoho Vault, Roboform, or Keepass.
Of course, if you're looking for a free option, then LastPass should be your first choice. But if you're ready to pay a few bucks every month, you can never go wrong with either of them.
So, based on what you prefer…
If you're looking for a feature-rich sharing tool with multi-factor authentication, then LastPass is the most suitable software for you.
But if you need a identity theft protection for web surfing and is more attracted towards simple user-interface, then go with Dashlane.