Distraction is common. It's in your workplace, home, your favorite coffee shop, everywhere.
But what's not common is using technology to knock the distractions out of your life.
Yes, technology! (That many consider the root cause of distraction)
I'm sure you must have heard of or even practice rituals like meditation, deep breathing, or Pomodoro technique every day to boost your focus.
But when you combine tech with age old teachings, it can result in an unexpected level of productivity and business success.
Since there are so many "gurus" out there who talk about meditation and other "productivity hacks", I'm gonna concentrate on the latter part, i.e., technology.
And in this post, we are going to talk about productivity apps that can help you do more in less time. And the best part is, most of these tools are cheap and extremely easy to use.
Sounds exciting?
Let's get straight into it.
Best productivity apps review
This review post is different from other round-ups I've done in the past. Because all the applications in this post are entirely different in their functionalities and serve a different purpose.
So, it was tough for me to organize them from best to worst. However, if you're interested in some background info, check out the parameters I used to test each productivity software.
1. Evernote
Evernote, as the name suggests, is a note-taking software that is designed to make capturing ideas, storing them, and sharing them a breeze.
It comes with a set of tools to organize the whole process of documenting information and ideas for sharing with others. Also, it syncs your notes across all the devices so you can have the flexibility to access your notes from anywhere using any device.
Let's get a little deeper and talk about each attribute in detail.
Evernote Pros
#1. My hands-on experience with Evernote was positive. It's a user-friendly software, and I didn't come across any snag while testing the app.
To record a note, all you need to do is open the app, type in your thoughts, and it automatically saves your words.
#2. It was also a cake walk for me to share some of my notes with my friends using its in-built sharing function.
You can also invite your colleagues to collaborate on an office project that makes Evernote a no-brainer for business organizations or group projects.
#3. It's a pain to find out a particular note you wrote months ago among the dozens of other notes saved in your vault. But Evernote has got your back.
You can tag each note with a specific keyword so that the next time you need to create logo or make a content plan, just search the keyword and it'll spit out all the records with that keyword tag.
#4. It has a vast number of templates ranging from meeting notes to project overview, and marketing plan to project goal, to help you get started with your project quickly.
#5. The search facility of Evernote is second to none. It allows you to add PDFs, Docs, and Office files to your notes and you can find anything by typing words in the search box.
And its system is so powerful that it penetrates deep inside the documents and show you all the files that contain your searched word.
#6. As you take note – it doesn't matter whether you used a computer or cell phone – it syncs your files across all the devices. That also means it is compatible with all the popular operating systems of our time – Mac, Windows, Android, and iOS.
#7. The Spaces feature in Evernote works as a common dashboard for teams. It shows all the tasks, files, notes, and projects that each member of the group can access. But the only condition is, you have to opt for the Evernote Business plan to avail this feature.
#8. And finally, the most exciting aspect of Evernote is the document scanning facility where you can convert the hardcopy of any document into a soft copy and store it in Evernote.
Just place the paper in front of your phone camera, turn the scanner on, and BANG! your scanned copy is ready.
Evernote Cons
#1. It's not a major flaw, but I still found the integration options to be limited. You can only integrate Google Drive, One Drive, Slack, and Salesforce with Evernote.
#2. Customer service is another major area where it needs massive improvement. Firstly, it's biased with its unpaid users and deprives them of live chat and even email support. It's available only to their premium users.
The only way to resolve your issues (if you're a free user) is to post it on the online community and hope that Evernote agents pop up a solution.
Evernote pricing plans and payment options
Evernote has three different pricing plans to offer.
Evernote Basic is a free plan that comes with limited features.
Evernote Premium cost $3/month and an excellent pick for individuals. Whereas Evernote Business, a premium plan for large companies, costs $14.99/month/user.
Both the paid plans come with a free trial, so you have the option to test them before making your final decision. But keep in mind, you'll have to submit your card details before taking the test ride.
Unfortunately, it's quite rigid about payment options as it accepts only Credit Cards. No PayPal, and no Debit Cards.
Do I recommend Evernote?
Yes, I do.
Evernote is a widely used tool among big and small companies, entrepreneurs, and even freelancers.
It handles the entire documentation and management process (from brainstorm to document ideas, and to share it with others), and its robust set of tools make it a worthwhile choice for capturing, storing, and sharing info.
2. Salesmate
Salesmate is a unified customer journey platform that helps you automate and streamline your marketing, sales, and customer support processes.
Salesmate is a leading sales CRM, engagement, and automation platform that enables businesses to deliver personalized experiences at each stage of the customer journey. 
It's a single platform that must be used to automate marketing, sales, and customer service touchpoints. It supports all channels, including email, text messaging, the web, and phone calls. Its comprehensive feature set allows you to create more leads, conclude more deals, and develop long-term customer relationships.
Moreover, it also helps you measure, monitor, and report on your team's progress with built-in dashboards and insightful analytics. All these features make Salesmate the best solution for sales teams of all sizes.
Salesmate pros
#1 It offers a wide range of features, including Sales Automation, Marketing Automation, sales pipeline management, contact management, built-in calling, live chat, meeting scheduler, and insightful sales reports. So, by utilizing these features, you can improve the overall productivity of your team and measure your growth.
#2 If you have assigned any goals to your team members, you can easily track them using sales goals tracking and stay updated on the progress.
#3 Salesmate's drag-and-drop email builder lets you create captivating emails to engage better with your prospects.
#4 Its user-friendly interface makes it easy to use for sales teams of all sizes. So, you need to have the technical expertise to use Salesmate.
#5 It integrates with over 700 applications, making it easy to sync and manage your data.
#6 It offers a free trial and a flexible pricing structure that can be customized to fit your budget.
#7 The Salesmate team is responsive and provides excellent customer support.
Overall, Salesmate helps you manage your business process from a single platform, so you don't have to switch back and forth between multiple platforms, saving you time.
Salesmate cons:
Salesmate's automation journeys are extremely helpful, however, it might seem a bit complex at first as it provides many different trigger options.
Salesmate pricing plans
Salesmate provides a free trial plan for 15 days so you can try out its features.
The Starter plan is priced at $12 per user/per month.
Salesmate's Growth plan is priced at $24 per user/per month, and its Boost plan is offered at $40 per user/per month, billed annually.
Moreover, Salesmate also provides an Enterprise plan that has custom pricing as per the client's needs.
Salesmate is very flexible when it comes to pricing, as you can easily switch plans when you're scaling your business.
3. Nifty
Nifty is a project management solution like the other tools mentioned on this list. It's easy to set goals and timelines for your big-picture goals and build team alignment by automating progress as tasks are completed. 
It also allows you to flexibly organize, prioritize and track daily work with a high level of detail using Kanban, List, Timeline, Swimlane, and Calendar views.
Nifty pros
#1 This software empowers all members to share ideas, finalize specifications and gather feedback in real-time with chat and one-click video calls. 
#2 It's super easy to create beautiful docs, notes, and wikis for your projects and share them with anyone. Nifty also integrates natively with Google Docs. 
#3 You can also access automated progress reporting across all your projects and team activities to ensure operational clarity. 
Nifty pricing plans and payment options
There are five main plans for Nifty:
The Free plan is free forever and gives you 100 MB of storage space and 2 active projects.
Nifty's Starter plan is $5 per member per month and has 40 projects, 100 GB of storage space, and unlimited guests and clients. The Pro plan is $10 per member per month and has 250 GB of storage space, 100 projects, and unlimited guests and clients.
The Business plan is $16 per member per month and has unlimited storage space, active projects, and guests & clients. 
Finally, the Enterprise plan also has unlimited features – you can contact sales for pricing details. 
Do I recommend Nifty?
I would definitely recommend Nifty.
As Dave Braun, CEO of Pro Website Creators put it "My team and I have been using Nifty for about a year now, and it's been critical to our success in project planning and communication."
It's quite easy to be efficient with Nifty – team alignment, productivity, and smarter decisions come naturally when your data is not fragmented across multiple tools.
4. Trello
With millions of users all around the globe, Trello is a big name in the web world. It is a project management app that uses boards and cards to organize all the tasks.
Whether you run a sales teams, marketing, design, engineering or anything, you can use Trello to keep a tab on each step of your work from planning to executing the subsequent activity until your assignment is complete.
Here's a detailed breakdown of all the things I loved or didn't love about Trello.
Trello Pros
#1. Let's, first, talk about its usability. Trello is smooth in working, and it's a breeze to create a new board and add cards to it (where you'll note your tasks).
Though you might want to refer to this 'getting started guide' by Trello to deep dive into its advanced features, it's just a matter of a few clicks to perform any function in Trello.
#2. It doesn't matter whether you're an individual user or lead a team of individuals; Trello is a lucrative deal for you.
It lets you create a shared board where you are free to invite all the members of your team to collaborate on a project.
You can also break a large project into sub-tasks and assign each sub-task to a different member to complete it in record time and boost productivity.
#3. I also found a decent amount of integration options with Trello. It allows you to integrate Google Drive, OneDrive, Dropbox, Slack, Bitbucket, Calendar, Evernote, Salesforce, and many other tools with your boards using the "Power up" feature.
With a free account, it restricts you to use one power-up for each board, but when you upgrade to a premium account, there are no limitations whatsoever. You are free to use unlimited power-ups for your boards.
And while the maximum size of a file (to attach with your boards) needs to be no more than 10MB for free accounts, it goes up to 250MB for paid users.
#4. There is no cut back in device compatibility, too. You can use Trello on Mac and Windows computers as well as on Android and iOS smartphones or tablets.
#5. It's the USP of Trello to help users efficiently manage their projects. Create a To-Do list and change the order of their cards according to their priority or progress.
When you're done with it, shift it to another board (let's call it 'Done') by just a drag and drop.
#6. Trello has an remarkable support team that is always on the toes to respond to user request.
In my case, their response time was merely two hours and even though the answer to my question was no, the agent tried to provide an alternative turnaround. Which is commendable considering the fact, he could just say no and close the ticket.
Trello Cons
#1. It would make Trello a complete task management tool for teams if developers could add the facility to track how much time each member of the team is spending on a particular project. Unfortunately, as for now, it's not possible.
#2. It also fails to let you know how productively you're approaching each project and how many tasks you or your team have completed in a certain week or day. So, like time tracking, no reporting system, too.
However, the silver lining is that you can search for an integration among the pool of options to avail these facilities.
Trello pricing plans and payment options
Like Ghost Browser, Trello also follows the minimalistic approach for its pricing section. It has a free option and a Business Class plan that costs $9.99/month when you decide to pay full for the entire year.
Though it also offers its services to Enterprises for $20.83 or less per user, you will have to contact their sales team for an accurate quote.
Just like most of the other apps in this list, Trello fails to provide a second payment option besides Credit Card. Also like many others, Trello's pricing plans get cheaper when billed annually rather than monthly.
Do I recommend Trello?
Yes, I recommend Trello Wholeheartedly. In fact, we use it in our company, too.
It's effortless to use, comes with a ton of integration choices, and most importantly, it works as a one-stop control center for your team from where you can assign tasks to each member and give them the necessary instructions to accomplish that task.
Additionally, the free version is also good enough to discharge the basic functionalities. So I would definitely advise you to give Trello a shot.
5. Dropbox
Do I need to give an introduction? I think the name is enough to describe one of the earliest players of the cloud space industry.
But what does Dropbox do as a productivity tool? Let's take a look.
Dropbox Pros
#1. The strength of Dropbox lies in its simplicity. Be it Dropbox Paper, Dropbox Showcase, or storing a file in Dropbox cloud space, it's as easy as writing 'Easy' on a paper.
#2. Dropbox offers free tools like Dropbox Paper and Showcase to note down ideas and share files in a more visually appealing way respectively. (You can read the in-depth review of Dropbox Paper here).
And the best part is, (a) both these tools are absolutely free and (b) as you sign up for Dropbox, you automatically become a user of these tools. That means you don't need to create a separate account for each one.
#3. Dropbox makes it easy to share files whether it's a research note you wrote in Dropbox Paper or a group of videos stored in Dropbox. And if you're using Showcase to share your data, it allows you to see who has seen your materials and if they have left any comment.
Similarly, you can also invite users to work with you on the same project in real-time.
#4. If you're a team leader or an entrepreneur, with Dropbox Business, you can organize all the files of your department in a single place so that everyone in your team can have access to these resources on the go.
#5. With automatic sync, Dropbox stores all the changes you make in a document across all your devices so that whenever you open that document the next time in a different machine, everything looks up to date.
#6. Be it a phone, tablet, or computer; you can use Dropbox on any device regardless of its operating system because it supports all the prominent ones like Mac, Windows, Android, and Windows.
#7. Dropbox is not a one-stop-shop, and you need more tools to perform your daily work-related tasks.
Dropbox makes it possible to do everything from a single place. It integrates well with Gmail, Adobe, Slack, Okta, Salesforce, and more. You can integrate Dropbox Excel Online, and transfer Dropbox data to Google Sheets, other spreadsheets, and databases.
#8. I've taken help from Dropbox support in previous occasions and as always, my experience was positive this time, too.
Aiden from Dropbox support answered my query within six hours.
Dropbox Cons
#1. Once again, time tracking is the only thing it misses. Otherwise, the software is whole as per service.
Dropbox pricing plans and payment options
Dropbox offers four different pricing plans to the users – two for individuals (Plus and Professional) and two for businesses (Standard and Advanced).
Except for the Plus plan, all the other three have free trials.
Let's start with the individual plans. The Plus plan costs $8.25/month (billed annually), and the Professional plan is for $16.58/month (billed annually).
Talking about the Business plans, for the Standard version, it asks for $12.50/user/month (billed annually), and the Advanced plan costs $20/user/month (again, charged annually).
While there's an abundance of plans in the pricing department, we can't say the same for payment options. You can pay only via credit card or PayPal.
Do I recommend Dropbox?
Yes, I do recommend Dropbox and mainly as a cloud storage where you should store your or your company's files.
The premium plans get you TBs of space which I think is enough for an individual or a small team of professionals to keep all their data safe. And since it uses 256-bit encryption, your files are always secure.
So I obviously advise individuals and teams to sign up for a Dropbox account according to your budget and needs. It's worth it.
6. Google Drive
Drive is Google's answer to Dropbox. Like Dropbox, it's also a cloud space giant. But while Dropbox showcases itself as a workspace productivity tool, Google Drive is more about storing files, videos, images, and all sort of data and sharing it with others.
Here are some more awesome things that Google gets you.
Google Drive Pros
#1. You get 15 GB of free storage per Google account as soon as you sign up or login to Drive (of course, using your Gmail account).
Though 15 GB is a negligible amount of space, it is still enough to store a large number of lightweight files like documents, images, and even a few videos.
#2. While Dropbox has only a couple of free tools as Paper and Showcase, Google Drive comes with the entire office suite that includes Google Slides, Docs, Spreadsheet, Form, Calendar, Sites, Hangouts, Google+, and many more.
In short, you get free access to the entire G Suite when you purchase their premium plan.
#3. See, most of us are already familiar with Drive and even use it regularly. So, you know it's a breeze to work on Google Drive.
It doesn't matter whether you're using a phone, tablet or computer, uploading a file or sharing it with others is just a few taps away.
And even for those who're new in the circuit, Google has a boatload of material to help you get started.
#4. Drive kills the pain of merging files with its simple and straightforward sharing feature. It allows you to share data with anyone even if they don't use Google Drive.
You can also collaborate with your peers on a project, but for that, the other party needs to have a Google account.
#5. Whatever changes you make in your Drive, it syncs the changes across all your devices. So you can start a project on your phone and end it on your computer without facing any snag from Google's side.
#6. It works on all the devices and available on all the popular platforms like Mac, Windows, Android, and iOS.
#7. My previous experience with Google support was not something I would like to talk about. But this time it was different.
Google was quick enough to react and come up with a straightforward answer within six hours. That was quick!
Google Drive Cons
#1. Google Drive claims to be a one-stop solution for team productivity, but at the same time, it doesn't provide any report showing you how efficiently you or your team members are working with Drive.
#2. I was also disappointed with Google regarding available integration options. Though I appreciate the attachment of G-Suite with Drive, when I tried to look for more apps to integrate, I came out empty hand.
Google Drive pricing plans and payment options
As mentioned earlier, Google Drive is mainly a cloud storage service. So, if you're an individual user who just wants to increase cloud space, then upgrade your free account to Google One.
It has different pricing plans according to the amount of space you want.
100GB – $2/month
200GB – $3/month
2 TB – $10/month
10 TB – $100/month
20 TB – $200/month
30 TB – $300/month
All of the above plans offer a 2-month discount if you pay for the entire year upfront. For example, if you purchase the 100GB plan and pay yearly, it would cost you $20 instead of $24 ($2 X 12 Months).
On the other hand, if you plan to onboard Google Drive at work or your company, it charges $8 per user/month + $0.04 per GB of storage for its Drive Enterprise plan.
If you want to get rid of the per GB pricing and want unlimited storage, the per-user price will go up to $10-$25 per user every month for the G Suite plan that offers unlimited storage as long as you have more than five members in your team. Otherwise, it would be 1TB per user.
And finally, talking about payment options, you can complete the transactions either via Credit Card or the internet banking facility your bank provides.
Do I recommend Google Drive?
It's tricky, but my answer would be both, yes and no.
Yes, if you want to use Google Drive as a cloud storage service because that's exactly what it is. And even for cloud storage, I won't recommend you to go beyond the 2TB mark because after that it gets too expensive. I mean, who on earth would spend $200 every month to store 20 TB of files?
At least, an entrepreneur or individual user won't.
Having said that, I would say no to Google Drive if you think it's a productivity tool. Sorry to say Google fans but it isn't.
7. RingCentral
RingCentral is a leading VoIP service provider that offers a modern way to manage business communications and improve workplace productivity. 
RingCentral MVP is more than just a cloud-based phone system. It offers video conferencing, audio calls, business SMS, and more within a single app for communication within and outside the organization. 
RingCentral Pros
RingCentral's VoIP service improves mobility for remote and on-the-go employees. With its

Call Flip

feature, you can switch between

VoIP devices

(from desktop to mobile and vice versa) in a single click during an audio or video call, allowing you to work seamlessly from anywhere, be it a spot at a coworking space booked through the app, home or office.

RingCentral's built-in task management capabilities allow you to create and assign tasks to team members. You can set the deadline, enter the task description, attach files, and use color tags. 

RingCentral offers secure, unlimited audio & video meetings with up to 100 participants. It has a

Waiting Room

feature that gives you complete control as the meeting host. Participants won't be able to join the meeting until the host admits them individually or admits all of them, which minimizes the risk of unwanted guests. 

RingCentral has more than 200 integrations, including CRM, productivity, and project management tools. For example, with Salesforce integration, you can make and receive calls directly from your Salesforce account.
RingCentral is also a UCaaS provider that unifies all the communication tools (video conferencing, team messaging, phone calls, online faxing, SMS, and more) in a single app. It means you don't have to use different applications or tools to get the job done; you can do it all with RingCentral.
RingCentral Cons
RingCentral has a longer learning curve due to its wide array of features, which can sometimes get a little overwhelming for new users. However, RingCentral offers tons of tutorials along with a dedicated

in-app Resource Center

that can help you onboard and learn all the tips and tricks every step of the way.
Pricing Plans
RingCentral offers four pricing options: Essentials, Standard, Premium, and Ultimate.
You can sign up for a free trial to test out the features. When you pay annually, you can save up to 40%. 
With RingCentral's Essentials plan, you will have a dedicated business phone number, unlimited calls within the US & Canada, business SMS, voicemail-to-text, team messaging, and document sharing. Essentials pricing option will cost $19.99/user/month billed annually for up to 20 users. 
Standard plan is the most popular option that features everything in Essentials along with online faxing, unlimited audio & video meetings with up to 100 participants, and popular integrations such as Microsoft 365, Google Workspace, and Slack. It costs $27.99/user/month, billed annually with unlimited users. 
Premium plan delivers the best value with everything in Standard, plus real-time analytics, video meetings with up to 200 participants, automatic call recording, and Single Sign-on. It costs $34.99/user/month billed annually. 
In Ultimate, you will benefit from everything in the Premium, plus device status reports and alerts and unlimited storage. It costs $49.99/user/month billed annually.
If you want to experience how the RingCentral app works before you move on to their paid versions, then you should try RingCentral Video Pro—a free video-conferencing solution with built-in team messaging capabilities where you can share files, manage tasks, and conduct unlimited meetings and host up to 100 participants.
Do I Recommend RingCentral
Yes, I highly recommend RingCentral and mainly as an all-in-one platform for different types of communication. 
It's a unified app that you can use to communicate with internal teams and invite external guests to collaborate on projects. 
It benefits all types of businesses—small companies, enterprises, and even marketing freelancers. With the RingCentral app, you can work from anywhere on any device.
8. Monday.com
Monday.com is another project management tool like Trello. While Trello uses boards and cards to present different actions, Monday.com takes a more minimalistic approach and relies on simple but visually appealing tables/spreadsheets and dashboards (no it's not like Excel, it looks much better).
Now the question is, is it equally good in managing your projects like Trello? Let's find out.
Monday.com pros
#1. The first thing I noticed on my desktop app is the various templates Monday.com offers to get you started with it in no time.
So, you don't need to think about what to do or what not to do. Just pull out a template according to the nature of your work and start customizing it as per your requirements. You can get started with this popular monday.com business plan template.
#2. Working with Monday.com is like a child's play. Once you've pulled out a template, drag and drop to change the position of different rows or columns. The other functions too are just a few clicks away.
In case, you still find it difficult to find your way; you can always refer to these detailed video tutorials on the website.
#3. I used Monday.com for a few group projects and didn't come across any snag.
You can onboard your team members to collaborate on an assignment and just like Trello, assign different tasks to particular members.
It's also easy to share something and get feedback from others.
#4. It seems like Monday.com is matching Trello in every step. Similar to its counterpart, Monday is pretty strong in the integration game and offers as much as 50 options.
But the major contrast is, while I could use most of the apps in my free Trello account, there are only a handful of choices available for the free Monday.com account.
The full range of integration is available only to its high paying customers (Pro and Enterprise plan).
#5. Monday.com is one of the selected tools that offers time tracking facility. You can add the 'time tracking column' and when you start your work, hit the play button. It'll track how much time you're spending on a particular task.
Plus it also gives you a detailed log history where you can see your progress.
#6. I also loved the 'My Week' feature of Monday.com that works as a to-do list tool for your entire week. It shows what tasks you need to do this week, what's coming up next week, and which tasks are still overdue.
#7. And finally, I was also impressed with the quality customer service of Monday. It took them hardly a quarter hour to respond to my request, and Alex from the Monday.com support team, came up with a thorough answer.
I am blown by their lightning fast speed!
Monday.com cons
#1. There are no free plans available. Though it offers a 14-day, no strings attached trial, after that you will have to upgrade to a premium account. Otherwise, you say bye-bye to this software.
#2. It's mostly for teams or companies. Even in its pricing page, it asks you to pay for a minimum of 2 users.
#3. Sure, it presents a complete log history to show you the time you spend performing a task; but what about a productivity report?
No, there's no such provision. It doesn't analyze how efficiently your team is working.
Monday.com pricing plans and payment options
Monday.com is expensive. There are four different pricing plans Monday.com offers to the potential users and the rates are high.
For example, take its Basic Plan that costs $25/month for five users. When you do quick math, the per-user price comes down to $5/user per month which is almost half of Trello's pricing – its closest competitor.
But since it asks you to purchase the software for at least five users, the total cost increases to $25/month (billed annually).
Similarly, the other three tiers – Standard, Pro, and Enterprise come for $39, $59, and $118 per month respectively when you pay yearly.
At last, when you move forward to pay for the premium account, keep in mind, it accepts payment only from Credit/Debit Cards and PayPal.
Do I recommend Monday.com?
Yes, I highly recommend Monday.com.
It's a simple project management app that is handy for monitoring your team's progress and even track how each member is spending his/her time in a particular task.
Also, the price is lower than Trello when you buy the software for your entire team. That makes Monday.com a deal you won't like to miss.
9. Jotform Sign
Jotform Sign is an electronic signature tool that allows its users to create safe and secure legally binding documents and collect e-signatures. It allows you to automate your workflow from start to finish and saves you a lot of time by eliminating manual tasks.
With Jotform Sign's pre-made templates you can create documents for every use case in seconds and start collaborating with your team. Once your document is complete, you can embed it on your website for users to sign or simply share it through a link.
Moreover, when someone signs your document, you get an instant notification which makes it easier to keep track of the signatures. You can also access signed documents and send reminder emails from any location. 
Jotform Sign Pros
There are 600+ ready-made templates that you can choose from.

Jotform Sign allows you to turn your existing PDFs into legally binding e-sign documents.

You can customize your documents easily by using Jotform's intuitive drag-and-drop builder.

You can easily collect signatures by sharing a link to your form or embedding it on your website.

Approval workflows enable you to add multiple signers to your document and keep track of the signature process.

You can save your documents to cloud storage services like Google Drive or Dropbox and keep your documents safe and secure effortlessly.

With Jotform Tables, you can organize and manage data compiled from your documents. 

Your documents are accessible from any device, including a smartphone. You are able to manage your documents from any Android, iOS, Windows, or macOS device simply by opening a web browser.
Jotform Sign Cons
Although Jotform provides numerous options that may fulfill your needs, the price may be expensive for small businesses.

You need to upgrade your plan to increase your form, submission, and space limits.
Jotform Sign pricing plans and payment options
Starter (free).

The free plan includes all features. (limited to 5 forms 100 monthly submissions)

Bronze ($34 /month billed annually).

Can create up to 25 forms and receive up to 1,000 submissions per month.
Silver ($39 /month billed annually).

Can create up to 50 forms and receive up to 2,500 submissions per month.

Gold ($99 /month billed annually).

Can create up to 100 forms and receive up to 10,000 submissions per month.
Do I recommend Jotform Sign?
Yes, I would definitely recommend Jotform Sign.
It is a great e-signature solution that will completely automate your signature collection process. It helps you to build, share, and manage documents from any device in a safe and secure way. Jotform Sign is very easy to use and saves you a lot of time. Also, the free plan includes all of the features. 
10. Focus Booster
Focus Booster is a time tracking software that specializes in providing Pomodoro sessions.
In fact, the early version of the app was built solely with the purpose of helping users exercise the Pomodoro technique effectively. But after that, they changed it into a full-fledged time tracking software.
And now it gives a detailed breakdown of how you spend your time throughout the whole day.
Focus Booster Pros
#1. Of course, I would love to start with its specialty. If you're a Pomodoro aficionado like me, you would love its ability to create Pomodoro sessions for daily activities.
It lets you use the Pomodoro sessions even if the web app is closed and you can also freeze the time if you need to leave the session in the middle for some unavoidable reasons.
Not a Pomodoro fan? No problem.
It still lets you track time as a regular tracker, and you get a detailed report of all the activities you do during that time.
#2. As I just said, it records your activities and then presents an analysis (though it's not very thorough) so you know where your time is going and how you can direct it towards more productive work.
#3. Focus Booster always keeps you on the go. If you start a session in Desktop but for some reasons forced to pause it; you can still resume that session in your phone because it syncs everything across all your devices.
#4. It does provide multi-platform support through its Windows, Mac, iOS, and Android apps.
#5. The support team of Focus Booster is excellent in dealing with user queries. I reached out to them to ask a few questions and Sophie, from the Focus Booster support team responded with a comprehensive answer within six hours.
Focus Booster Cons
#1. This app is not designed to function with a group. Only individuals can use Focus Booster. However, if you still want it for your company, you can give a separate license to each employee.
That's the only way out; otherwise, it can't be used together.
#2. You cannot integrate with any third party software. It's surprising, as almost all the software in this list is compatible with at least a few other apps. But no such provision with Focus Booster.
#3. One of the biggest strengths of a time tracker is to present a big picture to the user of his/her daily activities. But unfortunately, it becomes the most significant weeklink of Focus Booster.
Sure, it does shows you a report, but only includes how much time you spent working for a client.
It doesn't dive deeper and let you know which websites or apps are eating most of your time and neither it offers anything to block a website for a certain period (which is a common function in any standard time tracking tool).
Focus Booster pricing plans and payment options
Apart from the free variant, there are two premium plans for sale.
The Individual plan costs $2.99 per month and is useful for students, employees, or anyone who just wants to use Pomodoro and time tracking.
On the other hand, the Professional variant is especially handy for freelancers, consultants, and other professionals who want to use Focus Booster to track time and send invoices to their clients as per the that.
It costs $4.99/month, and you can only use Credit or Debit Cards to pay for the premium accounts.
Do I recommend Focus Booster?
I would recommend Focus Booster only as a supplement to one of the other productivity tools listed in this post because no other tools (except for Monday.com) allows users to track time.
So it's better if you tag team it with another productivity software for better results; otherwise, it's a week option in terms of a time tracking tool.
11. Asana
Asana is the perfect blend of Trello and Monday.com. As you've already guessed, it's a project management software that assists you in planning and organizing various projects of your company.
It's been in the project management field for quite a few years and has earned a name for itself. But is it better than the other two tools I reviewed in this post? Let's take a look.
Asana Pros
#1. Asana templates can save you an insane amount of time by helping you dodge the confusing state where you don't know how to start. Pull out a template, customize it by adding your info, and start your project.
#2. It is effortless to use with all the functions and icons clearly mentioned in the user interface. Wanna start a new task? Point, click, type, and done. It's that simple!
#3. Since Asana is a project management app, you can bring your whole team on board and collaborate with them on any project you want.
Just like Trello and Monday.com, you're free to assign them tasks, set a due date for it, and share the project details with them to get feedback.
#4. Apart from Todoist, Asana is the only software that allows users to integrate more than 100 applications with your Asana board.
#5. In Asana, you get the best of both the apps (Trello and Monday.com); you can either use the card system to plan your tasks or the table view to monitor the progress of each assignment.
Didn't like either? No problem.
You can also break the entire board as a flow chart to see how you'll reach your end goal step by step.
#6. There's no doubt Asana is dedicated towards its consumers, and it is their sheer dedication that they have Asana Academy – a full-fledged video course – to teach users how they can make full use of the software.
#7. Like all the other apps in this post, Asana is also not finical about devices and platforms. It goes well with everything like Windows PC, MacBook, iPad, iPhone or your latest Android smartphone.
Asana Cons
#1. The same old villain – Time tracking system. Yes, this is where Asana (and also Trello) lags behind Monday.com.
You can't get any idea of how much time you or the other members of the group are dedicating towards your goals.
#2. One of the primary usages of Asana is to organize things and increase productivity; it's a big bummer for the software not to have a reporting system.
It doesn't report how many tasks you complete in a day or week and there is no productivity score too.
Asana pricing plans and payment options
Asana has four different pricing options in its box.
The Free plan is, of course, free forever and mainly for those who want to test the water before diving deep.
Once you're confident to go ahead, you can either upgrade to Premium which is an apt choice for small business owners and cost only $9.99/month when billed annually.
Or go with the Business plan that boasts some extra features like proofing, portfolio, and many more for $19.99/month per user (billed yearly).
And finally, if you run a large organization, you need to contact the sales team for an accurate quotation.
And keep in mind, they only accept payments online through Credit/Debit cards or in some cases via check or bank transfer of you subscribe for more than 20 members.
Do I recommend Asana?
In a word – yes.
Asana is easy to use, and at the price of Trello Business, it gets you the strong points of Monday.com and Trello together in a plate; that makes it almost impossible to turn it down.
However, if you're an individual user, you won't need to upgrade your account. The free version is enough to cater to your needs.
12. Fellow.app
Fellow.app is a one-on-one meeting tool and a note-taking app for diverse teams across different organizations. It helps these teams collaborate and work together by providing real-time agendas and expert meeting templates.
Fellow Pros
1. Build a feedback-loving culture with the instant feedback tool. Employees and managers can get and request instant feedback after meetings.
2. Collaborate across different departments and teams with instant meeting agendas.
3. Stay organized and hold team members accountable with action items.
4. Build relationships with your direct report or manager by using Fellow during your one-on-one meetings.
5. Integrate Fellow into your favorite apps like Google Calendar, Slack, or even Zoom. And use Fellow conjunctly with project management tools.
6. Track objectives and OKRs across your team.
Fellow Cons
1. Fellow could integrate with more apps.

Pricing
Fellow is free for a maximum of 10 users and has a pro plan that costs $5 per user per month.
13. Fyle
Fyle is an expense management software that helps your employees and Finance teams track and report organization-wide business expenses with ease. Fyle automates your entire expense management process while providing real-time visibility, control, and compliance. You can now track expenses on the go, reconcile card expenses with ease, and close books on time by making use of its robust accounting Software.
Recently Fyle launched a real-time spend management solution for small business credit cards powered by Visa. This makes Fyle the first spend management software to offer direct transaction feeds to the users of any Visa card from any bank. 
What does this mean? That any SMB or mid-market company across the U.S can now access the powerful range of features in a spend management platform without changing their cards.
What's more? An integration with Mastercard and Amex are on the way!
Fyle Pros
Track expenses from your everyday apps like Gmail, Outlook, Slack, Teams, or their mobile app.

Reconcile credit card expenses in real-time by simply replying to the SMS or Slack notification Fyle sends every time a card expense is made, with a picture of the receipt.

Fyle has integrations with some of the biggest accounting platforms like NetSuite, Sage Intacct, QuickBooks Online, and Xero.

Approving expense reports as a manager is also super easy – you can review and approve them on the go via Fyle's mobile app, Slack, Teams, or Gmail.

The mobile app is very easy to use. When you make a business expense, simply pick up the receipt & take a picture of them within the app. Fyle will automatically extract the spend details from the receipt and create an expense.

You can set up business rules to ensure compliance. Fyle runs these policy checks in real-time and flags the violation before your employees submit the expense. 
Fyle Cons
The app has a bit of a learning curve for new users. It might take some time before you're able to get used to the workflow. 
Pricing
The Standard plan starts from 4.99 per active user/month billed annually, bundled with 5 users.  
The Business plan starts from 8.99 per active user/month billed annually, bundled with 10 users.
Fyle's pricing is defined by "active users", who are employees who submit at least one report in a month. Another advantage Fyle offers is that you can opt-out of the subscription anytime as there's no lock-in period.
14. Scribehow
How many times have you answered (or asked) the question "How do I…?"
Scribehow is a step-by-step guide generator that turns any workflow into a visual document. The browser extension and desktop app document your work for you, then give you the ability to edit text, add more steps and even annotate screenshots (although that's Pro version only). 
The tool can create and store as many guides as you want. Its newest feature Pages is also a big win. It lets you combine your guides (called Scribes) in larger process docs. Here you can add text, videos, and more. 
The versatile tool is a great way to quickly answer questions and build out SOPs. it helps everyone do the job the right way, the first time. 
Let's dig a little deeper.
Scribe Pros
Scribe is very user-friendly, and works the moment you create an account and download the extension and/or desktop app. All the user needs to do is click the "record" button. 

Scribe works with whatever you're on. So you can jump from tab to tab using the extension, and even switch out screens with the desktop app. 

Scribes instantly save onto your "team" workspace. Any colleagues that join Scribe will automatically join your team, so they can see the work you've done. 

You can share Scribes via a quick link or embed them into any other tool. This is especially helpful if you're building out FAQs or an internal knowledge base. 

The software follows along with your keystrokes and mouse clicks to literally document what you did. While you're welcome to make edits to add tips and alerts or update the text, a lot of the work is done for you. It even annotates the screenshots. 

You can combine different Scribes or swap out steps. You can also just add several Scribes for the same project to a Page, or larger process doc. These process docs let you add videos from Youtube, Loom and Gong. 

"Recommended Guides" in-app and on the extension shows you Scribes that are relevant to you or the web page you're on. 
Scribe Cons
Like some other tools on this list, Scribe has no mobile phone app. The tool is strictly for browsers and desktop. 

You need the Pro Plan to get some major perks, like branding.

You also need the Pro Plan for really useful tools, like the desktop app and the ability to annotate or redact from your screenshots
Would I recommend Scribe?
I'd absolutely recommend Scribe. 
Not only is the tool one of a kind, but it's also so easy to use and share. The Basic Plan gives lets you make unlimited Scribes and Scribe Pages, which is a major perk as you play around with the tool and see if you even need to upgrade for those Pro features. Being able to create step-by-step guides so quickly is a huge game-changer for collaboration and client relations.
Definitely backing this one!
15. TimeCamp 
TimeCamp is an automatic time-tracking software that both on-site and remote teams appreciate. It can work as a free hours tracker, but its range of features extends to more than just time logging!
You can use the time-tracking data the tool collects for various purposes. The first of them is just daily timesheet filling – employees are not fond of this process, so it's a huge help that saves them hours of doing it manually. 
Gathered time and activities can be used for creating reports that provide valuable insights into project performance and employee engagement in their work. What's more, with TimeCamp, you can generate invoices based on hours tracked for particular tasks and send them straight to your clients. 
TimeCamp Pricing Plans
If you choose a free plan, you can invite unlimited users and add as many projects and tasks as you wish. 
There are two paid plans – Basic costs $6.3 per user per month, and Pro is for $9 per user per month, billed annually. Free 14-day trial available. 
Teams with more extensive needs can contact their sales to discuss the details of the Enterprise plan. 
TimeCamp Pros
Wide range of time tracking options available – a web timer, a desktop app, and mobile app, and a web extension that, besides the native integrations, allows for tracking time for 70+ tools, 

Robust reporting – both built-in and pivot table custom ones, 

Daily activity tracking, 

Filling timesheets in seconds that to the desktop app that works in the background or copying entries from previous days, 

Attendance management that supports payroll and leave management, 

Timesheet approvals, 

Creating invoices based on project hours, 

Billing rates 
TimeCamp Cons
The tool can require extra training at the beginning of usage due to it's learning curve, but the support team is always willing to help, and learning materials are available. 
Would I recommend TimeCamp?
No doubt – TimeCamp is excellent support for daily time and team management for companies that hire on-site and remote workers. The tool saves employees time filling their timesheets and employers to create an accurate payroll list. 
Moreover, it significantly improves estimating the project profitability and tracking ongoing project resource usage. Last but not least, TimeCamp provides reams with precious data on employees' productivity and projects performance.
16. CurrentWare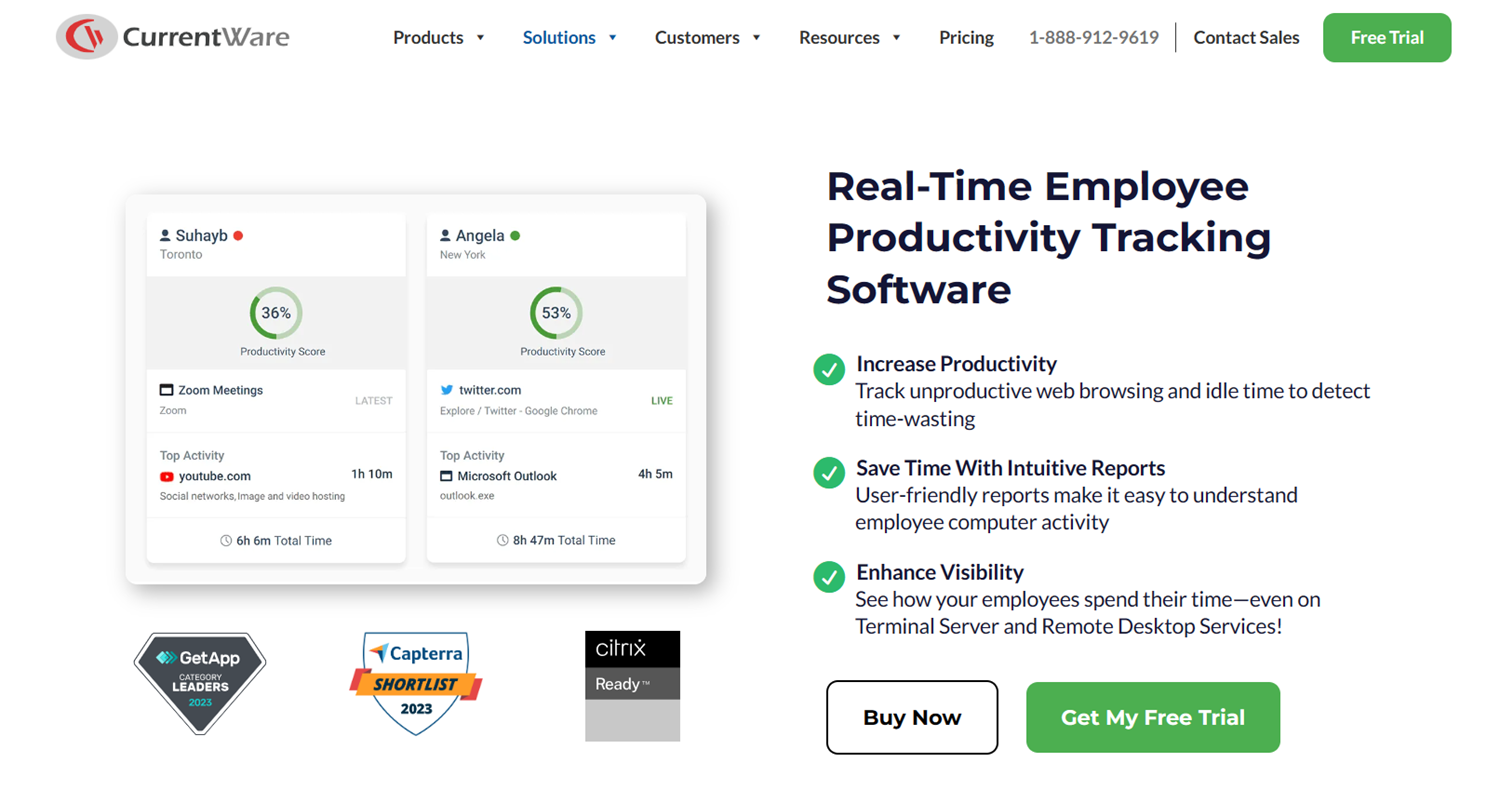 CurrentWare is a suite of data loss prevention, web filtering, and employee productivity tracking tools that monitor and control various computer activities such as web browsing, removable media usage, bandwidth consumption, active vs idle time, uploads/downloads, login times, and software usage. 
Websites and applications are automatically assigned a productivity grading of productive, unproductive, or neutral to help managers monitor productivity trends. The automatic productivity gradings can be customized based on groups of computers or users to improve the accuracy of the productivity scores.
These metrics can be further used to compare productivity trends between in-office, remote, and hybrid employees to determine how location flexibility affects employee productivity.
CurrentWare Pricing Plans
When purchased individually, BrowseReporter, AccessPatrol, and BrowseControl start at $3.99 USD per license per month.
The full CurrentWare Suite starts at $8.99 USD per license per month for companies that purchase less than 100 licenses. 
There are discounts available for large volumes of licenses, educational organizations, non-profits, managed services providers, and businesses that pre-purchase multiple year plans
CurrentWare Pros
CurrentWare's employee monitoring tools are designed to be intuitive to use, making the solution an excellent choice for teams with mixed levels of technical expertise. Once deployed, applying policies and running employee activity reports is as easy as a few clicks.
On-Premises & Self-Managed Cloud Deployment Options
With how sensitive employee activity data can be many companies are concerned about hosting monitoring solutions in a monitoring company's third-party data center that they have little control over. 
CurrentWare cannot access your data as all of its software is deployed and managed by your company. This makes it the best employee monitoring software for companies that want to ensure their data is not handled by a third party.
Responsive Customer Support
CurrentWare's technical support team is responsive to their customers, with the ability to contact them via phone, email, and live chat at no extra cost.
CurrentWare Cons
Only For Windows Devices & No Mobile App
CurrentWare's software is exclusively offered for Windows servers, laptops, and desktops; there is no Linux or Mac offering or an app for mobile devices.
If you would like to monitor mobile devices you may want to consider a dedicated mobile device management solution.
No Month-to-Month Payment Option
CurrentWare's contracts are billed annually with a 12-month minimum, making it less suitable for short-term monitoring needs. Fortunately they offer a fully functional 14-day trial that can be extended if required for a proper evaluation.
The Management Software Does Not Work On Windows Home
While the software clients that are installed on the employee's computer are compatible with Home editions of Windows, the management software is not. 
The management software requires Windows Internet Information Services (IIS), which is not available on consumer editions of Windows.
Anyone looking for monitoring and web filtering software to manage their family's internet usage will need to seek out a different company.
Conclusion
So that was the end of the review process of fifteen sought-after productivity tools.
But as you can notice, all the nine services listed or say, reviewed above are way different from each other. And it's hard to rank them in order of 1 to 15.
Instead, let me break it down according to the things they do best.
Evernote is the best place for jotting down your ideas, sharing resources with your team, and gathering info from the internet for future use. In short, use Evernote to handle the entire documentation process of your organization or to convert hard copies to digital files.
Ghost Browser is one of its kind and makes browsing super quick and fun.
Though I would recommend Ghost Browser to everyone, it is a golden nugget specifically for account managers, social media managers, or even solopreneurs for whom it's a daily norm to work with multiple accounts on the same site.
Plus its proxy control and reporting feature add some extra stars to it.
If you're looking for a tool which is intuitive, easy-to-use, and act as a control center for all your projects, Trello, Monday, or Asana can be the go-to program for you. We use Trello in our company but you can choose any of the three tools because performance-wise, they're all equal. And if you using e-money for your in-house transactions and you are looking to improve the payment processes, you can use such tools as an Ethereum calculator.
And while I would suggest using Todoist to as a to-do list app, I would be hard to recommend Focus Booster unless time tracking is the only thing you need to surge your productivity.
And finally, you can go with Google Drive or Dropbox to store your data safely and share it straight from the app with your team members or clients.