We've all heard it:
"A picture is worth a thousand words." And science says it's true.
In fact, according to a study published on Social Media Examiner photos get 87% engagement on Facebook whereas no other form of content could get past 4%.
Another study says, adding a photo in your tweet can boost your retweet rate by 35%. Images also impact SEO and linkability of your content. However, there is a big difference if you are doing global or local SEO, even with images. If you are a local business, finding great local SEO agencies providing local SEO services is necessary in order to make sure your images are properly optimized.
Now there's no doubt, photos are important, but the real question is:
How can you make your pictures more beautiful to convey your message more effectively?
Sure, writing software like AutoCrit might help. But the real answer is 'Photo Editing Software.'
I'm sure most of you know what a photo editing software is but the thing that leaves most of us puzzled is; which software is the best?
Well, this is exactly what I'm going to address in this blog post.
I'm going to show you what I found after analyzing the top five photo editing software along with their biggest upsides as well as downsides.
So, without any delay, let's get going.
| | | | |
| --- | --- | --- | --- |
| THE TOP 3 | | | |
| OVERALL | ★★★★★ | ★★★★ | ★★★★ |
| BEST FOR | All-Around | Professional Photographers | Beginners or Hobbyists |
| NUMBER OF EDITING TOOLS | 24+ | 24+ | 10-15 |
| ORGANIZATION/STORAGE | Local and 20GB cloud storage with paid plan | Local and 20GB cloud storage with paid plan | Local |
| COMPATIBILITY AND SHARING | Yes | Yes | Yes |
| DEVICE COMPATIBILITY | Mac & Windows | Mac & Windows | Mac and Windows |
| FREE TRIAL? | Yes | Yes | Yes |
| PRICE | Starts from $9.99/mo | Starts from $9.99/mo | $99.99 |
| USABILITY | Easy to use | A bit difficult | Very easy to use |
| RESPONSE TIME | Only online chat (no email support) | Only online chat (no email support) | Only online chat (no email support) |
Best photo editing software review
Ideally, I was looking for a photo editor which is easy to use, offers a wide range of editing options, and one which is pocket-friendly too.
Besides this, I also wanted the guarantee of a full refund in case; I don't like the product. And luckily, I found that all these tools have a money back guarantee policy.
Now let's see in detail what impressed me the most about each tool and where I was left with a sour experience.
When it comes to photo editing, Adobe Photoshop is the boss. It is the longest-running photo editing software among the group and a leader of its kind. After being introduced in 1990, it has gained in popularity until finally taking the lead.
Photoshop CC Pros
#1.Editing tools
Adobe offers a wide selection of tools that you can use to edit and enhance your photos. The tools are all found in the left toolbar. Use them for cropping, changing backgrounds, brightening or darkening your image, resizing, making animated GIFs, removing spots, and more. Tools with a tiny triangle have even more options available; just right click on it to see what they are.
#2. 2GB – 20GB+ Storage
You can now get extra space to store your files when you subscribe to use Adobe Photoshop CC. How much space you get differs between subscription plans. If you decide to take advantage of the free 7-day trial, you will get 2 GB of storage in the cloud, then when you upgrade to a paid subscription plan you will get 20 GB or more.
#3. Up to Two Devices
Also like Photoshop, your subscription plan will allow you to use the software on two separate computers, whether it is a Mac or Windows, no matter which operating systems they are running, but you can't use the program on both computers at the same time.
#4. 14-Day Refund
This program also uses Adobe's standard money-back agreement where you can get a full refund within 14 days if you are not impressed with the software. If you have had the software for more than 14 days, then you still may be able to get a partial refund.
#5. Sharing
Let's face it, most of us edit photos for the sole purpose of sharing it on social media, right?
Well, Photoshop CC knows it very well, and that's why it allows you to share your photos on your favorite social media platforms in just a few clicks without minimizing the current window. This is especially useful if you're involved with event photography.
Photoshop CC Cons
#1. No more single payment to purchase
Although it used to be possible to pay a onetime fee and own Adobe Photoshop for life, with the integration of the cloud you must now purchase a monthly subscription plan for $9.99 and up to use the program. However, you do get some perks with this deal, like file storage in the cloud, and access to other programs including Lightroom CC and Lightroom Classic. As always, teachers and students can get a 60 percent discount in their first year with the "All Apps plan".
#2. Compatible with limited devices
Many people prefer using software programs on their phone rather than on their PC or laptop. If you are one of them, then this is not the program for you since it is not mobile-friendly as of yet.
Do I recommend Photoshop CC software?
Yes, we do.
Adobe Lightroom Classic CC and Lightroom CC used to be one program, but it was later divided into two separate programs. These programs are both lighter versions of the Adobe Photoshop as they are limited in what they offer.
Lightroom Classic Pros
#1 Tons of editing tools for professionals
This program is more used by photographers and other professionals who have experience with photo editing programs as the layout is quite complex. However, it does offer some great tools for those who know how to use them. If you are a beginner with photo editors, you can view these helpful tutorials provided by Adobe.
#2 Storage
Lightroom Classic offers the same storage options as Photoshop where either you can keep your files stored in the cloud or local storage drives. Again, how much storage you get depends on the type of plan you purchase; 7-day free trial grants you 2GB of storage where a premium plan offers 20GB to 1TB.
#3 More than one device per license
Also like Photoshop, your subscription plan will allow you to use the software on two separate computers, whether it is a Mac or Windows, no matter which operating systems they are running, but you can't use the program on both computers at the same time.
#4 14-Day Refund
This program also uses Adobe's standard money-back agreement where you can get a full refund within 14 days if you are not impressed with the software. If you have had the software for more than 14 days, then you still may be able to get a partial refund.
Lightroom Classic CC Cons
#1 No one-time payment
And again, we have reached the same policy as Adobe Photoshop where if you want to use this program, you will have to pay a $9.99 and up monthly fee, as they no longer have the onetime payment feature where you can buy it outright. And, you will also have access to other Adobe programs and your storage is included as well so it's a good deal.
#2 Limited compatibility
This program is also not yet compatible with your cell phone or other devices except a Mac or Windows PC running certain operating systems.
#3 Not beginner-friendly
If you are new to photo editing, then you might want to pass this software up since it is not very user-friendly. The interface is quite complex but great for those who know what they are doing.
If you are a beginner who would like to learn more about using Adobe programs, click here to view some tutorials presented by Adobe.
Do I recommend Lightroom Classic CC?
Yes, we do. But only if you're a professional.
Otherwise, we'd recommend this next one instead…
Adobe Photoshop Elements is very similar to Adobe Photoshop only it is much easier to use and it has fewer tools available. The program is geared toward first-time photo editing users as it provides a friendly interface where everything is easy to find and clearly understandable.
Photoshop Elements Pros
#1 Perfect for beginners
This is the perfect program for newbies who have never used a photo editing program as it has an easy-to-navigate, clean interface with fewer tools making for much less complication of figuring out which to use. You will find the editing tools on the left toolbar just like the Photoshop program and there is also a quick demo found in the "Guided" tab that you can view to learn more about what you can do with Photoshop Elements, such as making a sketch from a photo, changing the background of a picture, creating a collage, and more.
#2. One-Time Payment Option
Unlike the other programs already discussed, where you must pay a monthly subscription fee to gain access, Photoshop Elements allows you to buy the program with a one-time payment of $99.99 and keep it for life.
#3 More than one device per license
The Standard Typical Adobe policy applies where you can use the software on two separate Mac or Windows computers, but can only use one at a time.
#4 30-Day Money-Back Guarantee
This program gives you more of a threshold with your purchase. Unlike the other programs already reviewed that only, allow you 14 days to decide whether you want to keep the programs, this software comes with an extended money-back guarantee. You have 30 days to return it for a refund.
Photoshop Elements Cons
#1 Not suitable for experts
Due to its lack of editing tools, this program is not recommended for expert image editors as you can't work with CMYK files, raw files, or 3D objects.
#2 Zero cloud storage
You do not get storage when you purchase Photoshop Elements as the other Adobe programs provide.
#3 Limited compatibility
This software only works on Windows and Mac PC's and will not work on your mobile device; however, it does work with more operating systems than the other Adobe programs.
Do I recommend Photoshop Elements?
Yes, we do for beginners. Not for experts, though.
Serif Affinity was made by a European company and recently released in 2015. Not only does it cost less than the other programs in my review, but it also works on other devices as well, such as iPads and has a mobile app available. And, with its wide range of editing tools that can be used by both amateurs and experts alike, makes Serif Affinity a tough one to compete with.
Affinity Photo Pro
#1 Lots of editing tools
Affinity Photo is known to be a cheaper alternative to Adobe Photoshop as it has numerous editing tools and a layout that's easy to navigate. In fact, it may even have more tools than Photoshop provides since it includes the same tools found in Photoshop, such as layering, raw processing, masking, and retouching and contains some features from Lightroom Classic as it supports.PSD files and precise curving.
#2 The least expensive option
You can purchase Affinity Photo for just $49.99 and it is yours for life without having to get one of those monthly photography plans. You may not get all the added extras that you get with Adobe, but you do get a lifetime of updates after purchase.
#3 iPad compatible
This is the only program of all the others in this review that you can use with your iPad.
#4 Fast customer support
Serif responded to our customer support test within 24 hours.
#5 14-day refund
Affinity's refund policy is similar to Adobe's 14-day policy where you can return the program within 14 days of purchasing, for a full refund. However, they do not offer a partial refund after 14 days like Adobe does in their refund policy.
Affinity Photo Cons
#1 There is a learning curve…
It's not that you have to be a pro to use Affinity, but you will at least need to know the basics of photo editing in order to use this program or you will be stumped.
#2 You can't use the same license on different operating systems
One of the major setbacks of Affinity Photo is that you can purchase a license either for a Mac computer or a Windows PC, but the Mac license will only work on Mac Computers and not on a windows computer and vice versa.
#3 They don't offer cloud storage
You do not get any storage when you purchase Affinity Photo, but the images are very small files and take up little space on your hard drive or you can always buy an external drive to keep your files safely stored.
Do I recommend Affinity Photo?
Yes, especially if you're looking for something that isn't Adobe, that's a little cheaper, and works with your iPad.
Corel Paintshop Pro is another popular image editing type software that can be used by both amateurs and pros as it has many adjustment tools. However, when you gain more experience using the program you can then move on to Paintshop Pro Ultimate with more tools and features. What makes this program a favorite of many users is that it is low priced, has a clean, easy to navigate interface, and offers numerous editing tools.
Corel PaintShop Pro Pros
#1 Good for everyone from beginners to professionals
Paintshop Pro is a great program for both new editors and pro users, but it's more of a benefit to novice users as everything is where you would expect it to be making it very easy to use.
#2 30-day trial and refund period
Paintshop Pro has the best trial offer and refund policy among all the rest as you get a free 30-day trial and then you have 30 days to return the program for a full refund.
#3 One-time payment
Corel Paintshop Pro is the second cheapest program in my review as it is available for a one time purchase of $79.99.
#4 Fast Customer Support
Corel responded to our question within 10 hours, providing a detailed answer along with a support link to read more.
#5 Multiple devices on a single license
They also have the same policy as Adobe where you can use the program on two different computers, but only one at a time can be running.
Corel PaintShop Pro Cons
#1 Only works with Windows
This is a total game-changer for Mac owners as you can only use Corel Paintshop Pro on a Windows PC.
#2 No cloud storage provided
Unfortunately, there is no cloud storage option.
Do I recommend PaintShop Pro?
Potentially, yes.
If you are a Windows user, and looking for something a photo editing software in the sweet spot between something for beginners and experts, this might be the tool for you.
If you're looking for a straightforward and fun photo editor, check out Colorcinch. It's made to be simple, beautiful, and free. You can crop, resize, enhance your photos, and adjust exposure, saturation, brightness, etc . It comes with amazing filters, effects, and presets.
Colorcinch Pros
#1. Simple and intuitive, perfect for beginners and non-pro
Colorcinch comes with a simple and user-friendly interface, editing photos can be done in just a few clicks. You don't have to be a pro to achieve stunning results.
#2. Free, no sign-up needed
You can access numerous essential effects and features for free, you don't have to sign-up. Just upload your photo or choose from its collection of stock images to start editing.
#3. Cartoonizer, sketcher, and digital art effects are outstanding
Colorcinch comes with hundreds of AI-powered specialty effects. You can play around and turn your photos into cartoons, paintings, sketches, and digital arts with a single click.
#4. Works online and offline
Colorcinch is an online editor, no need to download an app. And if you wish to edit to your projects even when you're offline, you can get its PWA app or download it from the Appstore.
Colorcinch Cons
#1. Doesn't work on phones
It works on Chromebooks and tablets but it does not work on mobile devices.
Do I recommend Colorcinch?
Yes, we do for beginners.
Picsart is your one-stop hub with AI-powered tools to equip you for professional-quality image and video editing online. Ease of use and speedy results are key, while exclusive and customizable fonts, color gradients, backgrounds, and stickers deliver the freedom to be as creative as you'd like, without requiring a design school degree.
Start from a library of free pre-made templates to fit your needs, and access a creator community of free-to-edit inspiration to reinvent, reuse, and export for any purpose.
For photo and video editing online, Picsart delivers tools that are easy and fast for anyone to use. With AI-powered photo effects and filters, impactful edits are created in just a few clicks. So go ahead and see where your creativity takes you, Picsart has you covered.
Picsart Pros
#1. Smart editing tools
Picsart tools are easy to use and give professional-quality results without requiring you to be an expert. AI-powered background, object removal, and retouch allow you to make moves fast, without the hassle of selecting minute details by hand.
#2. Massive content library
Stickers, backgrounds, fonts, and color gradients are all customizable so you can make each component of a design your own. You can even turn your original photos into stickers for use in your other designs.
#3. Free-to-edit creator community & templates
Inspiration abounds in the social components of Picsart. Learn from like-minded creators, and share your own expertise as you grow with the community. Plus, never feel the need to begin a project from scratch—find a template that works for you.
Picsart Cons
#1. Saving edits only for Pro accounts
Exporting and saving edits is limited in the free version of Picsart.
#2. Not for editors who love layers
Once you save an edit choice, your image is permanently changed. You'll need to start over if you regret any early choices you've moved on from.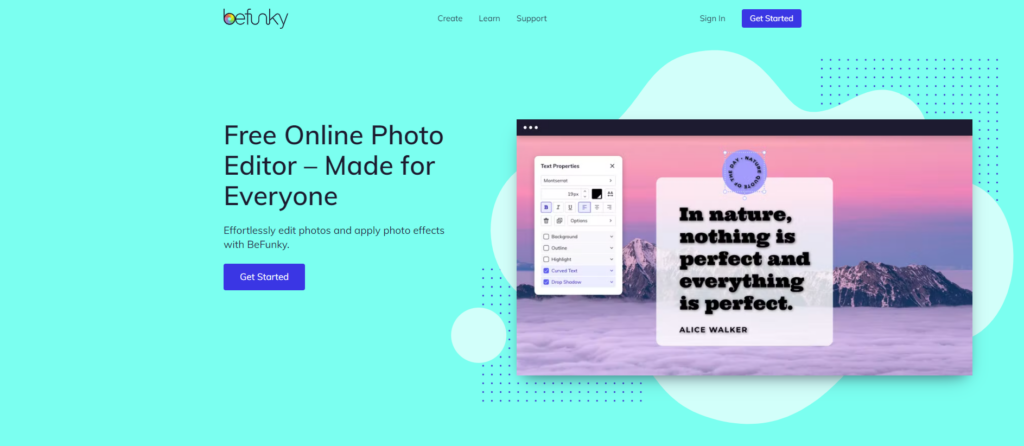 Gone are the days when you had to face a handful of crashes each time you tried editing a photo or image, especially when you're fighting for time to get the job done. BeFunky is every designer's dream when it comes to speed, efficiency, and fun.
Not only is it packed with tons of unique features, but the app is super easy to use by almost anyone, even if you aren't a designer.
Let's take a quick look at what you'll love using the most on this app and why you won't go back from it once you start!
BeFunky Pros
#1. Reusable assets for every style
For starters, BeFunky lets you choose from hundreds of photo effects that can be applied to your images with just a single click. Whether you want to apply a fun filter to your image or edit it to make it more sharp, you can find any style you want and also edit it to suit your taste.
The best part is that it doesn't stop with effects, but you can also add other fun elements to your images – like frames, customizable graphics, and anything else that will give your image more flair.
#2. Professional photo-editing tools
Photo-editing is a skill which requires a tonne of patience, but more importantly, you need to have the right tools to get the job done. Most of the software you'd find online have a basic set of tools, which usually don't make the cut when it comes to editing photos on a professional level.
However, BeFunky comes with a complete set of professional photo-editing tools that are completely free and available to use on any web browser. The best part is that you won't feel like you're lacking anything when compared to other professional tools for which you'd have to pay a large chunk of money on a monthly or annual basis.
#3. It's simple and intuitive
Even if people had access to premium tools like Photoshop and the rest of the Adobe suite, the learning curve is so high that it would take a significant amount of time for someone to master the tool, especially if they're new to the field and aren't a pro at designing. Very often, people would need to take a few weeks to learn the basics of the tool, before they can actually start working on editing their images.

However, BeFunky's interface and flow is designed to be super easy to use, even if you're a beginner at photo-editing. All the tools, features, and filters you need are easy to find and use, and you can also go back to a previous version whenever you need to if you're not happy with an edit.

Whether you're cropping pictures, applying filters, adding art effects, enhancing images, adding text to your image, removing objects you don't want in the image, changing colors, resizing images, removing the background using AI, and more, you'll be able to easily do almost everything you need to using a free browser-based software that's super easy to use. 
BeFunky Cons
#1. You get more features on the free plan
Even though you can get most of the features on the free plan, there are some limitations to what you can do with the tools on the free plan. For instance, some tools have limited features on the free plan, while BeFunky Plus gives you all the features you need as a professional editor in a bundle.
#2. It works best for freelancers
It may not be the best option for designers who like collaborating with others on their team, since there aren't many collaboration features available here. However, it will be apt for designers and users who work as freelancers or in small teams, especially if there isn't much collaboration involved in their creative process.
Conclusion
Phew! So we finally came to an end.
I'm sure; by now, you know which photo editor is the most ideal for you. But if you're still not convinced, here's a quick rundown to clear all your confusion.
If you're looking for an all-around tool with cloud storage and can afford to pay at least ten bucks every month, then Photoshop CC is the go-to editor for you. And not to forget, it comes in a bundle pack with Lightroom Classic CC and Lightroom CC that makes it a deadly combo.
Photoshop Elements is an excellent choice for those who are particularly new to photo editing and just want a modest editing tool to perform or learn the basic editing tricks without opting for a monthly subscription plan.
However, if you are a professional and want to avoid Adobe products altogether and thinking if there's anything that can give you the same amount of features in half of the price then you would want to buy Affinity Photo. It's the cheapest one-off product that enables you to do pro-level editing.
And last but certainly not the least, PaintShop Pro, because of its simple interface and robust set of tools, is suitable for both novices as well as experts. But the only concern is if you don't have a Windows device, this tool is of no use for you.
Now, I'd like to turn it over to you:
Let me know what kind of photo editor are you – beginner, intermediate or pro, and which software would you like to try?